Evaluations for Ohio State quarterback Dwayne Haskins are all over the place, from "clear No. 1" signal caller in the draft to "sliding" out of the top-10. Regardless, there's plenty to like about Haskins but also just as many question marks about his future performance. He does many "NFL things" extremely well, from working progressions to firing well-placed dig routes to throwing with both touch and accuracy. On the negative side, Haskins was a much different player when moved off the spot or playing outside of structure, and that may limit his ceiling at the next level. Let's dive in.
The Good
Haskins is excellent at the short and intermediate level, ranking fourth in the draft class in accuracy percentage on passes thrown up to 20 yards in the air (using actual ball location on each throw).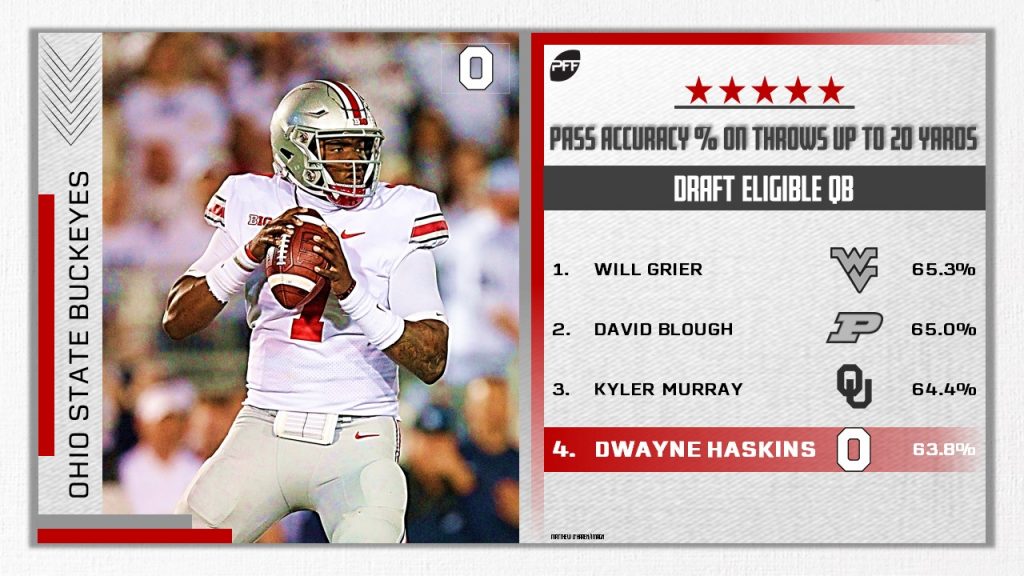 This is an important area to excel, as a big chunk of NFL throws occur in this range, and Haskins is right there with the top quarterbacks as far as timing and ball location, especially from a clean pocket. We'll get to his work under pressure later on, but for now, Haskins has a good foundation with which to work at the next level based on his accuracy alone.
Even more encouraging is how Haskins performed when working through multiple reads. We keep a very loose definition in order to track this, but it's essentially charting a quarterback's ability to get from one side of the field to another, reaching his second, third or even fourth read. When working multiple reads, Haskins has the highest PFF grade in the draft class last season at 91.5, just above our No. 1 overall quarterback, Kyler Murray.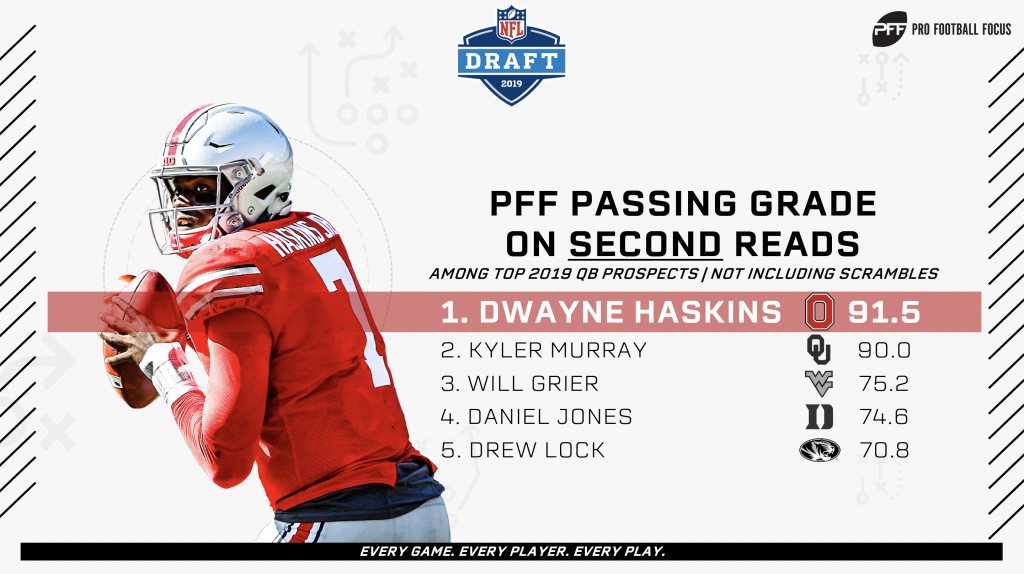 Here's a good look at Haskins' ability to work the backside of a play while showing off that intermediate accuracy that makes him dangerous.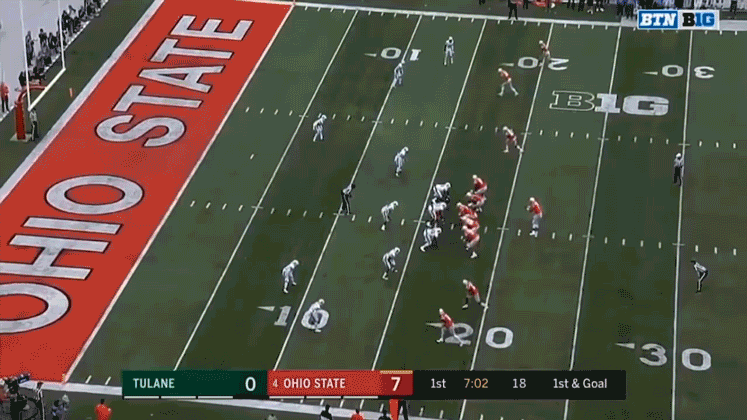 Here's another example of Haskins' accuracy, this time in the red zone. The windows tighten closer to the goal line, but Haskins puts this pass right on the money against TCU for the score.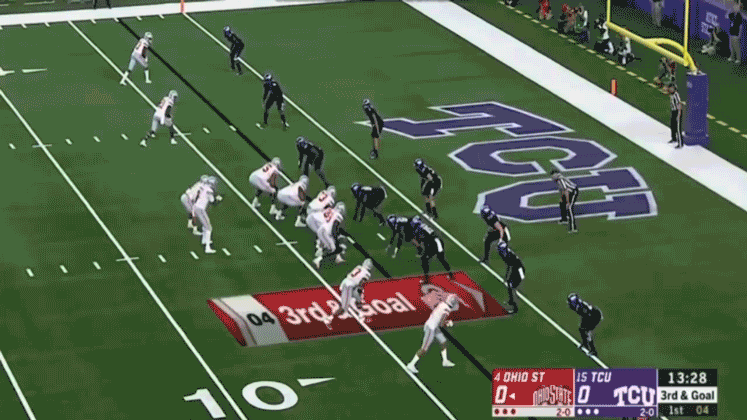 Overall, when throwing from a clean pocket, Haskins was fantastic, grading at 90.7 to go with 46 touchdowns and a passer rating of 135.4. When everything is clean, Haskins can pick apart an opposing defense, a valuable skill and one of the most important when projecting quarterbacks at the next level. However, let's take a look at what happens when things don't go as planned.
The Bad
While clean-pocket play is more stable and predictive, performance under pressure is still an important piece of the equation. This is where the drop-off in Haskins' play is alarming, as that clean-pocket passing grade of 90.7 drops to only 55.7 when pressured. His passer rating dropped from 135.4 to only 73.2, almost double the usual drop-off at the NFL level.
Playing under pressure can take on many forms, and Haskins does not have the athletic ability to make plays outside of structure. However, there are a few highlight-reel plays on his film. Overall, this will not be a big part of Haskins' game and a significant reason he's below Murray in our rankings. Murray's dynamic athleticism adds value when throwing on the move or taking off as a runner.
The bigger concern for Haskins is when he moves off the spot, where his grade plummets to 54.1, and this includes simple plays where he has to reset in the pocket.
As impressive as his backside dig route was in the earlier clip, watch him reset in the pocket and overthrow his receiver against Nebraska.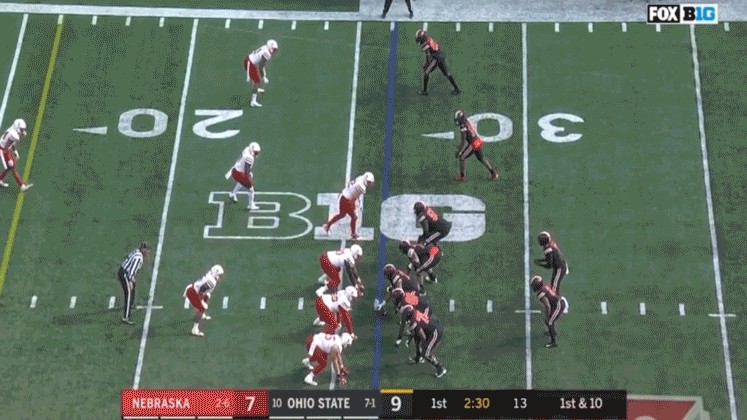 The following play may be even more concerning, as Haskins is working from a clean pocket, and the "pressure" on the play is his own doing. Instead of calmly hitting his running back in the flat, Haskins panics and steps up into the pressure, forcing the unnecessary hit and underthrow on what should have been an easy completion.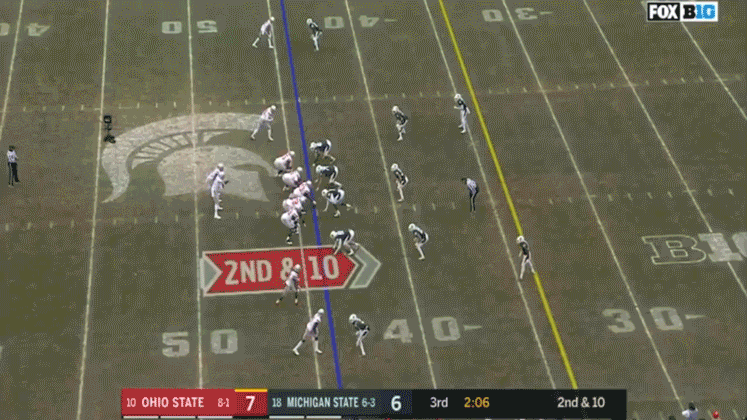 In addition to Haskins' inconsistent performance under pressure, he also struggled in a number of key road games last season. He posted identical 62.8 grades at Michigan State and at Purdue to go with a poor 44.9 overall grade at Penn State that saw him pick up over 80 percent of his yards after the catch in the comeback that had more to do with Haskins' playmakers than his actual performance.
The other part of Haskins' game that needs improvement is his deep passing, as he was below average in terms of accuracy last season. This isn't a major concern as deep passing numbers can be driven by wide receiver talent and scheme, so as long as Haskins remains efficient in the short and intermediate range, he can stumble into a few strong years throwing the ball down the field.
Final Word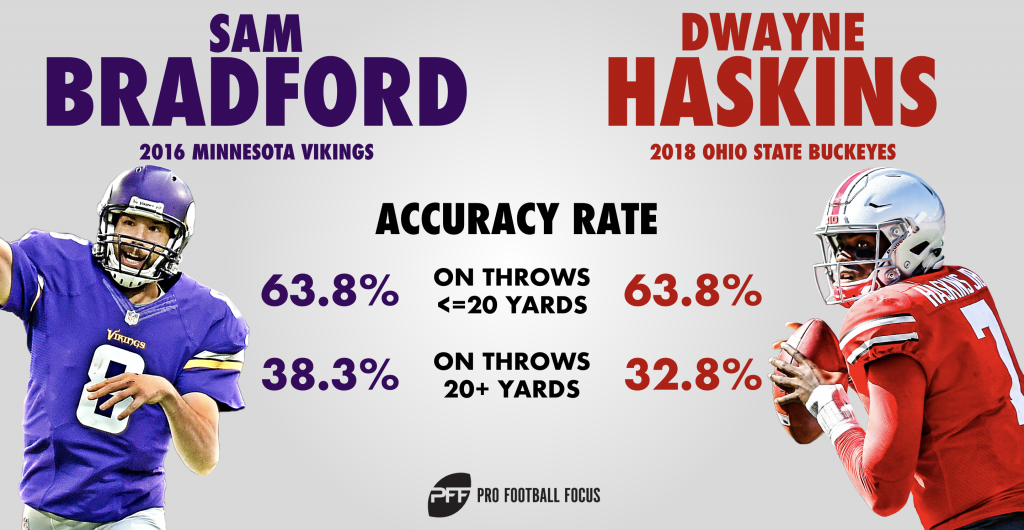 Like most starting quarterbacks in the NFL, Haskins is dependent upon his supporting cast in order to get the most out of him. There are 8-10 quarterbacks in the NFL who have separated themselves into the top tier and are most likely capable of carrying a lesser supporting cast, but the next 20 or so quarterbacks are in a much more interchangeable range where the environment around them (receivers, offensive line, play caller) have a much bigger impact on their statistical output. Haskins falls into more of the interchangeable category, whereas Murray has the best chance to crack the top 10. And that's ok for Haskins, especially when playing on a rookie contract where it's easier to develop a team around the quarterback.
His skillset reminds of Sam Bradford, who has been fantastic at throwing accurately in the short and intermediate ranges while taking good care of the football, but when plays go off schedule or the supporting cast is not one of the league's best, it's too much of an ask to get him to carry the team. That's where Haskins falls in the PFF projections, though there is value in this skillset in today's NFL, as long as the supporting cast is intact.