While we've discussed plenty of times on the PFF Forecast regarding the most boring division in football being the AFC South, the AFC East is in the running every single season in large part due to the dominance of the New England Patriots. New England has at least tied for the best record in the division every season since 2001, has earned a first-round bye each season since 2010 and a trip to the AFC title game in each season since 2011. Since 2011, only the Bills in 2017 and the Dolphins in 2016 even reached the playoffs from the AFC East, with neither advancing past the first round in the playoffs.
Is there reason for hope in 2019 for the other three teams? The Dolphins appear to be in full rebuilding mode, trading Laremy Tunsil, Kiko Alonzo and Kenny Stills this past weekend for a bevy of picks, hanging Ryan Fitzpatrick out to dry to start the season. This appears to be a sound process for success in the future but will make going over their 4.5-win Vegas total a tough task in year one of the Brian Flores regime. 
The Jets and the Bills both selected quarterbacks in round one of the 2018 draft, and hence both have optimism coming into the season. While we are a lot higher on Sam Darold, who earned the highest grade among quarterbacks the last four weeks of the 2018 season, than we are on Josh Allen, the Bills' defense is one of the best in the league, giving pretty similar projections for the two teams going into the 2019 season. While it would make for a more-compelling AFC in 2019 if one or both of these teams emerged to compete with the Pats for the division, we're a bit skeptical of either team even for a wild card berth at this point, needing to see a bit more from Adam Gase and his staff, as well as Allen in Year 2, for us to buy in. 
For updated and final season win projections, see this article.
Baseline Projections:
Wins:
NE 10.7 (11 -120 over/+100 under), NYJ 6.9 (7.5 -120/+100), BUF 6.6 (7.5 +110/-130), MIA 6.5 (4.5, -110/-110)
Division Odds:
NE 80.0% (-400), NYJ 7.6% (+550), BUF 6.6% (+800), MIA 5.5% (+2000)
Playoff Odds:
NE 87.1% (-800 yes/+600 no), NYJ 18.8% (+210/ -250), BUF 15.2% (+290/-350), MIA 13.3% (+700/-1000)
Super Bowl Odds:
NE 13.9% (+700), NYJ 0.4% (+6600), BUF 0.3% (+6600), MIA 0.2% (+150000)
Strength of Schedule:
MIA (14th in Average Opponent PFFELO), BUF (24th), NYJ (30th), NE (32nd)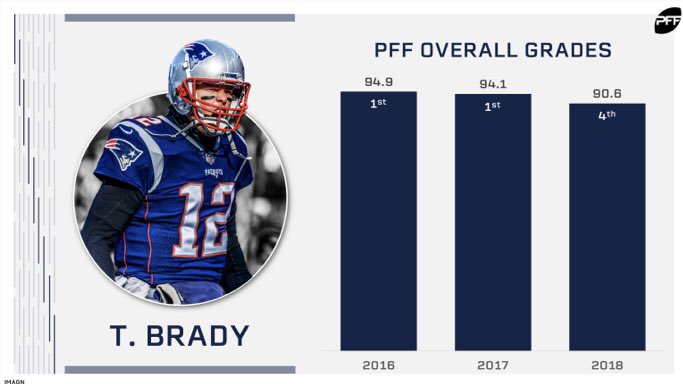 Most-Valuable Quarterback: Tom Brady (9.02 WAR)
How supremely does TB12 own this division? Well if you add up the wins above replacement for every other quarterback to take a snap in the AFC East over the last three seasons they add up to just 6 of Brady's 9 Wins Above Replacement (and three of those belong to Tyrod Taylor). Brady could have taken a season off and still beaten the whole crew of peasants that make up his competition. 
Brady leads all NFL quarterbacks in percentage of perfectly located throws (a throw that hits the receiver perfectly in stride or in the optimal location) over the last three seasons at 25%. He has ranked first, first and fifth in PFF grade among quarterbacks in 2016, 2017 and 2018, respectively. Put simply, Brady is not just the king of the AFC East but is legitimately at the top the NFL's food chain despite being 67 years old. 
While some might think that the old man is just dinking and dunking his way to glory that is simply not the case. He owns a 121.2 passer rating, 51:12 touchdown to interception ratio and the highest PFF grade on throws traveling 10-plus yards downfield over the last three seasons– in other words, on throws that carry the most value because they get the ball at or past the sticks in most situations, Brady is without equal. We could go on and on about Brady being at the top of his craft regardless of whether he is under pressure, facing a blitz, in a clean pocket or in the middle of making an avocado and almond chia seed sandwich, it just doesn't matter. One of the best examples of Brady's brilliance of mind and body was this most recent Super Bowl run where he averaged a minuscule 2.21 seconds from snap to end of dropback resulting in 83% clean pocket rate, both of which were PFF playoff records. Brady isn't simply throwing the ball as well as anyone else, he is also outthinking the competition at every turn. 
This season presents a new life for Tom without Rob Gronkowski (the most-valuable non-quarterback in the AFC East over the last decade by a wide margin). The Brady-to-Gronk connection equated to a league-leading 129.6 passer rating overall (1st) and a 147.2 rating against the blitz (1st by nearly 20 points) while amassing a monstrous 10.3 yards per pass attempt. If history tells us anything, the Patriots are sure to have a trick up their sleeve. This season, it might just be Josh Gordon; Brady to Gordon yielded 11.3 yards per pass attempt last season, the best mark for any Brady receiver. 
All hail the GOAT.
Most-Valuable Defensive Player: Stephon Gilmore (1.23 WAR)
Gilmore was one of the rare Patriots free agent signings in the 2017 offseason and struggled some during the beginning of his Patriots career. However, he was brilliant in 2018, breaking up 20 passes and plucking four interceptions, finishing the campaign allowing a 21.8 rating on nine passes into his coverage during the Super Bowl against the Rams. He was the most-valuable cornerback in the NFL in 2018 based on WAR, a distinction that doesn't always carry year-to-year, given the position's volatility, but is another feather in the cap for Bill Belichick and the Patriot Way. 
Second-Most-Valuable Defensive Player in the Division the Last Three Seasons: Devin McCourty (1.06)
Quite simply, McCourty has been one of the best safeties in the league since transitioning from cornerback early in his career. In 2016, McCourty held opponent quarterback to 186 yards into his coverage while breaking up six passes and intercepting two. He earned almost 60% of his wins above replacement during that 2016 campaign. While he's only matched those numbers in the last two seasons combined, finishing 2017 with his worst grade since the transition to safety, he's still been pretty productive, generating 45 stops and six total pressures, allowing the Patriots to emerge as one of the league's best teams in EPA allowed per pass play in 2018.