We finally made it to Week 1 of the regular season. The rosters have been trimmed down to 53, and all 32 NFL franchises will take the field as they start their quest to take home the Lombardi Trophy. From Week 1 until Super Bowl 53, PFF Press Pass will cover all 32 teams and will tell you all you need to know about your favorite team before they take the field.

PFF's Press Pass for Week 1 takes you deeper into the intriguing matchups for every game during the first week of the regular season. Building on our features from the preseason, here are the budding storylines for all 16 games on the slate this week:
September 9th
Getting past Snacks
The Jaguars offense will continue to emphasize the running game, but they will have to get past a daunting obstacle at the line of scrimmage. Giants interior defensive lineman Damon Harrison has led defensive interior lineman in stops each of the past three years and has compiled a run defense grade of at least 87.0 in each of the past five. To limit him, the Jaguars will need a big game from Brandon Linder. In 2017, Linder ranked seventh among qualifying centers with a run-blocking grade of 79.0. Last season the Jaguars had 168 attempts up the middle for 698 yards, and interestingly, they averaged over two more yards per attempt when running to Linder's left. If the Jaguars are to control the game script this Sunday,  limiting Harrison will be an essential part of the plan.
The Saquon Barkley era begins
All eyes are on the second overall pick as the Giants begin the 2018 season. During his three-year career at Penn State, running back Saquon Barkley gained over 2000 rushing yards after contact (3.5 per attempt), avoided 200 total tackles and caught nearly 80 percent of his 132 pass targets. One run concept that Barkley had an inordinate amount of success with last season was Power. On 57 Power runs in 2017, Barkley gained nearly eight yards per attempt, well above the NCAA average of 4.8. The Giants used Power at a league-high rate of 25 percent last year, but it's uncertain if that will remain the case with Pat Shurmur now leading the team as head coach. As offensive coordinator for the Vikings last season, Shurmur utilized Power on just 7 percent of run plays, so it will be fascinating to see what kind of rushing attack the Giants deploy in Week 1.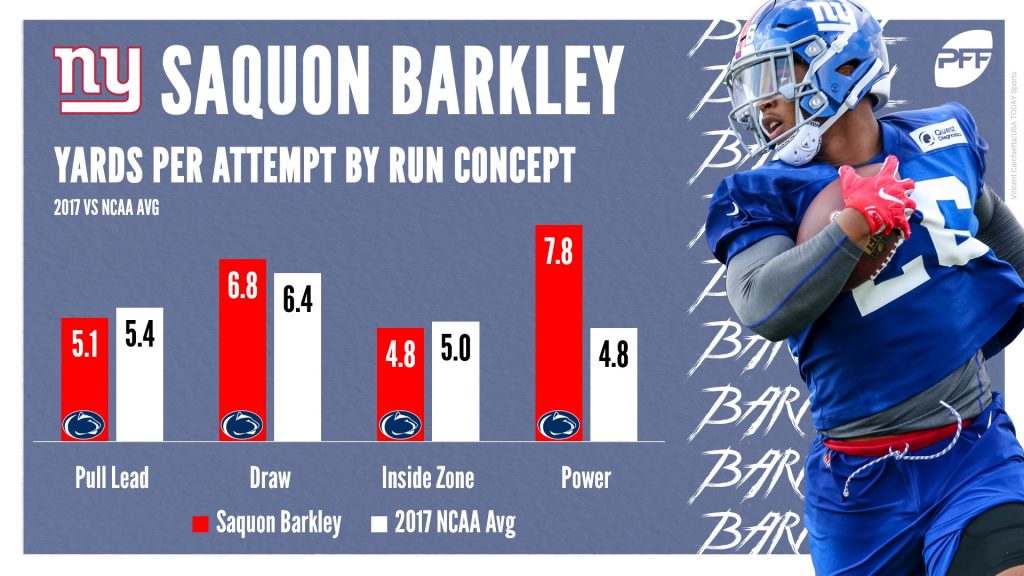 Will the Steelers miss a killer bee?
With Le'Veon Bell unlikely to play in Week 1, running back James Conner could see a feature role and his first NFL regular season start against the Browns. The Steelers can feel confident after Conner's strong preseason, as he earned All-Preseason Team honors with an 82.5 overall grade. While backing up Bell last season, the sophomore running back only garnered 32 touches before injuring his knee in Week 15, which helps explain Bell's league-leading and career-high 406 touches last season. In a small sample size this preseason, Conner has shown he can make plays with the ball in his hands, forcing a missed tackle every 2.8 touches and gaining 4.16 yards after contact per attempt. 
Making a statement through new playmakers
Week 1 for the Cleveland Browns is nothing less than vital to the team's chemistry and confidence moving forward. New additions such as wide receiver Jarvis Landry, quarterback Tyrod Taylor and running back Carlos Hyde need to show up on Sunday and give not only Browns fans hope, but NFL fans a reason to believe this team is different than the combined 1-31 record of the last two seasons. Landry was a menace in 2017, particularly in the slot where he hauled in 68 receptions, the most among receivers. Hyde is coming off his worst year grade-wise at 58.0 (49th), but he's proven to be effective at making guys miss, as his 43 missed tackles forced ranked fourth among running backs in 2017. Quarterback Taylor is also coming off an above-average season where he excelled under pressure with a passer rating of 79.6, good for sixth among quarterbacks. If those three guys can build rapport early — even if it doesn't result in an opening day victory — the Browns will have no issues improving on their past seasons.
A first test for the new Bengals offensive line
The Bengals made a concentrated effort this offseason to bolster their offensive line. Enter three left tackle Cordy Glenn and first-round selection Billy Price. Glenn will look to support a pass-blocking unit that has struggled in recent years, as he's only one year removed from two consecutive seasons of 85.0 plus pass-block grades. Looking at their competition, after Jabaal Sheard (84.4 overall four last year) the cupboard looks bare. Al Woods flashed last year, posting an overall grade of 87.7, but that was primarily due to his excellent run defense (89.7 run defense grade), as he was performed poorly when rushing the passer (59.8 pass rush grade). This projects to be one of the easier matchups on paper this season for the Bengals, so look for the new offensive line to come out and make a statement.
Welcome back Capt. Andrew Luck
The last time Andrew Luck played meaningful snaps, he finished the 2016 season tied with Matt Ryan for the second-highest passing grade (90.3), behind only Tom Brady. We all know Luck has the talent to be a top quarterback in the league, but it's fair to ask if he's going to be the same player he was two years ago. He finished this preseason posting solid but not spectacular numbers, most notably completing 17 of his 24 short pass (less than ten yards) attempts. While Malik Hooker returns from his ACL injury and sixth overall pick Quenton Nelson gets his first regular-season action; there's no denying all eyes will be on the Captain.
Tannehill's comeback
You might not realize this, but Ryan Tannehill is now 30 years old, entering his seventh season after being drafted eighth overall in 2012, and he now returns to lead the Dolphins after missing 2017 with a left knee injury. With a career-high grade of 80.4 in 2013 and never more than 27 touchdowns or less than 12 interceptions in a season, Tannehill is looking to show he can lift himself into the upper echelon of NFL quarterbacks and perform at a consistently high level.  In 2016, with his first with current head coach Adam Gase, Tannehill recorded his highest adjusted completion percentage (77.2%) and his highest grade from a clean pocket (90.7). If the Dolphins get that version of Tannehill on a consistent basis, Miami could be in the playoff hunt come November and December.
The Titans strong secondary
As Tannehill makes a comeback, he will do so in Week 1 against our ninth-best secondary.  The Titans added Malcolm Butler (71.5 in 2017) to an already stout secondary featuring safety Kevin Byard (85.3) and cornerback Adoree' Jackson (74.6).  Byard joined an elite group last season, as his 15 combined pass breakups and interceptions were only one shy of Ed Reed in 2010 and Troy Polamalu in 2008 for the most during the PFF era.  As a group, the Titans' secondary forced 74 incompletions in 2017, second only to the Seahawks' 81. They'll no doubt be looking to ruin Tannehill's return on Sunday. 
WR group in focus For the Patriots
With Julian Edelman suspended, the wide receiver position is an interesting spot to monitor as they open the season. Chris Hogan will be the leading man, and he finished with an overall grade of 61.1 last season, which ranked 80th out of 101 qualified receivers. The wild-card here will be offseason acquisition Cordarrelle Patterson, who is known for his breakout speed but has never really put it together at receiver. He is coming off a 65.5 overall graded season, which checked in at 64th.
The return of J.J. Watt
The Texans should have an edge along the defensive line going up against the Patriots, and they have to take advantage of that to try and get to Tom Brady. J.J. Watt will be making his long-awaited return, as he finished 2017 with an 86.0 overall grade, which ranked 13th out of 133 qualified interior defenders. Along with Jadeveon Clowney, Watt and company will look to win this battle in the trenches against the Patriots offensive line, which has been significantly weakened by the loss of first-round pick Isaiah Wynn.
Taking the pressure off the passing-game
It appeared the 49ers were entering the regular season relatively healthy, but the team was dealt a tough blow when feature running back, Jerick McKinnon, suffered a season-ending knee injury in practice last week. To make matters worse, they open up against our fourth-highest ranked run-defense entering the 2018 season. So how can they take pressure off the passing game? Alfred Morris, Matt Breida, and Raheem Mostert could all be in the mix for carries, but they'll need their offensive line to get things started upfront. Veteran Joe Staley will lead this unit once again, but new starters Mike McGlinchey and Weston Richburg will also be relied upon to generate running room on Sunday. The 49ers are hopeful these two can sustain their 2017 success, as McGlinchey finished his final college season with an outstanding 92.0 run-block grade while Richburg posted a respectable grade of 73.8.
Cousins' first regular-season start for the Vikings
Sunday will be the first time we get to see newly-signed quarterback Kirk Cousins take the reigns of the Vikings offense. Since taking over from Robert Griffin III to start the 2015 season, Cousins has been one of the most effective quarterbacks in the league when it comes to throwing the ball from a clean pocket, and logged a passer rating of 109.6 on throws without pressure, which is second only to Drew Brees in that span and beats out notable signal-callers such as Aaron Rodgers, Matt Ryan and Tom Brady. This Sunday, all eyes will be on the Vikings' new 84 million dollar man to see if he can keep this impressive trend going and live up to his hefty price tag.
Peterman under center
Second-year quarterback Nathan Peterman was named the starter for week one earlier this week by Buffalo. Despite struggling last year (passing grade of 41.2, the 85th among 95 qualifying quarterbacks), Peterman looked the part this preseason, finishing with an 80.5 completion percentage and three touchdowns to only one interception. Among qualifying quarterbacks this preseason, Peterman finished sixth in the NFL in adjusted completion percentage with a mark of 85.0 percent. After beating out AJ McCarron and the 2018 seventh-overall pick Josh Allen, Peterman's time is now in Buffalo. Should he falter early, however, the inevitable injection of Allen into the starting role will draw near.
Collins' role as the starter
Baltimore spent the last few years trying to find their bell-cow running back that could handle the workload that Ray Rice left behind and Alex Collins may be the back they've been searching for. Collins is slated to get his first full season as a starter in the NFL and will want to make the most of it. The running back showed off his talent last season, placing in the top five among running backs with at least 200 carries in a variety of metrics including elusive rating (3rd), yards after contact per carry (4th) and breakaway percentage (3rd). He faces a unique test in the Ravens' first game of the season, facing off against a Bills defense that is both physical and tough but yielded more than four yards per carry to running backs last season. Collins will need to show that he can handle the full workload of an NFL starting running back, while also proving that his fumbling troubles that plagued him early in his career with the Ravens are a thing of the past.
Tampa Bay's running game
Through four preseason games, Peyton Barber appears to have secured the starting running back role for Tampa Bay. Barber earned a 70.9 rushing grade for his preseason performance, and after forcing five missed tackles on only 15 attempts, and his 113.0 elusive rating was the tenth-highest mark among all running backs with at least ten attempts in the preseason. Barber played 20-plus snaps in six games in 2017, most of them in the final five weeks of the season, earning a rushing grade of 69.5. He forced 12 missed tackles as a rusher, and his 32.1 elusive rating was well below average. Though it's a small sample size, his preseason performance may indicate a step forward for the undrafted Barber. 
Saints pass-rush
The New Orleans Saints drafted Marcus Davenport in the first round of the 2018 draft with an eye toward bolstering their pass-rush.  The 2018 preseason did nothing to detract from their vision, as Davenport earned an 89.0 pass-rushing grade on 33 snaps, second among Saints defensive players. This preseason, Cameron Jordan (60.0) and Alex Okafor (55.1) had poor preseason pass-rushing grades, but the duo played limited snaps in only one preseason game. It will be interesting to see how frequently the Saints sub in Davenport in pass-rushing situations.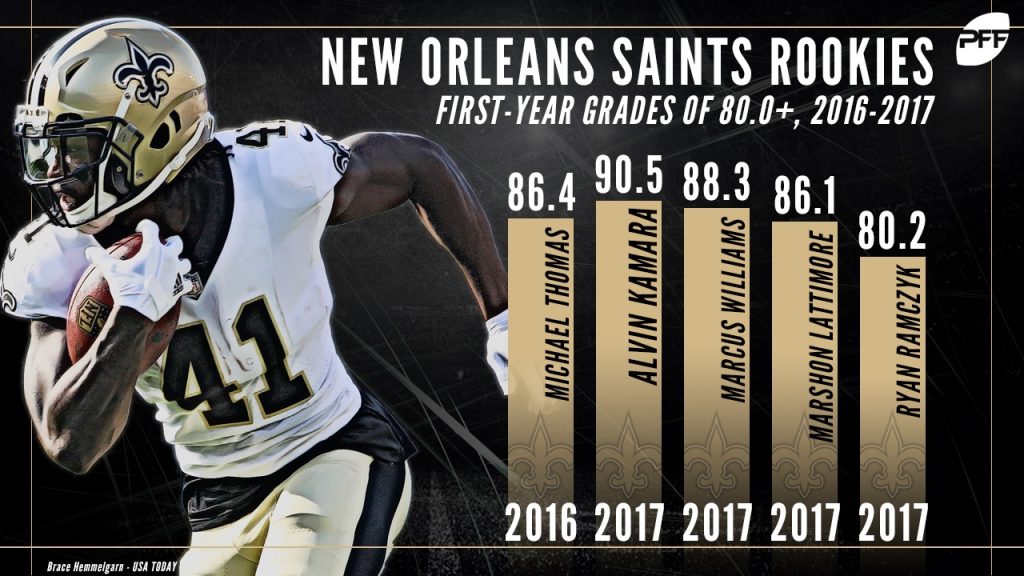 It's Mahomes time
Though Patrick Mahomes saw his first official NFL start in Week 17 of last season (79.9 game grade, sixth among all QBs), Week 1 will be his first regular season start as the newly-crowned face of the franchise. The Mahomes era begins with a daunting road test against Casey Hayward (96.4 Overall PFF Grade in 2017, tops among all cornerbacks) and the Chargers vaunted secondary (94.3 team coverage grade in 2017, second among NFL defenses). We know Mahomes has immense arm talent and his 80.5% adjusted completion percentage this preseason demonstrates the accuracy of a starting-caliber NFL quarterback. Expect Mahomes to ease his way into action by handing the ball off to tackle-breaking machine Kareem Hunt (77 missed tackles forced, tops among all running backs) as the Chiefs look to attack a vulnerable Chargers run defense (71.5 team run defense grade in 2017, 26th among NFL defenses).
Antonio Gates rejoins the Chargers
Questions surrounded the Los Angeles Chargers' tight end position following the potential season-ending knee injury to Hunter Henry. The team brought in a familiar face in Antonio Gates who was targeted 44 times with three touchdowns just a season ago. Gates and his 66.1 2017 offense grade join a duo of Virgil Green and Sean Culkin, neither of who caught a pass for the Chargers last year. Gates' Week 1 status is still undecided as they gear up to open the season against the Kansas City Chiefs, but it'll be fascinating to see if Gates can rekindle his chemistry with quarterback Philip Rivers. 
Alex Smith's Impact with the Redskins
The Washington Redskins are facing off against the Arizona Cardinals to start their regular season. While there are a lot of things to look for on both sides, the big focus for the Reskins will be on Alex Smith and how he leads this offense. Last year, Smith opened the season against the New England Patriots and put up some stellar numbers finishing the game with 368 yards, and four touchdown passes. The Redskins are hoping that is the Alex Smith that shows up for them this season. While Smith has been known throughout his career as a game manager, our PFF numbers pegged 2017 as his best overall season as he graded out at an 82.1, which made him the seventh best quarterback in the league last year. Meanwhile, Kirk Cousins, the quarterback he is replacing, finished the season with a 70.0 grade, placing him 20th in the league at the quarterback position. With this taken into consideration, it's possible that Smith brings this Redskins team to another level this season and we may get a glimpse of that in Week 1.
Will David Johnson Return to being an Elite Running Back?
The big headline for the Arizona Cardinals will be David Johnson. Two years ago, Johnson was arguably the best running back in the league finishing the 2016 season with 1,243 rushing yards and 16 touchdowns. After a year on the sideline due to a wrist injury, the hope is that the former elite back will pickoff right where he left off and led this Cardinals offense. There is no doubt that a player with Johnson's capability can significantly improve an offense, and in a year where there is some uncertainty surrounding the Cardinals quarterback situation regarding Sam Bradford and Josh Rosen, it is nice to have a playmaker that can take the pressure off the signal-caller and force opposing defenses to respect the run. All in all, if Johnson returns to his previous form, it will help this offense out tremendously.  
Bobby Wagner and company form new-look defense
Many familiar faces from the feared Seahawks defenses of a few years ago won't be found at Mile High Stadium on Sunday. Richard Sherman, Kam Chancellor, Michael Bennet, Cliff Avril, and Sheldon Richardson are all gone. In addition to all those departures,  K.J. Wright won't be available for at least a few weeks after getting his knee scoped. With all those stalwarts on the Seattle defense gone, Bobby Wagner is one of the undisputed leaders of the unit along with Earl Thomas. Wagner was the highest graded linebacker in the NFL last season, receiving elite grades above 90.0 in run defense, tackling, pass rushing and coverage. Around him, the Seahawks will look to unproven players to fill in. One such player is former third overall pick Dion Jordan. If Jordan is healthy enough to play Week 1 after being activated from the PUP list, he could bring a spark to the Seahawks pass-rush. In only 60 pass rushing opportunities last season, Jordan picked up 12 pressures (5 hurries, 3 hits, and four sacks) and his overall grade of 85.8 was third on the defense, behind just Wagner and Thomas.
Case Keenum to fill a long-term void on Broncos roster?
The last time a Broncos quarterback graded above 60.0 was Brock Osweiler with a grade of 64.4 in 2015. The last time a Broncos quarterback graded above 80.0 was Peyton Manning during his historic 2013 campaign in which he received a grade of 92.9. Broncos fans will be hoping that new signal-caller Case Keenum can help revive a Broncos offense that has grown stagnant the last few years. Last season, Keenum graded as the eighth-best quarterback in the NFL, receiving a grade of 81.4 while leading the Vikings to the NFC Championship game. Keenum has shown that same ability so far in a Broncos uniform as his overall grade in the preseason of 80.8 ranked in the top-10 of all quarterbacks. An area where Keenum saw success last season was passing the ball on designed rollouts. His 42 completions on such plays led the NFL. It appears the Broncos may be incorporating more of that into their game plan this season to aid in Keenum's transition. After Trevor Siemian and Osweiler combined for only 13 completions on rollouts a season ago, the Broncos had the second most completions as a team on designed rollouts this preseason.
Year two for Christian McCaffrey
2017 was an exciting season for Panthers fans as rookie sensation Christian McCaffrey displayed his excellent pass-catching ability. McCaffrey finished third among all running backs with 80 receptions, and he showed his elusiveness by forcing 19 missed tackles on receptions, which was the fifth most in the NFL. Now entering his second season, McCaffrey will look to improve his performance in the run game. While the former Stanford Cardinal finished 15th among running backs with an overall grade of 73.9, his rushing grade was 35th among running backs at 65.5. 
Can Lee stay on the field? 
The Cowboys will look to prevent McCaffrey from improving in the run game by relying on linebacker Sean Lee to slow McCaffrey down. Lee when healthy is one of the best linebackers in football. Despite missing five games in 2017, Lee posted the third highest run defense grade among linebackers with an elite 90.2 grade. Opposing offenses struggled to keep Lee from disrupting their running game as Lee posted 27 defensive stops against the run, which resulted in a stop percentage at a rate of 13.0 percent, the fifth-best mark among players at his position. This game will feature one of the best linebacker-running back matchups to watch for in Week 1.
Return of the Mack
The Bears acquired a much-needed infusion of pass-rushing talent with a blockbuster deal for Khalil Mack, one of the best all-around defensive players in the NFL. His 79 total pressures last year were tied for second-most among edge defenders, and he led the entire NFL with 96 in 2016. He also finished first at his position in run stops last year, and he has the potential to be a game-changing addition to the defense in Chicago.
Tramon Williams returns for the Packers
A member of the Packers from 2007 to 2014, cornerback Tramon Williams is back from his three-year hiatus with the team and will be the team's top cornerback heading into Week 1. The 35-year-old showed he can still play last season, as his overall grade of 81.5 ranked 13th best among cornerbacks. It was the second highest single-season grade of his career, and he looked great in minimal action this preseason. On 23 total snaps this preseason, Williams saw two targets in coverage: one was caught for a 19-yard completion, the other was picked off by Williams and returned for a touchdown. He has an intriguing matchup this week against an overhauled Bears receiving corps led by WR Allen Robinson, who is coming off a torn ACL.
September 10th
Darnold's Debut
Rookie quarterback Sam Darnold is set to make his first NFL regular season start in Week 1 against the Detroit Lions. After Darnold's promising preseason campaign, the Jets felt at ease to trade quarterback Teddy Bridgewater to the New Orleans Saints, paving the path for the Darnold era. The first-round pick has been every bit as advertised, as his adjusted completion percentage of 79.5 percent ranked first among all rookie quarterbacks this preseason and just one of his 45 pass attempts was deemed to be 'turnover-worthy.' 
Lions secondary looking to ruin the debut
In his first start, Darnold will be going up against a Lions team that graded as the 24th best unit in coverage last season at 68.2, but he will need to be aware of six-year veteran Darius Slay lurking in Detroit's secondary. Slay is a playmaker that ranked first among cornerbacks with 21 combined interceptions and pass breakups last season and allowed a career-best 55.6 passer rating on throws into his coverage. Darnold will be the second-youngest quarterback ever to start an NFL game, and his ability to handle regular season game speed against elite opposition will be something to witness on Sunday.
Interior defensive dominance
The Los Angeles Rams will finally be able to unveil a defensive front that features two of the best interior defenders in Aaron Donald and Ndamukong Suh. The duo has produced some of the best pass-rushing numbers over the last two regular seasons and the pair is going to be relied on heavily to do the same in 2018. Donald is tied for most quarterback pressures generated among all defenders over the last two seasons if you include plays nullified by penalty with 189, while Suh has the 4th most among interior defenders with 118.  With the secondary behind these two, generating pressures will be even more effective at creating turnover-worthy plays from quarterbacks.
Who will produce on the Edge now that Mack is gone?
With the departure of Khalil Mack, the Raiders will look drastically different on the edge this season. The edge defender with the second-most snaps (behind Mack) for Oakland last season was Bruce Irvin, who finished the year with a 70.9 overall grade, ranking 49th out of 123 qualifying edge defenders. The likely starter opposite Irvin will be Tank Carradine, who was with the 49ers last season and earned an overall grade of 76.9, ranking 33rd among edge defenders. Although Irvin and Carradine have solid overall grades, they both graded in the bottom half of edge defenders in pass-rushing last season, with Irvin earning a pass-rushing grade of 60.5 and Carradine earning a 63.2. In contrast, Mack had an 88.3 pass-rushing grade last season, ranking 6th among edge defenders. To create the kind of pressure that walked out the door with Mack, the Raiders might have to get creative, especially with the high-powered Rams' offense coming into town for Monday Night Football.