The NFL's preseason schedule is in the books and it's time to reflect on the league's exhibition period's top-graded players based upon hours and hours of our team of analysts watching every player on every play of every game.
With preseason being such a unique proposition, making this team isn't quite as simple as earning the highest grade at your position over the four weeks. Weighting has been given towards playing time, as well as doing your good work against the first- and second-string opposition units in an attempt to strike a balance between the best production over the longest stretch of playing time, and against the best standard of players.
Check out all preseason information including every player's grade with PFF Elite and Premium Stats 2.0.

Offense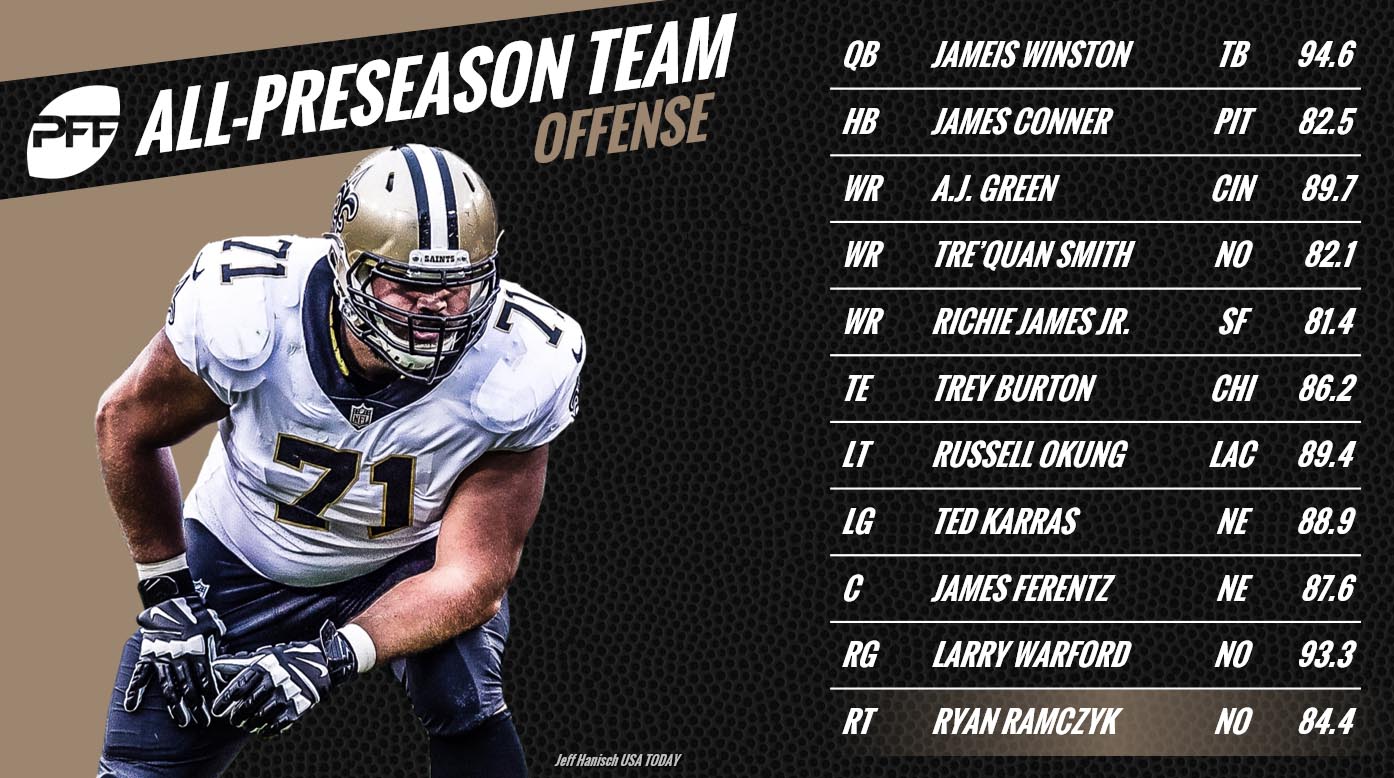 Quarterback
The Buccaneers will be without Winston for the first three games of the regular season, but his performance in the preseason will give fans optimism for when he returns. Impressive throwing the ball downfield, Winston went 15-for-22 for 302 yards on throws traveling 10-plus yards past the line of scrimmage, including three touchdowns.
Running Back
The absence of Le'Veon Bell has dominated the talk in Pittsburgh, but it is another Steelers running back who was our top player at the position during the preseason. Averaging 4.2 yards after contact per attempt, and avoiding five tackles, Conner showed that he is no slouch with the ball in his hands.
Wide Receiver
Of all the big-name wide receivers in the NFL, Green was the one who made the most noise on the field this preseason. He caught all seven catchable passes thrown his way and secured a touchdown, reminding everyone why he is still one of the top pass-catchers in the game.
Wide Receiver
Smith has been everything the Saints could have hoped for and more, especially considering he was a third-round draft pick. He has looked dangerous on intermediate routes, catching all five passes thrown his way between 10 and 19 yards downfield for 94 yards.
Wide Receiver
James was efficient for the 49ers in his first preseason after being drafted in the seventh round of this year's NFL draft. He ranked seventh in the league among wide receivers with at least 10 targets with an averaged of 3.49 yards per route run.
Tight End
Khalil Mack hysteria is in full effect in Chicago, and for good reason, but another reason for optimism in Chicago is their revamped offense. Burton will be key to that and he showed how well he can fit in that offense, averaging 2.94 yards per route run, ranking fourth among tight ends with at least five targets.
Left Tackle
Okung played 54 snaps total for the Chargers this preseason, with an equal split on running and passing downs. He allowed three hurries from his 27 pass-blocking snaps, but did not allow a sack or a hit, and was impressive as a run blocker, finishing the preseason tied for third among all offensive linemen in run-blocking grade.
Left Guard
Karras saw time at all three interior offensive line spots and looked really good in the process. From 82 pass-blocking snaps across all three positions, he allowed just one sack and one hurry, averaging 41 pass-blocking snaps between pressures allowed.
Center
Like Karras, Ferentz also saw time at all three spots on the interior offensive line, with 81 of those snaps coming at center. From 75 snaps in pass protection, he allowed a sack, a hit and a hurry, and looked impressive as a run blocker too.
Right Guard
The highest graded offensive lineman in the NFL this preseason, Warford was dominant up front for the Saints. From 33 pass-blocking snaps, he allowed just one hurry, with no sacks or hits, and delivered some big blocks in the run game too.
Right Tackle
It's a Saints partnership on the right side of our offensive line, with 2017 first-round draft pick at right tackle. He was far from perfect in pass protection, allowing two hurries from 33 pass-blocking snaps, but was utterly dominant as a run blocker at times.
Defense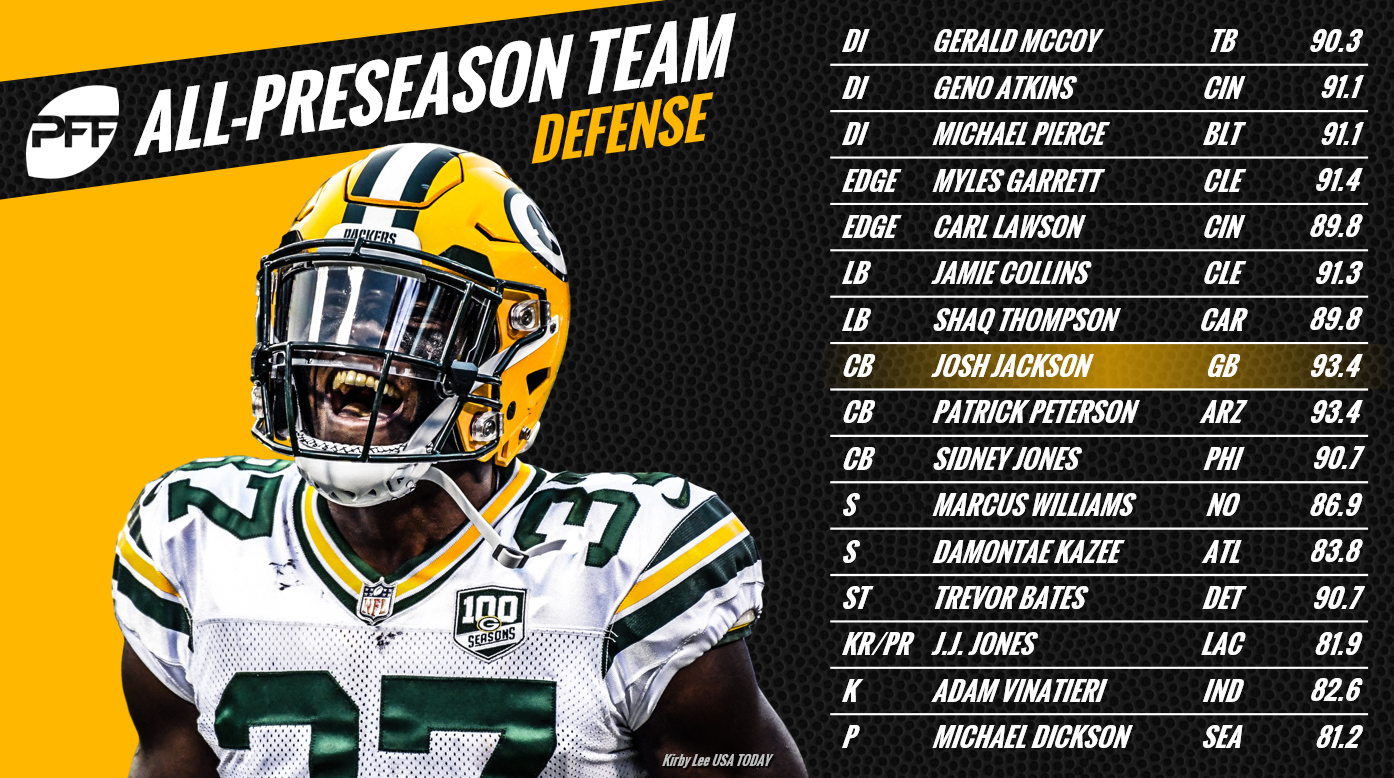 Edge Defender
This is the player the Browns were hoping for when they drafted Garrett with the No. 1 overall pick in the 2017 NFL Draft. Dominant as a pass-rusher, he racked up two sacks, two hits and four hurries, averaging a pressure once every 3.75 pass-rushing attempts.
Interior Defensive Lineman
McCoy was solid against the run this preseason, but it was as a pass-rusher where he really stood out. From 40 pass-rushing snaps, he registered two sacks, a hit and three hurries, averaging a pressure once every 6.66 pass-rushing snaps.
Interior Defensive Lineman
The Bengals rewarded Atkins with a contract extension this preseason, and his performance suggests that we should expect another big showing in the regular season. Rushing the passer just 29 times, Atkins registered two sacks and five hurries in August.
Interior Defensive Lineman
While Atkins and McCoy make the team based on their work as pass-rushers, Pierce makes it for his dominance against the run. So tough for opposing offensive lines to move, Pierce anchored the Ravens run defense and finished the preseason with three tackles resulting in a defensive stop, good for a 14.3 run-stop percentage.
Edge Defender
While the No. 1 selection from last year's draft owns one spot on the edge in our defense, it's a fourth-round draft pick in Lawson who mans the other. Lawson registered four sacks, three hits and two hurries from 48 pass-rushing snaps this preseason, and looks ready to play a key role for the Bengals in 2018.
Linebacker
Collins looked strong in coverage this preseason, allowing eight yards from two receptions on plays where he was the primary defender in coverage while also coming away with an interception. He also didn't miss a single tackle, an added bonus heading into the season.
Linebacker
Thompson was targeted five times in the preseason, giving up just 19 yards on four receptions and coming away with an interception. He finished the preseason with five tackles resulting in a defensive stop, and no missed tackles.
Cornerback
Nine targets. Two receptions. 14 yards. Zero touchdowns. One interception returned for a touchdown. 0.0 NFL passer rating allowed. In this case, the numbers speak for themselves.
Cornerback
Peterson was targeted just four times in the preseason and made opposing quarterbacks regret it when they did. Allowing just one reception for four yards, he too had an interception returned for a touchdown and allowed a passer rating of 0.0.
Cornerback
Jones might well have been a first-round pick a year ago had it not been for injury, and he is on his way to proving the Eagles right for drafting him regardless with a big performance this August. Jones allowed five receptions for 39 yards and a touchdown from 10 targets, but the standout number for his this preseason is that of the five incompletions on throws into his coverage, four were a result of Jones getting a hand on the ball.
Safety
With two Marcus Williams in the New Orleans secondary, this is not the second-year pro who made headlines with his missed tackles in the playoffs. The former undrafted free agent from North Dakota State came away with an interception and allowed just one reception from 35 snaps in coverage in August.
Safety
Kazee had a great preseason and wound up starting the Falcons third preseason game. On the field for 47 coverage snaps, he allowed just seven yards from three receptions and came away with an interception and a pass breakup.
Special Teams
Kicker
The elder statesman of kickers in the NFL, Vinatieri showed that you are only as old as your leg feels with an impressive preseason. He connected on both extra point attempts, and all four field goal attempts, including two from 50-plus yards.
Punter
Is a rookie going to be the best punter in the NFL? There's every chance of that after what we saw from former the Texas punter Dickson in the preseason. He ranked ninth in the league with an average of 4.55 seconds of hang time and tied for fourth with an average of 43.6 net yards per punt.
Special Teamer
Bates saw playing time in five of the six special teams phases for the Lions this preseason, including 18 snaps on punt or kick coverage. From those plays, he registered four tackles, tied for second-most in the NFL this preseason.
Kick/Punt Returner
Jones touched the ball 13 times on special teams this preseason and was one of the few players to find the end zone on a return. He averaged 12.6 yards per punt return, including the one that he housed.