Seemingly undeterred by the backlash that followed after they traded away DeAndre Hopkins last month, the Houston Texans went in search of a replacement for Hopkins via trade on Thursday by sending the 57th overall pick to the Los Angeles Rams in exchange for a future fourth-round pick and wide receiver Brandin Cooks.
Only the (tanking?) New England Patriots hemorrhaged more value during the NFL free agency period than the Houston Texans, which is interesting given the number of win-now moves they have made during head coach Bill O'Brien's tenure as general manager.
With Deshaun Watson in the last year before the fifth-year option of his rookie deal and almost no draft capital to speak of in the immediate future, the Texans probably view now as the time to compete in a weak AFC South — hence the move for Cooks.
[Editor's note: Check out PFF's 2020 Mock Draft Hub, NFL Draft Big Board and NFL Mock Draft Simulator. PFF Elite subscribers can also download the 1,100-page 2020 NFL Draft Guide.]
Cooks has been a very productive player through the first six seasons of his career, posting 1,000 yards each year from 2015 to 2018. He's earned the 12th-most WAR among wide receivers during that time, and he posted the second-most deep receiving yards (608) in the NFL during his first season with the Rams in 2017.
Cooks' 2.3 career wins above replacement is far less than Hopkins' 4.8 — which is the third most at the position since 2013 — but it goes a decent part of the way towards replacing his possible production catching passes from Watson.
While Hopkins has been the brilliant piece of the passing game puzzle for the Texans, it's well-chronicled how much worse the group is without its second wide receiver, Will Fuller V.  
Interestingly, if you look at their route heat maps, Fuller and Cooks run a lot of the same routes.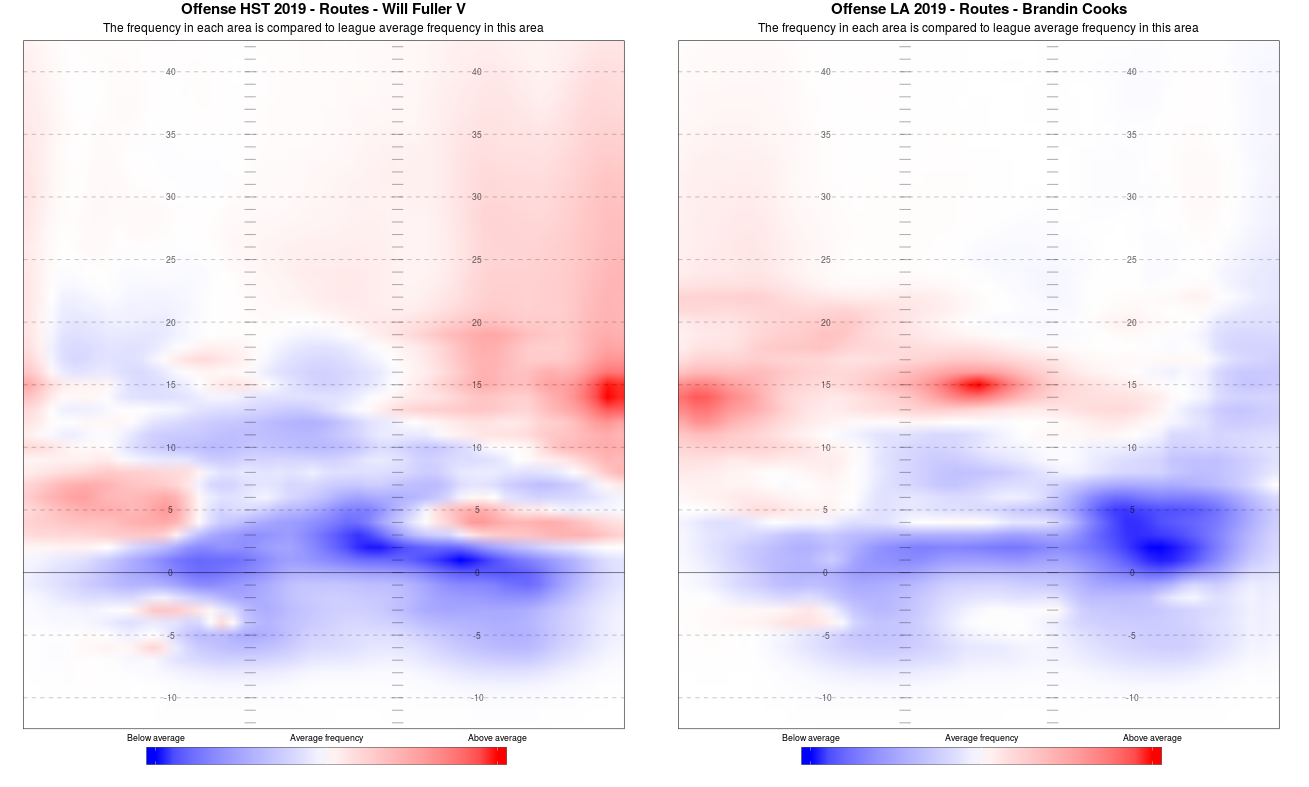 Given Fuller's injury history — he's missed 22 games during his four-year career — and his redundancy with the newly acquired Cooks, it remains to be seen if this will be the last move that the Texans make at the position. The Texans, after all, still have Kenny Stills and the former Dallas Cowboy and Green Bay Packer Randall Cobb in the mix.
With respect to Watson, whose time to throw (and, as a result, pressure rate) both decreased significantly in 2019, this is an interesting move for the young quarterback. Passes to Hopkins a season ago were let go in an average of 2.57 seconds, while Cooks never had a season with the Rams where his targets came faster than 2.66 seconds, and they got slower each year he was in L.A.
While the New Orleans Saints operated with quicker times to throw with Cooks, his average depth of target has been above 13 each year since 2015, while Hopkins' was under 11 a season ago. If Houston wants to continue improving the way in which it protects its young signal-caller, it will either have to alter Cooks' game or replace Fuller directly with Cooks, which likely lowers the return on this trade.
It's a positive move for the Rams to get some draft capital back in exchange for Cooks, a player with several concussion-related question marks, in a season where a number of the top players in the draft are wide receivers. Without a first-round pick since 2016 (with none coming up until 2022 due to the Jalen Ramsey trade) and plenty of holes to fill throughout the roster, it will be interesting to see where Sean McVay and his two new coordinators go with their selections at No. 52 and No. 57 in the second round.
From a bird's-eye view, this looks like another head-scratcher for the Texans and O'Brien. With Deshaun Watson's rookie deal coming to a close, the space necessary to sign veterans simply won't be there in the future, but they continue to trade away assets that could be used to ensure that there is young talent in the pipeline to fill in once the quarterback is taking up an increasingly big part of the cap.
While we are bullish on the former Clemson quarterback — who has earned almost five wins above replacement in two and a half seasons — winning amid this kind of decision-making will be tough moving forward.