We're nearly halfway through the 2021 NFL season, and life is good. Let's attempt to predict the future.
---
Click here for more PFF tools:
Rankings & Projections | WR/CB Matchup Chart | NFL & NCAA Betting Dashboards | NFL Player Props tool | NFL & NCAA Power Rankings
---
What follows are my best guesses for every starting quarterback's defining Week 9 storyline. This will be accomplished through a superlative format, identifying who is most likely to accomplish whatever.
Please don't confuse this as an all-encompassing preview of the position, as the goal is merely to get a solid preview of the game's most important position and attempt to learn a thing or two along the way.
Related content for you: Fantasy Football Waiver Wire: Jeremy McNichols, Mekhi Sargent and Adrian Peterson emerge as Derrick Henry replacements via Nathan Jahnke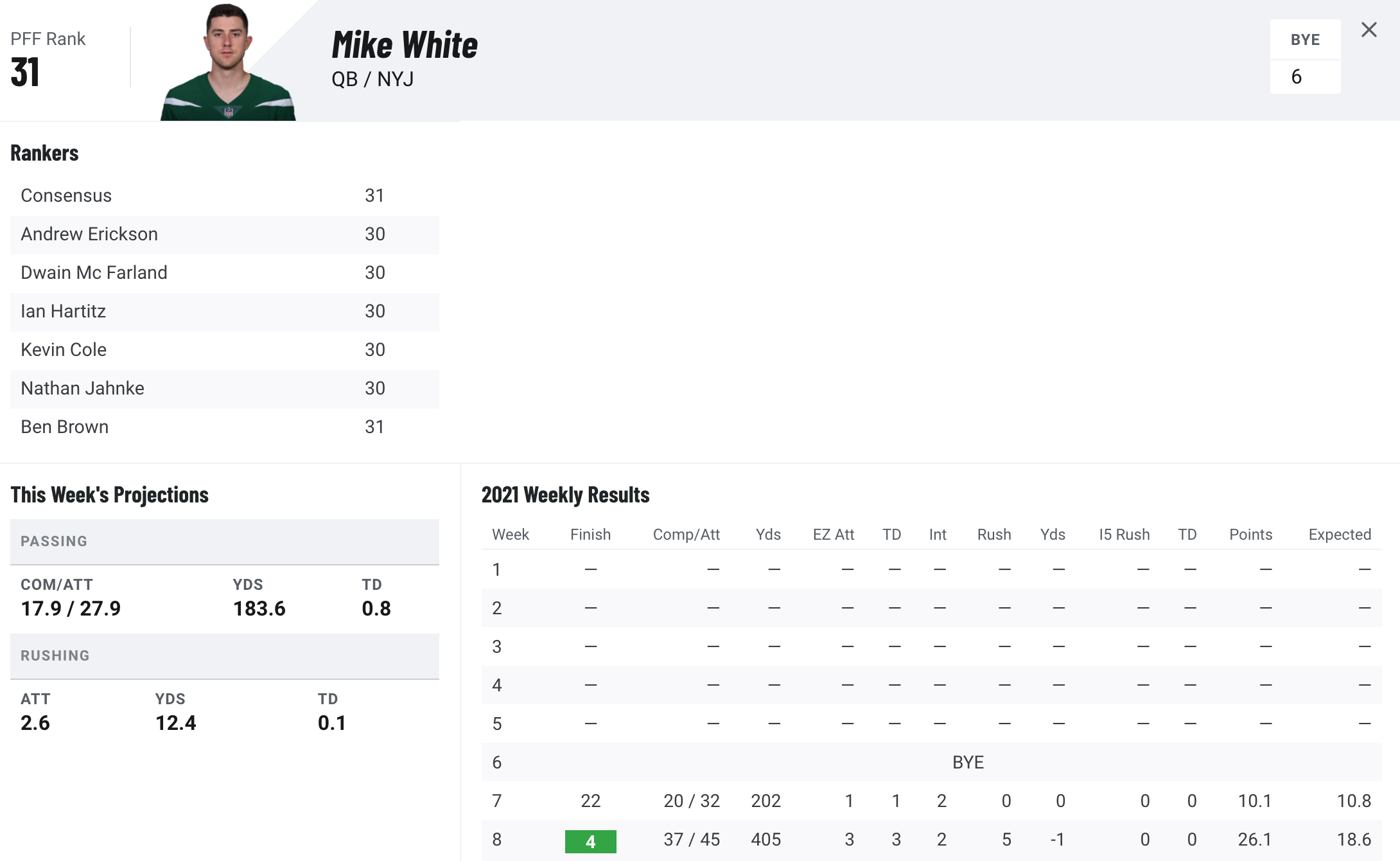 White deserves all the praise in the world for his Week 8 heroics: 405 yards and three touchdowns on a crisp 82% completion rate, and both of his interceptions came off tipped passes.
Here's the thing, White largely just took what the defense gave him all afternoon long. His 4.2-yard average target depth was easily the lowest mark of Week 8 and a whopping 63.2% of his passing yards came after the catch. Overall, White's 13.8% check-down rate on the season is easily the highest in the league, as only Trevor Lawrence (11.5%) and Jared Goff (10.6%) are also above 10%.
Perhaps White plays well against a Colts defense that ranks among the league's bottom-10 units in yards per attempt and QB rating allowed on passes thrown behind the line of scrimmage or up to 10 yards downfield but just realize we'll need to see him win throw deep before Zach Wilson (knee) truly has anything to worry about.
Wentz has made a habit of launching the ball downfield and picking up big-time yardage thanks to his receivers drawing pass interference penalties. In fact, nobody has been better at this facet of the game than Wentz:
Wentz (252 yards gained from defensive pass interference)

Zach Wilson

(196)

Aaron Rodgers

(176)
Wentz (six) and Rodgers (five) are the only signal-callers to get at least five-such calls on passes thrown at least 20 yards downfield.
This isn't an indictment on Wentz, as he's thrown a fairly awesome deep ball this season. Overall, he's one of just eight quarterbacks with at least 500 yards on pass attempts thrown at least 20 yards downfield. Only six signal-callers have a higher QB rating on these sorts of passes.
Only the Dolphins and Football Team have allowed more explosive pass plays (15-plus yards) than the Jets this season so don't be surprised if the Colts are able to move the ball through the air in chunks without the referees' assistance this week.
Carr has largely played excellent football all season long, as it's hard to watch a Raiders game for 60 minutes without seeing multiple great throws.
101 seconds of Derek Carr making some good fooking throws pic.twitter.com/fFxYPsQZpb

— Ian Hartitz (@Ihartitz) October 18, 2021
Through eight weeks, Carr joins Kyler Murray and Tom Brady as the only quarterbacks with at least 20 big-time throws. This hasn't been a volume thing, as Carr's 8.6% big-time throw rate trails only Murray (9%) and Russell Wilson (8.8%) among 34 qualified quarterbacks.
It's safe to say the Giants haven't been very good at defending the deep ball this season (through Week 7):
Yards per attempt allowed on balls thrown 20-plus yards downfield: 14.9 (No. 22)
Explosive pass-play rate allowed: 48.3% (No. 26)
Pass touchdown rate allowed: 13.8% (tied for No. 25)
QB rating allowed: 119.6 (No. 27)
Credit to Carr for engineering the league's 11th-ranked scoring offense and don't be surprised if they hang at least a 30 burger on this burnable Giants secondary.
This isn't meant as a knock on Jones as a passer, as it's just tough to expect much from any quarterback who is missing his top-three receivers. Here's to hoping Kenny Golladay (knee), Sterling Shepard (quad) and Kadarius Toney (thumb) are all healthy enough to suit up next Sunday.
If not, look for Jones to again find most of his success as a rusher (or receiver!). Through seven weeks, only Lamar Jackson (480 rush yards) and Jalen Hurts (361) were more productive on the ground than Jones (229). This isn't a new phenomenon, as only Kyler Murray gets added to the list of more-productive rushers when dating back to Week 1 of last season.
The Raiders have allowed the sixth-most rushing yards to opposing quarterbacks this season. While this stat is somewhat skewed because they've faced Jackson, Jones shouldn't be underestimated in this home spot (at least on the ground).
Much of Falcons head coach Arthur Smith's allure came down to his ability to get the most out of his Titans offense with play-action passes. This has certainly been a successful element of this Atlanta offense through eight weeks, as Ryan ranks among the league's top signal-callers in most metrics when utilizing play-action:
PFF passing grade: 91.5 (No. 3 among 34 qualified quarterbacks)
Passing yards: 662 (No. 9)
Passing touchdowns: 5 (tied for No. 9)
Interceptions: 0 (tied for No. 1)
Yards per attempt: 8.3 (No. 20)
Adjusted completion rate: 83.8% (No. 5)
QB rating: 120.9 (No. 8)
Life won't be easy this week against a Saints defense that ranks seventh in fewest fantasy points per game allowed to opposing quarterbacks but look for Ryan to take advantage of these play-action opportunities, especially if Calvin Ridley (personal) suits up.
People forget that Siemian declined a Pro Bowl invitation back in 2017. Siemian was coming off a season in which he threw for 3,401 yards, 18 scores and 10 interceptions, which is why judging a player's career on Pro Bowl appearances is a scam.
Slander of the NFL's outdated/glorified exhibition game aside, Siemian deserves plenty of credit for leading the Saints to a win over Tom Brady and company. His best throw of the day was a 38-yard pearl down the sideline to Kevin White, demonstrating both Siemian's ability to be more than a dink-and-dunk game-manager as well as the general lack of high-end resources available in this Saints' passing game.
Of course, this offense prefers to run the ball as much as possible, as the Saints rank dead last in passing rate (54.2%) in non-garbage time situations this season. Don't expect Jameis Winston (ACL, IR) and Taysom Hill's (concussion) continued absence to lead to a more pass-happy game plan even in this week's winnable matchup against the Falcons' 27th-ranked defense in QB rating allowed this season.
Allen might be the only quarterback capable of nearly sacking himself by running into his teammate and completing a downfield off-balance pass with his body horizontal to the ground on the same play.
Mainstream media would be going nuts if Mahomes did this pic.twitter.com/APQKQR4Bnd

— Ian Hartitz (@Ihartitz) November 1, 2021
The 2018-2019 version of Allen featured far more playground-style football than the 2020-2021 version but just realize it's always an entertaining afternoon watching when he's under center.
It's fair to wonder if the national guard should be called ahead of this one, as Jacksonville stands out as arguably the league's single-worst pass defense through eight weeks:
Yards per attempt allowed: 8.94 (No. 31)
Explosive pass-play rate allowed: 18.4% (No. 30)
QB rating allowed: 118.4 (No. 31)
Contested target rate allowed: 11.6% (No. 32)
Fantasy points allowed per game to QBs: 22.7 (tied for No. 28)
Allen might be No. 17 in your programs, but this week he should be No. 1 in your fantasy football rankings (and in your heart).
The 2021 NFL Draft's No. 1 overall pick turned in two of his best three performances during the Jaguars' last three games before their Week 7 bye, but he fell back to Earth a bit in Week 8:
Week 1: 61.0 PFF passing grade (No. 26 among quarterbacks with 10-plus dropbacks)
Week 2: 40.1 (No. 33)
Week 3: 50.3 (No. 30)
Week 4: 73.5 (No. 13)
Week 5: 56.1 (No. 29)
Week 6: 82.3 (No. 6)
Week 7: Bye:
Week 8: 68.5 (No. 17, pre-MNF)
On the one hand, Lawrence has racked up 12 big-time throws this season — the 12th-highest mark in the league. On the other, he's one of just 11 quarterbacks with at least 10 turnover-worthy plays through eight weeks.
It seems awfully unlikely that the best version of Lawrence stands up against the Bills' top-ranked defense in scoring but look for him to make at least a throw or two that reminds everyone why he was such a sought-after prospect in the first place.
This season, Mayfield has averaged 11.1 yards per attempt on passes thrown 20 yards downfield — the 26th highest mark in the league. However, he turns into a world-beater when he has an easy role, posting a league-high 9.3 yards per attempt on passes thrown behind the line of scrimmage.
Overall, the Browns' 35% catchable deep ball rate is tied for the second-worst mark in the league. Mayfield deserves some slack for playing through a torn left labrum. Still, this offense has struggled to get much going outside of the plays that are schemed to perfection by head coach Kevin Stefanski: Mayfield ranks 30th among quarterbacks in PFF passing grade when not throwing to his first read.
The Browns' 6.2% drop rate is the seventh-highest mark in the league, so the passing game's struggles aren't fully on Mayfield. Perhaps this passing game will rebound against a Bengals defense that largely had no answers for Mike White's check-down heavy attack but just realize this offense has scored 14 or fewer points in three of its last four games while looking awfully mediocre along the way.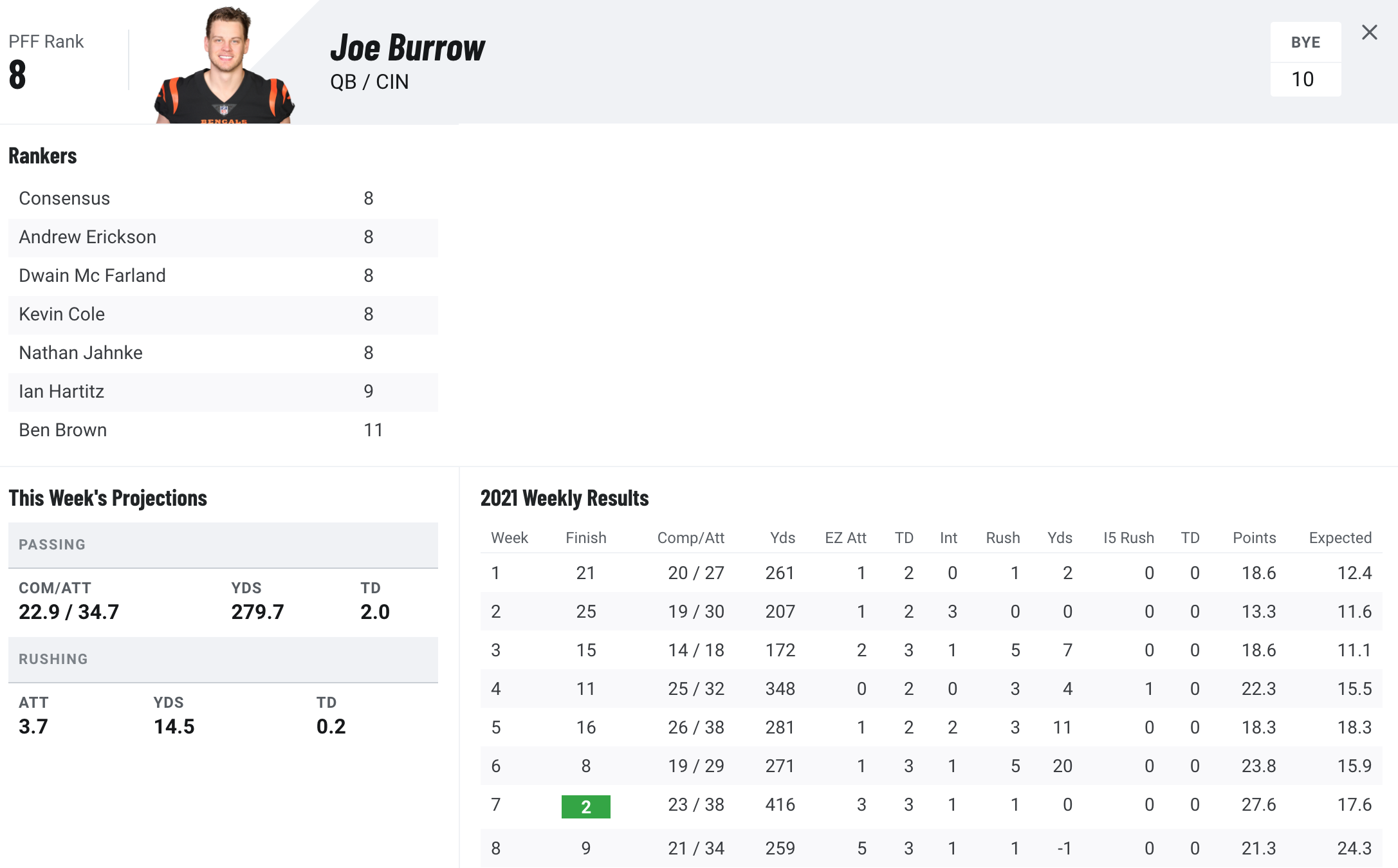 Burrow has shredded defenses in man coverage this season, grading as PFF's third-best quarterback vs. single coverage among 33 qualified signal-callers. Overall, he's racked up 12 scores against just three interceptions when defenses have taken their chances in man coverage, averaging a league-high 11.1 yards per attempt along the way.
The Bengals' disappointing loss to the Jets certainly wasn't ideal for any Cincinnati party involved, but it did mark the eighth-consecutive game that Burrow threw multiple touchdowns. Only Aaron Rodgers (seven) and Josh Allen (six) presently have an active streak longer than five.
A date with Myles Garrett and the Browns' third-ranked pass rush in pressure rate isn't ideal, although betting against Burrow putting up some solid counting numbers has been a losing proposition thus far.
Jones has been the best rookie quarterback by default this season, as the bar to clear hasn't been high. Still, the 2021 NFL Draft's No. 15 overall pick deserves credit for improving his ability to beat defenses downfield:
Weeks 1-5: 4 of 19 on passes thrown 20-plus yards downfield, 97 yards, 0 TD, 2 INT
Weeks 6-7: 6 of 13 on passes thrown 20-plus yards downfield, 234 yards, 2 TD, 0 INT
Overall, Jones has gone from PFF's 33rd highest-graded quarterback on passes thrown at least 20 yards downfield over the first five weeks of the season to the sixth-ranked signal-caller during the Patriots' last two games.
The Panthers boast the league's sixth-best defense in pressure rate, so Jones might not have as much time as usual to look downfield. Still, his improvement has been nothing other than encouraging, which is why Patriots fans should feel good about their future under center.
The clock might have struck midnight on Darnold's fairytale comeback story, although he did look better in Week 8 before leaving with a concussion:
Week 1: 79.5 PFF passing grade (No. 10 among qualified QBs)
Week 2: 71.1 (No. 16)
Week 3: 76.3 (No. 13)
Week 4: 54.7 (No. 27)
Week 5: 44.8 (No. 33)
Week 6: 56.2 (No. 24)
Week 7: 44.3 (No. 28)
Week 8: 81.7 (No. 3)
Darnold's counting stats would have been better had D.J. Moore come down with a perfectly thrown end zone target, and Robby Anderson also failed to complete the catch process on a tight window/borderline hospital ball later in the game.
It'd make sense if Darnold plays better with the Panthers than he did with the Jets considering the superior teammates and coaches at hand but just realize the more likely scenario has always been that he goes from terrible to below-average as opposed to suddenly functioning as one of the league's better quarterbacks.
P.J. Walker will be under center if Darnold fails to clear the concussion protocol by Sunday. It's tough to expect any backup, or Darnold, to find much success against Bill Belichick's evil empire, although both Panthers quarterbacks have enough rushing ability to put some production, at least.
Bridgewater hasn't been terrible this season, but he has not taken care of the ball well enough for someone who also doesn't make a lot of "elite" throws. The two-gloved assassin finds himself in brutal company among quarterbacks with more turnover-worthy plays than big-time throws this season:
Playing through some lower-body pain hasn't helped matters but either way, this Broncos offense has scored just seven, 19, 24, 14 and 17 points over the past five weeks after putting at least 23 points on the scoreboard in each of their first three games.
Only the Bills (4.5%) have intercepted a higher rate of their opponent's passes than the Cowboys (4.2%), so Bridgewater will have to do a better job of taking care of the football if he wants to avoid becoming Trevon Diggs' (ankle) next victim.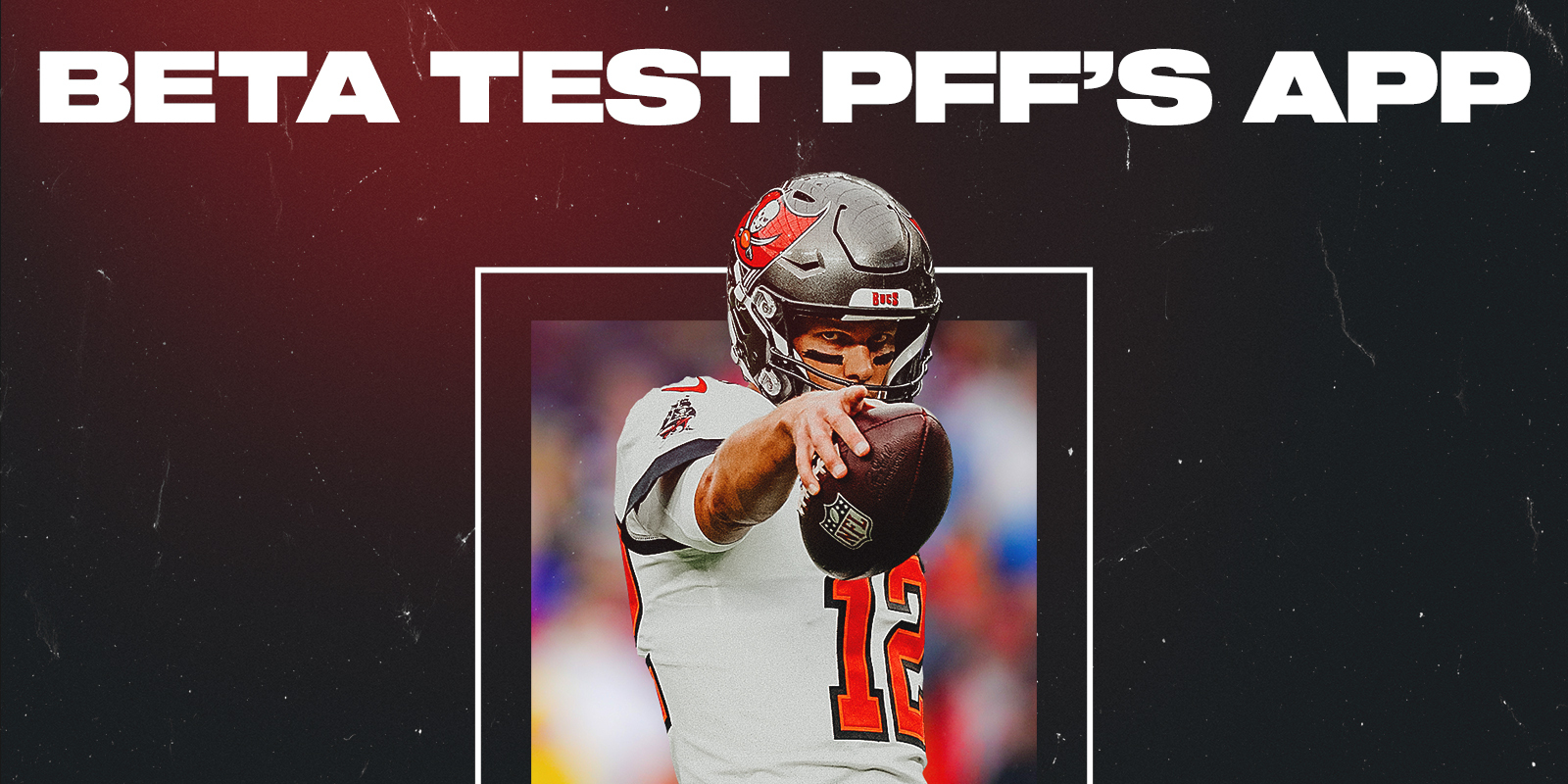 It remains to be seen when Dak Prescott (calf) will return to action. Rush, at least, proved capable of steadying the ship during Prescott's absence in Week 8 — largely thanks to the Cowboys' continued excellence basically everywhere on offense:
Team pass-blocking grade: 72.8 (No. 5)
Team receiving grade: 85.3 (No. 1)
Team rushing grade: 78.8 (No. 11)
Team run-blocking grade: 90.4 (No. 1)
And this passing game figures to only get stronger once Michael Gallup (calf, IR) returns to action himself.
The Broncos suddenly aren't quite as scary on defense after shipping all-world pass-rusher Von Miller to the Rams. Obviously, the league's third-ranked scoring offense is at its best with Prescott under center, but another week with Rush doesn't necessarily mean this group won't again provide a rather stiff test for its opposition.
There simply haven't been many quarterbacks better than Cousins this season when given the benefit of a clean pocket:
PFF passing grade when kept clean: 94.2 (No. 1 among 40 qualified quarterbacks)
Yards per attempt when kept clean: 8.7 (No. 11)
And yet, things have gone south in a hurry once Cousins has faced any sign of pressure:
PFF passing grade when under pressure: 56 (No. 19)
Yards per attempt when under pressure: 3.5 (No. 39)
Overall, Cousins is the third-most sensitive quarterback in terms of the largest dropoff in yards per attempt when kept clean vs. when under pressure.
The Ravens' blitz-happy defense has only registered the 27th-highest pressure rate this season. If the Ravens don't improve their ability to get after the opposing quarterback, they could struggle against Cousins, who does well dissecting defenses when given ample time.
Everyone knows Jackson is one of the best rushing quarterbacks the NFL has ever seen. And yet, his true production on the ground is probably still underrated. Somehow, Jackson's 3,389 rushing yards since entering the league in 2018 trail only Derrick Henry, Ezekiel Elliott, Nick Chubb and Dalvin Cook. Only Daniel Jones (6.3) has averaged more yards per carry than Jackson (6.1) during this stretch.
If folks want to slander the 2019 MVP by calling him a running back — the least they could do is refer to him as a top-five running back.
Jackson also ranks favorably in yards per attempt (No. 15 out of 77 qualified quarterbacks) and PFF passing grade (No. 17) since entering the league so appreciate every opportunity you have to witness one of the most unique talents the NFL has ever seen.
The ceiling is the moon for Jackson and the Ravens against a Vikings defense that struggled to slow down Cooper Rush and company last Sunday night.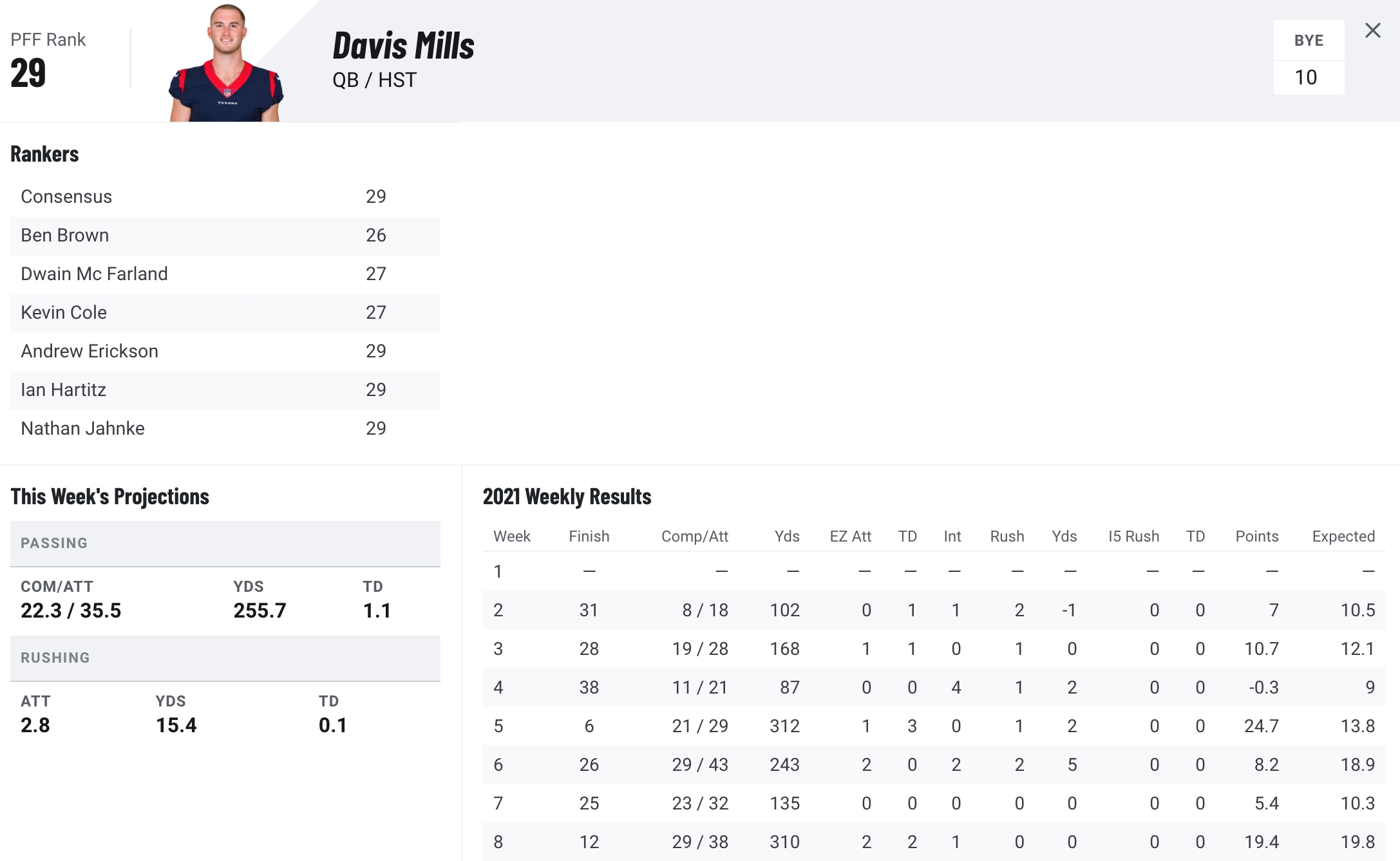 It remains unclear when Tyrod Taylor (hamstring) will be back under center. Expecting anything out of this offense in the meantime is probably a feeble task, as they've essentially done next to nothing until garbage time with Mills under center this season:
Week 3 vs. Panthers: Down 6-14 after three quarters, 9-24 final.
Week 4 at Bills: Down 0-19 after three quarters, 0-40 final
Week 5 vs. Patriots: Up 22-15 after three quarters, 22-25 final.
Week 6 at Colts: Down 3-24 after three quarters, 3-31 final.
Week 7 at Cardinals: Down 5-24 after three quarters, 5-31 final.
Week 8 vs. Rams: Down 0-38 after three quarters, 22-38 final.
Yes, the Dolphins' 29th-ranked scoring defense represents the softest unit Mills will have faced yet. Also yes, it's impossible to expect any semblance of consistency from anyone involved with the Texans' 32nd-ranked scoring offense.
Tagovailoa hasn't exactly lifted the Dolphins to great heights this season, but it's impossible to fully blam him considering just how bad everything has been around him:
Team PFF pass-blocking grade: 50.3 (No. 31)
Team receiving grade: 69.1 (No. 23)
Team rushing grade: 69.2 (No. 24)
Team run block grade: 57.9 (No. 26)
Tagovailoa has also had to get by without Will Fuller (finger, IR) and a mostly limited version of DeVante Parker.
Tagovailoa has posted the league's fourth-quickest average time to release among 34 qualified signal-callers, but it simply hasn't mattered due to the Dolphins allowing a 27.5% pressure rate when the ball has been out in fewer than 2.5 seconds — the second-worst mark in the league.
This week's matchup against the Texans' seventh-worst defense in fantasy points per game allowed to opposing quarterbacks sure looks like a get-right spot, then again, nothing about the Dolphins offense has largely looked anything close to "right" all season long.
The Eagles have racked up the fifth-most snaps in zone coverage this season. Herbert has largely been fine against the look, grading out as PFF's 13th-best passer when attacking zone coverage this season.
Still, Philadelphia deserves credit for mostly limiting its opponent's big plays through the air. Overall, the Eagles are tied for sixth in fewest 15-yard completions allowed while only the Bills, Cardinals, Raiders, 49ers and Packers have allowed a lower explosive pass rate.
One look at the Eagles schedule demonstrates the reality that they've held up more than well against mediocre competition while flailing against some of the league's better quarterbacks:
Week 1 at Falcons: 6 points allowed
Week 2 vs. 49ers: 17
Week 3 at Cowboys: 41
Week 4 vs. Chiefs: 42
Week 5 at Panthers: 18
Week 6 vs. Buccaneers: 28
Week 7 at Raiders: 33
Week 8 at Lions: 6
Herbert certainly is on the trajectory to be considered alongside the top quarterbacks more years than not but just realize Darius Slay and company are far from a pushover.
All Hurts has done in his 12 career starts is put forward one fantasy-friendly performance after another:
Week 14, 2020: 167 pass yards-1 TD-0 INT, 18 carries-106 rush yards-0 TD, fantasy QB11
Week 15, 2020: 338-3-0 passing, 11-63-1 rushing, fantasy QB1
Week 16, 2020: 342-1-2 passing, 9-69-0 rushing, fantasy QB12
Week 17, 2020: 72-0-1 passing, 8-34-2 rushing, fantasy QB20 (in three quarters)
Week 1, 2021: 264-3-0 passing, 7-62-0 rushing, fantasy QB5
Week 2, 2021: 190-0-0 passing, 10-82-1 rushing, fantasy QB10
Week 3, 2021: 326-2-2 passing, 9-35-0 rushing, fantasy QB10
Week 4, 2021: 387-2-0 passing, 8-47-0 rushing, fantasy QB4
Week 5, 2021: 198-0-1 passing, 9-30-2 rushing, fantasy QB11
Week 6, 2021: 115-1-1 passing, 10-44-2 rushing, fantasy QB7
Week 7, 2021: 236-2-0 passing, 13-61-0 rushing, fantasy QB6
Week 8, 2021: 103-0-0 passing, 7-71-0 rushing, fantasy QB22 (in three quarters, pre-MNF)
People often focus too much on what Hurts can't do as opposed to the possibilities he opens up thanks to his exceptional athletic ability. How many quarterbacks could even dream of pulling off the following play?
Jalen Hurts is pretty, pretty, pretty athletic pic.twitter.com/g1yUhRtmJF

— Ian Hartitz (@Ihartitz) November 1, 2021
A date with Derwin James and the Chargers' fourth-ranked defense in the fewest fantasy points per game allowed to opposing quarterbacks might not bring out the best in Hurts as a passer but don't be surprised if/when he again finishes among the week's top-12 fantasy signal-callers thanks his rushing volume.
Credit to Rodgers for coming away with the victory last Thursday night against the Cardinals despite being without the services of his top-three receivers. Still, there's little doubt the best version of his offense boasts a healthy Davante Adams (COVID, IR).
The top-five most efficient wide receivers in terms of yards per route run over the past two seasons have been as follows:
2021

Deebo Samuel

(3.69 yards per route run)

2021

Cooper Kupp

(3.35)

2021 Adams (3.25)

2021

Ja'Marr Chase

(3)

2020 Adams (2.96)
Things have been particularly unfair between the pair during the clutch, as Adams has caught 32 of his 49 targets for 502 yards and a trio of scores in the fourth quarter or in overtime since 2020. He's averaged 3.59 yards per route run in these situations — no other wide receiver has topped 3.05.
The Chiefs are one of just four defenses to allow more than 8.5 yards per attempt this season so hopefully, Adams is healthy enough to suit up and continue to work as Rodgers' right-hand man.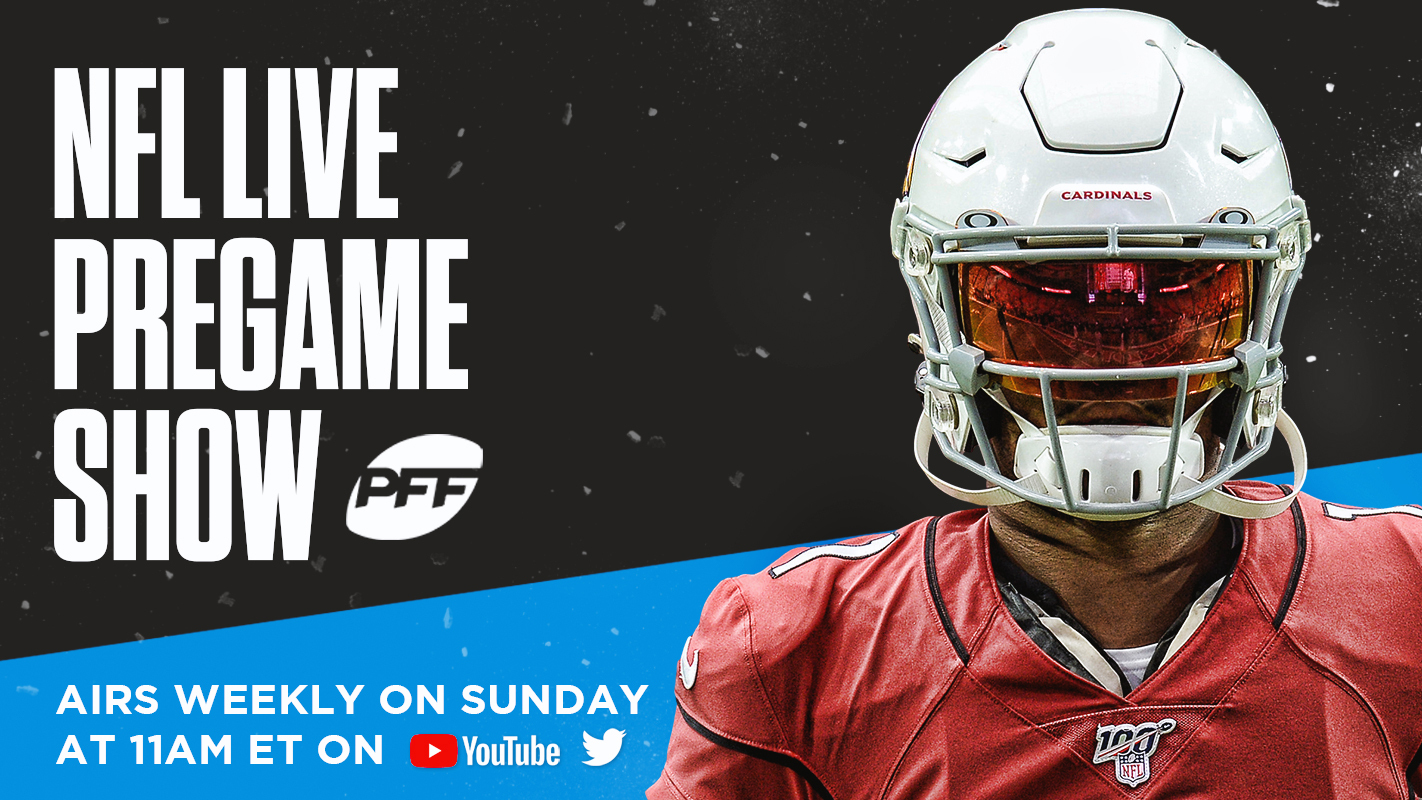 Mahomes and company are at their best when big plays seem inevitable when a pass play is called. Obviously, the Chiefs offense has struggled in recent weeks, and this week's matchup against the Packers might not yield the sort of bounce-back spot it needs.
Yards per attempt allowed on balls thrown 20-plus yards downfield: 13.2 (No. 13)
Explosive pass-play rate allowed: 33.3% (No. 7)
Pass touchdown rate allowed: 12.1% (No. 22)
QB rating allowed: 81.9 (No. 11)
Despite struggling through seven weeks (for him), Mahomes still ranks seventh in PFF's passing grade when chucking the rock at least 20 yards downfield. Obviously, the 2021 season hasn't exactly gone as planned for the Chiefs but be careful about counting out Mahomes and the league's eighth-ranked scoring offense in any given matchup.
Murray and the Cardinals have a league-high 67% catchable deep ball rate this season. Only the Seahawks (61%) are also over 60%. Nobody has a better PFF passing grade than Murray (99.2) when throwing at least 20 yards downfield, and his 47.2% big-time throw rate in these situations is truly absurd.
It might not be as easy to hit downfield passes if DeAndre Hopkins (hamstring) is unable to suit up, but at this point, it's tough to expect anything other than greatness from Murray. This is particularly true in fantasy land, as Murray joins Josh Allen, Justin Herbert, Deshaun Watson and Patrick Mahomes as the only quarterbacks to average more than 21 fantasy points per game in NFL history.
Credit to the 49ers for limiting this offense to just 17 points back in Week 5 but just realize there might not be a defense on the planet capable of shutting down this passing game when everything is clicking.
One could argue that Garoppolo has been the NFL's worst quarterback this season in terms of limiting mistakes while creating big plays:
Big-time throw rate vs. turnover-worthy play rate (PFF)

Further up: Higher rate of turnover-worthy plays
Further down: Lower rate of turnover-worthy plays
Further right: Higher rate of big-time throws
Further left: Lower rate of big-time throws pic.twitter.com/2MMT5B8q5y

— Ian Hartitz (@Ihartitz) November 1, 2021
Kyle Shanahan is a good enough play-caller to put up ample points more weeks than not even despite calling plays for a limited quarterback. Here's to hoping he tries to find out what life could be like with the 2021 NFL Draft's No. 3 overall pick under center. Perhaps his hand could be forced against the Cardinals' eighth-ranked defense in havoc rate.
Derrick Henry (foot, IR) is expected to miss roughly eight weeks. Perhaps the Titans simply turn the offense over to recently-signed Adrian Peterson, but one would like to think they'll take this chance to elevate their passing-game volume instead.
Historically, throwing the ball to A.J. Brown as much as possible has been good for business. He's only produced a single dud in 10 career games with more than eight targets:
10 receptions-155 yards-1 TD

10-151-1

8-133-1

8-114-1

7-112-1

7-82-1

7-91-0

6-83-1

4-101-1

3-43-0
You'd be hard-pressed to find a stat that paints Tannehill as anything other than a top-10 passer since taking over under center in 2019. Overall, Tennessee has been a run-first offense in 2021 (30th in pass-play rate in non-garbage time situations), 2020 (30th) and 2019 (26th) alike despite the passing game at least functioning as an above-average unit in each of 2021 (No. 15 in EPA per pass play), 2020 (No. 4) and 2019 (No. 9).
A date with Aaron Donald, Jalen Ramsey and the recently acquired Von Miller is hardly the sort of spot to expect this passing game to have its best day. Hopefully, we'll find out in the coming weeks whether Tennessee's passing game is truly in the upper class of the league, or if more opportunities will lead to depressed efficiency.
Nobody has completed more passes thrown at least 40 yards downfield than Stafford (five) this season. It's been a treat to see Stafford's limitless arm talent deployed under a mind like Sean McVay, and the results through eight weeks have been nothing short of spectacular:
PFF passing grade: 81.7 (No. 2 highest mark of Stafford's career)
Big-time throw rate: 5.3% (No. 5)
Turnover-worthy play rate: 2% (No. 1)
Yards per attempt: 8.7 (No. 1)
Adjusted completion rate: 74.2% (No. 2)
Stafford has largely been more accurate and efficient than ever while still posting a robust 9.4-yard average target depth.
One could argue the biggest issue facing the Rams offense has been the lack of a consistent rushing attack. Darrell Henderson has put up plenty of fantasy points, but the offense stands out as one of the league's more one-sided attacks from an efficiency perspective.
EPA per pass play vs. run play in 2021 (PFF)

Further up: Efficient run offense
Further down: Inefficient run offense
Further right: Efficient passing game
Further left: Inefficient passing game pic.twitter.com/YPuOcTJnq7

— Ian Hartitz (@Ihartitz) November 1, 2021
It's scary to think about the heights the Rams' fifth-ranked scoring offense can reach if its run game can catch up to Stafford and the passing attack.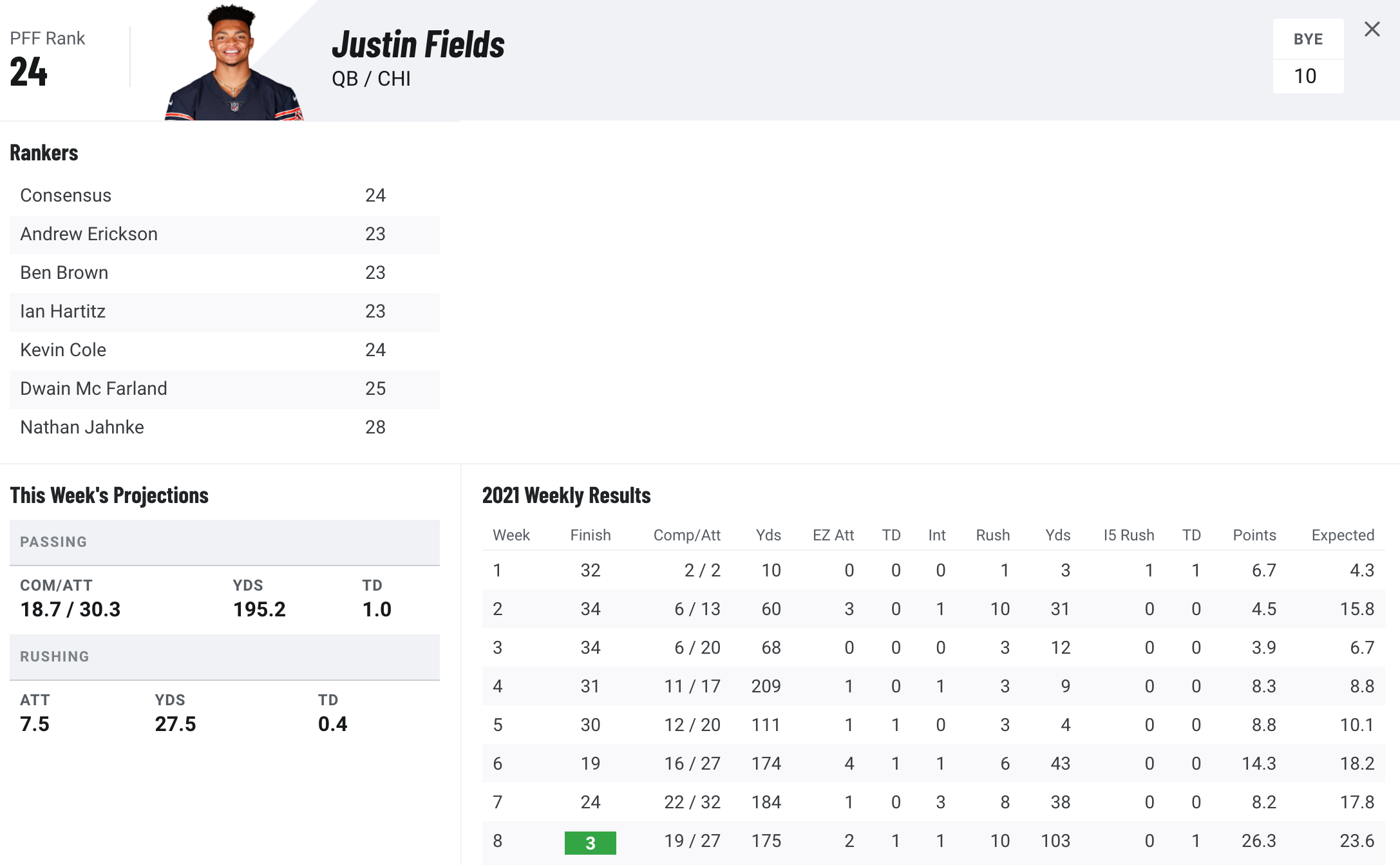 Fields had plenty of impressive plays in Week 8, especially compared to past weeks. Overall, the 2021 NFL Draft's No. 11 overall pick only threw for 175 yards, but he made some truly special throws and racked up an impressive 10-103-1 rushing line.
Of course, Fields' issues didn't simply disappear, as he was still sacked four times and fumbled on two separate occasions.
The performance should still be seen as a net positive, but it's just concerning to think about what next Monday night could look like against T.J. Watt and company. There, arguably, hasn't been a worse quarterback under pressure this season than Fields:
PFF passing grade under pressure: 25.5 (No. 34 among 34 qualified quarterbacks) 
Big-time throw rate: 2.4% (No. 30)
Turnover-worthy play rate: 9.8% (No. 31)
Yards per attempt: 4.5 (No. 31)
Adjusted completion rate: 50% (No. 31)
The Steelers surprisingly rank as the league's fourth-worst defense in pressure rate, but next week's matchup against the PFF's 19th-ranked offensive line in pass-blocking grade could reverse this defense's course.
Roethlisberger is posting decade-long lows in just about any passing metric one can find. Whether it's PFF passing grade (55.9), average target depth (7.5) or QB rating: (83.2), 2020 is basically the only comparable down year to what Roethlisberger has gone through to start 2021. The 39-year-old veteran has been playing through various ailments, but ultimately ranks outside of the league's top-30 quarterbacks in both PFF passing grade and yards per attempt through eight weeks.
The Steelers join the Browns and Football Team as the only three passing games to post a 35% or lower catchable deep ball rate. Sheesh.
Things have managed to go even more south when Roethlisberger has been pressured, as only Justin Fields (25.5) and Jimmy Garoppolo (28.5) have worse PFF passing grades when under duress than Big Ben (28.8). Roethlisberger should spend the better part of this week praying that Khalil Mack (foot) doesn't return to action.