Despite accumulating three total touchdowns in the victory over the San Francisco 49ers, Indianapolis Colts QB Carson Wentz did not have a good game. He produced a 46.3 PFF passing grade and had three turnover-worthy plays — one of which was an awful fumble/pass when being pressured.
Despite all of that, he took advantage of one of the worst rules in football — generating a spot foul after a defensive pass interference call.
---
Click here for more PFF tools:
Rankings & Projections | WR/CB Matchup Chart | NFL & NCAA Betting Dashboards | NFL Player Props tool | NFL & NCAA Power Rankings
---
Drawing a defensive pass interference is one of the most efficient plays in all of football. Yes, there are a lot of things that usually have to happen for a flag to be thrown, but when it works, a team can potentially move 30+ yards downfield. All it takes is a receiver running a deep route and beating his man while his quarterback underthrows him. When this happens, the receiver jumps into the cornerback, drawing a pass interference call, which then gives the offense a first down.
While Wentz didn't have many good throws on Sunday, he took advantage of this concept four times — three resulted in accepted penalties and one was declined due to Michael Pittman Jr.'s brilliance.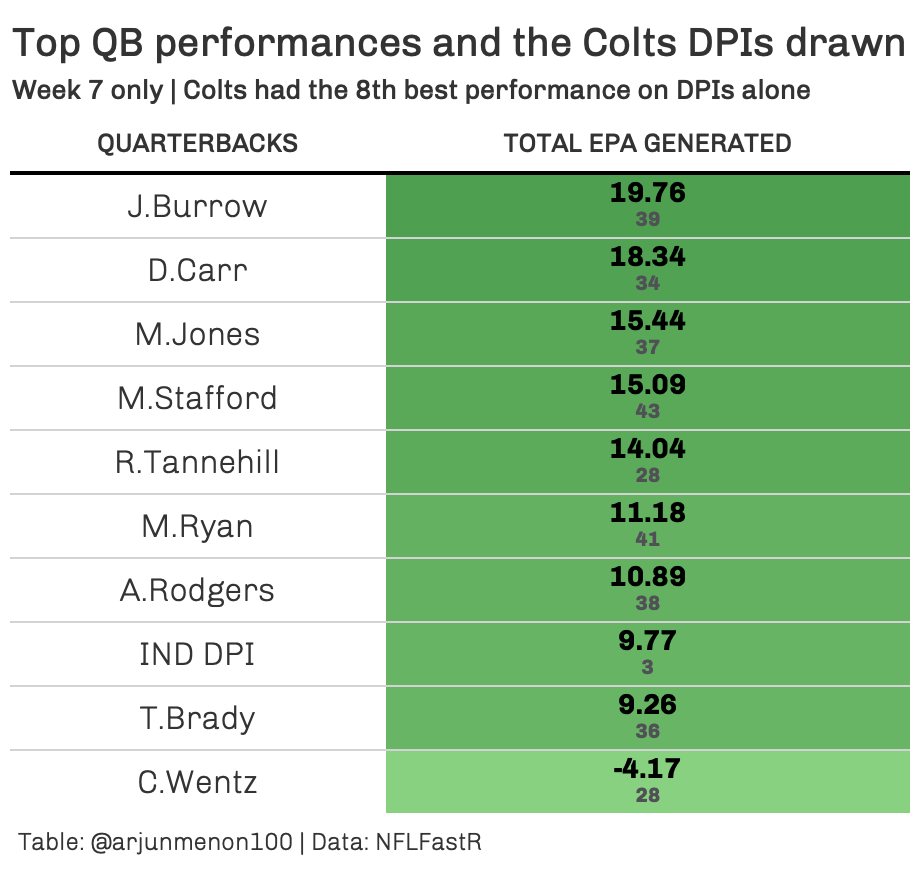 In fact, if you only look at the Colts' expected points added (EPA) gained from defensive pass interferences, they ranked eighth when compared to every other Week 7 quarterback. In contrast, Wentz had the 19th-best QB performance in terms of total EPA generated. 
Every time it seemed like the Colts' offense was stalling or slowing down, Wentz underthrew a receiver and drew a defensive pass interference to keep the chains moving.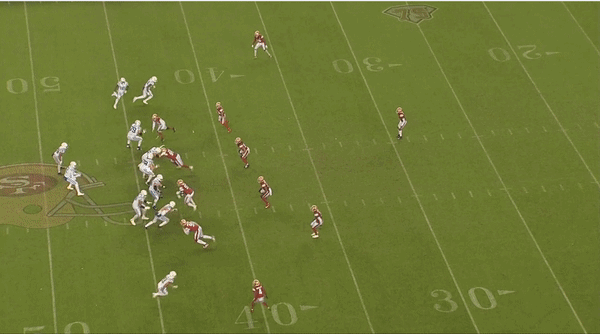 Now, Wentz isn't really considered one of the best quarterbacks in the league. So the fact that he generated more EPA through penalties than his actual passes shouldn't be too much of a surprise, especially in the game conditions the Colts played in.
However, some of the best quarterbacks over the last five years have taken advantage of defensive pass interferences.
On third downs alone, Matt Ryan has generated the most EPA through defensive pass interferences in the league. Third-and-10+ yards are the situations where a quarterback can just throw it up to a receiver, and Ryan previously had one of the best jump-ball receivers, Julio Jones, to throw to.
It's also not a surprise that Tom Brady took advantage of this savvy play given his wealth of experience.
On the other side, we can take a look at which receivers were the best at drawing pass interferences in addition to the EPA that they generated from them.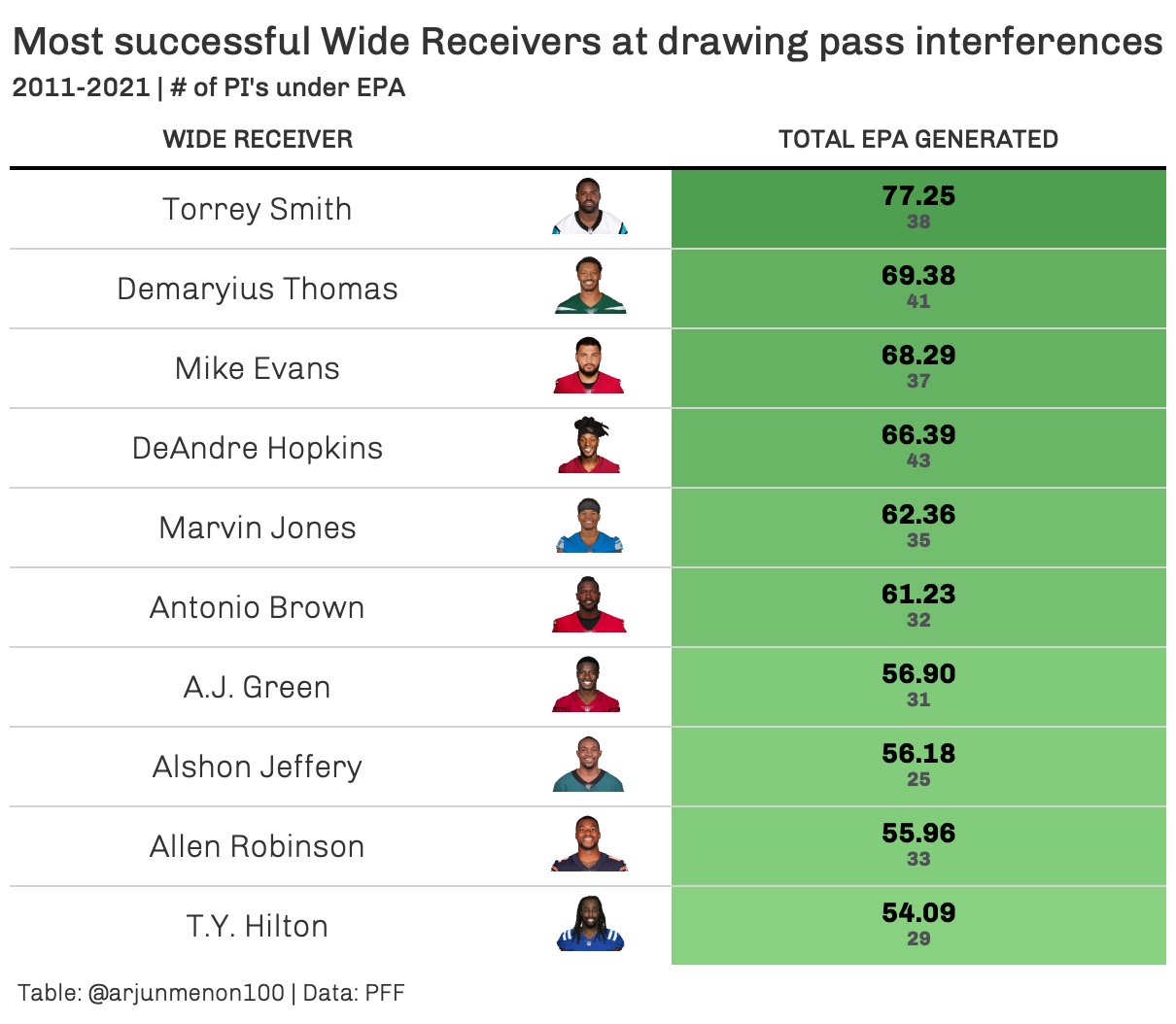 Woah! Since 2011, Torrey Smith has been the best receiver in the league at generating offense from pass interference penalties.
Now, I was too young to really understand football at a schematic level when Smith was at the height of his powers; however, when showing this table on Twitter, many users seemed to agree with it, talking about the Joe Flacco-Smith connection that seemingly drew a plethora of pass interference penalties.
With this information, we can recreate a version of the Greatest Show on Turf that is made up of players who are the best at drawing defensive pass interferences.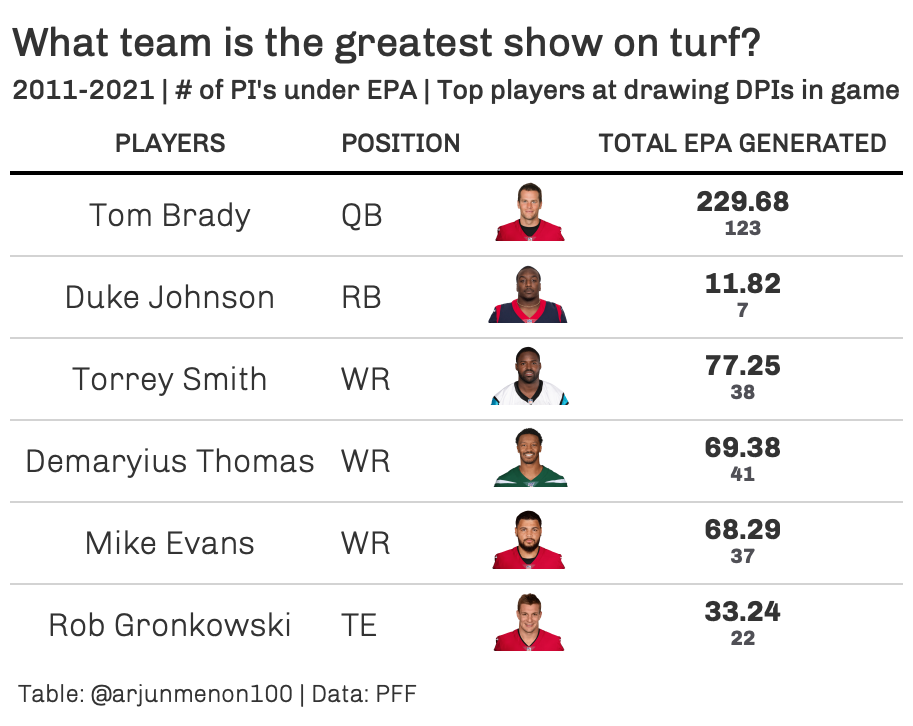 While Ryan led the NFL in EPA generated on third downs alone, Brady has been the king of EPA generated on all pass interference calls. It's also unfortunate for the league that he has two teammates (receiver Mike Evans and tight end Rob Gronkowski) who have been the best at their position at drawing pass interferences.
With all of this information, I created a metric called defensive pass interference over expected (DPIOE) to truly measure which quarterbacks and receivers are the best at drawing pass interferences, and whether or not it's a sign of good quarterback play.
I was able to make this metric using a simple linear regression model. After making this model, I applied it to 2011-2020 to see which quarterbacks drew the most pass interferences over expected in the past decade.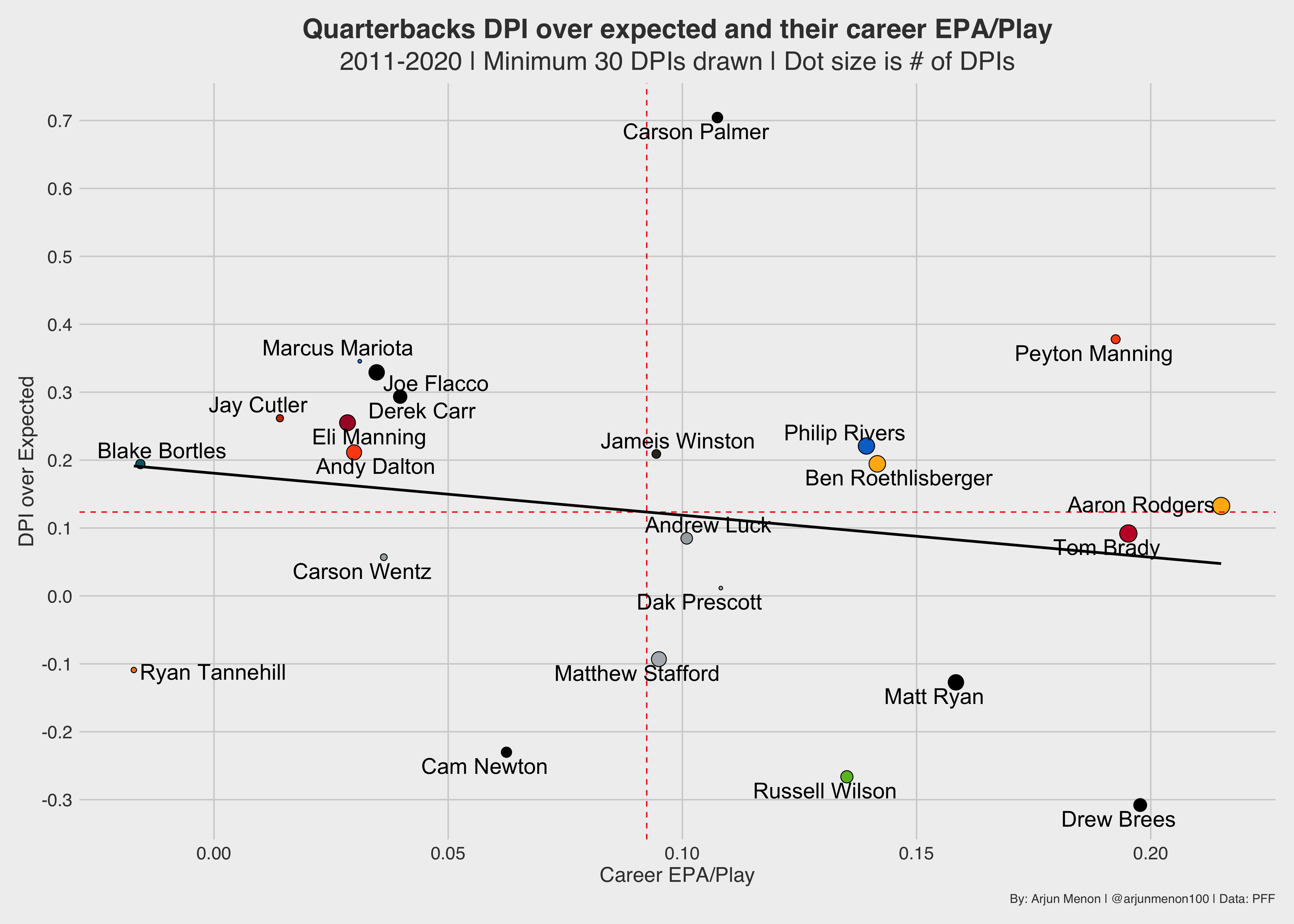 Carson Palmer had the highest DPIOE of the past decade while Drew Brees had the lowest. When thinking about these two quarterbacks, it makes a lot of sense as to why they show up in the rankings.
In the later part of his career, Palmer played in Bruce Arians' offense, which is traditionally known as a vertical offense that requires the quarterback to take deep shots regardless of the down and distance. Thus, he had the highest DPIOE.
Related content for you: 12 potential NFC trades ahead of the 2021 NFL trade deadline via Brad Spielberger
On the flip side, Brees finishing last signifies two things. One, he became a very conservative quarterback toward the latter half of the decade, as he really only looked to the short and intermediate routes for yardage. Secondly, he was very accurate, meaning that he never really put his receivers in positions to have to draw a pass interference. Russell Wilson is the same way, as he has the highest PFF grade on throws further than 30+ yards since 2011.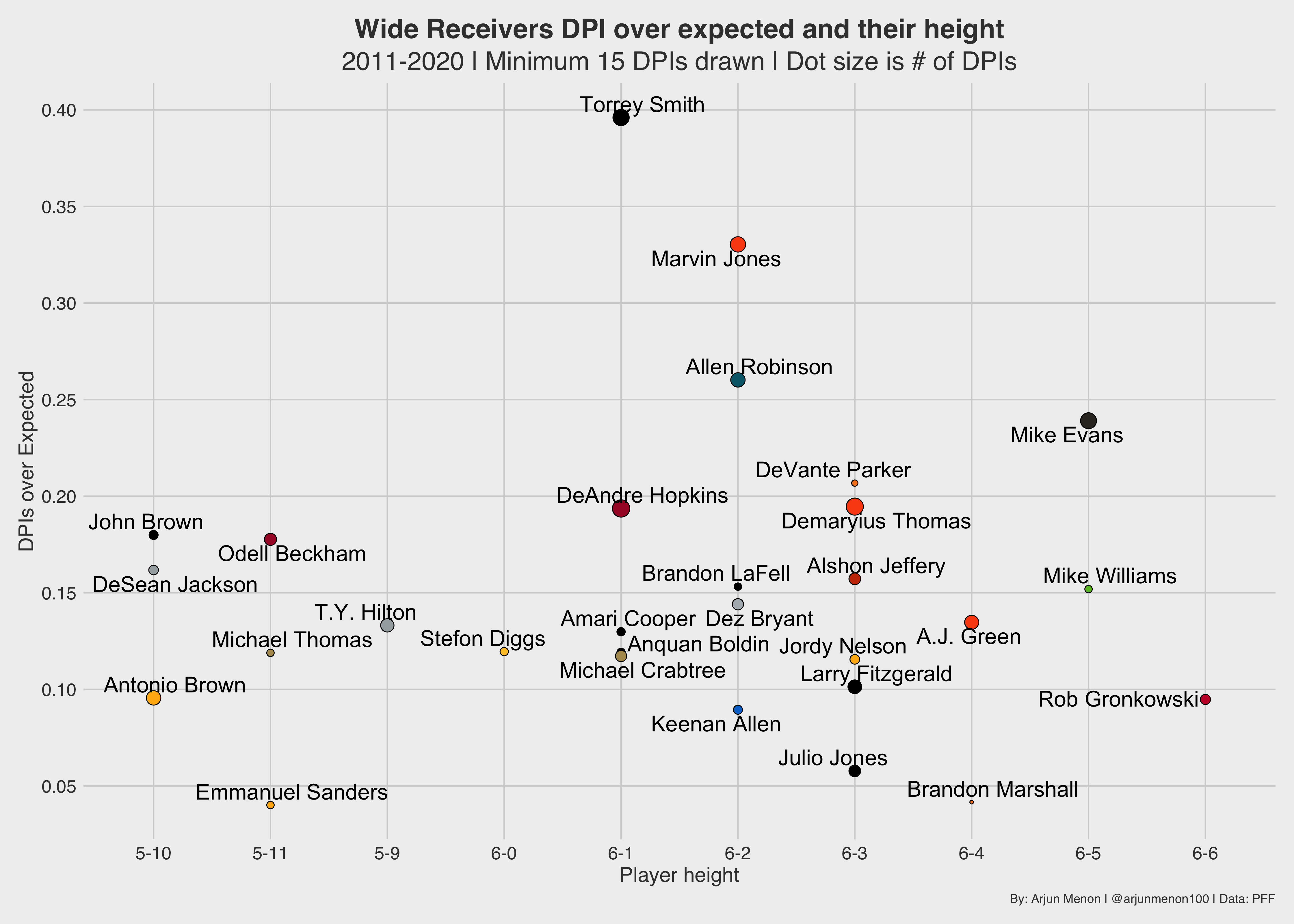 Lastly, I took a look at receivers' DPIOE, and behold,  Smith was the best receiver at drawing pass interferences. It was interesting that there seemed to be no correlation between player height and their DPIOE. Most of the smaller receivers who had a relatively high DPIOE were burners, such as John Brown and DeSean Jackson.
While drawing pass interferences may or may not be a skill in itself (depending on who you ask), it ultimately is a pretty efficient play if run correctly. There is risk because, essentially, it is a 50/50 ball that is usually underthrown, or the defensive player was beaten badly and interfered with the receiver to prevent a big play.
In some situations, these risky throws end up as an interception. Other times, such as last week's Sunday Night Football, these plays become the best source of offense for any quarterback.