The status of several games is up in the air after more COVID-19 news this week. For now, though, there are still plenty of games on the schedule for Week 5, and I'm going to talk about them. These are some of my takes on each team's path to victory this week — some of which are cleaner than others — and my predictions on who comes out on top in each game.
How the Tampa Bay Buccaneers win: The defense forces mistakes and takes advantage of them
Since Week 10 of the 2019 season, the Buccaneers rank third in EPA allowed per play behind only the Steelers and the Ravens. Jamel Dean and Carlton Davis have continued to provide solid play outside in coverage, and Vita Vea has taken the next step towards becoming one of the most dominant interior defenders in the entire NFL. Two interior defenders have at least 50 pass-rushing snaps this season and a pass-rush win rate above 20% — Aaron Donald and Vita Vea. Guys like Vea and Shaquil Barrett need to make Foles uncomfortable in the pocket to give their secondary a chance to make plays on some errant passes.
How the Chicago Bears win: Nick Foles channels some of the energy from the last time he played Tom Brady
The last time Foles shared a field with Brady, he played one of the best games in his career. Foles' 92.3 PFF grade in Super Bowl LII after a masterful performance in the NFC Championship game is one of the wilder storylines of the past decade — a backup quarterback not simply riding a supporting cast to a Super Bowl victory but being the reason that his team took home the Lombardi Trophy. It's hard to say that is what Bears' fans should be expecting from Foles here, though.
Since that Super Bowl, Foles' 74.3 PFF grade ranks 23rd among 46 quarterbacks to play at least 500 offensive snaps. It's fitting that he sits directly in the middle of the pack because the highs and lows from Foles will tend to balance out in the long run, but it's hard to know exactly what you're getting in any given game. Chicago will be hoping it's a version of the quarterback closer to 2017 playoff Foles.
Pick: Tampa Bay
The Buccaneers are banged up at WR, but Brady has been playing well to start the season even if a league-high 13 dropped passes have hurt his stat line. His 90.1 passing grade through four weeks ranks third in the league behind only Aaron Rodgers and Russell Wilson. He leads Tampa Bay to their fourth straight win of the season here.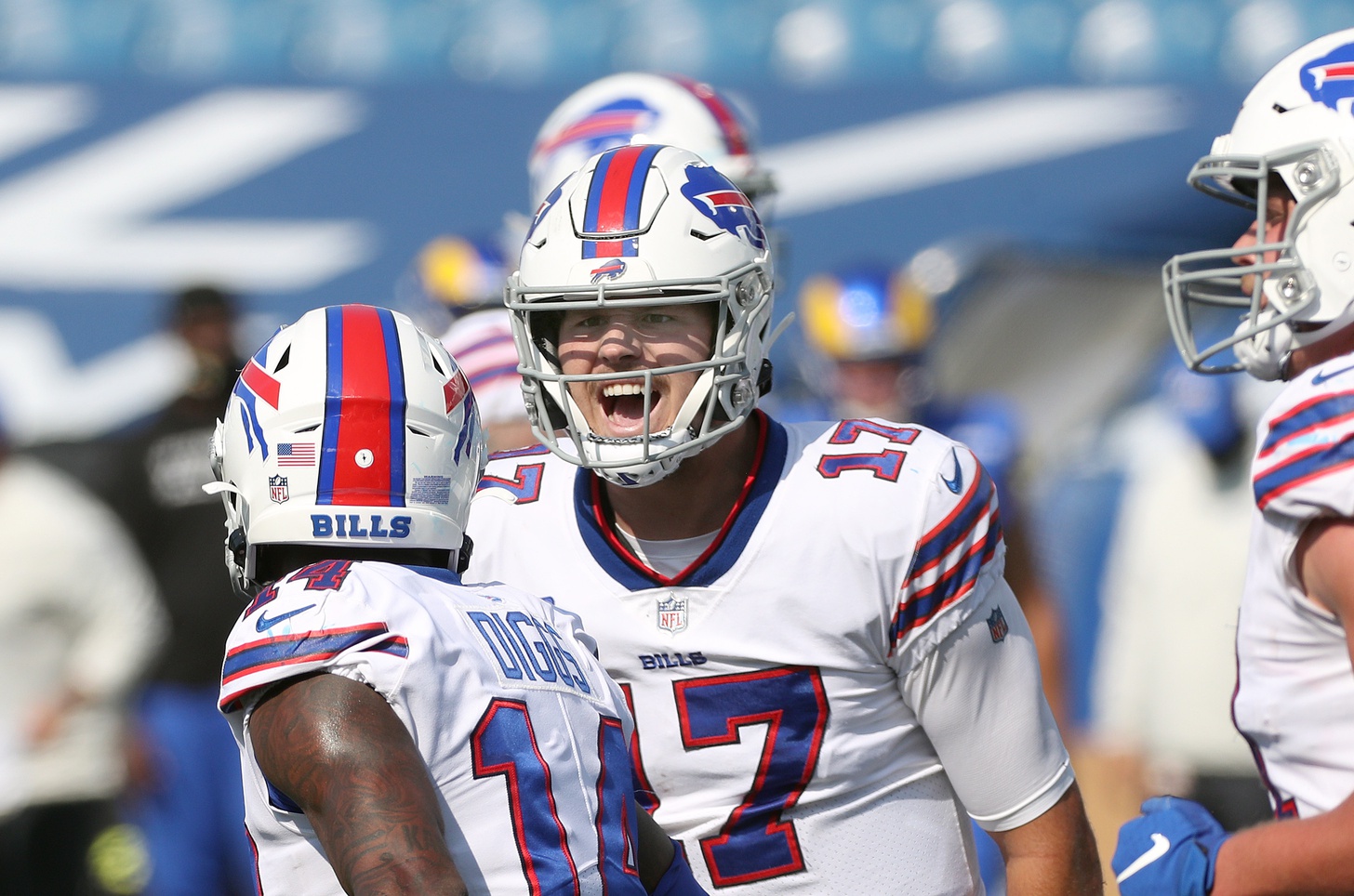 I'm eschewing the normal format for this game because it looks unlikely that it is going to happen this week. Tennessee recorded two additional positive tests on Tuesday, which resets the counter for when the Titans can get into the facility and start to practice. Buffalo playing against the Chiefs on Thursday Night Football in Week 6 makes it more difficult for the NFL to simply push the game like they did with New England vs. Kansas City last week, as well. It's a shame because this did stick out as one of the more intriguing matchups of the week.
Pick: N/A (Buffalo by forfeit most likely outcome if the game is decided this week)
The NFL essentially has two options. First, they could tack on a week at the end of the season where this game and any other inevitable postponement that pops up could be played. Second, they could force the Titans to forfeit if they find they've been in violation of the league's rules. Either way, it's hard to see a scenario where Tennessee goes to 4-0 this week.
---
How the Jacksonville Jaguars win: Gardner Minshew and this offense get back to how they were playing early in the season
The Jaguars' offense was decidedly fun through the first two weeks of the season — a win over the Colts and a hard-fought loss to the Titans. Offensive coordinator Jay Gruden was doing a good job of using misdirection to create opportunities for Minshew and the rest of the offense. The sailing hasn't been as smooth of late, however, as the Jaguars have fallen from fourth in EPA per play over the first two weeks of the season (0.21) to 22nd in their last two contests (0.00). Houston's defense has struggled early this year, and this is a spot where the Jaguars need to get back on track offensively.
How the Houston Texans win: Deshaun Watson has his best game of the season against the league's worst pass defense
Through the first four weeks of the season, Watson ranks 12th at the quarterback position in PFF grade at 75.4. It's not as if it's been a poor start for the fourth-year quarterback who was recently made one of the richest quarterbacks in the NFL, but it hasn't been the best stretch of play in his career. That gets magnified when you start the season at 0-4. Granted, the loss of DeAndre Hopkins, regression in pass protection and the dysfunction surrounding the team and Bill O'Brien hasn't made things easy on Watson.
He does get one of the softest matchups he'll see all year right here, though. Jacksonville ranks dead last in EPA allowed per pass play through the first four weeks of the season after being carved up in consecutive weeks by Ryan Fitzpatrick and Joe Burrow. Things will go from bad to worse if Houston struggles to move the ball and put up points in Week 5.
Pick: Houston
It's a surprise that Houston has started the year 0-4, and it would be even more of a surprise if that losing streak extended to five. Houston gets Romeo Crennel a win in his first game as the team's interim head coach.
---
How the Cincinnati Bengals win: Joe Burrow is able to navigate the Ravens' blitz-heavy defense
There is no denying that Burrow has been under constant fire in his rookie season. He has been hit or sacked more than any other quarterback in the NFL through the first four weeks of the season (34 times), and the pressure is getting there fast. Cincinnati has allowed pressure in 2.5 seconds or less on 26.4% of their dropbacks — the fifth-highest rate in the NFL. Despite all that, Burrow has looked every bit like a franchise quarterback with a 79.9 overall grade that ranks ninth at the quarterback position.
Baltimore is a team that could cause problems for Cincinnati's offense, though. Their 46.2% blitz rate this season is lower than only the Steelers, and quarterbacks not named Patrick Mahomes have combined for a 73.3 passer rating against that blitz in 2020. It will be a test that Burrow needs to rise to if the Bengals hope to pull off the upset.
How the Baltimore Ravens win: Build a lead early and force Burrow to take shots deep to get back into the game
There's no reason that the Ravens can't put up points early in this matchup. The loss of Trae Waynes before the season has put the Bengals' secondary in a tough spot, and injuries up front to Geno Atkins and Mike Daniels have left them thin inside. Baltimore poses a tough matchup for a fully healthy defense, let alone one that's banged up.
An early lead accomplishes a couple of things for Baltimore's defense. First, it allows them to tee off on a rookie quarterback with pressure in obvious passing situations. Second, it may force Burrow to take some more chances deep, which is the one area where he has struggled this season. The rookie has completed just 1 of 22 passes 20 or more yards downfield this season.
Pick: Baltimore
Lamar Jackson gives the Bengals' defense problems, and after two very strong games, Burrow looks more like a rookie quarterback in this one.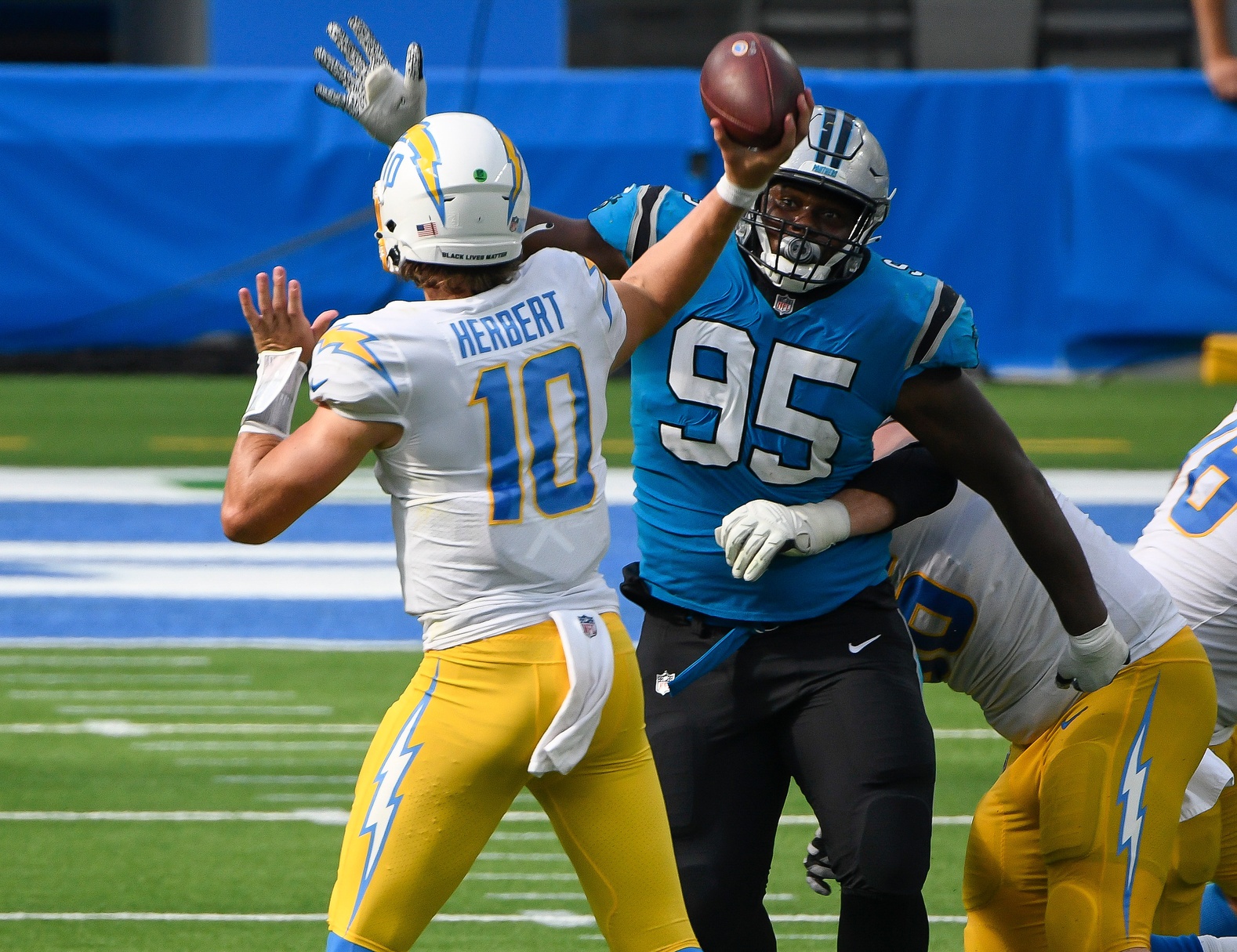 How the Carolina Panthers win: Continue improved play on defense in recent weeks
Early on, Carolina's defense looked like it was going to be one of the league's worst units, and it still probably will finish the year close to the top of that list. Over the last two weeks, however, they've shown signs of growth. The Panthers have been a top-10 defense by EPA per play in wins over the Chargers and Cardinals — two respectable offenses with the way that Justin Herbert is playing.
Rookie defensive tackle Derrick Brown put a rough start to the season behind him and has been excellent in run defense with a 91.4 run-defense grade over the past two weeks. Their secondary has held up reasonably well in coverage, as well. They'll need to continue to do so against a Falcons' team that has one of the better one-two punches in the NFL at wide receiver assuming Julio Jones is good to go in this game.
How the Atlanta Falcons win: Get enough stops on defense to win the scoring battle
Every single team that has played the Falcons this season has scored at least 30 points. The only team to allow more yards per pass play than Atlanta (7.6) this season is the Dolphins (7.9). Injuries have played a role, as 11 different cornerbacks or safeties have seen at least 30 defensive snaps for Atlanta through four weeks, but their secondary wasn't exactly a definitive strength coming into the season, either. Dante Fowler Jr. and his 8.8% pressure rate so far this season hasn't been enough to significantly improve their pass rush, and teams have been able to stand in the pocket and deliver the ball accurately downfield. That needs to correct itself because the Panthers' offense isn't without weapons.
Pick: Atlanta
I could see a lot of people siding with Carolina here coming off two wins, but I still have more faith in Atlanta's offense — particularly if Julio can play with his hamstring injury. Falcons escape the winless ranks in Week 5.
---
How the Las Vegas Raiders win: Derek Carr plays significantly better than he did against Kansas City last season
If you look at the games against Kansas City last season, the Raiders' two highest-graded players on offense were Darren Waller at 88.5 overall and Josh Jacobs at 83.0 overall. Those are the two best players on this Raiders' offense, but they also happen to match up well with the biggest deficiencies on the Chiefs' defense. Kansas City has done a good job of limiting production wide of late with their outside cornerbacks, but Waller still has matchups he can exploit in the middle of the field. As for Jacobs and the run game, only the Jaguars and Panthers have allowed more yards per run play than Kansas City in 2020 (4.8). Las Vegas should look to involve both.
That said, Las Vegas lost by multiple scores in both those games last season with Jacobs and Waller performing well. What they really need is for Carr to improve on the zero big-time throw to four turnover-worthy play ratio he produced against Kansas City in 2019. As in most games, it falls on the quarterback.
How the Kansas City Chiefs win: Force Carr to push the ball downfield
I talked above about how the Raiders want to and should involve both Waller and Jacobs. In a similar vein, the Chiefs' primary objective on defense should be to take away Carr's looks in the short and intermediate range and force him to push the ball downfield. Carr has been effective when throwing deep this season — five for nine for 155 yards and a touchdown — but the nine attempts are what stick out. That is tied for 25th among quarterbacks in 2020.
The Chiefs, meanwhile, have been very effective when quarterbacks do look 20-plus yards downfield. Their 24.5% completion rate allowed on such passes since the start of last season ranks second in the league. Take away what Carr is comfortable with and force him to attack the strength of your defense.
Pick: Kansas City
The Chiefs didn't look like their typical world-beating selves against the Patriots on Monday night, but Bill Belichick is not calling the shots on the other side of the field in this game. Expect the Chiefs to put up plenty of points here.
---
How the Arizona Cardinals win: Get someone besides DeAndre Hopkins involved in the passing game
This isn't a necessity to win this specific matchup. Consider it more of a general note on the absurd target share that Hopkins has had through the first four weeks of the season. His 39 receptions are 25 more than the next closest Cardinals' receiver — Larry Fitzgerald with 14 — and his 397 receiving yards are 280 more than Andy Isabella in second place. Hopkins is fantastic, but ideally, Arizona would like to get some guys like Christian Kirk, Fitzgerald and Isabella a little bit more involved in the offense. This is a good spot for them to do that.
How the New York Jets win: Give Joe Flacco clean pockets to work from
Since 2015, Flacco has a passing grade of 88.6 from a clean pocket — good for 22nd among 32 qualifying quarterbacks. That number drops to 29.7 under pressure. Flacco is just one of two qualifying quarterbacks with a passing grade below 30.0 under pressure over that span. Long story short, whatever chance the Jets have of pulling off this game with their backup quarterback stems from giving said quarterback time to get rid of the football.
The problem there is that New York ranks 32nd in the league in team pass-blocking grade through the first four weeks of the season. Arizona certainly doesn't have the most prolific pass rush in the NFL, but the Jets have had problems blocking much of anyone this year. That could spell trouble for Flacco.
Pick: Arizona
The Jets just lost a Thursday night home game to a Broncos team hit hardest by injury in the NFL that was starting a 2019 undrafted free agent at quarterback for the first time. Arizona is coming off two tough losses, but that stops in a matchup against Flacco and the Jets.
---
How the Philadelphia Eagles win: Carson Wentz builds on his best game of the season against the 49ers in Week 4
When your best game of the season as a quarterback through four weeks involves a 66.9 overall grade, you know things have not gone the way you would have liked. Plays like his touchdown pass to Travis Fulgham show you the kind of talent that Wentz has, but league-worst accuracy and way too many turnover chances handed out to the defense have him grading as one of the worst quarterbacks in the league.
The only quarterback with a worse passing grade under pressure than Wentz in 2020 (29.2) is the recently benched Dwayne Haskins. Against arguably the best pass rush in the NFL, Wentz will need to take care of the football and get the ball out accurately to whoever is healthy enough to line up at wide receiver this week.
How the Pittsburgh Steelers win: Pittsburgh's wide receivers take advantage of whoever Darius Slay isn't covering
With the addition of Slay, the Eagles have become one of the more man-heavy teams in the NFL. Their 45.9% Cover-1 usage rate according to our charting ranks behind only Detroit and Arizona through the first four weeks of the season. Slay has played well as the team's top cornerback with a coverage grade of 70.7, but there isn't another cornerback on the team with a coverage grade above 52.5 on at least 50 snaps. Injuries forced Philadelphia to move Jalen Mills back outside in Week 4, where he allowed just 11 receiving yards. It's important to note, however, that San Francisco is hardly an offense that features their outside receivers.
Between Diontae Johnson, JuJu Smith-Schuster, James Washington and Chase Claypool, the easiest path to success for Pittsburgh is to attack cornerbacks (and linebackers) not named Slay in coverage.
Pick: Pittsburgh
Coming off a bye week they would have rather not had, T.J. Watt and company get to Wentz and put the Steelers' offense in favorable situations. Look for Ben Roethlisberger to get rid of the ball quickly to attempt to mitigate a strong pass rush on the other side for the Eagles.
---
How the Los Angeles Rams win: Take advantage of the Kyle Allen mistakes that are surely coming
There is no getting around the fact that Haskins has been bad to start the season, but the decision by Washington to switch to Allen still comes as a surprise just four weeks into the season. There's familiarity with Ron Rivera, but all familiarity isn't good familiarity. Allen's 34 turnover-worthy plays in 2019 — a year in which he didn't even play the full season — were the second-most in the NFL behind only Jameis Winston. That indicates that the Rams will have chances at turnovers in this game, particularly with NFL pressure leader Aaron Donald (27) looking to make Allen uncomfortable. Los Angeles needs to capitalize on those opportunities.
How the Washington Football Team win: Get Jared Goff and the Rams' offense off rhythm with a strong pass rush
The success of the Rams' offense isn't a big secret at this point. When Goff is working in rhythm and has time and space to operate, he looks like one of the best quarterbacks in the NFL. That has been the case for much of the early part of this season. Where things went off the rail in 2019 was the fact that the pass protection was breaking down and Goff was forced to speed things up. Washington's chance at stealing this game as touchdown underdogs is to capitalize on a defensive front that has generated a 39.3% pressure rate in 2020 (2nd in the NFL). They have a chance if they force Goff to improvise.
Pick: Los Angeles
Washington's pass rush did give me some pause, but it's just hard to back a Washington offense that is lacking weapons beyond Terry McLaurin and Antonio Gibson and moving from one bad option at quarterback to another.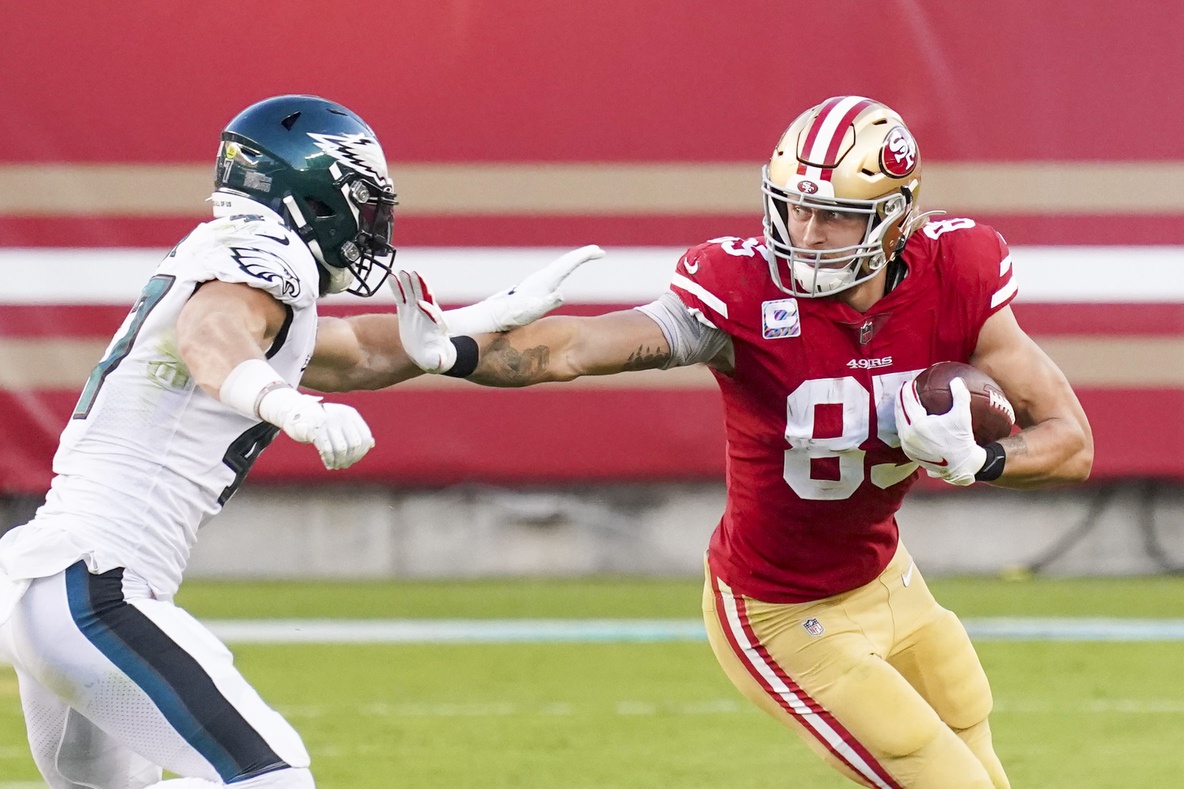 How the Miami Dolphins win: Look significantly better in the secondary with the expected return of Byron Jones
There was optimism surrounding the moves that the Dolphins made in the secondary coming into the season. They signed Jones in free agency, drafted Noah Igbinoghene in the second round and were getting Xavien Howard back from injury. Things have not gone according to plan. Jones has missed much of the season with injury, and Igbinoghene has been thrust into a larger role as a result where he has earned just a 32.7 coverage grade.
Jones is expected to return in Week 5 barring any setbacks, however. This isn't necessarily the most important matchup for him to be on the field against a 49ers' team that has thrown the ball to a wide receiver just 53 times across four games — last in the NFL — but it will certainly help the defense as a whole. Miami needs to ride that momentum from his return and force what will likely be Jimmy Garoppolo at quarterback into some mistakes.
How the San Francisco 49ers win: Keep feeding George Kittle
The 49ers lost in Week 4 thanks largely to some disastrous play from backup quarterback Nick Mullens, but George Kittle returned and looked every bit like the best tight end in the NFL. Kittle led all tight ends and wide receivers in Week 4 in contested catches (six), yards after the catch (70) and first downs or touchdowns (11). On the flip side, Miami has allowed just 116 receiving yards to tight ends all season (28th-most in NFL), but they haven't faced any tight ends that can bring anything close to what Kittle can to the table. For San Francisco, it's as easy as continuing to feed their best player the ball.
Pick: San Francisco
The NFC West is no joke, making this game borderline must-win territory if San Francisco wants to avoid starting the season 2-3 with slim chance of winning the division title for the second consecutive season. They come through with the win to keep those division hopes alive here.
---
How the New York Giants win: Give Daniel Jones time to attack one of the worst pass defenses in the NFL
The Giants enter Week 5 with the 30th-ranked team pass-blocking grade in the NFL, beating out only the Broncos and Jets through the first four weeks of the 2020 season. Jones handled that pressure reasonably well in the season opener against the Steelers with a PFF passing grade of 72.0, but that figure has fallen to just 37.1 over the past three games — 28th out of 32 qualifying quarterbacks. He is averaging just 3.3 yards per attempt under pressure to go along with a share of the league lead with 11 sacks taken.
Luckily for New York, Dallas has generated pressure on just 27% of their pass rushes in 2020 (24th in the NFL), and they've been a bottom-five pass defense overall by EPA per play. The Giants need to take advantage of that.
How the Dallas Cowboys win: Don't dig a big hole early
The Cowboys fell 20 points behind the Falcons in the first quarter — their lone win of the season. They went down double digits to the Seahawks before making things interesting late. Last week, they fell 27 points behind late in the third quarter before making Cleveland sweat late in the game. The moral of the story is that the Cowboys have the offensive weapons to make those comebacks with Dak Prescott, Amari Cooper, CeeDee Lamb and Michael Gallup, but things would be a whole lot easier if they didn't dig themselves those holes in the first place. Look for them to be aggressive early on in an attempt to build a big lead for the first time this season.
Pick: Dallas
Despite a 1-3 start, the Cowboys are still the favorites to win the NFC East. Their offense shows why that is the case in this one against a defense that they should be able to exploit.
---
How the Denver Broncos win: Denver's receivers get open against the Patriots' man coverage
This Broncos' receiving corps certainly isn't at full strength. Their top receiver (Courtland Sutton) is out for the season, and K.J. Hamler will be less than 100% if he goes on Thursday with a hamstring injury that held him out of practice this week. They still have a player who — in my opinion — is already one of the best separators in the NFL already as a rookie.
While Jerry Jeudy hasn't truly had a breakout game yet, he has recorded at least 50 receiving yards in each of his first four NFL games. Jeudy won't be seeing any of Stephon Gilmore here which is a clear plus, and he'll need to consistently give Brett Rypien open targets, particularly if Hamler isn't able to suit up. When your young QB is going against a Bill Belichick defense in his second NFL start, you need to give him all the help he can get.
How the New England Patriots win: They weather the two most important players on their team hitting the COVID-19 list
The NFL decided to move forward with the Patriots' Week 4 game against the Chiefs despite Cam Newton testing positive for COVID-19, but with Stephon Gilmore also testing positive in the wake of that game, it remains to be seen how the NFL handles the situation. If this game does proceed as scheduled, the Patriots will be behind the eight-ball without two of their best players. They'll need the starter at quarterback — whether that be Brian Hoyer or Jarrett Stidham — to give a better performance than the combined 5.4 yards per pass attempt they averaged in Week 4. The Gilmore loss, though not ideal, is easier to manage with Jason McCourty capable of stepping back outside to pair with J.C. Jackson.
Pick: Patriots
Assuming this game actually plays this week, New England should have the edge even without Newton and Gilmore. We just saw Belichick cause some problems for Patrick Mahomes and the Chiefs' offense. It's hard not to see him doing more damage against Rypien and Denver's offense here.
---
How the Indianapolis Colts win: Philip Rivers doesn't give Cleveland turnover opportunities
Last season with the Chargers, Rivers was one of four quarterbacks in the league with over 30 turnover-worthy plays on the season. That has improved through the first four weeks of the 2020 season, as Rivers has just four such plays, but three of them came in the Colts' lone loss of the season back in Week 1. Cleveland is a team that can really make you pay for costly turnovers with the way that they've been running the football of late — capitalizing on short fields to score and shorten the game. Rivers has to make sure he doesn't give them that chance in this game.
How the Cleveland Browns win: Beat the Colts at their own game by winning the line of scrimmage
The only offensive line with a higher collective PFF grade than the Browns right now (89.8) resides in New England (90.0). Bill Callahan has this group humming, and outside of Jedrick Wills — a rookie left tackle making the switch from the right to the left side — each individual member of the line is grading among the top players at their position. On the other side of the trenches, Myles Garrett has looked like the league's best pass rusher with a 91.4 pass-rushing grade and a share of the league lead for total pressures at 27 with Aaron Donald.
It's not often that the Colts go into a game outmatched along the offensive and defensive line, but the Browns will challenge them. The offensive line keeping Baker Mayfield clean and clearing lanes for Kareem Hunt in the run game with Garrett getting to Philip Rivers on the other end is how Cleveland wins this game.
Pick: Cleveland
I don't like that Cleveland has me believing in them again, but here we are. This is their toughest defensive test since Week 1 against the Ravens, but I like the way that the Browns put an emphasis on getting the ball into Odell Beckham Jr.'s hands in Week 4 and the general direction their offense is headed under Kevin Stefanski.
---
How the Minnesota Vikings win: Kirk Cousins outduels Russell Wilson against a Seahawks' defense that has holes
Though his best single-game grade of the season technically came in Week 1, Cousins is coming off his best game of the season against the Texans last week. He leads the NFL in average depth of target at 12.1 yards through the first four weeks of the season, and the wide receiver duo of Adam Thielen and Justin Jefferson are both having success downfield. Cousins certainly isn't the best quarterback in this matchup, but he is capable of having tremendous individual games.
The Vikings have to hope that this is one of those contests, and it isn't a situation where Cousins folds in the big moment. Seattle's defense can be beaten. They're generating pressure at the lowest rate in the NFL despite blitzing at an above-average rate, and their cornerbacks have given up some production early in the season. Minnesota's chance at winning this game stems from whether Cousins can take advantage of that matchup and keep pace with Wilson on the other side.
How the Seattle Seahawks win: D.K. Metcalf and Tyler Lockett pick on a cornerback group that has struggled to begin the season
A big part of what makes this matchup so bad for the Vikings is that Seattle wants to attack defenses outside the numbers in the passing game which moves away from the strength of the Vikings in coverage — Anthony Harris and Harrison Smith at safety. Instead, they'll be attacking a cornerback group where rookie Cameron Dantzler leads the bunch with a 62.8 coverage grade.
We've seen the Wilson-to-Metcalf connection give Stephon Gilmore and the Patriots problems in coverage. It's about as unstoppable as it gets right now, and it's hard to see that changing against Minnesota who has struggled to generate a pass rush and cover on the back end through the first four weeks of the season.
Pick: Seattle
Seattle simply has too much going for them on offense right now for me to see them losing this game at home. It's easier to have faith in Wilson than it is in Cousins with neither defense bringing a ton to the table.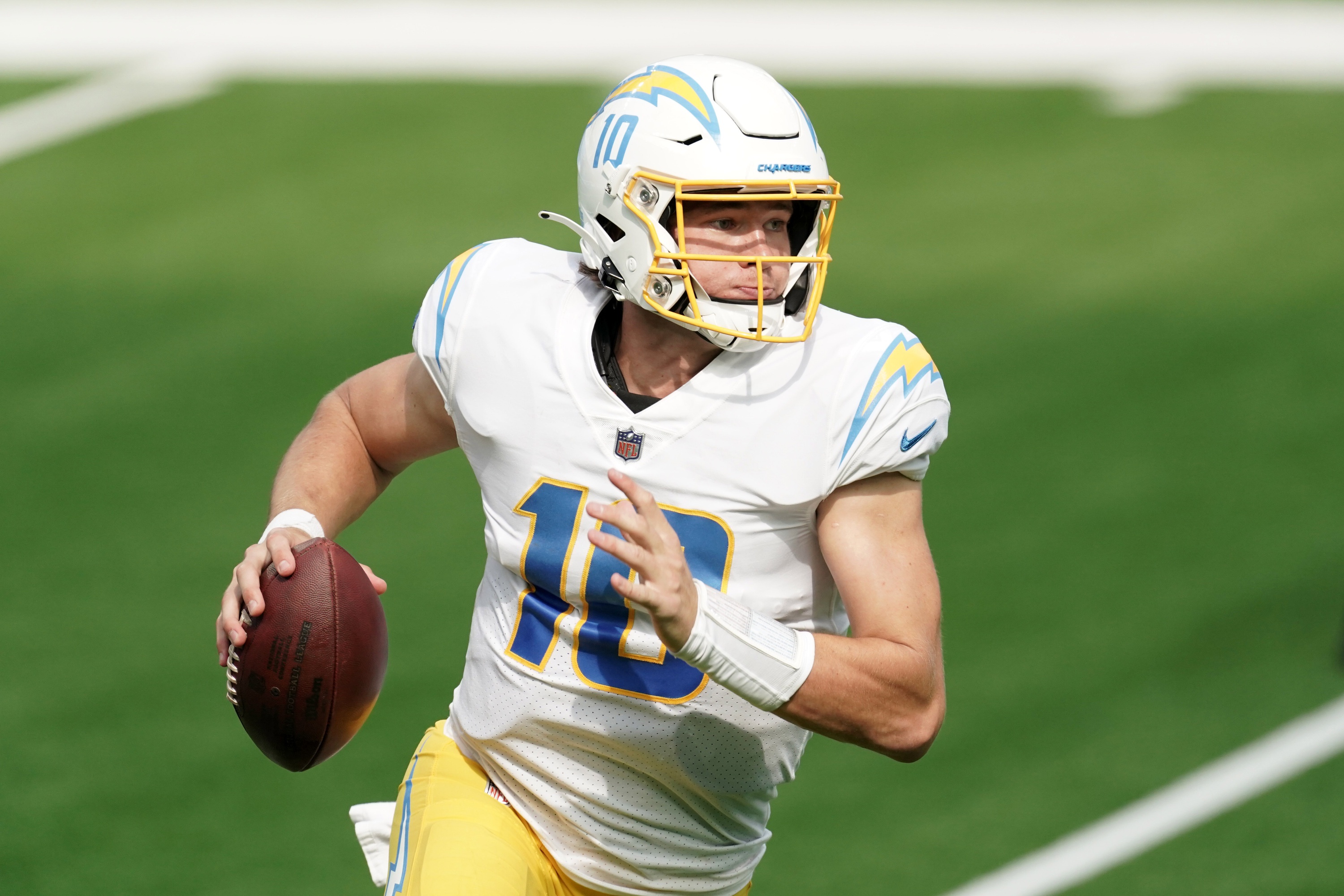 How the Los Angeles Chargers win: Justin Herbert keeps the big plays, but improves his down-to-down accuracy
Herbert has certainly shown enough through his first few games of NFL action to want to keep him as the starting quarterback. He ranks 10th in the NFL with seven big-time throws and tied for second in the NFL with four touchdowns on passes 20-plus yards downfield despite ranking just 25th in total pass attempts. An accuracy rate that sits at just 54.6% (24th among 32 qualifying quarterbacks) is a big reason why his passing grade on the season is only 67.8 through three games. The Chargers will look for that to improve, but the early returns have been promising for Los Angeles on a player who they hope becomes the face of their franchise.
How the New Orleans Saints win: Drew Brees continues to look like the quarterback we saw last week against a better defense
Was everyone too quick to proclaim the demise of Brees? We'll see. The Saints were playing a Lions' defense in Week 4 that isn't exactly thriving right now, but there were signs for optimism to take away from that game. Namely, the results from Brees throwing 10 or more yards downfield stick out. He went 9-of-13 for 174 yards, a touchdown and three big-time throws on such passes. Brees hadn't been a guy who is going to sling the ball deep with reckless abandon in recent years, but he had remained effective attacking the intermediate range, which is what was missing early this season. The Saints need that to continue against a Chargers' defense that has been hit by some injuries but remains a good bit better than Detroit's.
Pick: New Orleans
New Orleans builds on momentum from last week, and Joey Bosa is neutralized against the quick release of Brees and the strong offensive line for the Saints.