• The Cardinals led the NFL in Week 4 in Perfectly Covered Plays, Fewest Coverage Mistakes against a Panthers offense that's seen highest rate of the former twice in first four weeks.
• Chargers S Derwin James played easily his best 2022 game, joining five additional safeties, Packers Rookie of the Week LB Quay Walker among defenders perfect in Week 4 coverage.
• New users who bet $10 or more at BetMGM will receive a free year's subscription to PFF+ — a $79.99 value.
Estimated reading time: 9 mins
Following our extensive research on coverage in football, and the creation of Perfectly Covered Plays and Adjusted Coverage Rate, we now have recent data to analyze from the fourth week of the NFL season.
Let's evaluate how each team and defender performed in coverage in Week 4. 
Perfectly Covered Plays
A "Perfectly Covered Play" is where every coverage player on the field earns a coverage grade of zero or better on a single play. Here are the defenses that created the most Perfectly Covered Plays in Week 4, compared to how often their offense faced Perfectly Covered Plays. The league average in Week 4 was 38.1%, down from last week's average of 41.4% and slightly down from the 2019-2021 league average of 38.5%.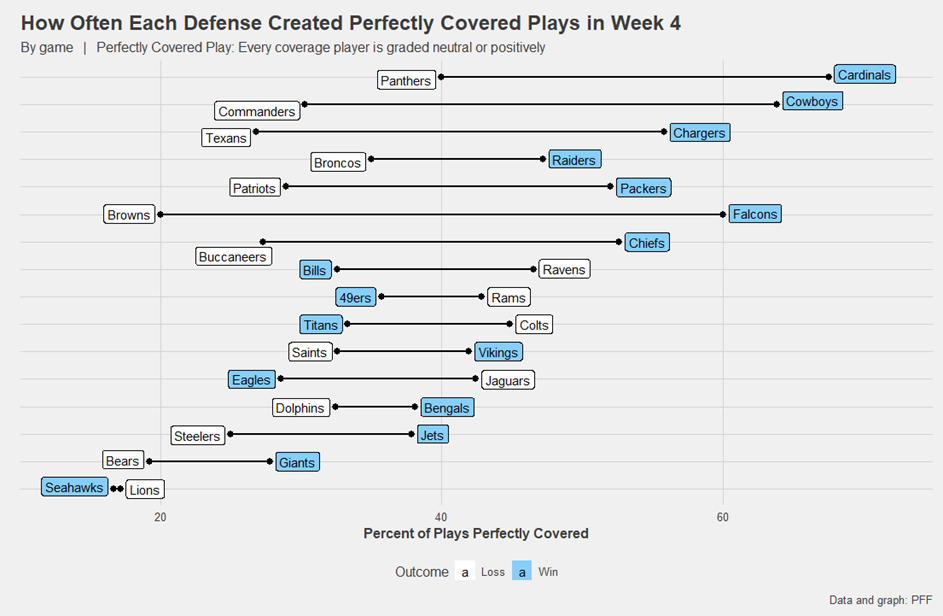 The Arizona Cardinals coverage unit pulled off an amazing performance against the Carolina Panthers, perfectly covering almost 70% of plays. The Dallas Cowboys and Atlanta Falcons were other teams over 60% after no team surpassed that mark last week. Even though these teams were facing three of the most unproductive offenses this season in the Panthers, Washington Commanders, and Houston Texans, respectively, it's still an impressive showing. 
On the other hand, the Seattle Seahawks and Detroit Lions created the least amount of perfectly covered plays, a testament to their game that was a full-on offensive shootout. For the second week in a row, the Lions and their opponent have perfectly covered the smallest percent of plays. The Lions offense has been great at avoiding perfectly covered plays, but their defense hasn't held up. 
This week, the winning team created more Perfectly Covered Plays 11/16 times. In the graph above, you can see a lot of blue (signifying that the team won) at the top, meaning the teams that had some of the highest perfectly covered play rates won their games this week. We're continuing to see this slight trend throughout the season so far.
Perfectly Covered Plays is not just a defensive stat; preventing such plays is relevant for offenses, too. Aside from the Seahawks and Lions' poor defensive performances, the New York Giants' offense faced the least amount of Perfectly Covered Plays against the Chicago Bears defense. For the 2nd week this season, the Panthers offense has faced the highest percent of perfectly covered plays (along with facing the second most in Week 2). Their offense is struggling to come together and be on the same page, and it's looking like the panic button will be pushed soon if this continues.
Individual True Coverage Rates
Keying in on individual players, we can see who performed the best in coverage this week in terms of their True Coverage Rate, the percentage of the snaps for which they earn a coverage grade of zero or better. 
Note: The True Coverage Rate league average (from 2019-2021) was 80% for cornerbacks, 88% for linebackers and 91% for safeties.

Four linebackers were perfect in coverage this week. Even though the Texans running backs were stellar in the receiving game this week, Los Angeles Chargers linebacker Drue Tranquill did his job in ensuring they were covered when he was matched up against them. Baltimore Ravens LB Patrick Queen also shows up in the top 5 in a near perfect coverage game after being slightly underwhelming in coverage his first two seasons.
After being the first cornerback to be perfect in coverage last week, Falcons cornerback Richie Grant takes the top spot again with an impressive true coverage rate of 97.4%. Veteran Stephon Gilmore gave up two big plays covering Robert Woods, but he slowly seems to be finding his rhythm with the Indianapolis Colts. 
Six safeties were perfect in coverage this week, with Derwin James having his best game of the season by far after receiving a good amount of negative coverage grades in the previous weeks. After a stellar rookie season, Las Vegas Raiders star safety Trevon Moehrig is finally healthy again and returned to a familiar spot atop the coverage rankings. Arizona's Budda Baker, New Orleans Saints safety Justin Evans, and Miami Dolphins safety Jevon Holland also earned their second perfect coverage games of the season. 
Noteworthy Statistics, Storylines, and Injuries
A good amount of safeties were injured during the Week 4 games, the biggest injury to Minnesota Vikings first-round pick Lewis Cine, who suffered a compound leg fracture and will be out for at least the rest of the season. Even though Cine hasn't played a ton this year, the Vikings will need to count on Camryn Bynum and Josh Metellus (who both have had slightly-above-average true coverage rates this year), as Harrison Smith has had some injuries and missed Week 3. 
The Green Bay Packers will hope that Adrian Amos' concussion isn't severe, as he's been one of the best safeties in terms of his true coverage rate this season (after having the highest Adjusted Coverage Rate in the NCAA since 2014). Rudy Ford filled in following Amos' departure, and although Ford performed well in coverage, Amos is too valuable of a player to lose. 
Rookies of the Week
We can also check in on some 2022 draft picks based on how they performed in coverage. The rookies with the highest True Coverage Rates in Week 4 were:

Quay Walker, that is all. This guy has been absolutely unstoppable in coverage this season, getting his first perfect game in coverage this week. This ranking has been dominated by early-round picks so far, but seventh-round safety Rodney Thomas II had the highest true coverage rate for rookie safeties this week. It wasn't the best week for rookie cornerbacks, with a lot of them allowing receivers to get open a little too often. However, fifth-round pick DaRon Bland of the Cowboys snags the top spot this week with a true coverage rate of 87.5%. 
Seahawks rookie cornerbacks Tariq Woolen (53.2%) and Coby Bryant (64.1%), and Ravens rookie first-round safety Kyle Hamilton (71.4%) had the lowest true coverage rates. In the Lions and Seahawks' offensive shootout, Woolen and Bryant let receivers get wide open almost 50% of the time. Hamilton didn't play a ton of coverage snaps this week, but he performed below average in coverage when he was on the field.
Team-Specific True Coverage Rates (Coverage Mistakes)
Let's take true coverage rates and calculate which teams made the fewest coverage mistakes (having the highest true coverage rate) and the most coverage mistakes (having the lowest true coverage rate) in Week 4.

In addition to having the highest percent of perfectly covered plays this week, the Cardinals also made the fewest coverage mistakes, trailed immediately by the Cowboys. The Cardinals' cornerbacks had a stellar week, with both starters recording true coverage rates over 90%. The Chargers' coverage unit has made significant positive strides in each game and finally cracks the top 5 here, and although they need a little more help from cornerback J.C. Jackson, all of their coverage players were above the league averages this week.
For the second week in a row, the Lions made the most coverage mistakes, and it also makes sense that the Seahawks made the second most, as that game was all offense and no defense. The Giants also make the bottom 5 for the second week in a row after having great defensive performances in Weeks 1 and 2. All three of the above teams' cornerback units struggled in coverage this week, and therefore heavily brought down their team average.
Cumulative Statistics
So far this season, the cumulative Perfectly Covered Play rate is 40.4%. It dropped about 1% after this week, but it's still higher than the 2019-2021 league average of 38.5%. Over the course of the season, we will learn which teams are the most successful at creating Perfectly Covered Plays, and so far, here are the top and bottom 3 teams in terms of their Perfectly Covered Play Rate this season: 
Top 3 Teams in Perfectly Covered Play Rate
• Cincinnati Bengals (52%)
• Cowboys (49.8%)
• Raiders (48.1%)
Bottom 3 Teams in Perfectly Covered Play Rate
• Seahawks (21.7%)
• Commanders (27%)
• Pittsburgh Steelers (33.3%)
The Bengals remain atop the Perfectly Covered Play rate standings even after an average performance against the Dolphins, but the large lead they had before this week is closing. The Tampa Bay Buccaneers and San Francisco 49ers, who were both in the top 3 before this week, had subpar coverage games in Week 4, bumping them out of this ranking. Capitalizing on this in a surprising swing of events, the Raiders enter the top 3 this week after being notoriously bad at creating perfectly covered plays from 2019-2021. Let's see if they can continue their success as they face a strong Kansas City Chiefs offense in Week 5. 
We finally have a change in the bottom 3, as the Chargers were able to put together a great defensive coverage performance against the Texans to move their overall average up enough to escape the bottom 3. The Seahawks continue their coverage disappointments yet again, and now have sole possession of last place in the perfectly covered play rate rankings by over 5%. 
Evolving Man and Zone Rates
Some teams' man and zone rates will vary by opponent, while some will stay steady throughout the season. This week, the league as a whole ran man coverage 30.4% of the time, which brings the cumulative average to 29%, therefore running zone on 71% of plays. We can see how each team's percentage of running man and zone coverage evolves each week. Here are the teams that ran the most man and zone so far this season:
 Most Man Coverage in 2022
• Lions (52.2%)
• New England Patriots (48.3%)
• Dolphins (48%)
Most Zone Coverage in 2022
• Los Angeles Rams (87.5%)
• Vikings (87.5%)
• Buffalo Bills (85.9%)
The Lions, Patriots, and Dolphins continued to run man coverage around 50% of the time this week to remain in the top 3, while we had big changes in the teams that used the most zone. Against the Ravens offense, the Bills surprisingly used man coverage (around 30%), a big change given they ran almost entirely zone coverage in Weeks 1-3. The Seahawks also did the same thing against the Lions, but it didn't look to be the right decision as the Lions tore apart the Seahawks man defense, especially their two rookie cornerbacks. 
---
Also check out weekly Man and Zone Analysis articles coming out soon for more in-depth analyses on this and predictions based on Week 5 matchups.