• Las Vegas Raiders safety Trevon Moehrig continues to shine in Adjusted Coverage Rate metrics, ranking first at the position in NFL ACROE among players since 2014.
• Iowa has produced the most skilled coverage defenders based on college production, whereas UCLA takes the top spot based on NFL production.
• Read more about Adjusted Coverage Rate and the methodology behind what makes the metric a more accurate representation of a player's performance in coverage.
---
Our previously created Adjusted Coverage Rate metric combines a coverage defender's raw coverage rate, missed tackle rate, pass breakup rate, average EPA allowed and position into one percentage for a better evaluation of their performance. Then, we calculated which players were the most and least skilled in college, using PFF's NCAA coverage data that dates back to 2014, and compared how players performed from college to the NFL. 
We'll go a step further in this article, adding in NFL combine data (or adjusted pro day data) to create a Predicted NFL Adjusted Coverage Rate and evaluate players based on six Adjusted Coverage Rate statistics.
---
Building 'NFL Adjusted Coverage Rate Over Expected'
To read the methodology for the Predicted NFL Adjusted Coverage Rate (ACR) and NFL Adjusted Coverage Rate Over Expected (ACROE) metrics, click here.
Here are the top five and bottom five players at each coverage position in terms of their NFL ACROE.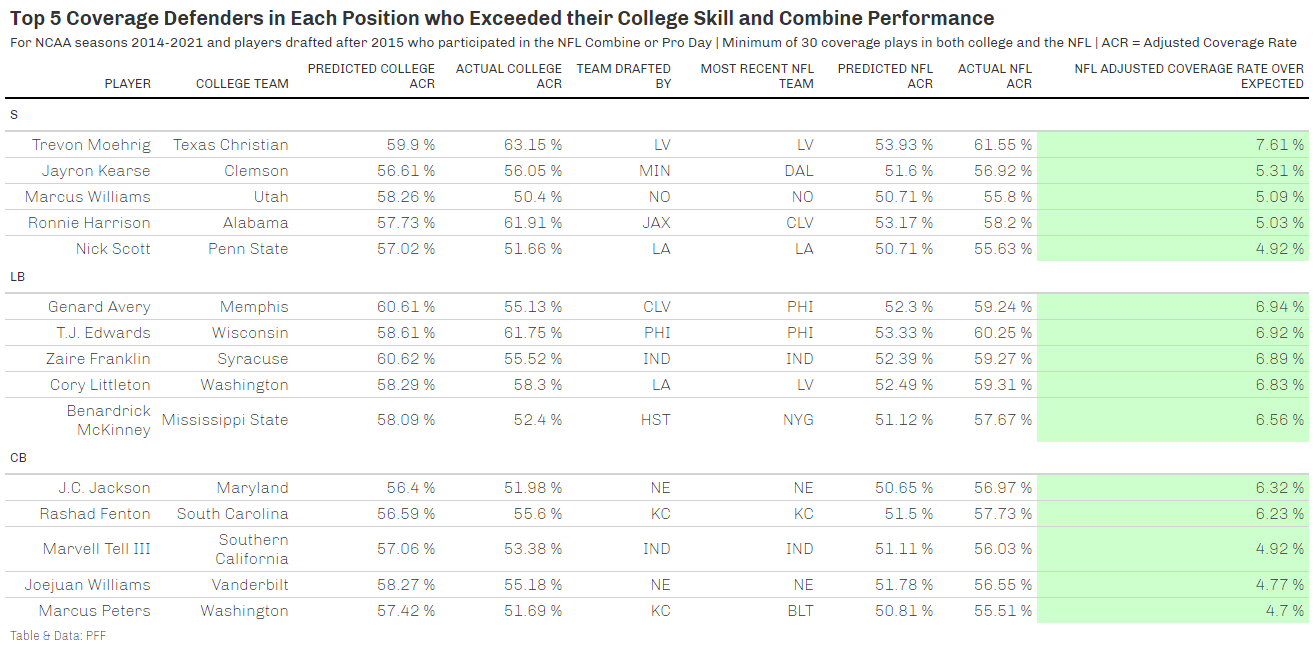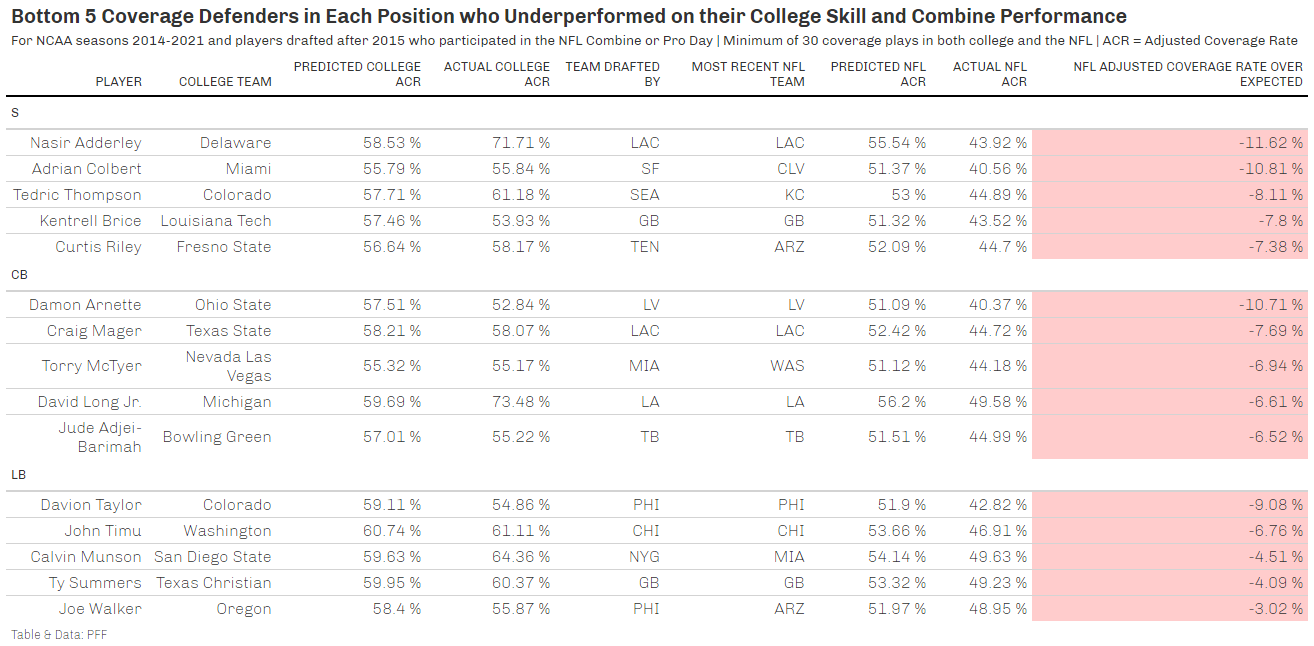 Trevon Moehrig has been atop almost all the recent PFF coverage metrics, and NFL ACROE is the latest. Even though he starred at TCU and had a decently high Predicted NFL ACR, he outplayed that in the NFL and has been a force to be reckoned with. Like Moehrig, J.C. Jackson has been toward the top of the cornerback coverage metrics. Linebacker T.J. Edwards recorded a significant College ACR, and that translated into one of the highest NFL ACRs for linebackers since 2015. 
Being toward the bottom of the NFL ACROE standings could mean different things — maybe the player excelled in College ACR and simply couldn't live up to it in the NFL, had a stellar NFL combine that didn't translate well to NFL coverage or simply played poorly in the NFL after a mediocre college career.
David Long Jr. is a perfect example of a player with amazing college and NFL combine results that were impossible to recreate in the NFL, but he still recorded a decent NFL ACR. On the other hand, Nasir Adderley had great college and NFL combine results but could not translate that success to the NFL, posting a low NFL ACR. Lastly, linebacker Davion Taylor didn't play great in college, but he has played even worse in the NFL, having by far the lowest NFL ACR for linebackers on this list.