• Biggest riser: Tennessee Titans (up six spots from Week 2)
• Biggest faller: New York Jets (down eight spots from Week 2)
• Cowboys climb into top three: Dallas' defense has looked dominant through two games.
Estimated Reading Time: 7 minutes
---
You can find a statistical review of Week 2 here.



NFL Week 3 Power Rankings
Although the Eagles struggled to convert first downs in their Thursday night win over the Vikings, running back D'Andre Swift led the league in rushing yards on first downs this week (116). Philadelphia has the lowest first-down conversion rate in the league (6.4%) this season, as well as the lowest receiving grade on first downs (47.3).
The Bengals have looked sluggish on offense thus far. They're now 0-2 after a loss to the injury-riddled Ravens. They rank last in the league in offensive grade on first downs. The Bengals also place 25th in first-down conversion rate through Week 2.
The Bills rebounded in a win over the Raiders, ranking second in offensive grade this week (82.5) after earning a 59.3 offensive grade last week. Buffalo's offense also had the highest EPA per play this week (0.288). After posting a 52.1 passing grade in Week 1, Josh Allen improved to 79.2 this week.
Alex Highsmith came out with a bang for the Steelers, running an interception back for a touchdown on the opening play. Pittsburgh's defense ranked fourth this week in EPA per play allowed (-0.22).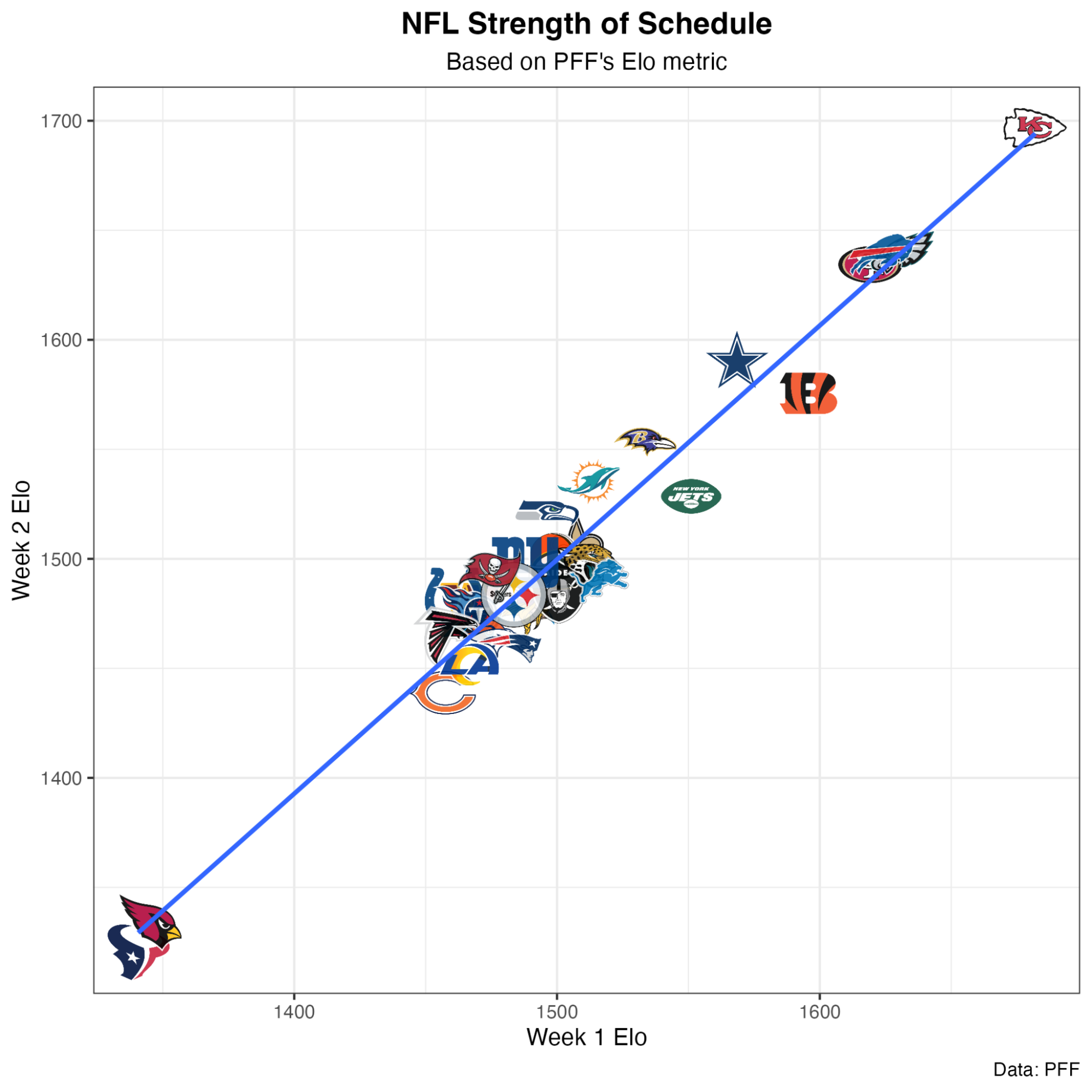 The Titans squeaked out a win against a good Chargers offense, thanks to the elite play of Ryan Tannehill. Tannehill recorded a 91.6 PFF passing grade, two big-time throws and no turnover-worthy plays. His play was able to offset an inefficient day from Derrick Henry (3.2 yards per carry), and he made some timely throws to keep the Titans in the game.
We stayed optimistic about the Jets following Aaron Rodgers' injury, keeping them in the top 10 of last week's power rankings because of their impressive win against the Bills. However, New York drops to 16th in this week's rankings because of Zach Wilson. It's clear that Wilson is still not ready to be a franchise quarterback, as he struggled to handle the pressure of the Cowboys' fearsome defensive front. On top of that, the Jets had no answer for CeeDee Lamb, who finished with 11 catches for 143 yards. No other Cowboys wide receiver had more than 20 yards on the day.
---
WAR Lost to Injuries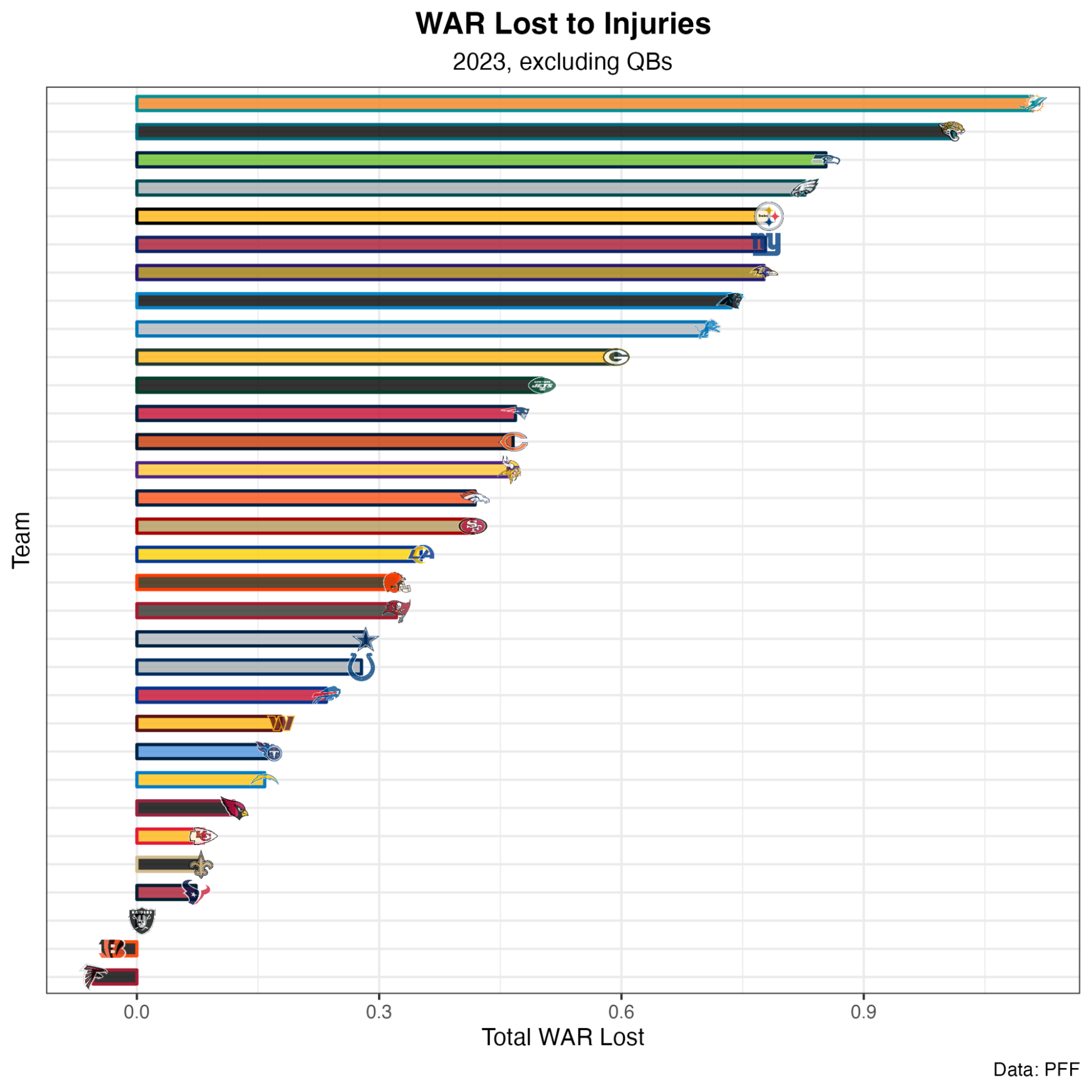 Note: Odell Beckham Jr. is not included in this graphic due to his injury in the 2022 season.
The Dolphins' injuries this week are fairly significant — wide receiver Jaylen Waddle (0.41 WAR), linebacker Jaelan Phillips (0.43 WAR) and tackle Terron Armstead (0.12 WAR). Waddle ranks second on the team in receiving yards. Phillips' injury led to Andrew Van Ginkel showing out against the Patriots, ranking eighth among edge defenders in overall grade this week. He had six tackles, a sack and three quarterback hits.
The Giants have lost significant players to injuries in tackle Andrew Thomas (0.43 WAR) and running back Saquon Barkley (0.22 WAR). Matt Breida and Gary Brightwell are behind Barkley, but it's looking like quarterback Daniel Jones may take over a good chunk of their run game.
Travis Etienne (0.16 WAR, 13th) and Zay Jones (0.16 WAR) are dealing with injuries suffered in Week 2. Evan Engram and Christian Kirk took over for them, but the Jaguars ranked 29th in receiving grade this week, recorded the worst EPA per play figure and had no receiving touchdowns.
The Steelers placed Diontae Johnson (0.19 WAR, 45th among wide receivers) on injured reserve this week with a hamstring injury.
Browns running back Nick Chubb (0.24 WAR, third among running backs) suffered a significant knee injury in the second quarter on Monday Night Football. He ranked fourth among running backs in rushing yards before the injury. He was replaced by Jerome Ford, who had 106 yards in the game.
Other notable injuries include D.K. Metcalf (0.35 WAR) and Amon-Ra St. Brown (0.53 WAR).
---
Late-Down Decision-Making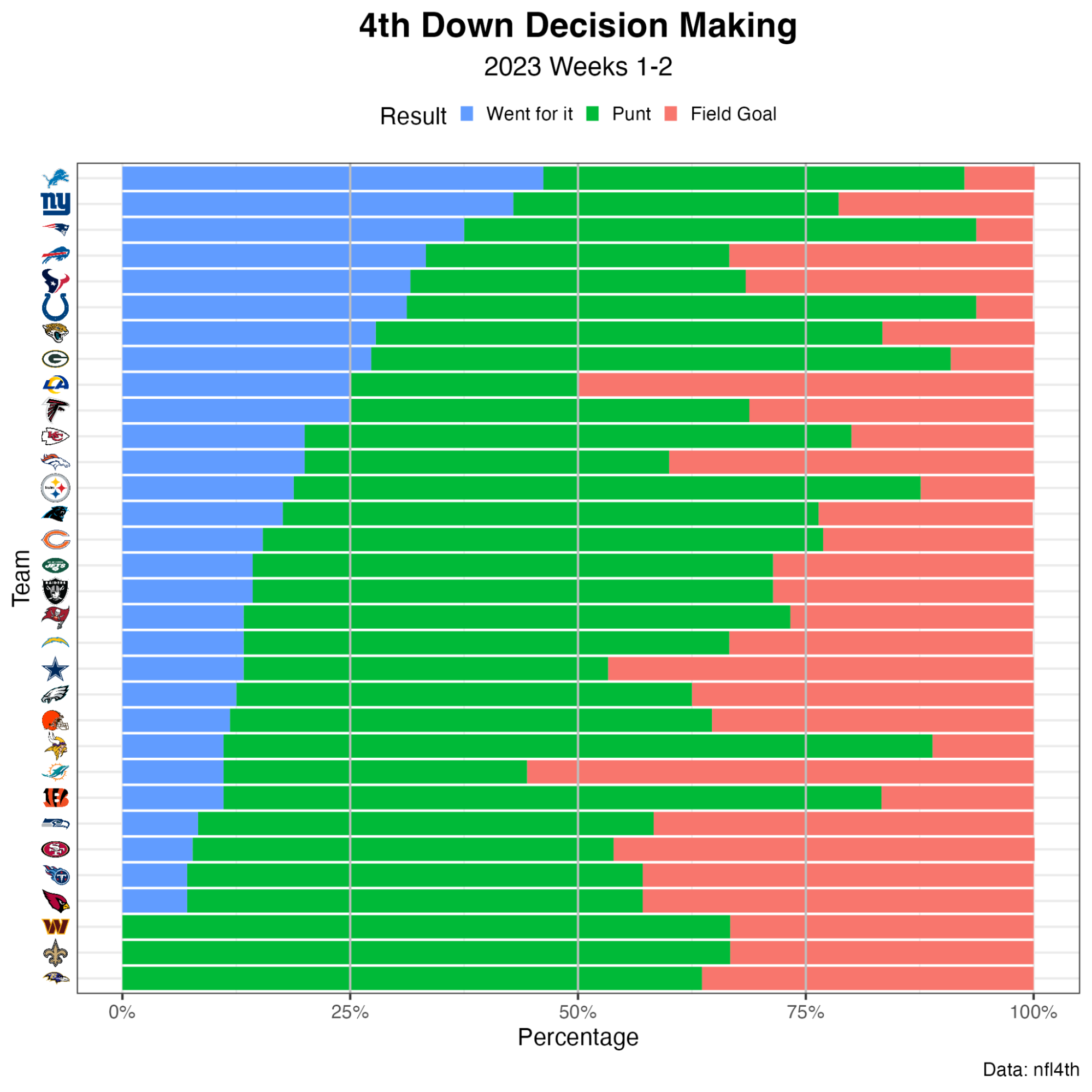 The Ravens have not been particularly aggressive on fourth downs so far. However, through Week 2, they have the highest offensive grade (90.9) and rank third in EPA per play (0.468) on late downs.
The Lions continue to be aggressive on fourth downs, going for it more than 46% of the time. Last season, they went for it 32% of the time.
The Bengals have lost the most win probability so far by kicking on fourth downs. They've punted more than any team in the league.
---
Game Finishers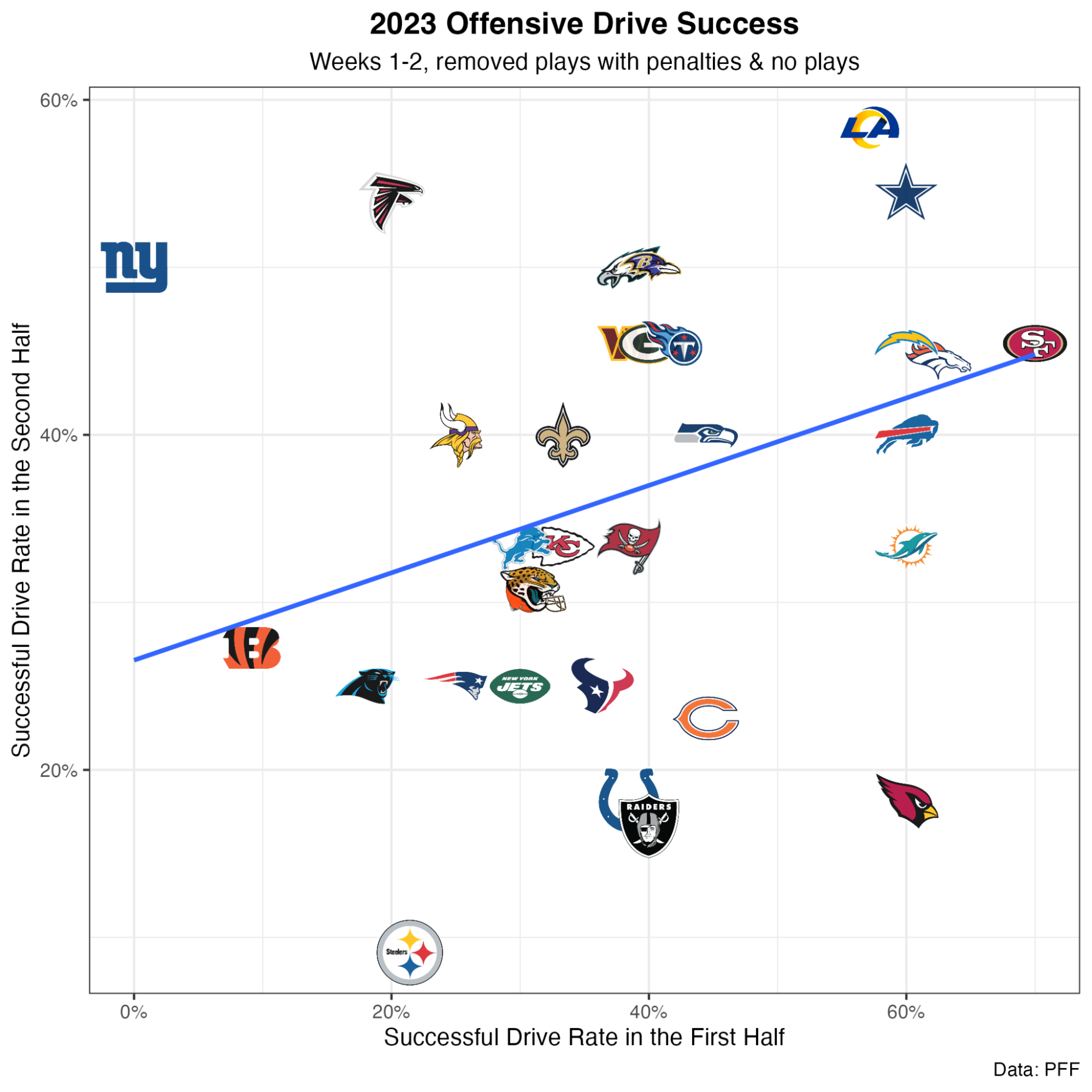 Note: This graphic includes overtime.
A successful drive is defined as any drive that ends in a touchdown or a field goal.
The Giants have been very successful in the second half this season. They were scoreless at halftime against the Cardinals before putting 31 points on the board to win the game. Quarterback Daniel Jones recorded the second-highest passing grade (90.9) of the week in the second half. Jones put the team on his back, throwing for more than 250 yards and two touchdowns, rushing for more than 50 yards and a touchdown and committing no turnovers.
Although the Texans haven't been particularly successful in either half, they lead the league in receiving yards and receiving first downs in the second half.
The Steelers have struggled to construct successful drives in either half so far this season. They are one of six teams to not score a receiving touchdown in the second half. Their run game has struggled in the first half, ranking 30th in PFF grade.
---
The Trenches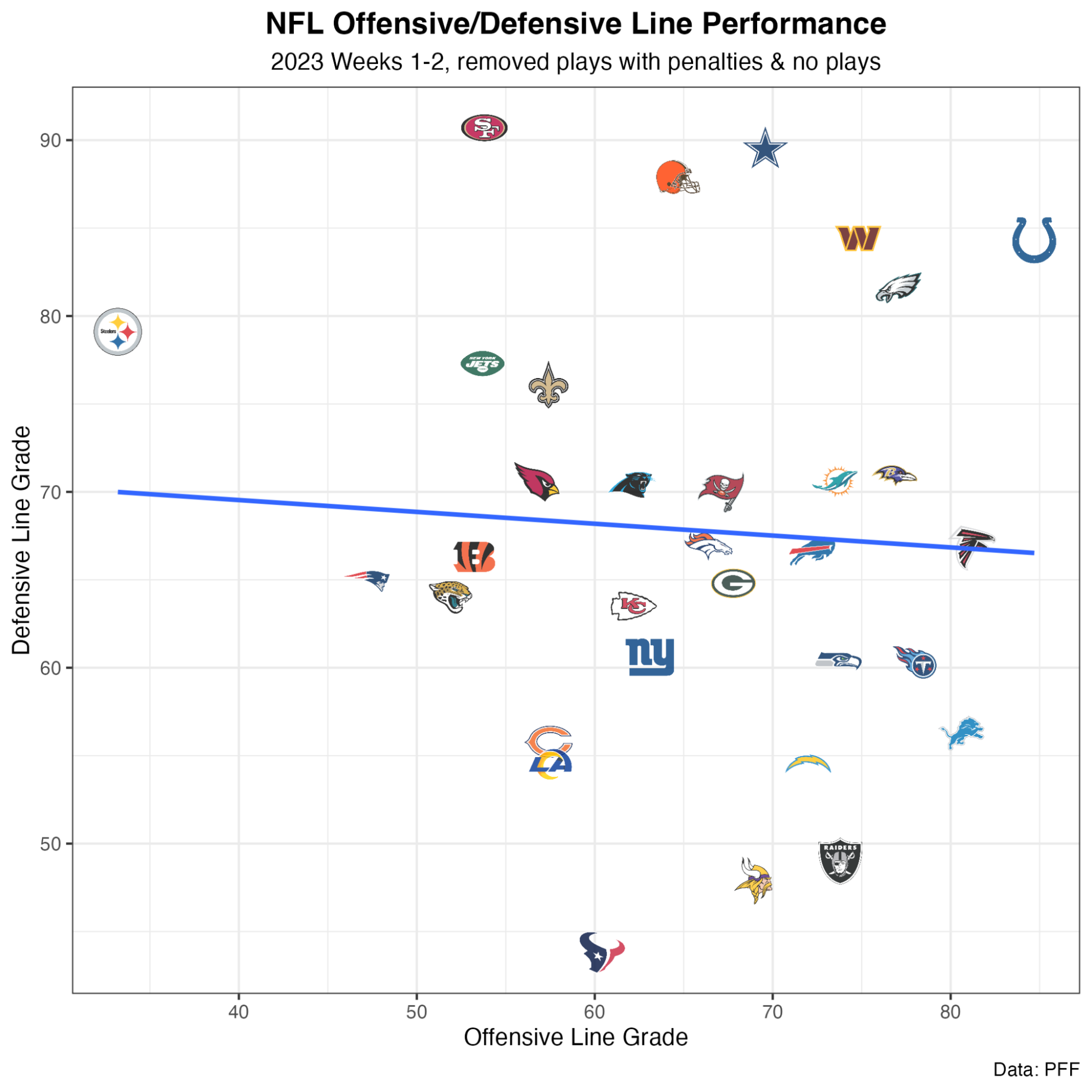 The Colts' offensive line and guard Quenton Nelson seem to be back on track. Will Fries, the team's other starting guard, outperformed Nelson this week. He led the position in overall grade (90.4). Center Ryan Kelly was right behind him with an 87.5 grade.
Dawkins posted his best overall grade (84.6) this week since Week 17 of 2021, when he earned a 92.6 mark.
The Steelers' offensive line has struggled, generating the worst EPA per play figure in the NFL (-0.341). Tackle Dan Moore Jr. has the worst offensive grade among linemen (23.6), and guard James Daniels has not been doing much better. Moore has allowed the most hits among linemen (four) and has surrendered the highest pressure rate (17.3%). Quarterback Kenny Pickett hasn't been given much of a chance.
---
Defensive Success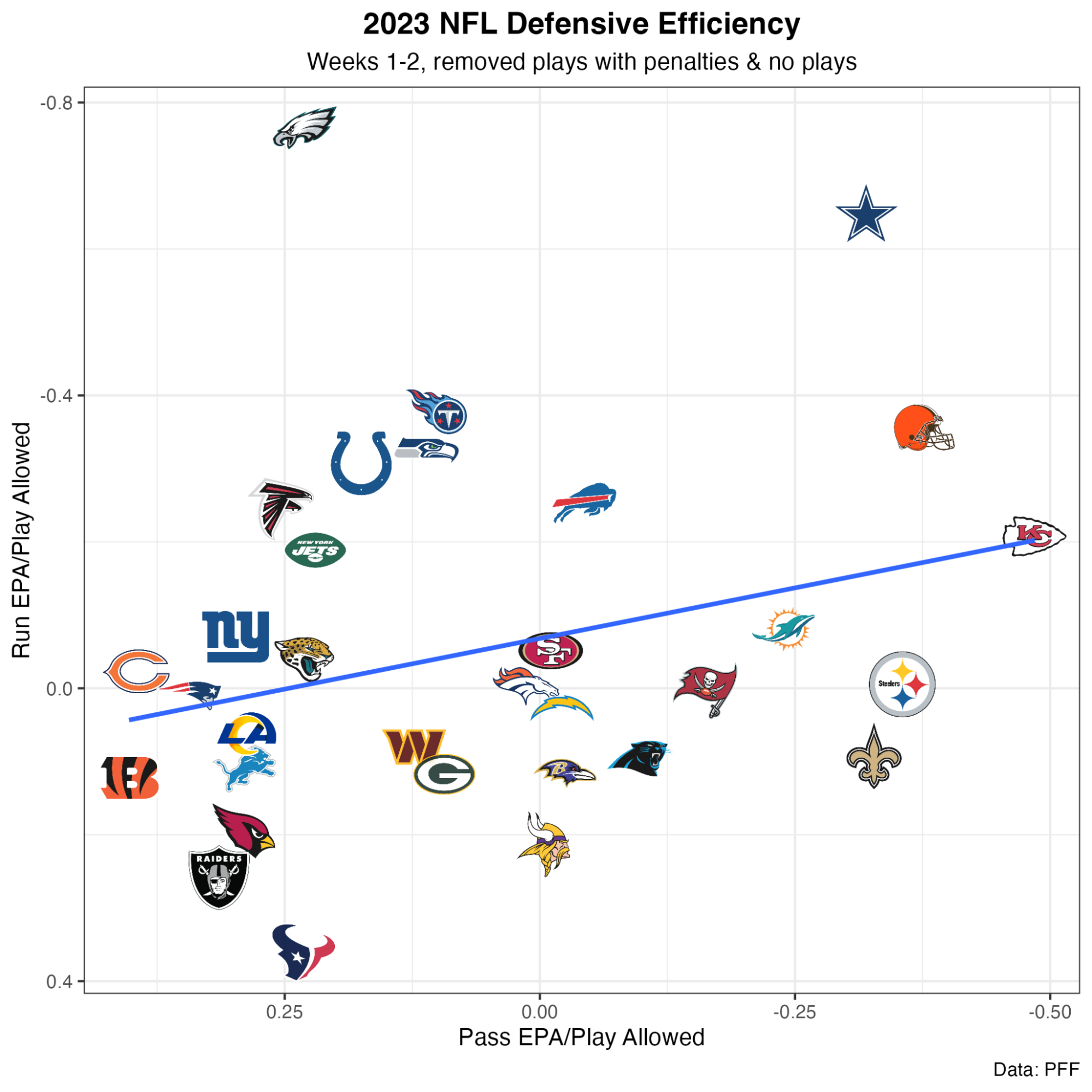 Ten more rushing touchdowns were scored this week than last. Some teams struggled to get their run games going, such as the Jets and Vikings. The Vikings failed to record a rushing first down, and 41.7% of the Jets' runs were either for a loss of yards or no gain. The Packers could not stop the run, particularly Bijan Robinson. He finished Week 2 as the highest-graded rusher in the NFL (91.3) and racked up the most explosive runs (five).
The Eagles were a turnover machine against the Vikings on Thursday night, forcing four. Minnesota also finished with only nine rushing attempts for 27 yards. They had the lowest EPA per play when rushing this week (-0.765) and were the only team not to gain a first down on a rush.
The Cowboys led the league in pressure rate (56.3%) and ranked fifth in EPA per play allowed in pass-rush situations (-0.32). DeMarcus Lawrence paced the league with a 50% pass-rush win rate. His teammate, Micah Parsons, leads the league this week in run-defense grade (93.6).
Although the Lions' defense has struggled, Aidan Hutchinson continues to prove his worth by having the most quarterback pressures through two weeks (13).