The race for the No. 1 overall seed in each conference is more important this season than in any other because that team will be the only one to receive a bye in the playoffs. We had some shuffling for that top spot on Sunday, as losses for the Pittsburgh Steelers and New Orleans Saints kicked them down to second, while the Kansas City Chiefs and Green Bay Packers secured Ws.
PFF is here to break down NFL Week 14 in greater detail using advanced data and our unique play-by-play grading. Here, we present to you the PFF Team of the Week, a few big takeaways and player awards from Week 14 of the 2020 NFL season.
PFF TEAM OF THE WEEK
Offense
QB: Ryan Tannehill, Tennessee Titans
RB: Derrick Henry, Tennessee Titans
WR: A.J. Brown, Tennessee Titans
WR: Allen Robinson II, Chicago Bears
TE: Travis Kelce, Kansas City Chiefs
FLEX: Stefon Diggs, Buffalo Bills
LT: David Bakhtiari, Green Bay Packers
LG: Cody Whitehair, Chicago Bears
C: Chase Roullier, Washington Football Team
RG: Kevin Zeitler, New York Giants
RT: Tristan Wirfs, Tampa Bay Buccaneers
Defense
DI: Aaron Donald, Los Angeles Rams
DI: Justin Madubuike, Baltimore Ravens 
EDGE: Haason Reddick, Arizona Cardinals
EDGE: Khalil Mack, Chicago Bears
LB: Deion Jones, Atlanta Falcons
LB: Kenny Young, Los Angeles Rams
CB: Taron Johnson, Buffalo Bills
CB: Kenny Moore II, Indianapolis Colts
S: Rayshawn Jenkins, Los Angeles Chargers
S: Jordan Poyer, Buffalo Bills
FLEX D: Rock Ya-Sin, Indianapolis Colts
BIG TAKEAWAYS
Just two weeks ago, the Pittsburgh Steelers were flying high at an undefeated 11-0 record. Chatter of them being Super Bowl favorites started heating up given that nine of the 12 teams to go 11-0 in a single season in the Super Bowl era went on to play in that year's final game. But numerous signs told us that this undefeated Steelers team may be a tad overrated — specifically at quarterback — and their Week 13 and 14 losses to Washington and Buffalo showed as much.
During his team's 11-game winning streak, Ben Roethlisberger ranked 17th in the NFL in passing grade and the passing offense ranked 20th in percentage of pass plays to generate positive expected points added. This passing offense's success was predicated on quick throws and yards after the catch — not explosive plays deep downfield. And a relatively easy schedule also helps. That's not to say they aren't a great team, but it's just not a sustainable way to win long-term; they wouldn't fare well against teams such as the Kansas City Chiefs or Buffalo Bills, whom they lost to Sunday night. 
Roethlisberger's 53.4 passing grade in Week 14 ranked fifth-worst among quarterbacks, and he led the Steelers to the fifth-least efficient passing offense against Buffalo. When targeting past the sticks, Big Ben went 5-of-13 passes for 61 yards with a couple of interceptions en route to a 49.0 passing grade. Half of those passes were deemed inaccurate by PFF's ball-charting process, and that is no different from what we have seen all season. Among 29 quarterbacks with 100 throws past the sticks this year, Roethlisberger is sixth-to-last in the percentage of uncatchable passes thrown.
Again, the Steelers are a great team, but can Big Ben get them over the hump against the Chiefs or Bills come playoff time? As of now, that seems unlikely.
Justin Herbert played great in Week 14, but he shouldn't win Rookie of the Year over Justin Jefferson
Herbert is fresh off a last-minute win and the second-best game of his NFL career in Week 14 against the Atlanta Falcons. The sixth overall pick recorded a 79.1 PFF grade for the game, the seventh-best mark of the week. Herbert had by far his most accurate outing of the season, according to our ball-charting process, but he also threw the ball downfield at his lowest rate yet. His average depth of target was 5.4 yards for the game, 1.4 yards fewer than in any other contest this season. And that was a key reason why he graded out as well as he did.
Herbert has had some highlight dimes this season, but he has also been one of the more inaccurate downfield passers. Over 43% of his passes that traveled 10-plus yards downfield this season have been deemed uncatchable. That's the fourth-worst rate in the NFL — better than only Drew Lock, Nick Foles and Sam Darnold.
Herbert didn't throw the ball downfield nearly as much against the Falcons, resulting in far fewer uncatchable balls. He now ranks 21st among NFL quarterbacks this year in PFF grade (75.1). That's much better than we and most others were expecting, but is he deserving of being the hands-down favorite for Offensive Rookie of the Year as the betting markets suggest? Not when there is a rookie wide receiver who is the third-highest graded player at his position. Justin Jefferson may not have had a great game in Week 14, but we shouldn't ignore his accomplishments throughout the entirety of his rookie campaign. While Herbert appears likely to end up the winner of the award, it should be Jefferson's, without question.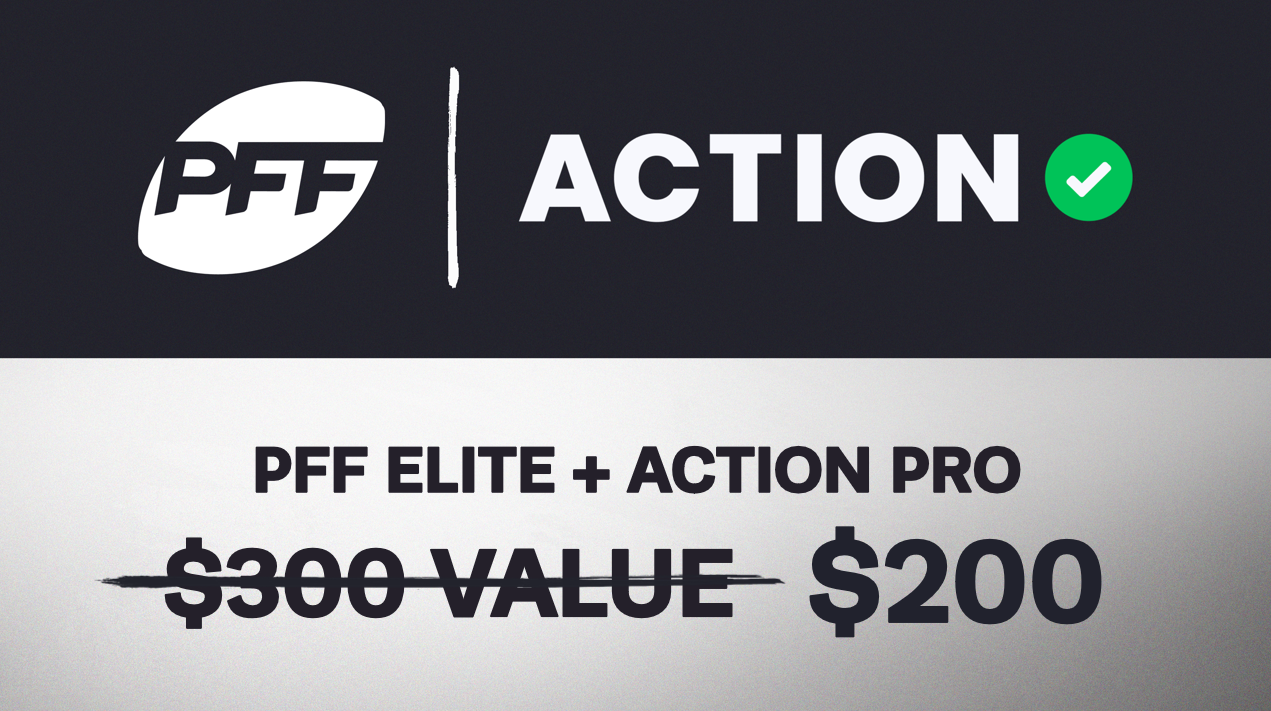 OFFENSIVE PLAYER OF THE WEEK
Henry's 92.7 PFF grade against the Jacksonville Jaguars in Week 14 was the highest single-game mark we have given to a running back through 14 weeks of the 2020 NFL season.
Before this week, the 2015 Heisman Trophy winner had never recorded more than two 20-plus-yard runs in a single game — he ripped off four on Sunday against Jacksonville, something only four other running backs have done in a single game over the last five years.
What's interesting is that Tennessee — an outside-zone-heavy team — ran more man concepts than they have all year, and that's where Henry really earned his cheddar. He was tasked with eight such carries and picked up 125 yards and a touchdown on those rush attempts.
Henry (90.8) has now leapfrogged Dalvin Cook (86.8) as the NFL's highest-graded ball carrier, and Tennessee now has the league's most efficient RB backfield in the NFL.
DEFENSIVE PLAYER OF THE WEEK
Reddick had shifted from edge rusher to off-ball linebacker a number of times throughout his NFL career but to no avail. He earned PFF grades of 54.0, 60.4 and 40.2 in his first three seasons in the NFL from 2017 to 2019.
Reddick kicked back to outside linebacker toward the tail end of 2019 and has stuck at that position in 2020, but he still seemed destined to fall short of his first-round potential — the former 13th overall pick entered his Week 14 contest against the New York Giants with a 58.7 pass-rush grade and zero single-game pass-rush grades above 80.0.
That changed against the New York Giants on Sunday, as Reddick put together one of the most dominant pass-rushing outings we have ever seen. He posted a 97.1 pass-rush grade against New York on Sunday; not only is that the best single-game pass-rush grade of the entire season by an edge rusher, but it is also the best single-game grade of the PFF era (2006-present).
The Cardinals edge rusher came away with seven total pressures — three of which were strip-sacks — on 22 pass rushes.
Rookie tackle Andrew Thomas entered Week 14 on a hot streak having earned a career-high PFF grade in Week 13, but Reddick played a big part in ending that streak on Sunday. He only had five pass-rush matchups against the 2020 fourth overall pick, but he still managed to come away with a couple of sacks. Thomas ended the game with a season-low 21.4 pass-blocking grade for the game.
ROOKIE OF THE WEEK
Madubuike entered Baltimore's Week 14 contest against the Cleveland Browns with just a 60.4 PFF grade, but the third-round pick lit it up on Monday Night Football against the best offensive line in the game.
The first-year interior defender came away with a 90.4 PFF grade on 31 snaps and made an impact against the run and the pass. Madubuike recorded a couple of defensive stops on eight snaps against the run and won on 17.4% of his reps as a pass-rusher.
The rookie saw pass-rushing matchups against both left guard Joel Bitonio and right Wyatt Teller — who each ranked first at their respective position in PFF grade heading into the game — and Madubuike notched multiple pressures against each.
OFFENSIVE LINE OF THE WEEK
They may not be playing at the same level as the Cleveland Browns' offensive line is, but this Packers group is firmly establishing itself as the second-best unit of the 2020 campaign.
Green Bay fielded the highest-graded offensive line of Week 14, and it was anchored by its standout run blocking. The Packers' big men combined for an 89.7 run-blocking grade against the Lions this past Sunday, nearly seven grading points higher than any other offensive line this week. Then, in pass protection, the line didn't allow a single sack or hit and came away with the fourth-best pass-blocking grade of the week on true pass sets. All five of the starters finished sixth or better at their respective positions in PFF grade for the week, with left tackle David Bakhtiari's position-best 91.2 grade highlighting the unit's overall success.
SECRET SUPERSTAR OF THE WEEK
Bartch — a fourth-round rookie out of D-III St. John's (MN) — got the first start of his NFL career on Sunday.
The rookie had appeared in four games before Week 14, and the results weren't all that great in pass protection. He had earned a 36.3 pass-block grade on 105 pass-blocking snaps, with 11 total losses next to his name.
Bartch looked remarkably better against the Tennessee Titans in Week 14. He logged 57 snaps in pass protection and allowed just one quarterback pressure. Of those 57 pass-block snaps, 22 were true pass sets, and he didn't lose a single rep on those sets. His 85.5 pass-blocking grade on those plays ranks third among all guards in Week 14.
Bartch was a true brick wall both against his D-III competition in 2019 and at the Senior Bowl earlier this year, and he was exactly that against Tennessee this past week. He was one of the biggest steals of the 2020 NFL Draft, and Bartch is now starting to look like it.
PLAY OF THE WEEK
There was a bevy of highlight-reel catches and interceptions this past week, but the winner of the PFF Play of the Week goes to Kenny Moore II and his OBJ impression.
Kenny Moore… How?!?

(????: @NFLBrasil) pic.twitter.com/i3UIcbs4at

— Field Yates (@FieldYates) December 13, 2020
That pick prevented a Raiders score before the half and was a key decider in the outcome of the game. This was one of a few key plays Moore made while manning the slot in Las Vegas. Moore was the highest-graded defensive back when covering the slot this week, at 96.3. That mark is also the highest we have seen in 2020.
AN EARLY LOOK AHEAD TO WEEK 15…
The New England Patriots are technically in the playoff hunt, but it's now highly unlikely that they find a way to the postseason. However, their opponent in Week 15 — the Miami Dolphins — are right in the thick of the AFC wild-card race and desperately need a W next weekend to hold onto their spot.
That won't be an easy feat, as Tua Tagovailoa will have to face off against Bill Belichick, who is known for making life hell for rookie quarterbacks. We witnessed this first hand just over a week ago when Belichick's defense shut down Justin Herbert, who would record the lowest PFF grade of his rookie campaign (51.0).
There are also quite a few Week 15 games that could have a major impact on the NFC playoff picture. Right now, the Minnesota Vikings and Chicago Bears are the first two teams out of the playoffs in the NFC, and they'll go toe-to-toe next week in what could end up being an elimination game. That is, of course, if the Arizona Cardinals were to falter at some point down the stretch and lose the seven seed they are clinging to.
Next week, the Cards get Jalen Hurts and the Philadelphia Eagles, who are also fighting for a playoff spot. They are a game and a half back from the Washington Football Team in the first-place spot of the NFC East, and Philly could cut that to just half a game with a W and a Washington loss to Seattle.
The game of the week has two teams in the running for the first overall seed in both the AFC and NFC: the Kansas City Chiefs and the New Orleans Saints. This one could go a long way in deciding who ultimately gets those byes, but the Saints are most definitely going to need a Drew Brees return in order to have a shot at knocking off Patrick Mahomes.