• After stifling the Cardinals Monday night, the San Francisco 49ers' perfectly covered play rate is up to 44.8% — more than three points higher than No. 2 Cincinnati Bengals.
• Philadelphia Eagles CB Chauncey Gardner-Johnson has made a gigantic impact since arriving shortly before Week 1 via trade, and he locked up receivers the highest percent of the time in Week 10.
• Dallas Cowboys put the NFL on notice in their dismantling of the Minnesota Vikings, perfectly covering more than 60% of plays.

Last updated: Nov. 22, 3:20 p.m.
Estimated reading time: 7 mins
---
Following our extensive research on coverage in football, and the creation of Perfectly Covered Plays and Adjusted Coverage Rate, we now have recent data to analyze from the eleventh week of the NFL season.
As a reminder, we made a slight change in the Perfectly Covered Plays calculation 2 weeks ago to improve the metric. The contents of this change included removing plays with screen passes, and it lowered the perfectly covered play rate 6.6%. Read more about the updated calculation in Week 8's coverage update.
Let's evaluate how each team and defender performed in coverage in Week 11.
Perfectly Covered Plays 
A "Perfectly Covered Play" is where every coverage player on the field earns a coverage grade of zero or better on a single play. Here are the defenses that created the most Perfectly Covered Plays in Week 11, compared to how often their offense faced Perfectly Covered Plays. The league average in Week 11 was 33.9%, up from last week's average of 31%.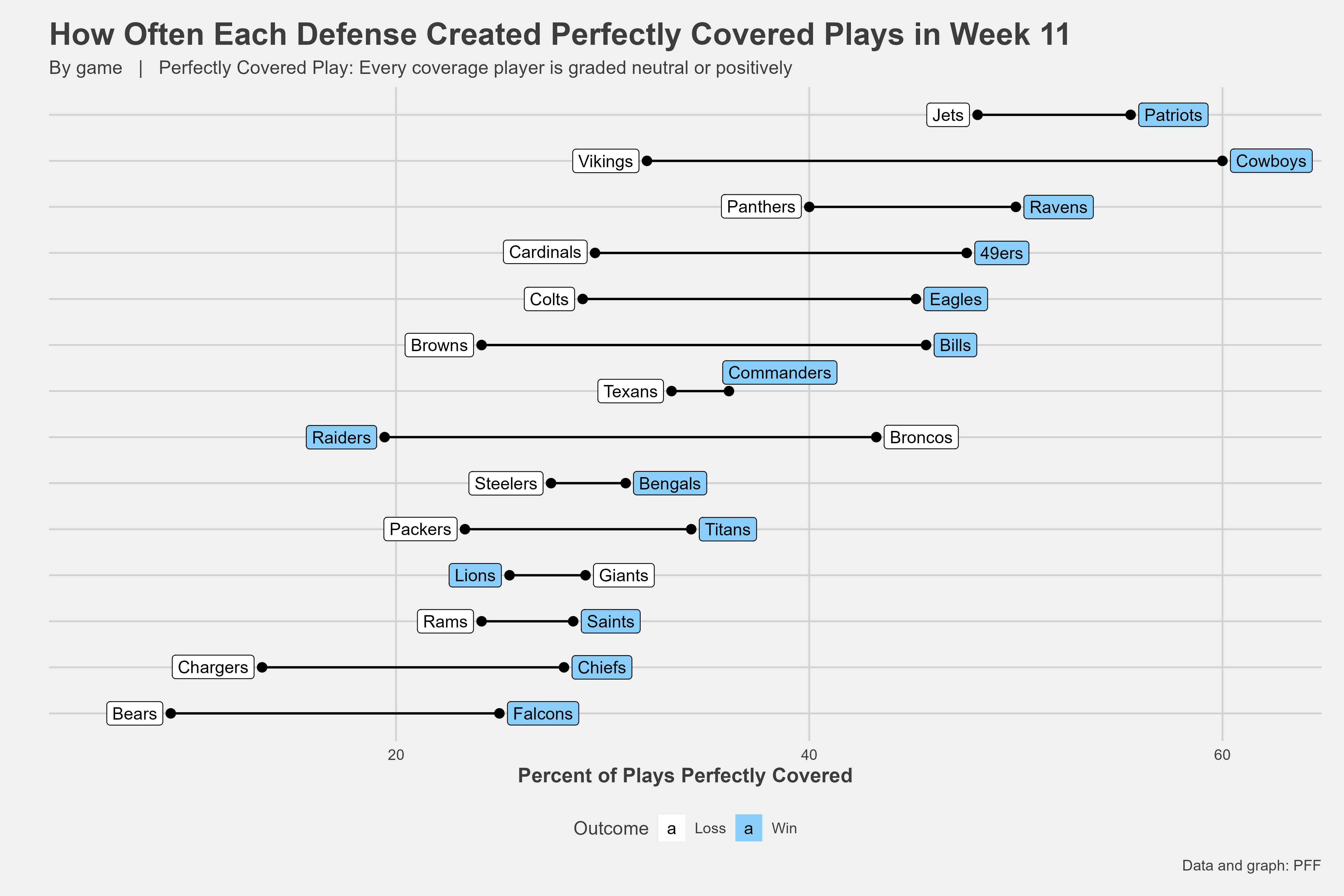 The Dallas Cowboys put the league on notice when they absolutely dismantled the Minnesota Vikings offense, perfectly covering 60% of plays in the process. The New England Patriots' defense hasn't been the best at creating perfectly covered plays this season, but they had a great defensive performance against the New York Jets. The Chicago Bears' defense is going downhill, perfectly covering less than 10% of plays against the Atlanta Falcons.
This week, 12/14 winning teams also had the higher perfectly covered play percentage. Huge. The only two teams that were able to overcome having the lower perfectly covered play rate were the Las Vegas Raiders and Detroit Lions, two teams whose defenses have struggled greatly in this statistic.
Perfectly Covered Plays is not just a defensive stat; preventing such plays is relevant for offenses, too. As mentioned before, the Vikings faced the highest perfectly covered play rate, while the Falcons faced the lowest. The Jets-Patriots and Carolina Panthers–Baltimore Ravens games were extremely defensive, and neither offense was able to evade perfectly covered plays at a high rate.
Individual True Coverage Rates
Keying in on individual players, we can see who performed the best in coverage this week in terms of their True Coverage Rate, the percentage of the snaps for which they earn a coverage grade of zero or better.
Note: The True Coverage Rate league average (from 2019-2021) was 80% for cornerbacks, 87.5% for linebackers and 91% for safeties.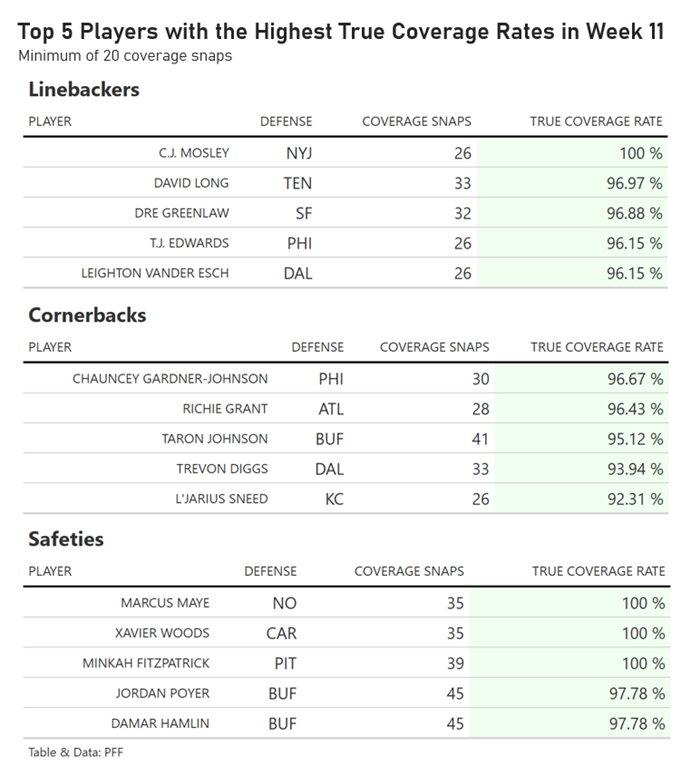 In a big defensive battle, Jets linebacker C.J. Mosley was the only linebacker to be perfect in coverage, locking down every pass catcher he was lined up against. Leighton Vander Esch also cracks the top 5 for the second week in a row.
Philadelphia Eagles CB Chauncey Gardner-Johnson has made a gigantic impact since arriving shortly before Week 1 via trade, and he locked up receivers the highest percent of the time this week. Richie Grant also continues to impress in recent weeks.
Three safeties were perfect in coverage this week. Marcus Maye gets this first honor while Xavier Woods and Minkah Fitzpatrick have each had perfect weeks in the past. The Bills safeties continue to be dominant, even with all their injuries.
Noteworthy Statistics and Injuries
Patrick Surtain, one of PFF's highest-graded cornerbacks and the rock of the Denver Broncos' secondary, had the one of the worst plays of his career, when he left Davante Adams wide open down the field on the game-winning touchdown in overtime. He earned a coverage grade of -2 on the play, the lowest a defender can get. The only other coverage grade of -2 this week came on a play where Bengals cornerback Cam Taylor-Britt left George Pickens wide open downfield.
The Giants suffered a big blow to their coverage unit when cornerback Adoree' Jackson left the game with a knee injury. He will be out for 4-6 weeks and the Giants will lose a key piece to their defense. Fourth string cornerback Rodarius Williams filled in and underperformed, only covering receivers 75% of the time.
Rookies of the Week 
We can also check in on some 2022 draft picks based on how they performed in coverage. The rookies with the highest True Coverage Rates in Week 11 were:

Kerby Joseph has been up and down in recent weeks for the Lions, but was the top rookie safety at locking up receivers this week. Joshua Williams had a great day covering Chargers receivers, specifically DeAndre Carter, and Quay Walker continues his coverage dominance yet again.
However, some rookies struggled a little this week, with cornerback Martin Emerson (64%), linebacker Malcolm Rodriguez (67%), and safety Bryan Cook (81%) having the lowest true coverage rates in their positions. Covering Stefon Diggs and Gabriel Davis was too much to ask for from Martin Emerson, Malcolm Rodriguez struggled to cover Saquon Barkley, and Bryan Cook had a less-than-stellar day against the Chargers' receivers.
Team-Specific True Coverage Rates (Coverage Mistakes)
Let's take true coverage rates and calculate which teams made the fewest coverage mistakes (having the highest true coverage rate) and the most coverage mistakes (having the lowest true coverage rate) in Week 11.

After perfectly covering the highest percent of plays, the Cowboys also made the least amount of coverage mistakes. The Bills coverage unit also had a great game limiting their coverage mistakes and had multiple players with top 5 true coverage rates this week.
The Los Angeles Chargers made the most coverage mistakes, mostly at the hands of their cornerback room, as Michael Davis, Asante Samuel, and Bryce Callahan all had very below-average true coverage rates while trying to cover the Chiefs' pass-catchers. The Bears' cornerbacks were also their weak link, while the Packers' safeties made the brunt of Green Bay's coverage mistakes.
Cumulative Statistics
So far this season, the cumulative Perfectly Covered Play rate is 34.3%. Over the course of the season, we will learn which teams are the most successful at creating Perfectly Covered Plays, and so far, here are the top and bottom 3 teams in terms of their Perfectly Covered Play Rate this season:
Top 3 in Perfectly Covered Play rate in 2022 regular season
San Francisco 49ers (44.8%)
Cincinnati Bengals (41.5%)
Tampa Bay Buccaneers (40.4%)
Bottom 3 in Perfectly Covered Play Rate in 2022 regular season
Cleveland Browns (21.3%)
Seattle Seahawks (25.5%)
Detroit Lions (25.7%)
The 49ers' coverage unit continues their perfectly covered plays dominance and are now above the Bengals by over 3%. While the Buccaneers were on bye, the Jets coverage unit had a stellar day against the Patriots to be less than a percent away from third place in this cumulative statistic.
The coverage units of the Lions and Browns both had well below average perfectly covered play rates for another week, which keeps them at the bottom of this statistic. These bottom 3 teams are comfortably in the back of the pack, as the next closest team (the Pittsburgh Steelers) has a perfectly covered play rate of about 30%.
Evolving Man and Zone Rates
Some teams' man and zone rates will vary by opponent, while some will stay steady throughout the season. This week, the league as a whole ran man coverage 30.1 % of the time, which brings the cumulative average to 29%, therefore running zone on 71% of plays. We can see how each team's percentage of running man and zone coverage evolves each week. Here are the teams that ran the most man and zone so far this season:
Top 3 in Man Coverage Rate in 2022 regular season
• New York Giants (51.8%),
• New England Patriots (46.5%)
• Miami Dolphins (46.1%)
Top 3 in Zone Coverage rate in 2022 regular season
• Los Angeles Rams (89.5%)
• Minnesota Vikings (86.6%)
• Seattle Seahawks (84.9%)
In the second battle of man coverage, the Giants and Lions (two teams that run some of the most man coverage this season) continued running over 50% man coverage, but ultimately it was more beneficial for the Lions. The Patriots ran a lot less man coverage against the Jets than they're used to, but the Jets were able to do nothing offensively no matter the coverage they faced.
Whatever the Rams are doing defensively is not working. They refuse to change up their defensive coverage gameplan based on the opponent and they simply run zone coverage 90% of the time in every game they play. Something needs to change, or they're going to continue to make no progress.
Also check out weekly Man and Zone Analysis articles coming out soon for more in-depth analyses on this and predictions based on Week 12 matchups.