The first Sunday slate of the 2020 season is officially in the books, and now it's time to start breaking down whether you should be overreacting to what happened in this week's games.
Here, you'll find the Week 1 team of the week along with our selections for offensive and defensive MVP, rookie of the week, secret superstar of the week and offensive line of the week. You'll also find 10 takeaways from the NFL's first week of action. Enjoy!
[Editor's Note: PFF's advanced statistics and player grades are powered by AWS machine learning capabilities.]
PFF TEAM OF THE WEEK
QB: Aaron Rodgers, Green Bay Packers
RB: Ezekiel Elliott, Dallas Cowboys
WR: Adam Thielen, Minnesota Vikings
WR: Calvin Ridley, Atlanta Falcons
TE: Mark Andrews, Baltimore Ravens
FLEX: Anthony Miller, Chicago Bears
T: Andrew Whitworth, Los Angeles Rams
G: Wyatt Teller, Cleveland Browns
C: Corey Linsley, Green Bay Packers
G: Shaq Mason, New England Patriots
T: Trent Williams, San Francisco 49ers
DI: Aaron Donald, Los Angeles Rams
DI: Larry Ogunjobi, Cleveland Browns
EDGE: Josh Sweat, Philadelphia Eagles
EDGE: T.J. Watt, Pittsburgh Steelers
LB: Bobby Wagner, Seattle Seahawks
LB: Dre Greenlaw, San Francisco 49ers
CB: Fabian Moreau, Washington Football Team
CB: CJ Henderson, Jacksonville Jaguars
S: Jessie Bates III, Cincinnati Bengals
S: Jordan Poyer, Buffalo Bills
FLEX: Jamal Adams, Seattle Seahawks
Note: The team of the week will be updated upon the conclusion of Monday Night Football.
1. Aaron Rodgers was out for blood and showed just how rough Minnesota's cornerback situation is
After an offseason full of people calling him a non-elite quarterback on the decline — in addition to the Green Bay Packers' brass deciding to go all in on Jordan Love in the first round of the 2020 NFL Draft — Aaron Rodgers was out for blood in Week 1. 
The Packers' offense was incredibly conservative to start the game. On their first 15 plays, Rodgers dropped back to pass 10 times, generating an average depth of target of 4.4 yards and an average time to throw of 1.75 seconds. For perspective, that was over half a second quicker than any other quarterback Sunday on "scripted" plays. 
Then, in the final minute of the first half, we finally saw some fire from Rodgers. He threw an out-of-structure strike to Davante Adams for Green Bay's first score before dropping a 40-plus-yard dime to Marquez Valdes-Scantling for another. And from there on out, Rodgers peppered the Vikings' defense. He finished the game with six big-time throws, a 96.0 PFF grade and an 86.8% accurate pass rate — all of which either tied for first or ranked first outright at the position. We saw bouts of inaccuracy from Rodgers last year at the intermediate level, but that wasn't an issue in Week 1.
Unfortunately, rookies Cameron Dantzler and Holton Hill had the tall task of defending Rodgers in his revenge game. When playing on the outside, Dantzler and Hill combined to allow 13 catches on 17 targets for 167 yards and one score with only one forced incompletion. Minnesota's cornerback unit was looking like the team's Achilles' heel ahead of the season, and that looks to be the case after one week of play.
2. Tom Brady isn't washed up
The debut of TBxTB did not go as well as the team and many had expected, but there is reason for hope. While Tom Brady made a couple of really bad decisions, with one being a pick-six, he did not play as poorly as some have made it out to be. Brady finished the day with a whopping six big-time throws, which tied for the most of the week so far. I'm not sure I would describe a player as washed when they're making several throws like the one below.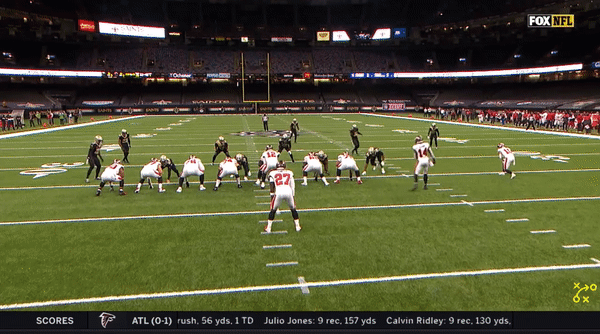 A lot of people said after the 2019 season that Brady just can't hit those special throws anymore at his age, but he proved them wrong in Week 1 and showed it was largely due to a poor supporting cast in New England. In 2019, Brady never had more than three big-time throws in a game, and he didn't record more than one after the first three weeks of the season.
Yes, the pick-six was ugly and one of the worst, if not the worst, throws of the day, but he clearly made more special passes than poor ones. Brady did have another interception, but Bruce Arians publicly stated that it was a miscommunication between his quarterback and wide receiver Mike Evans. 
My point here is to not overreact to Brady's first game with the Tampa Bay Buccaneers. His accuracy wasn't nearly as good as what it's been, but he did produce the sixth-best passing grade (80.0) of the week. I'm still optimistic with the Buccaneers this year for the sole reason that Brady showed he still has the touch to make those big-time throws downfield. I would expect a big game from Brady and company in Week 2 as they face a poor Carolina Panthers defense.
3. Dallas won't get too far if its offensive line repeats its Week 1 performance
Led by Aaron Donald, the Los Angeles Rams caused Dak Prescott to play under fire throughout their Week 1 matchup. He was under pressure on 19 dropbacks, the second-most of the week. When a quarterback is under pressure that much, not many good things are going to happen for the offense. Prescott did make a great play under pressure early in the second quarter to CeeDee Lamb, but that was just about the only positive outcome on those plays. 
And that number of pressured dropbacks could have been much higher had Prescott not had so many short, quick throws to avoid it. He did make all these requisite throws when free from pressure, as he was the sixth-highest graded quarterback of the week on such plays. 
Because of Donald and the offensive line not having its best day, we didn't get to see Prescott uncork many downfield throws. His deep ball was the backbone of his success last year, but he threw a pass 10 or more yards downfield on just over one-fifth of his passes (third-lowest rate of the week) in Week 1. 
As a whole, the Dallas offensive line was the third-lowest graded unit of the day and lost the third-most reps. Tackle Tyron Smith and center Joe Looney didn't play poorly, as they earned pass-block grades of 77.3 and 69.1, respectively, but the other three (Connor Williams, Zack Martin and Terence Steele) offensive linemen struggled. All three were either beaten by a defender or allowed a pressure on six or more pass-block reps. While the Cowboys won't face a player like Donald every week — and Martin is likely to bounce back, given he was the highest-graded active guard in pass protection from 2014-19 — Williams and Steele are two reasons to worry, especially with facing Grady Jarrett in Week 2. 
4. Joe Burrow has his fair share of highs and lows, but that last-minute drive was reminiscent of his days at LSU
Joe Burrow's NFL debut was as anticipated as any in recent memory. While he had a few uncharacteristic uncatchable passes and a bad interception on a scramble pitch right to Melvin Ingram's gut, there was a lot to like from his first start. He showed that he can make plays with his legs, taking a designed carry for his first career touchdown, but the final drive is what should get Bengals fans excited. It looked precisely like what we routinely saw from him at LSU.
Down three with just under three minutes to go, Burrow got the ball back on his own 25-yard line and proceeded to march the Bengals down the field — routinely delivering accurate balls. All but one of his passes on that final drive were deemed accurate, with his best throw being to AJ Green on a comeback near the sideline in the end zone. It was perfectly placed for Green to make a play, but it was unfortunately called back for offensive pass interference. We all know what happened after that.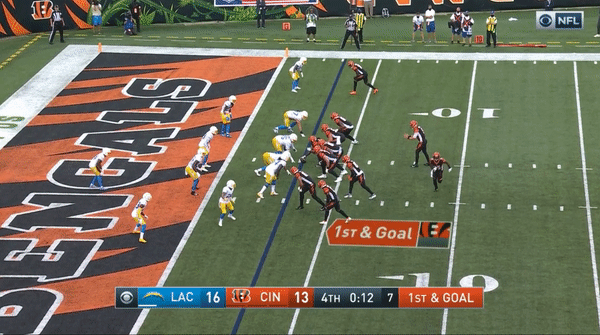 On that final drive, Burrow produced an 84.9 passing grade. The Bengals didn't get the win, but that is impressive for a rookie debut. That drive is the perfect representation of what the Bengals got in Burrow. He is bound to make this team a competitive squad down the road, and I cannot wait to see him continue to improve as he gets more reps under his belt.
5. Nuk Hopkins verified (unsurprisingly) that he will be a game-changer for Kyler Murray and the Arizona Cardinals
Arizona traded for one of the best possession receivers in the NFL this offseason in DeAndre Hopkins, and he proved to be an immediate game-changer. Of the 40 passes Kyler Murray attempted Sunday, 40% went to Hopkins. And he hauled in every catchable target thrown his way (14 of 16 were catchable), too. Of those 14, Hopkins turned eight into first downs, which tied for the second-most for the week. He recorded three broken tackles and a contested grab in the process. Hopkins, in addition to the plays Murray made with his legs, played a pivotal role in the Cardinals ranking among the 10 most efficient offenses by expected points added per play and securing the win against the San Francisco 49ers. 
6. The Seahawks are a Super Bowl-caliber team, especially if they continue to let Russ cook
Russell Wilson was the most valuable quarterback of the 2019 season in terms of PFF WAR, and he came out firing in 2020 with an elite Week 1. His 91.3 passing grade was the second-best of the week behind only Rodgers, throwing just two uncatchable passes on 34 total attempts.
Wilson had a low average depth of target for the game (5.5 yards) but was his same old self on the few downfield passes he took. Wilson ultimately tied with Rodgers for the best passing grade on throws of 10 yards or more, as he completed 7 of 8 passes for 149 yards and one score, with three big-time throws mixed in.
Seattle's run-play percentage in Week 1 of 2020 was nearly 20 percentage points less than their run-play percentage in Week 1 of 2019 when they barely squeaked out a W against a bad Bengals team. There was a bunch of shallow dump-offs, sure, but it worked for them. They led the NFL in offensive EPA per play. Let's just hope they continue this trend.
Jamal Adams' debut went as well as hoped, too, as he made plays in every single facet of the game. He recorded six total defensive stops and four pressures, paving the way to a PFF grade of 85.8.
The Seattle defense played fairly well as a whole, finishing ninth in EPA per play allowed. There's certainly room to get better, though, especially at cornerback, as neither Quinton Dunbar nor Shaquill Griffin had the best of days (both earned sub-50.0 coverage grades). If those two can bounce back to the level they produced at last year — when they both ranked in the top 15 in coverage grade — the defense, along with the "Let Russ Cook" offense, forms a Super Bowl-caliber team.
7. Rookie cornerbacks C.J. Henderson and Jaylon Johnson playing at a top-10 level right out the gate is incredible, given the impacted offseason and no preseason reps
With the impact of COVID-19 on the offseason and the cancellation of preseason games, expectations for rookies — regardless of position — were relatively low. For cornerbacks specifically, no one was really expected to have a great game right away. Even in a normal year, teams can't really rely on rookies starting on the outside to be difference-makers right away. Yesterday, however, we saw two defy those odds and put together impressive performances.
Jacksonville Jaguars rookie C.J. Henderson being one of the highest-graded outside corners of Week 1 is even a bigger surprise, given how his 2019 at Florida fared. The year before that, Henderson legitimately locked down his side of the field, allowing just 18 catches in 13 games. In 2019, Henderson didn't play horribly, but he had some concerning reps on tape — he gave up five catches that resulted in a 40-plus-yard gain, which accounted for 233 of his 389 yards allowed on the year.
Injury could have influenced that to a certain degree, but with that in mind, it seemed like there might be a learning curve to at least start the year. But that clearly wasn't the case. When lined up on the outside yesterday against Indianapolis (34 cover snaps), Henderson allowed a 25.5 passer rating on targets thrown his way, recording an interception and four forced incompletions. He's a remarkable athlete with elite-level man-coverage traits, and he put that on display yesterday.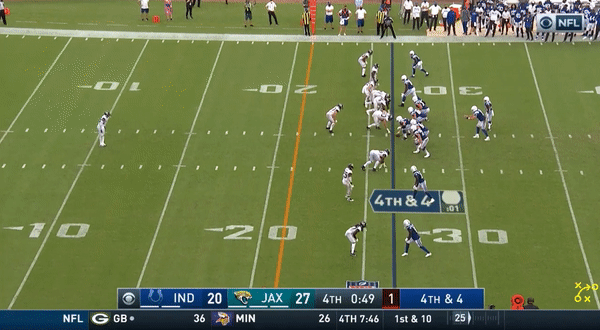 The other surprise rookie cornerback performance belonged to Jaylon Johnson, whom the Chicago Bears got at the 50th overall pick. He did get absolutely trucked by Marvin Jones early on, but he was outstanding in coverage overall. Johnson allowed only two catches on 43 coverage snaps lined up on the outside, with two clutch pass breakups down the stretch to help the Bears secure the W. One of which was the interception assist to Kyle Fuller.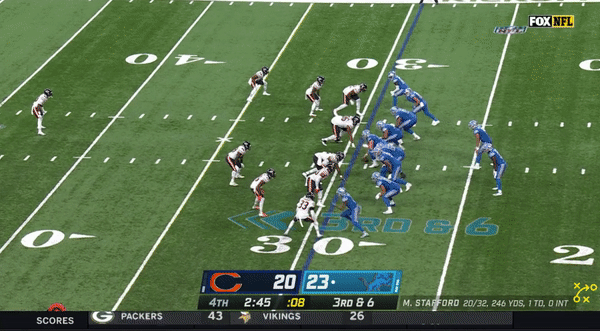 I'll be the first one to admit that I fell for the Cleveland Browns trap again. I wasn't the only one who assumed that Kevin Stefanski would help uncork the Baker Mayfield we saw both at Oklahoma and in his rookie season, but that clearly didn't happen in Week 1. Mayfield made some horrible decisions throughout the game and was concerningly inaccurate. All told, just 46.9% of his passes were deemed accurate, the fifth-worst rate of the day. He made some forceful throws to his first read, too, earning a lowly 54.2 on those throws.
The connection between Mayfield and Beckham looked just as it was in 2019 — nonexistent. Beckham saw 10 targets, and just five of those were catchable. And of those five, he caught only three. I'm still optimistic that they can figure this thing out, given that we have seen them both produce at high levels, but time is running out. 
9. Cam looked sharp. He makes the Patriots AFC East favorites…for now
The Patriots offense produced positive EPA on 59% of their offensive plays on Sunday, which, as of now, ranks second in the NFL. Cam Newton saw 14 designed carries on the day (four more than any other quarterback) and recorded a first down or touchdown on half of those.
Newton hardly threw it downfield (just four passes traveled 10 or more yards, lowest in NFL), but he hit all the throws he needed to — not one of Newton's 19 passes was deemed uncatchable, according to PFF's ball-charting process.
I'm not saying the Patriots are runaway favorites by any means, but given what we saw at quarterback from the Jets, Dolphins and Bills, I would lean with New England when it comes to picking the AFC East.
10. Trevor Lawrence is destined to be a New York Jet
The New York Jets really could not have looked worse in Week 1. The team ranked third-to-last in EPA per pass play and lost more combined reps in pass-protection than any other team. As a result, Darnold ended Sunday as the lowest-graded QB in the league. 
This team looks set for an extremely down year, and the only other team that was in the running for the first overall pick ahead of the season, the Jacksonville Jaguars, pulled off a great win yesterday. In other words, the Jets are the favorite to secure the No. 1 overall pick in the 2021 NFL Draft, and that means Trevor Lawrence, one of the prospects we have ever evaluated, will be available to them.
Lawrence was the second-most-valuable player in college football in 2018 and 2019 combined (trailing only Burrow) and was easily the MVP of College Football Week 2 with his performance against Wake Forest when he busted off a 94.2 PFF grade. It's going to be a rough ride Jet fans, but trust me, it'll pay off in the end.
OFFENSIVE MVP OF THE WEEK
This doesn't really need much explanation — Rodgers balled out and had the third-highest-graded Week 1 we have ever recorded by a quarterback in the PFF era.
DEFENSIVE MVP OF THE WEEK
Watt kicked off his 2020 campaign with a big-time performance, producing a 93.7 PFF grade on the night that ranked first among all defenders in Week 1. This was the 10th game since the start of the 2019 season in which Watt earned a PFF grade above 80.0 — that's three more than any other edge defender (Nick and Joey Bosa each have seven). I wouldn't be shocked if we are all in consensus that Watt is the best edge defender in the NFL by season's end.
ROOKIE OF THE WEEK
To no surprise, Chase Young was a dominant force right away for Washington. He produced an 81.4 pass-rush grade, ranking fifth at the position and third among all Week 1 rookie edge defenders since 2006. He's as good as advertised and played a huge part in his unit leading the NFL in total pressures generated in Week 1.
OFFENSIVE LINE OF THE WEEK
The Packers offensive line was nearly flawless, ranking first in the NFL in pass-block grade and second in run-block grade. The group did get bailed out at times with quick throws, but the unit provided exceptional protection on true pass sets as well. The line only allowed one pressure all game, which led to every lineman producing a pass-block grade north of 75.0.
SECRET SUPERSTAR OF THE WEEK
Sweat hadn't shown any signs of elite-level play during his first two years in the league, but that changed in his kickoff to Year 3. Sweat produced an incredible 92.7 pass-rush grade against Washington. He may have had just three pressures, but he won on 29% of his pass-rush reps — which led edge defenders with at least 20 pass-rushes — and he also had a strip-sack on Dwayne Haskins. If he sustains even two-thirds of that win rate, he'll make an already menacing defensive line even better.
PLAY OF THE WEEK
Trent smash
Trent Williams is sending LBs to next week

— PFF (@PFF) September 13, 2020
After not playing a down of football since 2018, Trent Williams came back in 2020 with a bang — literally. The clip above shows Williams climbing up to the second level and laying out Arizona linebacker Jordan Hicks. That's our play of the week, and it was instrumental in him landing a spot on the PFF Team of the Week mentioned earlier. His 89.7 run-block grade was the third-best of the week, and he allowed only a single hurry in pass-protection.
AN EARLY LOOK AHEAD TO WEEK 2…
Not many people would have been thrilled to watch the Bengals and Browns in a Thursday Night Football matchup late last year. But this time around, in Week 2 of 2020, it's one of the best games of the week. We get Burrow coming off his rookie debut looking to make some noise, while Mayfield and company will try to bounce back after a horrendous Week 1.
The Sunday slate is highlighted by two games late in the day: the Baltimore Ravens at the Houston Texans and the New England Patriots at the Seattle Seahawks.
I've brought up how bad Baker and the Browns were but have yet to mention Lamar Jackson carving up the Cleveland defense with his arm. Jackson produced an 88.8 passing grade, which was the third-best mark in Week 1, behind Aaron Rodgers and Russell Wilson. His accuracy wasn't pinpoint, but he still routinely delivered catchable balls to his receivers — just 4.3% of his passes were deemed uncatchable (third-best). He'll face a Texans defense that is struggling at the cornerback position, but perhaps the biggest story is the Houston offensive line versus the blitz-heavy Ravens. Baltimore blitzed 57% of the time in Week 1 — 10 percentage points higher than anyone else. That might not bode well for Deshaun Watson, who played behind a Texans offensive line that earned the fifth-worst grade in Week 1.
As for the other marquee game, the story is going to be all about letting Russ cook and whether the Seahawks sustain the high rate of pass plays they called in Week 1. For New England, it's still all about Cam Newton and him proving he's capable of leading the team to a division title.
Week 2 is set up to be another great one.