As many may already know, whenever we at PFF look at grouping all 32 starting quarterbacks into tiers, we typically divide them into fourths:
Dallas Cowboys quarterback Dak Prescott currently sits at the top of Tier 3 and can produce at an elite level if he is in the right environment. And this year, Prescott has a supporting cast and play-caller that can help him produce like an MVP.
My colleague Eric Eager has written about the league's best playcallers on numerous occasions, and on his list of the five best offensive playcallers ahead of the 2020 season is none other than Cowboys offensive coordinator Kellen Moore. We were fans of the Mike McCarthy hire, but even more so with his decision to retain Moore as the team's offensive coordinator and playcaller.
In his first year in that role last season, Moore helped lead Dallas to the second-most efficient offense in the NFL — behind only the Baltimore Ravens — in regard to expected points added per play. That was night and day compared to the year prior: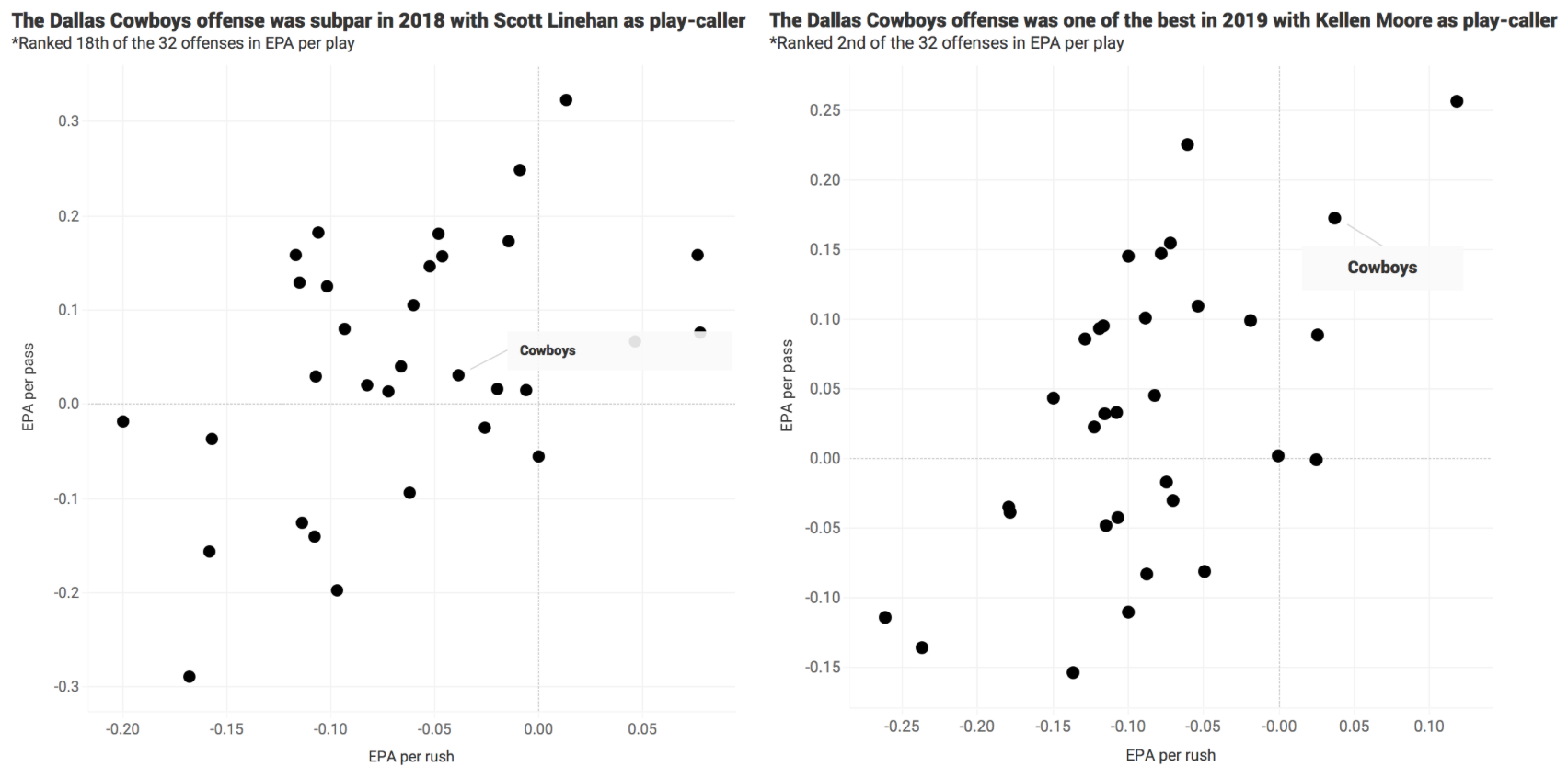 Prescott's positively graded throw rate went from 20th in the NFL in 2018 to seventh in 2019. On top of that, he finished the regular season as the second-most valuable player in the NFL.
There wasn't a huge change in offensive structure under Moore, but he emphasized one area far more than Linehan did (in addition to using far more motion) that played a major role in the drastic improvement: attacking downfield. It was the biggest reason why Prescott produced at an MVP level in 2019 after a couple of middling years of play. Moore made it a point prior to the season that he wanted Prescott to take more downfield shots, and he worked significantly on it with him in practice: