We were presented with one of the greatest games of the season last year when the Kansas City Chiefs erased a 24-point deficit against the Houston Texans in the divisional round of the playoffs, so we were all expecting another game full of fireworks to open up the 2020 NFL season.
Thursday night's contest turned out to be quite the opposite of the back-and-forth shootout between two strong offenses, though.
There wasn't a single 20-plus-yard pass completed until garbage time late in the fourth quarter of the Week 1 opener, and the Chiefs managed to blow out the Texans using quick passes and a load of underneath concepts.
Chiefs quarterback Patrick Mahomes had just a 2.18-second average time to throw and an average depth of target of just 5.6 yards downfield, both of which were single-game lows for the Super Bowl LIV MVP.
It was still good enough to produce positive expected points added on 62.9% of their pass plays, which was the third-highest rate they have had in a single game in the Mahomes era. Cheers to you, Andy Reid, for once again showing why you're the league's very best offensive playcaller.
Here are the five biggest takeaways from the Chiefs' 34-20 victory over the Texans to kickoff the 2020 NFL season.
It's still early, but Day 3 pick L'Jarius Sneed and the late signing of Kelechi Osemele look like steals for Kansas City
Last night, Sneed looked pretty dang good for someone who hadn't played at outside cornerback since his 2018 college season at LA Tech. He was targeted on four of his 33 coverage snaps when lined up on the outside; he didn't allow a single catch and also forced an incompletion against Brandin Cooks in press-man coverage. Most of Sneed's reps came playing press coverage (whether it was man or zone), and while Will Fuller V did beat him on that dropped pass in the first quarter, he didn't lose after that.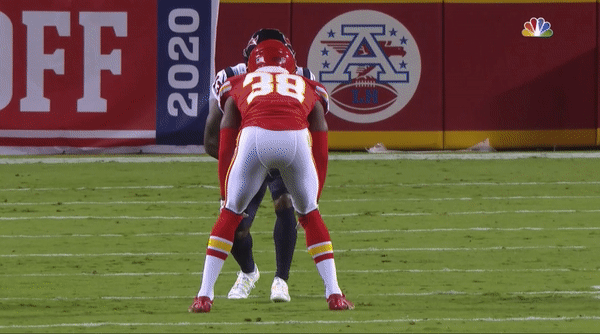 Sneed also came down with an interception, but that was more a case of being in the right place at the right time after teammate Tyrann Mathieu forced an errant throw from the Houston signal-caller. But overall, Sneed allowed just a 3.5 passer rating when targeted — not a bad figure for a rookie on debut.
Kansas City was also forced to sign veteran guard Kelechi Osemele in late July after Laurent Duvernay-Tardif decided to opt-out of the season, and that signing looks like it may have paid off.
Osemele played like his 2016 self — specifically in the first half of play — and opened up a number of holes for the Kansas City rushing attack. He did concede some down the stretch, but overall, he not only produced more positively graded run blocks than anyone in the game, but he also came away with the third-most positively graded run blocks he's ever had in a single game in his NFL career. The ninth-year offensive guard finished the game with an overall grade of 72.6, the fourth-highest game grade among his teammates. 
Considering Osemele was picked up just over a month ago and played in only three games last year due to injury, I would say it's only going to get better from here.
ELITE subscribers can view player grades, advanced statistics, positional snap counts and more in Premium Stats 2.0. Use promo code KICKOFF30 here to save 30% off your new PFF subscription today.
Houston badly needs Gareon Conley back
We knew that the depth — or lack thereof — at cornerback for Houston was a concern heading into the year, and last night's performance only confirmed it.
Bradley Roby is not a bad player when he is played on the outside. From 2014-2019, Roby produced a 79.9 coverage grade on the outside as opposed to just a 63.6 coverage grade in the slot. Last night against the Chiefs, Roby generated a 44.9 grade across 14 slot-coverage snaps and a 70.3 grade across 18 snaps on the perimeter.
One of the starting spots this year was supposed to be manned by Gareon Conley, but he is out until at least Week 4 after being placed on IR. We saw Justin Reid — a safety — step in as a replacement and get reps in press-man coverage on the outside with Vernon Hargreaves III and Lonnie Johnson Jr. both seeing the most action, and things did not go well.
Hargreaves finished the night with a coverage grade of 40.9 while Johnson managed a coverage grade of 50.8. Combined, the two gave up six catches on eight targets for 62 yards and a score.
Considering the fact that Johnson was the lowest-graded cornerback of the 2019 season as a rookie and that Hargreaves has graded below 50.0 over his NFL career, I think it's safe to say that the two having bad games against the Chiefs isn't a fluke.
I pegged Conley as a 2020 breakout candidate in an article earlier this week, and here was my reasoning why:
After a few years of middling play with the Las Vegas Raiders (63.8 coverage grade with the team), Conley revitalized his career with Houston in the back half of 2019. And while he struggled in his first game as a Texan, he played considerably well from there on out, earning a 70.6 coverage grade and leading the NFL in pass breakups (12) from Week 9 on. I wouldn't expect Conley to break out into the top-tier status and be considered one of the NFL's best cornerbacks, but he is capable of producing at a top-25 level with Houston in 2020 if, of course, he is able to return from IR early.
Conley coming back doesn't patch Houston's secondary right up, but it might just prevent the unit from being a complete liability, which is what it looked like on Thursday Night Football.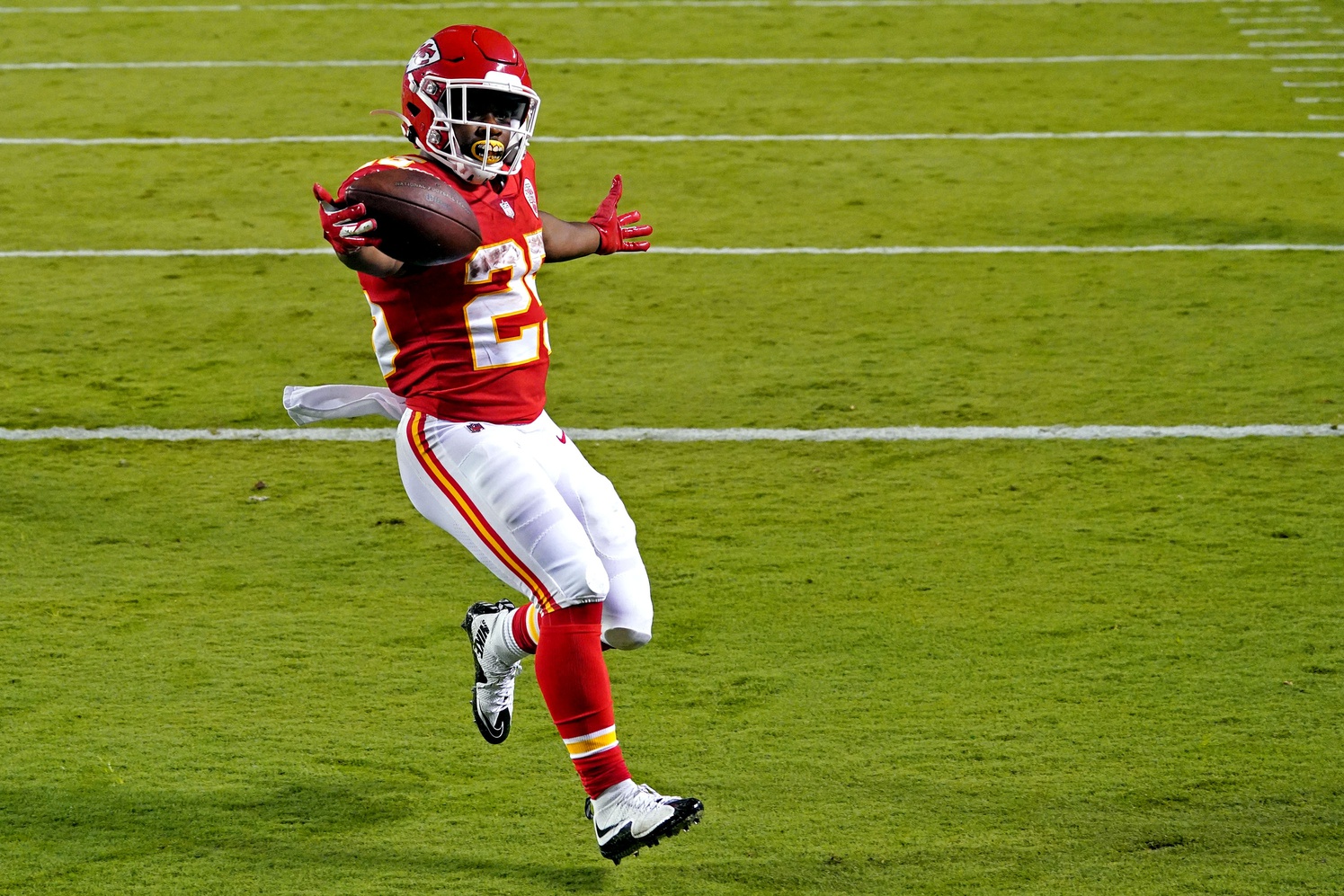 Clyde Edwards-Helaire isn't an exception to the "running backs don't matter" movement, but man is it fun to watch him evade tackles
Selecting running backs in the first round of the NFL draft is something that we at PFF don't particularly condone, but we did think that Clyde Edwards-Helaire was a perfect fit for the reigning Super Bowl champions. We saw that last night.
Edwards-Helaire was a tackle-evading machine at LSU — he broke a total of 104 tackles across 361 rushing attempts in his two years as a starter with the Tigers — and he broke seven tackles on 25 carries last night. On top of that, he averaged 4.2 yards after contact per rush attempt.
In the first three quarters — when the Chiefs weren't running out the clock — Edwards-Helaire picked up five-plus yards after contact on five of his 14 runs; he bounced in and out of cuts and can make defenders just look silly trying to tackle him, just as we saw last night.
The fact he had just one target was interesting, but I would expect that to climb in the coming weeks, given the receiving ability he displayed consistently throughout LSU's historic 2019 season.
This Texans offensive line is making Watson's job a lot more difficult
Watson faced an insurmountable amount of pressure against the Chiefs. He was under pressure on 45.5% of his straight-dropbacks, and it wasn't as if one single lineman was to blame — all five starters were equally responsible, as they each allowed multiple pressures.
Chris Jones has been having his way with Zach Fulton pic.twitter.com/77W0qPbRug

— Anthony Treash (@PFF_Anthony) September 11, 2020
Houston's offensive line ranked 23rd in pressure rate allowed in 2019, but perhaps a bigger issue was Watson's tendency to invite pressure on himself. The Texans quarterback was responsible for 42 pressures last year, which tied for the second-most among quarterbacks.
This wasn't the issue last night, as Watson himself was charged with just one pressure. The issue was the sheer amount of quick pressure allowed by the offensive line. In total, Houston allowed six pressures in under 2 seconds and stumbled to just a 59.9 team pass-blocking grade for the game.
Yeah, losing DeAndre Hopkins is that impactful to Houston's offense
Outside of that first-quarter drop, wide receiver Will Fuller V didn't have too bad of a game. He caught both of his contested targets and produced 3.5 yards per route run, paving the way for a solid 72.6 receiving grade. That said, Fuller is not a DeAndre Hopkins-like difference-maker, nor is anyone else on the team. They have the speed, but nobody could get open against the Chiefs on Thursday night.
Of their eight catchable targets that came on passes thrown 10-plus yards downfield, only four were caught. I'm sure Watson missed Hopkins sure-fire hands and ball skills last night.
David Johnson, whom they acquired in the Hopkins trade, did produce a couple of carries of 10-plus yards and looked, for the most part, close to 2016 form. One of his carries was a nice 19-yard touchdown run that featured a couple of nice cuts and a forced missed tackle, which helped him earn an 83.1 rushing grade on the night.
Oh, and he did this, which I found extremely funny.
First RPO I've ever seen where the RB was fooled at the mesh? Lol #spreadoffense #RPOFootball pic.twitter.com/unAlJ43vt5

— SpreadOffense.com (@SpreadOffense) September 11, 2020
Johnson actually ended the 2020 season opener with the best single-game rushing grade of his career. That said, we probably shouldn't put too much stock into Johnson's performance — he had only broken 30 tackles on his 363 carries in the three seasons prior to last night, so it's likely that this is an outlier performance that is being carried by one great run.
Bottom line
Reid, Mahomes and the rest of Chiefs don't look like a one-and-done Super Bowl champion, and they have a real shot at being the first repeat Super Bowl winners since the 2003-04 New England Patriots.
As for Houston, they look set for a down year. The loss of the Watson-Hopkins connection was evident in their Week 1 showing, and the offensive line and secondary looked like they might just be one of the worst in the NFL. Watson is undoubtedly a great quarterback, but not even he can survive an offensive line that's allowing quick pressure after quick pressure.