After months of uncertainty, we finally got to see some Power Five programs from the ACC and Big 12 take the field for the first time this season. As ugly as the Big 12 action was, with Iowa State, Kansas State and Kansas getting upset by Group of 5 schools and Texas Tech barely getting by Houston Baptist, it was still great to have Power Five football back.
Now, It's easy to overreact to the one-game sample, but we here at PFF are here to tell you whether you should buy into some of these overreactions.
Is Brock Purdy bad? Is Notre Dame overrated? Is Spencer Rattler a future star? Is Texas actually back?
I'll answer those questions below with the help of PFF grades and advanced statistics, which are also available to PFF's CFB Premium Stats+ subscribers. In addition, we will also present some awards for Week 2 of the 2020 college football season, from the offensive/defensive players of the week to our infamous team of the week.
PFF TEAM OF THE WEEK
Offense
QB: Trevor Lawrence, Clemson
RB: Alec Sinkfield, West Virginia
RB: Michael Carter, North Carolina
WR: Jonathan Adams Jr., Ark State
WR: KeSean Carter, Texas Tech
WR: Thomas Hennigan, App State
TE: Briley Moore, Kansas State
T: Liam Eichenberg, Notre Dame
G: Aaron Banks, Notre Dame
C: Jarrett Patterson, Notre Dame
G: Jake Kradel, Pitt
T: Samuel Cosmi, Texas
How about that Jonathan Adams guy from Ark State? A couple of big-time grabs in the red zone — including the game-winner — and this play that didn't end up a catch but is impressive that he even gave it a chance:
Ruled a no-catch but the effort and skill here is ridiculous. pic.twitter.com/iZMUmG8Zih

— Jim Nagy (@JimNagy_SB) September 12, 2020
Adams looked a lot stronger in tight coverage against Kansas State than he did last year, which helped him lead wide receivers this week in contested catches made with four (had six such targets in total).
North Carolina running back Michael Carter also had himself a day, making a significant impact in both facets of play. He turned three of seven targets and two of seven carries into a 10-plus-yard gain. Carter was a big-play threat for the Tar Heels alongside Javonte Williams in 2019 (he had nine 25-plus-yard runs, third-most in the conference) and picked up right where he left off. We haven't quite seen Carter get as much work as a receiver in a single game in years past, but he clearly showed he should be from here on out.
Defense
DI: Eli Howard, Texas Tech
DI: Nolan Cockrill, Army
EDGE: Cameron Sample, Tulane
EDGE: Tarron Jackson, Coastal Carolina
LB: Jon Rhattigan, Army
LB: Amari Gainer, Florida State
CB: Shemar Jean-Charles, App State
CB: TaRiq Bracy, Notre Dame
S: Alonzo Addae, West Virginia
S: Paris Ford, Pitt
FLEX: Asante Samuel Jr., Florida State
While it was against an FCS team, Texas Tech Eli Howard had one of the most dominant outings as a pass-rusher in Week 2. We named Howard the Red Raiders' X-factor prior to kickoff, stating they needed the veteran to replicate his 2017. That year, he produced an 81.5 pass-rush grade but followed that up in 2018 and 2019 with two underwhelming seasons that ended in sub-65.0 pass-rush grades. Yesterday, Howard had one of the best games of his career. He had a week-leading nine pressures on the day and won 29% of his pass-rush reps. And he did that logging a snap at every single alignment on the line, excluding nose tackle.
Notre Dame's TaRiq Bracy was a truly underrated corner last year, despite the fact that he led all FBS cornerbacks in the percentage of contested targets forced. The reason why he was being overlooked — and rightfully so — was how often he lost at the catch point. Against Duke, he saw three targets on 43 coverage snaps, forced a contested target on two of them and subsequently forced an incompletion on both of them. In all, he didn't allow a single yard on the day. That right there is what we call a shutdown game.
---
10 BIG TAKEAWAYS
1. Jarret Doege is the real deal
Take a look at what I had to say about West Virginia quarterback Jarret Doege before Week 2 got underway.
EKU @ West Virginia

WVU QB Jarret Doege is a player @pff_seth and I view as a breakout candidate in 2020. His accuracy was remarkably better in his four games at WVU in 2019 than when at Bowling Green. I don't care if it's an FCS team — I'm amped to watch Doege play. pic.twitter.com/x4jUr6hfar

— Anthony Treash (@PFF_Anthony) September 11, 2020
Doege's first start of the year really could not have been much better — he produced a 93.4 passing grade and four big-time throws to no turnover-worthy plays.
I know it was Eastern Kentucky, and it probably doesn't help matters that Grant Wells of Marshall lit up that same defense in his first college game last week, but Doege is a breakout candidate that everyone should have seen coming.
After two years of middling play at Bowling Green, Doege transferred to West Virginia before the 2019 season and would go on to see the field for four games. In those four appearances, he was a vastly different player — his accuracy, timing and anticipation were a heck of a lot better, and he ended the season with an 81.6 passing grade. If you watched him yesterday, you could see those traits on full display.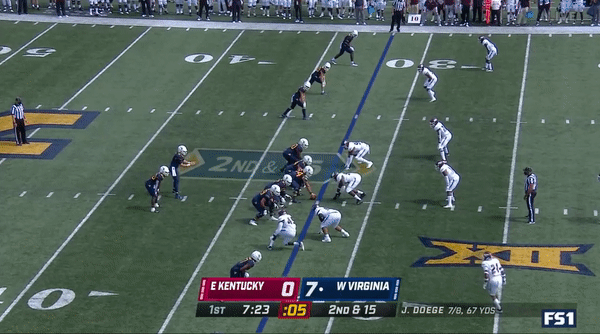 Of course, we want to see him do this against a somewhat formidable opponent in the coming weeks, but Doege looks like he is on the cusp of becoming a household name.
2. D'Eriq King makes Miami's offense a very dangerous one
D'Eriq King looked like a star in the making just a couple of years ago. Doing damage both through the air and on the ground, King produced a 91.2 PFF grade in 2018, second among FBS quarterbacks.
Then things went south when Dana Holgorsen took over in 2019. King would play in just four games before opting to redshirt, and while he still made big plays with his legs when on the field, he struggled to move the ball as a passer, recording a passing grade of just 59.9.
Instead of returning to the Cougars, he went to Miami to join forces with Rhett Lashlee. And in his Miami debut, he looked just like he did just a few seasons ago. King produced a 76.4 passing grade for the game, making impressive plays inside and outside of structure.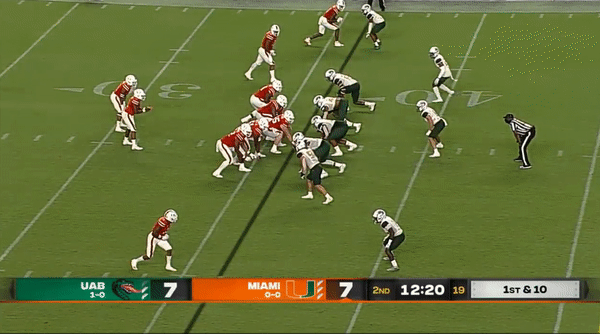 King's mobility was on full display and helped him turn four of five scrambles into 10-plus-yard gains. He also managed to break five tackles on those five scrambles, too.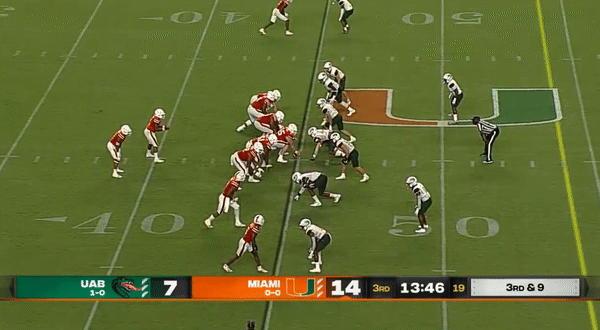 His ability to extend and make plays long after the snap was the root of his success in 2018. It made Houston's offense one of the best in the Group of 5, and it's looking like it will do the same for the Hurricanes in 2020. I'm not saying they are a CFP or even ACC darkhorse by any means, but with King at the helm, they could put a team like Clemson or Notre Dame on upset alert.
3. We might be overhyping Notre Dame just a little bit
Notre Dame is a great team, but I'm not sure they're significantly better than they have been of late, and I'm really not sure about their ability to beat a team like Clemson.
Ian Book has always padded his season stats in the games against the poor, non-Power Five schools. In 2019, Book produced a 92.9 passing grade in three games against non-Power Five schools (Navy, New Mexico and Bowling Green). Against Power Five competition, that mark dropped to 67.6, and his struggles against competent defenses showed against Duke.
Book and the Irish passing attack produced -0.130 EPA per pass play against the Blue Devils. That was just the sixth game in the Book era that they failed to produce positive EPA on pass plays (other five defenses were Pitt, Clemson, Virginia, Georgia, Michigan). That metric also speaks volumes about the lack of receiving threats on the roster.
Tight ends Tommy Tremble and Michael Mayer aren't bad options for Book, but their current set of wide receivers didn't cut it against Duke and won't cut it against most of the defenses they'll face.
Northwestern transfer Ben Skowronek had the most experience of any wide receiver, and he ended up getting hurt in the game. And it's not like he has a proven track record of success, either (career-high receiving grade 66.2). Last year Book had the 6-foot-4, 227-pound Chase Claypool, who routinely won contested targets and was tough to bring down after the catch. Book also had Chris Finke, who was a trustworthy underneath option and one that could find a hole in zone coverage for an open target. Yesterday, it was apparent that he missed the two.
Book's underneath passing has always been great, but we wanted to see him take more shots downfield heading in 2020. However, his already conservative play was on a whole new level against Duke, and you have to contribute part of that to the lack of separators. His average depth of target was just 5.1 yards downfield, his lowest in a game in his entire college career by half a yard.
4. It looks like Lincoln Riley has the chance at having a top-three graded quarterback once again in 2020
I have referenced this stat on numerous occasions, but I think it says a lot about both Lincoln Riley's quarterback-friendly offense as well as the talent the Sooners have had at quarterback: In Riley's five years at Oklahoma, his quarterback has never ranked lower than second in PFF grade among FBS quarterbacks. Spencer Rattler, a former five-star recruit, made his first start yesterday against Missouri State and looked like he won't be the one to break that trend this year.
Rattler was one of the most hyped-up players entering the year, and he lived up to expectations by peppering Bobby Petrino's Missouri State defense. He attempted just 17 passes on the day and completed 14 of those, with two being dropped. That lone incompletion was really the only one semi-bad throw he had for the game. Rattler's release is beautiful, and he clearly showed us that he has the arm talent to be a college football star.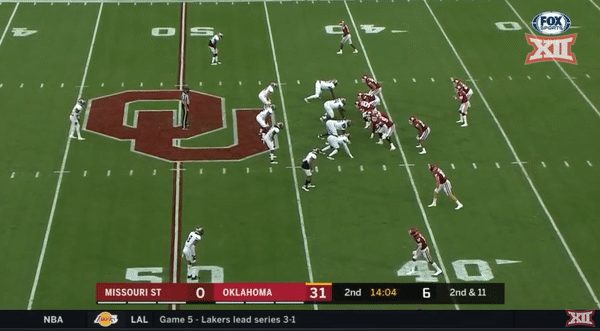 5. Trevor Lawrence showed that he is tank-worthy…for the zillionth time
After two years of producing at an elite level as an underclassman, Lawrence managed to somehow top everything in his Week 1 game against Wake Forest. It was the best game of his career from a grading perspective (94.2 PFF grade). And really, the only significantly bad thing he did all game long was the botched snap he had on the 2-yard line toward the end of the third quarter.
It's always been debatable as to whether his accuracy is in that "elite" tier; it had always been good, but there were games — like in the 2019-20 College Football Playoffs — where he would make dangerously inaccurate throws on a consistent basis. That wasn't the case last night against Wake — he had just one completely uncatchable ball all game long and showed off Joe Burrow-esque accuracy.
Most ~amateur~ defenses (HS, college) give you out breaking throws by design because they don't think quarterbacks can hit them consistently at those levels. That's what makes Trevor Lawrence different. He throws those types of routes at an NFL level

— seth galina (@pff_seth) September 13, 2020
My colleague Seth Galina could not have said it much better than that — Lawrence just routinely makes throws others cannot. He completed eight of 10 out-breaking throws last night for 11 yards and one touchdown. That was two more completions than any quarterback in Week 2. If we see this same near-flawless accuracy from Lawrence on a routine basis this year, there's no chance any team beats Clemson.
6. Ark State, please, for the sake of your team and my sanity, drop the two-quarterback system and start Layne Hatcher
Logan Bonner was the starting quarterback for the Red Wolves to start off the 2019 season, but he only saw four games' worth of action before getting hurt. Layne Hatcher, a former Alabama transfer, took over for him and was lights-out in his absence. He produced a 90.0 passing grade on the year, sixth in the FBS. So when 2020 came around, we had an interesting debate on our hands as to who Ark State should start this year with both quarterbacks returning and healthy.
In the days leading up to Week 1, we got our answer: Bonner will get the start, but Hatcher will play a few series. That clearly did not work, as neither of the two got in a groove and both produced PFF grades in the low 60s.
They went ahead with that same plan against Kansas State, and to no surprise, we saw a few moments from Hatcher that were reminiscent of his 2019 year while Bonner struggled. Bonner produced just a 55.7 PFF grade for the game, and it was Hatcher who came in for the final drive and led Ark State to an upset victory with this clutch throw: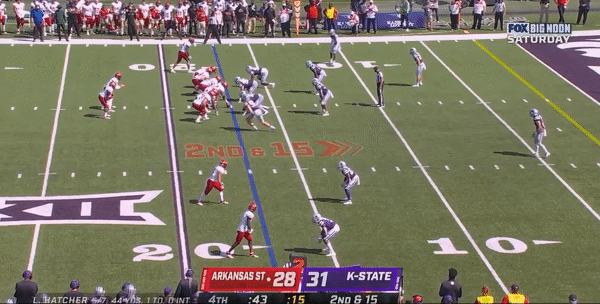 Now, I understand not wanting to have Bonner lose his job because of an injury, but when you have someone like Hatcher, this should have been an easy decision. He led Ark State to the most efficient offense they have had in the PFF College era when he replaced Bonner last year. He will elevate this team if he's the QB1.
7. Seth might be onto something by picking Sam Ehlinger to win the Heisman
It was clear that Texas was going to blow the doors off UTEP, but I'm not sure anyone was ready for Sam Ehlinger to go off in the first half by completing 24 of 32 passes for 422 yards and five scores.
Most of this production came from easy, schemed-up throws, and he benefitted majorly from a poor defense. And at the end of the day, he did just have one big-time throw for the entire game. He did, however, routinely find the open receivers and displayed the same sharp decision-making we have grown accustomed to. That helped Texas produce the most efficient passing attack of the week in regard to EPA per play.
Ehlinger's ability to avoid turnover-worthy throws and handle pressure has helped him become one of the 10 most valuable quarterbacks in each of the last two years. He showcased that again last night, not making a single turnover-worthy throw and making numerous great plays when sticking around in the pocket under pressure.
He may have only had one big-time throw last night, but he's capable of making big plays downfield, as he produced the third-most big-time throws in 2018 and 2019. They won't face another defense like UTEP again, but Texas won't have to face an elite one all year unless they make it to the CFP. I think he will be in the Heisman conversation by season's end as a result.
8. Those two interceptions were gifted to him, but Asante Samuel Jr. is becoming one of the best corners in college football
While Asante Samuel Jr. did come away with a couple of interceptions in Florida State's upset loss to Georgia Tech, he was pretty much handed them thanks to Jeff Sims. That said, he is still a playmaker and looks ready to take his play to the next level, making his name known as one of the best corners in the game.
He is a small outside corner at 5-foot-10, 183-pounds, but for what he lacks in size, he makes up with ridiculous athleticism and processing. He doesn't have the size, but he has the explosiveness and hops to rack up ball production. Since 2018, he has the highest forced incompletion rate among Power Five outside corners who were set to return this year.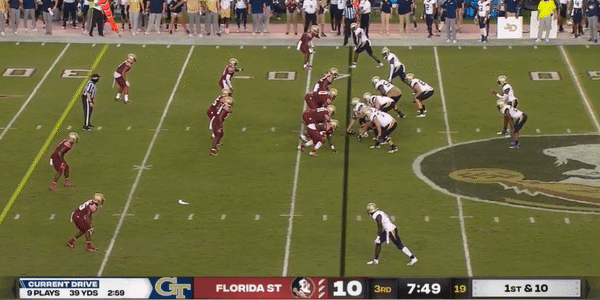 9. Andre Cisco's play is, simply put, bananas
Syracuse safety Andre Cisco is a ballhawk in its purest form, but he then counteracts it by giving up a lot of big plays. As my colleague Mike Renner said in the Preseason PFF Draft Guide, he is incredibly loose with his reads. Yesterday, that was no different.
He showed off his ballhawk play on this interception playing deep safety…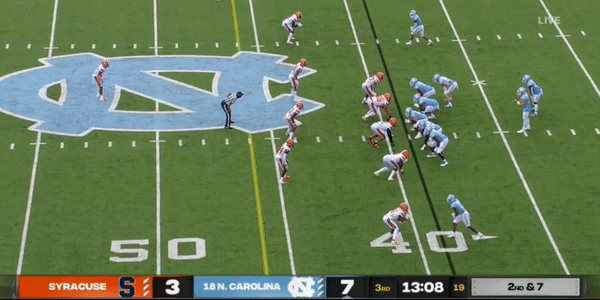 … but then got worked when he came down to man the slot, surrendering three catches for 43 yards on 10 coverage snaps. Dyami Brown had no issue at all shaking him here: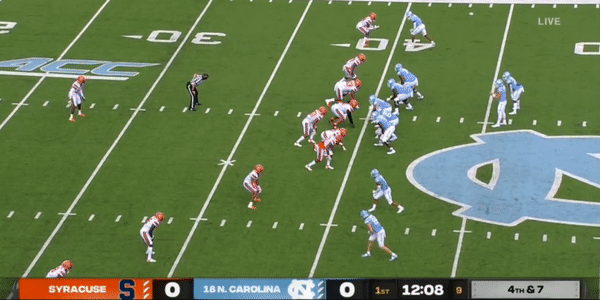 Cisco is one of the most maddening players to watch, but at the end of the day, his playmaking and range on the backend are unmatched and uncoachable.
10. Brock Purdy did not look like Brock Purdy but do not put much stock into his performance
Yes, Purdy played poorly — he was inaccurate on a throw-for-throw basis and completed just three of 14 passes that were thrown 10-plus yards downfield. That paved the way for a passing grade of 50.3 for the game, which was the second-lowest of the week. However, it's incredibly important that we don't fall victim to recency bias here due to the fact that Purdy was consistently great for Iowa State in the two seasons prior.
In 2018 and 2019, Purdy ranked third among FBS quarterbacks in the percentage of games with at least a 70.0 passing grade. Only Tyler Huntley and Trevor Lawrence produced higher rates, and Joe Burrow was just a spot behind Purdy.
In all, the Iowa State passer produced a two-year passing grade that ranked 10th among qualifying quarterbacks in that span. He has more than proven to be an accurate passer, which makes this game seem to be an outlier. Just last year, he ranked ninth in the FBS in the percentage of accurate passes thrown 10 or more yards downfield. No quarterback plays perfectly every single time they take the field — remember when Trevor Lawrence bombed in Week 1 last year against a lowly Georgia Tech defense?
I wouldn't be worried about Brock Purdy unless he does this again against TCU in a couple of weeks.
OFFENSIVE MVP OF THE WEEK
QB Trevor Lawrence, Clemson
This one was a close decision and came down the three different quarterbacks: Lawrence, Rattler and Doege. When it was all said and done, though, Lawrence was the one actually playing against a Power Five defense, and he still had the lowest rate of negatively graded throws of any quarterback in Week 2. Based on how Rattler and Doege did play, though, I wouldn't be surprised if they claim this honor at some point this year.
DEFENSIVE MVP OF THE WEEK
CB Shemar Jean-Charles, App State
App State has one of the best Group of Five cornerbacks in Shaun Jolly, and while he played well and locked down his side of the field yesterday, it was his teammate Shemar Jean-Charles who was the shining star. He saw 10 targets over his 28 cover snaps when lined up at outside corner as Charlotte tried to avoid Jolly on the other side, and he allowed only three catches 16 yards with not a single one resulting in a first down. On top of that, he forced four incompletions and had a nice forced fumble.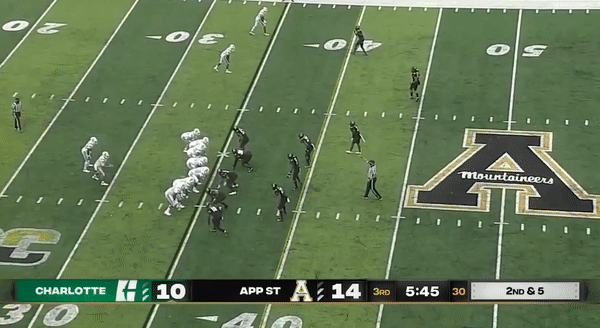 He did cause a coverage bust when he came over and lined up at safety after Charlotte went into a 0x2 formation, giving up a 41-yard catch to the tight end, but Jean-Charles really could not have locked down his side of the field on the outside much better.
TRUE FRESHMAN OF THE WEEK
DI Bryan Bresee, Clemson
Bresee was the No. 1 overall recruit of the 2020 class according to 247Sports, and he had a strong debut as a Clemson Tiger. He earned a 78.5 PFF grade for the game, recording his first sack in the process. The 6-foot-5, 300-pound interior defensive lineman has a lot of power to him and bound to be a force on Clemson's defensive line over the course of the next few years.
OFFENSIVE LINE OF THE WEEK
Notre Dame Fighting Irish
Notre Dame was our No. 1 offensive line heading into the year, and they proved yesterday that they truly are the best. Of all the teams to play in Week 2, no offensive line produced a higher combined pass-block grade than that of the Irish. The fact they did that logging more true pass sets than any of the team is impressive (over 50% of their plays).
The Irish were able to keep Chris Rumph, our top pass-rusher in college football entering the year, relatively quiet for most of the game — of his 16 pass-rushes, he had just three pressures (with one being a cleanup). Two of those three were hurries while one was a hit on Book on a slick counter-inside spin.
AN EARLY LOOK AHEAD TO WEEK 3…
Next week there is one game in particular that I cannot wait to watch: Miami vs. Louisville. Two great dual-threats in King and Micale Cunningham going toe-to-toe? Sign me up! Each played two tough defenses for Group of Five schools in UAB and Western Kentucky, and each gave them their worst days in quite some time. UAB allowed the highest rate of pass plays resulting in positive EPA to King and the Hurricanes since they took on Texas A&M in Week 12 of 2018. This one has all the fixings to be a shootout.
Another is quarterback Phil Jurkovec's debut with Boston College as they take on an underrated Duke defense that gave Ian Book fits in Week 2. Jurkovec, a former four-star recruit, comes over from Notre Dame, where he saw minimal game action (just 22 dropbacks in 2019). It won't take much for him to be an upgrade at the position, and even the best quarterback they've had in the PFF College era. Since 2014, no Boston College quarterback has produced a passing grade above 70.0 in a single season.
In addition to Jurkovec, I'm looking forward to seeing the role Jaelen Gill — a transfer from Ohio State — has in their offense. Like Jurkovec, Gill saw minimal time on the field, but he certainly showed off his speed and change-of-direction ability when he did. On his seven touches, Gill managed to break four tackles.