Tampa Bay Buccaneers quarterback Tom Brady headlines an All-Pro team with surprisingly few changes over the past five weeks of play. Brady hasn't been able to sustain his play from early in the year, but his wobbles are less substantial than most of the competition. The running back spot has opened up due to Derrick Henry's foot injury, though only two backs have overtaken him in rushing yards despite having a full month to do so.
The San Francisco 49ers' Trent Williams isn't just the best left tackle in the game right now; he is arguably the best player in the league this season. Linebacker Micah Parsons' play for the Dallas Cowboys has elevated him beyond Defensive Rookie of the Year talk and into an All-Pro team, and he has a real case for Defensive Player of the Year.
Let's dive in to the rest of the PFF All-Pro Team through Week 13 of the 2021 NFL season.
Click here for more PFF tools:
Rankings & Projections | WR/CB Matchup Chart | NFL & NCAA Betting Dashboards | NFL Player Props tool | NFL & NCAA Power Rankings
---
Offense
Brady has seen his play drop off from an incredible early-season pace, but not as drastically as seemingly every other quarterback vying for an All-Pro spot. He not only leads the league in conventional statistics, such as passing yards (3,771) and touchdowns (34), but he also has the lowest turnover-worthy play rate (1.3%) and the second-fastest average time to throw (2.36 seconds).
Brady is getting the ball out of his hands lightning-fast and is a huge reason his team's offensive line looks as elite as it does. He is simply the best blend of all the various responsibilities shouldered by a quarterback in today's NFL.
As soon as the Derrick Henry MVP hype train was dashed by injury, the Jonathan Taylor one took its place on the tracks. Henry was head and shoulders above any other back in terms of production, and now that's Taylor, who leads the league in rushing yards by almost 400.
Taylor is averaging 5.6 yards per carry and 3.7 yards per carry after contact. He has been outstanding at maximizing runs when his offensive line blocks the play well and solid at generating his own yardage when it doesn't. Taylor now has 17 runs of 15-plus yards, five more than any other player.
No receiver can match Adams' excellence in every area. He again leads the league in PFF grade as one of the most productive players in the game. Adams is arguably the best route-runner in football and has consistently improved his skill set throughout his NFL career. He is averaging 2.8 yards per route run and has just two drops from 113 targets. Adams is also a difficult follow for any defensive back tasked with the assignment, as he spends almost one-third of his snaps in the slot while moving all over the formation out wide.
Justin Jefferson continues to go from strength to strength and may be the most likely receiver to challenge Adams for the mantle of the best in the game going forward.
Kupp with Matthew Stafford at quarterback is cooking like never before. He has been virtually unstoppable within an offense that can still scheme receivers wide open, and with Robert Woods going down injured, Kupp's workload isn't going to diminish any time soon. He trails only Deebo Samuel in yards per route run this season and is one of only two receivers to be over 3.0. Kupp also ranks second in the league in broken tackles, with 15 players missing him after the catch. He leads the league in targets (135) and is the first receiver this season to break 100 catches, with nobody else even registering 90 yet.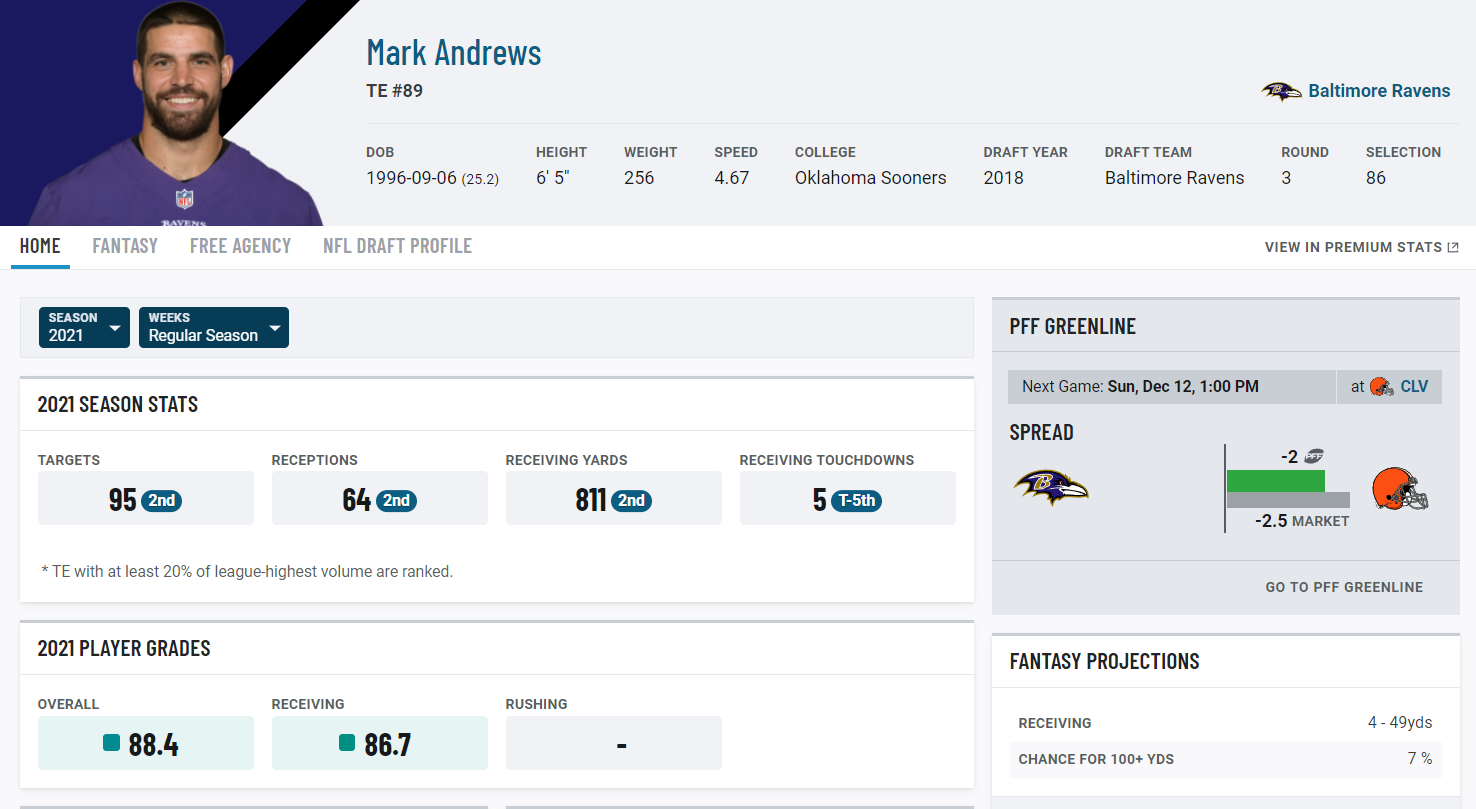 At times, it seemed like Andrews was a product of the Ravens' unique offense, but he is showing this season that he is a spectacular player in his own right. As quarterback Lamar Jackson struggles in a stagnant offense as of late, Andrews' production remains high. The fourth-year tight end has an average depth of target of 11.3 yards — an extremely high mark for a player at his position, and one that ranks second in the league.
George Kittle showed this past week with no Deebo Samuel in the lineup that he can still be an effective focal point of an offense. Kittle is a force after the catch and, and his 2.5 yards per route run leads all tight ends this season. And of course, he's a peerless blocker.
Samuel has been the primary focus of the 49ers' offense, whether that be downfield, on shorter pass patterns or even lining up in the backfield and taking carries. He is simply a playmaker at all levels, leading the league in yards per route run (3.1). He is also averaging a full yard more after the catch than any other receiver despite an average depth of target seven yards further downfield than the player in second place.
Williams has arguably been the best player in the NFL at any position this season. He should be the frontrunner for Offensive Player of the Year if such awards acknowledged offensive linemen. He has allowed 14 pressures in 11 games, and his tape in the run game is like a teaching clinic of deleting defenders from the point of attack and single-handedly invalidating run fits on defense. Nobody has more highlight-reel blocks than Williams this season. He looks set to finish atop the PFF rankings for offensive tackles for the second consecutive year.
Tyron Smith has missed some time, but the gap between him and the next option is too great to not keep him on the second team. He has allowed seven pressures in nine games.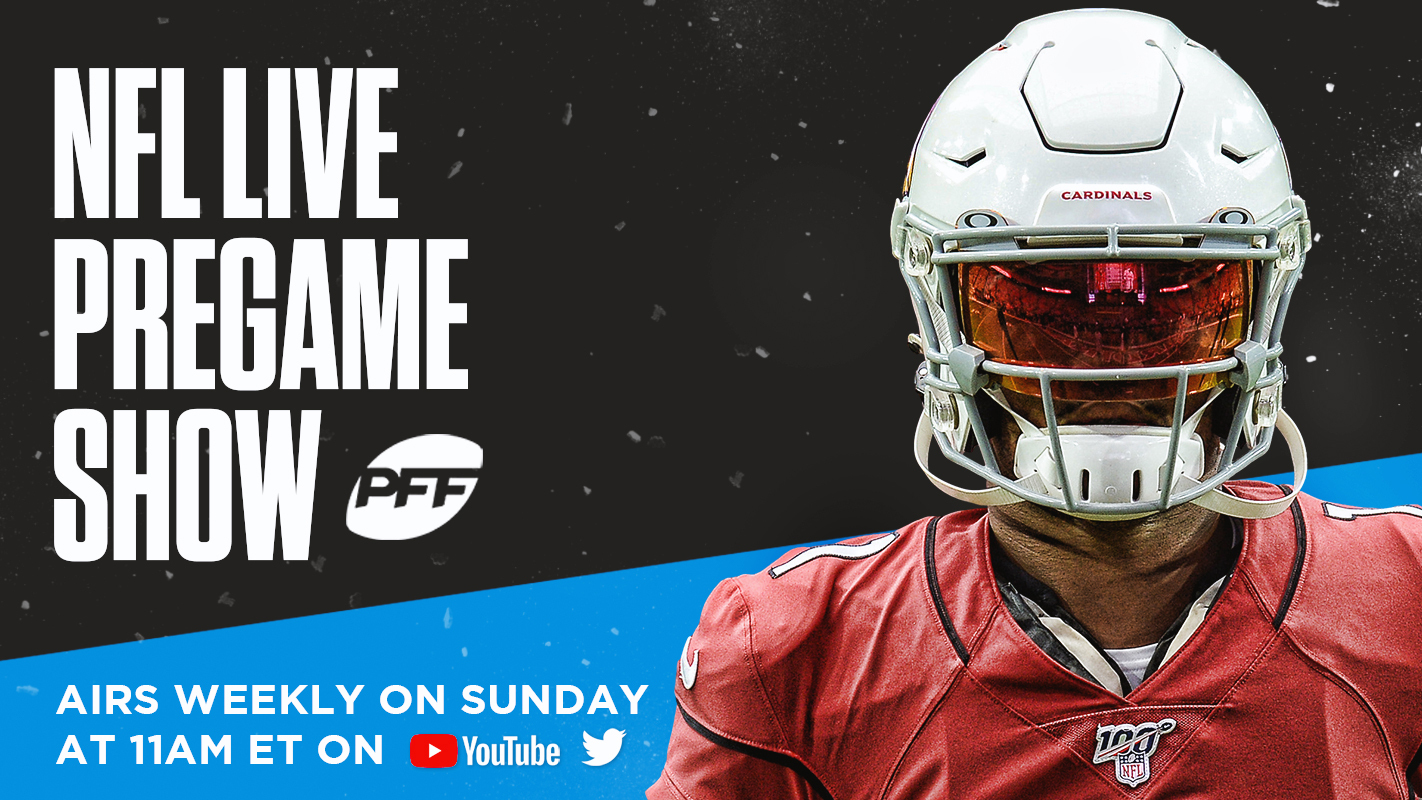 Only two starting guards have allowed fewer than 10 total pressures this season, and Bitonio has surrendered one-third the number of sacks as the other one. In all, he's given up just one sack and nine pressures in 12 games. He is also on his way to a career-best PFF run-blocking grade, posting an 89.9 mark so far, which is more than eight grading points better than his previous high. 
Matt Feiler was a smart piece of business by the Chargers in free agency, and he is dramatically exceeding all reasonable expectations now as one of the best guards in the league. He boasts an 88.6 PFF run-blocking grade through 13 weeks.
While Humphrey was the 63rd overall pick in the 2021 NFL Draft, there arguably hasn't been a better first-year player at any position so far. He has allowed just nine pressures in 12 games while putting up by far the best PFF run-blocking grade (93.5) of any center — rookie or otherwise. The Chiefs' offense may not be firing on all cylinders this season, but the unit has a major upgrade at center over a season ago.
Jason Kelce keeps playing at an extremely high level, flashing absurd athleticism for the position that allows him to make some blocks in the run game other centers couldn't dream of. He has allowed 15 pressures in 13 games.
---
Related content for you:
2022 NFL Free Agent Rankings: Top 75 players expected to enter free agency

---
The right guard position features no changes from our midseason All-Pro team, with Martin again the class of the field and Wyatt Teller keeping him honest in second place. Martin's 93.5 PFF run-blocking grade is phenomenal, and he has allowed just 12 pressures in 11 games for Dallas this season. Martin has now surrendered a measly two sacks in the past three years. He also has just one penalty to his name this season.
Teller is coming very close to replicating his incredible 2020 season that came seemingly out of the blue. His overall PFF grade sits at 86.2 this season after he posted a 92.3 mark in 2020.
When Sewell moved back to right tackle to accommodate Taylor Decker's return from injury, there were concerns we could see a repeat of his preseason struggles at that spot. That has been far from the case, though. He's arguably been even better on the right side than he was on the left. After a tough few weeks to begin the campaign, he is cooking as of late. Only Trent Williams carries a higher overall PFF grade since Week 6.
---
Defense
Heyward is threatening to post the best season grade of his career as he approaches his 33rd birthday. His overall mark sits at 91.3, trailing only Aaron Donald among interior defenders. His career-high grade is 91.5 from the 2019 season, and simply maintaining his current level of play would see him eclipse that figure by the end of the season. He has 43 total pressures and 29 defensive stops to his name while leading all interior linemen in batted passes (six) this year.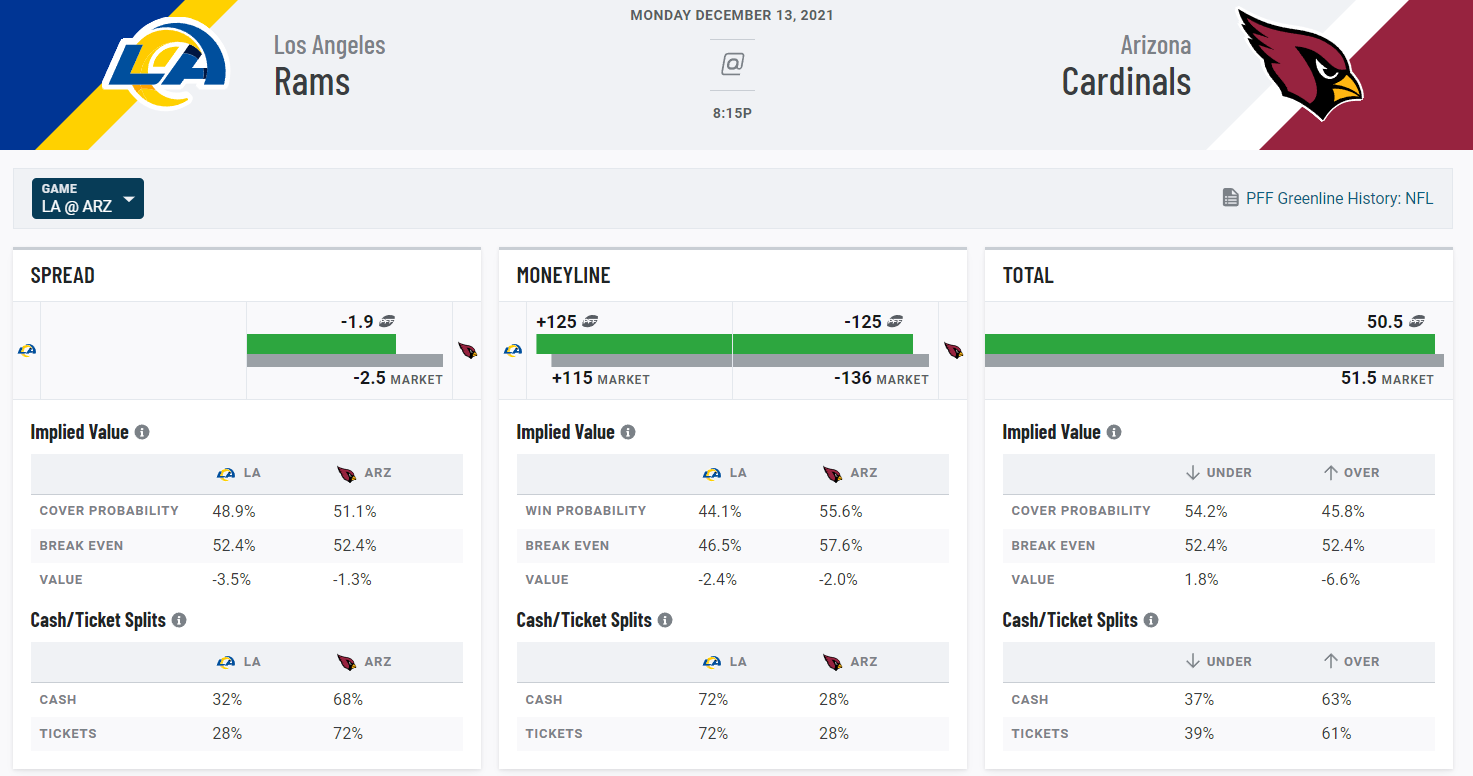 It has been a relatively quiet season of dominance for Donald in 2021, but he showed last week against Jacksonville just how much of a one-man wrecking crew he can be if an offense doesn't properly account for him. Donald leads all interior linemen in pressures (54) and has 32 defensive stops as well as two forced fumbles. He remains absolutely peerless at his position. No interior lineman gets the kind of dedicated game planning that he does on a weekly basis.
Garrett and Maxx Crosby have near-identical overall PFF grades so far this season and are the only two edge rushers to clear the 90.0 mark. Garrett has racked up 59 pressures, and he's been doing it increasingly on his own as the impact play from Jadeveon Clowney, among others on the Cleveland defensive line, has dried up. His 25 defensive stops form a top-15 mark at the position. He on track for his third consecutive season with a PFF pass-rushing grade above 90.0.
T.J. Watt has a real chance at chasing down the sack record but is having a bizarre statistical season. His 40 pressures rank tied for 15th, but 16 of them have been sacks. Four forced fumbles and some impact plays help keep his grade very high.
Crosby has feasted on a sequence of bad offensive tackles this season but critically maintained that excellent play against better competition. He leads the league in total pressures, with 76 — 16 more than anybody else, regardless of position. He is on pace to be one of the few players in the PFF era to eclipse 100 pressures in a season. He has topped double-digit pressures three times this year and hasn't been blanked in a single game. His past two outings were against better offensive lines in Dallas and Washington, and he still notched five pressures in each game.

If you thought that Campbell's play would come back down to earth as the season wore on, I have some disappointing news for you. Here, he persists as a legitimate All-Pro through 13 weeks. Campbell boasts a 73.0-plus PFF grade in every facet of play and is the best-graded linebacker in the league when actually lined up at that position.
Micah Parsons carries the highest grade among all linebackers, but much of his best play has come along the defensive line as an edge rusher. His versatility and destruction within Dallas' defense has him elevating beyond Rookie of the Year conversation and into true All-Pro or even Defensive Player of the Year discussions. Parsons leads all rookies in pressures (50) and is the only player in the league with more than 40 pressures and fewer than 300 pass-rush snaps.
Davis is one of the most critical players on a good New Orleans Saints defense, as he makes impact plays all over the field. His grades are at least above average in every facet of play PFF measures. On the season, Davis has 16 pressures, 31 defensive stops and four pass breakups. He hasn't been beaten for a pass longer than 25 yards all season.
Seemingly perfecting the "Peanut Punch," Darius Leonard has forced five fumbles this season, two more than any other off-ball linebacker.
There hasn't been much to like about the Atlanta Falcons' defense this season, but one bright spot is Terrell, whose performance has been right up there with the best in the game. The second-year cornerback has allowed a catch on just 47.7% of targets into his coverage, and those passes have generated just a 60.4 passer rating for opposing quarterbacks. Despite snagging only one interception, he's broken up seven passes. The average catch into his coverage has gained just 6.5 yards, the lowest mark of any cornerback in the NFL.

Ramsey is a dominant cornerback, regardless of his alignment. The only question the Rams have is how best to deploy him to maximize his impact. This season, he has lined up inside and away from the perimeter actually more than he has lined up on the outside.  He currently leads all cornerbacks in overall PFF grade (85.3) and coverage grade (87.9). Ramsey has allowed just a 76.5 passer rating when targeted this season.
Byard is enjoying a career year as arguably the best safety in the game based on current form. He has earned the highest PFF grade (89.0) of any player at the position, buoyed by five picks and five pass breakups in coverage. He has also been a very sure tackler, missing just four of his 66 attempts this season.
Adrian Phillips has been outstanding for the Patriots this season, earning the highest PFF coverage grade (90.0) of any safety. He has four picks and four pass breakups, as well as a forced fumble.
Winfield looks like a seasoned veteran already in the heart of the Tampa Bay secondary. About the only weakness in his game this season is missed tackles. Fifteen whiffs have led to a 50.2 PFF tackling grade, but his play in every other area has been outstanding. On the season, he has forced two forced fumbles and snagged two interceptions, adding four pass breakups and 15 defensive stops to boot.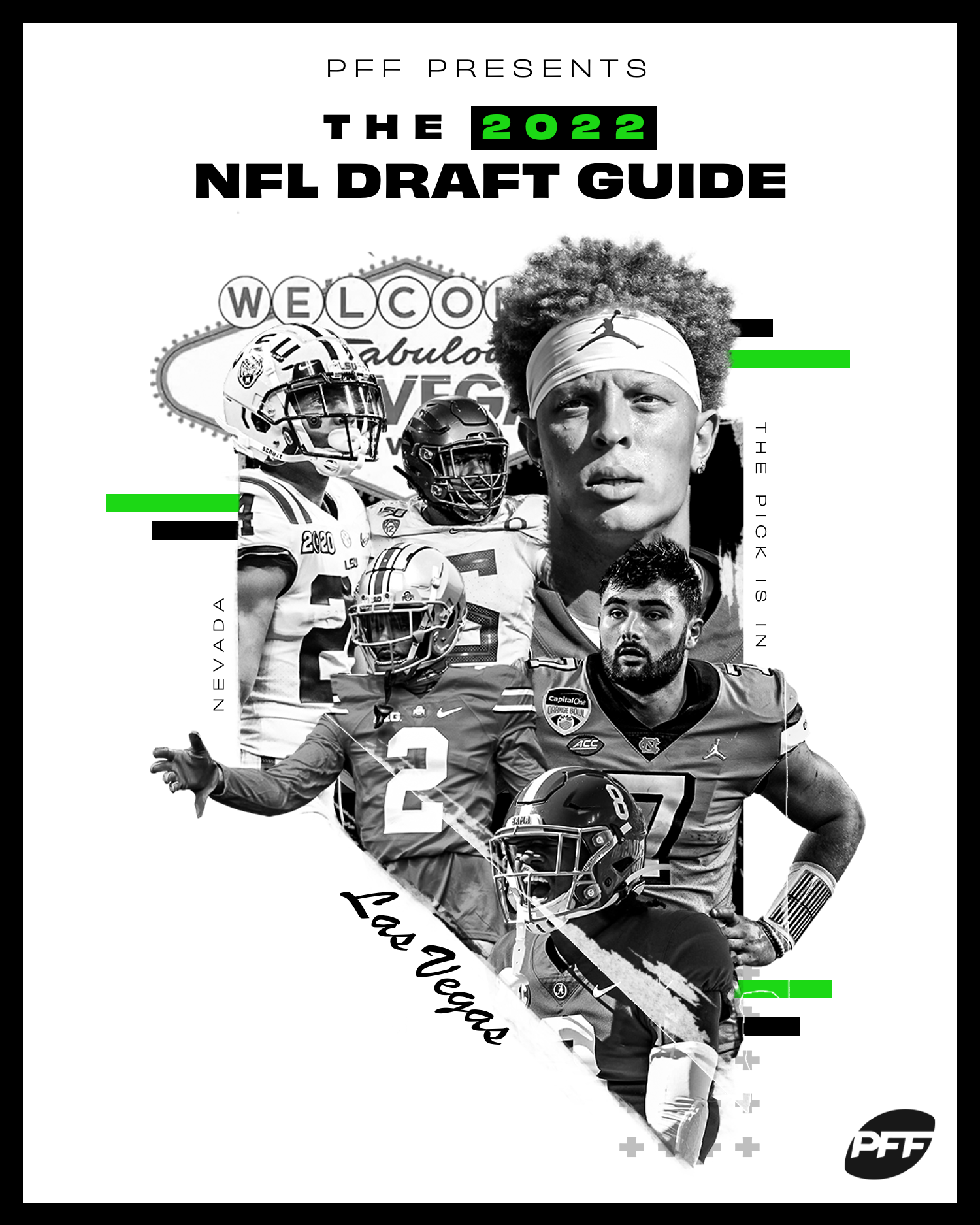 Big Play Slay lived up to his nickname over the past month of play, getting in the end zone on both an interception and a fumble return for the Eagles. Slay has allowed just a 71.2 passer rating and is a threat to score any time he gets his hands on the ball. 
J.C. Jackson is one of the best ballhawks in football, trailing only Trevon Diggs in interceptions with seven and allowing a 39.2 passer rating when targeted — lower than if the ball was thrown out of bounds on every attempt.
---
Special Teams
Tucker's highlight is still a 66-yard NFL record kick to beat the Detroit Lions in Week 3, but he is also perfect from beyond 50 yards. He's missed just twice on the season — both between 40 and 50 yards.
The results haven't always been as kind to Cole as his kicks have deserved, but no punter has a better combination of distance, hang time and direction this season. His average hang time is an impressive 4.4 seconds.
Dulin has seen some snaps and made some big plays on offense for the Colts — a result of his hard work on special teams. He has 221 snaps of action on special teams across four different phases, racking up a league-leading 16 tackles in that facet.
Nwangwu doesn't return punts, but he has two kickoff touchdowns on just 10 tries this season. He is clearly a dynamic threat to break one any time he touches the football.