Tampa Bay Buccaneers quarterback Tom Brady may be coming off a tough game against the New Orleans Saints, but he's accomplished plenty in 2021 to still earn a spot on the PFF midseason All-Pro team.
Brady represents a group of familiar faces here, but there are plenty of new and exciting players as well. Rookie Ja'Marr Chase has propelled the Cincinnati Bengals' offense to new heights this season, and it has been enough to get him on the second team through eight weeks. Chase isn't the only rookie, with Kansas City Chiefs center Creed Humphrey a much less-heralded stud in his own right.
On the other side of the ball, Los Angeles Rams interior defender Aaron Donald is having one of the quietest dominant displays you're going to see, while Cleveland Browns edge defender Myles Garrett is making a major push for Defensive Player of the Year.
At cornerback, there is no room for Trevon Diggs despite his incredible interception tally on the year. He ranks just 45th out of 130 cornerbacks in PFF coverage grade this season thanks to surrendering almost 500 yards at 18.5 yards per reception to offset some of those turnovers. He is also one of the most heavily targeted corners in the game this season, suggesting teams still don't believe his interception total represents a dominant, shutdown player they should avoid.
Here is the full PFF 2021 NFL midseason All-Pro team.
Click here for more PFF tools:
Rankings & Projections | WR/CB Matchup Chart | NFL & NCAA Betting Dashboards | NFL Player Props tool | NFL & NCAA Power Rankings
---
Offense
Brady is the best blend of big plays and taking care of the football thus far in the 2021 NFL season. Even with a costly interception against the New Orleans Saints, he has the league's best turnover-worthy play rate (1.1%), and only Derek Carr and Kyler Murray have more big-time throws than him. Brady is on a relatively poor run by his standards, but even so, he doesn't have a single PFF game grade below 63.0 for the season and opened with five straight 80.0-plus marks.
He is still the best quarterback in the league so far this season, but the gap is narrowing from where it was at the quarter mark.
We have likely seen the last of Henry this season due to injury, unfortunately, but he remains the unquestioned top player at his position over the first eight weeks. Henry leads the league in rushing yards, with almost 300 more than the next closest player's total. In fact, the second-best rushing total on the season is Henry's yards after contact mark, which outgains anybody else's total rushing yardage by almost 80 after eight games.
Henry was averaging 3.3 yards per carry after contact and had broken 33 tackles, four more than anybody else. The biggest indicator of his true value is still to come, as the Titans try and plot out an offensive strategy in which he isn't the centerpiece for the first time in years.
Adams is still the best wide receiver in the league, and he has shown that consistently this season. He boasts the highest PFF receiving grade and ranks third in yards per route run (3.25). He's dropped just one of his 72 targets and has been a weapon lining up all over the formation, with 30.0% of his snaps coming from the slot.
Metcalf is one of the most physically imposing receivers in the league and is being used more on shorter pass patterns than in the past, showing that he can function in short areas despite a poor three-cone time ahead of the 2019 NFL Draft.
Kupp is one of the chief beneficiaries of the new-look Rams offense being powered to new heights by quarterback Matthew Stafford and head coach Sean McVay. He ranks second in the league in yards per route run (3.35) and leads in both receiving yards (819) and touchdowns (10). The league just can't figure out how to cover Kupp, who operates primarily from the slot and is being routinely set loose by the Rams' passing concepts. He has been able to average 6.0 yards per reception after the catch.
Hill may be part of a struggling Chiefs offense, but he remains one of the most dangerous and dynamic playmakers in the game. His speed and short-area quickness are unmatched, and he still ranks among the league's most productive receivers despite the deep ball being a much smaller part of his production this season.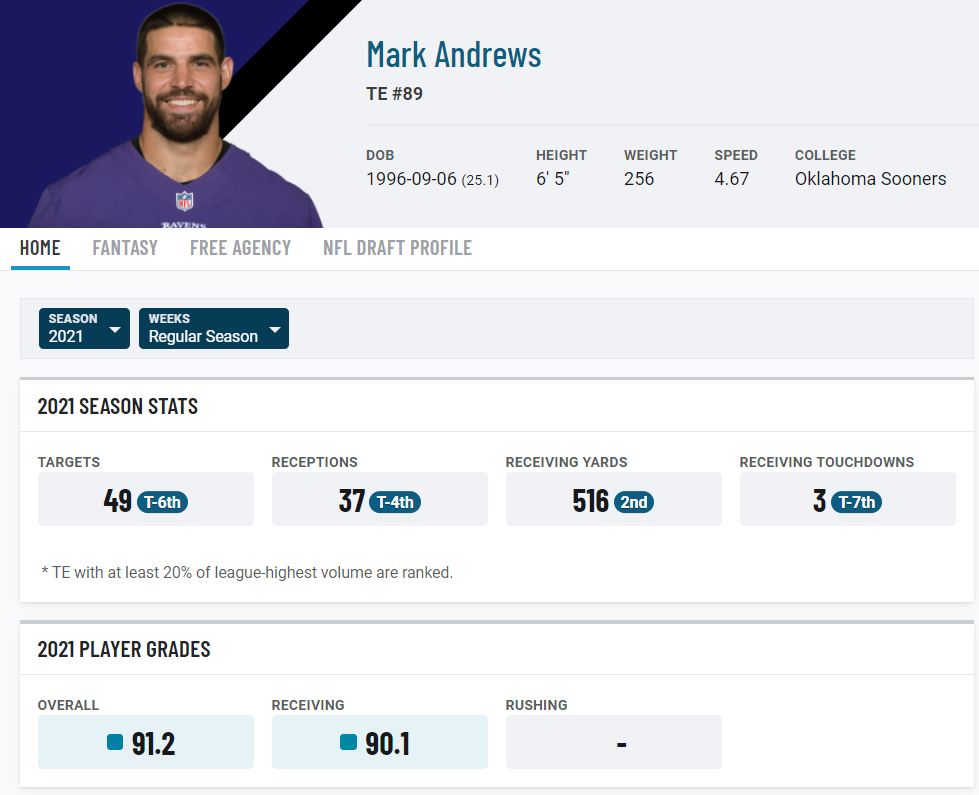 It may seem like Andrews is seeing a huge uptick in workload, but it's more about him being efficient with the same usage, and his quarterback is doing the same. Andrews has seen 49 targets this season compared to 105 last year, but those targets are generating a 129.3 passer rating in 2021 compared to a 99.3 mark last year. He has yet to drop a pass this year after eight drops last season and has brought in six of his eight catchable contested targets.
Andrews is sitting on the best PFF receiving grade of his career and has been a true difference-maker at a position where some of the usual stars haven't been quite as productive.
Before this season, Samuel was just the after-the-catch gimmick receiver in the 49ers' offense. But in 2021, he has been a true No. 1 target and consequently leads the league in yards per route run (3.69) — a mark that would rank second over the past 15 years if it held up over the season. Samuel is capable of making big plays deep down the field as well as on short passes, including the ability to take a random screen play 75 yards for a touchdown at any moment.
Williams has been the best tackle in the NFL since he came back to the game and started playing in San Francisco. This season, he has yet to allow a sack, surrendering just seven total pressures in six games.
Though it may be hard to believe, Williams is significantly better in the run game, where he simply deletes defenders upon contact. His 97.0 run-blocking grade is more than three grading points higher than any other offensive lineman at any position. He is one of the best players in the league, and the fact that Tyron Smith can even challenge him is a testament to his play this season.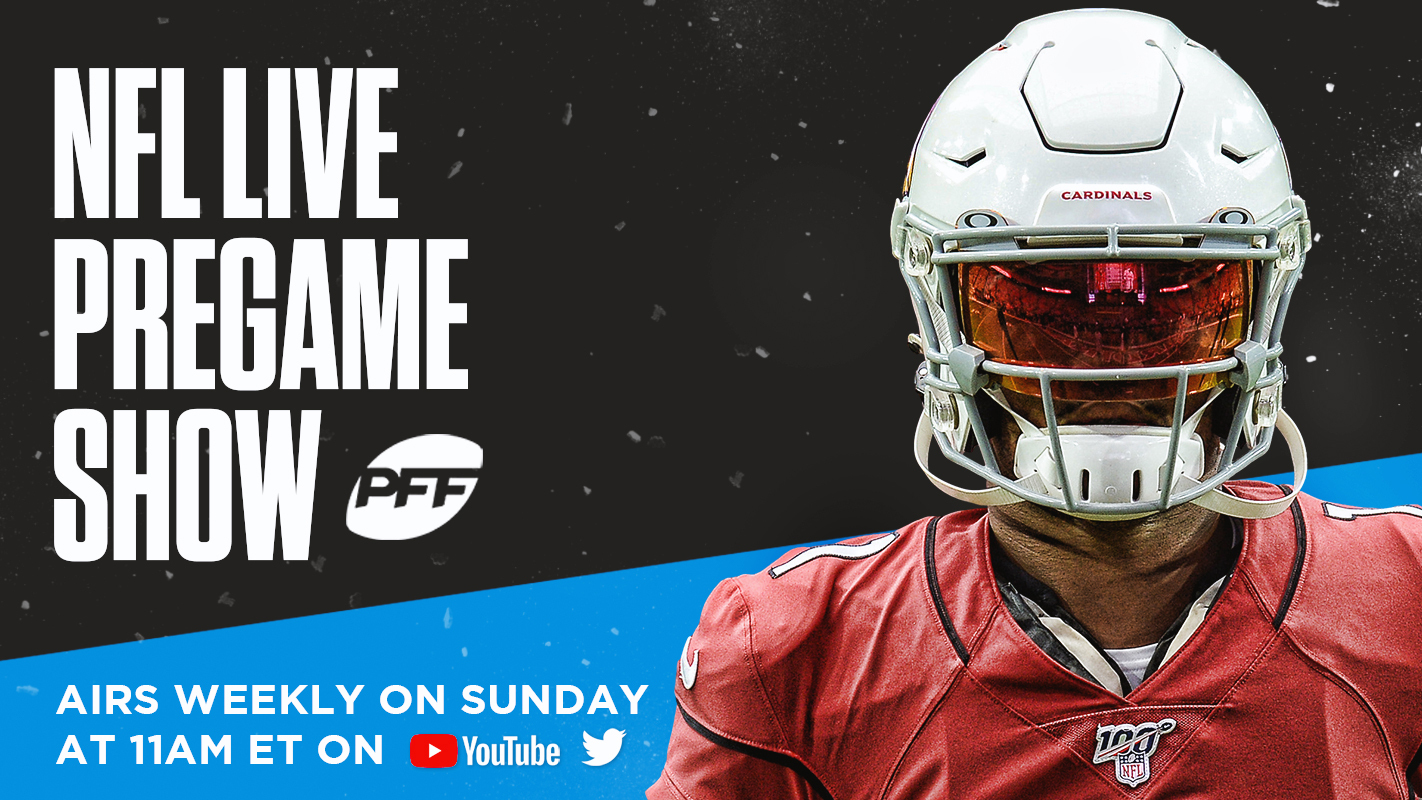 Bitonio is arguably the best pass-blocking guard in the league. He's allowed just seven pressures across eight games this season, six of which have been hurries. Bitonio is one of only two guards (Zack Martin being the other) to record 80.0-plus PFF grades as both a run-blocker and a pass-protector this season. 
Marpet made the decision a close one for this spot. He hasn't allowed a sack or a hit on Tom Brady this season while also featuring as a formidable run-blocker.
Lost amid the discourse surrounding a struggling Kansas City offense is how successful their rookie center has been this season. Humphrey has allowed just seven pressures in eight games across 400 pass-blocking snaps. As a run-blocker, he has a 93.8 PFF grade, which is second only to Trent Williams among all offensive linemen.
If offensive linemen were ever truly in the running for such awards, Humphrey would have as good a case for Offensive Rookie of the Year as anybody this season, but he's instead barely noticed as the world tries to diagnose the maladies of the Chiefs' offense.
There are few better players in the league at any position than Martin, whose 94.3 overall PFF grade is one of the best in the game and the second-best among all offensive linemen this year. He has surrendered just five total pressures across six games and 242 pass-blocking snaps. He's been penalized just once and is the only other guard after Joel Bitonio to have a PFF grade of at least 80.0 as both a run-blocker and pass-protector. Since the start of 2020, only injury has slowed Martin down.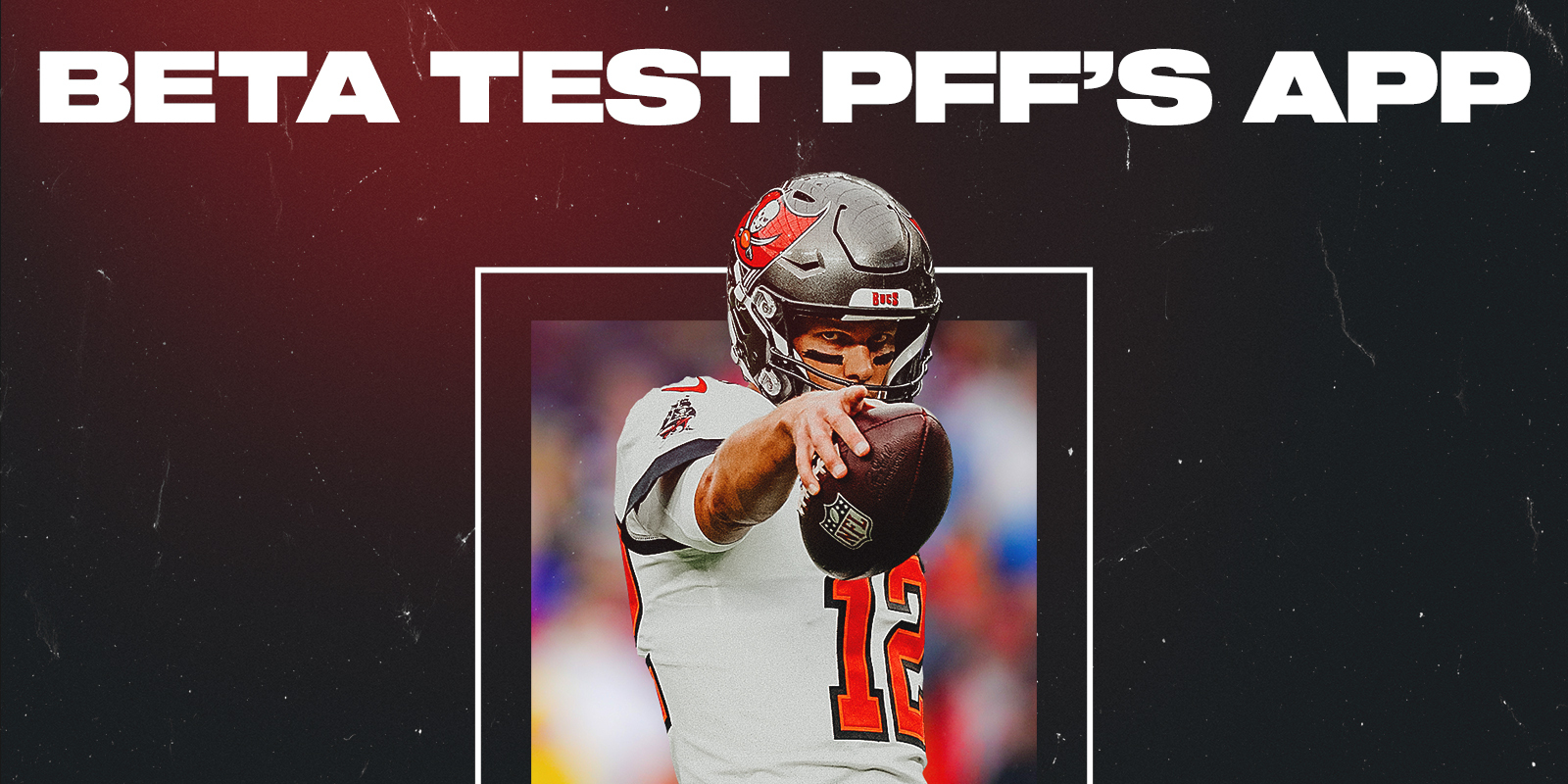 While Ramczyk and Jack Conklin have been slugging it out all season, it's the Titans' Quessenberry who has surged past them for the best overall PFF grade among right tackles. Quessenberry's 82.9 mark ranks first at the position, and he has a similar breakdown to the other two in terms of a dominant run-blocking grade (90.1) and an above-average mark as a pass-blocker (65.1). Quessenberry has allowed 19 total pressures across 319 pass-blocking snaps but has no penalties to his name so far this season.
---
Defense
Heyward continues to play his best football as he gets deeper into his 30s. All five of his best seasons have come in the past five years, including this one, and his current 92.3 PFF grade would represent a career-high if maintained over the full year. Heyward has 26 total pressures and 19 defensive stops, as well as a forced fumble, to his name.
He has yet to miss a tackle while being a dominant force in the run game, with a 91.7 PFF grade in that area. Heyward has also batted five passes so far, tied for his most in a single season after just seven games. 
Death, taxes and Aaron Donald as a first-team All-Pro. These are life's constants. It feels like Donald is having a relatively quiet season, and yet, he still leads all interior linemen with 38 pressures and sports a 92.2 overall PFF grade.
To be fair, this would be the worst overall and pass-rushing grade Donald has posted since his rookie season, but it still makes him as good as any other player in the league at his position, with the promise that there may be more to come if he bounces back or benefits from playing alongside Von Miller down the stretch. 
Garrett is on a Defensive Player of the Year-type tear this season. This is something he has been building toward over the past couple of years, but a suspension and COVID-19 derailed his past two campaigns. He's racked up 44 pressures thus far, the second-most in the NFL, to go along with the best pass-rush win rate and the best PFF pass-rushing grade on third downs. He has single-handedly wrecked multiple games for opposing offenses this year and looks unstoppable against even good offensive tackles.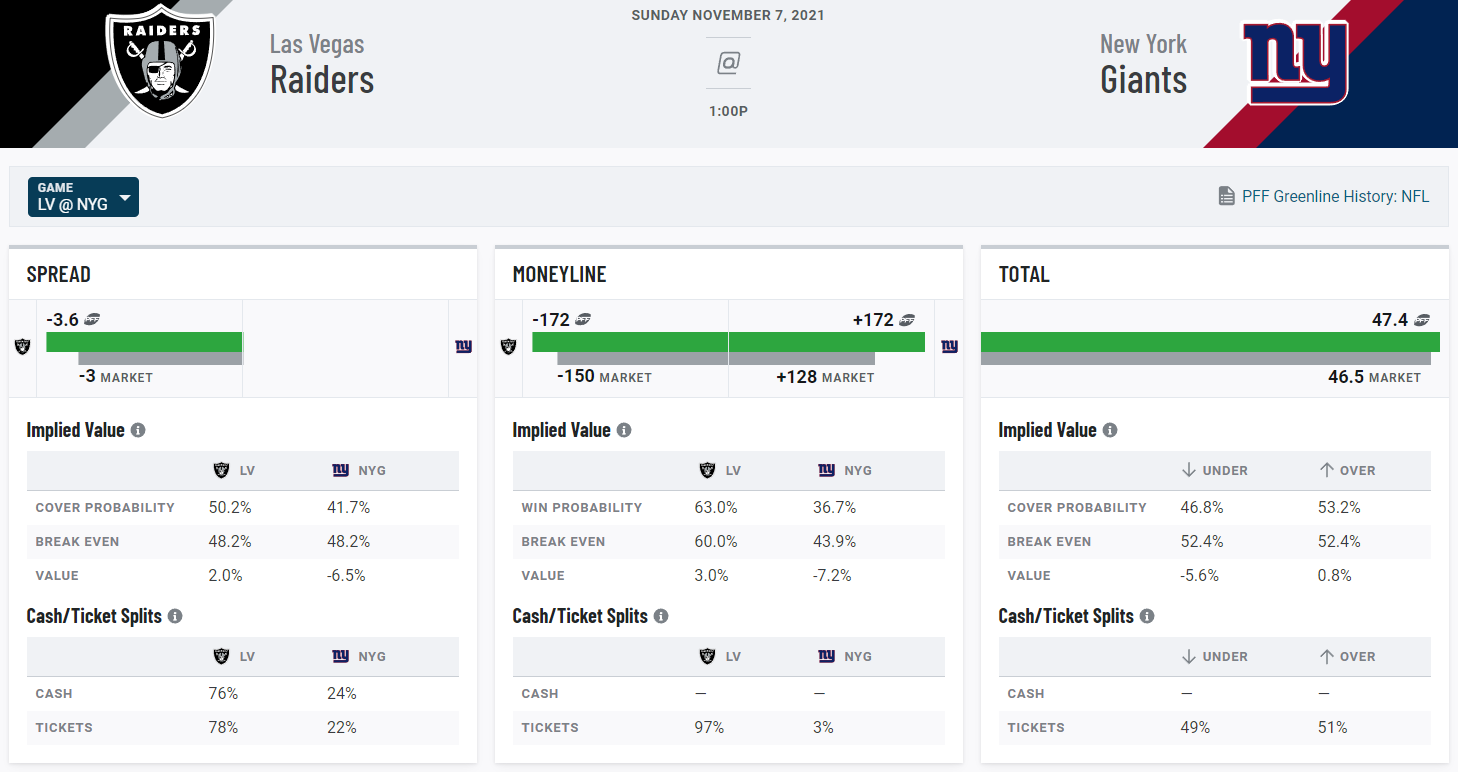 It's going to be fascinating to see if Crosby can hang onto this All-Pro spot over the second half of the season. He has been phenomenal so far, leading the league in pressures (47), but he didn't face a decent tackle until Week 7. When he did, he posted a 69.8 PFF pass-rushing grade and was good but not great.
Crosby is clearly much better than a year ago, but whether he is an All-Pro will be determined by his ability to maintain this pace against better players in the second half of the season.
Few players have been bigger surprises in 2021 than Campbell in the heart of the Green Bay defense. He is the best-graded linebacker in the league, and his 86.7 grade represents a 37.7-point jump from last season, which was nearly identical to the year before that and the year before that.
Campbell has gone from a below-average starter to the best performer in the league at his position with a change in scenery. He has allowed just a 71.6 passer rating into his coverage this season, more than 25 points lower than a year ago, while missing only two tackles.
Kendricks is arguably the game's best coverage linebacker and has been able to show that across multiple seasons at a position and in an area where extreme fluctuations are common.
Kendricks boasts a 90.6 PFF coverage grade thus far, which would mark his second consecutive year above 90.0. He has two pass breakups and an interception from just 27 targets into his coverage, and he's already made 28 defensive stops in seven games, just 10 shy of his 2020 total.
Last season, it looked like the best years of Hayward's career were behind him. He was over 30 and coming off just a 59.7 overall PFF grade, by far the worst mark of his career. Yet, he has bounced back to 82.1 overall this season with the Raiders and is currently the best-graded cornerback in the league.
Hayward has yet to allow a touchdown in coverage or a pass longer than 21 yards. In seven games, he has given up just 108 yards, only 23 of which have come after the catch. Hayward also forced a safety against the Dolphins, putting two points on the board with his quick read and playmaking ability.

Ramsey is playing in a new role this season but remains one of the NFL's biggest impact playmakers in the secondary. He's lined up in the slot on 41.1% of his snaps this season compared to just 15.9% last year. Ramsey has two interceptions and five pass breakups this season, but that alignment closer to the action means he's already made almost twice the number of defensive stops (13) as a year ago (7).
Ramsey is still the player who makes the Rams' secondary function — just in a different way.
Byard was one of the best safeties in the league early in his career but had a down year by his standards in 2020, earning just a 65.8 overall PFF grade after marks of 85.3 and 87.9 in previous seasons. His 90.6 grade thus far in 2021 would be a career-high thanks to four interceptions and five pass breakups, among other positive plays. Byard has been extremely difficult to beat in coverage this season, punishing teams for even trying.
Poyer propelled himself into an All-Pro spot with his play over the past two weeks for Buffalo. He recorded an 85.2 overall PFF grade against the Titans in Week 6 and then went one better at 92.2 this past week against Miami, notching a critical interception that allowed the Bills to finally pull away. Poyer now has three picks and three pass breakups on the season and has rarely been out of position in coverage.
While Casey Hayward Jr. has been a huge success for the Raiders, their defensive transformation has also been helped by hitting on fifth-round rookie Nate Hobbs, especially after whiffing at the same position in the first round a season ago.
Hobbs has allowed just 153 yards in 2021 at 7.0 yards per reception. He has yet to surrender a touchdown, with the longest completion into his coverage going for 34 yards. He's recorded just one PFF single-game grade below 68.0, and that was in his Week 1 NFL debut.
---
Special Teams
Tucker's highlight is still a 66-yard NFL record kick, but he is also perfect from beyond 50 yards and has missed just one field goal on the season.
The results haven't always been as kind to Cole as his kicks have deserved, but no punter has a better combination of distance, hang time and direction this season.
Hudson has 172 special teams snaps to his name across five different phases. He's made three special teams tackles and notched three assists, helping him become the only special teamer with that much playing time and a 90.0-plus PFF grade.
It's getting tough out there to be a kick returner in the NFL. Nobody has returned more than the 21 kicks Carter has, and he brought one of them back for a touchdown. He also has five punt returns for 50 yards.