The first game of the 2020-21 NFL playoffs is right around the corner, and thanks to the new format this year, we now get a total of six high-stakes wild-card playoff games instead of the usual four. More football? I think I speak for everyone by saying I have no complaints about that.
All 14 of the NFL teams in this year's postseason have some type of strength that got them there, but no team is without its flaws. The only question is, can that big strength carry them through the postseason, and how concerning is the big weakness?
So, with the help of PFF's unique play-by-play grading system and other advanced data found in Premium Stats 2.0, let's dive into the biggest strength and weakness of every NFL playoff team ahead of NFL Super Wild Card Weekend.
AFC
Aaron Rodgers may be a virtual lock to win the NFL MVP — and deservingly so — but Mahomes once again performed like an MVP in 2020. He finished the 2020 regular season with a 91.4 PFF grade, his third-straight season — the only years of him starting in the NFL — of recording an elite mark above 90.0. Since 2006, we have seen only seven seasons in which a quarterback in their first four NFL seasons recorded a PFF grade above 90.0. Mahomes has three of them.
Mahomes'Texas Tech form did rear its ugly head at times this season, leading to the fourth-most turnover-worthy plays in the NFL, but he made up for it with a league-high 46 big-time throws. The reigning Super Bowl MVP tied for the most deep passing touchdowns (13), making it three straight seasons of him holding the top spot in that metric. As long as he is leading the offense, it's hard to imagine anyone dethroning the Chiefs as the best team in the AFC.
Biggest weakness: Run defense
The Chiefs' run defense as a collective group has fared poorly. The unit hasn't given up a high rate of explosive runs, but that alone doesn't mean it's been good. Kansas City hasn't consistently won the battle down in the trenches, ranking dead last among playoff teams in expected points added per rush allowed. But is this something to be worried about?
Nope.
Guess who had the lowest-graded run defense in the NFL in 2019? That'd be that year's Super Bowl Champions, the Kansas City Chiefs. Run defense is the least important facet to team success, and Kansas City proved that in its title run last year.
Josh Allen has truly been an anomaly this season. PFF's Kevin Cole outlined this past offseason how the young signal-caller's first two years of data from passing grade to expected points added generally made it highly unlikely for success down the road. Accuracy was a big issue for Allen both in college and his first two years in the NFL, and both coaches and data will tell you how rare it is to see a quarterback improve drastically in that area.
Allen defied all odds this season and produced at a top-five level, though. His 89.8 passing grade in the regular season was the fifth-highest in the league — more than 28 and 30 grading points higher than his grades in 2019 and 2018, respectively. Allen went from ranking dead last in percentage of uncatchable passes thrown beyond the line of scrimmage in both 2018 and 2019 to third this season.
Along with his two complementary wide receivers in Stefon Diggs and Cole Beasley, the Wyoming product has led Buffalo to the fourth-most efficient passing offense in the NFL and the highest successful pass play rate (57%). Diggs has been one of the best receivers in the league this season against single coverage, routinely getting open and ranking third in PFF grade on such plays. As for Beasley, he has been exploiting holes in zone coverage from the slot all year long. No wide receiver has caught more targets via finding holes in zone this season than Beasley (35).
Biggest weakness: Defensive front is not on fire against the run
Buffalo's front seven has collectively produced the second-lowest-graded run-defense. And that's a big reason why the team ranks 25th in expected points added allowed per rush this season and 28th in explosive run rate (10-plus yard gains) allowed, at 15%. Interior defensive lineman Ed Oliver and off-ball linebacker A.J. Klein haven't helped matters in this area, as they rank second-to-last and last, respectively, at their positions in run-defense grade.
But just as mentioned above for the Chiefs, this doesn't matter too much. Buffalo can still easily make a run at a Super Bowl berth in spite of bad run defense.
Biggest strength: Monstrous pass rush
It's no secret that Blitzburgh has the best pass rush in the NFL. The unit's box-score stats are nuts, and the advanced data backs that up. The group has racked up 141 sacks plus hits on opposing quarterbacks. That's 24 more than any other team in the NFL this season and the most by a defense since 2006.
T.J. Watt has put his name in the conversation for NFL's best edge rusher with the second-best PFF grade at the position (91.6). Meanwhile, Stephon Tuitt and Cam Heyward have been two of the most productive interior pass-rushers in the league with pressure rates that rank second and sixth, respectively.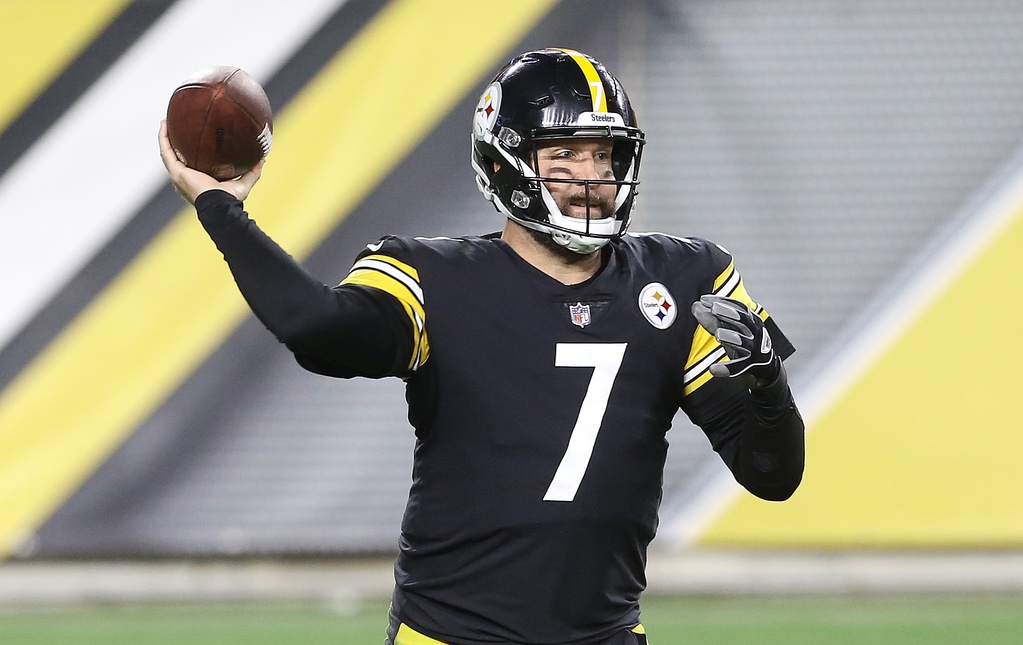 Biggest weakness: Big Ben can't push the ball downfield
Ben Roethlisberger has had a remarkable run over the past decade or so, but his age is becoming a factor. He was showing signs of decline back in 2018 with a concerning rate of uncatchable throws downfield, and after a serious elbow injury in 2019, that has carried into this season.
On throws of 10-plus yards downfield, Roethlisberger ranks 25th in the NFL in passing grade, just behind Gardner Minshew and Drew Lock. When looking at his uncatchable pass rate on those same throws, Big Ben drops to 27th.
Biggest strength: Derri… nah, it's the RYAN TANNEHILL to A.J. BROWN connection, courtesy of Arthur Smith
Yes, Derrick Henry is the best running back in the NFL, boasting a position-leading 92.4 PFF grade this season. Tennessee has the second-most-efficient rushing attack of the 2020 season, with 0.1 expected points added per rush. That mark actually makes them the third-most-efficient rushing offense since 2012, behind only the 2019 and 2020 Baltimore Ravens. Tennessee is, however, still two-times as efficient passing the ball than running it. The Titans have generated 0.29 expected points added per pass, ranking third in the NFL — behind Green Bay and Kansas City.
The Tannehill to Brown connection has generated the fourth-best passer rating among QB-WR duos in the league this season (132.2). Brown's 6.2 yards after the catch and 17 broken tackles certainly have helped, but Tannehill has clearly held up his end of the bargain most of the time, such as in Week 17 with his near 50-yard throw in the air to Brown to set up a game-winning field goal. Tannehill is the seventh-highest-graded passer this season, while Brown is the third-highest-graded receiver.
Henry is good at his position, but he isn't nearly as valuable as the Tannehill to Brown connection.
Biggest weakness: Pass defense has been boom-or-bust
Only the Detroit Lions have allowed a worse successful pass play rate against this season than the Titans (54.7%). Tennessee has had impressive ball production, ranking top 10 in both interceptions and forced incompletions. But even with that, the defense has allowed the eighth-worst passer rating in the league (105.2). It's also tied for the most touchdowns allowed on throws of 10 or more yards downfield (24) and has surrendered the fifth-most 20-plus yard pass plays (55).
Biggest strength: Lamar Jackson's ability to stress defenses with his legs
Despite a knee injury early on in the season that hindered his mobility for a few games, Jackson still finished the year with over 1,000 yards on the ground while tying for the most explosive runs of 10 or more yards among quarterbacks (32). Not to mention, his 34 broken tackles are nearly twice as many as the next best quarterback.
It's no secret that Jackson's rushing ability is a nightmare to defend. He stresses defenses with his legs more than any quarterback in the game and makes it damn near impossible to play man coverage as a result.
Biggest weakness: When the going gets tough, can Lamar win with his arm?
Last year's postseason gave us a big-time upset with the No. 6 seed Tennessee Titans knocking off the No. 1 seed Baltimore Ravens, who were favored by double-digits and lost by 16 points. Baltimore fell down a couple of touchdowns just a few seconds into the second quarter, forcing Jackson to drop back to pass 66 (!) times in the final three quarters of action. He found minimal success, posting just a 59.6 passing grade while failing to generate positive expected points added per pass.
Biggest strength: Best OL in the league
Losing Joel Bitonio — the sixth-highest-graded guard in the NFL — to the Covid-19 list is certainly a crushing loss, but the Browns still have the top offensive line in the NFL without him. Wyatt Teller ranks first among right guards in PFF grade, J.C. Tretter ranks fifth among centers and Jack Conklin is first among right tackles. Left tackle Jedrick Wills Jr. isn't near the top of his position due to run-blocking, but he has fared well in pass-protection given he is a rookie with a 78.5 pass-block grade. They have claimed the NFL's top spot in both pass- and run-block grade as a group.
This group has a tough test ahead of it in the Wild Card round against the Pittsburgh pass rush. No one has been able to effectively shut down the league's best pass rush. The Browns' offensive line has faced this group two times in the regular season, and those two outings were among their three lowest-graded games of the year. In the last matchup in Week 17, the Steelers were without T.J. Watt and Cam Heyward.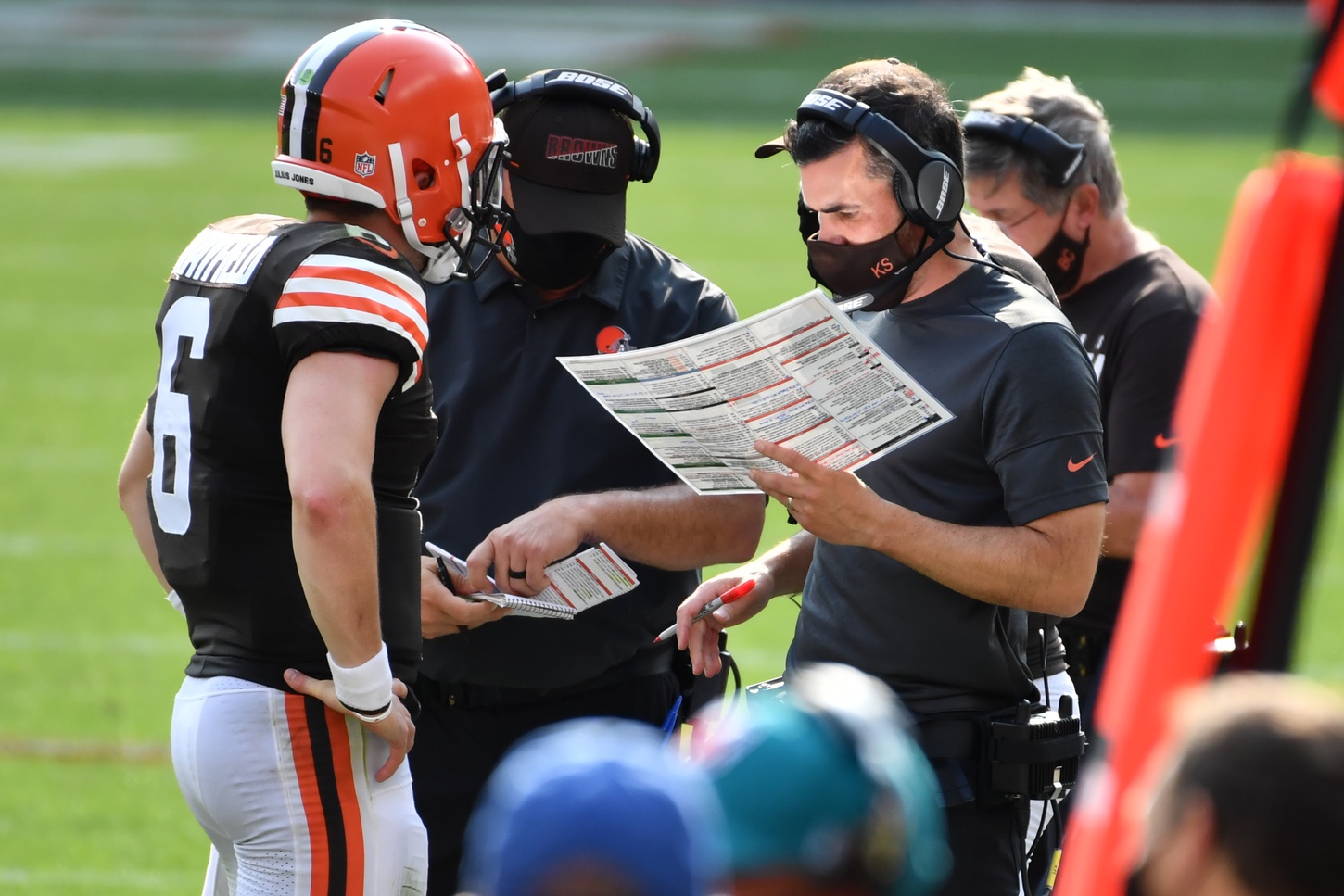 Biggest weakness: No Kevin Stefanski
After nearly two decades of missed playoff appearances, the Cleveland Browns finally have made the postseason, and Kevin Stefanski has been a big reason why. With an offense built on wide zone rushing and play-action, Stefanski has helped lead the Browns to their most efficient offense of the PFF era by a considerable margin. Since Week 7, in particular, Stefanski and Co. have produced one of the best passing offenses in the league. In that span, they have been the fourth-most-efficient offense, and Baker Mayfield is the third-highest-graded passer.
However, the head coach will not be able to call plays in their Wild Card matchup against the Pittsburgh Steelers after testing positive for Covid-19. After those scripted plays to begin the game burn up, it'll be interesting to see whether or not we see a major impact of Stefanski not being on the field with the Browns. We likely will, but the question is, to what extent?
Biggest strength: Two elite talents in the trenches on both sides of the ball
While Indianapolis coughed up a lot of coin for DeForest Buckner, he is at least producing at an elite level for the Colts this season. It's not quite Aaron Donald-level production, but it's still pretty dang good. He ranks third among defensive tackles in pass-rush grade this season at 90.2, and he's well above the third-place figure that sits all the way down at 83.9. On the other side of the ball, the Colts have a true monster at left guard. Quenton Nelson has capped off yet another excellent regular season, finishing as the second-highest-graded left guard in the league (barely). He recorded an 80.0-plus grade as both a pass- and run-blocker — he has accomplished this feat in all three of his NFL seasons.
Biggest weakness: The volatility of Philip Rivers
First and foremost, Philip Rivers has been exponentially better than Jacoby Brissett was in 2019 and the clear-cut best option Indy had to compete for the 2020 season. That being said, Rivers came with some baggage, as he has been a bit of a roller coaster. His 16 turnover-worthy throws on passes 10-plus yards downfield lead the NFL. At the same time, though, Rivers delivered the fourth-highest accurate pass rate on throws 10-plus yards downfield, along with several dimes to out-breaking routes. In fact, only Mahomes has more big-time throws to out-breaking routes this year than Rivers.

NFC
Biggest strength: Quarterback, receiver and corner are the three most valuable positions in the game and the Packers have the best player in the NFL at all three positions
Aaron Rodgers, Davante Adams and Jaire Alexander — all three lead their respective position in PFF grade this season.
Rodgers has been performing at a level we have really only seen a few times before. He finished the regular season with a 94.3 passing grade, trailing only Peyton Manning's 2007 and Tom Brady's 2007 and 2016 seasons as the best we have seen in a regular season in the PFF era. He has arguably the best route-runner in the entire league in Adams. The wide receiver's receiving grade against single coverage this year is the best we have recorded since we began tracking that in 2017. Then, on the defensive side of the ball anchoring the secondary, they have Alexander, who is the league's highest-graded corner in single coverage. Alexander has allowed 25 yards or less in coverage in over half of his games played and has never allowed more than 66 yards in coverage in a single game.
David Bakhtiari has been the mainstay to this Green Bay offensive line ever since he entered the league as a fourth-round pick in 2013. In each of the last seven seasons, the left tackle has posted pass-block grades above 85.0, and he was on pace to set his best mark this season. Bakhtiari's 91.8 PFF grade was a career-high and trailed only Trent Williams for the best in the NFL in the 2020 regular season. The Packers will be without Bakhtiari for the postseason after he tore his ACL in practice before their regular-season finale in Week 17. Clearly, this is a huge loss.
Billy Turner, who has started at right tackle, right guard and left tackle for Green Bay this year, filled in for Bakhtiari in Week 17, and it did not go well. He had a 43.4 pass-block grade for the game with two hits and a hurry allowed. Considering he did this while playing only nine true pass sets, that's kind of a concern. Green Bay doesn't really task its offensive line with a lot of these true pass sets, as they have a significant amount of quick throws, screens, RPOs, etc., integrated into their offense. Despite that, there is a pretty steep drop off from Bakhtiari to Turner at left tackle. Is it a massive concern? Not really, but it's not ideal.
Biggest strength: Two of the top tackles in the game that can keep Khalil Mack — and possibly Shaq Barrett in the divisional — relatively quiet
No team has gotten better play from tackles this season than the New Orleans Saints. Terron Armstead was PFF's the eighth-highest-graded left tackle, and Ryan Ramczyk earned the third-highest grade among right tackles. They have combined to give the Saints the highest pass-block grade among all 32 tackle units. Those two each have seen ample matchups this season against premier pass-rushers in the NFL, such as Khalil Mack, Shaquil Barrett, Za'Darius Smith, et al. They'll have to go toe-to-toe with Mack again in the wild card and potentially against Barrett in the divisional round, but Drew Brees has the advantage of not having to worry as much about those guys as much as most quarterbacks in the NFL. Mack got a sack on Ramczyk in their matchup in Week 8, but the pass-rusher still had just an 8% pressure rate for the game and actually ended up with his lowest-graded game of the season (64.5).
Biggest weakness: While the tackles are great in pass-protection, the interior OL is not
Brees may not have to worry too much about some of the edge rushers in the postseason, but he most certainly does with some along the interior. The guard and center pass-protection from Andrus Peat, Erik McCoy and Cesar Ruiz has been less than ideal this season. New Orleans is tied for 25th in the NFL in interior offensive line pass-block grade. In their regular-season matchup against Chicago earlier this season, the Saints' interior offensive line gave up seven pressures and lost an additional seven matchups.
Biggest strength: The passing offense once looked like one of the best in the NFL, but can Wilson & Co. replicate that in the Wild-Card round?
Russell Wilson opened the 2020 campaign by orchestrating what was undoubtedly one of the best passing attacks in the NFL. The Seahawks signal-caller was the second-highest-graded passer in the NFL through Week 9; the Seahawks were also the fourth-most-efficient passing offense, and they ranked first league-wide in successful pass play rate.
Then, in Week 10, Wilson and the Seahawks faced the Los Angeles Rams — their wild-card opponent. The quarterback posted a 42.6 passing grade while the offense generated negative expected points added (EPA) per pass for the first time in 2020.
They then had a hiccup against the New York Giants in Week 13 (54.5 PFF grade, -0.24 EPA per pass) then again against the Rams in Week 16 (64.4 PFF grade, 0.03 EPA per pass). Still, Wilson ended the regular season ranked sixth among quarterbacks in passing grade, and the Seahawks ultimately finished seventh league-wide in successful pass play rate.
This passing offense has looked elite at times, but it's certainly concerning that two of Seattle's worst offensive outings this season came against their wild-card opponent's top-tier defense.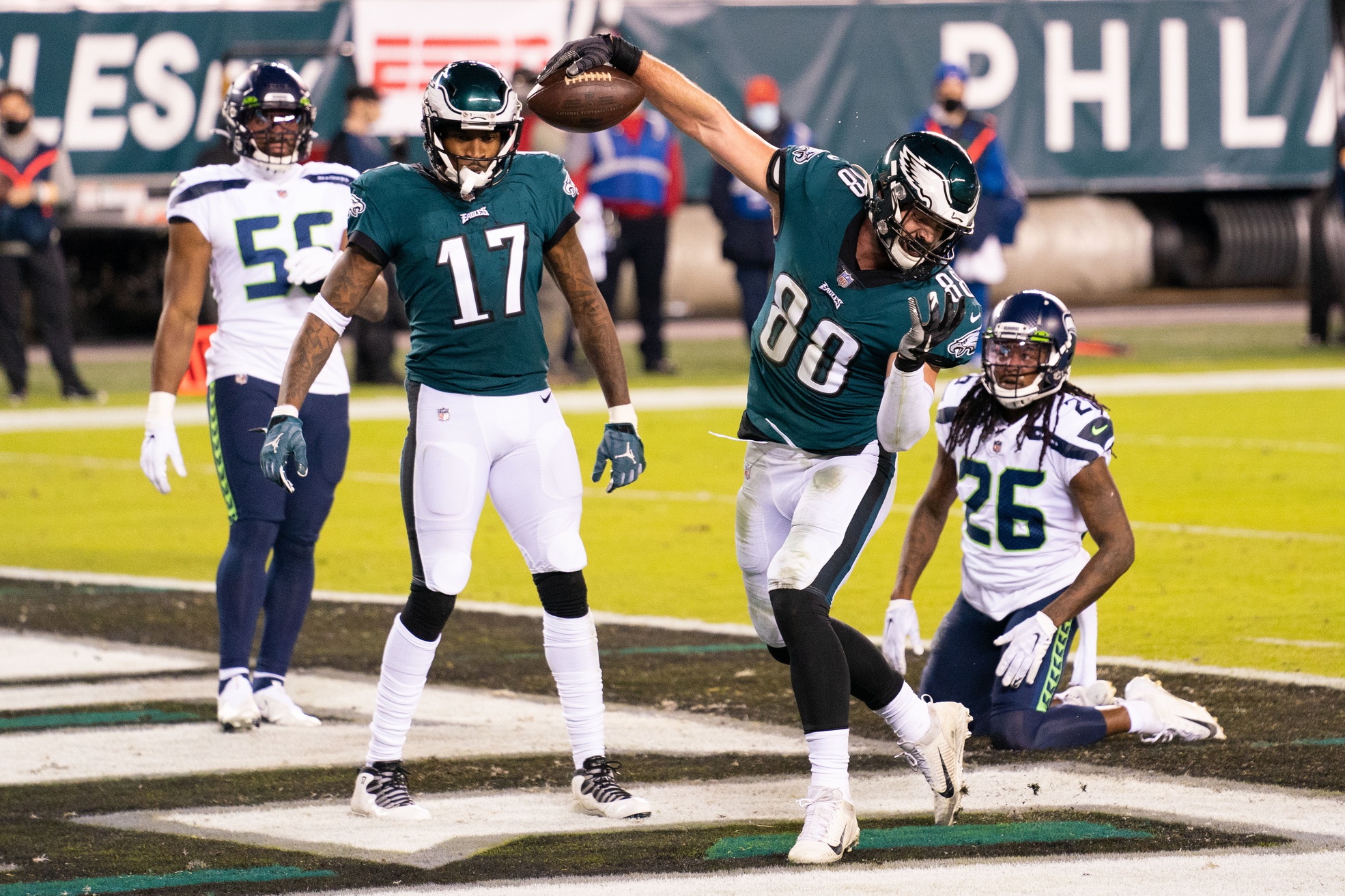 Biggest weakness: the coverage unit is still shaky
Seattle's coverage unit flat-out looked like one of the worst in the NFL through the first 11 weeks of the season. Over that span, they ranked fifth-to-last among the 32 defenses in EPA allowed per pass, and no team allowed more catches, receiving yards and first downs. The Seahawks also surrendered the most explosive pass plays of 15-plus yards (86), nine more than the next closest unit.
Statistically, they started to turn a little bit of a corner in Week 12, allowing the second-best passer rating (80.2) and ranking first among defenses in yards allowed per reception (9.0) over the final five weeks of the season. Unfortunately, this had more to do with the group of quarterbacks they faced — Dwayne Haskins, Carson Wentz, C.J. Beathard, Sam Darnold, Colt McCoy and Jared Goff — than any actual improvement from the core members of the defense.
Biggest strength: The Football Team has a top-five defensive line in the NFL
There is no denying that the Washington Football Team has one of the five best defensive lines in the league — one that ranks fourth among the NFL's 32 units in PFF grade.
Chase Young is the player to keep an eye on in their wild-card showdown against the Tampa Bay Buccaneers for two reasons: 1.) He closed out the regular season with a scorching-hot stretch of play, and (2.) He poked the bear by saying, "Tom Brady, I'm coming. I want Tom!"
From Week 12 on, the No. 2 overall pick of the 2020 NFL Draft recorded the second-best PFF grade at his position at 90.6. That was just a tenth of a grading point behind Khalil Mack for the top spot.
Young will be going up against left tackle Donovan Smith for the majority of his snaps on Saturday. And Smith has allowed the seventh-most pressures among all left tackles this season (35).
Biggest weakness: They don't have a quarterback capable of competing in a shootout
Alex Smith has been significantly better for Washington than Dwayne Haskins was, and he has orchestrated an unbelievable comeback from his gruesome injury just a few years ago.
Haskins posted a poor 47.5 passing grade and led the offense to -0.12 EPA per pass this season, while Smith has produced a 66.9 passing grade and led the offense to -0.05 EPA per pass. Both of Haskins' numbers ranked dead last in the NFL, while Smith's rank 25th and 24th, respectively.
Yes, it's an improvement, but it's still not a great situation for Washington to be in.
We saw Smith pepper the NFL's worst coverage unit downfield in his first start of the year. He completed 10-of-14 10-plus-yard throws for 189 yards. In his five starts since then, Smith has completed only 14 such passes and has failed to generate positive EPA per pass in any of the five games. That's not going to cut it in the postseason.
Biggest strength: The G.O.A.T. that is Tom Brady
The 43-year-old Brady was comfortably performing at a top-five level through his first 12 games as a Buccaneer, recording an 86.6 passing grade in that span to pair with 30 big-time throws, both of which were the fifth-best at the position. But over the past four weeks, Brady hasn't been one of the best. He has been the best.
Brady and the Tampa Bay Buccaneers secured a 44-27 win over the Atlanta Falcons in Week 17, and Brady recorded his eighth single-game PFF grade above 80.0 for the season by posting a mark of 89.6. Four of those eight outings have come in the past four games, paving the way to a 94.1 PFF grade in that span. That's the best at his position by over four grading points.
Brady's 15 big-time throws and one turnover-worthy play in the past four weeks also lead all quarterbacks, and Tampa Bay has fielded the most efficient passing attack in the NFL by a substantial margin. Granted, this has come against pass defenses that rank 24th, 27th and 32nd among all teams in expected points added allowed per pass play, but this stretch — and really the entire 2020 season — shows that Brady is still his usual, elite self.
Brady finished the 2020 regular season ranked second in PFF grade behind only Aaron Rodgers, and the Buccaneers as a whole finished fifth in expected points added per pass play.
Biggest weakness: The offensive line is good, but it will be interesting to see how they fare against the Washington Football Team's defensive line
Led by rookie Tristan Wirfs and left guard Ali Marpet, who rank first and second, respectively, at their positions in PFF grade, the Bucs' offensive line has manhandled some of the league's middling NFL defensive fronts. They are one of the few to win PFF Offensive Line of the Week honors multiple times this past season, with one being in Week 17 against the Falcons when they gave up just three pressures on 43 pass-block snaps.
However, Tampa has faced three of the top five defensive lines in terms of PFF grade this season (Saints, Bears and Rams) on four occasions, and things weren't as hot. Over those four weeks, this group gave up a pressure rate that would rank in the bottom five of the NFL, and Brady had his three lowest-graded games of the season over that stretch.
Biggest strength: Outside of the game-wrecker they have up front, L.A. has an elite secondary
Aaron Donald had yet another dominant regular season. He recorded a 94.5 PFF grade, the second-best PFF grade we have seen on the defensive side of the ball in the last four years. And, for what it's worth, the first, third and fourth spots in that span also belong to Donald.
As if that wasn't scary enough, the Los Angeles Rams secondary has been just as dominant as Donald has been. Jalen Ramsey, Darious Williams and John Johnson III all landed on one of the PFF All-Pro teams; the Rams ended the regular season as the highest-graded coverage unit in the league and allowed an NFL-best -0.13 EPA per pass play. For perspective, 28 of the NFL teams have allowed positive EPA per pass play this season — they have been that good.
Ramsey has been a true lockdown corner. He has allowed 25 yards or less in all but four games played, equating to an average of just 20 yards allowed per game this season — 0.53 yards per coverage snap. Those are pretty absurd numbers for a guy who played the seventh-most coverage snaps among cornerbacks this year with 581.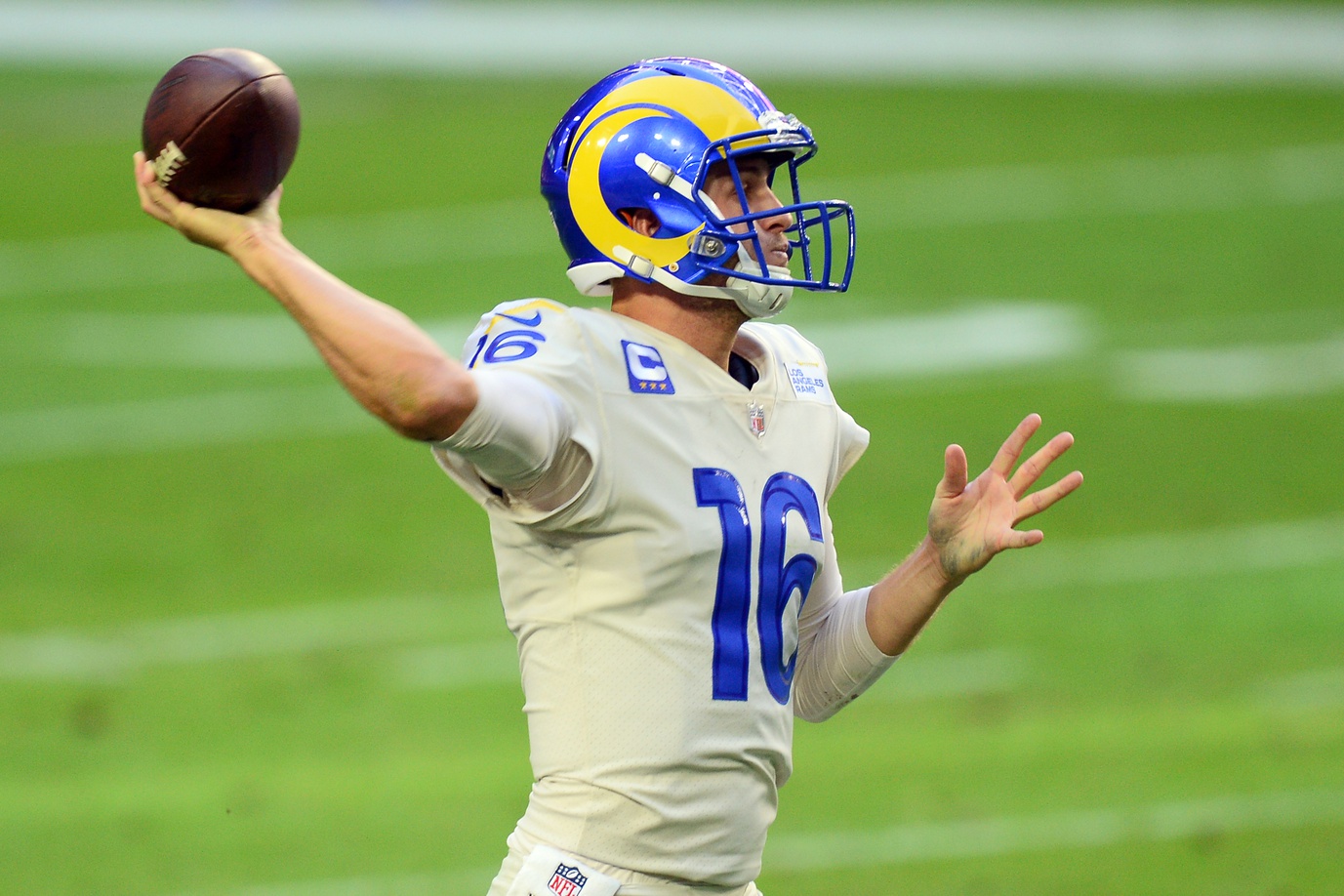 Biggest weakness: Uncertainty at quarterback
As I write this, it's currently unknown whether it'll be Jared Goff or John Wolford under center for the Los Angeles Rams on Saturday in Seattle.
Goff is back at practice just a couple of weeks removed from thumb surgery, albeit in a limited fashion. If Goff attempts to play, there's no guarantee that he will be able to finish, and it's also no secret that he hadn't been performing too well before that. Only Sam Darnold and Tua Tagovailoa posted worse big-time throw rates in the 2020 season. Removing the play-action passes that Sean McVay feeds him, Goff's passing grade drops to 66.2, 25th in the NFL.
Wolford didn't play terribly while filling in for Goff in Week 17, but it wasn't spectacular either. He threw an ugly interception on his first throw of the game and was the third-least accurate quarterback of the week, with just 37.5% of his passes beyond the line of scrimmage being charted as accurate. Wolford did rally, though, with four big-time throws and a few explosive runs on the ground, but a 41% successful pass rate isn't going to cut it.
Biggest strength: Allen Robinson II (A.K.A. the engine of the offense)
Let's be honest, the main reason why this passing offense managed to scrape by and secure the final postseason spot is because of star wideout Allen Robinson.
Robinson has been responsible for over half of the first downs and touchdowns generated by the wide receiver unit. Seventeen of his 68 first downs and touchdowns this year have stemmed from an inaccurately thrown ball, tying for the second-most in the entire league.
In the last six games — i.e., their "hot streak" — Robinson has caught the fourth-most passes beyond the sticks in the NFL (22), and nearly a third of those were inaccurate (seven, tied for most in the NFL). And six of those inaccurate receptions came on plays where he generated separation from his primary coverage defender.
Robinson closed out the 2020 campaign ranked fifth in the NFL in receiving grade (88.3), and he has generated well over twice as much PFF WAR as any starter on the offense. Whether it's Chicago or somewhere else this offseason, this man is going to get paid.
Biggest weakness: It's Mitchell
Mitchell Trubisky took back over the starting job from Nick Foles in Week 12, and Chicago's offensive efficiency spiked. They went from 31st in passing efficiency with Foles starting to 12th with Trubisky over those final six games. The Bears went 3-3 in that stretch, clinched a playoff berth, and now there are murmurs that Chicago may have long-term faith in Trubisky.
As always, it's important to put data into context. Just because the passing offense looked better on paper, just because it was putting up points and was efficient, doesn't always mean it was primarily because of the quarterback.
Trubisky produced the second-worst passing grade in the NFL (55.1) over that six-game stretch. He also led the NFL in turnover-worthy plays with 14 and in turnover-worthy plays that didn't actually end up being turned over (eight). Trubisky is tied for third-to-last in total turnover-worthy plays that weren't turned over for the entire season with 13, and he didn't even play in seven games.
It's also worth noting that Trubisky had the fifth-highest rate of his passing yards coming after the catch from Weeks 12 through 17 (53.8%), and his receivers broke the second-most tackles league-wide.
The real reason for the spike in offensive efficiency was the supporting cast along with a little bit of luck — and not Trubisky.