The 2020 NFL regular season is officially in the books, and — as we have been reminded seemingly by everybody with a microphone — not a single game was canceled due to COVID-19. So, now we get to name the official PFF All-Pro team.
PFF's All-Pro team is certainly not the only valid opinion out there in the world, but it is the only team that is created with the benefit of play-by-play analysis of every player in every game of the NFL season. Let's take a look at the team.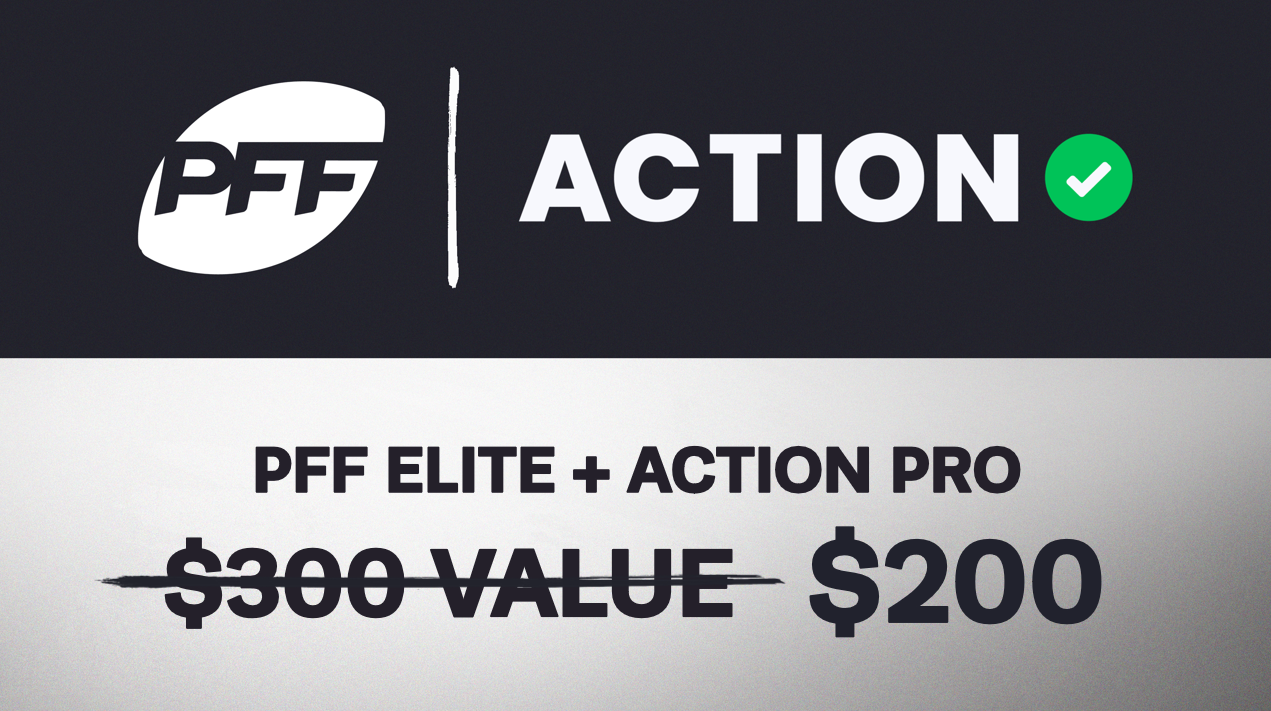 The Aaron Rodgers Revenge Tour just kept on trucking all season long, reminding people that he was once the transcendent quarterback talent redefining the game in the same way Mahomes is right now.
Rodgers' touchdown to interception ratio (48:6) speaks for itself, but it's backed up by an equally impressive big-time throw to turnover-worthy play ratio (43:11). And yes, Rodgers had one awful game against Tampa Bay, but outside of that, he just kept cooking relentlessly in his best season since 2014, and arguably the finest of his career. Mahomes and even Josh Allen ran Rodgers close, but he was a clear choice in the end.
An impressive capitulation by the Texans' defense in Week 17 saw Derrick Henry join the 2,000-yard club, as he racked up a total of 2,027 yards over the year in a season that was even more impressive than the one a year ago that got him paid. Henry amassed 1,479 rushing yards after contact, which itself would be second in the league in total rushing yards, behind only Dalvin Cook. And with 75 broken tackles, Henry also led the league in that category. Henry remained virtually unstoppable all season long even though teams knew he was coming.
The only thing that could stop Davante Adams this season was injury, because outside of that, he was just lighting defenses on fire. One of the league's best route-runners for years, he put it all together this season and became an irresistible force for the Packers. Adams led the league in yards per route run (2.96) regardless of position and put up 18 touchdowns in just 14 games. Even the bad weather couldn't stop Adams this season, as he became somehow even scarier in the snow, and the gravitational pull he has on a defense's coverage scheme only makes life easier for the other Green Bay receivers.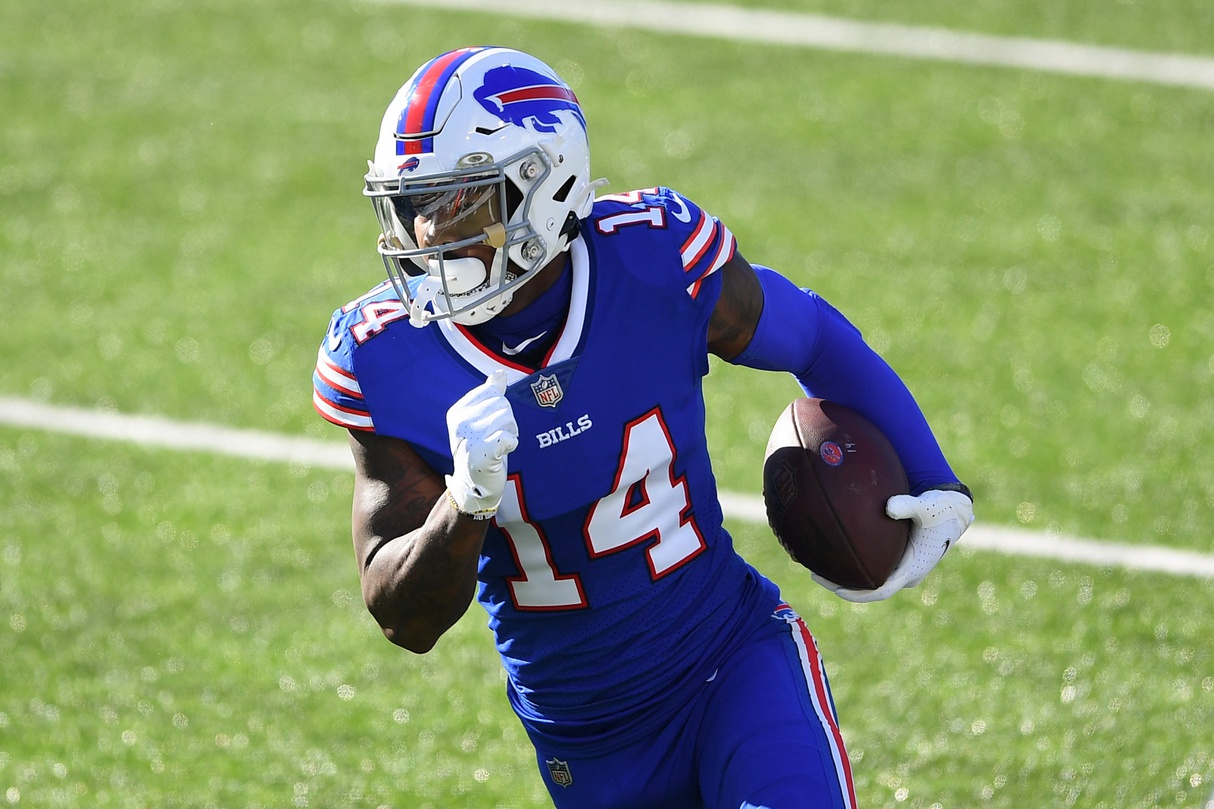 Diggs was always going to be a major upgrade for Josh Allen and the Buffalo Bills, but this season has still been phenomenal. Diggs finished with the league lead in targets (162), receptions (127) and receiving yards (1,535), with eight scores added on top of that. Diggs is a complete receiver who has only become better with a bigger role within an offense prepared to air the ball out and not lean so heavily on the run game.
Kelce finished the season just 119 receiving yards away from leading the entire league — regardless of position — despite being rested for the final game in a week in which Stefon Diggs racked up 145 yards to jump him for the lead. For a tight end to be in with a chance of leading the entire league in receiving yards is virtually unheard of, but it underlines how dominant Kelce was this season. He generated 2.5 yards for every route run this year and averaged 5.6 yards after the catch per reception.
There is simply no more dangerous weapon in the NFL than Tyreek Hill, particularly when paired with Patrick Mahomes, a quarterback able to hit him at any moment from virtually anywhere on the field. Hill trailed only Davante Adams in receiving touchdowns, added two more as a rusher and had 32 explosive receptions (15-plus yards). But none of that does justice to the effect he has on a defense every single snap because of what that threat changes in terms of coverages.
Williams was an absolute force this season for the San Francisco 49ers, not just picking up where the retired Joe Staley left off but actually upgrading the position despite taking over from one of the team's greatest ever players. Williams allowed just 19 total pressures all season, but it was his run blocking that was a true spectacle. At 91.8, Williams earned the best PFF run-blocking grade of any tackle in the league this season and has an extensive highlight reel of just stealing defenders' souls over the course of his year.
There was no better indication of just how good Ali Marpet has been this season than when he was injured and missed time, suddenly causing a huge hole in the Tampa Bay offensive line that threatened to derail their entire season. Marpet didn't allow a sack all season, surrendering 11 total pressures across 13 games of play. Like Williams, run-blocking was Marpet's better facet of play, and he helped form part of one of the league's best offensive lines in front of Tom Brady in the G.O.A.T.'s first season playing in Tampa.
Corey Linsley represents one of the easiest selections at any position in this All-Pro team. The gap between him and the next best center is as wide as it is anywhere in the league. Linsley finished with an overall PFF grade of 88.9, almost 10 grading points higher than any other center. Centers don't allow much pressure, but Linsley allowed just three total pressures across 13 games of play, and pass protection was actually the lowest-graded of his facets of play. He was a vital part of Green Bay's offensive line and a big reason Aaron Rodgers was able to play so well this season.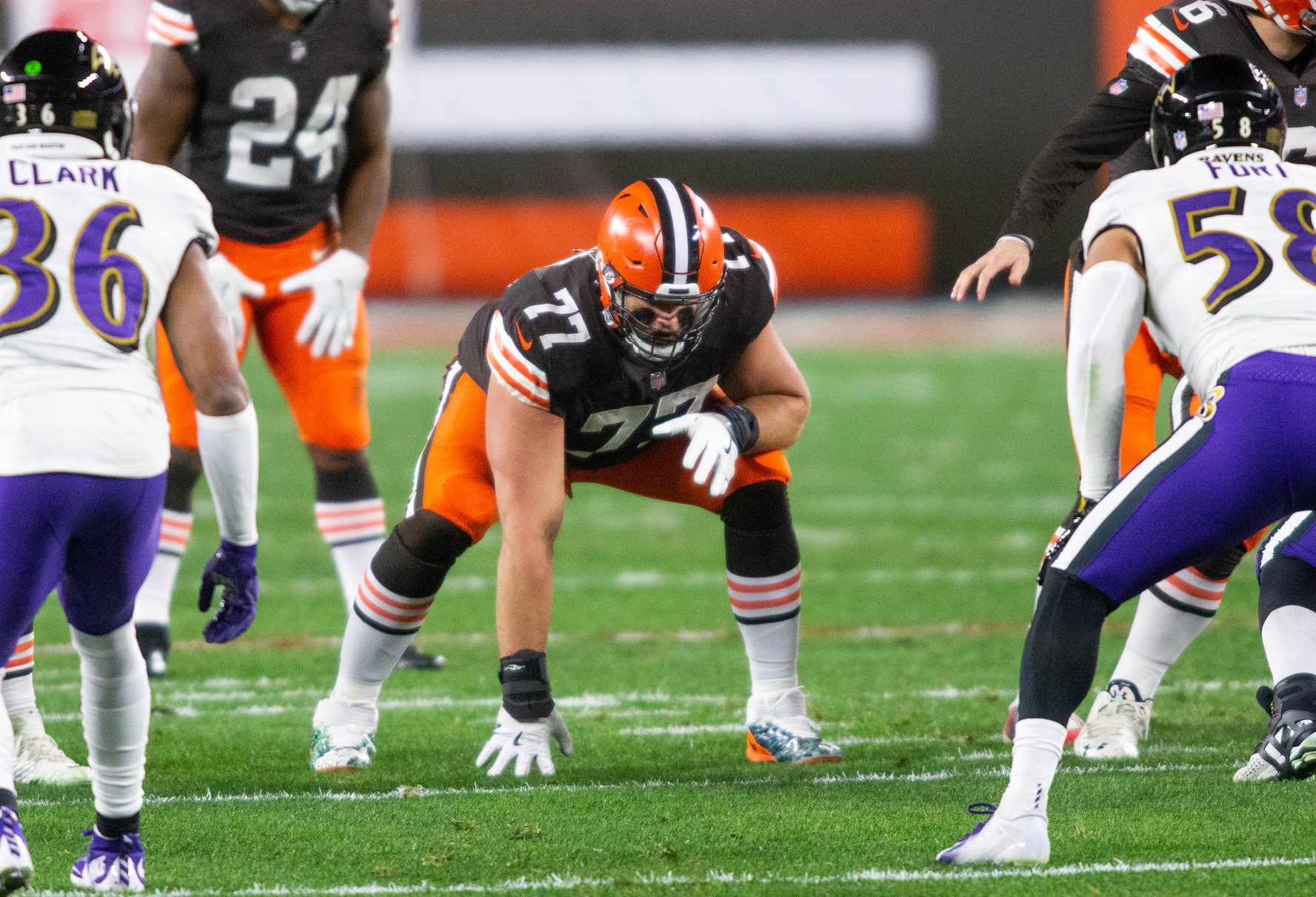 Right guard was actually something of a problem spot for selection this season. All of the best-performing players at the position missed time, and some were sidelined for significant portions of the season. Wyatt Teller played just 694 snaps, including nullified plays, some 300 shy of a full season. Still, he was far better than those players who did make it to over 1,000 snaps. Teller was the best run-blocking guard in the league and became a huge issue for the Browns when they lost him from the right side of their line. His pass blocking wasn't stellar, but he still allowed just 14 total pressures all season.
The Cleveland Browns had arguably the best offensive line in football this season — at least as long as everybody was healthy — and one of the reasons is that every move to improve the line they made in the offseason hit, but none more than Jack Conklin. The former Tennessee Titan allowed just 15 total pressures all season and earned PFF grades of at least 78.0 as both a run-blocker and pass-protector. It is worth noting that most of the best tackle play this season came on the left side, and if we were selecting just the best tackles, both first and second teams would likely be composed of players only from the left side.
Donald's problem is that he has set expectations too high from his season that threatened the single-season sack record, but this was another absurdly good year from the best defensive player in the game. Donald finished with the league lead in total pressures (96), 20 more than any other player, and the third year in four seasons that he has led in that category. They also represent the only three times since 2006 that an interior defensive lineman has led the league in pressures. Donald also tallied the best pass-rush win rate (24.4%) of any player in the league to go along with what was by far the NFL's best PFF pass-rushing grade.
This season the spot of "best interior defensive lineman after Aaron Donald" goes to Chris Jones, who finished the season with the second-best PFF pass-rushing grade (93.1) of any rusher. Jones notched 60 total pressures for the season as well as a couple of forced fumbles, and at his best can wreak the kind of havoc that Donald does on the inside. The only thing separating the two players is the volume of pressure that Donald gets by comparison, and Donald has been more consistent against the run this year.
For the second year in a row, T.J. Watt has been a devastating edge rusher and has a very real Defensive Player of the Year case. With 73 total pressures, only Shaquill Barrett (76) has more among edge rushers, and Watt has hit the quarterback 27 more times between sacks and knockdowns. Watt has the second-best pass-rush win rate (23.7%) among edge rushers, but also has five batted passes and even an interception to his name, dropping under a Daniel Jones quick pass in Week 1 to pick the pass off and cause a turnover.
The pressure and sack numbers don't tell the full story of Khalil Mack's dominance this season. He earned one of the highest PFF pass-rushing grades of any edge rusher but a relatively average 61 total pressures. He also has 40 pass-rush wins that didn't get a chance to become pressure because the ball came out before the quarterback had a chance to feel the heat Mack was about to apply. In addition to his pass-rush prowess, Mack has been back to his dominant best against the run and is a true case study in tape over statistics this year.
The one constant in Seattle's defense has been Bobby Wagner at linebacker. Though the players around him have changed, and even his role has adjusted, Wagner just continues to be outstanding, even in a season in which linebackers the league over are being torched by opposing offenses. Wagner tallied 53 defensive stops, 19 total pressures and nine forced incompletions, the most among any linebacker. Things throughout the league may change, but Wagner's place among the game's best seems like a constant.
Fred Warner has been a revelation for the San Francisco 49ers this season. His play has been heading in the right direction for a while, but this was the year he kicked his development into overdrive and became a game-changing force. At 88.2, Warner finished the season as the best-graded linebacker in the league, and the gap between him and the next best player was significant (Wagner at 82.9). Warner allowed a passer rating of just 81.4 when targeted, some 25 points lower than the average linebacker target.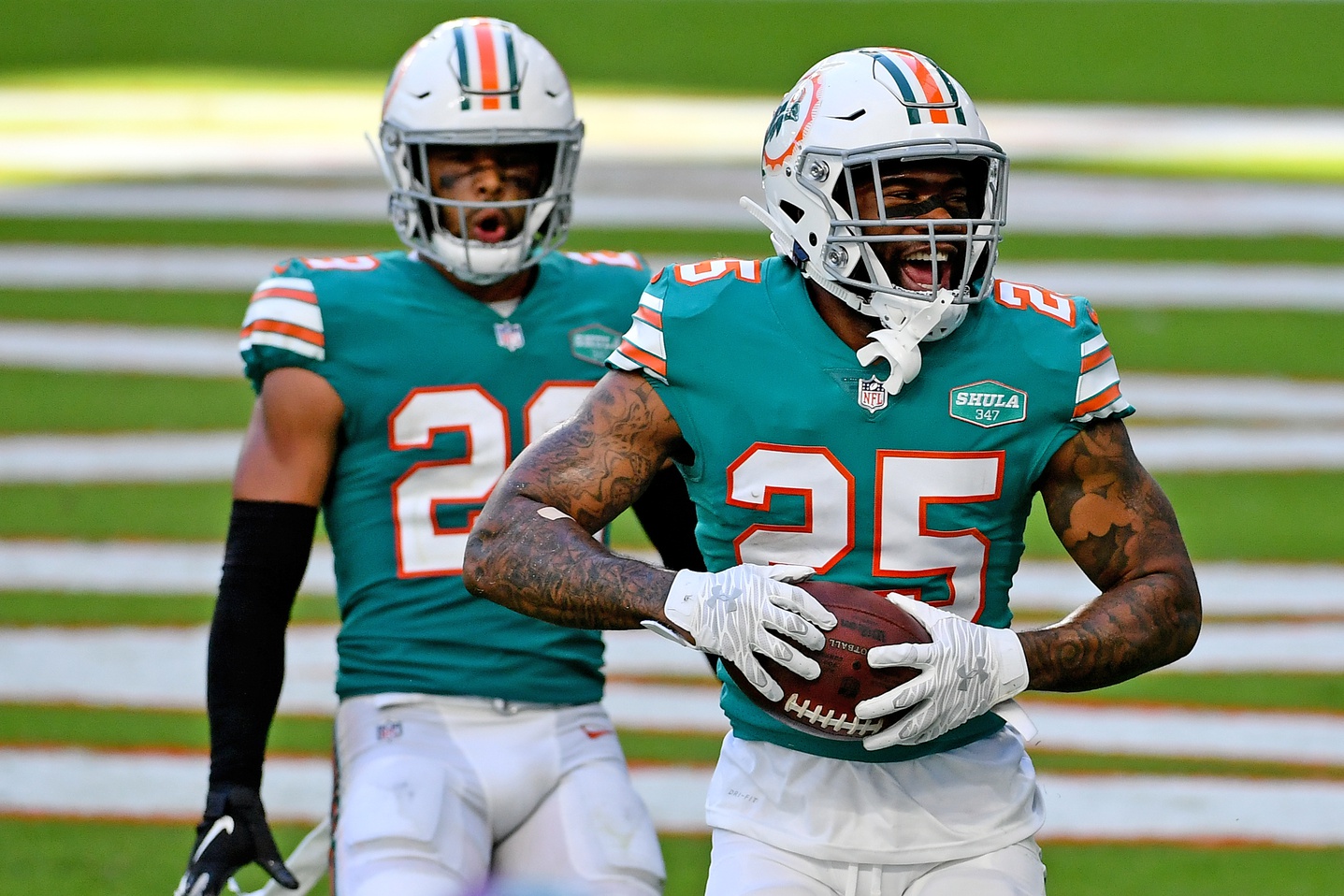 Xavien Howard finished with a league-leading interception total of 10 picks, but it was his down-to-down coverage that was truly more impressive this season. Howard allowed 52.2% of passes thrown into his coverage to be caught for a passer rating of 53.0. He also had eight games this season in which he allowed 30 or fewer receiving yards, including three in which he didn't allow any yards at all. Howard has always had the big-play ability to generate turnovers, but this season he seemingly put it all together and was the second-highest-graded cornerback in football.
Nobody made more plays on the football in terms of breaking up passes than Jaire Alexander this season. Among corners with at least 50 targets, Alexander had the best forced incompletion rate (22.1%) in the league. He wasn't beaten for a pass longer than 32 yards all season long, and he did a number on some of the game's best receivers, limiting elite players to virtually nothing all game, including Allen Robinson in Week 17. Alexander had put this kind of play on tape in the past but never sustained it over a full season the way he did this year.
Callahan hasn't played since Week 12, but what we saw from him was so impressive that he makes it as the flex defender despite that missed time. Arguably the best slot corner in football, Callahan was asked to moonlight on the outside on multiple occasions due to injuries, and he thrived despite being just 5-foot-8 in height. For the season, Callahan allowed a passer rating of only 46.9 on throws into his coverage, allowing just 7.1 yards per reception, and he didn't give up a catch longer than 19 yards all year. Even with a relative lack of playing time, he has the strongest case and was one of the most impactful coverage players in the league.
The Bengals toiled in obscurity for much of the season, particularly after rookie quarterback Joe Burrow went down for the year. Still, Jessie Bates III was one of the best players in the entire league at any position. Bates recorded three picks and 12 pass breakups, an absurd volume of plays on the football for a player patrolling the deep middle the way Bates has for most of this season. Only missed tackles chipped away at a grade that would otherwise have been head and shoulders higher than any other safety.
A late-season run including an outstanding turnover in Week 17 catapulted Adrian Amos into the All-Pro team after being some way shy at the three-quarter point. Amos ended the season with a career-high PFF coverage grade over 90.0 and seven pass breakups to go along with two interceptions, a forced fumble and fumble recovery. He has been a big part of the late-season improvement from the Packers defense that they hope to ride into the postseason.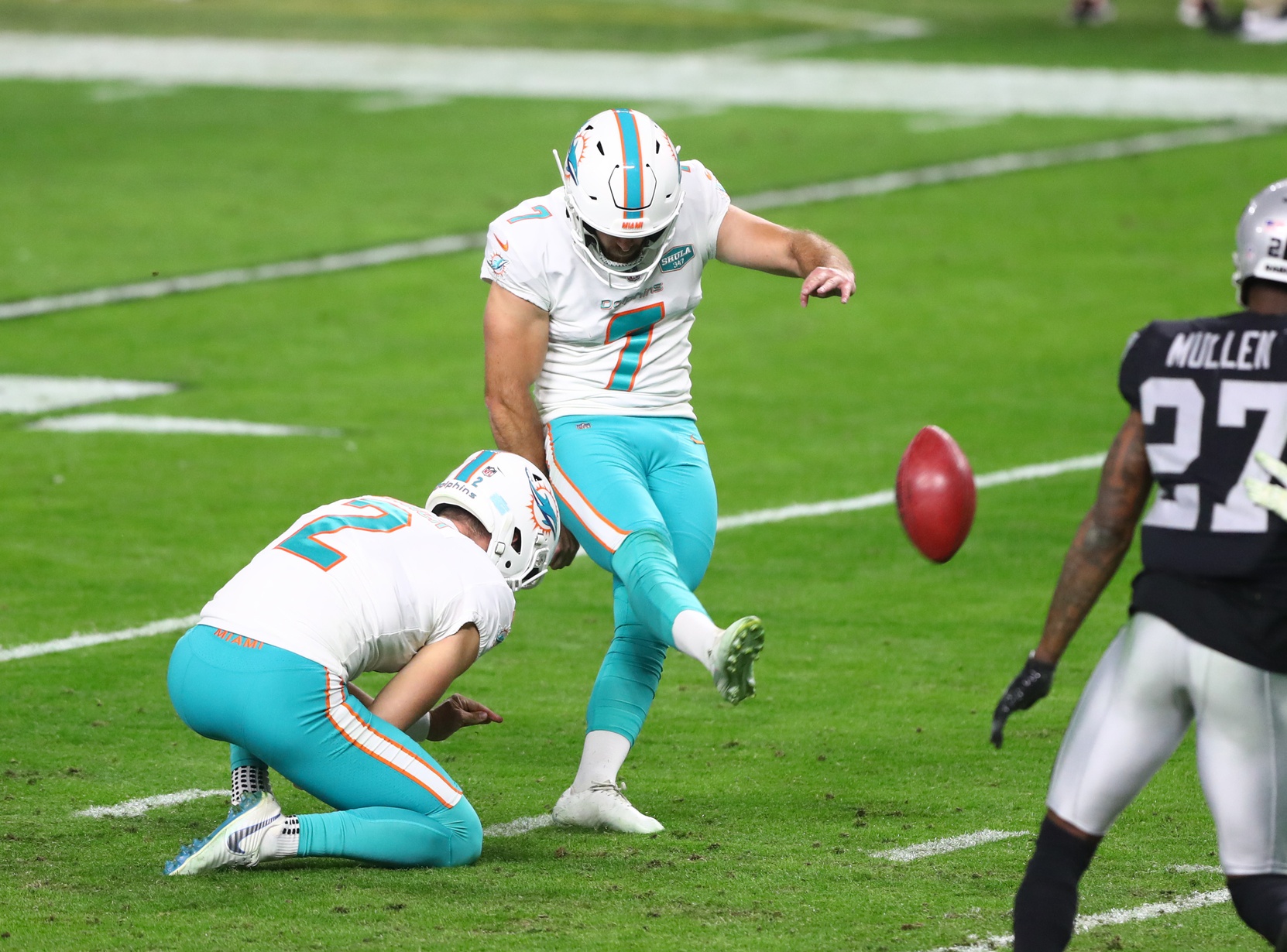 Nothing is more 2020 than Justin Tucker being beaten to a spot on the All-Pro team by anything other than a kicking robot, but Miami's Jason Sanders has managed just that. Sanders was the last kicker to miss this season, made every one of his extra-point attempts and didn't fail to find the target from anything less than 40 yards out.
Few people know it, but there might be nothing PFF does better than punting grades, which reward players for a combination of hang time, location and distance, all according to where they are kicking from on the field. Detroit's Jack Fox has been the best punter in the league all season long by PFF grades and conveniently has the net and gross averages to back it up, however easily those can be manipulated to not actually tell an accurate story.
Cordarrelle Patterson tied the all-time kick-return touchdown record with his eighth score against the Vikings and has an average of 29.9 yards on returns, with by far the highest PFF grade (89.4) when he does bring one out. He was very unlucky in Week 17 not to be rewarded by a really smart play trying to field the ball while he was standing out of bounds to get great field position.
Colts special teams ace George Odum has been the best special teamer all season long, playing extensive snaps across five different phases of special teams play. Odum notched 13 solo tackles and an assist without giving away a penalty.