Wide receiver Odell Beckham Jr. signing with the Baltimore Ravens was arguably the last big free agent domino to fall this offseason, with plenty of smaller moves still yet to come but a lot of rosters taking shape a month into the 2023 NFL league year. With not much action expected between now and the 2023 NFL Draft on April 27, we wanted to take a look at where each NFL roster stands.
Each team is not entering the draft with the same amount of capital, and thus they have varying abilities to markedly improve their 2023 rosters. PFF's Timo Riske highlighted what each team is working with by illustrating the value in each draft pick according to the PFF draft value chart: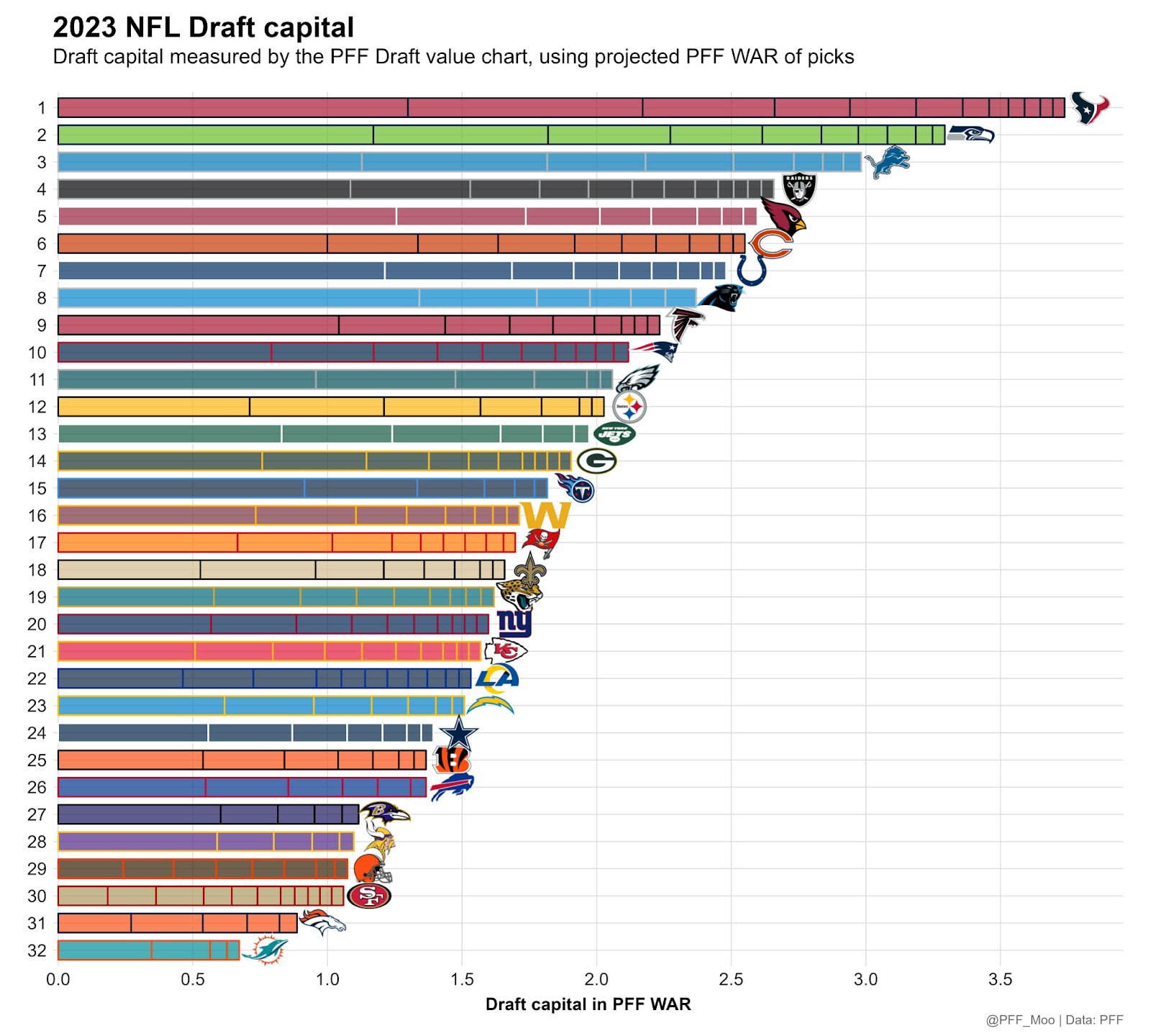 The Seattle Seahawks, Detroit Lions and Philadelphia Eagles jump out as quality rosters still with a ton of ammunition to improve.
This article isn't a team ranking, but we highly recommend you go read the latest power rankings from PFF data scientist Amelia Probst. We are going to use her order here to discuss the state of all 32 rosters headed into the draft.
JUMP TO A TEAM:
ARZ | ATL | BLT | BUF | CAR | CIN | CHI | CLE | DEN | DAL | DET | GB | HOU | IND | JAX | KC | LVR | LAC | LAR | MIA | MIN | NE | NO | NYG | NYJ | PHI | PIT | SF | SEA | TB | TEN | WSH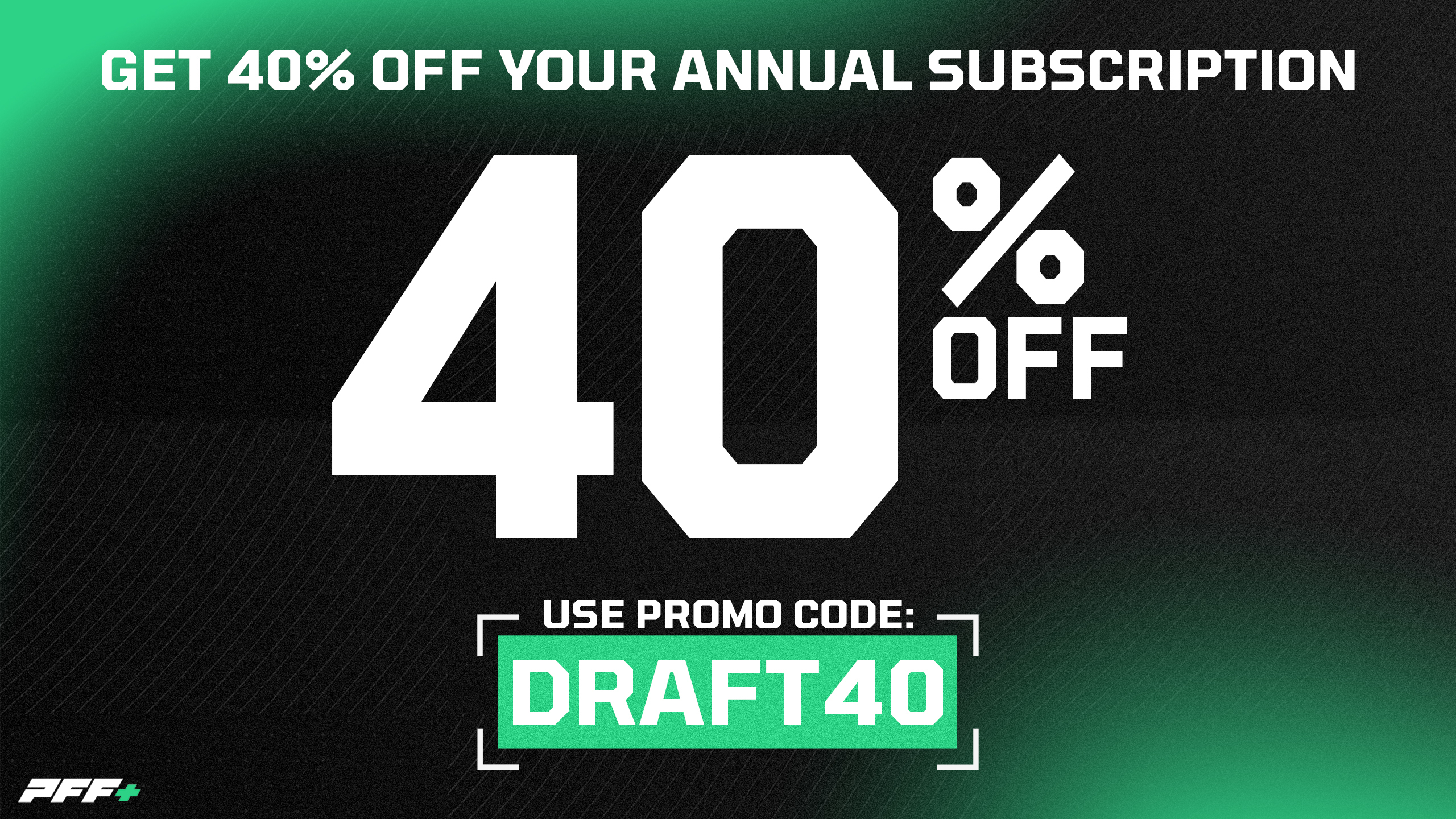 Remaining starter needs: T, DI
Remaining depth needs: WR, ED
As long as Kansas City has quarterback Patrick Mahomes and head coach Andy Reid, they'll be just fine. But they do have a few spots along their roster where they could stand to improve. Another interior defender to play alongside Chris Jones, who is entering the last year of his contract and likely looking for a major raise, would make a lot of sense. Free-agent addition Charles Omenihu could kick inside at times, but a long-term answer there is needed.
The addition of tackle Jawaan Taylor doesn't completely solve Kansas City's problems at the bookends, with Andrew Wylie departing in free agency alongside Orlando Brown Jr. The Chiefs have some young talent from recent draft classes they may believe in, but more depth there could always be smart to protect Mahomes.
---
Remaining starter needs: CB, T
Remaining depth needs: ED
Stop us if you've heard this before: The 49ers have one of the league's best rosters outside of question marks at quarterback. San Francisco could stand to add a starter opposite Charvarius Ward at outside cornerback after 2022 Week 1 starter Emmanuel Moseley signed with the Detroit Lions, and they also lost defensive back Jimmie Ward after starting him in the slot down the back half of 2022.
The good news is the 49ers have 11 draft picks; the bad news is they aren't on the clock for the first time until No. 99 overall. Can they add a few contributors in this year's class on cheap contracts to balance out their top-heavy roster?
It will be interesting to see how they replace right tackle and former top-10 pick Mike McGlinchey with no premium draft picks. As of now, it appears the job belongs to 2020 draft pick Colton McKivitz or veteran addition Matt Pryor. Pryor earned a 44.9 overall grade last year and McKivitz has 439 career snaps through three seasons. Can the 49ers get enough from their offensive line to protect a young quarterback?
---
Remaining starter needs: S, WR, G
Remaining depth needs: DI, LB
Philadelphia was obviously in for attrition this offseason, but the front office did fairly well by retaining starting cornerbacks Darius Slay and James Bradberry. They could stand to add more talent in the secondary, particularly at safety, and more depth to the interior of their defensive line after losing Javon Hargrave to the 49ers. The most interesting immediate question may be whether they view 2022 second-round pick Cam Jurgens as a potential starter at guard following the return of center Jason Kelce and the loss of Isaac Seumalo. If the answer is no, a starting right guard arguably becomes the team's biggest need.
Fortunately for the Eagles, they have two first-round picks. Look for them to perhaps move down off one of them and add draft capital on Day 2 as well as in the fourth-to-sixth-round range, where they currently have zero selections.
---
Remaining starter needs: DI, LB
Remaining depth needs: CB, T
The loss of Tremaine Edmunds as he was turning a corner at linebacker will be felt by this defense, but Buffalo understandably could not match the four-year, $72 million deal from the Chicago Bears. Retaining safety Jordan Poyer and adding another box defender in Taylor Rapp on a veteran minimum deal will help, but the big question on defense will be how effective a 34-year-old Von Miller can be coming off a torn ACL. If the answer is not very effective, this defense will struggle to generate consistent pressure on opposing quarterbacks.
Buffalo should have significantly improved its offensive line by signing guard Connor McGovern, who was very good as a pass blocker for the Cowboys this past year, earning an 84.3 pass-blocking grade from Week 7 on that ranked fifth among guards. Veteran Rodger Saffold struggled mightily in 2022, and this boost alone could make a big difference up front for quarterback Josh Allen. All of that said, for a team many believe to be a surefire Super Bowl contender, this roster has a few more warts than some may want to admit.
---
Remaining starter needs: CB, TE
Remaining depth needs: DI, S
Cincinnati was smart not to chase some larger contracts with potential extensions for wide receiver Tee Higgins and quarterback Joe Burrow on the horizon, but they do have a few spots along the roster that could use some reinforcements. Signing Orlando Brown Jr. to a team-friendly deal was a great start, but right tackle La'el Collins has struggled to stay healthy. The key to the rest of their offseason may be how much value they can return by trading 2019 first-round pick Jonah Williams — that is, if they honor his trade request. The move would not only clear $12.604 million in cash/cap but also likely net them a top-100 pick, or close to it.
While Cincinnati will run as much 11 personnel as any team in the NFL, coming out of the draft with one of the highly touted tight ends — whether that be at No. 28 overall or later on — could make a big impact in the long run, even if not right away given the position generally has a steep learning curve.
---
Remaining starter needs: DI, LB
Remaining depth needs: RB, CB
Dallas addressed two of its biggest needs this offseason via trade acquisitions of cornerback Stephon Gilmore and wide receiver Brandin Cooks, but both will be at least 30 years old in Week 1 and perhaps don't change the team's draft plans much. Dallas has never shied away from adding to a position of strength, but an interior defender to play alongside Osa Odighizuwa would also make a ton of sense.
Despite losing running back Ezekiel Elliott and tight end Dalton Schultz, the Cowboys' offense has internal replacements, and with better health along the offensive line they could have one of the deeper units in the NFL. This team is still squarely in a contending window in a weak NFC conference.

Remaining starter needs: LB, TE
Remaining depth needs: ED, WR
The Chargers added a ton of talent during the 2022 offseason and had to be largely inactive this time around, though it was somewhat puzzling why they didn't work harder to retain linebacker Drue Tranquill. That said, off-ball linebacker is not a position Brandon Staley's defense views as particularly important, and so the Chargers may look to add more juice off the edge first and foremost. Khalil Mack will be 33 years old and is owed $23.25 million in 2024, so it's possible this is his last year with the Chargers on this contract. A successor to rush the passer opposite Joey Bosa is an obvious need long term.
On offense, tight end Gerald Everett has developed strong chemistry with quarterback Justin Herbert and was productive after the catch in 2022, but a long-term answer is also needed. 2024 is the final contract year for the Chargers' top three wide receivers in Keenan Allen, Mike Williams and Josh Palmer, as well, so a new crop of pass catchers is needed as Herbert transitions into his rookie contract.
The outlook is fairly simple: Los Angeles better have a pretty good year in 2023, because this roster could be borderline unrecognizable in 2024. Herbert is good enough to make up for a lot of deficiencies around him, but not if the entire rest of the roster is lacking.
---
Remaining starter needs: LB
Remaining depth needs: CB, WR
The hardest thing to project with Minnesota is what the team is going to get out of its first two picks in 2022 going forward. First-round safety Lewis Cine did not play in 2022, and second-round cornerback Andrew Booth Jr. logged 105 snaps. When healthy, both players were studs at the college level. If they return to form, the Vikings could be in a good place. If they don't, this roster could be scary in 2024 — and not in a good way.
Minnesota has just five selections in this year's draft after acquiring tight end T.J. Hockenson from the Detroit Lions, but look for general manager Kwesi Adofo-Mensah to perhaps trade down from No. 23 overall and add more capital.
---
Remaining starter needs: CB, WR
Remaining depth needs: DI, ED
The Ravens made the latest splash of the free agency period by finally putting an end to the Odell Beckham Jr. courtship and signing him to a staggering one-year, $15 million contract. While people in and around the league were shocked by the value here, Beckham is a good football fit as a short-area separator who can win on third downs and in the red zone, and a willing blocker going back to his LSU days.
The Ravens' biggest need is now arguably at cornerback, with Marcus Peters a free agent and Baltimore coming very close to signing Darius Slay before the Philadelphia Eagles agreed to a reworked deal. With just five draft picks after acquiring linebacker Roquan Smith at the deadline, and none between No. 22 and No. 86, the Ravens may have only one shot at adding a 2023 contributor. Depth along the defensive line could also go a long way, though growth from recent selections in David Ojabo and Travis Jones could, as well.
Most importantly, it appears quarterback Lamar Jackson is a big fan of the Beckham addition, hopefully so much so that it helps keep him around for the foreseeable future.
---
Remaining starter needs: T, TE
Remaining depth needs: CB, DI
Miami is in a bit of a do-or-die season before they have to make another decision on quarterback Tua Tagovailoa, unless they're willing to extend him this offseason before his 2024 fifth-year option for $23.171 million kicks in. The Dolphins have just 33 players under contract for 2024, and $270 million in cap commitments to that group currently, with only four total draft picks this year and none in the top 50.
Cornerback Jalen Ramsey and linebacker David Long will immediately contribute to the Dolphins' defense, and safety DeShon Elliott was an underrated addition on the back end, as well. New defensive coordinator Vic Fangio is going to have a great group to work with at all three levels, and one could argue this is the strongest playcalling duo in the NFL.
One underrated storyline that no one is talking about is what could happen with edge defender Emmanuel Ogbah just one year after he signed a four-year, $65.4 million extension. Miami traded a first-round pick for edge defender Bradley Chubb and promptly signed him to a five-year, $110 million extension, and 2021 first-round edge defender Jaelan Phillips looks like a rising star. Can the Dolphins find a team to take on Ogbah's $15 million fully guaranteed salary for 2023 coming off a year in which he logged just 326 snaps?
---
Remaining starter needs: QB, S, T, TE
Remaining depth needs: ED, G
The Buccaneers are in the midst of overhauling their roster following Tom Brady's retirement while still retaining talented players on both sides of the ball. Can they see it through to the other side before players such as wide receiver Mike Evans and linebacker Lavonte David drop off in production?
2019 first-round pick linebacker Devin White recently requested a trade, but moving his $11.706 million fifth-year option off the books and adding draft capital is arguably a blessing in disguise given the current financial state of this team. To the front office's credit, they did not prolong the inevitable, taking a league-leading $75 million in dead cap on all this year instead of spreading it out into 2024, but carrying over $20 million more in dead weight than any other team is going to make it hard to compete in 2023.
---
Remaining starter needs: CB
Remaining depth needs: ED, S, TE
The Jaguars are in a good position heading into 2023, with wide receiver Calvin Ridley officially reinstated and the team potentially adding a No. 1 wideout to a roster that already boasts a fair amount of talent. Hopefully for Jacksonville's sake, gone are the days of overpaying free agents to persuade them to play for a bad team. Instead, the reverse becomes true as players look to hop on the Trevor Lawrence train.
The Jaguars did lose some pass-rushing talent and could also stand to improve in the secondary, but there are no truly glaring weaknesses on this roster as they enter the draft with nine picks.
---
Remaining starter needs: DI, TE
Remaining depth needs: CB
The Lions' cornerback unit ranked 32nd in coverage grade in 2022 (42.1) and allowed 2,807 passing yards, which was the most by nearly 400 yards. Free-agent addition Cam Sutton earned a 71.0 coverage grade and allowed just 411 receiving yards in 2022 — the ninth fewest among cornerbacks with at least 400 coverage snaps on the season. Fellow free-agent addition Emmanuel Moseley earned a 73.5 coverage grade through Week 5 before going down the rest of the year with an injury, and slot cornerback/safety Chauncey Gardner-Johnson led the NFL with six interceptions on the year. A glaring weakness for the Lions became a strength in a hurry.
Detroit still needs to improve its interior defender group alongside Alim McNeill, but, fortunately, they have two top-20 draft picks and two second-round picks to make several impactful additions. The arrow is pointing skyward in the Motor City.
---
Remaining starter needs: C, CB, LB, WR
Remaining depth needs: ED
The Giants didn't lose a ton of talent in free agency, though versatile defensive back Julian Love was an important contributor the past few years. The secondary outside of Adoree' Jackson has major question marks, and we need to see 2022 first-round edge defender Kayvon Thibodeaux and 2021 second-round edge defender Azeez Ojulari take the next step. With how much defensive coordinator Wink Martindale likes to blitz, more depth at edge defender would make a lot of sense. Finally, the Giants upgraded massively at off-ball linebacker with the addition of Bobby Okereke, but a running mate over the middle would be valuable, and this draft class is not known for talent at that position.
On offense, New York made a splash in adding tight end Darren Waller, and a tight end tandem of Waller and Daniel Bellinger could allow the Giants to thrive in 12 personnel. However, there is once again a dearth of receiving options that primarily produce out of the slot, and a big-bodied X receiver could go a long way. Finally, landing a starting center in the second round could make a lot of sense if New York isn't intrigued by any remaining veteran options.
---
Remaining starter needs: ED, WR
Remaining depth needs: DI, iOL
Seattle getting out from underneath Russell Wilson's contract and the inevitable extension he signed in Denver has changed the complexion of the entire roster, seemingly for the better, and the team still has the Nos. 5 and 37 picks from the Broncos to work with.
The addition of interior defender Dre'Mont Jones will make a big difference up front, but Seattle could really improve an at-times porous 2022 defense with a marquee addition at No. 5 overall. Will Anderson Jr., Jalen Carter or Tyree Wilson would transform the unit, and perhaps adding a third wide receiver or another outside cornerback at No. 20 is an option, as well. John Schneider and Pete Carroll are #back.
---
Remaining starter needs: CB, S
Remaining depth needs: LB, T, WR
The Steelers are operating like a team that believes in its young quarterback, bolstering their offensive line and adding or retaining a few key pieces on defense in free agency. Trading away wide receiver Chase Claypool for the No. 32 overall pick was a slam-dunk move for new general manager Omar Khan and opens up a lot of options early in the draft.
An interior offensive line featuring James Daniels and newly-signed Isaac Seumalo at guard should lead to some clean pockets for Kenny Pickett, and taking a swing on a tackle in the first round could be wise. If not, cornerback is the most obvious need and, fortunately, there are five or more first-round-caliber talents at the position.
If Kenny Pickett does take a sophomore leap, Pittsburgh could be in a really good spot with a talented offensive unit chock-full of rookie contract players.
---
Remaining starter needs: DI, T
Remaining depth needs: iOL
The Jets' quarterbacks combined to generate -0.19 wins above replacement in 2022, and the team still almost made the playoffs in a loaded AFC. That shows how talented this roster is otherwise. New York didn't lose many key contributors this offseason without replacing them, though interior defender now becomes arguably their biggest need alongside Quinnen Williams.
They also improved their secondary by trading for Ravens safety Chuck Clark, who has graded above 66.0 in each of the past four seasons and is an underrated addition on the back end who offers versatility and durability.
---
Remaining starter needs: S, TE, WR
Remaining depth needs: DI, ED
Quarterback Aaron Rodgers will be a New York Jet eventually, and 2020 first-rounder Jordan Love remains a mystery with fewer than 200 career snaps thus far. Sometimes, we can fall victim to taking an elite talent for granted, and even if Love is a very good quarterback, that could still resemble a decent drop-off considering how great Rodgers has been even as recently as his back-to-back MVP seasons in 2020 and 2021.
The Packers' pass-rush ability fell off a cliff following the loss of Rashan Gary to a torn ACL in 2202, and they could look to add there at No. 15 overall. After years of trying to reload around Rodgers and make a Super Bowl push, primarily spending their draft capital and free agent dollars on defense to no avail, this team could struggle in 2023.
---
Remaining starter needs: CB, LB, QB
Remaining depth needs: G, T
Washington once again enters the season with major questions at quarterback but has a strong crop of young wide receivers and a potentially elite defensive line with a fully healthy Chase Young.
Adding Kansas City Chiefs right tackle Andrew Wylie provides flexibility on the right side, with Wylie and 2021 second-round pick Sam Cosmi capable of playing right tackle or right guard. There is a lot to like about this roster, but while Jacoby Brissett is an improvement over what the Commanders had in 2022, they're in an NFC East with three 2022 playoff teams.
---
Remaining starter needs: T
Remaining depth needs: CB, ED
New England continues to go with a quantity-over-quality approach for pass catchers, a strategy that has worked for them in the past. Replacing Jakobi Meyers with JuJu Smith-Schuster and Jonnu Smith with Mike Gesicki are effectively lateral moves, but the change at offensive coordinator from Matt Patricia to Bill O'Brien is anything but.
While the Patriots have deployed a similar approach at offensive tackle, targeting tackle, cornerback or edge defender with their first-round pick at No. 14 overall would make a lot of sense. New England has six picks in the top 135 and needs to hit on a few of them.
We know Bill Belichick is going to coach up this defense; the question is how real the apparent rift with Mac Jones is and whether the offense is good enough to keep up in a loaded AFC East.
---
Remaining starter needs:
Remaining depth needs: ED, S
There are truly zero excuses for this team at this point. The Browns simply need to be a playoff team and, arguably, win a playoff game or two. The defense had deficiencies up front and at coordinator, but the additions of interior defender Dalvin Tomlinson and edge defender Ogbonnia Okoronkwo were just what was needed, and bringing aboard Jim Schwartz to run the defense could be hugely impactful.
On offense, Cleveland retained center Ethan Pocic and has no weaknesses up front. The trade for wide receiver Elijah Moore from the New York Jets provides them with a shifty slot option and sharp route runner who can separate over the middle. Deshaun Watson worked through rest over the last six weeks of 2022 and now needs to perform like a top-10 quarterback.
---
Remaining starter needs: CB, DI, G, LB, QB
Remaining depth needs: ED, S
The Raiders went backward this offseason as they try to keep up with the Kansas City Chiefs in the AFC West, arguably downgrading at quarterback, trading away tight end Darren Waller and still rostering what looks to be one of the NFL's worst defenses.
Fortunately for Las Vegas, the team has 12 total draft picks and seven in the top 150. The new regime needs to have a polar opposite success rate with their early picks as the previous one did to get back on track.
---
Remaining starter needs: C, CB, G, LB, QB, T, WR
Remaining depth needs:
The Titans finally bit the bullet and began their necessary teardown this offseason, but that left a lot of holes behind. Head coach Mike Vrabel can get more out of his roster than almost any other coach in the NFL, but it'd be asking a lot of him to bring this roster back to the playoffs in 2023.
One good sign for Titans fans is the work done so far by new general manager Ran Carthon, who followed up his tough but pragmatic decisions with good value additions in edge defender Arden Key and linebacker Azeez Al-Shaair. Most recently, Carthon negotiated an extension with interior defender Jeffery Simmons that barely moved the position market forward after many expected and hoped he would bridge the gap between Aaron Donald and everyone else. Carthon was smart to get the deal done before Quinnen Williams, Dexter Lawrence and others, and the value is great for Tennessee.
---
Remaining starter needs: DI, ED, G
Remaining depth needs: C, LB, WR
The Saints will look to run it back once again in 2023 and did well in some areas while raising some further questions in others. On the plus side, keeping wide receiver Michael Thomas around for just $6.26 million in fully guaranteed money is a major win, especially with the recent news of Odell Beckham Jr. receiving $15 million fully guaranteed from the Baltimore Ravens. On the flip side, this defensive line is an uncertainty heading into the draft.
The Saints are getting younger at quarterback after signing Derek Carr and letting Andy Dalton leave to serve as the veteran bridge to the NFC South rival Carolina Panthers' rookie quarterback. Carr is undoubtedly an upgrade but likely not to the magnitude that the two players' contracts reflect. He signed a four-year, $150 million deal, while Dalton agreed with the Panthers for two years and $11 million.
One thing is for certain: The Saints are currently sitting on eight total draft picks, with five outside the top 100. The odds they use all eight are probably close to zero, so perhaps a trade-up for a defensive lineman could address a present and future weakness immediately.
---
Remaining starter needs: QB, WR
Remaining depth needs: CB, DI, ED
Trading star wide receiver D.J. Moore to the Bears will not make life any easier on the rookie quarterback arriving soon, but Carolina responded by adding Adam Thielen, D.J. Chark and tight end Hayden Hurst. An ACL tear in the regular season finale for right guard Austin Corbett was so unfortunate, as this offensive line unit was starting to round into shape at all five positions, but they should be a solid group once he returns.
The Panthers' defense at times illustrates why we refer to defense as a weak-link system because the stars in edge defender Brian Burns, interior defender Derrick Brown, safety Jeremy Chinn and cornerback Jaycee Horn can make special plays. If they can all stay healthy, and get more consistent play around them from savvy veteran additions like safety Vonn Bell, this could be a top unit in 2023.
Amid a lot of roster changes, the most beneficial move for Carolina may be the remarkable coaching staff they assembled, including three individuals with former head coaching experience in Frank Reich, Jim Caldwell and Dom Capers, and a very strong defensive coordinator in Ejiro Evero.
---
Remaining starter needs: DI, ED, T
Remaining depth needs: CB
The Bears made a handful of solid moves in free agency and still have the most salary cap available of any team on top of their four draft picks in the top 64 selections. Most recently, their addition of inside-outside rusher Rasheem Green provides another piece up front alongside DeMarcus Walker and Andrew Billings, and a porous 2022 defensive line now has higher-end depth that could work around some marquee additions early in the draft.
They also shored up their offensive line to keep Justin Fields upright by signing guard Nate Davis, which leaves right tackle as the only real question mark on the unit. If the draft breaks Chicago's way, the team should be dramatically improved from 2022. However, it may take one more offseason to truly build a contending roster — that is, if Fields also takes the necessary steps.
---
Remaining starter needs: ED, G, WR
Remaining depth needs: T
One of the few remaining question marks on a completely overhauled Atlanta Falcons defense was their depth at cornerback, but the recent buy-low trade for Detroit Lions cornerback Jeff Okudah, the No. 3 overall pick in the 2020 NFL Draft, answers that.
The defense has a handful of solid rotational players at edge rusher but could take a sizable leap by drafting a difference-maker at No. 8 overall. On the other side of the trenches, Atlanta would have a formidable offensive line if it can upgrade at left guard. Northwestern product Peter Skoronski could be a good fit as a plug-and-play starter at the position before attempting to replace left tackle Jake Matthews down the road.
The Falcons had a ton of resources entering the offseason and certainly put them to work, but the lack of a No. 2 wide receiver still stands out.
---
Remaining starter needs: CB, S
Remaining depth needs: C, LB
Adding the top free-agent guard available in Ben Powers and one of the most sought-after tackles in Mike McGlinchey should transform the offensive line ahead of Russell Wilson, but his improvement is still necessary to get this team back on track. If Denver sticks with a trio of Jerry Jeudy, Courtland Sutton and Tim Patrick, it's a very capable group when healthy, and the eventual return of running back Javonte Williams will take some pressure off the passing game, as well.
The defense should once again be a stout unit, though there are legitimate questions in the secondary outside of star cornerback Patrick Surtain II and star safety Justin Simmons. If the defensive front generates enough pressure, the other defensive backs should hopefully hold up well enough.
While there are some holes to poke here, the doom and gloom about this situation may have gone a bit too far. In the end, Russell Wilson needs to get back to form.
---
Remaining starter needs: CB, DI, ED, G, LB, S
Remaining depth needs: OL, RB
The Rams had no choice but to tear down this roster after years of aggressive transactions, but it's even bleaker than you'd imagine when looking at their depth chart.
If you're a believer that football is won or lost in the trenches, you probably don't foresee the Rams winning many games this upcoming season, and that's with arguably the best defensive lineman of all time in Aaron Donald on the roster.
Even with a few stars still in the fold and 11 draft picks ahead — only three in the top 100 and none in the first round — it's hard to envision a scenario where this team is competitive in 2023. Most fans would gladly do it all again for the Super Bowl ring, but that ring came at a cost.
---
Remaining starter needs: C, CB, DI, ED
Remaining depth needs: G
The Cardinals' new brain trust of general manager Monti Ossenfort and head coach Jonathan Gannon have behaved like they understand this team is in need of a multi-year revamping, which is a good first sign for the regime. Trading down from No. 3 overall and trading away wide receiver DeAndre Hopkins for whatever they can get at this point — perhaps boosting the return by agreeing to retain some salary — would also be wise.
The fastest path back to contention for this team is losing as many games as humanly possible in 2023.
---
Remaining starter needs: ED, QB, WR
Remaining depth needs: OL
The Texans continued to make short-term moves in free agency even after navigating through the mess of a bloated roster and limited draft capital before the Deshaun Watson trade.
Houston raised the floor of its offense with the additions of wide receiver Robert Woods and tight end Dalton Schultz after trading away Brandin Cooks but still needs a true alpha wide receiver to go along with solid complementary pieces. The Texans could have a solid protection unit in front of whoever will be under center going forward following a trade for guard Shaq Mason, though they need substantial improvement from guard Kenyon Green and center Scott Quessenberry.
On defense, there is so much talent in the secondary, and Sheldon Rankins is a quality addition up front, but new head coach Demeco Ryans is working with significantly less talent than he ever had in San Francisco.
---
Remaining starter needs: CB, QB, T
Remaining depth needs: S, WR
The Colts are another team where the results were so poor in 2022 but you can point to talent and convince yourself bounceback performances are needed as much as new players. The offensive line being a weakness in 2022 is astonishing considering the resources spent up front. That unit simply must return to being a relative strength of the team.
The defensive trenches should be even better in 2023 with the addition of Samson Ebukam along with continued growth from Kwity Paye and Dayo Odeyingbo. However, the secondary is nearly devoid of proven top-end talent after the team traded cornerback Stephon Gilmore to the Dallas Cowboys.
Whether the Colts land their quarterback of the future or roll with Gardner Minshew, they cannot finish dead last in expected points added per dropback for the second season in a row. New head coach Shane Steichen has done masterful work with Justin Herbert and Jalen Hurts at his last two stops and hopefully can do so a third time with the eventual successor under center in Indianapolis.