The NFL has a slew of excellent quarterbacks who are entering the last legs of their careers. Long-time veterans Tom Brady, Drew Brees, Aaron Rodgers and Matt Ryan — among others — will all likely have retired five years from now while awaiting their spots in the NFL Hall of Fame. While most of us will miss seeing them on the field, there are plenty of young, rising talents who are ready to establish themselves at the top of the quarterback ranks over the course of the next few seasons. That being said, we at PFF decided to take a swing at who exactly will make up the top 10 NFL quarterbacks five years from now.
Mahomes coming in at No. 1 is indisputable. The reigning Super Bowl MVP is coming off historic years in his first two full seasons leading the Kansas City Chiefs' offense. He has produced the best passing grade we have ever recorded from a quarterback in the first three regular seasons of their career (92.2). No one came close to touching that mark, either, with second place sitting at 87.2 (Matt Ryan), third at 86.0 (Russell Wilson) and fourth at 81.7 (Joe Flacco).
Mahomes thrives in situations where most other NFL quarterbacks flounder. Including postseason play since 2018, Mahomes has produced a 90.9 passing grade on plays in which his time to throw eclipsed 4.1 seconds. For perspective, only three other quarterbacks produced a passing grade higher than 65.0 on such plays.
Before Mahomes started a game for the Chiefs, if someone had claimed he would likely finish with more Super Bowl rings than can fit on one hand, I would have said to kick rocks. But now, I'd be shocked if he didn't.
Is Joe Burrow going to play well right away in his rookie campaign? Considering the COVID-19-impacted offseason, probably not. But regardless of how he performs out of the gate, we believe he'll be a star in the NFL.
Burrow's 2019 season was one of the best in the history of college football, and it was no fluke. He's far and away the most accurate quarterback we have ever come across. He threw over 70% of his passes beyond the line of scrimmage accurately in 2019, leading the country by 4 percentage points. And that wasn't some massive improvement from the year prior, either — in 2018, he ranked ninth among all FBS quarterbacks in the same metric.
As said in the PFF Draft Guide, Burrow had a handful of phenomenal anticipatory throws on tape last year, flashing some of the most fearless plays under duress. He routinely delivered downfield strikes with 300-pound linemen hurling themselves at him. All in all, it was the best season PFF College has ever seen, and I would be surprised if that's broken anytime soon.
Every college QB's single-season Wins Above Average in the PFF College era (since 2014)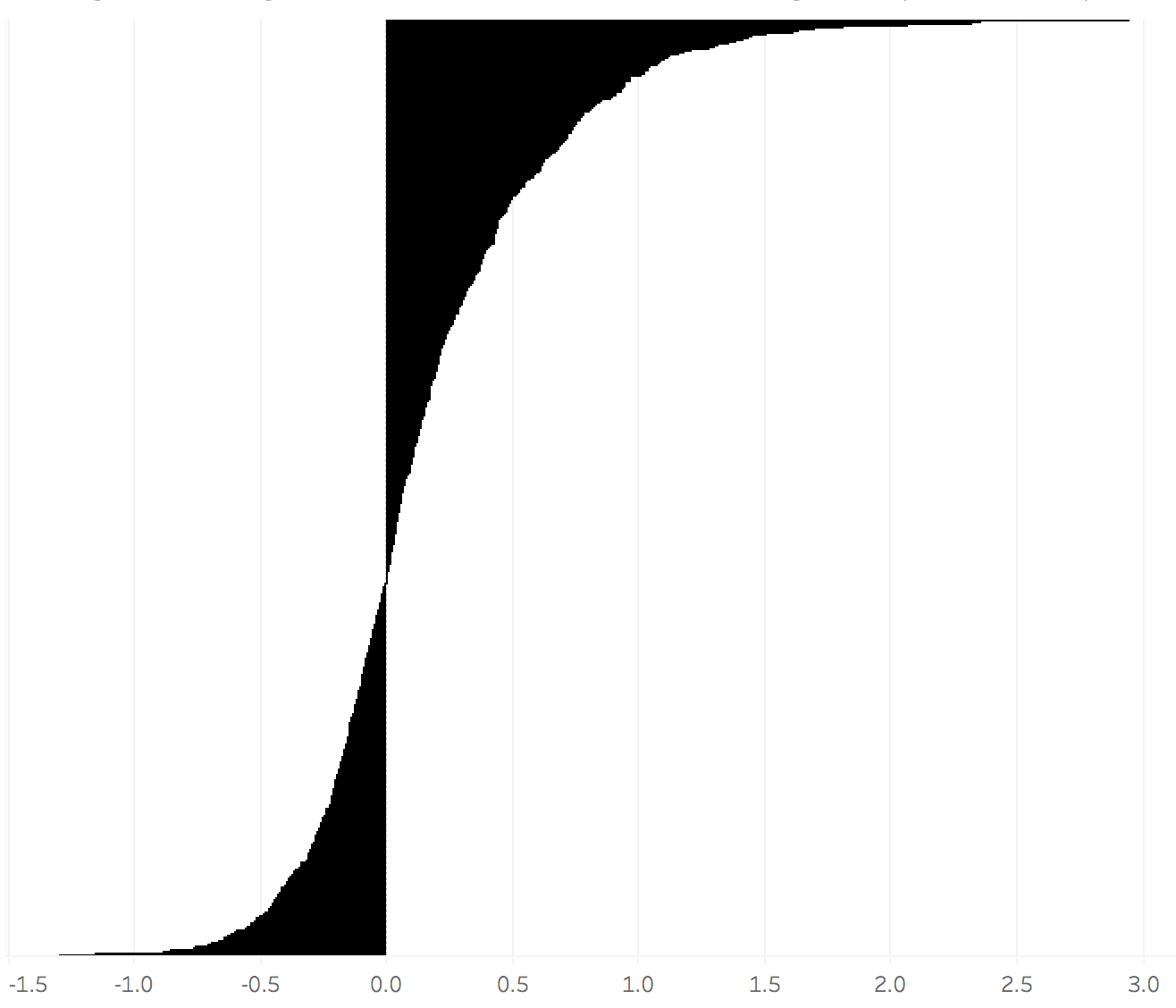 Do you see the bar up top that is significantly further to the right than every other quarterback season? That would be Mr. Burrow's 2019 campaign. While he may not get off to a hot start in 2020, he has the playmakers around him to be a top-10 quarterback by season's end.
The "Tank for Trevor" mantra has been around ever since he took the field as a true freshman for Clemson in 2018, and understandably so. Lawrence holds the record for best true freshman season we have recorded by a quarterback in the PFF College era from a grading standpoint. He finished that year with a 90.7 PFF grade and managed to top that in 2019 (91.1) despite having an abysmal outing in Week 1 against Georgia Tech. Removing that game, his grade jumps to 92.0, trailing only Burrow for best in the FBS.
The 6-foot-6 quarterback has an absolute cannon for an arm and great mobility relative to his counterparts. We saw that firsthand in the College Football Playoff semifinal when he busted off a 67-yard touchdown run to save the game for Clemson. If there is any knock on Lawrence or any long-term concern, it's his accuracy. That's what really burned him in his lowly performance against the Yellow Jackets last season. However, it wasn't a liability over the course of the year.
He still finished 26th in percentage of passes 10-plus yards thrown accurately downfield. That mark isn't on Burrow's level, but it's still more than good. Essentially, there isn't much within his game that we don't like — he has every tool needed to succeed in the NFL.
Jackson is fresh off one of the best breakout years in recent memory. After producing a lowly 56.1 PFF grade in his rookie campaign, he raised that mark to 90.1 in 2019 en route to winning the NFL MVP.
His passing performance, in particular, was night and day. As PFF's Seth Galina has said before, Jackson was willing to be a pocket passer in 2018 but couldn't piece everything together to start. Then in 2019, he finally made all the right decisions. On throws of 10-plus yards, Jackson ranked fifth in turnover-worthy throw rate and eighth in big-time throw rate.
On those same throws but only to his first read, Jackson had just one turnover-worthy throw. The only other quarterback to not produce at least three on those passes was Ryan Tannehill. With his improvement as a passer and threatening rushing ability, Jackson is a nightmare for opposing defenses.
Mobility was once an added bonus for quarterbacks, but now it has almost become a necessity — and there isn't a quarterback better at it than Jackson. His offensive coordinator, Greg Roman, is one of the league's best playcallers, according to our findings, and a big reason whyis the designed runs he has dialed up for Jackson. It's a perfect marriage.
The damage Jackson did in the ground game last year was unlike anything we have seen in recent memory. On read-option plays in 2019, Jackson produced a whopping 24 runs of 10-plus yards. That's 14 more than we have recorded by a quarterback since we started collecting such data. One of those runs was his "MVP moment" that made everyone aware of his elite status: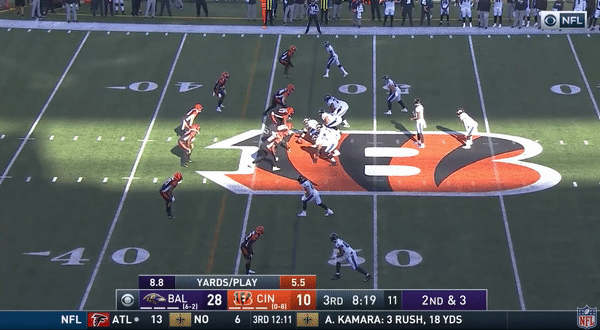 While Watson has no doubt been an excellent quarterback thus far in his NFL career, this is under the assumption that he finds some consistency within his game — similar to the quarterback you'll find after him at No. 6. He has produced at an MVP level multiple times throughout his career but has also had a handful of poor outings that bring his seasons down.
Over the past two years, he's had 12 games in which he recorded a passing grade above 80.0. That total trailed only Patrick Mahomes and Drew Brees, who both have 13, for the most in the NFL. Watson has also produced a sub-50.0 passing grade in four regular-season games since 2018, which is tied for the fifth-most among quarterbacks who enter 2020 as starters. And that doesn't include his 2018 playoff performance against Indianapolis when he earned a 44.8 passing grade.
If Watson starts taking the throws the defense gives him as opposed to playing with fire late in the play, there's no doubt he can secure an MVP award. Even with his inconsistent play at times, he's still currently a top-10 quarterback in the NFL — and even a fringe top-five one. His ceiling is that high.
Wilson will be 36 years old in five years, but we assume he is still going to be cooking at that age. After battling some consistency issues a few years into his NFL career, he has become a routine top performer week in and week out over the past couple of years. He's coming off the best season of his NFL career — one in which he produced a 90.8 passing grade (second in the NFL) and was our most valuable player of the season in regard to PFF WAR.
Wilson has always made some impressive plays outside of the structure throughout his NFL career, but his 2019 season, in particular, was on a different level. He made very few mistakes on such plays and led the NFL in passing grade by a mile:
Highest-graded quarterbacks outside of structure in 2019
| | | | |
| --- | --- | --- | --- |
| Player | Passing grade | BTTs | TWPs |
| Russell Wilson | 90.1 | 10 | 1 |
| Patrick Mahomes | 72.1 | 5 | 4 |
| Carson Wentz | 69.6 | 2 | 4 |
| Jameis Winston | 64.6 | 1 | 5 |
| Aaron Rodgers | 59.0 | 5 | 5 |
BTT = Big-time throws; TWPs = Turnover-worthy plays
His primetime performance against the Los Angeles Rams in Week 5 is a clear example of that elite trait. You know, the game when he made perhaps the throw of the year to Tyler Lockett in the corner of the end zone?
Wilson's deep ball is arguably the best in the entire league. Some of his stats on those throws legitimately made me do a double-take. His grade on such passes (20-plus yard targets) over the past two years leads all quarterbacks, with the only one threatening him being Mahomes. The data point that most sticks out of his on deep targets in that span though is his big-time throw to turnover-worthy play ratio of 60 to 2. That's about as close to perfect as you can get. Wilson is the second-best quarterback in the NFL right now and should remain among the best five years from now.
The world appears equally divided on Mayfield as a quarterback. Some, like us, believe he will be a top-10 quarterback in years to come, while others think his ceiling is average at best, like our friend Colin Cowherd.
His 2019 season was nothing short of disappointing — we won't sugarcoat it. As I have said in numerous other articles leading up to the 2020 NFL season, he routinely abandoned clean pockets and forced too many throws to his star WR-duo in Odell Beckham Jr. and Jarvis Landry. There was clear miscommunication between Mayfield and OBJ as well in their first year together — the two had 27 targets that resulted in a quarterback-fault incompletion last year, which tied for the most in the NFL.
Even considering that, we mustn't forget what he did in his rookie campaign. Mayfield produced an impressive 83.2 PFF grade that year, which nearly cracked the top 10 (ranked 11th). His accuracy didn't miss a beat from his time at Oklahoma, as he ranked third in the NFL in percentage of passes that were perfectly placed, according to our ball-charting process. In addition, he produced a staggering 40 big-time throws, which ranked third in the NFL.
Mayfield's 2019 campaign is the only down year we have seen from him in our five years of data on him. In his three years at Oklahoma, he ranked second, first and first in PFF grade — to this day, he still owns three of the 10 most valuable quarterback seasons we have recorded. With Kevin Stefanski now running the show in Cleveland, Mayfield is poised to rediscover the player who looked like a budding star in the league.
Murray is being pegged as a virtual lock to break out in his second NFL season in 2020, and we have no disagreements with that sentiment.
There were times in the midst of the 2019 season where he looked like he was starting to break out and perform at a high level, but then it came crashing down with a poor game. That type of hot-and-cold play is typical for a first-year starting quarterback, as is lowly pocket presence, but he flashed numerous things that were advanced for his age.
Murray's athleticism clearly made an impact in the ground game, as he had the second-most 10-plus yard gains on designed carries at the position (11) — behind only Lamar Jackson (29). As a passer, he displayed the touch on his deep ball that we all fell in love with when he was lighting up college football at Oklahoma. The 2019 first overall pick finished the season as the fifth-highest graded quarterback on throws of 20-plus yards. He had several perfectly placed throws right over his receivers' shoulders. In fact, he was fourth in passing grade on such pass attempts.
While I wouldn't expect an MVP Murray in 2020, I would expect him to inch toward securing top-10 status, and I think it's likely he is there within the next few years.
It seemed virtually impossible prior to the 2019 college football season that any quarterback would get themselves a chance at catching Trevor Lawrence to be the first overall pick in the 2021 NFL Draft, but Ohio State's Justin Fields defied those odds. Now, he hasn't overtaken him, but he sits firmly behind him after his 2019 campaign for the Buckeyes.
In his first full year of starting at the collegiate level, Fields produced the second-most valuable season of the year and the 10th-most valuable campaign we have ever recorded at the position.
Fields displayed tremendous accuracy and decision-making all year long. He had the fifth-lowest rate of uncatchable passes thrown on passes of 10-plus yards and the 16th-best turnover-worthy play rate in the FBS. Not to mention, Fields is a ridiculous athlete who brings a lot to the table in the ground game.
Whoever misses out on Lawrence come April won't have to settle for much less with Fields.
With the environment set to surround Prescott for the next few years in Dallas — assuming the team finally pays him — he's poised to have a lot of success. The offense is littered with talent, ranking as one of the three best in the NFL, and the combination of head coach Mike McCarthy and offensive coordinator Kellen Moore is a great one.
Prescott can play at a top-10 or even top-five level in any given year. He proved that this past season, as he was one of the three most valuable quarterbacks of the season in PFF WAR, as well as in his unexpected rookie year.
A large reason for his success this past year was because he attacked downfield more than he ever has, which will remain the same with Moore still calling the shots on offense. Only Jameis Winston completed more 20-plus yard passes downfield to his first read than Prescott. On those throws, Prescott also led the league in passing grade. He consistently delivers a catchable ball to his open target.
If Prescott can better limit mistakes when things don't go according to plan like the others above him on this list, he might even be better than this No. 10 ranking.