With the 53-man rosters now set and the kickoff to the 2020 NFL season just a couple of days away, it's time to take a look at our top breakout candidate for every NFL team.
Whether they are entering the sophomore campaign and were once an early-round pick or have been in the NFL ranks for a few years now, the players below have shown signs within their PFF grading profile that a breakout could be right around the corner. 
Here are our top breakout picks for all 32 teams this year.
Murray's 2019 season was pretty much your standard rookie season. It featured inconsistency, a handful of really bad turnover-worthy plays, a few too many risks taken on late downs and poor pocket presence. But for all that, there were still so many positives to gather from Murray's first year in the NFL, like the damage he did in the deep passing game — not only did he earn the fifth-best deep-passing grade in the NFL last year, but it was also the fifth-best deep-passing grade ever recorded by a rookie quarterback in the PFF era.
The former No. 1 overall pick's touch and accuracy were still lights-out, too, just as it was during his time at Oklahoma, and that likely won't change as we head into 2020. Year 2 is typically the year we know how a quarterback's career will take shape, and it's fair to assume that Murray cleans up those typical rookie mistakes in his sophomore campaign.
An injury early in his 2019 rookie campaign limited Lindstrom to only five games, but he didn't look too bad in a few of those performances. He produced an above-average rate of positively graded run blocks — which is stable from year to year for guards and centers — while earning a pass-blocking grade above 65.0 in three of his five games played. The 2019 first-round pick will be looking to improve a poor offensive line that allowed pressure on 27.1% of Matt Ryan's dropbacks last year, a figure that ranked 21st league-wide.
He may have had to battle through injury last year, but Brown still managed to put forth multiple big-time performances. He even earned a PFF receiving grade above 90.0 in two games — the best two games we saw from a first-year player at the position.
Brown has the speed to simply fly past defenses. Of the 50 wide receivers who saw at least 15 deep targets in 2019 (20-plus yards, including postseason), Brown had the sixth-highest separation rate. With a clean bill of health, Brown is set for a big year with Lamar Jackson at the helm.
Oliver was at a serious disadvantage in college, as the Houston scheme had him play most of his reps at heads-up nose tackle (0-technique). He was the centerpiece of what was mostly a three-man rush, which hindered his overall production. Despite this, he still displayed the tools needed to succeed at the NFL level and showed some flashes of putting them into action in his rookie campaign.
Oliver didn't put up crazy numbers for Buffalo in 2019, but he was head and shoulders above his classmates for the most part. When playing 3-technique, Oliver produced a respectable 9.5% pass-rush win rate that tied for 37th among 98 qualifying interior defenders. And overall, he produced a total of 29 pressures, one less than Christian Wilkins and Dexter Lawrence, the rookie leaders at the position.
Burns was a hot-and-cold player throughout his 2019 rookie year, but those hot games were enough to get us excited about his future. Rookie edge defenders combined for just eight games that earned a single-game pass-rush grade above 80.0 last year — Burns had four of them. The former first-rounder got off to a hot start by producing an 18% win rate through his first four weeks, tied for 26th among all players at his position. The high-end reps are there; now Burns just needs to find some consistency.
Wims has only seen 43 targets in his two-year NFL career, with the brunt of those coming last season, but he's still suffered badly from Chicago's quarterback situation. Among the 100 wide receivers who saw at least 15 targets from passes thrown 10 or more yards downfield, Wims has had the fifth-lowest rate of catchable targets.
Wims' impressive work in contested-catch situations is what made him an intriguing late-round flier in the 2018 NFL Draft. And while you should always take preseason data with a grain of salt, the former seventh-round pick has come down with more contested catches than any wide receiver over the last two preseasons. On his limited reps in regular season play, he's caught a respectable four of eight such targets.
"I'm excited about Javon… He looks like a different player than he has been in the first two seasons. He looks faster, he looks quicker, he looks stronger in and out of his transitions." – Chicago Bears wide receivers coach Mike Furrey during training camp
The fact that the 2018 seventh-round pick has been kept on the roster for three seasons says something about what the staff thinks of him. He's never been a separation-getter, but if his route-running and releases are as improved as reports out of camp suggest,  and if he can get some catchable targets for a change, he could solidify himself as Chicago's WR3 and embark on a breakout year.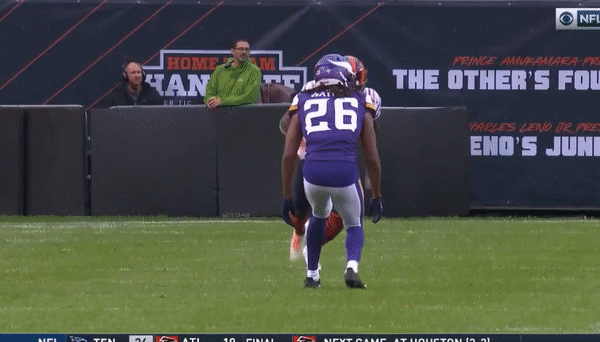 Injury derailed Phillips' second season in the NFL, but there's a lot to like about his game as he heads into his third year. He played only 75 coverage snaps in 2019, yet he managed to intercept four of those passes while breaking up another three. Phillips also managed to give up five catches for 145 yards and two scores against the Browns in Week 17, but that kind of ball production is absurd on that small of a sample. With Cincinnati's original starting corner opposite William Jackson III, Trae Waynes, missing a good chunk of the year due to injury, Phillips has the opportunity to secure a starting role and possibly break out in 2020.
Takitaki was a run-stuffer at BYU, and it looked as if nothing had changed on his limited work last year, as he produced a 75.1 grade and eight run stops across 62 run-defense snaps. We still need to see a lot more from him in coverage, but Takitaki, who is set to take over a starting job this year, is bound to help Cleveland stop the run.
To say that Pollard might end up being a better option than Ezekiel Elliott within the next year or two isn't really a bold prediction. The 2019 fourth-round pick was the recipient of 86 carries last year, but he took far more advantage of the Cowboys' loaded offensive line than Elliott did. Pollard produced an 84.1 rushing grade on the year, playing through contact and breaking tackles at a level Elliott has never touched.
Pollard's 2019 season vs. Elliott's 2019 season
| | | |
| --- | --- | --- |
| Tony Pollard | | Ezekiel Elliott |
| 84.1 | PFF rushing grade | 82.8 |
| 4.5 | Yards after contact per attempt | 3.2 |
| 23.3% | % of runs with 5-plus yards after contact | 16.9% |
| 0.27 | Broken tackles per attempt | 0.16 |
| 14.0% | % of carries that went for 10-plus yards | 12.6% |
Pollard isn't likely to see more reps than he did last year, but if he replicates that production again in Year 2, I think Dallas will have a difficult decision to make. And this is all without mentioning that he also looks like he will bring significantly more value to the passing attack — Pollard earned a 72.1 receiving grade in 2019 while Elliott sat at 56.2.
We pegged Jones as more of a second-round talent than a third-round one, largely because of his down-for-down dominance in the Ohio State pass-rush. And he looked like he proved us right last year.
Jones finished his rookie campaign with a 70.3 pass-rush grade on 219 pass-rush reps, tying for the 19th-best at the position in the NFL. He also cracked the top-15 at the position in both pass-rush win rate and pressure rate generated.
He had some impressive reps against top-tier offensive linemen last year, from his new teammate Graham Glasgow to Indy's Quenton Nelson and Ryan Kelly. Denver's defensive front is already loaded with talent with edge duo Von Miller and Bradley Chubb as well as interior defensive linemen Shelby Harris and Jurrell Casey. If Jones is able to take his play to near-top-10 status in Year 2, Denver might join the conversation for having the best pass rush in the league.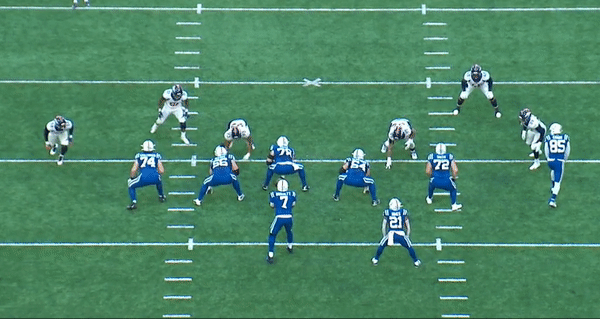 After an injury-riddled 2019 season, Hand is due for a breakout to perhaps top-10 status in 2020. The Lions interior defender got off to a hot start as a rookie in 2018 before having to finish the year on IR. He managed to get in 455 snaps on the year and produced a great 85.2 PFF grade (15th-best at the position), and he was also one of eight interior defensive linemen to produce 75.0-plus grades both against the run and as a pass-rusher. With a clean bill of health, Hand has the chance to produce at or near an elite level in 2020.
This breakout is a little bit different than others on this list. Alexander is already among the league's top outside cornerbacks, but he's not in the conversation as the best … yet. This year, he is a prime candidate to change that and join the NFL's elite in that conversation.
Alexander was a lockdown corner in college at Louisville. He allowed just 44 catches on 724 career cover snaps and was the fifth-highest-graded Power 5 cornerback in coverage in 2016.
He's shown flashes of that same play in his two years at the NFL but just hasn't done it on a consistent basis. Take the first half of 2019, for example, when he was the second-highest-graded cornerback through the first four weeks but then gave up 201 yards to Amari Cooper and Dallas in Week 5. Alexander can go toe-to-toe with some of the NFL's best route-runners — he's proven that several times when going up against the former Minnesota duo of Adam Thielen and Stefon Diggs — he just can't have those one or two games where he gets toasted from start to finish.
After a few years of middling play with the Raiders (63.8 career coverage grade with team), Conley revitalized his career with Houston in the back half of 2019. And while he struggled in his first game as a Texan, he played considerably well from there on out, earning a 70.6 coverage grade and leading the NFL in pass breakups (12) from Week 9 on. I wouldn't expect Conley to break out into the top-tier status and be considered one of the NFL's best cornerbacks, but he is capable of producing at a top-25 level with Houston in 2020 if, of course, he is able to return from IR early.
Campbell's rookie campaign was destroyed by injuries. The 2019 second-round pick was only able to see 23 targets, but he flashed his trademark dynamic play after the catch as he broke five tackles on 18 catches and averaged a respectable 6.1 yards after the catch per reception.
What made Campbell an early-round prospect in his class was the damage he can do on screens. Campbell was the highest-graded receiver in college football on screens in 2018, and he was second among Power 5 receivers in yards after the catch per reception, at 12.5. Campbell is now fully healthy for Indianapolis and ready to be a threat after the catch on underneath routes.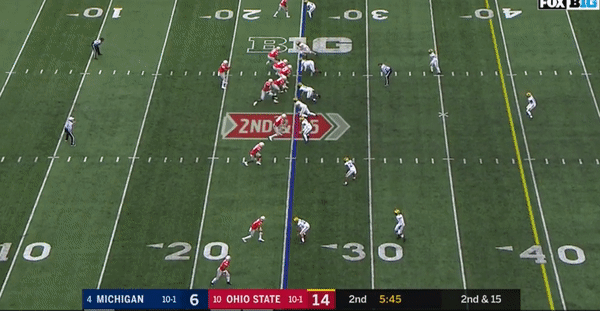 Allen had a strong rookie campaign — despite a midseason lull — finishing with a 70.2 pass-rush grade that tied for 37th of 100 qualifying edge rushers. He closed out the year with his best stretch of play yet. Over the course of the final four games, Allen was the fifth-highest-graded pass-rusher at the position and ranked second in win rate, at 22.9%. That stretch was very reminiscent of his final collegiate season at Kentucky when he was the most productive edge rusher in college football (94.4 pass-rush grade). Allen has undeniable burst and bend and can become one of the top young edge rushers in the league.
Fenton fared a lot better than most late Day 3 rookie cornerbacks tend to do. He logged 198 coverage snaps over the course of the season and produced a 74.4 coverage grade, which is great considering his lack of experience. Fenton is the likely starter opposite Charvarius Ward this year as a result. However, we should all take note that Fenton saw most of his reps in the slot last as opposed to the outside. He actually played only 41 snaps altogether on the outside, and 35 of those came in Week 17 against the Rams. While we should take that very limited sample cautiously, it's worth noting that he had his best game of the year that week. Fenton produced an 83.9 coverage grade and didn't allow a single catch on 28 coverage snaps.
It's far from a guarantee, but Fenton is the Chiefs' top breakout candidate this year. He is one of the under-the-radar players you should monitor throughout the campaign.
Mullen had one of the more underappreciated rookie seasons of 2019. Don't get me wrong, the 10 penalties he accumulated after being named the starter in Week 8 were a knock on him (tied for most in NFL), but he performed extremely well in press coverage as a first-year player. On 118 coverage snaps in press, Mullen allowed only three first downs and a 42.4 passer rating when targeted. His length comes in handy and also helps him win at the catch point (eight pass breakups in starts from Week 8 on, tied for fifth). Mullen is an extremely physical player (as you can see in the below against Courtland Sutton), but as I alluded to, that cost him last year. If Mullen knows his limits in 2020, he is bound to break out. But that's a big "if."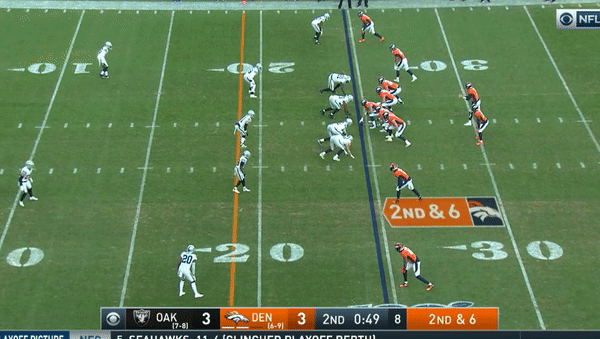 Darious Williams could be the next great UDFA story in the NFL this year. He had hardly seen the field in his NFL career until the final three weeks of his second season in 2019. And in that stretch, Williams shattered expectations. He produced an 88.8 coverage grade, allowing only seven catches on 98 cover snaps while intercepting two passes and breaking up another two. I've said this before, and I'm going to say it again: We should always take small samples like that with a grain of salt.
A breakout isn't guaranteed, but having those flashes certainly makes him a candidate in 2020. He reportedly lit up training camp by displaying that same playmaking ability. Williams should see significant time this year opposite of Jalen Ramsey, and he could possibly play in the slot when Troy Hill is on the outside. Similar to Chiefs cornerback Rashad Fenton mentioned above, Williams is an under-the-radar player to keep an eye on this year.
Safety Derwin James' injury forces the Chargers to do some shuffling, and that means Nasir Adderley is likely to start at safety. Adderley hardly saw the field in his rookie 2019 season (just 10 defensive snaps), but he shined in his lone preseason appearance with an interception and pass breakup en route to an 88.9 PFF grade.
More importantly, Adderley was a PFF darling throughout the draft process. He was our top safety and is the kind of player you want roaming around the middle of the field. He produced an 89.9 coverage grade while combining for 10 interceptions and pass breakups in his final year at Delaware. Granted, this was against FCS competition, but it was impressive nonetheless.
Outside of DeVante Parker, Miami is hurting at wide receiver. He is the only wideout on the roster with proven reliability, so the Dolphins need someone to step up. Williams, a 2019 UDFA, might be that guy. His rookie season started off better than most would in his scenario, as he produced a 69.4 receiving grade through Week 9 (tied for 45th) before an ACL tear ended his season.
With his 6-foot-4 frame, Williams isn't easy to beat on contested balls. In those situations, he caught 10 of 21 targets and ranked seventh in grade. If Williams can stay on the field and build rapport with Tua Tagovailoa — who will back up Ryan Fitzpatrick in Week 1 — at some point in the season, he could break out.
Hill enters the 2020 season as a likely starter for the Vikings after Trae Waynes, Xavier Rhodes and Mackensie Alexander departed this offseason. He has only three starts in his NFL career, but he exceeded expectations by posting coverage grades above 80.0 in two of the three outings. In his two years on the field, Hill has produced a 73.0 coverage grade on just over 300 coverage snaps. He's allowed under a yard per cover snap in that span, which is impressive for a former UDFA.
Some of his best work has come in tight coverage, where he brings physicality and allowed just two of 16 targets to be caught while forcing eight incompletions. Minnesota needs multiple of the young corners on its roster to step up in 2020, and Hill looks like he can fulfill that.
Wynn had an unfortunate start to his NFL career. The 2018 first-round pick suffered a torn Achilles in the preseason and then missed a good chunk of the 2019 season with a stint on IR. However, he still started nine games and produced promising results.
Wynn produced a 76.8 pass-block grade that ranked 23rd at the position. He allowed just a 4.6% pressure rate, which tied for 18th among tackles. Considering his prior injury and his NFL inexperience, that's pretty damn good. Now, imagine what he can do in his second year when fully healthy.
Anzalone didn't play much in 2019 due to injury after a solid year as a rotational player in 2018, but he's healthy now and ready for a breakout year in 2020. Back in 2018, he was a blitz weapon and a quick playmaker in coverage. He was the first defender to contact on 10.6% of his coverage snaps, the 10th-highest rate at the position. That helped Anzalone earn a 72.0 coverage grade. He'll take over a starting job as he returns from injury this year and looks to get back to building off a strong 2018 over the course of a full season.
Love is as versatile a secondary player as they come. He didn't see substantial action as a rookie in 2019 until Week 12 but played well while logging over 75 snaps in the box, in the slot and at deep safety. Love produced a 70.5 PFF grade in that span, ranking 26th among qualifying safeties. This year, Love is likely to stick at safety to start for the Giants, but don't rule him out at cornerback given the state of the unit. That's where Love spent his three-year career at Notre Dame and was one of the best at the position.
In his last season at Notre Dame, Love was the fourth-highest graded cornerback in the FBS on the outside, tying for eighth in forced incompletions (17). His size is a minor concern and he may not have blazing speed, but Love is still an incredibly smooth athlete with the ball skills to thrive on the outside if given the opportunity. Whether he plays there, nickel or deep, Love should have a decent Year 2 ahead with the experience he now has at every position.
As disappointing as his 2019 rookie season was, Williams is among the most likely breakouts given how great he was in college. He was strong against the run in Year 1, earning a 72.9 grade in that facet, but he struggled to make an impact as a pass-rusher. He recorded a lowly 5.7% pressure rate and 57.7 pass-rush grade in 2019. At Alabama in 2018, Williams ranked first in run-defense grade and tied for first in pass-rush grade, which paved the way for the highest PFF grade in the FBS at the position (96.0). He hasn't had that type of production at the NFL level, but he did prove he can beat up NFL-caliber interior offensive linemen in the SEC.
Arcega-Whiteside's first season in the NFL could not have gone much worse. He battled injuries and produced a lowly 52.6 receiving grade on his 19 targets while struggling against tight coverage — an area in which he excelled at Stanford. In 2018 with the Cardinal, Arcega-Whiteside produced the third-best receiving grade in the FBS against tight coverage and tied for the most contested catches ( 22). He was as strong as one can be at the catch point in college.
Assuming the injury played as big of a deal in his poor 2019 as it was reported to have, Arcega-Whiteside should get back to bodying defenders in contested situations in 2020.
Johnson has been high on several PFF analysts' radars dating back to his days at Toledo, and he showed glimpses in his 2019 rookie year (particularly down the stretch) that verify our projection of him. Four of his five best games of the year came in his final four games, and that led to him being the sixth-highest graded player at the position in that span.
He's tough to bring down after the catch, too; Johnson broke 18 tackles on 59 catches, tying for the most in the league with Deebo Samuel. If he keeps up his play from late in 2019, he's in line for a big 2020 campaign:
Diontae Johnson is a rookie.

PFF loved him coming out because he doesn't look like it.

Look at this release+hand placement. Absolutely SAUCES T White, who is an elite cornerback pic.twitter.com/BQZVWdGFqj

— Sam Monson (@PFF_Sam) December 16, 2019
Greenlaw surprised as a fifth-round rookie last year with how well he performed in Kwon Alexander's absence. He shined in coverage, posting a 72.6 grade in that facet throughout the 49ers' regular-season and postseason run (15th-best at the position). Greenlaw limits yards after the catch and has a clear nose for the ball. Including the postseason, he racked up 22 passing stops, which were the third-most at the position. He's already a top-25 linebacker in the NFL and is capable of skyrocketing up that list in Year 2.
We already had a taste of a Dissly breakout to start out 2019, but a torn Achilles in Week 6 derailed his campaign. Through the first five weeks of the season, Dissly looked like a premier tight end in the NFL. He had an 89.0 receiving grade (which, at the time, was the third-best in the NFL) and a 149.9 passer rating when targeted (ranked first at the time). Assuming he is back to full health for Week 1 this season and in the shape he was in to start 2019, Dissly is an easy breakout pick.
This Tampa Bay team is loaded with talented receivers in Mike Evans, Chris Godwin and Rob Gronkowski, but don't sleep on second-year receiver Scotty Miller. He was a separation-getter for Bowling Green a couple of years ago with his wheels and overall phenomenal athleticism. He had 25 explosive plays in which he had a step or more of separation in 2018, which tied for the eighth-most in the FBS.
Miller just gets open, and he proved that on a limited sample for the Bucs as a rookie. Over half of his non-screen targets were deemed open, which are targets where he has more than two steps on his nearest coverage defender. Miller should become another solid deep option in this potent passing attack.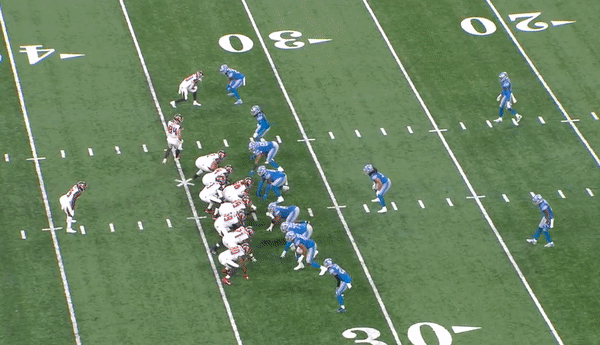 Simmons was a likely top-10 pick in the 2019 NFL Draft until he tore his ACL in the pre-draft process. Still, he was good enough to be our seventh-ranked prospect in the class, eventually going off the board at 19th overall. Some thought Simmons would take a redshirt in 2019, but he managed to return in Week 7 and went on to produce a 70.4 PFF grade in regular-season play.
His best work came against the run (75.3 grade), but his pass-rushing was wildly inconsistent. That wasn't an issue in his dominant 2018 campaign at Mississippi State where he managed to earn a 90.3 pass-rushing despite playing often at nose tackle. With the injury now behind him, Simmons will look to get back into that form at the NFL level, and we are confident he develops into the top-10 player in his class we pegged him to be.
Washington's linebacker unit is a true wildcard, but Kevin Pierre-Louis could help that with a late-career breakout year in 2020. He has been an NFL journeyman, playing a snap for four teams in six years in the league and never seeing ample time in any sizeable stretch until late in 2019 with the Chicago Bears. He entered in Week 4 for the Bears when injuries hit the unit and performed well by producing an 89.8 PFF grade.
He then logged only three snaps until seeing the field for 187 snaps over the final four games. In that span, Pierre-Louis was the league's highest-graded off-ball linebacker (89.3), as he was productive in coverage and as a blitz weapon. It's rare to see a player break out in Year 7, but Pierre-Louis might defy those odds, given what he showed last season.