The third and final week of the 2021 NFL preseason has arrived. This slate of games is important for nearly half the players on any NFL roster. All 32 NFL teams will have until Tuesday afternoon to cut their rosters down from 80 to 53, and there are plenty of players battling for a chance to stick around. And some performances this upcoming weekend will determine the starter at a position (e.g., Mac Jones).
From the rookies to the position battles to those vying for a roster spot, here's everything you need to know about the final week of the 2021 NFL preseason.

---
Click here for more PFF tools:
Fantasy Draft Kit | PFF Betting Dashboard | PFF Fantasy Rankings
PFF Fantasy Projections | NFL Premium Stats | Win Totals Tracker
---
Friday, Aug. 27 | 7:00 PM EST
Penei Sewell vs Kwity Paye: Sewell underwhelmed in his preseason debut at right tackle, and things got even worse this past weekend against the Steelers. Melvin Ingram III handled him, and the No. 7 overall pick finished with a 13.5 pass-block grade for the game across 13 such snaps.
This week, he may see a few reps against fellow first-round rookie Kwity Paye, who is coming off a decent debut in preseason Week 2. Paye notched a sack en route to an 82.9 PFF grade on 15 snaps. It's unclear how many reps Paye will see against Sewell, though, as went up against the left tackle on every snap last week.
Friday, Aug. 27 | 7:30 PM EST
Sam Darnold seeing extensive action for the first time: Darnold saw the field for the first time as a Panther last week but threw only a couple of passes. Head coach Matt Rhule said Darnold needed more work this upcoming week, and he will play the first half with the rest of the starters.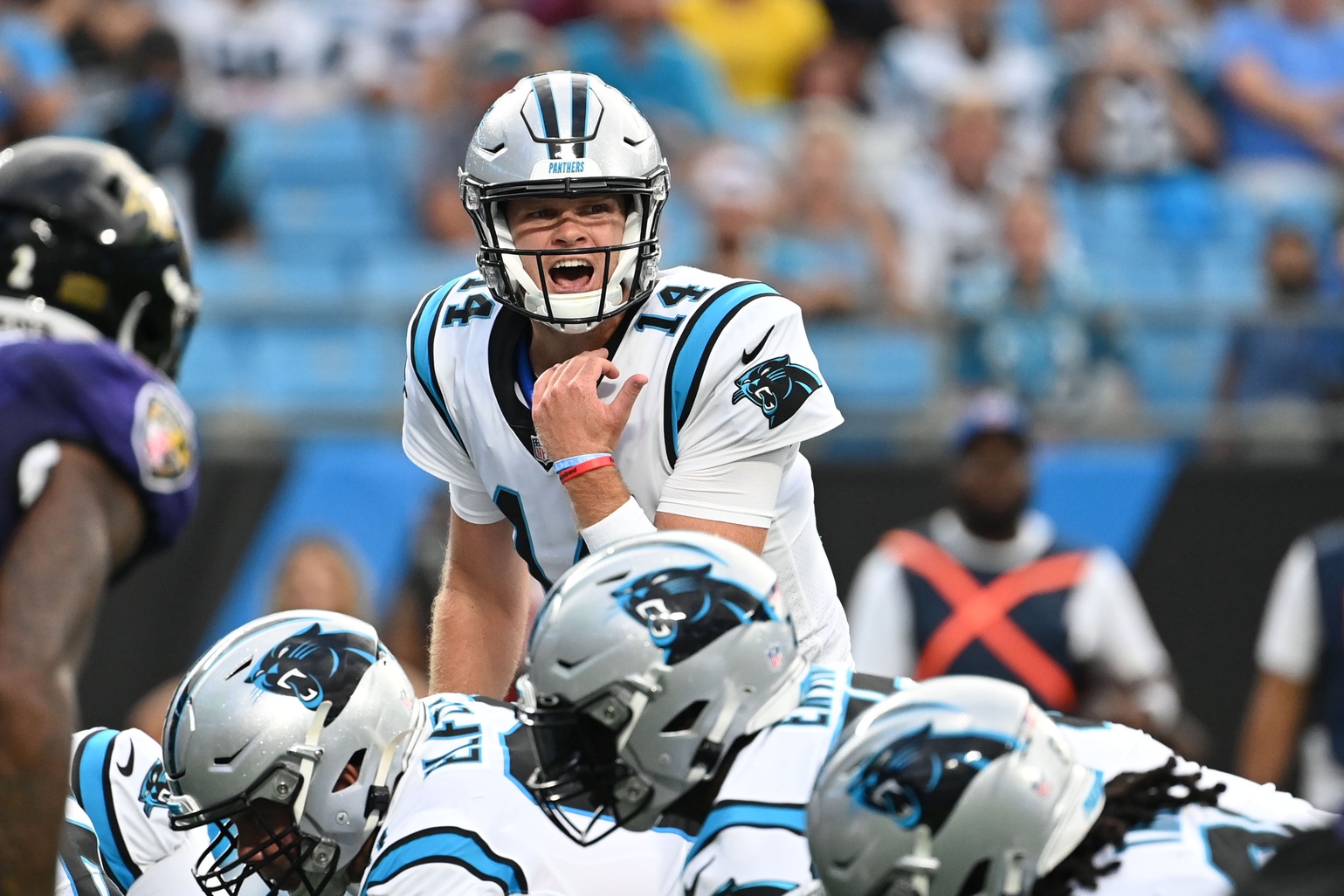 Opting to trade for Darnold this offseason while selecting cornerback Jaycee Horn over a quarterback was a risky move for the Panthers, to say the least. Since entering the league at the No. 3 pick in 2018, Darnold ranks second-to-last in passing grade, second-to-last in uncatchable pass rate on passes thrown beyond the line of scrimmage, fifth-to-last in turnover-worthy play rate and third-to-last in big-time throw rate. 
Friday, Aug. 27 | 7:30 PM EST
Zach Wilson continuing his run of success: Wilson has impressed on a small preseason sample thus far. He's coming off an 80.5 grade against the Packers, popping off for a couple of big-time throws — including one courtesy of a stellar off-platform throw that was reminiscent of his BYU days. We're only 20 preseason passes into Jones' NFL career, but it has been all high-quality to this point.
Friday, Aug. 27 | 8:00 PM EST | NFL Network
Bashaud Breeland facing his former team: Breeland spent the past two years in Kansas City before joining Minnesota this past summer as a free agent. He made his preseason debut last week against Indianapolis and provided hope for a shaky cornerback room.
Breeland allowed no catches on three targets, breaking up one. That led him to a 93.7 PFF grade across his 16 snaps. Now, he wants to play this Friday against his former team. After Breeland's performance last week, he said, "It's going to be bittersweet going on the other side, but I feel like it's going to be a great test for us."
DeAndre Baker's revival: The former first-round pick struggled as a rookie with the Giants in 2019 (48.4 PFF grade), dealt with off-field issues that led to his release, came to Kansas City late in 2020 and suffered a fractured femur in his lone game in Week 17.
Now healthy, Baker might just be turning the corner. Through two games of preseason action, he has played 59 snaps and allowed just one catch on nine targets with three pass breakups.
Saturday, Aug. 28 | 1:00 PM EST | NFL Network
Day 3 rookie pushing for starting spot on Packers offensive line: Green Bay took Ole Miss' Royce Newman — a 6-foot-6, 310-pound versatile lineman — in the fourth round of the 2021 NFL Draft. Needless to say, the team wasn't expecting much from him early on, but things have changed as of late. He has been a dominant force at guard in each of Green Bay's two preseason outings, earning an 85.9 PFF grade across 61 snaps.
Saturday, Aug. 28 | 6:00 PM EST
Rookie Odafe Oweh getting over in-game struggles: Oweh went from a training camp stud to a preseason dud. He has played 38 snaps through two games, recording a poor 38.6 PFF grade. He's generated only a couple of pressures, both of which were essentially handed to him in either unblocked or cleanup fashion. In fairness, Oweh was among the group of toolsy but raw edge defenders in the draft who would likely take time to develop.
Saturday, Aug. 28 | 7:00 PM EST | NFL Network
Justin Fields, the backup: Head coach Matt Nagy has said repeatedly since drafting Fields 11th overall that Andy Dalton is QB1 for the Bears, and he is sticking with that. In turn, Dalton won't play against the Titans, leaving Fields to play the entire first half for the Bears.
Fields has endured the highest pressure rate of any quarterback in the preseason (49% of dropbacks), but he's overcome that at times with his ability to make plays outside the pocket long after the snap. Fields' grade outside the pocket is the highest of any quarterback in the preseason. He has completed nine of 13 such pass attempts for 105 yards and a touchdown. He has also avoided sacks, taking just two sacks on 24 pressured dropbacks.
Elijah Molden building on an unreal debut: Some teams were concerned about the fact that Molden would likely be a slot-only player in the NFL. While that may be true, it's an undervalued position that requires a top-notch player.
Molden, who was taken at Pick No. 101, seemed like a shoo-in to be a talented slot corner in the NFL, hence the 35th ranking on PFF's Big Board. Based on what he did in his preseason debut last week, that seems to be the case. The former Washington Husky showcased his short-area quickness, physical tackling and instincts and earned a 90.3 PFF grade.
Saturday, Aug. 28 | 8:00 PM EST
Arizona turning a corner at cornerback?: The Cardinals seemed to have problems brewing at cornerback entering training camp, but they could have a couple of breakthrough players to ease the worry considerably.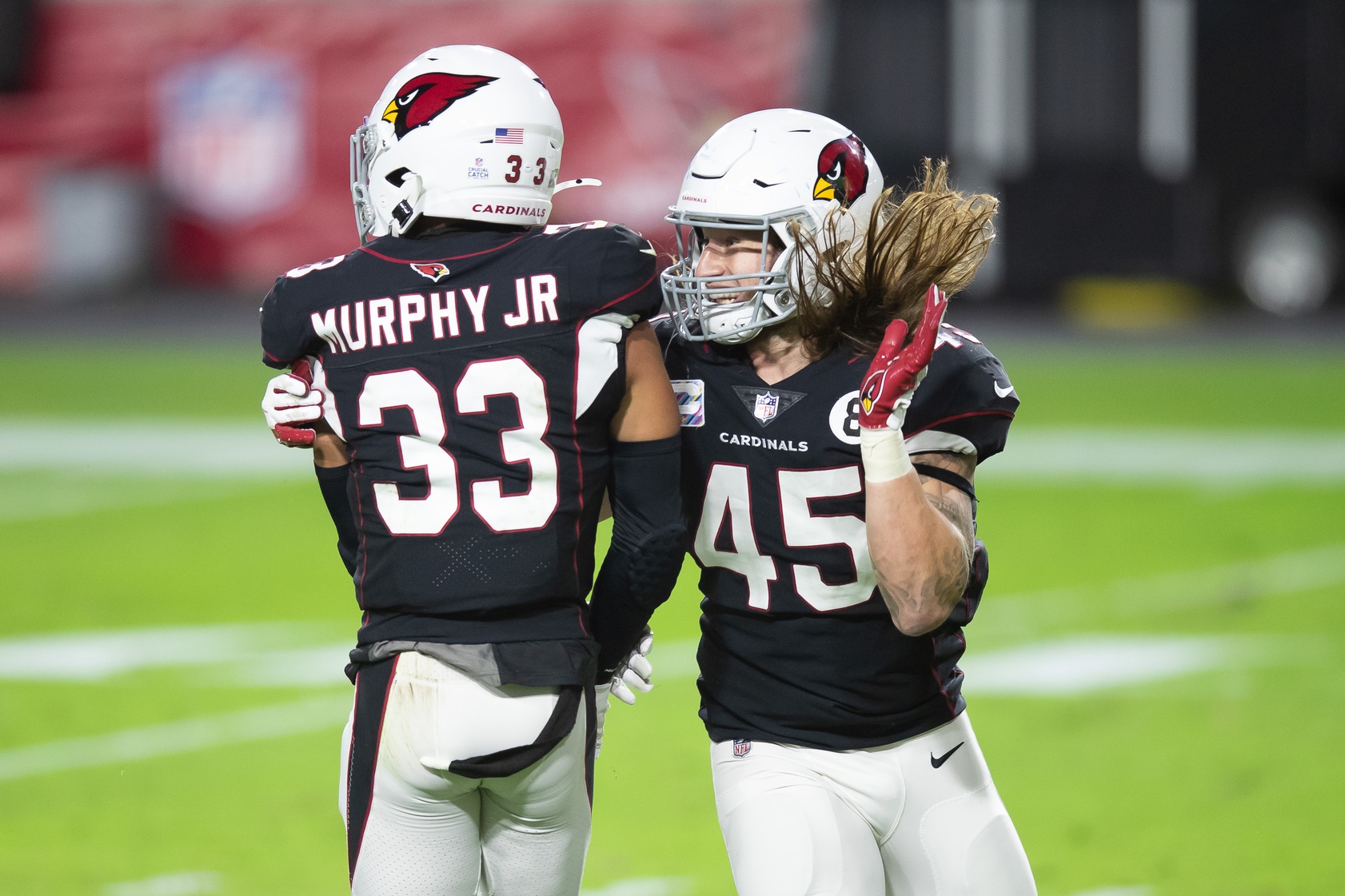 Byron Murphy Jr., the 33rd pick in 2019, and 2021 fourth-rounder Marco Wilson have both been stars of the team's preseason. Murphy has allowed just 12 yards on 21 coverage snaps with a pick and a pass breakup en route to a 93.6 coverage grade. Wilson has broken up as many passes as catches allowed (three) on 30 coverage snaps, leading to an 83.6 coverage grade.
As always, be cautious of the small sample success, but these two have looked significantly better than expected.
Saturday, Aug. 28 | 8:00 PM EST
Rookie Joe Tryon-Shoyinka carving out substantial role: Tryon-Shoyinka's potential is leading to rave reviews from Tampa Bay's fans, head coach and players. Veteran Jason Pierre-Paul called the first-round rookie a "difference-maker." Tryon-Shoyinka has earned a 74.3 pass-rush grade and a 21.3% win rate across his 28 rushes in the preseason.
Saturday, Aug. 28 | 9:05 PM EST
Jonathon Cooper's emergence: No rookie defender has posted a higher PFF grade in the preseason thus far than seventh-round pick Jonathon Cooper (91.6). His greatest strengths at Ohio State were winning with his hands battle and his move set. 
Cooper has won 30% of his rushes en route to a 91.3 pass-rush grade this preseason. While there are limitations to his game, he has more than earned a roster spot. Head coach Vic Fangio confirmed as much, and Cooper is expected to be a rotational piece.
Saturday, Aug. 28 | 10:00 PM EST | NFL Network
Jordyn Brooks possible breakout candidate: Brooks didn't put together an eye-popping rookie year in 2020. The first-round pick got better with his play against the run as the year went on but consistently struggled in coverage. He ended up finishing with a 50.0 PFF grade across 402 snaps. That level of play hasn't been the case in the preseason.
He has played 65 snaps in two games, shining en route to an 81.7 PFF grade. Brooks did make one mistake in coverage by allowing a 21-yard completion against Denver, but he's been assignment-sound otherwise. It's important not to overreact to a two-game sample — especially in the preseason — but so far, so good from Brooks.
Sunday, Aug. 29 | 1:00 PM EST | NFL Network
Trevor Lawrence and Urban Meyer getting over preseason woes: Things haven't gotten off to a good start in the first year of Urban Meyer's tenure in Jacksonville. The play calling has been less than ideal, and Trevor Lawrence hasn't stood out compared to the other rookie quarterbacks.
The No. 1 overall pick has still undoubtedly flashed the tools that made him the top selection — including arm strength and pocket presence — but it's been an underwhelming performance for the Jaguars' offense. With Lawrence on the field, the offense has generated -0.2 expected points added per play and a 32.7% success rate. Meanwhile, the quarterback has earned a 61.2 passing grade for his reps. 
Micah Parsons looking the part: PFF lead draft analyst Mike Renner called Parsons the best off-ball linebacker prospect since Luke Kuechly, and the rookie has been living up to the hype.
Through three games, Parsons has earned an elite 91.0 PFF grade across 43 snaps. He's defeating blocks, not looking out of place in coverage and making few mistakes overall. He looks far from a player who didn't play a down in 2020.
Sunday, Aug. 29 | 4:00 PM EST | CBS
Joe Burrow's return: Burrow will take the field for the first time since suffering a season-ending injury in Week 11 of his rookie campaign. Reports indicated that he struggled at times in training camp, and his slot receiver Tyler Boyd even said he was "kind of iffy on his knee" in practice a couple of weeks ago.
The 2020 No. 1 overall pick performed admirably last season, especially when throwing in rhythm to the short and intermediate levels of the field. He ranked sixth in passing grade on throws 19 yards or less downfield. 
Ja'Marr Chase has the yips … for now: The hype around Chase came from all levels of the football industry, myself included, but he hasn't quite lived up to it thus far in both training camp and the preseason.
Drops have reportedly plagued him in practice, and that was the case last weekend, too. Chase ran seven routes, saw three targets and dropped every single one. Not too long before that performance, he himself publicly acknowledged he needed to regain his mental strength. Cincinnati fans, it's not time to panic, even if these struggles carry over to Sunday's matchup against Miami. Remember, he still is the best wide receiver prospect PFF has ever evaluated.
Sunday, Aug. 29 | 4:00 PM EST | NFL Network
Trey Lance's inconsistencies: To see Lance this inconsistent as a passer through the first two preseason games comes as no surprise. He played in only one game in 2020 at North Dakota State and averaged under 20 passes per game over his career.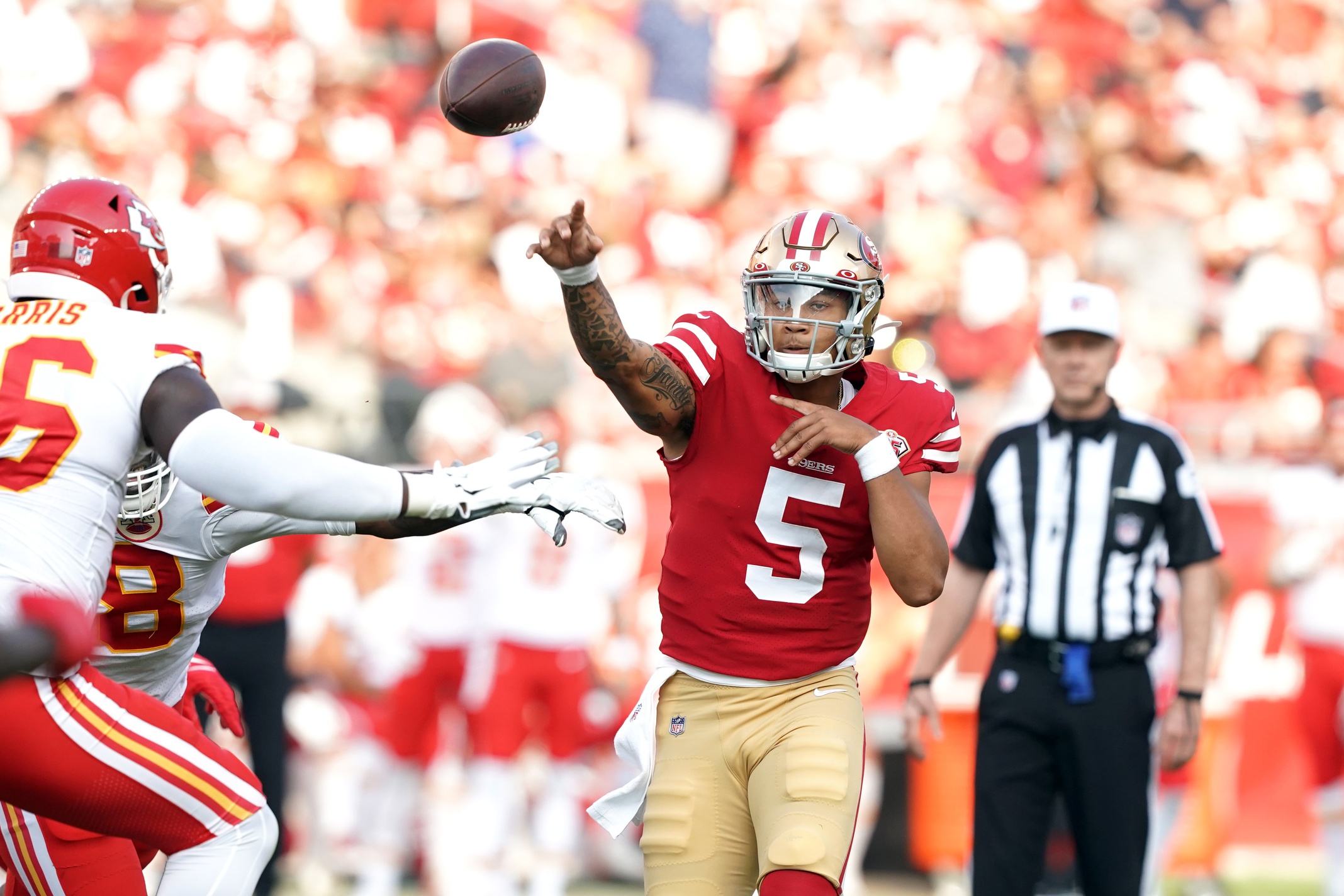 Lance has flashed elite arm strength as a 49er, but inaccuracy and poor decision-making have accompanied it. Lance ranks fifth-to-last in uncatchable pass rate (34.6%) and last in turnover-worthy plays (five) among quarterbacks in preseason action. If that continues, it's unlikely he will take on an early starting role this season.
Sunday, Aug. 29 | 6:00 PM EST | NFL Network
Mac Jones establishing himself as New England's starter: Jones has been precisely the same player for New England in the preseason as he was for Alabama: an accurate, clean and efficient passer.
He is coming off a 93.4 PFF grade in the second week of the preseason. That puts him on pace to beat Patrick Mahomes for the best preseason by a rookie quarterback since PFF began collecting such data in 2013. Head coach Bill Belichick said this week is big for Jones due to Cam Newton being out for most of practice due to COVID-19 protocols. If Jones sustains this level of play, it's hard imagining him not being the Week 1 starter.
Daniel Jones seeing the field for the first time in 2021: Head coach Joe Judge said he plans on Jones playing the first half against New England, which would be his first reps of the preseason.
The 2019 No. 6 overall pick is entering a pivotal Year 3 after showing modest growth in his sophomore campaign. Jones raised his 65.9 PFF grade as a rookie to 78.4 in 2020. He was more effective when throwing the deep ball but didn't do it enough due to play calling and an unwillingness at times. There were also still issues with his awareness in collapsing pockets. 
Sunday, Aug. 29 | 8:00 PM EST | NBC
Possibility of seeing new Falcon Josh Rosen: Backup A.J. McCarron suffered a season-ending injury in last week's preseason outing. Given the play of undrafted rookie quarterback Feleipe Franks thus far, Atlanta knew it needed to make another move to bolster the quarterback room.
In turn, the Falcons signed Rosen, who is now with his fifth NFL team after going 10th overall in the 2018 NFL Draft. Rosen may not even see the field this Sunday night due to how little time he has to prepare, but it's still a possibility. He will have the chance to turn around his career after earning a 46.2 passing grade thus far in regular-season action.