• Carolina Panthers quarterback Baker Mayfield fits perfectly with wide receivers D.J. Moore and Robbie Anderson according to one stat, can he still cash in big next offseason?
• Off-ball linebackers signed to big contracts have had a very rough stretch, can Chicago Bears linebacker Roquan Smith prove he's worth a top deal and then buck that trend?
• Marcus Davenport is one of the NFL's best pass rushers off the edge when healthy, a productive full season in 2022 could lead to a huge payday.
---
With Week 1 of NFL action right around the corner, the business of football takes a backseat for the next few months. Many teams outright refuse to negotiate in-season. Some clubs will continue to talk with players right up until kickoff in early September, and a few are open to ironing out contracts mid-year, but for many, there are just over two weeks left of deal-making in 2022. 
Some contract negotiations are still ongoing, most notably between the Baltimore Ravens and star quarterback Lamar Jackson. However, the writing is on the wall in other situations, with teams wanting to see more and have guys prove they're worthy of big-time extensions. We take a look at seven players heading into pivotal contract years in 2022.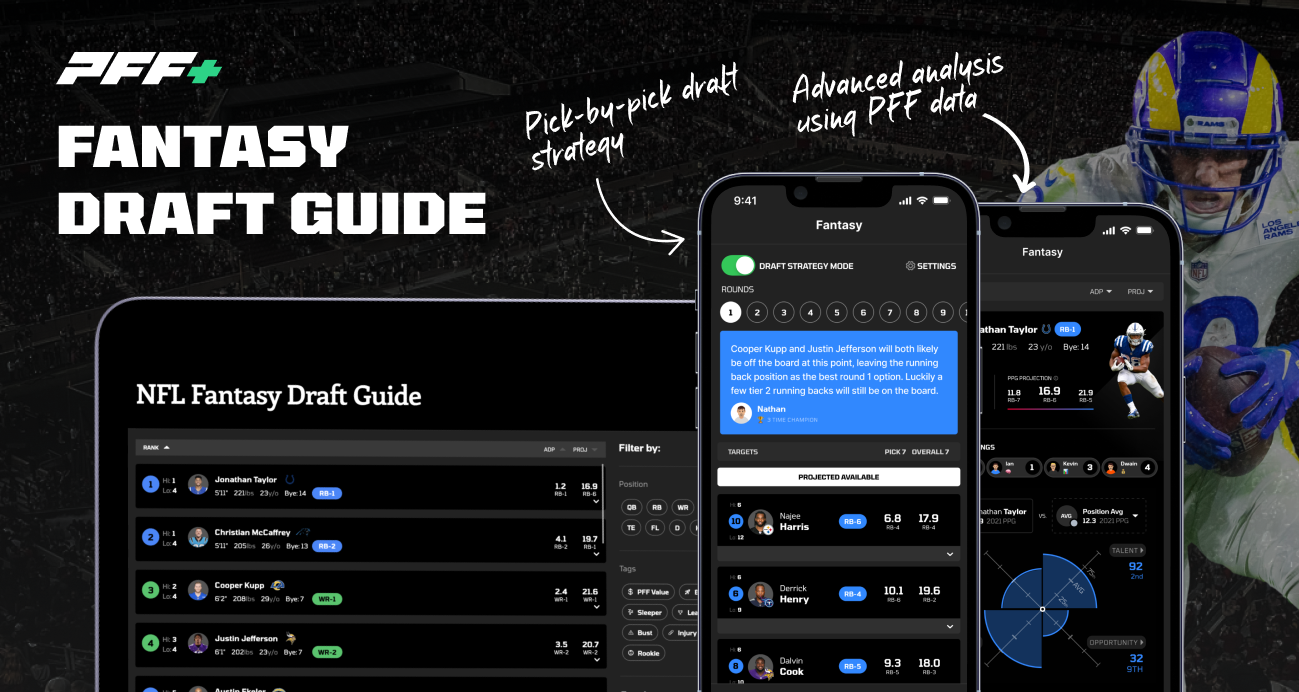 ---
The newly minted starter at quarterback for the Carolina Panthers, Mayfield gets another opportunity to prove he's deserving of a major multi-year extension. In his effort to join a new club this offseason, Mayfield sacrificed $3.5 million in salary — $4.6 million if counting the 17th game check he would've earned under the original contract. Fortunately, he can earn the $3.5 million back via incentives, and odds are if he does earn these lofty incentives he'll also be signing a nice new deal for 2023 and beyond. 
The incentives are as follows:
Baker Mayfield has a chance to earn back the $3.5M in salary he gave up as part of the trade to Carolina through a variety of incentives. They breakdown as follows: pic.twitter.com/EBDuSYKO7h

— Field Yates (@FieldYates) July 19, 2022
The quarterback carousel goes 'round and 'round every offseason, and Mayfield still has control over his football future. If he does hit some of these incentives, he'd be right back in the driver's seat, because it will take a great team offense and/or winning percentage to attain them.
Among quarterbacks with at least 100 passing attempts in each season since 2018, Mayfield has never even finished in the top 25 in completion percentage — much less top 10 — so that individual incentive seems quite unlikely in an offense he's been playing in for a month. Completion percentage isn't everything, though, with Buffalo Bills quarterback Josh Allen ranking 49th since 2018 and another former No. 1 overall pick in New Orleans Saints quarterback Jameis Winston ranking 54th, one spot ahead of Mayfield. 
Mayfield's 117 big-time throws over the four-year span rank fifth among quarterbacks, and working in his favor in Carolina is the wide receiver tandem of D.J. Moore and Robbie Anderson. Since 2018, both receivers rank in the top 10 in targets coming 10-plus yards downfield. This could be the key to a breakthrough for both Mayfield and the Panthers in 2022.
---
The No. 2 overall pick in the 2018 NFL Draft, Barkley burst onto the scene with a remarkable rookie campaign after a highlight-reel-filled final season at Penn State. Unfortunately, he's essentially matched his rookie year totals in the three years since combined.
| | | | | | | |
| --- | --- | --- | --- | --- | --- | --- |
| Years | Rush Yds | Explosive Rushes | Rec. Grade | Yds After Catch | Missed Tackles Forced | WAR |
| 2018 | 1,307 | 31 | 86.3 | 787 | 31 | .21 |
| 2019-21 | 1,630 | 37 | 52.3 | 804 | 21 | .21 |
Injuries, a bad offensive line with poor play calling and a propensity to bounce outside too often has led to a decline in efficiency and overall production. All of that said, Barkley is healthy entering his fifth-year option season and still exhibits flashes of the dynamic playmaking ability that made him the highest-drafted player at the position since Reggie Bush in 2006. 
PFF's projected stat line below looks a lot more like 2018 than 2019-21, and the Giants now have one of the more coveted offensive play callers in new head coach Brian Daboll with an offensive line that now includes Alabama tackle Evan Neal, selected with the No. 7 overall pick in this year's draft. 
PFF projected 2022 stat line: 1,121.8 rushing yards, 9.9 rushing touchdowns, 40.5 receptions, 271.0 receiving yards, 1.3 receiving touchdowns
Barkley may no longer be able to top Christian McCaffrey's $16.015 million per year deal, which was presumably a goal at one point — especially with the running back market experiencing contraction since then — but he'll still be just 25 years old through the 2022 season. Improving upon recent contracts for former highly drafted running backs like Tampa Bay's Leonard Fournette could help bolster a non-existent second-tier market at the position. 
There are no veteran running backs currently making between $7 million and $12 million per year, with a huge drop-off after the top of the market. At the least, Barkley can hope to fill this void, and at best, he can try to join the upper echelon off a monster campaign.
---
Another player who has battled injuries over the course of his rookie contract after a strong debut season, Chubb played fewer than 300 snaps in 2019 and 2021. On the other hand, he amassed 57 quarterback pressures in each of his two full seasons and 19.5 sacks in total. 
His career trajectory is akin to that of 2015 No. 3 overall pick edge defender Dante Fowler Jr., who capitalized on a strong fifth season after a slow start to his career as a result of tearing his ACL before his first-ever NFL snap. 
| | | | | | | |
| --- | --- | --- | --- | --- | --- | --- |
| Player | Snaps Per Season | Pass-Rush Win % | QB Pressures | Sacks | Run-Stop % | WAR |
| Bradley Chubb | 521.5 | 15.6% | 134 | 20.5 | 7.9% | .07 |
| Fowler Years 1-4 | 402.5 | 11.6% | 115 | 16 | 6.7% | -.05 |
| Fowler Year 5 | 880 | 13.4% | 67 | 11.5 | 6.7% | .17 |
After Fowler's breakout 2019 season, he signed a three-year, $45 million contract with the Atlanta Falcons in free agency. In hindsight, some of his boosted production likely had to do with playing alongside Aaron Donald, but he nevertheless logged 880 snaps in the regular season — more than double his average over his first four years — and was more efficient as a pass-rusher across the board. 
Chubb has been a better player thus far in his career as compared to Fowler over his first four seasons, with his 74.4 pass-rush grade comfortably outpacing Fowler's 66.3 mark. A big 2022 campaign could lead to an even better contract outcome. 
Denver signed edge defender Randy Gregory to a five-year, $70 million contract as a free agent this offseason, which may seem as though it would work against Chubb staying with the Broncos, but Gregory has never played 500 snaps in a season throughout his entire career. He earned an 84.7 pass-rush grade in 2021 with a 16.2% pass-rush win rate and cashed in, selling Denver on continued growth and high-level production. Chubb can certainly do the same, whether that's with the team that drafted him or elsewhere.
---
Less than two weeks after requesting a trade in a lengthy statement that claimed the new Bears front office "doesn't value" him and "refused to negotiate in good faith," Smith is back at practice with extension negotiations off until after the 2022 season. Smith told reporters he thought the negotiation process was "very distasteful" and talks "didn't go far." 
Smith was seeking to become the highest-paid off-ball linebacker in the NFL, well above the $19.7 million per year deal the Indianapolis Colts' Shaquille Leonard signed in 2021. Obviously, Chicago did not agree with that valuation, and the two sides were unable to find common ground. According to The Athletic's Jeff Howe, executives with eight other clubs unanimously stated Smith is a good, but not great player, and they don't believe he is worthy of the contract he sought. 
While Smith displays rare sideline-to-sideline athleticism and plus ability in coverage, the data certainly backs up the belief among NFL executives that he's not quite on the level of Leonard or San Francisco 49ers linebacker Fred Warner, the highest-paid players at the position currently:
| | | | | |
| --- | --- | --- | --- | --- |
| Player | Run-Defense Grade | Neg. graded Run Play % | Coverage Grade | Forced Incompletion % |
| Roquan Smith | 33.0 | 20.2% | 78.7 | 4.2% |
| Shaquille Leonard | 89.5 | 12.0% | 81.5 | 4.9% |
| Fred Warner | 66.8 | 13.2% | 90.8 | 8.1% |
Instead, Smith will play on his fifth-year option for $9.735 million in 2022 and then potentially be subject to a franchise tag for 2023 that is currently projected around $18.3 million, according to Over The Cap.
If he does want $20 million per year or more, Smith has to prove he's worthy of a deal that — at the moment — would make him the sixth-highest-paid edge defender in the NFL, which seems like quite a tall ask. The timing here with Leonard and Warner exploding the off-ball linebacker market to new heights made this a huge challenge for Chicago. On top of those challenges, the attrition for top-paid off-ball linebackers has also been disastrous in recent years. 
From 2017-20, 12 off-ball linebackers signed multi-year deals for more than $10 million annually: 
None played out the full contract

One player reached the third year of the deal (Alec Ogletree), and that was only after he was traded by the team that signed him to the deal just one year later
---
The sure-handed tight end out of Alabama was on a strong trajectory to begin his NFL career, earning a 75.4 receiving grade in his sophomore 2020 season — a top-15 mark among tight ends — with his 12.2 yards per reception ranking 10th. Smith started out stuck behind Kyle Rudolph and Tyler Conklin on the depth chart at tight end, fighting for snaps and targets, but was soon too good to keep on the bench. 
Minnesota felt comfortable moving on from Rudolph after 2020, but Smith tore his meniscus shortly before the 2021 season and missed the entire year, a crushing blow to a player who had generated a ton of buzz in camp. Now in 2022, with Conklin a member of the New York Jets, the tight end job is squarely Smith's.
Becoming the consistent No. 3 receiving option in the Vikings' offense behind wide receivers Justin Jefferson and Adam Thielen is entirely within reach, and that could completely shift the narrative back to a positive one, with a thumb surgery earlier this offseason supposedly not an issue for Smith's Week 1 availability.
Smith will be just 25 years old for the entirety of the 2023 season, and we've seen tight ends with limited production, such as the Cleveland Browns' David Njoku and the Tennessee Titans' Jonnu Smith, cash in big time in recent years. A big 2022 campaign as a receiver and blocker in new head coach Kevin O'Connell's offense would make a substantial second contract entirely possible for Smith.
PFF projected 2022 stat line: 48 receptions, 578.6 receiving yards, 4.3 receiving touchdowns
---
After the remarkable run of wide receiver contracts handed out this offseason, Chark suddenly becomes the last man standing and arguably the best pending free agent wide receiver across the NFL after signing a one-year, $10 million flier with the Detroit Lions. Chark and his camp's decision to go the short-term contract route after missing most of the 2021 campaign to injury has aged well, and with a productive year potentially serving as the No. 1 option in Detroit, the 25-year-old could still cash in big on a multi-year deal. 
Over the 2019-20 seasons, Chark's 23 contested catches and 13.3-yard average depth of target ranked 18th among wide receivers, with his 27.7% deep target percentage (targets 20-plus yards downfield) ranking seventh. He's a big play waiting to happen and stretches opposing defenses vertically on every snap. 
At 6-foot-4, the former return man for LSU ran a 4.34-second 40-yard dash, and his 40-inch vertical jump and 10-foot-9 broad jump also ranked above the 90th percentile among wide receivers. Chark simply has physical abilities other guys never will, and if he can stay healthy and productive for a full season, he'll look to be paid accordingly. 
PFF projected 2022 stat line: 66 receptions, 893 receiving yards, 6.1 receiving touchdowns, 9.4 rushing yards, 0.1 rushing touchdowns
---
Davenport's 20.8% pass-rush win rate ranked fifth among edge defenders in 2021, and he's now finished in the top 20 in three straight seasons. Unfortunately, he's played over 500 snaps in a season just once thus far in his career, dealing with injuries to his feet and shoulder and, most recently, having part of his left pinky finger amputated this offseason. 
His love of the game cannot be questioned, and whenever he does play, he's a total difference-maker. It's just a matter of whether his body can hold up for a full 17-game season. Davenport is in position to cash in like the aforementioned Randy Gregory this offseason, though he's put more good film on tape over the past few years and will be just 26 after the season, whereas Gregory will soon be 30 years old.
He really doesn't have to prove he's a great football player, and it must be frustrating for Davenport and the Saints — who traded up in the first round to select the UTSA product in 2018 — that he hasn't been able to put together a full season. If he does, watch out for this great New Orleans defense to become even better, and for Davenport to become a very rich man in the near future.