Offensive schemes in football ebb and flow from year to year, adapting along with the game itself.
The NFL is in the midst of the outside zone revolution. The horizontally stretching runs and play-action shots dominate the current NFL landscape, but that's not the only scheme teams are running.
Dive into each NFL team's offensive scheme below to see how they may dissect defenses in 2021.
ARZ | ATL | BLT | BUF | CAR | CIN | CHI | CLE | DEN | DAL | DET | GB | HOU | IND | JAX | KC | LVR | LAC | LAR | MIA | MIN | NE | NO | NYG | NYJ | PHI | PIT | SF | SEA | TB | TEN | WFT
2020 Pass Efficiency Rank: 18
2020 Rush Efficiency Rank: 6
Cardinals head coach Kliff Kingsbury is sticking to his Air Raid roots, and we can see that in his heavy use of 10 personnel (one running back, four receivers). He's run just over 25% of the team's snaps in that personnel grouping over the past two seasons. The NFL average is 2.5%.
Arizona tries to stay as spread out as possible, plays with fast tempo by not moving its receivers to different positions, gets all five eligibles out in the route and then throws hitch routes every play. Kingsbury decided to cut down on some of his tried-and-true Air Raid principles after his first season in charge, and it led to better efficiency with a second-year quarterback at the helm.
The spread could lead to the Cardinals running the ball at a relatively efficient rate by creating bigger running lanes, but getting into bigger personnel sets and formations to run deeper play-action concepts might be the key in 2021.
2020 Pass Efficiency Rank: 14
2020 Rush Efficiency Rank: 26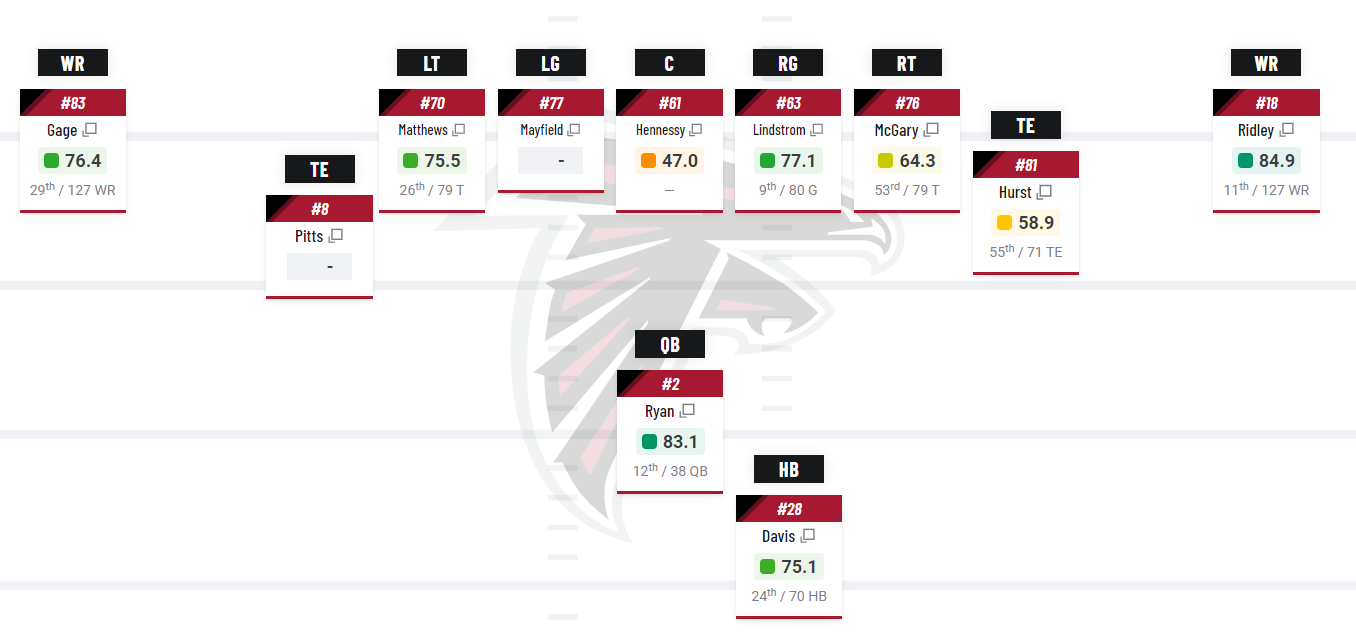 From a macro perspective, new head coach and play caller Arthur Smith will look to install a similar offense to the Kyle Shanahan attack that took the Falcons to the Super Bowl at the end of the 2016 season, but there are some differences.
Smith, like Shanahan, bases his offense around outside zone and the play action surrounding it. Smith's offenses have been great at it, producing the most expected points added per play over the past two seasons when handing it off on that scheme and the second-most EPA per play when showing that look and pulling the ball for play action.
However, unlike Shanahan, Smith's changeup is the downhill duo run that his Titans offense used on 19% of its runs last season. It worked with Derrick Henry, a big back who can jump cut, so it remains to be seen whether it can work with a different runner. Also, finding a spot for tight end Kyle Pitts where he's not asked to be a primary blocker in a system that has used tight ends like that will be important.
2020 Pass Efficiency Rank: 19
2020 Rush Efficiency Rank: 1
It really shouldn't be understated how the Ravens built an entirely unique offense for their star quarterback, Lamar Jackson. From offensive coordinator Greg Roman's perspective, there are certainly things to improve, but that doesn't make this offense any less unusual.
This is for all intents and purposes an option offense. Over the past two regular seasons, the Ravens have led the league in quarterback-designed runs or option runs, calling 184 more such plays than second-place Arizona. They have run more snaps with a pistol backfield than the rest of the league combined. They also aren't a spread-option team like we'd see in college. They play with heavy personnel groupings, ranking first in 22 personnel rate (two backs, two tight ends), second in 21 personnel rate (two backs, three receivers) and fourth in 21 personnel rate (two backs, one tight end).
The Ravens are trying to pack defenses in to create space for Jackson on the outside.
2020 Pass Efficiency Rank: 4
2020 Rush Efficiency Rank: 28
Offensive coordinator Brian Daboll has created the perfect attack for quarterback Josh Allen to flourish in. And as Allen has taken his game to the next level, the offense has taken off.
This team ranked 30th over 2018 and 2019 in EPA per play. Their run to the conference final in 2020 saw them place fifth in the same category. Daboll has completely done away with any route stops over the middle of the field and relies on deep crossing routes that allow his receivers to run away from coverage on longer developing routes.
Like most teams, the Bills are a heavy user of 11 personnel (one running back, one tight end), but their quirk is how often they play their tight end as a pseudo fullback or H-back. Buffalo ran the fifth-most formations that we chart as "two-back" in the regular season, even without having a real fullback like the teams (Patriots, Vikings, 49ers, Ravens) ahead of them. They can create some deeper play-action concepts.
2020 Pass Efficiency Rank: 21
2020 Rush Efficiency Rank: 15
Offensive coordinator Joe Brady came to Carolina from LSU, where they did only a few things — but very well. There was going to be a question of whether that could work in the NFL, but Brady went the other way. He adapted his offense, maybe getting back to his Saints roots, and showed more complexity last season.
The Panthers ranked 20th in shotgun rate despite Brady playing almost every snap in the gun with Joe Burrow in 2019. They slotted in at 20th in 11 personnel rate (one back, one tight end), even though that's what Brady's offense mainly played out of in 2019. He stopped calling trips formations at a high rate, as well. All of this is to say that Brady has shown he can adapt to his surroundings, and he should be able to fit new quarterback Sam Darnold into the right system.
2020 Pass Efficiency Rank: 23
2020 Rush Efficiency Rank: 17
If we go with the assumption that Justin Fields is the starting quarterback, it would be reasonable to expect the Bears to look somewhat similar to how they played last year rather than in years prior. Chicago was a heavy RPO, inside zone team in 2019 but moved, like the rest of the league, to an outside zone-based system.
That horizontal stretch run play made up 24% of the Bears' rushing offense in 2019, but 48% last year. That means their RPO rate fell five percentage points and their shotgun rate dropped 11 percentage points for them to try to stretch teams out with the outside zone play and then boot off of it. That suits Fields well, as he ran similar plays at Ohio State and the play action will allow him to use his strong arm to uncork deep post routes, among others.
2020 Pass Efficiency Rank: 25
2020 Rush Efficiency Rank: 27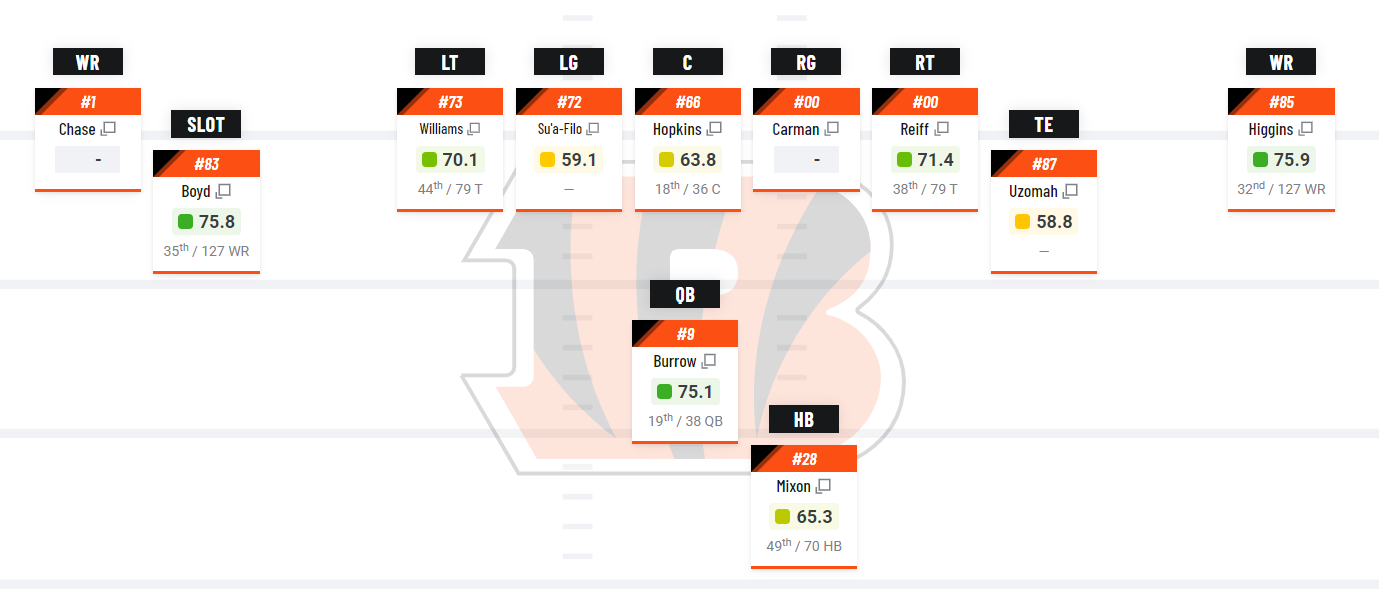 Head coach Zac Taylor didn't have to adapt his offense too much after the team drafted quarterback Joe Burrow last season. This was already a shotgun-based, 11 personnel-heavy (one running back, one tight end) attack that was generally based out of having two receivers on each side of the formation in 2019, and that is what it was in 2020.
The Bengals were just better because Burrow was better. Before he suffered a season-ending knee injury in Week 10, the offense ranked 22nd in EPA per play (.016), a jump from 29th and -.124 last season. Incorporating more RPO, considering how much shotgun the Bengals use, could prove necessary next year. They ranked just 21st in RPO rate when Burrow was injured. They also should see their use of 3×1 formations, 24th in the league last year, increase with the addition of Ja'Marr Chase at the "X" receiver position.
2020 Pass Efficiency Rank: 7
2020 Rush Efficiency Rank: 13
Head coach Kevin Stefanski took over the Browns' offense last season, and it promptly went to the moon. The former Minnesota Vikings offensive coordinator was given the 21st-ranked offense in 2019, according to EPA per play, and improved the unit all the way to 10th.
With his heavy outside zone scheme that stretches defenses horizontally, he was able to put together a good running game that finished 13th in EPA per rush. But more importantly, it created big opportunities off play action, where the Browns ranked ninth in EPA per play. It will be interesting to see if Cleveland comes off this blueprint and lets quarterback Baker Mayfield drop back and sling it more. The offense ran the ball at the fourth-highest rate in the league last season and called play action at the seventh-highest rate.
Mayfield's passing grade without play action placed him at only 13th in the league last season, so another season of easing him into some throws might be in the cards.
2020 Pass Efficiency Rank: 24
2020 Rush Efficiency Rank: 7
The Cowboys' scheme should be to let Dak Prescott do whatever he pleases. Put him in the shotgun, let him deal with the protection calls and then he can prosper.
Dallas doesn't need to change much from last season before Prescott went down for the season. They are a big trips formation team, putting together the fourth-highest rate in the league last year, which fits their personnel to a tee. Michael Gallup is the isolated X receiver, and a very underrated one at that. CeeDee Lamb lined up in the slot, and Amari Cooper is the "wide side" Z receiver.
With a quarterback as good as Prescott, it's not the end of the world if the Cowboys aren't running all the trendy offensive shenanigans — such as outside zone and play action. Just let Dak do his thing.  
2020 Pass Efficiency Rank: 28
2020 Rush Efficiency Rank: 18
The Broncos are going to have to find a way to hide Drew Lock as much as possible and keep everything to the outside if he ends up starting again in 2021. This is where they already had to adapt their offense in 2020, so continuing that and making sure Lock doesn't have to throw intermediate passes over the middle of the field is important.
Denver finished second last year in deep throw rate. The team needs to keep that up. If Teddy Bridgewater is the quarterback, the Broncos will need to convince him to throw the ball downfield, the complete opposite. They will also have to start targeting more routes in motion. Lock had trouble throwing to receivers on the move, and that needs to change. 
2020 Pass Efficiency Rank: 16
2020 Rush Efficiency Rank: 25
The Lions were generally one of more pass-heavy teams during the Matthew Stafford era, but don't expect that to continue in the Jared Goff-Dan Campbell-Anthony Lynn era.
Lynn's Chargers teams threw the ball a lot, but that was with quarterback Philip Rivers. In Lynn's one year coordinating the Bills' offense in 2016, the unit ranked almost dead last in pass rate. The combination of Dan Campbell, who may surprise, and a quarterback who has had success in a run-first offense means that the Lions should try to emulate whatever Sean McVay did in Los Angeles.
That 2016 Bills team was a heavy pulling team, as it finished in the top 10 in both counter and power usage. That was a long time ago in the football world, though, so getting into the heavy outside zone scheme might keep Goff ticking.
2020 Pass Efficiency Rank: 1
2020 Rush Efficiency Rank: 12
The Packers, under Matt LaFleur, incorporated all the trappings of the so-called modern NFL offense and paired that with a Hall of Fame quarterback to put up monster numbers last season.
They ran pre-snap motion at the sixth-highest rate in the league for both the purpose of undressing defensive coverage but also to run a lot of jet sweeps. The Packers finished second in RPO rate, too, although most of those were screens — easy ways to get the ball into Davante Adams' hands.
He was tied for fourth in screen targets among receivers. The passing concepts stayed wide. Green Bay cut down on routes over the middle and used Aaron Rodgers' elite speed release to continually hit out routes and go balls. If Jordan Love is the quarterback in 2021, maybe a heavy dose of under-center outside zone runs and bootlegs will go a long way to helping him settle in at the NFL level. 
2020 Pass Efficiency Rank: 6
2020 Rush Efficiency Rank: 31
Tim Kelly remains Houston's offensive coordinator under new head coach David Culley. The offense might have to change drastically depending on who is playing quarterback.
With Tyrod Taylor or Davis Mills starting, Kelly will have to help out his signal-caller much more. The Texans are not going to get away with living in five-man protections and having their quarterback bail them out. They'll probably end using the shotgun less, which will eliminate the quarterback runs that they likely won't be able to call anyway.
Houston's inside zone run scheme might have to change because of the potential quarterback change. The team ranked first in inside zone rate last season, so a more diverse run game would help. 
2020 Pass Efficiency Rank: 9
2020 Rush Efficiency Rank: 16
Head coach Frank Reich will look to run it back with Carson Wentz, his quarterback in Philadelphia when he was offensive coordinator there. That 2017 offense featured a lot of spread concepts, with the Eagles showing the eighth-highest rate of 11 personnel (one back, one tight end) in the league, the fourth-highest rate of shotgun snaps and the second-highest rate of RPOs. That was all while being relatively static, using the 25th highest rate of pre-snap motion in the league.
As a team, the Eagles tallied the second-most rushes that were either quarterback-designed or had some sort of option element to them. Reich can certainly get back to all of these types of concepts, even with an older Wentz, to get the ball rolling a bit and make his quarterback comfortable.
2020 Pass Efficiency Rank: 30
2020 Rush Efficiency Rank: 9
We can expect offensive coordinator Darrell Bevell and quarterbacks coach Brian Schottenheimer to ease Trevor Lawrence into his NFL career with a lot of play action. It will be interesting to see if they play fake in order to boot him to the sideline or keep him in the pocket. Schottenheimer's offense in Seattle used more boots for the diminutive Russell Wilson, while Bevell had Matthew Stafford stay in the pocket in Detroit.
Lawrence is more like Stafford but has an uncanny ability to contort his body to get off passes while moving, so play-action boots might be in order. We'll see a lot of sideline throws from the team, as well, playing off Lawrence's biggest strengths: his ability to stretch the field sideline to sideline with his arm.
2020 Pass Efficiency Rank: 2
2020 Rush Efficiency Rank: 19
The Chiefs' passing scheme is often based upon creating a weakside triangle by placing tight end Travis Kelce as the isolated receiver on the backside of trips formation, having Tyreek Hill as the innermost slot receiver and releasing the running back to the weak side.
Kansas City used a trips formation with the tight end isolated on the back side more than anyone else in the league by far. That formation made up 18% of the team's offense. It's a pick-your-poison affair with two of the top players at their position creating high/lows and side-to-side stretches on defenders. Oh, and the Chiefs also have Patrick Mahomes. They were the No. 1 RPO team from an overall usage perspective in 2020. And on post-snap RPOs, Mahomes pulled to throw downfield routes more than anyone else. When he pulled the ball to throw, the team gained .482 EPA per play.
2020 Pass Efficiency Rank: 13
2020 Rush Efficiency Rank: 10
You can still find old-school tenets in head coach Jon Gruden's current offense. The motion rate is high like any good West Coast offense, but he still loves to work from under center and without RPOs. The Raiders' play-action usage is just below average, but importantly, their deep pass rate took a sudden shift in 2020. The two years prior, Las Vegas quarterbacks threw the 28th-highest rate of deep passes in each year. We made jokes. They heard us.
In 2020, Las Vegas quarterbacks threw the ninth-highest rate of deep passes. Gruden's scheme and quarterback Derek Carr's accuracy have helped Raiders receivers produce the second- and fifth-highest yards after the catch per reception marks the past two seasons, respectively. The running game features a heavy dose of inside zone split. 
2020 Pass Efficiency Rank: 8
2020 Rush Efficiency Rank: 29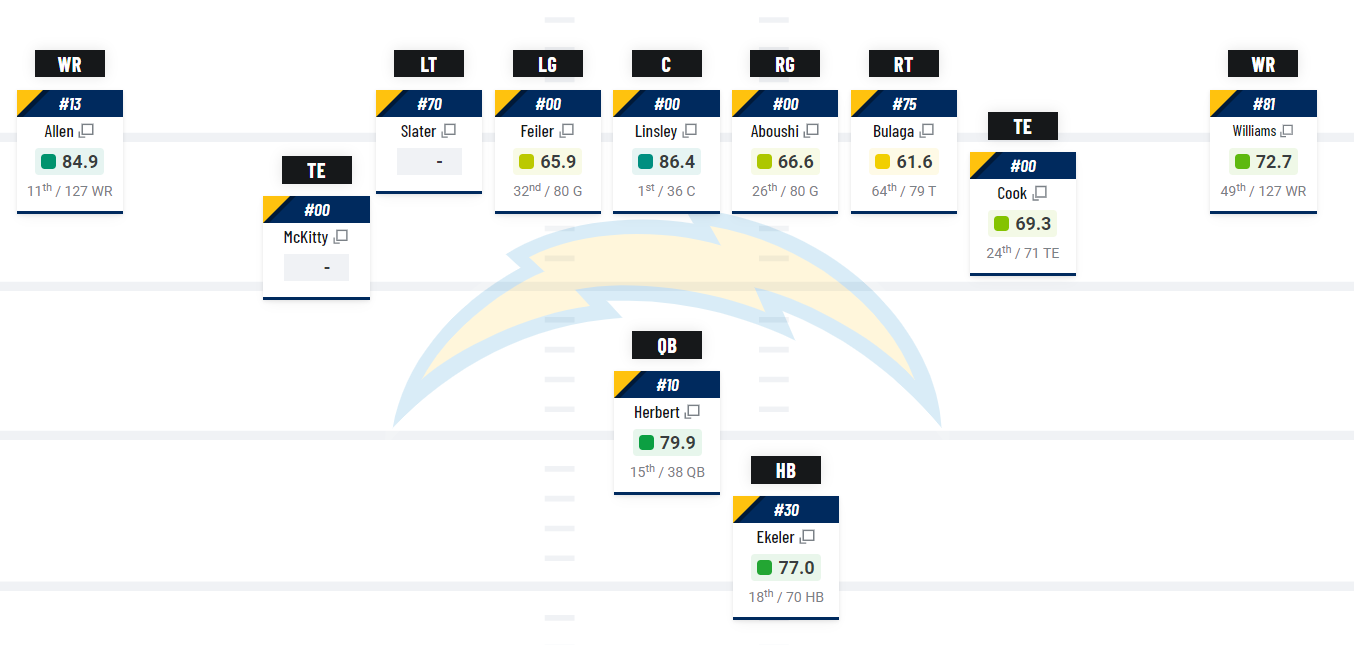 The Chargers brought in longtime Saints coach Joe Lombardi to essentially Saints-ify their offense, although one would think that would be at odds with how Rookie of the Year quarterback Justin Herbert wants to play.
The Saints have always fielded a diverse offense, using the entire field in the passing game and having a unique running game. Herbert didn't show he was proficient at throwing around linebackers and safeties over the middle of the field last year, but he did flash an ability to use his cannon to absolutely destroy defenses deep down the field.
None of that sounds like anything the Saints have done the past 15 years. Attention to detail and elite level of coaching are what Lombardi needs to bring from New Orleans, but the offense itself might look very different.
2020 Pass Efficiency Rank: 22
2020 Rush Efficiency Rank: 22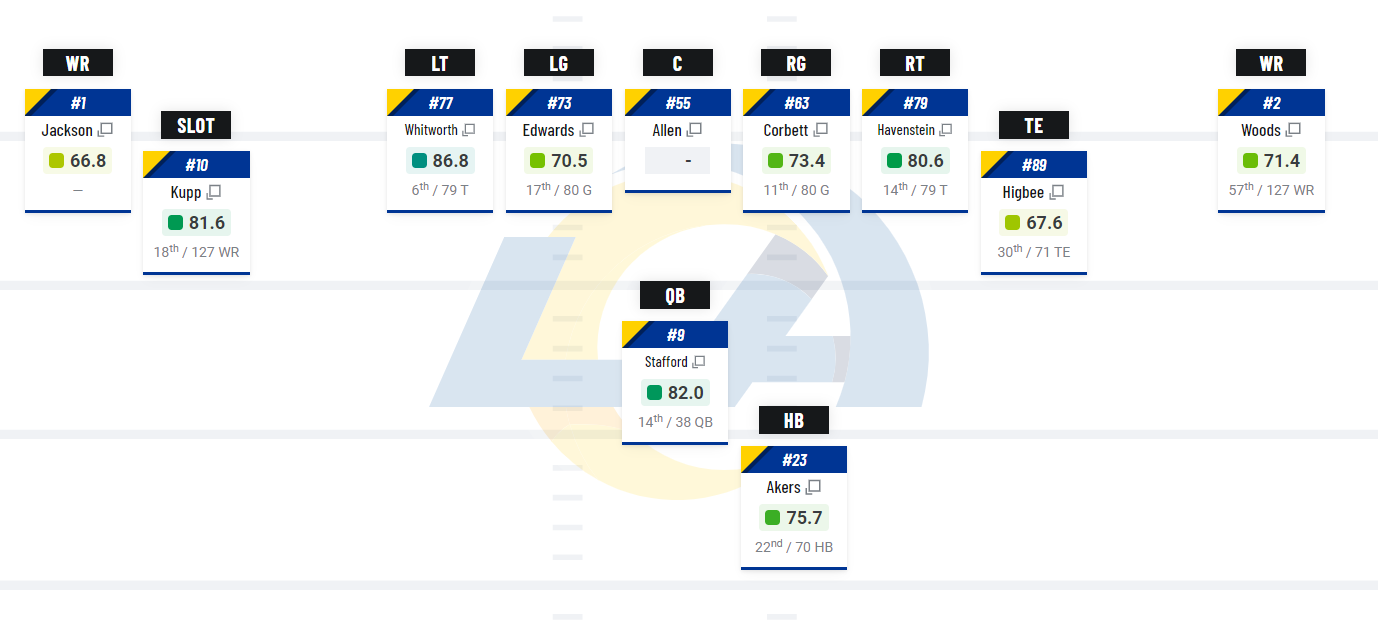 The Sean McVay offense in Los Angeles has always been a run-first, play-action later, drop back-never offense, but that may change after the team traded for Matthew Stafford.
No team has run a higher percentage of play action since 2017 than the Rams (32.5%). They've run the ball at the eighth-highest rate during that time frame, as well. That doesn't leave much room for straight dropbacks, but they haven't been very good at them recently, either. Since the magical Super Bowl run of 2018, Los Angeles ranks 19th in EPA per play on non-play action, non-RPO dropbacks. That's not to say Stafford has been the best player in the league at these concepts, but his grade on them is 8.3 points better than Jared Goff's.
McVay will feel like he can create the same open receivers he did for Goff, but Stafford will execute them better.
2020 Pass Efficiency Rank: 15
2020 Rush Efficiency Rank: 30
The Tua Tagovailoa era officially begins in Miami with co-offensive coordinators George Godsey and Eric Studesville. Both were promoted from within, so the Dolphins' offense shouldn't change much.
The Dolphins are going to try to run downhill with inside zone split and duo runs. Last year, they were seventh in RPO rate, and that should only get higher with Tua starting from Day 1. They'll need some easy completions for their quarterback as he gets his feet wet. They can also improve their rate of screens (22nd in the league last season) while also getting Tua under center to let him have a larger proportion of easy throws off play-action dropbacks.
2020 Pass Efficiency Rank: 10
2020 Rush Efficiency Rank: 5
Under the Kubiak clan, the Vikings have been a heavy outside zone team, ranking first in usage in 2019 before falling to seventh last year as they became a little more downhill. Their inside zone runs shot up from 19% to 32% last year, giving them more balance in their rushing attack.
One thing that differentiates Minnesota as an outside zone unit compared to the team's outside counterparts is the use of a fullback. Overall, no NFL team ran more running plays from a two-back formation last year than the Vikings, and they were more than willing to have their lead for the running back. Some 80% of those runs were leads.
This means we can expect a lot of two-man deep route concepts off of play action. And of course, they happen to have a premier one-two punch in Adam Thielen and Justin Jefferson. With a better offensive line protecting quarterback Kirk Cousins, Minnesota could be a playoff team yet again. 
2020 Pass Efficiency Rank: 26
2020 Rush Efficiency Rank: 3
With Cam Newton at the helm, the Patriots have switched to a run-heavy scheme. The interesting thing is that they still went under center at one of the league's highest rates last year, similar to 2019 with Tom Brady. From there, New England runs all sorts of different schemes — from split zone to lead zone to power to counter and outside zone.
When the Patriots do get in shotgun to run the ball, 75% of those plays have some quarterback run element. Those runs didn't actually go anywhere, though, producing just .008 EPA per play. The passing game should revolve around the two tight ends the team picked up in free agency. Jonnu Smith and Hunter Henry are going to work the seams and then catch in-breaking routes off play action.
2020 Pass Efficiency Rank: 11
2020 Rush Efficiency Rank: 4
The Saints are a smorgasbord of offense tightly put together by the coaching and play calling of Sean Payton and the elite execution of Drew Brees. That's all going to change in Year 1 post-Brees.
The Saints may cut down on some of their pass concepts and the number of formations in order to give cleaner looks to either Jameis Winston or Taysom Hill. They also run a lot from under center, but if Hill is the starter, a move to a more shotgun-based offense to give Payton the ability to draw up more quarterback-designed runs would be in order, although New Orleans still went under center plenty while Hill was the starter in 2020.
The running game is complementary, with Alvin Kamara getting the stretch handoffs while Latavius Murray takes the downhill runs. Kamara had 99 carries on outside zone runs, while Murray had 104 on inside zone and duo combined. 
2020 Pass Efficiency Rank: 29
2020 Rush Efficiency Rank: 20
With Jason Garrett at the helm in 2020, the Giants' offense looked uninspired. There was an antique feel about the offense, with Garrett choosing to give quarterback Daniel Jones a fair share of quick-game passes, the sixth-most in the league, which kept the offense muted.
Jones is just an average short thrower, so it's hard for the Giants to get out of first gear. They did run play action at a slightly above average rate last year, but even, then they were only 18th as a team in average depth of target on non-RPO play actions. That's both a Daniel Jones and Jason Garrett problem.
All of this leads to an offense that ranked 28th in rate of passes of 15-plus yards. The rushing attack consists of a lot of downhill runs, such as duo, power and counter, although New York was just average, finishing 14th in EPA per rush on those combined runs.
2020 Pass Efficiency Rank: 32
2020 Rush Efficiency Rank: 23
New York, under the direction of the 49ers' East branch, will try to ease Zach Wilson into life as an NFL quarterback by giving him plenty of runs and bootlegs. That's how he operated in his last year at BYU, although his receivers obviously won't be as open they were last year.
Wilson has the easy release to be able to throw quick or intermediate in-breaking routes, just like what the 49ers have had Jimmy Garoppolo do in the past, but they will hope that Wilson isn't similarly blind to linebackers. Wilson's problem on those throws is that he is not keen to even attempt to throw around linebackers and the sort. The Jets can remedy this by employing more out-breaking routes, something Wilson did fine at in college.
To really go full BYU, the Jets could line up the running back in the pistol instead of going under center to run their offense. 
2020 Pass Efficiency Rank: 27
2020 Rush Efficiency Rank: 14
The Eagles are going to have to figure out a way to craft an offense specifically for quarterback Jalen Hurts. Head coach Nick Sirianni comes from working under Frank Reich, who had success in Philadelphia with a young Carson Wentz. The Eagles could go that route, deploying a spread offense using zone reads and quarterback runs.
They could also go the Oklahoma route, something similar to what Hurts ran as a Sooner. That would entail a diverse run game where the Eagles use quarterback counter and quarterback power to go along with the option stuff and heavy play-action sets that allow Hurts to throw to deep crossing routes. Philadelphia needs to stay away from routes in the intermediate middle of the field because Hurts had trouble in that area last year. 
2020 Pass Efficiency Rank: 17
2020 Rush Efficiency Rank: 32
The next version of the Steelers' offense could be completely different from any attack we've seen before. New offensive coordinator Matt Canada brings his unique spin, but how much of his offense we actually see will be dependent on Ben Roethlisberger?
Last year, the Steelers played in shotgun at the fourth-highest rate in the league. Canada's last college offense, the 2018 Maryland Terrapins, did it at the 117th-ranked rate in the country. The Steelers used pre-snap motion at the 23rd-highest rate in the league, while the Terrapins used it at the second-highest rate in college football.
Roethlisberger wanted to sit in shotgun, catch the snap, stand there and get rid of the ball as fast as possible. That's never been Canada's style of play, but Roethlisberger is the veteran, so he may have enough influence to sway the Canada offense in a different direction. There might not be a more dissimilar quarterback-offensive coordinator pairing in NFL history.
2020 Pass Efficiency Rank: 20
2020 Rush Efficiency Rank: 21
The 49ers are another outside zone team. Kyle Shanahan's father was one of the originators of the offense, but Shanahan has evolved since his dad, Mike, took the league by storm with it in 1998.
Kyle Shanahan uses a fullback much more than those old Denver teams — it helps that Kyle Juszczyk is one of the best in the league — and he runs more counters to the base run scheme. Some 41% of the 49ers' offense is based in either 21 (two backs and a tight end) or 22 (two backs and two tight end) sets.
While outside zone did make up around 36% of San Francisco's runs the past two seasons, fifth-highest in the league, Shanahan also ranks top 10 in power and counter run rate. Should Trey Lance become the starter, we will assuredly see more quarterback-designed runs.
2020 Pass Efficiency Rank: 12
2020 Rush Efficiency Rank: 11
The Seahawks eschewed Brian Schottenheimer in favor of Shane Waldron, who they plucked from Sean McVay and the Los Angeles Rams to be their new offensive coordinator. Waldron can't just come in and copy/paste the Rams' offense. He is confined by the elite yet mercurial play of quarterback Russell Wilson.
The Seahawks have already become a heavy outside zone team, as they finished ninth in usage of that run scheme last year. The run scheme and marrying the boot action to that run scheme won't change, as Wilson excels when he can get outside of the pocket. What will change is the Rams' tendency to call quick in-breaking routes for Jared Goff. That's not quite what Wilson wants to do. Wilson does not want to throw over the middle, so it will be interesting to see the give and take in the quick and dropback passing games.
2020 Pass Efficiency Rank: 5
2020 Rush Efficiency Rank: 24
We shouldn't see much of a divergence from what the Bucs ran in 2020 on their way to the Super Bowl and what head coach Bruce Arians has always run. Led by coordinator Byron Leftwich, this is a downhill running attack that looks to create double teams and have the running back cut off linebacker movements into open space.
Tampa Bay generated the fourth-highest rate of rushes where the running back made a cut away from the initial path. The play-action game off these runs are deep vertical shots, which led to Tom Brady having the second-highest average depth of target on play actions last season. Don't expect Arians and Leftwich to depart from this winning strategy. You won't see RPOs or outside zone or any other trending concepts make their way into Tampa Bay next year.
2020 Pass Efficiency Rank: 3
2020 Rush Efficiency Rank: 2
The Titans lost offensive coordinator Arthur Smith to the Falcons, but given how good the offense has been the past couple of years, not much should change under Todd Downing — who has been in Tennessee since 2019.
Over one-third of the Titans' passes were off of play action last year, and that shouldn't change much. Running the ball out of their outside zone scheme, where the team ran the third-most plays in the league in 2020, should also stay the same. We could see a slight shift away from such a heavy dose of the run game in general, though. With the addition of Julio Jones to pair with A.J. Brown, the Titans have two of the best in-breaking route runners in the game. Expect a continued heavy dose of slants, fins and glance routes. 
2020 Pass Efficiency Rank: 31
2020 Rush Efficiency Rank: 8
Washington was a sneaky spread team in 2020, getting into formations with an inline tight end or a fullback at the league's lowest rate. The Football Team managed to run the ball decently from these formations, whether it was inside or outside zone, but they couldn't throw it. The run game could get much better with all the jets and fake jet motion they'll give to newly signed wideout Curtis Samuel, which should unlock the defense.
In the passing game, Washington's league-low 6.2-yard average depth of target is going to skyrocket with new quarterback Ryan Fitzpatrick. Hopefully that means more explosive pass plays, a metric the Football Team also ranked dead last in last year.