Few were expecting the kind of unceremonious playoff exit that we saw from Tom Brady and the New England Patriots last Saturday night. Not only did they have the indignity of playing on wild-card weekend for the first time in 10 years, but Brady and the offense went out with a whimper — they scored just 13 points, got stuffed multiple times at the goal line and their final throw resulted in a pick-six that completely sealed an already unwinnable contest.
It wouldn't be Tom Brady-like to end on such a sour note, and the six-time champion previously stated he wants to play into his mid-forties (he's 42 now). Suspicions that he'll return in 2020 were bolstered by a recent Instagram post that included the sentiment that there is still more for him to prove. 
The question of where Brady will play next season became an unlikely storyline to finish out the season. He signed a two-year extension last offseason, but the contract was really an elaborate cap-saving maneuver with voidable seasons beyond 2019. Also included in the contract is a restriction on the Patriots' ability to franchise Brady, meaning that if he chooses to remain unsigned, he will become an unrestricted free agent at the end of the league year on March 18, 2020.
We don't know what will happen, but a significant part of Brady's decision will be the relative attractiveness of his other options. In this article, I'm going to look into five possible destinations that could be on Brady's radar. I'll assess their fit for a quarterback who wants to win now and figure out if any are realistic alternatives to running it back in New England. Based on reporting and rumors, I'm choosing to investigate the Carolina Panthers, Los Angeles Chargers, Indianapolis Colts and soon-to-be Las Vegas Raiders.
The supporting cast
If Brady is to leave the Patriots after 19 consecutive winning seasons, you can bet he won't want to fail in a new location.
The biggest issue for New England this season was their lackluster offense. The drop-off in the Patriots' offense wasn't all on Brady, and I documented earlier this year how the team's inability to surround Brady with talent, especially at receiver, was the likely cause of their struggles. But when we look at the passing-game support that the possible destinations can provide, it's a mixed bag.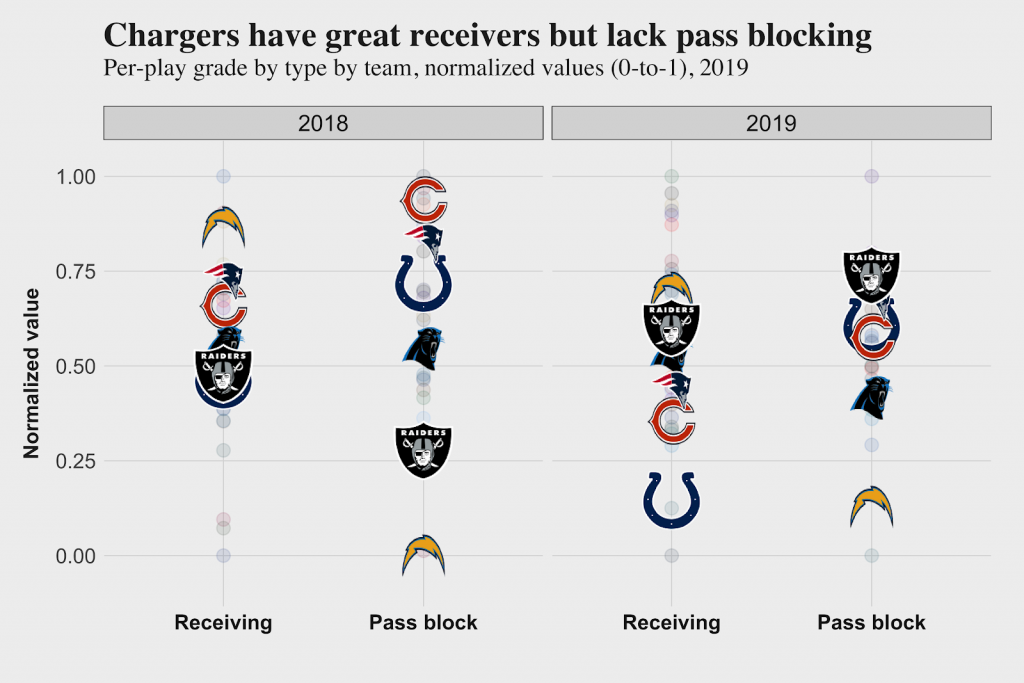 Over the last two seasons, the Chargers have consistently graded well at receiver, and Keenan Allen, Mike Williams and Hunter Henry provide a receiving corps that makes most teams jealous. That said, the Chargers were next to last in average pass-blocking grade in 2018 and 2019. Brady has been one of the quickest passers in the league, potentially mitigating the vulnerability of the Chargers' offensive line, and if his receivers can get open quickly, his time to throw could fall again after rising from 2.45 seconds in 2018 to 2.58 seconds in 2019, which would make his blockers' lives much easier.
The Bears suffered a fall in both receiving and pass-blocking grade this season, but both could see positive regression in 2020. Allen Robinson II has made Christian Hackenberg, Blake Bortles and Mitchell Trubisky look passable — imagine what he could do for the presumed G.O.A.T.
The Colts have the most holes in the receiving corps, and their fragility was exposed after injuries to T.Y. Hilton and others left the likes of Zach Pascal leading the team in routes run.
The Raiders and Panthers were both mid-range performers in grading last season. No team truly separates from the Patriots in terms of surrounding talent, but a few offer clear upgrades at the receiver position, which is maybe the most important factor for Brady.
Both Sides of the Ball
It isn't only passing-game support that Brady will need to truly have a successful 2020. For a quarterback who believes wins is the only stat that matters, having a strong defense should be a great concern. A look at total wins above replacement (WAR) generated according to our grade-based projections by each team's defense and offense, excluding quarterbacks, gives you a good picture of each team's relative strength.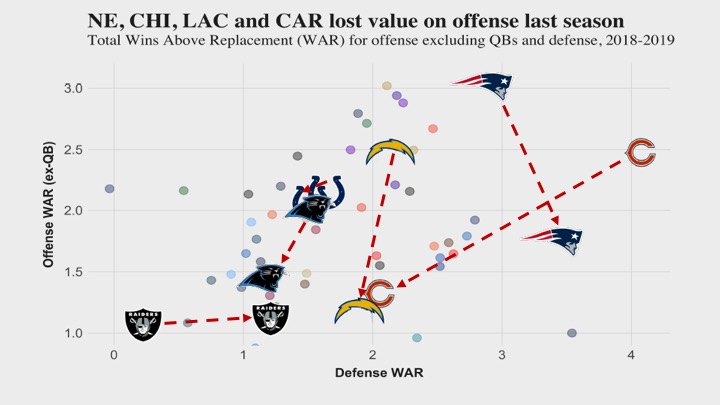 The Patriots saw an increase in defensive performance in 2019 and moved to No. 1 in both total WAR and efficiency as measured by EPA per play. Outside of the quarterback, the offense's WAR declined significantly, which was also the case for the Bears, Chargers and Panthers. 
The Raiders increased their defense's WAR in 2019, but there isn't a clear path to further improvement on the offensive side of the ball; Brady would likely be forced to carry more of the load in that offense than the rest. Interestingly, the Colts' WAR totals outside of quarterback barely moved over the last year, hinting that Jacoby Brissett was the primary problem in a disappointing 7-9 season.
A concern for the Patriots next year is a regression on defense similar to the turnover-heavy Bears from the 2018 season. That would further expose the flaws on the offensive side of the ball and make Brady's chance to return to glory even less likely.
Dollars and Cents
If Brady is going to leave, he's likely chasing a check as well as another ring. Below are the teams' respective cap situations, including the offensive and defensive liabilities for contracts, cap space and the potential savings if each team moves on from the current starting quarterback.
| | | | | | |
| --- | --- | --- | --- | --- | --- |
| Team | Off Liabilities | Def Liabilities | Cap Space | QB Savings | Space + Savings |
| Colts | $89.4 | $55.6 | $93.7 | $16.0 | $109.7 |
| Raiders | $108.3 | $44.0 | $67.5 | $16.5 | $84.0 |
| Chargers | $66.8 | $79.8 | $56.2 | $0.0 | $56.2 |
| Patriots | $70.6 | $73.4 | $49.0 | $6.8 | $55.8 |
| Panthers | $87.2 | $78.0 | $30.2 | $19.0 | $49.2 |
| Bears | $94.0 | $103.4 | $14.5 | $4.5 | $19.0 |
The Colts have the most space by far, and they can save an additional $16.0 million if they trade Brissett during the offseason, assuming there's an interested partner. The Raiders are second on the list, though we saw above that the surrounding talent there, especially on defense, isn't really that of a Super Bowl contender. 
The Chargers, Panthers and Patriots are a little thinner in the wallet, though NFL cap space is notoriously malleable. Each team should be able to fit Brady under the cap; the question is if there will be enough remaining to bolster the rest of the roster for a short championship window. The Bears could be the exception to the league's notorious cap flexibility, as growing expenses on both sides of the ball have left little room for another major addition, especially when it requires cutting bait on a former No. 2 pick with a modest rookie contract.
Putting it all together
Considering the surrounding talent in the passing game, the entire value of the roster and available cap space, the Los Angeles Chargers look, to me, to be the best non-Patriots destination for Brady. While the play of the offensive line is discouraging, I'm more confident that it can be fixed — or at least made passable with Brady's quick release — than I am regarding other teams' ability to provide anything close to the Chargers' receiving talent. The Chargers' defense disappointed last year, but they still have a handful of major pieces in Joey Bosa, Melvin Ingram and Derwin James, who could form the core of a contender. The Chargers would also be a natural transition at quarterback, with Philip Rivers also at the end of his contract, and I doubt California-born Brady would object to the location. 
From the Chargers' perspective, Brady brings a potential upgrade at the most important position for a team that was in the divisional round only a year earlier. The team has struggled to fill their stadium with fans and could be looking for a revenue boost with their new stadium opening next season. With those economic incentives, ownership has ample motivation to top other bids for Brady's services.
There is still plenty in this analysis that points towards Brady staying in New England for one last title, though. It would be a lot less risky for Brady to stay where he is, in familiar surroundings with the greatest coach ever, and give it one more go. If the Patriots can finally fix the receiver issues after fruitlessly pouring resources into the position, this time next year, we could be talking about a magical ending for Brady and a team he never left.