The San Francisco 49ers arrived in Miami for Super Bowl LIV with arguably the best all-around defense of the 2019 NFL season.
Through 17 weeks of regular-season play, San Francisco's defensive coordinator, Robert Saleh, led a unit that earned the league's third-highest pass-rush grade (80.4) to go along with the league's second-highest coverage grade (92.5). So, with that being said, how, with 8:53 remaining in the biggest game of their season, did this 49ers defense loosen the chokehold on the Chiefs' offense enough to relinquish 21 unanswered points near the end of the fourth quarter? Well, here is your answer.
The 49ers where they had always struggled
One of the San Francisco 49ers' most glaring weaknesses this season was their poor defense against any type of option run play (e.g., read option, speed option). In 2019, they earned a 26th-ranked 52.7 team run-defense grade while defending 48 option run plays, which were actually the seventh-most option plays that any defense faced in 2019. The defense also allowed the 12th-most yards per rush attempt (5.4), the fourth-highest total of explosive run plays of 10-plus yards (8) and the fourth-most rushing first downs (18) when facing these plays, all of which resulted in the team allowing a 24th-ranked 0.142 EPA per option run play.
49ers' performance against option run plays (2019 regular season only)
| | | |
| --- | --- | --- |
| Stat  | | Rank among 32 teams |
| Option plays faced | 48 | 7th most |
| Team run-defense grade | 52.7 | 26th |
| EPA allowed per play | 0.142 | 24th |
| Successful play percentage | 56.3% | 28th |
| Missed-tackle percentage | 14.6% | 25th |
| Run-stop percentage | 37.5% | 31st |
Andy Reid carefully studied the 49ers' vulnerability to the option run game and then used it in key situations to convert on early third and fourth downs. Offensive coordinator Eric Bieniemy even admitted to using Fritz Crisler's 1948 full-house backfield formation (below) as inspiration for their fourth-down conversion play that came early on in the game.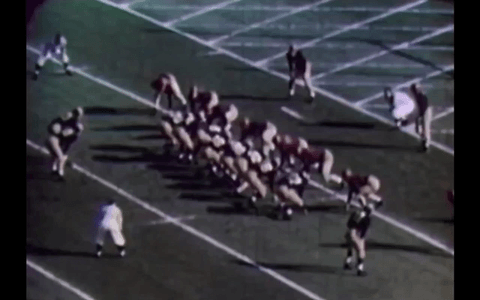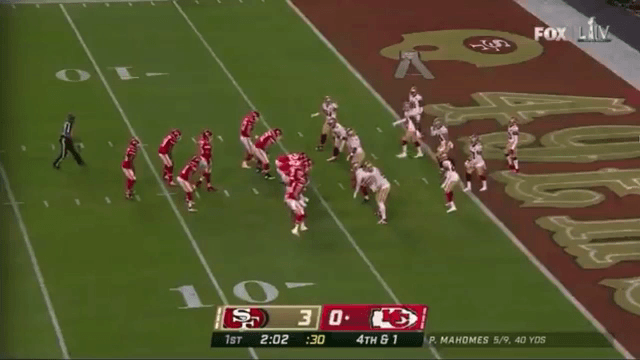 San Francisco seemed unprepared to defend against Reid's implementation of several unconventional run plays, including the option. While defending against four option run plays in Miami, the 49ers allowed one rushing touchdown and two additional first-down conversions, and that collective effort earned a subpar team run-defense grade of 41.5 when defending the option in Super Bowl LIV.
This early failure would foreshadow other setbacks that were uncommon to the 49ers' defense during their regular-season dominance.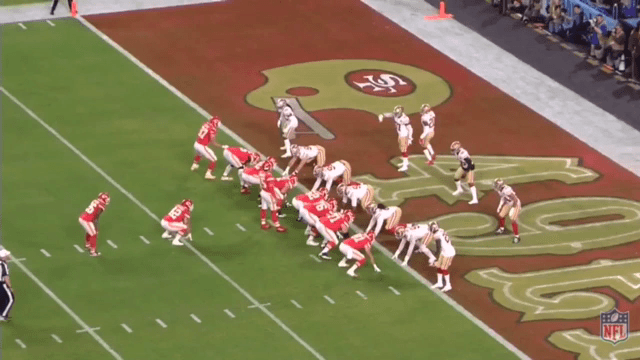 The 49ers failed to capitalize on their early-game dominance
The San Francisco defense all but bewildered Chiefs quarterback Patrick Mahomes early on in Super Bowl LIV,  and that fact was made quite clear by the 20-10 scoreline with 8:53 remaining in the fourth quarter.
Through the first three quarters, the Niners' defense combined to produce 18 total pressures on 29 pass-rush plays, with PFF's Defensive Rookie of the Year, Nick Bosa, accounting for eight of those total pressures all by himself.
As a unit, the defense produced pressure 62.1% of their pass-rush plays, and as a result, Mahomes struggled through the first three quarters of the biggest game of his young career. He completed just three of his eight attempts under pressure for 51 yards, zero big-time throws, zero touchdowns and three turnover-worthy plays. He averaged only 5.8 yards per attempt on those attempts to go along with a passer rating of just 20.3 when under duress, and his three turnover-worthy plays included a bad interception that was thrown right to linebacker Fred Warner and a fumble that he managed to recover after being stripped by Bosa while in the pocket.
Mahomes entered the fourth quarter with a passing grade of just 57.2 — it was the first time in his entire career that he'd graded below 60.0 as a passer through the first three-quarters of an NFL game.
The San Francisco secondary also earned high marks with the game three-fourths of the way done. They had earned a team coverage grade of 73.9 while holding Mahomes to zero touchdown passes and Andy Reid's offense to just -0.032 EPA per pass play, which was worlds away from the mark of 0.264 that they had generated over their previous 18 games.
For three quarters, Mahomes became a mere mortal and less like the superhero quarterback who entered the game with almost flawless postseason credentials.
The play that started the unraveling
Near back-to-back interceptions by Warner and then cornerback K'Waun Williams on consecutive possessions appeared to be the final undoing of Mahomes and his bid for winning a Super Bowl title. But five plays later, when the 49ers' offense failed to convert points off the turnover, the defense would come back onto the field with a 10-point lead and 8:53 remaining in the game.
On 3rd-and-15, second-year cornerback Emmanuel Moseley failed to maintain coverage in his deep one-third area of the field. Instead, he bit on the shallow crossing route with Sammy Watkins, which allowed Tyreek Hill a chance to haul in a 44-yard pass from Mahomes against the 49ers' Cover-3 zone defense. It was the biggest play the 'Niners allowed all game, but it ultimately provided the spark that allowed Mahomes to then find Travis Kelce in the end zone just four plays later to cut the Niners' lead to 20-17.
Entering Super Bowl LIV, Moseley was one of the areas of concern on the 49ers' pass defense. His 34th-ranked PFF coverage grade of 68.0 revealed his tendency to take undisciplined angles that often added to breakdowns in coverage and contributed to explosive pass plays by the opponent. Here, he commits the cardinal sin of vacating his deep-zone responsibilities, and he allowed the spark that ultimately ignited the Chiefs' comeback.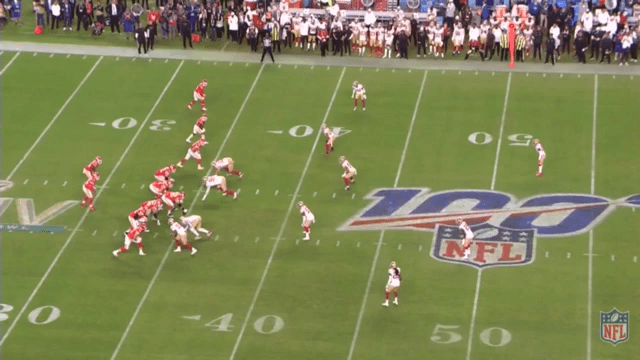 The Chiefs got the better of Richard Sherman when it mattered most
A minute and three seconds would evaporate off the clock before the 49ers' offense went three and out and handed the ball back over to Mahomes and the Kansas City offense. That is when, four plays into the possession on 2nd-and-7, Robert Saleh chose to blitz Mahomes on a play that would leave cornerback Richard Sherman alone in man coverage with wide receiver Sammy Watkins.
Sherman, who earned the top spot on PFF's list of top 25 cornerbacks from 2019, is well known for eliminating big pass plays downfield. After all, the nine-year veteran entered his third career Super Bowl having allowed a passer rating of just 48.1 on deep throws (throws targeted 20-plus yards downfield) over his entire career, and he allowed only 8.4 yards per reception and a passer rating of just 46.8 during the 2019 regular season, both of which ranked third among qualifying corners in the NFL.
However, when Sherman bit on an inside fake by Watkins, he found himself giving up a 38-yard back-breaker that allowed the Chiefs to take a 24-20 lead just three plays later.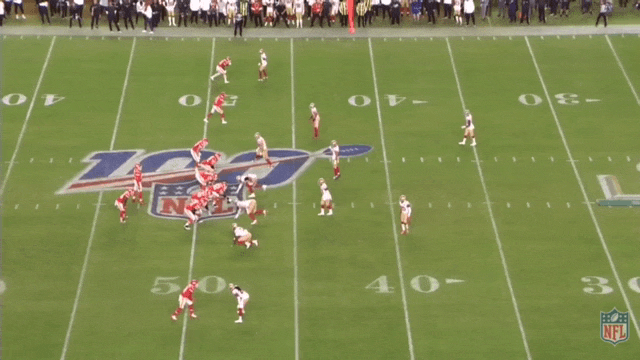 After allowing only one touchdown across 517 coverage snaps during the regular season, Sherman quite rightly entered the contest as one of the most trusted corners in the game, but on the biggest of stages, he uncharacteristically allowed five receptions on five targets for two first downs and a total of 72 yards, which ultimately contributed to the Niners squandering their late-game lead.
He ended the game having allowed 14.4 yards per reception, and he forced no incompletions, but he also allowed the opposing quarterback to complete 100% of his five pass attempts into his coverage, which represented only the fourth time in his nine-year career that Sherman allowed a 100% completion rate having faced at least three targeted passes as the primary coverage defender. In fact, his 118.8 passer rating allowed in the game was tied for the sixth-worst single-game mark of his career when you look at the 52 career games in which he saw five or more targets.
Richard Sherman: Highest passer ratings allowed in games in which he saw five or more targets (2011-2019)
| | | | | | | |
| --- | --- | --- | --- | --- | --- | --- |
| Season | Week | Tgt. | Rec. | Comp % | Yds. | Passer rating |
| 2011 | 5 | 5 | 4 | 80.0% | 104 | 158.3 |
| 2012 | 8 | 8 | 5 | 62.5% | 75 | 132.8 |
| 2015 | 10 | 8 | 5 | 62.5% | 67 | 128.6 |
| 2012 | 15 | 8 | 5 | 62.5% | 64 | 127.1 |
| 2018 | 12 | 5 | 5 | 100.0% | 113 | 118.8 |
| 2019 | SB | 5 | 5 | 100.0% | 72 | 118.8 |
| 2015 | 5 | 6 | 5 | 83.3% | 92 | 118.8 |
The Chiefs' up-tempo offense provided a hill too steep to climb
By the time Damien Williams raced 38 yards to give the Chiefs a 31-20 lead with 1:20 left on the clock, the 49ers' defense had given up 21 points and 175 yards on 19 plays in less than six minutes in time of possession, and the defense finished the game having played 75 total snaps, well above their average of 59.5 plays in their previous 18 games.
Andy Reid's decision to go up-tempo on three consecutive fourth-quarter possessions proved to be physically taxing for San Francisco's defenders. Without much help from their offense, the defense would play 38% of their total 75 snaps in the fourth quarter, and the 49ers' team pass-rush and coverage grades plummeted drastically to 63.0 and 49.9, respectively, as a result.
| | | | |
| --- | --- | --- | --- |
| Quarter | Team pass-rush grade | Team coverage grade | EPA allowed per pass play |
| 1-3 | 72.4 | 66.3 | 0.039 |
| 4 | 63.0 | 49.9 | 0.299 |
The team's pressure rate dropped from 62.1% over the first three-quarters of play to 54.5% in the final quarter, and rookie phenom Nick Bosa's pass-rush grade dropped from 91.8 in the first three quarters to 70.5 in the fourth, while his pressure count (eight, including a sack and a hit) and pass-rush win rate (33.3%) through the first three quarters also saw similar drops in the final period of play (four pressures and no sacks and hits, and a pass-rush win rate of 16.7%).
The Chiefs also used the play-action game on 10 of their 22 dropbacks (45.5%) in the fourth quarter — ever so slightly up from their mark of 41.4% through the first three quarters — to help mitigate the Niners' pass-rush, and the team were forced into chase mode where fatigue and exhaustion led to diminishing results.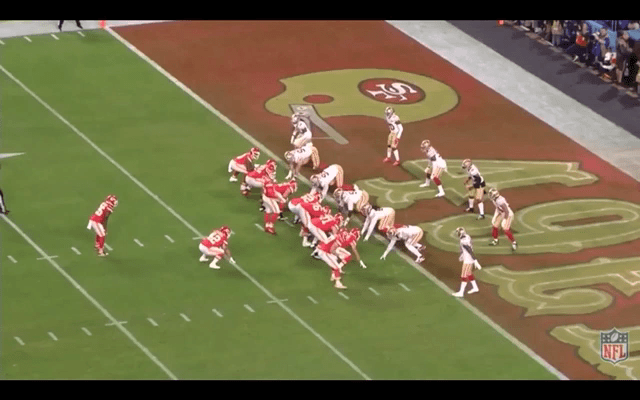 Mahomes was only sacked once in the fourth quarter compared to three times earlier in the game, and over their 20 coverage snaps in the fourth quarter, the 49ers allowed Mahomes to capitalize on his vastly improved average depth of target (6.3 through the first three quarters to 10.4 in the fourth). Mahomes' yards per attempt average also increased from 5.8 to 8.3, as he and the Legion of Zoom eventually had their way with the entire 49'ers defense.
| | | | | | |
| --- | --- | --- | --- | --- | --- |
| Quarter | Passing grade | % dropbacks under pressure | passer rating when clean | passer rating under pressure | passer rating on 10-plus yard throws |
| 1-3 | 57.2 | 41.4% | 88.8 | 20.3 | 43.8 |
| 4 | 65.9 | 39.1% | 86.7 | 86.8 | 104.2 |
In this Super Bowl, the 49ers' defense led themselves directly into a perfect storm of arm talent surrounded by speed. The magic of Patrick Mahomes and his ability to overcome a lethal defense that was armed with both pressure and coverage fully supports the findings of PFF's Wins Above Replacement model, which has found that the game's best quarterback contributes more to winning than the game's best pass-rusher or best cover cornerback.
My remembrance of Dan Marino shredding the great '85 Chicago Bears' defense in an epic Monday Night battle is even more evidence to this point. Like Marino, Mahomes is surrounded with unmatched speed on the perimeter that can quickly separate from coverage. This, along with a moving pocket, speeding up the offense and capitalizing on the opponent's previous weaknesses in run defense, was ultimately the correct formula for beating an elite defense that had made a name for itself in 2019.