As the NFL celebrated its 100th season, 31 of the 32 teams validated the league's reputation as a pass-first outfit by utilizing the air game more than their rushing attack.
The job of an NFL cornerback has become increasingly more difficult in an environment rich with golden-armed quarterbacks and speedy wide receivers. Add to the mix obscure pass interference rules, and you have all the ingredients for a near-impossible job where the faint of heart need not apply.
As we evaluate the league's top cornerbacks, we will examine their specific role within the team's defensive scheme. We will also go beyond the box score to reveal how consistency in pass coverage is more valuable than inconsistent play buoyed by high-interception totals. Here is a look at PFF's top 25 cornerbacks with a minimum of 300 coverage snaps played in 2019.
As PFF's highest-graded cornerback, Richard Sherman has regained his dominance by perfecting a top-down technique that allows him to use his 6-foot-3 frame in the 49ers' single-high man-to-man or deep Cover-3 zone scheme. Sherman has always been a smart and savvy player who is a perfect fit for press coverage with a mix of both man and zone coverage. He has the NFL's 10th-best forced incompletion rate (17.6%) and has allowed only one touchdown across 517 coverage snaps.
Above all, Sherman has the most coveted trait you want in any pass defender — he doesn't allow big pass plays downfield. In 2019, he allowed only 8.4 yards per reception, third-best in the league, while just 13 of his 51 targets were converted to a first down, which was the fourth-best total by any player at his position.
Sherman plays with plenty of swagger, but his performance is backed up with plenty of substance, as evidenced by the fact that opposing quarterbacks have managed a passer rating of just 46.8 when throwing his way. As he wraps up his ninth NFL season, Sherman has hit the sweet spot of consistency by bringing his A-game to a top-10 defense.
Don't look now, but Quinton Dunbar has stolen the show from Josh Norman in our nation's capital. He has excelled in off-coverage in both man-to-man and zone, and he finished the regular season with an 87.6 PFF overall grade that ranks second among the league's cornerbacks. 
The below play shows Dunbar's great vision and anticipation against combination routes. While in a three-deep zone, Dunbar has enough depth to defend the vertical route into his zone, but he also maintains vision for the intermediate route developing underneath. He covers a lot of ground and ultimately gets to the point where he can essentially defend both receivers.
Dunbar allowed a passer rating of just 56.9 on throws into his coverage in 2019, the sixth-lowest mark among his peers. He excelled in off-coverage, where he would often play the sticks, and allowed only 17 first-down receptions across his 52 total targets, which ties for the 10th-best rate in the NFL. Now in his fifth season, Dunbar has proven to be incredibly valuable, as he allowed just two touchdown passes across 347 coverage snaps. He is the kind of cornerback Ron Rivera is sure to love in Washington.
Stephon Gilmore remains the foundational cornerstone of the Patriots' top-graded coverage unit. Each week, he is assigned to lock down the opponents' best receiver, often with no help over the top.
His 343 press-coverage snaps are the most of any player ranked in our top 25, but his high volume of man-to-man press coverage against some of the league's best receivers has in no way hurt his productivity. He allowed the NFL's sixth-lowest completion percentage (49.0%) and is one of only three players in PFF's top 25 to hold opposing quarterbacks below a 50.0% completion rate. At 6-foot-1 and 202 pounds, Gilmore is the prototype for today's ideal cornerback: He's a big cover corner who is athletic enough to lead the league with six interceptions but disciplined enough to allow only one touchdown while being targeted a staggering 96 times (only six other corners have been targeted more).
His length has also contributed to his 15 forced incompletions, which is fourth among all players at the position. Gilmore is a true shutdown corner, and he's been the Patriots' most reliable asset on defense all season long. 
A return to discipline has led to the return of success for Ravens cornerback Marcus Peters. As a true press man-to-man cover corner, Peters has always had a knack for baiting some of the league's best quarterbacks. But with greater focus, Peters has improved from allowing quarterbacks to complete 68.5% of their passes in 2018 to limiting passers to a 57.7% completion rate in 2019.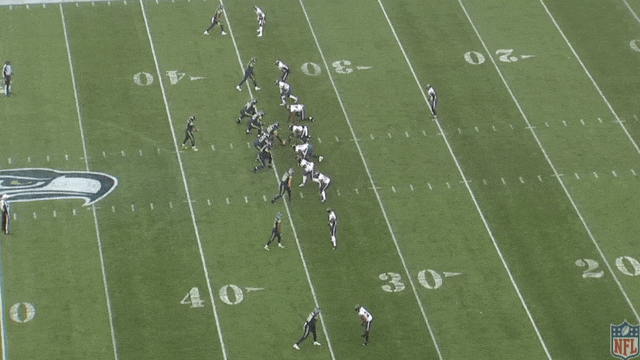 After allowing 14.9 yards per reception on throws into his coverage in 2018, Peters has allowed just 11.9 yards per reception this season while producing his trademark pick-six a whopping three times. The above play illustrates how Peters baits Russell Wilson by sinking into a Cover-2 zone look while staying true to his man-coverage responsibility. Peters gave Wilson the illusion of an open receiver then steals the pass for a pick-six.
Peters allowed a 14th-ranked passer rating of 73.3 through Week 17 this season just a year after he allowed a 72nd-ranked 109.9 rating in 2018; he has helped transform the Ravens' secondary into one of the very best in the league.
Hayward is a consistent performer, and his patience at the line of scrimmage makes him one of the league's best man-coverage corners. When the ball is in the air, patience without panic is Hayward's calling card. He was targeted 47 times but allowed only 26 receptions on 512 coverage snaps.
From off-man to man coverage, Hayward is a sticky defender and remains close to receivers at the top of their routes. He produced the league's 13th-best forced incompletion rate (17.0%) while allowing the 12th-fewest first-down completions (18).
Williams' uncanny ability to perform in both the slot and at outside corner is remarkable. His vast experience and knowledge of the game allow for his fluid movement from a nickel and dime defender to even playing on the island as an outside corner. Among the top 25 highest-graded corners, Williams has allowed the 13th-fewest first-down receptions (20), a top-40 passer rating when targeted (84.0, 32nd) and a forced incompletion rate of 14% that ranks 27th among all players at the position. Williams' return to the Packers has coincided with the team's defensive revival this season — it seems that Father Time has been kind to the 36-year-old cornerback.
During the 2019 offseason, Pittsburgh searched for a corner to play opposite Joe Haden and erase the disappointment of Artie Burns. And by signing the former Chiefs cornerback, the Steelers got just what they were looking for.
Steven Nelson has made an immediate impact by quickly adapting to the combination of the Steelers' man- and zone-coverage schemes. While the Steelers have three cornerbacks ranked in PFF's top 25, Nelson has emerged as the team's highest-graded player at the position. He is tied at 20th among his peers — with teammate Joe Haden — with a forced incompletion rate of 15.2%, and he allowed only 0.86 yards per coverage snap that ranks 17th among the 135 qualifying players at the position.
In press coverage, Nelson displays short-space quickness with long-range speed on deep routes, and his patience at the line of scrimmage allows him to prevent a free release for receivers who want access on downfield routes. He's earned the league's seventh–best coverage grade (80.3) while allowing opposing quarterbacks to complete 51.5% of their passes (11th) for a 73.3 passer rating (tied with Marcus Peters for 18th).
Nelson has helped transform the Steelers' secondary from last year's 18th-ranked coverage unit (75.8) into the third-highest graded group in 2019 (85.8); he proved to be just one of many moves made by the Steelers to help rebuild a new version of their fabled Steel Curtain. 
Say hello to the highest-graded slot cornerback in our top-25 ranking. New York's Brian Poole excels at the nickel corner position by using great vision during his zone-coverage reads.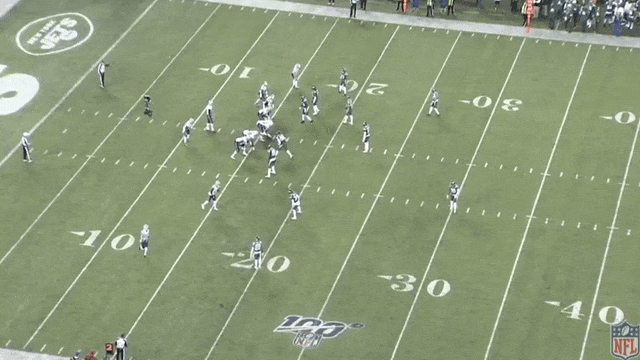 In the play above, watch Poole's quick pre-snap read where he recognizes the motion as an alert to the tunnel screen. Poole then makes an aggressive break on the ball, where he steals the passing lane and nearly intercepts Tom Brady.
Poole is a seasoned four-year veteran who has limited opposing quarterbacks to the third-fewest passing yards (244) of any cornerback listed in our top 25 and allowed the second-fewest first-down receptions (11) among that same group. His short-range quickness has allowed him to thrive in the slot, where he's allowed a 72.1 passer rating and only 0.57 yards per slot coverage snap, ranking eighth and tied for first, respectively, among the NFL's 53 qualifying slot cornerbacks.
Quietly, Brian Poole has become an ascending player on a Jets defense that is beginning to make a lot of noise.
It has all come together for the 11th-year veteran corner, who once ran a 4.3-second 40-yard dash before he entered the league in 2009.
As the starting corner opposite Stephon Gilmore, McCourty is often left on an island where he is asked to play press man-to-man coverage with very little help. He is also asked to occasionally kick inside as a dime/slot defender, and he still remains as one of only four qualifying cornerbacks who has not allowed a touchdown pass this season. He has directly contributed to the Patriots' top-ranked PFF coverage grade (92.7) by allowing only 10 first-down receptions, the fewest surrendered by any qualifying corner in the NFL.
The former 12th overall pick of the 2013 NFL Draft has developed better awareness in his ability to play through traffic against picks, rub routes and screens while in man-to-man press coverage.
The Jaguars run a lot of single-high man-to-man coverage and Cover-3 zone, and Hayden flourished within this scheme by allowing the fewest passing yards (210) of any qualifying cornerback. Like McCourty, Hayden is also one of four players at his position who has not allowed a touchdown pass all season. This form of success has bred confidence and new life into Hayden, who was once seen as a first-round bust in Oakland but is now coming off the highest-graded season of his seven-year career.
Hayden tied with Richard Sherman by allowing the third-lowest yards per reception average among cornerbacks (8.4) to go along with the NFL's 20th-best passer rating when targeted (74.2), proving that sometimes it's not about when you go in the draft, but rather, where you go.
At just 22 years old, Jaire Alexander is one of the youngest players on PFF's top-25 list. He excels in both man and zone coverage from both press and off-man alignments, and despite spending 36% of his 608 coverage snaps in press coverage on the line of scrimmage, Alexander allowed the third–lowest completion percentage (56.1%) and recorded the second-best forced incompletion percentage (20.4%) among cornerbacks who saw at least 90 targets over the course of the season.
Even though he has a smaller frame than Gilmore and Sherman, the 5-foot-10 Alexander typically draws the difficult assignment of covering the opponents' No. 1 wide receiver. However, he still allowed only an 87.8 passer rating (41st among corners, one spot above Casey Hayward) and broke up 13 of the 98 passes that were thrown his way. As experience contributes to his development, Alexander is sure to remain a fixture among the top players at his position.
The rare combination of speed and aggression makes Marlon Humphrey a unique player at the cornerback position. His 330 press coverage snaps in 2019 are the third-most among any corner ranked in the top 25, and while Humphrey is aggressive, he is no sucker for the double-move.
He has allowed just 10.4 yards per reception so far this year, the 16th-best mark in the NFL, and his 12 forced incompletions rank tied for 13th among all corners league-wide. Humphrey's long-range speed helps eliminate the deep ball while giving him the confidence to break on intermediate routes, and he allowed just a 49.3 passer rating on throws targeted 10-plus yards past the line of scrimmage, sixth-best among qualifying corners. He now joins Marcus Peters to form a remarkable cornerback tandem in the Ravens' secondary. 
Griffin is a tenacious player with both athleticism and ball skills, and he has quick hands to stalemate the league's best receivers at the line of scrimmage while locked in man-to-man press coverage. With his superb length, he has generated 14 forced incompletions, tied for the fifth-most among corners ranked in the top 25. His great timing in pass coverage allows him to locate and track receivers, and it helped him generate the highest forced incompletion rate (21.2%) among players on this list. After three seasons in Seattle, Griffin appears to be a key component of the Legion of Boom 2.0.
A true slot/nickel cornerback, Williams plays well through the heavy traffic that is inherent to the position, and he has excellent field awareness that allows him to react well to screens and completions in the flat area. Mostly a zone defender in nickel, Williams has read the patterns of route combinations well enough to hold opposing offenses to the lowest average depth of target (3.8) among all cornerbacks who played at least 300 coverage snaps in 2019. He's allowed just 8.1 yards per reception all year long — second among qualifying players at the position — while giving up only 18 first-down receptions across his 60 targets. Along with Richard Sherman, Williams has been a stabilizing force in the 49ers' secondary and has far exceeded the below-average performance of fellow perimeter corners Emmanuel Moseley (68.0 coverage grade) and Ahkello Witherspoon (63.5).
A former Thorpe Award winner at USC, Jackson has always had good start/stop skills and an excellent change of direction. He has the speed to stay in the receiver's hip pocket while in man-to-man coverage, and this year, he recorded the NFL's 12th-best forced incompletion percentage (17.4%) while allowing only one touchdown pass all season. Jackson has matured nicely while showing no panic when the ball is in the air, allowing the 10th-fewest first-down receptions on the year, which is somewhat surprising when you consider his slot-corner-like 5-foot-11, 185-pound frame.
Jackson has swagger and tends to play bigger than his size would suggest. Titans head coach Mike Vrabel respects toughness above all, and the former USC star has that in spades.
In just his third season, Tre'Davious White continued to perform with confidence and tenacity. He has all the requisite tools to perform well in press-man coverage, and he routinely jams wide receivers at the line of scrimmage to disrupt the timing of the passing game.
He gets most of his work done within the first five yards, where he uses his full license to harass receivers in coverage. His poise and patience in coverage has allowed him to become the only NFL corner with 500-plus coverage snaps to not allow a touchdown reception all season.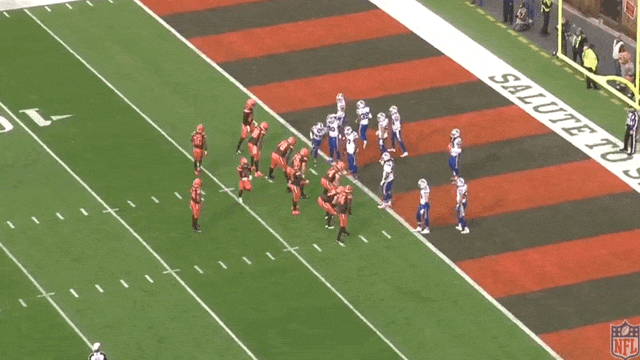 In the clip above, watch near the bottom of the screen where White stays square in front of Odell Beckham Jr., which disrupts the timing between the release and catch point. White has a great feel for the timing of the throw and responds with quick hands on the deflection.
White was targeted 84 times through Week 17, but he allowed just 47 receptions for 552 yards and 28 first downs, good for a passer rating of only 46.3.
While Byron Jones somewhat lacks the fast-twitch movement that most top corners in the league possess, he relies on intelligent route recognition to play at a high level. After moving back to cornerback from safety, Jones has become a much more confident press man-to-man defender. His forced incompletion rate of 15.1% ranked 22nd among corners through Week 17, and he held opponents to a 22nd-ranked 11.0 yards per reception. Jones will undoubtedly be a coveted unrestricted free agent this offseason.
The 5-foot-9, 184-pound Mike Hilton is a prototypical nickel corner who finalizes the trio of Steelers' cornerbacks that made our top-25 list.
With excellent hips and an exceptional feel for the position, Hilton patrols the middle of the field while matching up perfectly to route combinations. As a primary sub-package defender, Hilton is responsible for defending the sticks and preventing first downs. He was targeted 58 times in the regular season but allowed only 19 first-down receptions, 17th among all NFL corners. Hilton is part of a Steel Curtain renaissance that is in its early stages of development.
Nickell Robey-Coleman continues to solidify himself as one of the league's best slot cornerbacks. He accelerates with quick closing speed after showing patience in press man-to-man coverage, and he is good enough to stick with receivers at the top of their routes.
As a seven-year veteran who anchors the middle between fellow corners Jalen Ramsey and Troy Hill, Robey-Coleman allowed just an 80.1 passer rating and 0.63 yards per slot coverage snap through Week 17, ranking 13th and sixth, respectively, among qualifying slot cornerbacks in 2019. The Rams finished with the 10th-best coverage (83.9) in the league this year, and Robey-Coleman will continue to play a significant role in any future success.
As an undrafted player in 2015, Troy Hill landed in Wade Phillips' defense and become one of the top-performing corners in the league. Hill has allowed the fewest receptions (23) of any cornerback with a minimum of 300 coverage snaps, and he is one of only three qualifying corners to surrender a completion percentage under 50.0% after he allowed only 45.1% of his targets to be caught during the regular season. Hill was moved into a starting role after the Rams moved on from Aqib Talib and Marcus Peters, but he has rewarded the move by developing into a primetime presence in the Rams' promising secondary.
Denzel Ward remains a smooth operator in both man and zone coverage. He has a talent for calmly controlling the wide receiver's release when leaving the line of scrimmage, and this form of control helped Ward keep opposing quarterbacks to a 44.9% completion percentage when throwing into his coverage — the best mark among cornerbacks in 2019. 
In just two seasons, Ward has developed a poise reminiscent of more experienced players, as he allowed only one touchdown pass across 414 coverage snaps while his forced incompletion percentage of 18.8% currently ranks eighth at the position.
Ward plays with a meticulous technique that allows him to wrestle the ball away from receivers with regularity. So, despite all the negativity swirling around the Cleveland Browns, Denzel Ward maybe a silver lining.
At 31 years old, Brock still has the top-end speed to defend receivers deep downfield, and with good turn-and-run ability, he's let just 20 of his 58 targets move the chains.
The Titans' run for the playoffs in December also coincides with Brock's arrival during their final four regular-season games. Over the last four weeks of the regular season, Brock allowed the fourth-lowest yards per reception average (6.6) of any qualifying cornerback, while he produced the seventh–best forced incompletion rate (25%) among the same group of players over that span. Simply put, Brock provides the kind of plug-and-play production you can only expect from a 10-year veteran.
Let me introduce you to second-year cornerback Carlton Davis, who played a huge role in the Buccaneers finishing 5-3 over their final eight regular-season games.
He is a promising lock-down corner with a great 6-foot-1 frame that looks good getting off the bus. He is a physical man-to-man corner who can ragdoll wide receivers at the line of scrimmage and force the quarterback to go elsewhere with the ball. When the Buccaneers cut Vernon Hargreaves III on Nov. 10, Davis assumed the role of covering the opponent's No. 1, and he more than stepped up to the task by closing out the season with the third-highest forced incompletion rate among cornerbacks. Get to know the name, because you will hear it often.
Jonathan Jones is a smart player who serves primarily as the Patriots' nickel corner between Stephon Gilmore and Jason McCourty. He has smooth and fluid hips to assist with the transition from a back peddle to a turn-and-run defender. As an inside slot defender, Jones is often left on a huge island in the middle of the field as the Patriots play their staple zero coverage.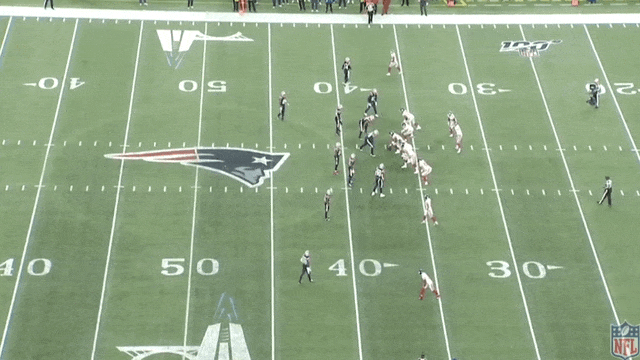 The above clip illustrates a zero coverage without a free safety in the middle of the field. Watch Jones in the bottom slot, where he is vulnerable to the potential two-way go and settles at the 45-yard line. With fluid hips, he turns and recovers to protect against the middle-of-the-field throw. Among corners who played a minimum of 35 coverage snaps in zero coverage, Jones has the sixth-best PFF coverage grade (71.3) and the second-best forced incompletion rate (30.0%) when targeted.
At 5-foot-9, Kenny Moore II is used primarily as a slot cornerback, but he also moves outside to the perimeter when the Colts move into a Cover-2 zone defense.
Moore's two interceptions in 2019 came at nickel corner, where he has an excellent feel for action over the middle of the field. He allowed just 8.9 yards per reception in 2019, fifth among the 120 cornerbacks who saw at least 300 snaps in coverage, and his 27th-ranked 84.4 passer rating allowed betters the marks of both Jaire Alexander (87.8, 33rd) and Casey Hayward Jr. (88.0, 34th). After three years in the Colts' secondary, Moore has become a steady performer.
Now planted in more fertile soil in Pittsburgh, Joe Haden has flourished during his last three seasons in the Steel City. In 2019, he earned his best PFF coverage grade since 2013, and he's is a good fit for a Steelers defense that employs a healthy mix of both man and zone coverage.
This season, Haden finally settled in with 12 forced incompletions, tied for the second-best single-season mark of his 10-year career, while his forced incompletion rate of 15.2% ties with fellow cornerback and teammate Steven Nelson for 20th among players who played at least 300 coverage snaps on the year.