The 2019 regular season is in the books. While each of the AFC division champions repeated this year, we got somewhat surprising playoff teams in the Tennessee Titans and Buffalo Bills through the wild card. In the NFC, the San Francisco 49ers and Green Bay Packers weren't even playoff teams last year, let alone teams with first-round byes, while the Minnesota Vikings went from being hugely disappointing in 2018 to a playoff team again in 2019.
In this article, we talk about some teams that did not make the playoffs in 2019 but are prime candidates to do so in 2020.
This one is easy. The Cowboys were one of the best teams in the NFL in many ways in 2019, averaging a whopping 0.3 yards per play more than the second-best offense, the Kansas City Chiefs. Kellen Moore, while not the most exotic schemer among NFL offensive coordinators, made a positive difference in his first season as an offensive coordinator, throwing more and more efficiently on early downs while generating a career season out of quarterback Dak Prescott.
The defense did not regress fundamentally this season and allowed just 5.2 yards per play (ninth-best in the league). However, they forced a turnover on less than 10% of their opponents' drives and struggled when they faced some of the league's better offenses. Leighton Vander Esch returns in 2020, but a big question remains about what the Cowboys want to do with pending free agent Byron Jones, who allowed just 0.62 yards per coverage snap going into Week 17 (fifth-best among cornerbacks) and has cemented himself as one of the best cornerbacks in the league. 
As we wrote about last week, the Cowboys had horrible fortune in close games, something that tends to mean-revert in subsequent seasons. Depending on who they end up with at head coach and what they do with Prescott, the Cowboys appear to be a contender in 2020 and beyond.
Cowboys' Record in Games Decided by Eight or Fewer Points (Including Playoffs):
| | |
| --- | --- |
| Season | Record |
| 2017 | 2-2 |
| 2018 | 10-4 |
| 2019 | 1-6 |
Once a favorite to make the AFC wild card, the Steelers petered out down the stretch, losing their last three games and finishing 8-8, one game behind the Titans. Big Ben's elbow injury left the Steelers with an offense that generated a yards per play average that finished ahead of only the New York Jets, who started Luke Falk at quarterback for multiple games. The problems were not only isolated at quarterback, though, as JuJu Smith-Schuster struggled with injuries and ineffective play (1.59 yards per route run going into Week 17) after a breakout sophomore season.
What kept the Steelers in the race was their defense. The additions of Minkah Fitzpatrick, Devin Bush and Steven Nelson, along with the emergence of Bud Dupree, yielded a group that ranked first in our overall PFF defensive grades and tied for first in yards per play allowed. They led the NFL in turnovers generated per drive thanks to five picks each from Fitzpatrick and cornerback Joe Haden.
Wait…"defense doesn't win games" is something we've harped on for a long time, and it's a pretty safe bet that the Steelers do not repeat as turnover champions in 2020. However, even if the defense takes a step back, an offense guided by Big Ben, one of the best offensive lines in football and a great young stable of receivers should be in the running for double-digit wins in a 2020 season where they face the weak NFC East and AFC South divisions as well as play two games each against the Cleveland Browns and Cincinnati Bengals.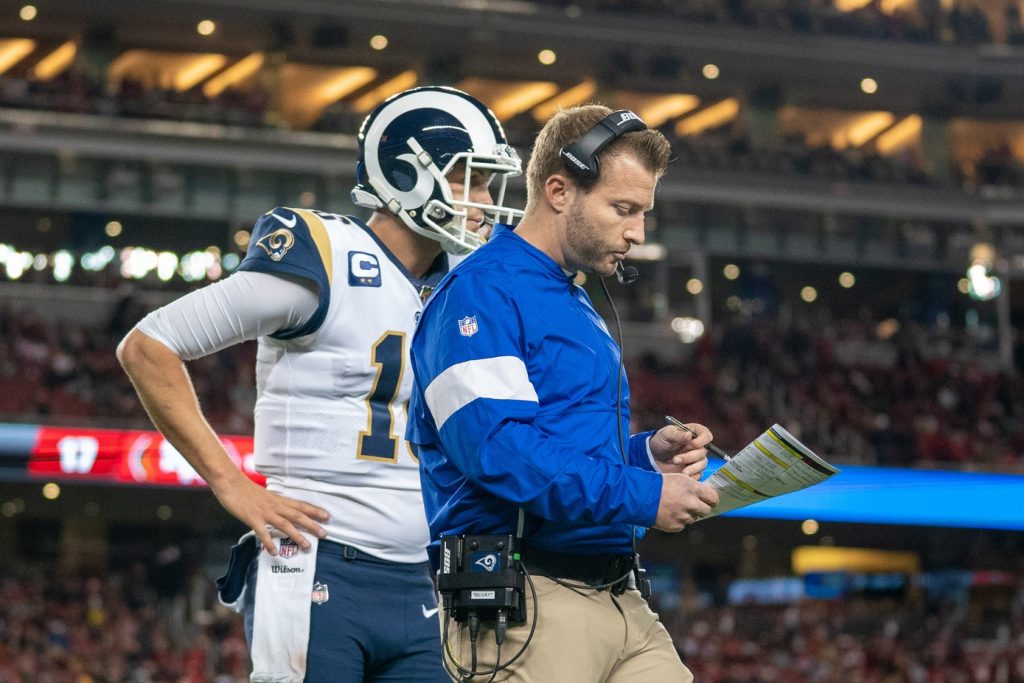 © Kyle Terada-USA TODAY Sports
This is an interesting case. On the one hand, the Rams don't have to go very far to reach the playoffs for the third time in four years in 2020. They have a very good head coach and defensive coordinator. They have some of the best talent that the league has to offer in Aaron Donald, Robert Woods, Jalen Ramsey, Cory Littleton and Andrew Whitworth (pending retirement). They have a theoretically easier road as well, facing the relatively weak NFC and AFC Easts in 2020.
One the other hand, Jared Goff showed significant issues in 2019. After a season in which Goff was a top-10 quarterback in terms of PFF grade, he slipped to 18th in 2019, throwing almost as many interceptions (16) as touchdowns (19) while ranking 22nd in adjusted completion percentage behind players like Mason Rudolph and Drew Lock. The Rams run one of the most unique schemes offensively in all of football, one that used a league-leading play-action rate in neutral situations heading into Week 17, a high amount of outside-zone running plays, an above-average depth of target and light box counts. Receiver injuries and offensive line issues aside, if Goff cannot succeed in those circumstances, the Rams may be in trouble even if the Seattle Seahawks regress and the Arizona Cardinals cannot see a second-year jump for Kyler Murray and Kliff Kingsbury. 
In addition to question marks about Goff, the Rams do not have a first-round pick in the foreseeable future; they also need to sign Jalen Ramsey to an extension, and they already have big contracts dolled out to Todd Gurley, Brandin Cooks, Goff and Dante Fowler. It will take some creativity for the Rams to be good moving forward, but we wouldn't doubt them.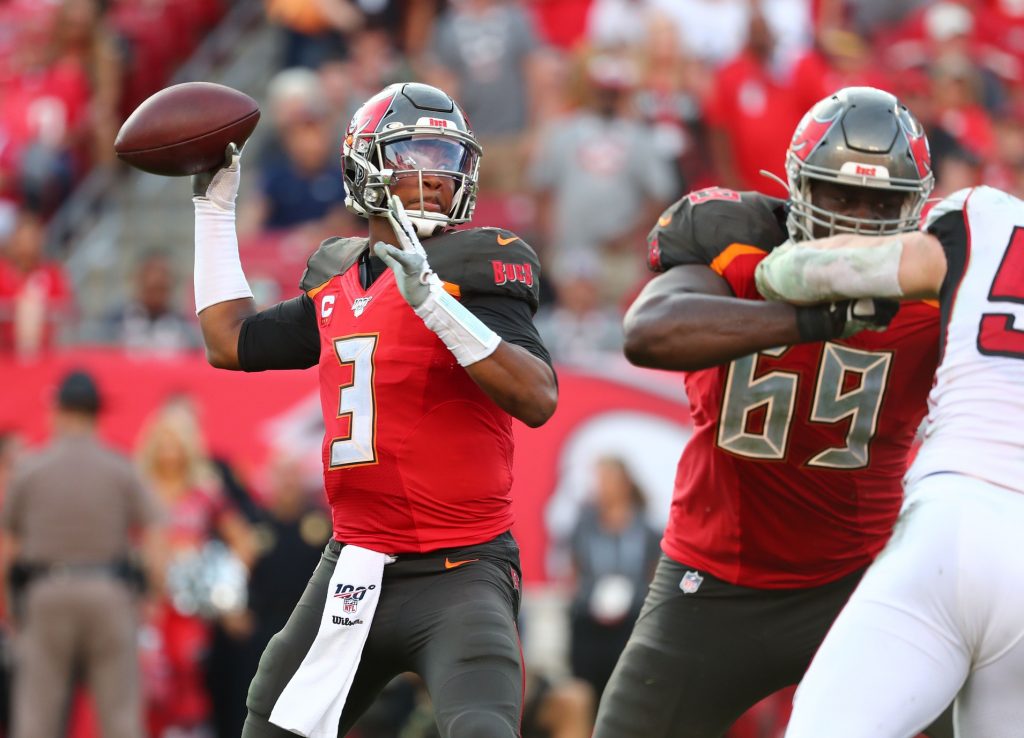 © Kim Klement-USA TODAY Sports
The Bucs love will not end with Deion Jones' pick-six of Jameis Winston in Week 17. Much like in Bruce Arians' stint with the Cardinals, the first year of his head coaching tenure did not begin with a playoff berth, but it had a lot of encouraging developments — not the least of which is the passing game.
Wide receivers Chris Godwin and Mike Evans missed a combined five games and were still head and shoulders above any other wide receiver duo in total PFF WAR accumulated. Breshad Perriman had success in their stead, as well, and the defense improved from the league's 30th-highest graded group in 2018 to 13th this year. Nine of their 16 games were decided by one or fewer scores, and they lost six of those games — things are trending nicely in Tampa Bay.
The elephant in the room is obviously the quarterback, Jameis Winston. On the one hand, as we predicted, he threw for more yards than any other quarterback in the NFL this season, and only Ryan Tannehill produced a higher rate of positively graded throws. The Buccaneers were also sixth in yards per play as an offense, ahead of division rival New Orleans. On the other hand, it's extremely hard to win in this league when you turn the ball over as much as Jameis does, and not only did he lead the league in actual interceptions with 30, but he was also the league leader in turnover-worthy passes, meaning that while luck is a factor, his process is not good in that regard, either. 
In the end, though, it's pretty clear that Arians can evaluate quarterback play, and if Winston is not the right man for the Bucs job, there's a good chance the Bucs head coach will find the player who is. If Jameis is the best player for the job, Bruce will do what he did in 2019 and get the best out of him. In a division where it's tough to see the Carolina Panthers and Atlanta Falcons as contenders any time soon, and with the prospect of a Drew Brees retirement more likely with each passing year, give me some Bucs moving forward.