The safety position is one of the most interesting positions in all of football. 
Years ago, Dick LeBeau would often tell me (Solomon) that a safety must be physically able to function in many different roles. They must be a combination of fast enough, tough enough and smart enough to match up in pass coverage while at the same time work with linebackers in run defense, even in short-yardage and goal-line plays. They must also function with defensive linemen to execute an effective pass-rush.
Fast forward to 2019, and this is true in spades, with teams increasingly using big nickel and dime personnel to combat the use of 11 personnel as the NFL's base offense. Some safeties need to be able to play like a linebacker on early downs to match up against teams that are determined to run the football out of spread formations; other safeties need to be able to come down into the slot and cover receivers who range from the small and shifty to the big and athletic. Of course, there's still the need for players to man the deep middle or deep half of the field as well, especially since some offenses focused on increasing their average depth of target this season.
Safeties who have the cerebral talents to understand offensive formations, personnel groupings and route combinations along with down and distance will have a huge advantage when it comes to making plays. It is an understanding of these critical areas of the game that allows the truly exceptional players to fully utilize the most important tool needed to play the position at its highest level — instincts.
Instincts are nothing more than a predictive and intuitive understanding of what to expect at any given moment. Safeties who carefully study the opponent's tendencies then mentally catalog their expected gameplan will be able to call upon this information during critical moments in the contest. This intuitive skill was readily apparent in Hall of Famers like Ronnie Lott, Rod Woodson and Ed Reed. They had all the tools needed to define the position.
One of the benefits of PFF grades is that they capture these traits better than traditional statistics like interceptions, sacks and tackles. A safety who is making tackles behind the line of scrimmage is more valuable than one who makes them down the field, and a high-interception guy may be getting beat on nine of the 10 passes thrown into his coverage.
With that in mind, here are the league's best NFL Safeties of 2019.
Now in just his fourth season out of Boston College, Denver Broncos free safety Justin Simmons is a former third-round draft pick who has emerged as the league's best coverage safety and most valuable defender in terms of PFF WAR. Among safeties who have taken more than 200 snaps and been targeted more than 25 times through the first 16 weeks, Simmons has not only received the highest coverage grade (90.5) but the highest overall grade, as well (90.4).
Simmons has all the tools to serve as a premier coverage safety in today's pass-happy league. He split time in college at both cornerback and safety, and his 3.85-second 20-yard shuttle time at the Scouting Combine bested the likes of Vernon Hargraves and Sean Davis, two of the top corners on the draft board.
Simmons' technical footwork combined with a heady understanding of pass coverage angles has allowed him to thrive in both man-to-man and zone coverages. He leads his position group with a combined 14 interceptions and pass breakups, and quarterbacks would have a better passer rating if they simply spiked the ball each time they dropped back to pass rather than throw in his direction.
The best coverage safeties have great awareness of both space and timing. Here, on this quarterback scramble, Simmons shows the speed that's needed to recover and make a play on the ball even when he is caught out of position. He also shows impeccable timing by breaking up the pass without drawing a penalty flag.
From week to week, Simmons has been the most consistent and versatile safety in the NFL, which makes his Pro Bowl snub one of the most egregious in recent years.
New Orleans Saints free safety Marcus Williams is a former track star whose ball skills and athleticism helped him corral 11 career interceptions during his three seasons at the University of Utah. And now in his third season with the Saints, Williams has collected 10 picks over the course of his NFL career. Saints defensive coordinator Dennis Allen has the luxury of using fellow secondary player Vonn Bell as a primary in-box defender, leaving Williams the freedom to roam from sideline to sideline.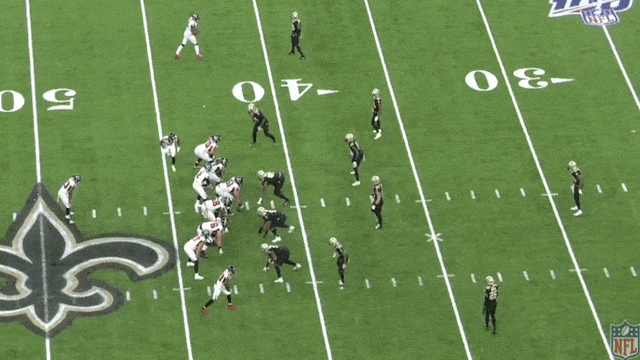 In the play above, you can see the speed and excellent range of Marcus Williams while in centerfield zone coverage. He is asked to cover deep and protect the endzone from sideline to sideline. Williams' speed and ball skills create a big play for the defense, but even more importantly, he eliminates a potential big play for the opposing offense.
Such big plays have become commonplace for Williams, who now has 10 combined pass breakups and interceptions through 16 weeks. Among the 101 safeties who have played at least 200 snaps so far this year, Williams' PFF overall grade (87.3) ranks fifth, as does his PFF coverage grade (89.5).
Many of us will remember Williams for ducking Stefon Diggs in the waning moments of the Minneapolis Miracle two seasons ago. Kudos to him for carving out a spot as one of the league's best players, who has more than made up for the value of that play in subsequent seasons.
Jamal Adams: The Game's Best Blitzing Safety
No defensive coordinator loves blitzing the quarterback more than the New York Jets' Gregg Williams, and there is no better safety to utilize to that end than Jamal Adams, the league's most valuable safety last season in terms of PFF WAR. He embodies all the tools needed to master the position: He is smart, fast and physical in his relentless pursuit of the quarterback, and his 22 total pressures generated gives him a pass-rush win rate of 24.1% this year, which ranks second among safeties.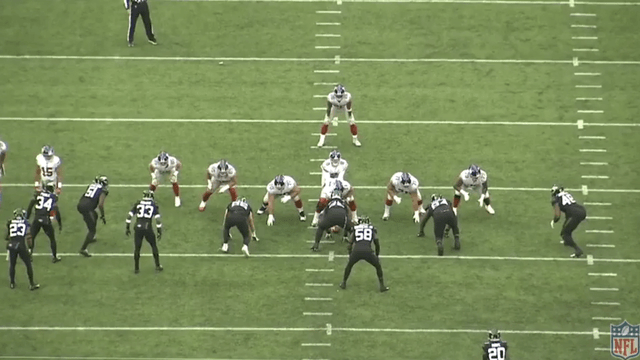 Jamal Adams' ability to disguise his intent to rush the quarterback works well with the Jets' front seven. In the play above, Adams will mask his intent by pretending to be locked in man-to-man coverage on the tight end. Then watch his physical bull rush against running back Saqaun Barkley before he takes the ball from quarterback Daniel Jones and races into the end zone for a touchdown. This play is fully emblematic of Adams' complete skill set. His next sack will be his eighth this season and will tie a league record for defensive backs.
Defensive plays made at the line of scrimmage or in the opponent's backfield have a greater impact than non-turnover plays made further downfield. By playing in the other team's backfield, the Jets' defense is creating negative-yardage plays for the opposing offense and boosting their EPA allowed per play into a top-10 mark in the entire NFL (-0.06).
Adams is No Liability in Coverage, Either
Having a versatile safety is incredibly valuable for NFL defensive schemes and game planning. A blitzing safety with no coverage skills could only be used in and around the line of scrimmage, and his presence there would immediately tip-off the opponent that a blitz, not coverage, is the safety's only option. As a do-it-all safety in the Jets' defense, Jamal Adams has proven to be an asset, and he's no liability when matched up in pass coverage, either. This season, he's allowed a passer rating of just 80.7 on throws into his primary coverage, which is way below the league-wide average for safeties (93.6). Adams' pass coverage skills make him a complete, every-down safety in a league where teams will be using three such players more often than not.
His knack for pass-rushing combined with his talent to defend both the run and the pass has made him the only defensive back in the NFL who has played at least 200 snaps yet earned a top-10 PFF grade in coverage (86.1, seventh among safeties), against the run (81.6, seventh), as a tackler (89.7, second) and as a pass-rusher (90.4, tied for first).
Harrison Smith: Master of Disguise & Coverage
For eight seasons now, Harrison Smith has defined the free safety position in Minnesota. By definition, the role is designed to utilize one player — who would roam free in space — to provide a safety net against explosive plays while intuitively making a few himself. Smith uses his freedom and a keen sense of football intelligence to disguise his pre-snap alignment only to reappear in an entirely different area of the field during the post-snap phase of the play — he is PFF's second-highest graded safety in pass coverage with an elite grade of 91.4 through the first 15 games of the season.
After showing slight signs of decline over the past two years, the former first-round pick from Notre Dame has generated the second-most WAR on the Vikings, a team that is in the playoffs for the third time in four seasons under Mike Zimmer.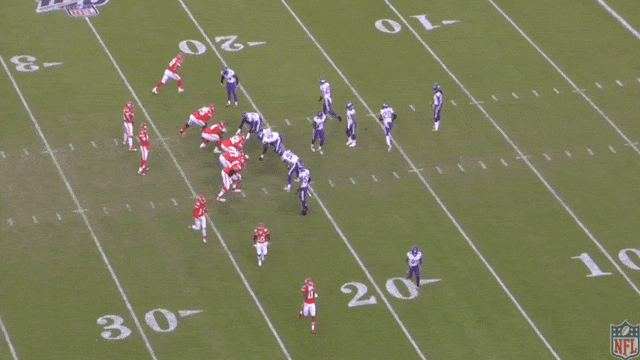 Smith has an intuitive sense to use his pre-snap alignment to disguise his intent on any given play. Here, his alignment suggests that he is in man-to-man pass coverage on the tight end, but it is just a ruse. Smith's true intent is a delayed blitz to the quarterback, where his closing speed is on full display. Smith's initial disguise worked well enough to fool both the offensive line and the quarterback, who was not aware of the unblocked pass-rusher until it was too late.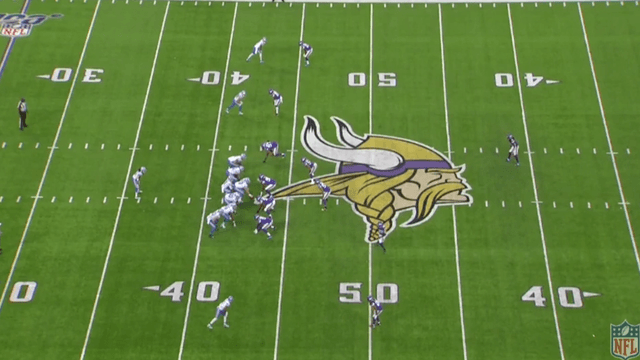 For Harrison Smith, there really are no weak areas in his overall game, but he especially excels in pass coverage. The above play is a perfect example of that. Here, he will again align to signal he is in man-to-man coverage on the near side over the tight end. However, when the tight end doesn't release and instead decides to protect against the pass-rush, Smith will use his freedom to find work in pass coverage. As he rotates to what we call the middle hole, Smith locates an open receiver running free and will smartly match up to the route before intercepting the ball from the intended target.
This is what Lombardi was talking about when he said 90% of the game is played from the neck up. By using his intelligence and intuition, Smith has become one of the best all-around safeties in the league. Through the first 15 games of the 2019 season, he has three interceptions, six total pressures and 20 total defensive stops. He provides his coach Mike Zimmer with a tool to harass the quarterback while providing coverage for the Vikings' defense.
There are some players who defy the boxscore by providing a skill set that is characteristically uncommon.  Like Harrison Smith, Minkah Fitzpatrick has a tremendously high football IQ that allows him to be in a position to make plays on the ball with great regularity. His instincts are built on the foundation of sound fundamentals of formation recognition, pattern reading and the poise to strike when the opportunity presents itself.
While it is difficult to equate these fundamentals to numerical data, Fitzpatrick's arrival to the Pittsburgh Steelers' secondary has added measurable improvement. Before his arrival, during the Steelers' first two games of the season, the secondary committed egregious assignment errors and allowed the second-most explosive pass plays of 15-plus yards in the NFL (16 in first two games).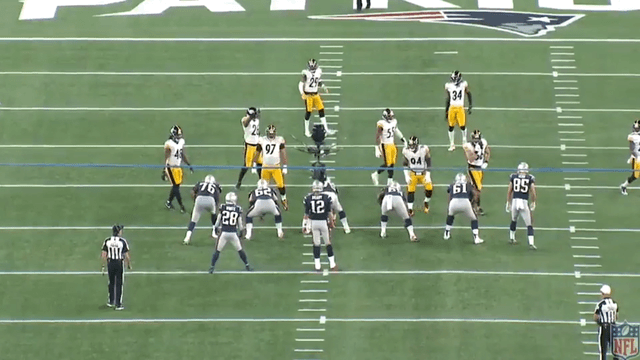 Before Fitzpatrick was inserted into the lineup, Steelers defenders repeatedly bit on play-action fakes and were lured out of position. The above play, where they allow an easy score down the seam, is a perfect example of this. 
Without Fitzpatrick, Steelers safeties failed to recognize formations, which led to easy pass plays for the offense. However, once Fitzpatrick arrived in Week 3, he paid off immediately by helping to limit big pass plays while at the same time creating timely takeaways of his own.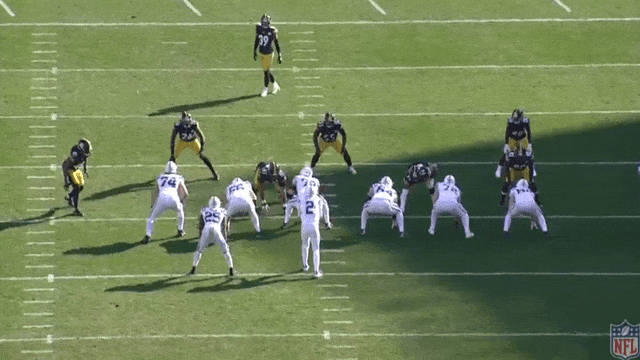 Watch, in the above play, as Fitzpatrick will calmly recognize a two-by-two formation with tight wide receivers split to his left. With great poise, he is not lured out of position by the play-action fake. He anticipates a quick pass to the seam route on his left, and with no wasted steps, he breaks on the ball with timing and execution. These are the intuitive skills that translate well beyond the box score.
Former Steelers safety and Pro Football Hall of Fame defensive back Rod Woodson claims that Fitzpatrick has the aptitude and physical ability to play every position in the secondary.
"He understands the game and how offenses operate in a passing system," said Woodson. "He recognizes offensive formations and wide receivers' route combinations, and that allows him to trust what he sees. And then he is not afraid to trust that knowledge and go make a play. The Steelers' defense has not had this kind of playmaker in its secondary since Troy Polamalu."
Rod Woodson finished his 17 seasons in the NFL with 71 career interceptions, the third-most in league history. Like Woodson, Fitzpatrick has an intuition that is built on sound fundamentals; he does not rely on the kind of guesswork where a defender will vacate his coverage responsibilities and leave the defense vulnerable to a big play. Instead, Fitzpatrick will use his instincts to read the wide receiver's route combinations to lead him to the point of interception.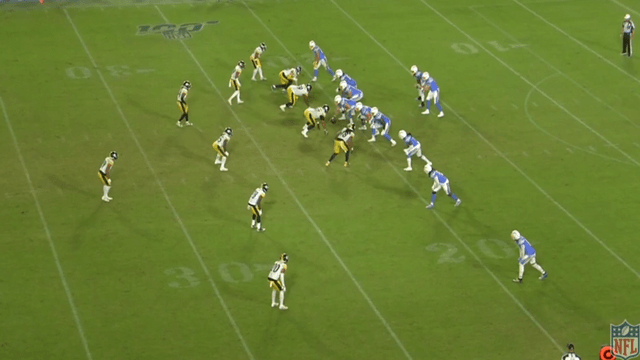 Because all route combinations are carefully coordinated to work in harmony with one another, many of these designed route patterns can easily be understood with intimate film study. Watch the above play, where Fitzpatrick will first align as a single-high safety before rotating down to the "curl area" of the three-receiver side. When the inside slot receiver breaks outside to the flat, Fitzpatrick immediately anticipates that the outside receiver will run the corresponding in route. Fitzpatrick anticipates the route so well, it's as if he has eyes in the back of his head. He then cuts underneath the route for a near interception.
Fitzpatrick has brought a winning mentality to the Steelers' secondary. He has posted a very good 87.4 overall coverage grade, but perhaps most importantly, he's helped to stop the seemingly constant leak in the back end of the Steelers' defense, and that's a big reason he's been worth over a half of a win for a team that has been without its starting quarterback since Week 2.
The ability to consistently create game-changing turnovers remains an inconsistent science, but the fundamentals used by Fitzpatrick to improve his chances of making those big plays could offer long-term success in a passing league that offers plenty of opportunities to do so.