The 2022 NFL Scouting Combine is officially in the books, which means it's time to highlight the winners and losers.
Like it or not, draft stocks moved over the past week in Indianapolis. Here are the guys who will most likely be shifting on draft boards.
Click here for more PFF tools:
Draft Guide & Big Board | Mock Draft Simulator
Dynasty Rankings & Projections | Free Agent Rankings | 2022 QB Annual
Player Grades
---
Quarterback
You didn't need the combine to know Ridder was fast, but for him to show up 211 pounds — four pounds heavier than his Senior Bowl measurement — and still test well was a win for him. His 4.52-second 40-yard dash, 36-inch vertical and 10-foot-7 broad jump are all tremendous figures.
This one comes down to one thing — his 8.5-inch hand measurement.
He's not a "loser," per se, as it was already known he'd measure in with small hands. Still, it doesn't take away from the fact that it ties the smallest measurement for any quarterback who has taken an NFL snap since the league started measuring. It's something that will factor into evaluations for some, but it's not a death knell.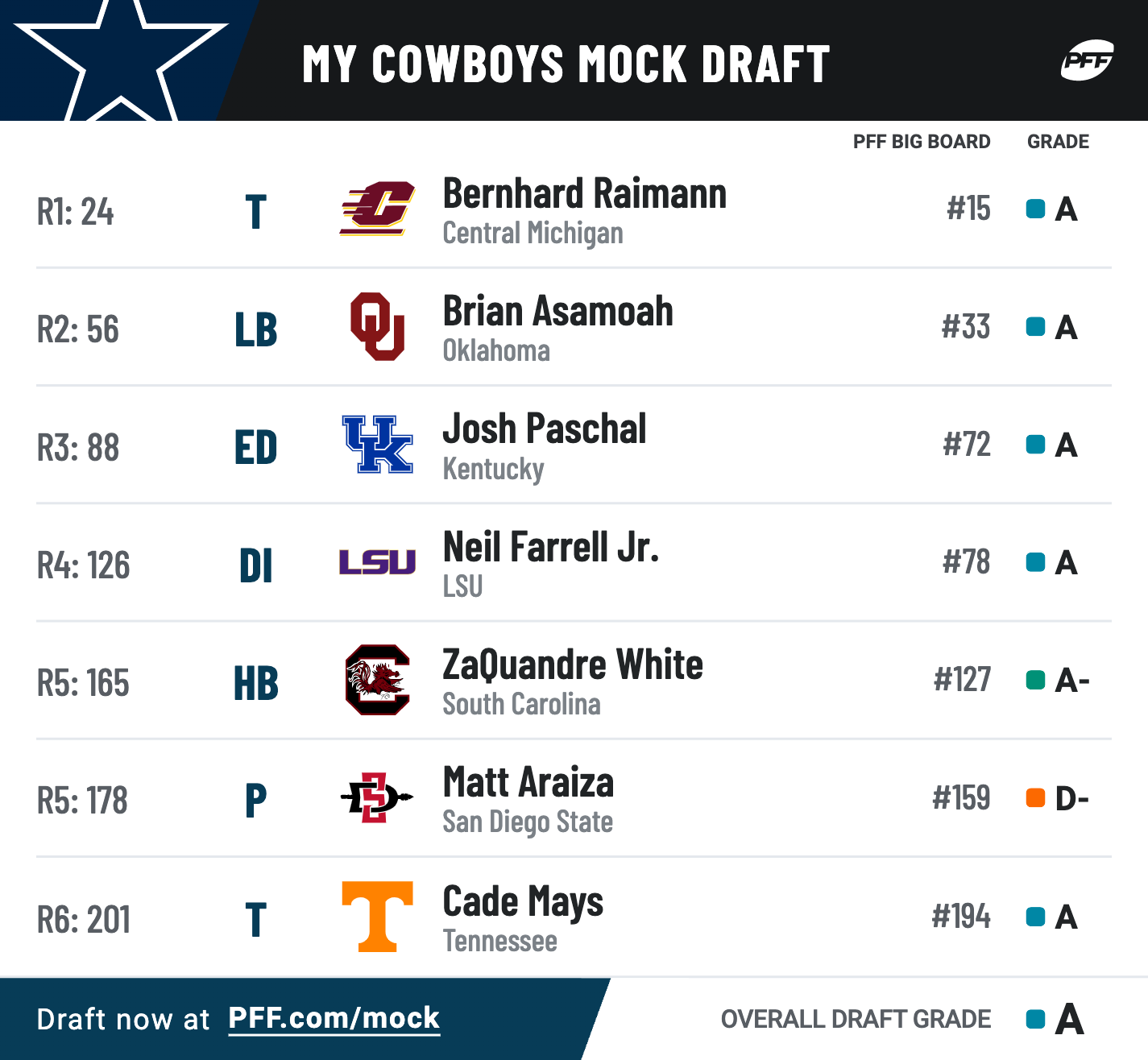 Running Back
Hall went out and put up a Jonathan Taylor-esque combine performance, as he matched the former Badgers running back's 4.39-second 40-yard dash. He was the largest back in attendance to go sub-4.4 at 217 pounds. Let the back-end-of-Round 1 hype begin for him and Kenny Walker.
Honorable mention: Kenneth Walker (Michigan State), Zamir White (Georgia)
Williams' day started on the wrong foot when he weighed in at only 194 pounds, and it only got worse from there. He managed the slowest 40-yard dash of any player in attendance (4.65) and managed only a 32-inch vertical with a 9-foot-8 broad jump. Those are all rough figures that look even worse when weight-adjusted.
Honorable mention: Isaiah Spiller (Texas A&M), Zonovan Knight (N.C. State)
---
Wide Receiver
A 4.36-second 40. A 38.5-inch vertical. An 11-foot-4 broad jump. All at 6-foot-4, 208 pounds.
Those are elite, elite numbers for a bigger wide receiver. After his Senior Bowl performance, it's hard to think of someone who has had a better pre-draft showing.
Honorable mention: Skyy Moore (Western Michigan), Calvin Austin III (Memphis), Kevin Austin Jr. (Notre Dame), Tyquan Thornton (Baylor)
With 40 times blazing left and right, Burks came in with a very ho-hum 4.55. That number is fine for a 225-pounder, considering it's difficult to get all that weight moving, but his 33-inch vertical and 10-foot-2 broad jump aren't good figures, no matter the weight. With that testing, he would have been one of the less athletic linebackers in this class, let alone receivers.
Honorable mentions: David Bell (Purdue), Dontario Drummond (Mississippi)
Tight End
Others put up better numbers in the explosive drills, but Dulcich had the best all-around performance. He was one of the few prospects who competed in every single drill, and he put up above-average numbers in all of them.
Honorable mentions: Jelani Woods (Virginia), Chig Okonkwo (Maryland), Daniel Bellinger (San Diego State)
Turner and Dulcich are similar prospects in their receiving background and usage, but they proved to be on different ends of the athletic spectrum. Turner's 4.76-second 40-yard dash and 27-inch vertical were rough for a guy with the "move" tight end moniker.
Honorable mention: Jake Ferguson (Wisconsin)
---
Related content for you:
---
Offensive Tackle
The small-school tackles getting first-round hype proved exactly why with their workouts in Indy. Penning had nothing short of an all-time combine, highlighted by a 4.89-second 40-yard dash and 7.25-second three-cone. Those are elite numbers made even more impressive by the fact Penning is 6-foot-7 and 325 pounds.
Honorable mention: Bernhard Raimann (Central Michigan), Kellen Diesch (Arizona State), Abraham Lucas (Washington State)
Undersized players can still hack it in the NFL. Below-average athletes can still hack it in the NFL. However, the combination of the two very rarely pans out at the pro level. Unfortunately, that's the territory Mitchell now finds himself in after running a 5.32-second 40-yard dash and 8.09-second three-cone in Indy.
Honorable mention: Thayer Munford (Ohio State)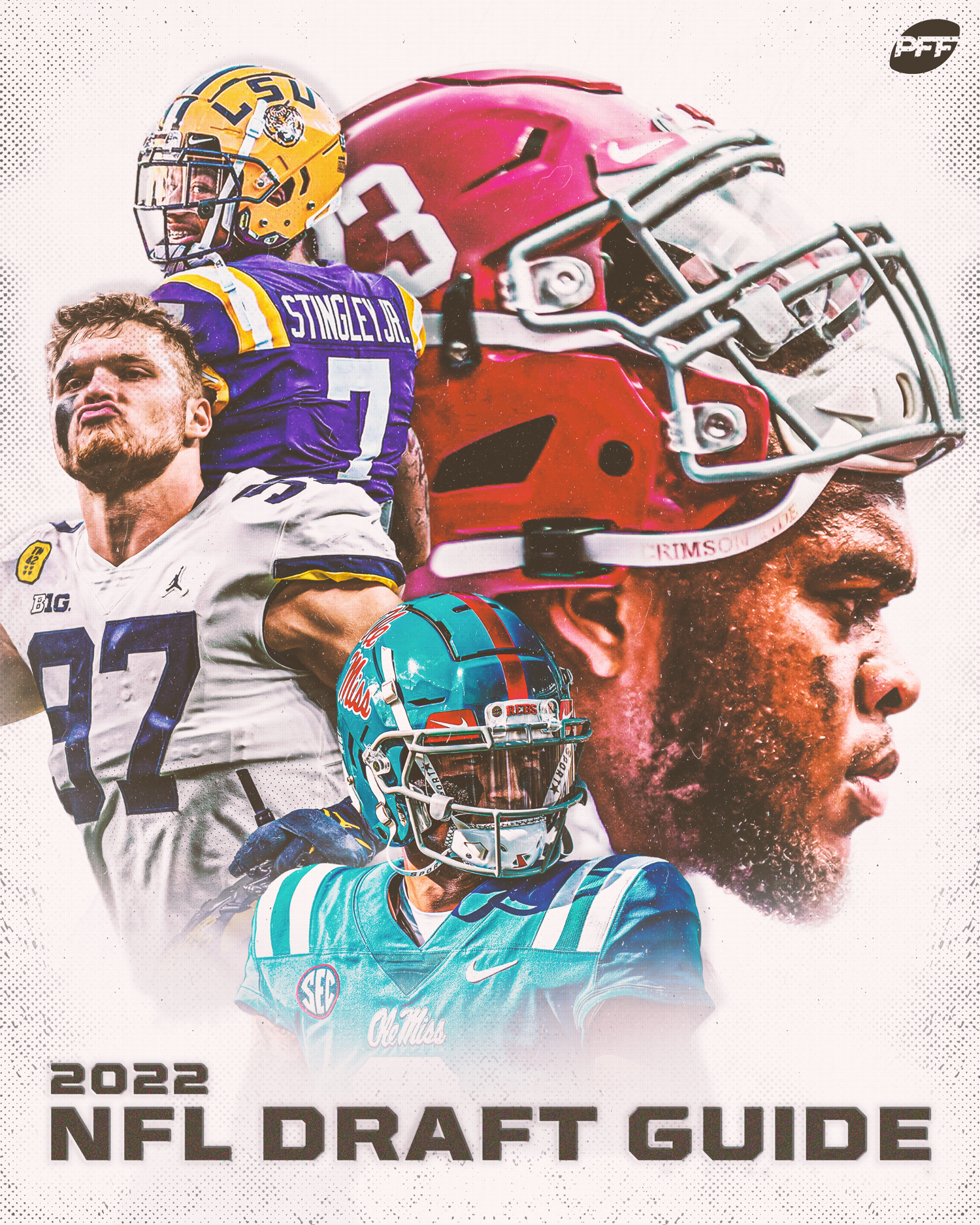 Interior Offensive Line
There were some very impressive performances from the interior line class, but none more than Johnson's. He not only put up an impressive 32-inch vertical and 32 bench reps at 312 pounds, but he also knocked the change-of-direction drills out of the park with a 7.38-second three-cone and 4.46-second short shuttle. He is a nimble and powerful man.
Honorable mention: Zach Tom (Wake Forest), Cole Strange (UT-Chattanooga)
The good news is Green has the ideal frame — 6-foot-4 and 323 pounds with 34 ⅛-inch arms — to play anywhere along the offensive line. The bad news is that he proved to be a very middling athlete with no above-average workout figures. That sounds more like a guard than a tackle in the NFL.
Honorable mention: Darian Kinnard (Kentucky)
---
Defensive Tackle
To put just how freaky Davis' 4.78-second 40-yard dash was into perspective: no one over 340 pounds has ever run a 40 faster than 4.98, and that was Dontari Poe, who ended up going No. 11 overall after his workout. Expect Davis to end up in a similar range.
Honorable mentions: Devonte Wyatt (Georgia), Travis Jones (Connecticut), Perrion Winfrey (Oklahoma), Thomas Booker (Stanford)
The undersized and unathletic bit above applies to a degree here. But with Leal, it's more like undersized (283 pounds) and "nothing special" athletically. For a guy billed as an athletic project defensive tackle, his 5.0-second 40 and 27.5-inch vertical were not indicative of that.
Honorable mention: Neil Farrell (LSU)
---
Edge defender
A true all-time performance. While others have matched the linear explosiveness at that size — he ran a 4.51 at 272 pounds– I'm not sure anyone has ever been that explosive and tested as well in the change-of-direction drills. His 6.89-second three-cone and 4.32-second shuttle are superb times for an edge.
Honorable mentions: Aidan Hutchinson (Michigan), Amare Barno (Virginia Tech), Nik Bonitto (Oklahoma), Boye Mafe (Minnesota), David Ojabo (Michigan)
Loser: Myjai Sanders, Cincinnati
I don't know if Sanders was sick or got some bad advice pre-draft, but he had the single most head-scratching combine of anyone in attendance. He showed up only 228 pounds and ran a middling 4.67-second 40 with a 33-inch vertical. That's an unathletic wide receiver, not an edge rusher.
Honorable mention: Zach Carter (Florida)
---
2022 NFL Draft position rankings:
Top 10 players at every position
QB | RB | WR | TE | iOL | OT | DI | EDGE | LB | CB | S
---
Linebacker
If you were a top linebacker in this class heading in, chances are you won the combine. Almost every top guy ticked boxes left and right. Chenal, however, ticked every box at a hefty 250 pounds. His 4.53-second 40-yard dash, 40.5-inch vertical and 10-foot-8 broad jump are ideal for the blitz-heavy usage he's likely to have in the NFL.
Honorable mentions: Troy Andersen (Montana State), Christian Harris (Alabama), Brandon Smith (Penn State), Chad Muma (Wyoming)
This may be harsh to include Dean here, but when you see the testing numbers for the rest of the linebacker class, you realize why he's the only one who qualifies. By not testing and only weighing in with less than ideal size for an NFL linebacker (5-foot-11, 229 pounds), Dean risked getting lapped by others in this class.
Honorable mention: Josh Ross (Michigan)
---
Cornerback
Tariq Woolen grabbed all the headlines with his blazing 40, but give me McCollum's all-around testing numbers every day of the week. He was the only cornerback in attendance to do either the three-cone or the short shuttle. With good reason: his 6.48-second three-cone and 3.94-second shuttle were 99th and 97th percentile, respectively, among corners.
Oh yeah, and he put up a 4.33-second 40, 39.5-inch vertical, and 11-foot broad jump at 6-foot-2, 199 pounds. Those are developmental traits if I've ever seen them.
Honorable Mention: Tariq Woolen (UTSA), Kaiir Elam (Florida), Tariq Castro-Fields (Penn State)
Like it or not, cornerback is a stopwatch position. Running a 4.68-second 40-yard dash simply isn't going to put you in line for playing time in most schemes. He has to improve that at his pro day.
Honorable mention: Kyler Gordon (Washington)
---
Safety
Get ready for a second safety to start coming off the board in first-round mock drafts. Cine blazed a 4.37-second 40-yard dash, 36.5-inch vertical, and 11-foot-1 broad jump to put his stamp as the most explosive safety at the Combine. With an ideal build at 6-foot-2, 199 pounds with 32 ¼-inch arms — there's not a lot to dislike about Cine's projection.
Honorable mentions: Nick Cross (Maryland), Daxton Hill (Michigan), Tycen Anderson (Toledo)
Another "loser" that feels hard even to say. Hamilton's jumps were still elite, with a 10-foot-11 broad and 38-inch vertical. That being said, his 4.59-second 40-yard dash tied for the slowest of any safety in attendance. That's not the kind of time teams in the top five wanted to see.
Honorable mention: Juanyeh Thomas (Georgia Tech)