• Best Bet: Raiders UNDER alt win total of 7.5 (+210 at Circa Sports book)
• A $20 bet on the Raiders going under 7.5 wins could return $62
Estimated reading time: 3 mins
---
Let's begin with a fundamental analysis of the 2021 Raiders. Despite making the playoffs, from a production standpoint (EPA), Las Vegas was a below-average team last season, falling into the below-average tier on our EPA graph.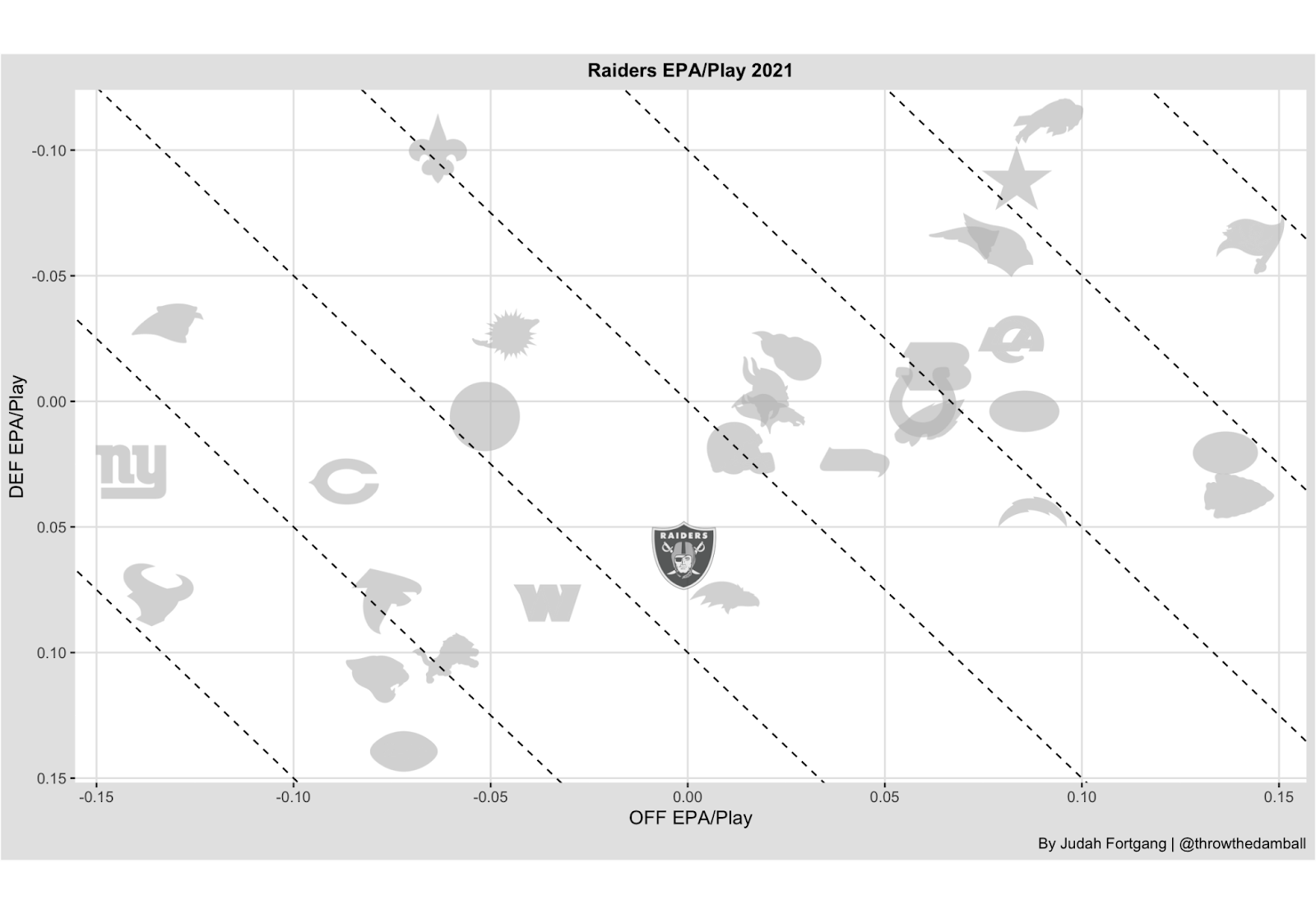 The Pyhtag expectation based on their point differential suggests the same story — a team with an expectation of 6.9 wins. PFF grades? Yep, same thing. No. 20 defensive projection, 19th on offense.
We don't think this analysis is particularly groundbreaking or novel, and the market is likely pricing in a team that was below average last season and fundamentally a seven-win team. But it does set up the central question for the Raiders in 2022: Can they improve by at least two wins? Or, put more sharply: did Vegas get two wins better by adjusting for its 2022 opponents? The market seems to think so, but we don't.
---
Despite finishing 10-7, the Raiders were fundamentally a 7-win team last year — and their big-name offseason acquisitions do not outpace both their opponents improvements and their own question marks heading into 2022.
Bet: Raiders UNDER alt 7.5 wins (+210 at Circa Sportsbook)
* If alt-win total seems too risky, UNDER 8.5 wins is also plus money. 
---
BOTTOM LINE
The Raiders Defense projects to be worse in 2022
After three years of finishing as a bottom-three defense in 2018-2020, the Raiders improved in 2021 on the backs of an improved pass rush and improved coverage play. 
• Pass rush: The Raiders defense enjoyed ceiling-level production last season from Maxx Crosby, who led all EDGE players in WAR (0.81) by 0.24 wins! Crosby might be an elite edge player, but 2021 was likely a ceiling year — it would be difficult for any player, never mind solely Crosby, to repeat his gaudy numbers of 2021. Free agent Chandler Jones is a big name, but at 32, his best days are behind him. He has been right around replacement level WAR in three of the past four seasons.
• Secondary: The Raiders coverage improved last season on the back of Casey Hayward — who led the league in PFF's successful coverage over expected (SCOE) metric — but he signed with the Falcons this offseason. Their outside corners, Anthony Averett and Rock Ya-Sin, have both been negative SCOE defenders throughout their careers. It is no wonder this secondary is projected to finish 29th by PFF's Mike Renner. Barring some magic from new DC Patrick Graham, we see this defense looking more like the 2018-2020 unit than the 2021 team. 
Even with Davante Adams, the WR room has lots of question marks
Las Vegas added Davante Adams —  an All-World receiver by all accounts. But don't overlook that it also lost critical receiver depth.
• Zay Jones, Henry Ruggs and Byran Edwards all produced modest WAR counts in the WR2/WR3 roles (0.19, 0.14, 0.13, respectively), whereas their WR3 replacement is Mack Hollins — a career negative WAR player. This delta is important to keep in mind not only in terms of its absolute value, but as PFF's Eric Eager studied, the quality of a team's WR3 option might be even more important than the strength of a team's WR1 option. And if Adams, Hunter Renfrow or stud TE Darren Waller goes down, what happens with such poor depth? New coach Josh McDaniels might be a strong offensive strategist, but his hands likely would be tied in this scenario.
So let's return to our central question:
Did the Raiders projection improve by two wins by adjusting for their 2022 opponents? 
• Schedule: We can almost quote verbatim what we said about the New England Patriots in the previous column in this series. The AFC — and especially the AFC West — is extremely strong. The Raiders have the NFL's third-toughest schedule, according to PFF Greenline. They might have some shiny new toys, but with big question marks and a tough slate of opponents, the Raiders are a team we're fading.