• A $20 bet on the New England Patriots to go under 7.5 wins could return $57
• Utilize PFF's premier betting tool, Greenline, to see exact cover probabilities of every NFL Week 1 game
---
Most bettors place wagers in multiple markets — spreads, totals, teasers, props, etc. — where they generally get oriented by following a bottom-up approach: "Which spreads do I like?" "Which totals stand out this week?"
But the goal in this space is to articulate our process for bets by following a top-down approach. We will consider how a specific thesis on a team, player, or trend is best applied and capitalized on in the proper market. Some bets will track traditional markets, but more often we will look to maximize our upside in the multitude of different markets offered by sportsbooks — it all depends on finding the right market for the thesis! Let's dive in.
---
The wheels might be coming off in New England, where the roster and coaching staff were depleted in the offseason and the schedule could be the league's most difficult
Best Bet: Patriots UNDER 7.5 wins (+185 at Caesars)
Also worth a sprinkle: alt total of UNDER 6.5 (+280 at FanDuel)
BOTTOM LINE
New England worsened this offseason on both sides of the ball, and while Mac Jones was the best rookie signalcaller in 2021,  he showed worrisome warning signs then lost in the offseason offensive coordinator Josh McDaniels, now head coach of the Las Vegas Raiders. Moreover, the Patriots could have the most difficult schedule in football. With a left tail suggesting a lot more can go wrong than right for the Patriots this season, we're looking to capitalize.
The Patriots lost key players and didn't make any meaningful offseason upgrades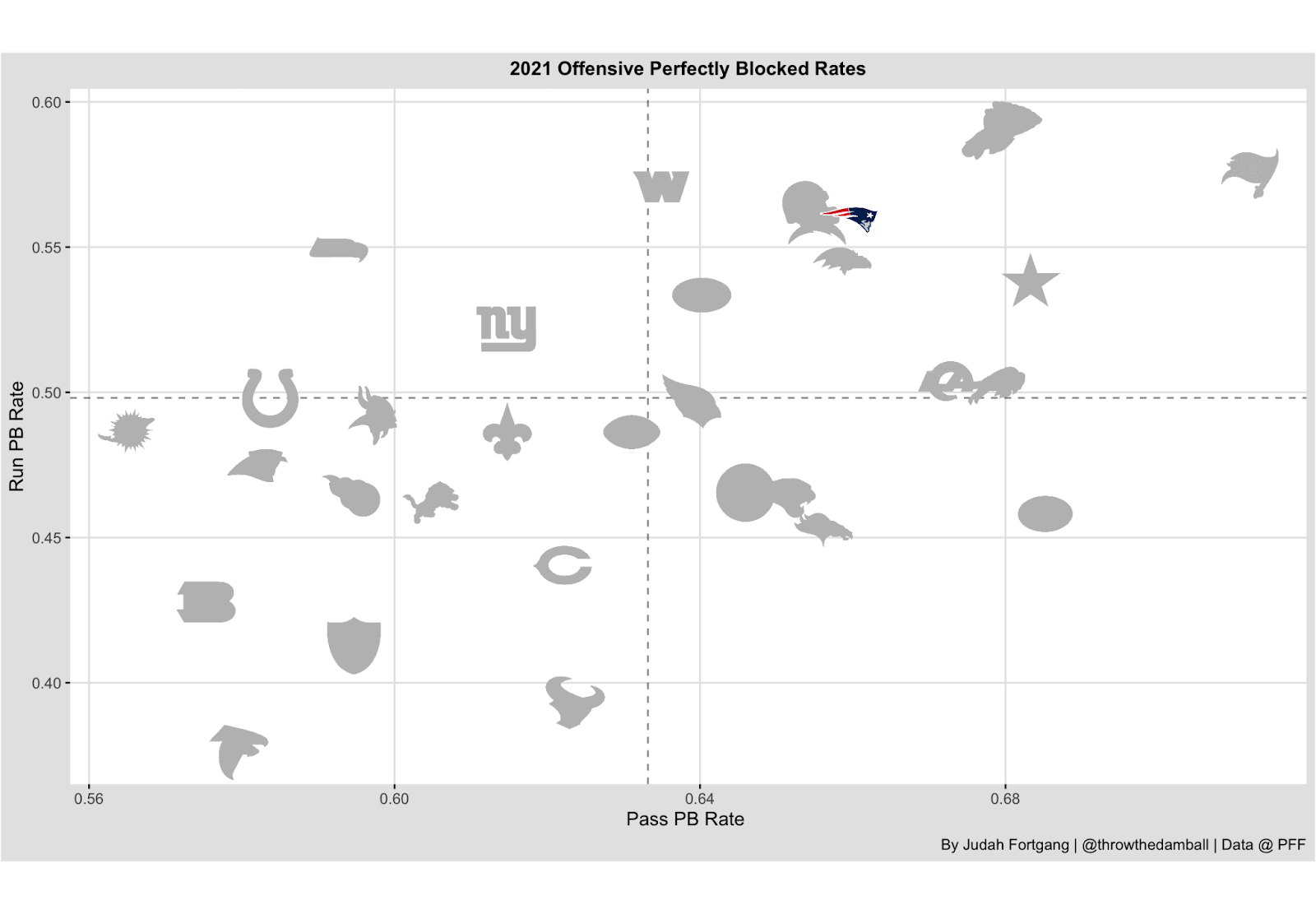 • The Pats were firmly in the top right in our graph using perfectly blocked plays to quantify O-line quality, and their PFF Grades — 10th in Pass Blocking and 8th in Run Block — suggest a similar offensive line quality. But the team lost starting OGs Ted Karras (3.5% Successful Block OE) and Shaq Mason (3% Successful Block OE). New England OTs Trent Brown and Isaiah Wynn were both negative Successful Block OE players last season, and the team lost their offensive coach, leaving those duties to Patricia, a longtime defensive coach. There are major question marks on the offensive line, and more weak links leaves more room for error when it comes to offensive line play. 

• Losing J.C. Jackson (PFF's 5th-ranked coverage corner) and Kyle Van Noy (top-graded coverage linebacker) will hurt this secondary immensely. And as the above graphic suggests, there's an extreme shortage in remaining talent for Bill Belichick to work with on the defense. No matter how good the coaching, you still need talent — and the Patriots' defense is bereft of it.   
The best rookie quarterbacks improve as their debut seasons progress; Jones' play worsened. 
• PFF's Ben Linsey brilliantly broke down last year how Jones peaked early in the season and really struggled toward closer to its conclusion.
• Some highlights from this article (which is as timely as ever): After grading out No. 4 among 32 starters early on as a rookie, Jones finished 28th. Specifically Jones' decision making on tight-coverage throws throughout his rookie campaign fell off, from No. 16 early in the season to first by season's end.
• Perhaps Jones' struggles are a product of defenses figuring him out, which does not bode well for his success this season. Coupling that with the loss of McDaniels and the insertion of either Patrica or Judge, it is difficult to see them making countering adjustments on offense and in turn making the bullish case for Jones taking the next step in his sophomore season.  
The AFC is extremely tough, and New England's strength of schedule is the most difficult in the NFL
• As we've discussed in this space, the AFC is extremely tough, creating an environment conducive to betting the unders. And it is no coincidence that in this AFC, the Patriots have PFF Greenline's hardest strength of schedule. Belichick is a coaching wizard, but with a tough schedule and arguably among his worst rosters, this might just be the season it all comes crashing down.
Bet the Patriots UNDER  7.5 wins (+185), and sprinkle UNDER 6.5 (+280)