Earlier this week, I looked at the top offensive tackle duos in the NFL, but what about their defensive counterparts? While coverage may be king, being able to generate pressure — particularly pressure off the edge — can speed up an offense, and a truly elite pass rush can cause major problems.
When you look across the NFL, the edge defender position is in good shape with plenty of young players who seem to be well on their way to long, prosperous careers. Which teams are looking the best at the position in 2020, though? It's hard that list anywhere other than the Bay Area.
[Editor's note: Subscribe to PFF ELITE today to gain access to PFF's Premium Stats and new Player Grades experience in addition to the 2020 NFL Draft Guide, 2020 Fantasy Rookie Scouting Report, PFF Greenline, all of PFF's premium article content and more.]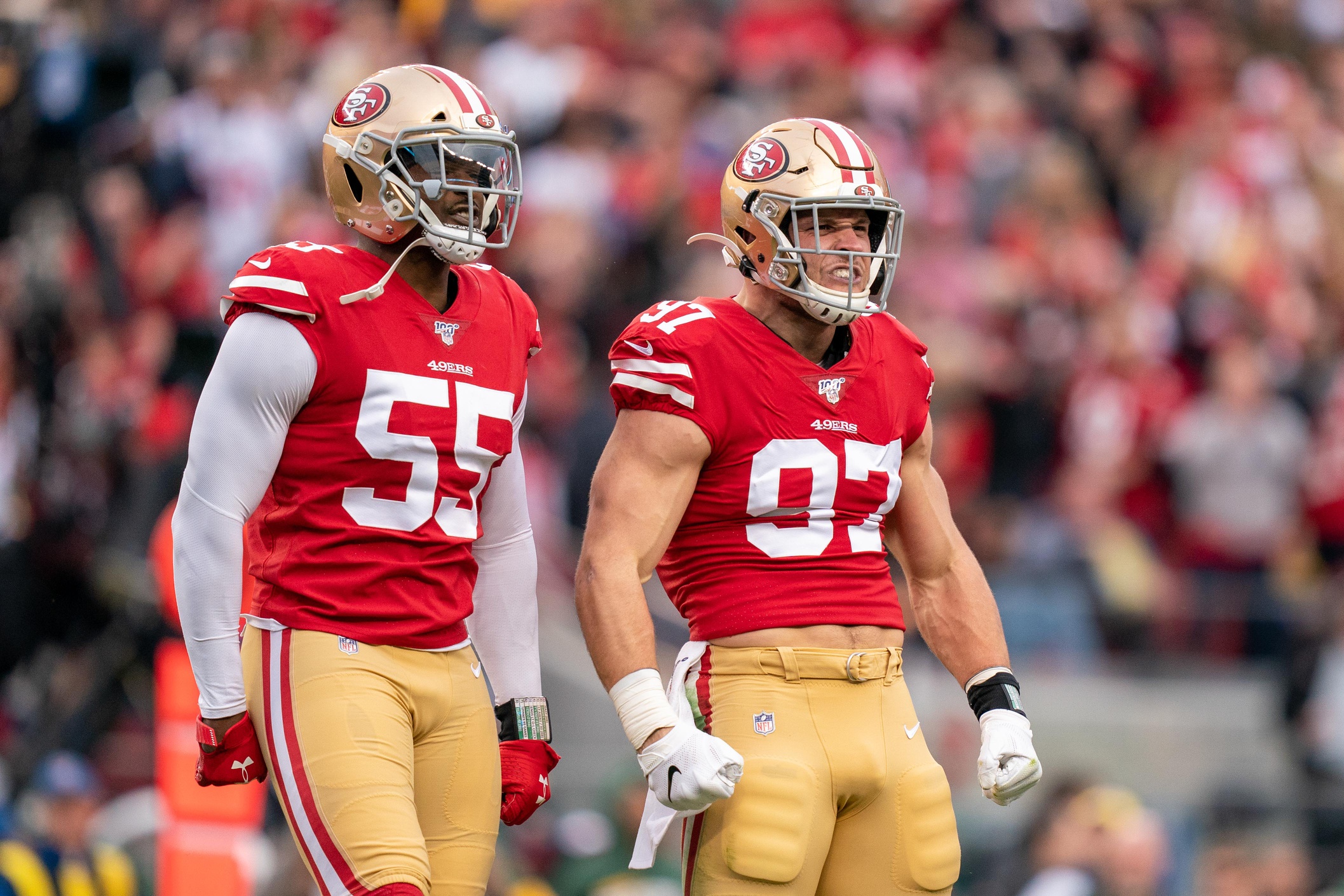 One team into the list and I'm already cheating, but the fact that the 49ers have a trio of edge defenders worthy of recognition here is the reason that they're the first team off the board.
In just his second NFL season, Bosa is going to be the lead dog of the group after a record-setting rookie campaign. Edge defenders aren't supposed to step into the NFL and perform at an elite level in their first season, but nobody told Bosa that — his 80 regular-season pressures were more than any rookie since the PFF era began in 2006 and were good enough to rank sixth among all defenders last season, tied with the human outlier Aaron Donald. Bosa's 17.2% pressure rate was fourth among all players with 250 or more pass-rushing snaps on the season, as well. Like his brother, Joey Bosa, Nick wasted little to no time in announcing that he was one of the premier edge defenders in the NFL.
Across from him will be either Ford, Armstead or both Ford and Armstead in a nightmarish situation for opposing offensive lines. Ford is coming off surgery to address the tendonitis in his knee that he played with throughout the 2019 season, but even in a limited capacity, he still put up an 81.7 pass-rushing grade during the regular season with 25 pressures on just 163 pass-rushing snaps. If a healthy knee means a season reminiscent of Ford's 2018 campaign with the Kansas City Chiefs (78 total pressures and a pass-rush grade of 91.1), then a great 49ers pass rush becomes even better.
Meanwhile, Armstead was rewarded with a new contract this offseason following his career year in 2019 — a year in which his 89.6 overall grade ranked tied for fifth among 102 qualifying edge defenders. He put forth a monstrous effort against the run and the best effort of his career as a pass-rusher, particularly down the stretch, where his 42 pressures from Week 10 through 17 ranked third among all NFL defenders over that period. With the ability to kick inside next to Ford in clear pass-rushing situations, San Francisco will still have a very dangerous four-man rush to turn to in 2020.
Before his suspension, Garrett was on his way to a career year as a pass-rusher. His 91.6 pass-rush grade through the first 11 weeks of the 2019 season ranked first among all edge defenders with 100 or more pass-rushing snaps, trailing only Aaron Donald among all defenders. His 25.0% pass-rush win rate — a number that takes into account not just pressures but also plays on which Garrett beat his blocker without recording a quarterback hurry, hit or sack — came in at third in the league behind just Joey Bosa and J.J. Watt. A swing of Mason Rudolph's helmet stopped all that momentum, but there's no reason to believe Garrett won't return to the field in 2020 as one of the league's best edge defenders.
As for Vernon, the New York Giants shipped him to Cleveland with the narrative that he massively underperformed the lucrative contract they signed him to. That narrative has followed him to Cleveland, where there were reports this offseason that the Browns made a significant offer to Jadeveon Clowney to line up across from Garrett. Yes, Vernon has dealt with his fair share of injuries, and ability is reliant on availability, but his 86.6 overall grade in the regular season since signing that contract in 2016 ranks 21st among 99 qualifying edge defenders. He is still a good player — one capable of playing both the run and pass well — when healthy. The Browns will be hoping that's what they get next season.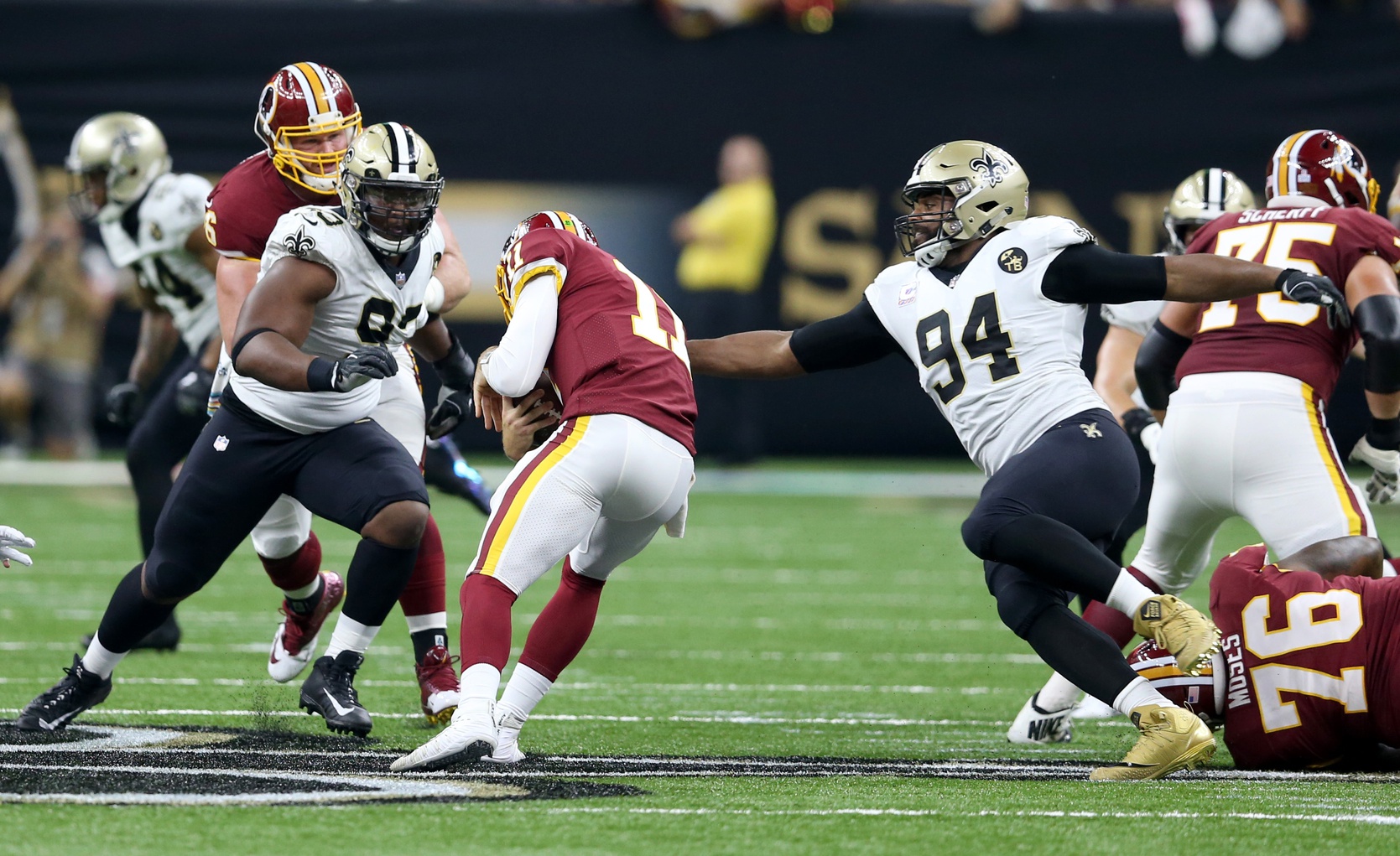 Jordan absolutely should be mentioned in every conversation about the league's best edge defenders. The only three edge rushers in the NFL with 90.0-plus grades in 2016, 2017 and 2018 were Jordan, Von Miller and Khalil Mack. He was one of just three players at the position with run-defense and pass-rush grades above 80.0 during the 2019 regular season, joining Mack and T.J. Watt.
The Saints' decision to trade up and draft Davenport 14th overall in the 2018 NFL Draft wasn't a popular one nationally. He put some of those doubts behind him with a strong second season, though. Davenport's 84.1 overall grade through 14 weeks of the 2019 season ranked 15th among 108 qualifying edge defenders. He graded out as one of the best run defenders at the position, and he was one of just 16 edge rushers with 50 or more quarterback pressures through Week 14. A foot injury cut his season short, but there is plenty of reason to be optimistic about what 2020 has in store for the UTSA product.   
The 2020 season will be the fifth year of Bosa and Ingram working together, making this the longest-tenured duo to make an appearance here. Since getting drafted by the Chargers in 2016, Bosa's 91.5 pass-rushing grade ranks second at the edge defender position — behind only Khalil Mack — among 104 edge defenders with 1,000 or more defensive snaps over that span. No player at the position has won a higher percentage of their pass-rushing snaps than Bosa (21.7%) over that time. If you're assigned with the task of getting to the quarterback off the edge, Bosa's name has got to be high up on the list — and he's not even 25 years old yet.
Ingram has a few years on Bosa and might just be losing a step, but he is still a quality starter off the edge. Ingram put up pass-rushing grades above 82.0 every year from 2014 to 2017. That number fell to 73.1 in 2018 and 75.6 this past season, but his 111 total pressures since 2018 come in at 15th at the position despite missing several games last year. Even if he doesn't entirely return to the dominant player that he was in 2016 or 2017, above-average play from Ingram along with elite play from Bosa gives the Chargers one of the best edge duos in the NFL.
Watt came in at 28th overall on the PFF50, PFF's list of the 50 best players in the NFL entering the 2020 season. He has seen a smooth progression from solid contributor to player on the rise to bona fide star this past season. No edge defender put up a higher overall grade than Watt did in 2019 (91.3 overall). As a pass-rusher, he can win with speed, quickness and power, and he led the way for what was the NFL's highest-graded team pass rush in Pittsburgh last season. Watt's relentless motor makes him one of the better run defenders at the position, too. His 86.0 run-defense grade since 2018 just so happens to also be one of the best marks at the position, sitting one spot ahead of his brother J.J. Watt on the leaderboard.
On the other side, Dupree took a massive leap forward in 2019 after four disappointing seasons to start his career. His 77.7 overall grade this past year was over 15 points higher than he had ever recorded in any season from 2015 to 2018, and it ranked 23rd among 102 qualifying edge defenders last season. Dupree didn't necessarily record pressure at a higher rate than in previous seasons, but what he did do was capitalize on his opportunities in the form of sacks (11.5) and forced fumbles (four), both well above his previous career highs. Dupree's 75.0 run-defense grade was also significantly higher than his previous career high in 2018. It remains to be seen if he can repeat that performance after getting the franchise tag from Pittsburgh this offseason, but if he can, there is no doubt the Steelers have one of the best edge tandems in the NFL.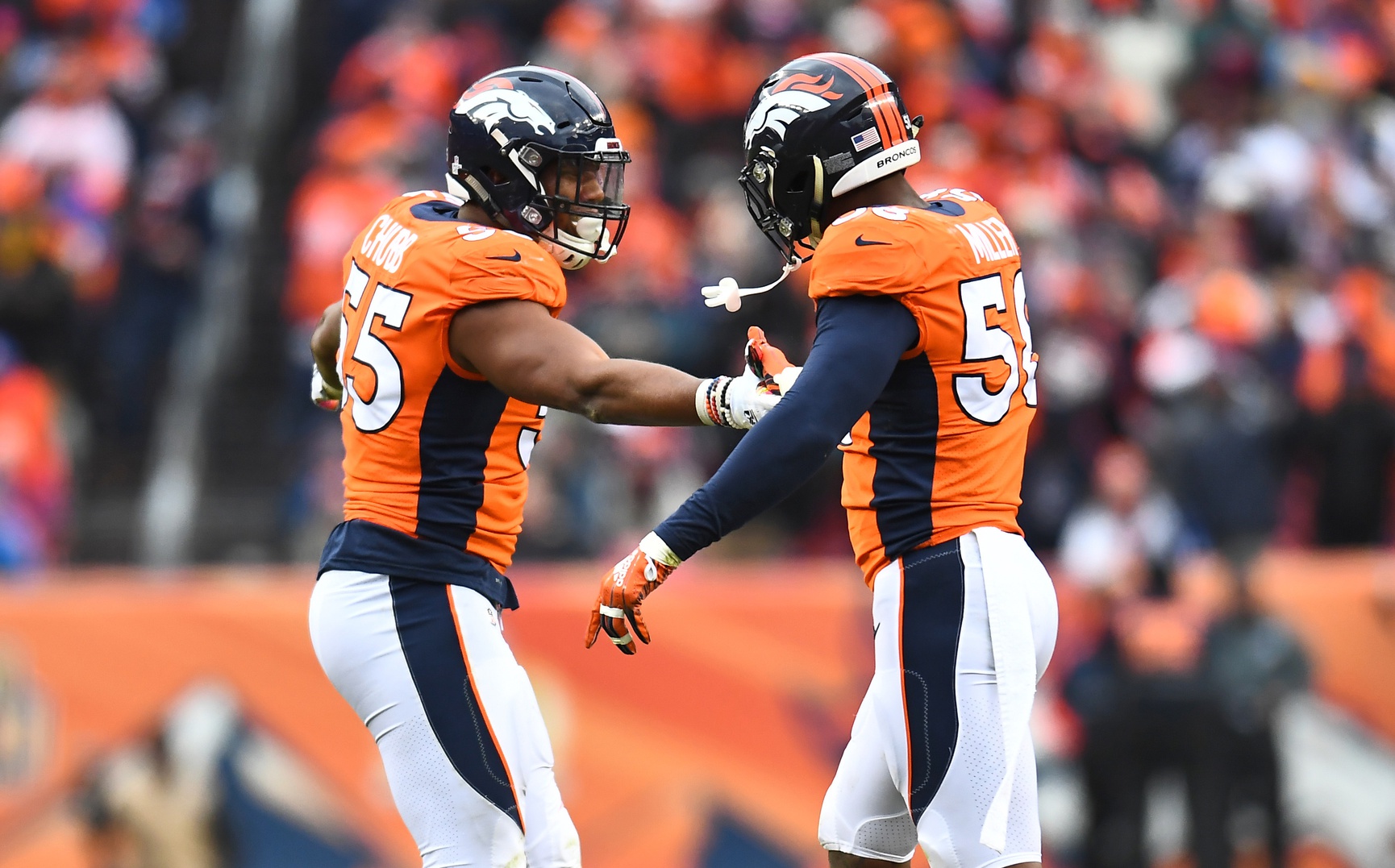 The Broncos came in at fifth on last season's iteration of this article, but they slide just a bit after facing a couple of roadblocks in the past year. Miller did not end the 2019 season with an overall grade in the 90s for the first time in his career, finishing the year with a grade of 79.3 that ranked 22nd at the position. Chubb, of course, had his season cut short after just four weeks thanks to an ACL injury. It's easy to get caught up in his sack total from his rookie season, but that number probably overstates just how well he played. His 68.1 overall grade in 2018 finished 47th among 104 qualifying players at the position, and he was able to generate only nine pressures in 99 pass-rushing snaps last season before getting sidelined. The tandem in Denver still sticks out as one of the better duos in the NFL, but both guys have a little something to prove in 2020.
As for Chicago, Mack remains a force along the defensive line. He has recorded at least 68 total pressures in each of the past five seasons, and he hasn't produced a single-season run-defense or pass-rushing grade below 80.0 since his rookie season in 2014. Quinn figures to be an upgrade over Leonard Floyd on the other side of Mack after ending last season with a 78.3 pass-rushing grade. His 57 quarterback pressures for the Dallas Cowboys in 2019 were the most he has seen in a season since a dominant 2013 campaign with the then St. Louis Rams. That's part of the reason the Bears only come in at honorable mention status, though. Quinn had several rough seasons toward the end of his tenure with the Rams and didn't exactly qualify as a game-wrecker with the Miami Dolphins in 2018. Will he be able to build on a strong 2019 showing in Chicago?
The other team that could get a mention here is the Jacksonville Jaguars if Yannick Ngakoue suits up for the team next season. At this point, though, that seems like it is a rather big if.