Still lethal: A hobbled Patrick Mahomes has still managed to lead the Kansas City Chiefs to enough offensive production despite dinking and dunking the ball more than ever.
Pass-rush goodness: Both the Eagles and Chiefs have pressured opposing quarterbacks in the playoffs at rates that would have ranked first during the regular season
Estimated reading time: 4 minutes
---
The Philadelphia Eagles and Kansas City Chiefs have each played 19 football games that actually matter over the past five months. Both posted the second-best point differential in their conference, wound up getting the No. 1 seed anyway and cashed in on their home-field advantage to land them a date in Super Bowl 57. They ranked second and third in my postseason team breakdown, as these Goliaths have taken care of all the Davids in their path and usually did so in style.
A lot has happened and changed during that time, but obviously, the 60 minutes of football played this Sunday will ultimately be the only portion of the season that truly matters. One might say it's a "what have you done for me lately" sort of league. Presenting: Three things we have learned about the Chiefs during their respective playoff runs.

---
Chiefs passing game can be patient
Sometimes an injury can force a team to try something new that winds up arguably being more effective than the original plan. Happy Gilmore was forced to finally control his emotions after suffering a severe shoulder injury during the final round of his historic Tour Championship victory and more recently, Patrick Mahomes has had to limit his patented Superman improvisational moments while playing through a painful ankle injury.
Past versions of this Chiefs offense have combined Mahomes' limitless ability to extend plays with Tyreek Hill's demon-level speed and Travis Kelce's ability to consistently work as one of the single-best players in the entire league but suddenly, this offense looked like a shell of itself this time 12 months ago.
What happened? Mahomes learned how to putt.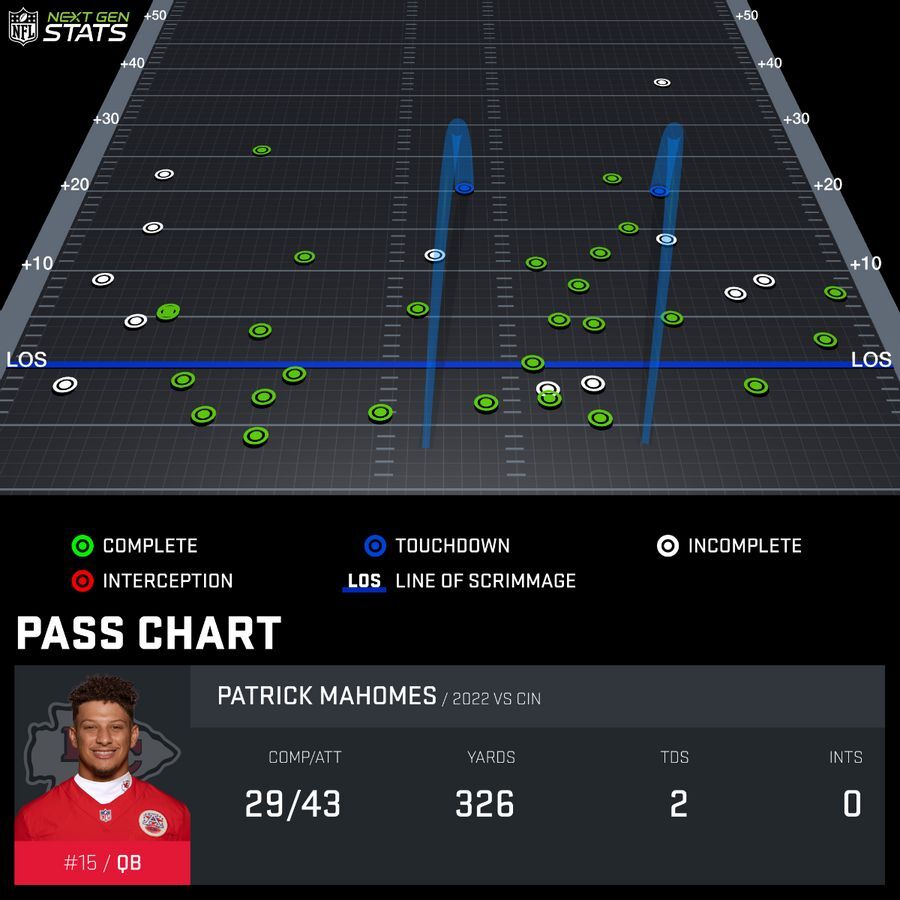 Mahomes' 6.4-yard average target depth for the postseason is well below his regular season mark (7.7) and would have tied Daniel Jones and Colt McCoy for the league's lowest mark among all signal-callers with at least 100 dropbacks. And yet, it's hard to argue with the results, as the expected 2022 MVP has completed 38-of-46 passes thrown under 10 yards downfield for 310 yards and a touchdown without a single turnover-worthy play this postseason.
Overall, Mahomes has just six carries for 16 scoreless rushing yards over his last two games after racking up five touchdowns on an average of five carries for 29 yards in 11 previous playoff affairs. It'd be a lot cooler if he was at full strength and capable of extending plays to his usual ridiculous degree. Still, credit to Mahomes and company for being like water and morphing themselves into the best offense for the occasion based on what they have to work with.
---
Isiah Pacheco runs like a cheetah with thoughts of an assassin
The Chiefs' 5-foot-10, 216-pound rookie ran a 4.37-second 40-yard dash at the NFL combine and also has a degree in running like a pissed-off rhinoceros.
Pacheco is different.

????: #CINvsKC on CBS
????: Stream on NFL+ https://t.co/fM5ertlhHi pic.twitter.com/rSwdWtpXB4

— NFL (@NFL) January 30, 2023
While the Chiefs have never made a habit of force-feeding their starting running back carries with Mahomes under center, Pacheco has racked up 101 and 85 total yards on 13 and 15 touches during his first two career playoff games. His 5-59-0 receiving line against the Bengals was especially encouraging considering he caught just 14 passes in his previous 18 games.
Still, it's Pacheco's ability to rack up yards on the ground that has been most impressive. Just six running backs averaged at least five yards per carry this season with a minimum of 150 rush attempts (including playoffs):
Pacheco's low mark in missed tackles forced (0.12, 29th) but a solid performance in yards after contact per carry (3.1, 12th) reflects his sort of violent running style that would make the late Marion Barber III proud.
Don't expect the league's third-ranked offense in pass-play rate (67.2%) in non-garbage time situations to feed Pacheco 20-plus carries this Sunday, but there's little doubt the 22-year-old talent will look to make the absolute most out of whatever opportunities he gets.
---
Chiefs' mindset on how to pick up a fourth-and-short
The Chiefs (81.8%, No. 5) rank among the league's top-five offenses in converting fourth downs with three or fewer yards to go. Additionally, they have attempted just 11 such fourth downs all season (27th), passing on nine of their 11 fourth-and-short situations (81.8%, third).
The Chiefs have excelled at picking up the few yards needed on fourth down all season long, as defenses haven't exactly had an answer for Mahomes with the ball in his hands in these situations
---
Eagles and Chiefs: Both pass rushes are playing ridiculously well
The Chiefs (No. 7) ranked among the league's top-tier regular season defenses in "Havoc," as Kansas City's front seven has largely been awesome at creating negative plays all season long.
Still, this group has taken things to another level during the postseason – especially when it comes to getting after the passer. Credit to the Chiefs (33.2%, 13th) for doing a good job getting after the opposing quarterback during the first 18 weeks of the season, but in the playoffs, they (41.9%) have posted a mark that ranks higher than what the first-place Cowboys (40.8%) managed to put forward during the regular season.
Chiefs DI Chris Jones (16 pressures) has led the way for Kansas City, and he will need to bring his A-games in order for Kansas City's defense to have any hope of slowing down its respective high-octane opponent.