The NFL playoffs are finally here. Will Josh Allen finally take the full leap to Super Bowl glory? Could Jalen Hurts stay hot and put together three straight wins into February? Will Justin Herbert pull a Greg Jennings and put this Los Angeles Chargers franchise on his back even more than usual?
These storylines are fine and dandy, but they also reflect the reality that quarterbacks are valued above all else when it comes to the glorious pastime known as American football. However, football is still a team game, and largely ignoring the rest of the squad in favor of each team's high-profile quarterback doesn't tell the whole story.
What follows is an attempt to figure out the most complete team of the 2022 NFL playoffs. Don't confuse this with a power ranking or a top-to-bottom list of the best rosters (people will do that anyway on social media — maybe that's why you're here); this is just a fun exercise to see which team checks the most boxes even if we weigh an elite run defense to be the same as a lethal passing attack.
Again, quarterbacks deserve to be valued more than their peers, but this article attempts to show league hierarchy if we remove this constant.
On offense, we'll look at the following:
• Pass offense: Expected points added (EPA) per pass play, explosive pass-play rate and team passing grade.
• Run offense: EPA per run play, yards after contact per attempt, explosive run-play rate and team rushing grade.
• Receiving: Yards per route run, percentage of targets considered open or wide open and team receiving grade.
• Offensive line: PFF's end-of-season offensive line rankings
On defense:
• Coverage: EPA allowed per pass, yards allowed per coverage snap and team coverage grade.
• Pass rush: Pressure rate, pass-rush win rate and team pass-rush grade.
• Run defense: EPA allowed per run, yards allowed before contact per carry, explosive run-play rate allowed and team run-defense grade.
• Havoc: This metric is calculated using the following formula: (tackles for a loss or no gain + forced fumbles + interceptions + batted pass and deflections + pressures) / plays
One limitation of this study is that I averaged ranks, so a massive difference between the No. 1 and No. 2 teams will be treated the same as a small difference.
Additionally, this doesn't actively account for strength of schedule. Coaching also plays a massive role in any football game. Finally, all these categories were weighted equally, but that's more of a decision than a limitation. Again, the goal here is to provide a different sort of breakdown than simply ranking the quarterbacks and moving on. I tried to control for some of these limitations by using multiple metrics for each category while favoring efficiency over volume.
The following chart denotes each team's rank in the aforementioned metrics and is sorted by each team's cumulative average of said ranks.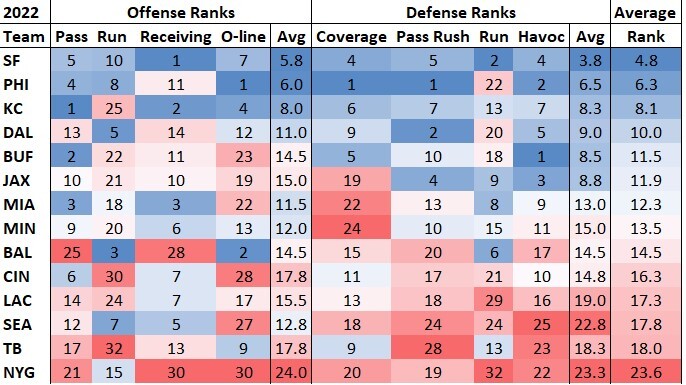 Please don't interpret this as a "contenders ranking" (the Rams and Bengals — last year's Super Bowl teams — were fifth and ninth, respectively, in this study last season).
Still, football games are ultimately contested between 52-man rosters, so we should make an effort to evaluate more than just the ever-important quarterback position. More information on each team's biggest strengths and weaknesses on offense and defense is below.

Biggest strength: Receiving
The 49ers finished the regular season ranked either first or second in team yards per route run, percentage of open or wide-open targets and PFF receiving grade.
This makes sense: Deebo Samuel, Brandon Aiyuk, George Kittle and Christian McCaffrey in one passing game is borderline absurd. These weapons have helped the team overcome not one but two massive injuries at the quarterback position, as Mr. Irrelevant Brock Purdy has managed to lead the offense to 33, 35, 21, 37, 37 and 38 points in his six extended appearances.
Biggest weakness: Rushing
This is only a "weakness" relative to the 49ers, easily the most complete team in the playoffs. Overall, their rushing attack still ranks as the fourth-best unit still alive, and the only reason they come in at 10th overall is due to league-average marks in EPA per run play (15th), yards after contact per rush (16th) and PFF rushing grade (14th).
Of course, having healthy versions of LT Trent Williams and RB Elijah Mitchell ahead of the playoffs can only help matters down the stretch.
---
Biggest strengths: Offensive line, coverage and pass rush
The Eagles managed to post league-best marks in each of these categories. PFF's top-ranked offensive line is expected to get stud RT Lane Johnson (abdominal) back for the playoffs, while there isn't a more complete pass defense out there, thanks to the team's dominance both in coverage and at the line of scrimmage. Only the 49ers (+173) and Bills (+169) had a higher point differential than the Eagles (+133) this season — this team is rather loaded from top to bottom.
Biggest weakness: Run defense
Part of the problem here has been first-round DT Jordan Davis missing time and not exactly taking over games when healthy enough to suit up. Midseason reinforcements in Linval Joseph and Ndamukong Suh have helped, but at the end of the day, Philly still ranks just 28th in EPA allowed per run play.
The defense has allowed at least 99 rushing yards in all but one of their last 13 games; good thing the offense is usually dominant enough to build the sort of positive game script that typically dissuades opponents from attempting to overly establish the run.