The 2021 NFL regular season is over, which means it's time to hand out some awards. Fourteen teams are focused on the playoffs, with the rest of the league already turning their attention toward NFL free agency and the 2022 NFL Draft. There's still time to take a beat and recognize the best performances of the year.
Click here for more PFF tools:
Rankings & Projections | WR/CB Matchup Chart | NFL & NCAA Betting Dashboards | NFL Player Props Tool | NFL & NCAA Power Rankings
Best Bets Tool
---
PFF's awards are regular-season awards only. Any playoff performances may affect a player's standing in the PFF 101 after the season, but the following accolades are deserved based on the 2021 regular season. In addition, they aren't purely driven by a player's overall PFF grade. Play-by-play grading forms the bedrock of the analysis, but level of competition, player role and several other factors weigh in and determine the final winners.
Most Valuable Player
Each season the discourse around the MVP award gets messy as people try to parse the "value" component of playing football, which is one of the most complex things to do. Obviously, quarterback is the most valuable position in the game — by a distance — which is why this award has become a quarterback award. 
Indianapolis Colts running back Jonathan Taylor has had a fantastic season, enough to force himself into an MVP conversation in many people's eyes, but Taylor just can't come close to the impact on winning and losing games that quarterbacks do. We have seen that in the movement of the point spread in Colts games even with a quarterback as mediocre as Carson Wentz. 
The debate then centers around value within the quarterback position. PFF's Steve Palazzolo wrote about what makes Brady the MVP over Green Bay Packers quarterback Aaron Rodgers or other contenders here. Rodgers' case rests on efficiency, but volume matters at the quarterback position because the job gets harder the more you lean on your passer. Brady finished the season as PFF's No. 1-graded quarterback, and was first in PFF's Wins Above Replacement (WAR) metric. He is our MVP.
---
The Dwight Stephenson Award
The Stephenson Award is PFF's solution to the MVP award no longer serving its true purpose. Every sport has an "MVP" award, but not every sport names it that. It's an attempt the recognize and award the best player in the game over a given period of time. Most sports call it the "player of the year" or for a single game the "man of the match." In the U.S., that name became MVP, and that causes unique problems in football because the game has become so focused on quarterbacks. The most valuable player will almost always be a quarterback, but the best player can be anybody.
This season the best player in the NFL has been Trent Williams of the San Francisco 49ers. If the NFL recognized that offensive linemen existed in their awards, he would have a very good case to win Offensive Player of the Year, but they're still a long way from that. PFF, however, grades and quantifies the performance of offensive linemen.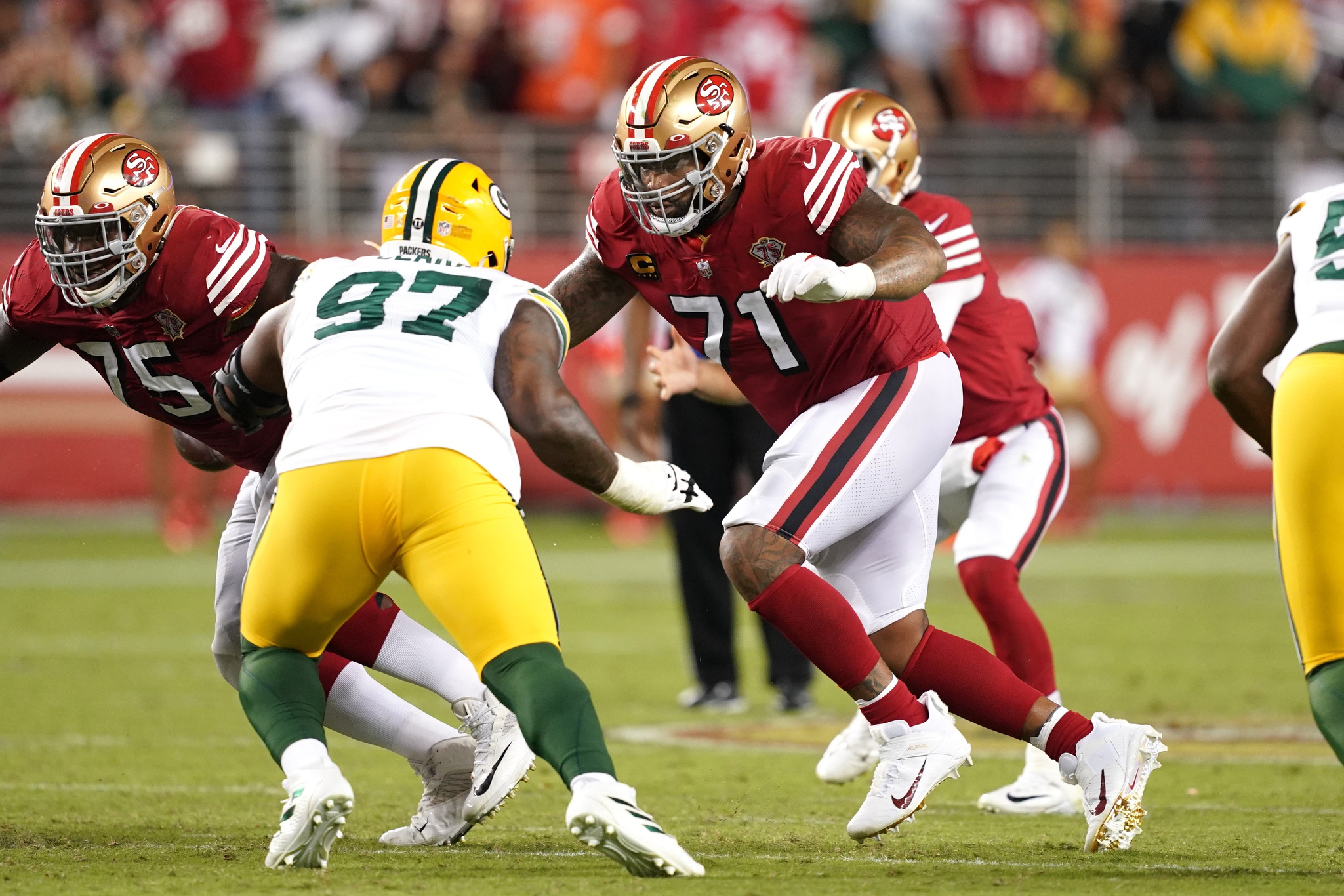 Williams finished the season with a 98.3 PFF grade, which was the highest of any position this season — or in any season in the last 16 years. The next best single-season grades of any offensive tackle belong to Jonathan Ogden and Joe Thomas, a Hall of Famer and a future Hall of Famer.
Williams allowed 16 pressures in 15 games, but his run-blocking was truly otherworldly. He simply erased defenders from run fits and single-handedly blew apart defenses by removing players from their assigned gaps. He was more dominant in the run game this season than any lineman over the last decade, and the only real rival for overall play-quality this season was Los Angeles Rams interior defensive lineman Aaron Donald.
---
Offensive Player of the Year
Bruce Matthews/Best Offensive Lineman Award
Best Run Blocker
If Trent Williams is the most outstanding player in the game this season he is also Offensive Player of the Year and the Offensive Lineman of the Year. The NFL will award OPOY to somebody they can tie yards to — Rams receiver Cooper Kupp's record-breaking season or Jonathan Taylor's chase for 2,000 yards — but Williams was more dominant relative to the rest of his peers both this season and historically. It's just harder to measure.
Kupp, Taylor, Packers receiver Davante Adams, 49ers receiver Deebo Samuel and even quarterbacks like Rodgers and Brady all had excellent seasons. Kupp in particular broke records and was on an exceptional pace all season even without the 17th game, but what Williams did dramatically exceeds what any other tackle has done in a season over 1,000-or-so snaps.
When it comes to linemen, Dallas Cowboys offensive guard Zack Martin had the kind of season that would be recognized as the best in the NFL in any normal year, but not when Williams is out there crushing NFL defenders like they are high school players. Martin allowed 19 pressures across 16 games and earned a 93.1 PFF run-blocking grade.

---
Defensive Player of the Year
Pittsburgh Steelers edge rusher T.J. Watt will win the NFL's Defensive Player of the Year in all likelihood, but he didn't even make PFF's first-team All-Pro, with the Cleveland Browns' Myles Garrett and the Las Vegas Raiders' Maxx Crosby ahead of him among edge rushers. 
There is a Twitter thread explaining in part why Garrett was ranked higher, and it's a similar story with Crosby.
TJ Watt tied the sack record, & missed time doing it.

So why does PFF have Myles Garrett with a better PFF grade, & on 1st team All-Pro over him?

A thread:

— Sam Monson (@PFF_Sam) January 11, 2022
As much as Watt made a lot of splash plays — and you can't take the sack record away from him — a player's season-long pass-rush impact is about more than 23 plays out of 1,000 snaps over a season. The other plays matter, and PFF grading quantifies the plays that don't necessarily result in stats and sacks. PFF grades process, because process is repeatable. Results are often subject to influence from a dozen other factors outside of a player's control.
Beating your blocker is a repeatable process. Whether or not the ball is passed before you can then take down the quarterback is far less in your control.  
Garrett, Crosby and Watt all had fantastic seasons, but the second half of the year sealed yet another PFF Defensive Player of the Year award for Donald, who has been the best defender in football pretty much since he set foot on an NFL field.
There was a four-game stretch late in the year where Donald racked up 35 pressures, one fewer than Atlanta Falcons interior defensive lineman Grady Jarrett managed in the 17-game season. Donald was simply unblockable. He led all interior defenders in pressures with 87, 19 more than the next-best mark, and only Crosby had more total pressures. Donald also played 1,040 snaps, the most any interior defender has played in a single season over the last 16 years, making a positive impact and remaining efficient as a rusher despite that monstrous workload.
---
Rookie of the Year
Defensive Rookie of the Year
Once the Dallas Cowboys realized what they had in Parsons, Dan Quinn and the coaching staff did an excellent job of maximizing his impact, and that's what turned him into one of the best and most impactful rookies to enter the league in decades.
Parsons was drafted as an off-the-ball linebacker but was asked to move down to the defensive line and rush the passer after Dallas was dealt major injuries to that unit. It turned out that Parsons was an elite pass-rusher, and the team has utilized him as a player who can rush the passer, play the run or drop into deep coverages on any given play.
Parsons finished with 67 pressures (ninth among all defenders) despite rushing the passer significantly less often than the players ahead of him. He ended with the best pressure rate (22.4%) of any pass-rusher in the league and did it while having to spend the majority of his time as a true off-the-ball linebacker in his first season in the league.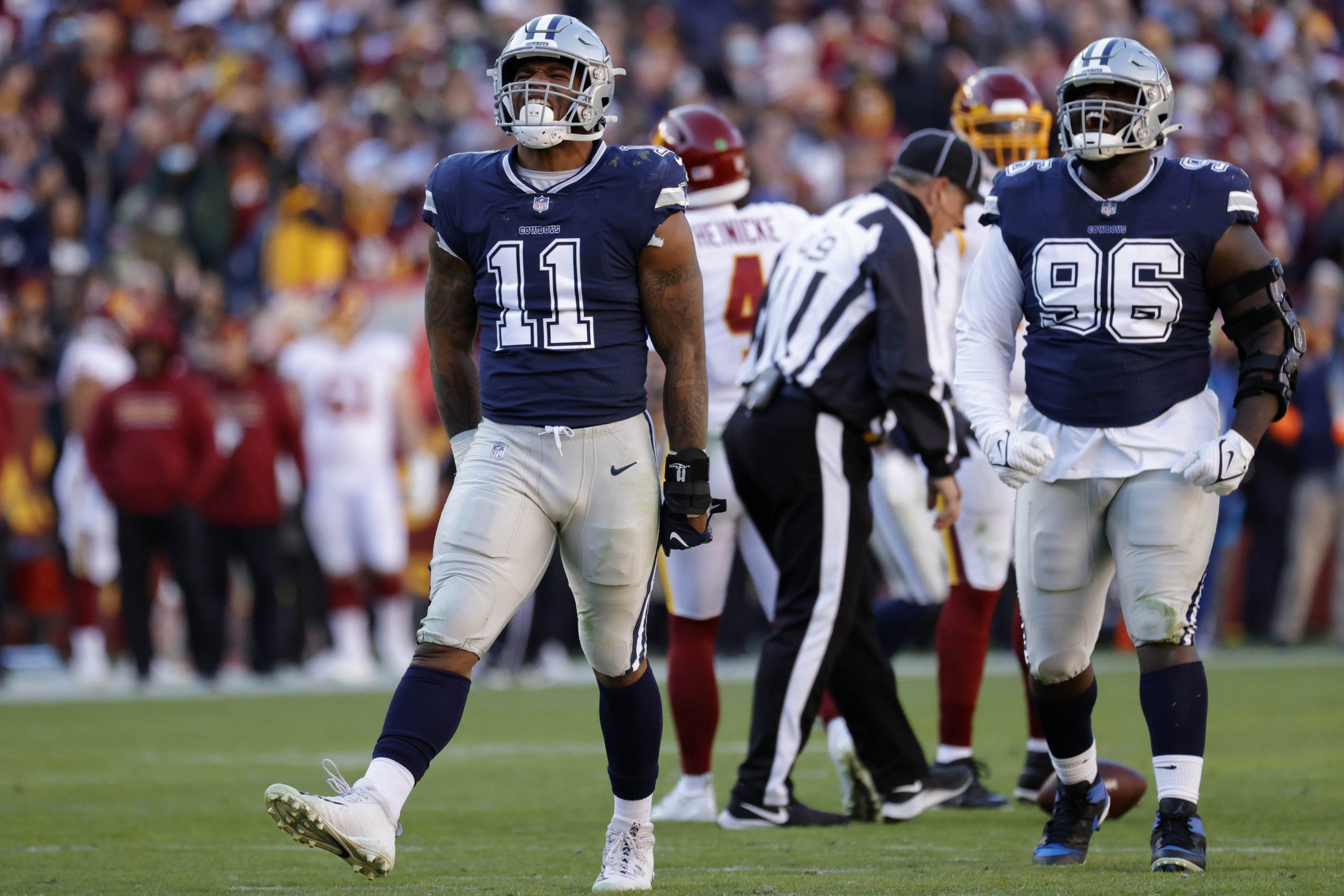 The ability to play two completely different positions well and seamlessly within games gives the Dallas defense a flexibility most other teams can't hope to replicate. Cincinnati Bengals receiver Ja'Marr Chase had a record-setting rookie year and took over certain games for the Bengals, but there are no records to quantify the rarity of what Parsons has been able to do.
Offensive Rookie of the Year
In most people's eyes, the Offensive Player of the Year is a straight fight between Ja'Marr Chase and New England Patriots quarterback Mac Jones, with Chase locking up the award when Jones began to wobble down the stretch. Chase by contrast dominated in some of the Bengals' biggest games down the stretch. This debate completely ignores the phenomenal rookie seasons of offensive linemen Rashawn Slater of the Los Angeles Chargers and Creed Humphrey of the Kansas City Chiefs, however.
Slater is already a top-10 player at a position that typically sees a long transition period before a player dominates. He allowed 26 pressures in 16 games and was able to hold his own against players like Myles Garrett. Humphrey earned a 91.4 PFF grade thanks to some spectacular run-blocking in Year 1. He allowed 10 pressures in 17 games, putting together the best rookie center performance in at least a decade. Both players should absolutely be in the conversation, but ultimately what Chase did this season was too special.
He not only set records — the all-time rookie yardage record, all-time Bengals franchise yards record — but the way in which he dominated resonated throughout the league. He destroyed quality, established veterans like Marlon Humphrey of the Baltimore Ravens. He was the go-to player when the Bengals needed plays to come back and beat the Chiefs. And he won in a variety of ways, from yards after the catch to speed to deep bombs and contested catches.
---
Best Wide Receiver
There are so many great receivers in the NFL at the moment — arguably the only thing separating them is how long they have maintained their peak greatness for. Davante Adams is coming off almost identical seasons with a PFF grade of at least 92. He leads the league in PFF grade against single coverage and is virtually unstoppable any time his QB sees he's one-on-one. Adams generated 2.82 yards per route run this season, third-best in the league, and dropped just four passes from 166 targets.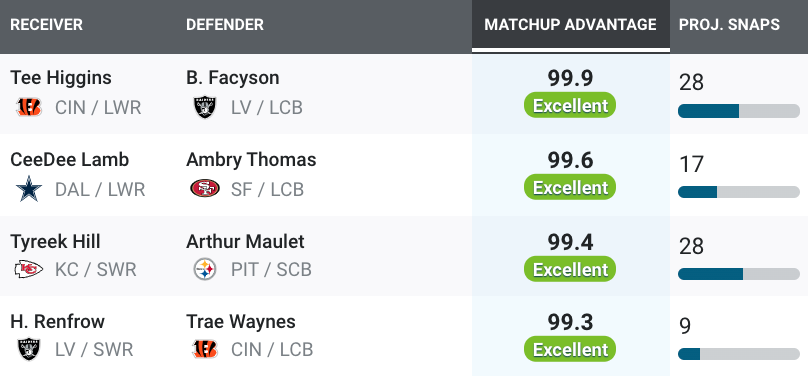 Cooper Kupp certainly edges Adams for volume and overall production, racking up 1,947 yards and 145 catches, but he also had a higher drop rate than Adams and operated almost twice as often from the slot, where free releases and space are easier to come by.
Deebo Samuel also deserves a mention for his incredible season that saw him add eight rushing touchdowns — an all-time NFL record for a wide receiver — to his receiving production. He was a truly unique weapon in the league this season.
Ultimately, Adams remains the best receiver in football despite an impressive collection of performances this season. 
---
Best Pass-Rusher
Donald is the best defender in the NFL, but the thing he is best at is rushing the passer. He has the highest PFF pass-rushing grade (92.7) of any full-time pass-rusher, and only three edge rushers had a higher pressure rate. Interior pass-rushers generate pressure significantly less often than edge rushers due to less space to work within and less chance the quarterback doesn't see them coming. Yet Donald still consistently ranks among the best players in the league at pressuring the quarterback despite lining up inside almost exclusively.
This year, Donald's workload went through the roof. He rushed the passer 632 times, which is more than the number of total snaps players like interior defensive linemen Ed Oliver of the Buffalo Bills or Derrick Brown of the Carolina Panthers played all year. And he played over 1,000 snaps, the only interior defender to do so. To maintain a level of pass-rushing efficiency despite that monster workload is unprecedented in the PFF era.
Donald's numbers are also selling him short. He leads the league in winning pass-rush reps that never had a chance to become pressure because the ball came out before it could. Donald had 67 of those plays, with the next defender 10 behind him. Those are plays that appear in his grade but won't show up in pressure stats.
---
Best Run-Defender
Darius Leonard was a turnover machine this season. He has perfected the art of the "Peanut Punch" tackle, forcing fumbles without risking the play if his attempt to jar the ball loose isn't successful. Leonard had four forced fumbles in the run game, twice as many as any other linebacker, and his average depth of tackle was just 2.87 yards down field.
Run defense goes beyond just those statistical plays, however, and is about how you deal with blocks and whether you can negatively impact the blocking scheme or the path of the running back, spilling him toward other defenders who can make the play even if you can't. Leonard understands offensive tendencies and keys as well as any defender — he was consistently pointing out plays and reading things before they happened, alerting teammates to what was coming and blowing up the play to let them clean up behind him. He was the best run defender in football in 2021.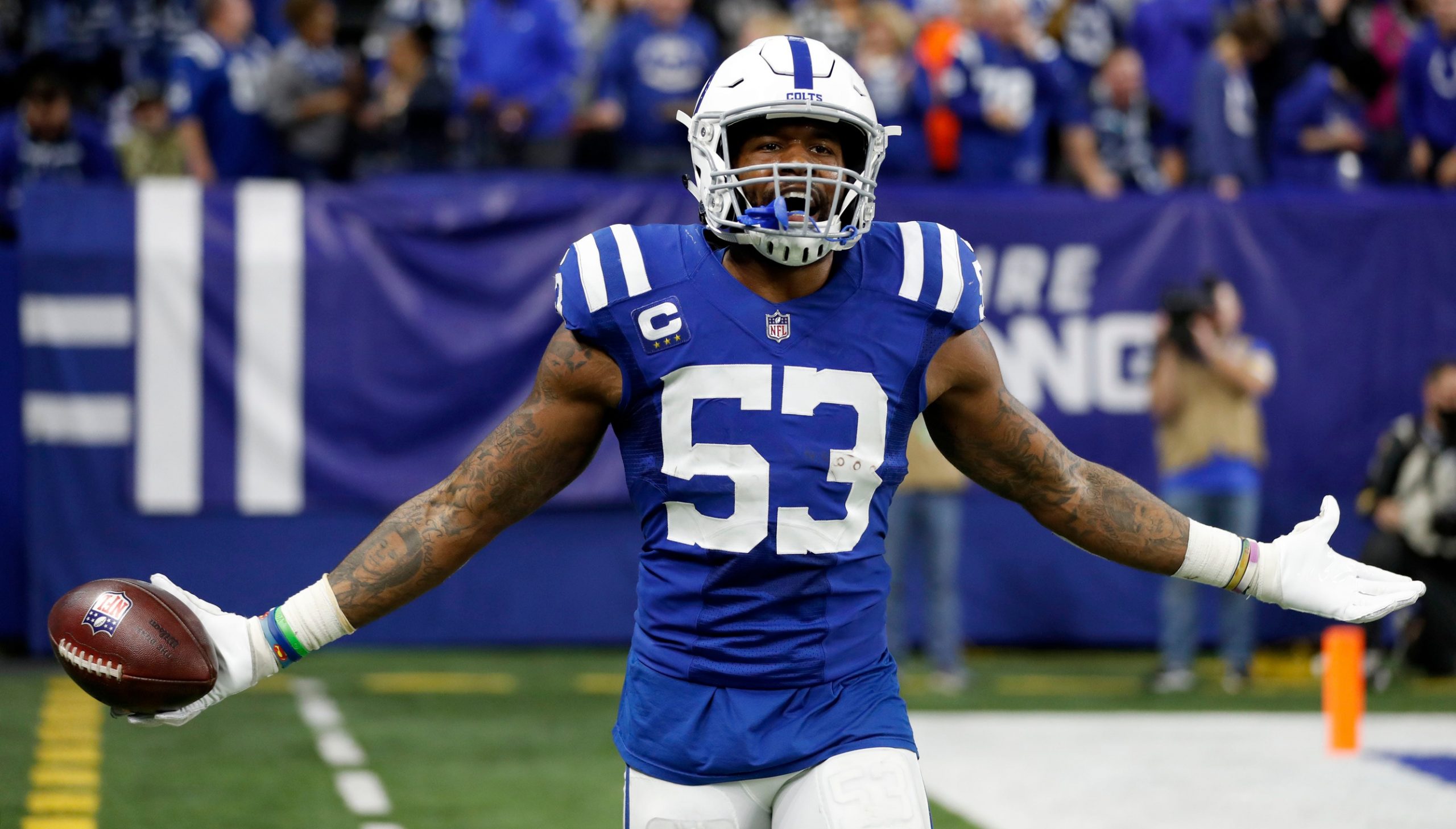 ---
Best Coverage
Kevin Byard has been one of the best safeties in the game since he entered the league and was a big reason the Titans defense this year exceeded expectations and arguably outperformed their overall talent level.
Byard's 90.9 PFF coverage grade was the only mark above 90.0 for any defensive back that played any significant number of snaps. He had six pass breakups and five interceptions, putting points on the board himself in the process, as well as forcing two fumbles in coverage. What really stands about his play, however, is that he simply rarely makes any kind of mistakes. He missed only three tackles in coverage all season and was consistently in position to discourage dangerous passes over the top of the Titans defense. 
Rams corner Jalen Ramsey and Falcons corner A.J. Terrell in particular also have strong cases at the cornerback position. Terrell allowed just 188 yards all season. Only 43.9% of the passes thrown his way were caught, and the targets into his coverage resulted in a passer rating of 47.5, both the best mark in the league. Ramsey was involved more heavily in a new role that asked him to play in the slot or in the box on 35% of his snaps. He had 25 defensive stops and 12 pass breakups to go along with his four interceptions.
---
Best Pass-Blocker
Somehow, a 40-year-old Andrew Whitworth is still the best pass-blocker in the game. This season, he became the first player to ever start a game at left tackle at 40 years old, and there are very few signs that the end is anywhere near. Blocking for Matthew Stafford, Whitworth allowed just 16 pressures in 15 games and 597 pass-blocking snaps. There were six games in which he allowed no pressure at all, and his worst PFF pass-blocking grade of the season was a 60.1 back in Week 2 when he allowed a sack and no additional pressure.
Whitworth also faced some high-end pass-rushers over the course of the season, so his performance was not simply a product of never facing anyone capable of pressuring the quarterback. 
Tom Brady is changing what we thought players are capable of late in their careers at quarterback. Whitworth is doing the same for offensive linemen, potentially making money for players like Trent Williams as he gets up in years but continues to dominate.
Best Team Offensive Line
The Dallas Cowboys had the best offensive line in the game a number of years ago, but the unit fell away when they had some turnover in personnel and injuries began to take their toll. This season, they were back on top, ranking at the top of PFF's offensive line rankings during the last three iterations of the season.
They owed that to a variety of factors. Tackle Tyron Smith was healthier this season than he has been for a long time and back to his dominant best when he was playing. He finished the season with a 91.9 PFF grade, the first time he had been above 90 since 2015. Zack Martin had the kind of season that would be the best of any offensive lineman in the game most years, and center Tyler Biadasz — who had been a real weak link last year — raised his game to be a solid performer at center. Biadasz earned a PFF grade of 64.8, which was the lowest of the five starters. When your weakest link is earning an above-average grade and not giving up a sack all season, you have a very good offensive line.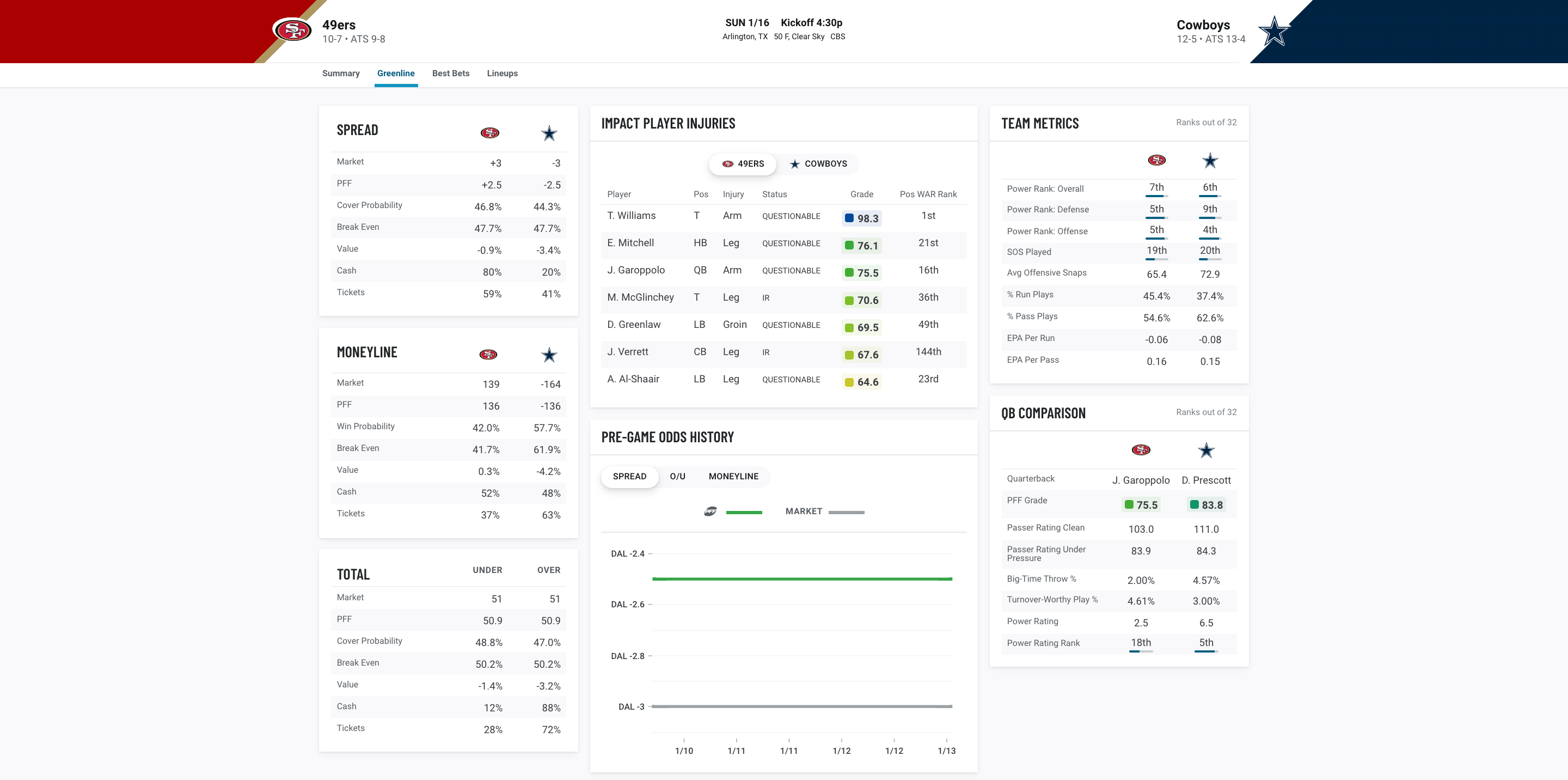 ---
Best Special Teams Player
Quietly, PFF's punter grades are among the best data points PFF offers. They were devised and honed with the help of NFL punters, and they do a much better job of illustrating how well a punter has performed than any statistics like average or number of punts inside the 20-yard line, which are heavily correlated with the field position the punt took place from and influenced by other factors.
The punting grades are a matrix of kick distance, direction and hang time that are all adjusted for field position to give the best overall composite of player performance.
When all of those factors are considered, nobody came close to the play of A.J. Cole III this season for the Raiders. Cole's grade was almost 10 grading points higher than the next-best punter, but many of the conventional stats belie that production. 
Baltimore Ravens kicker Justin Tucker deserves strong consideration for his season that featured a game-winning NFL-record 66-yard kick.
---
Breakout Player of the Year
Few could have seen Cordarrelle Patterson becoming one of the game's most dynamic and unstoppable offensive weapons in 2021 for the Atlanta Falcons. A former first-round pick as a wide receiver, Patterson has likely only lasted as long as he has in the NFL because he is arguably the greatest returner of kickoffs the game has ever seen.
This season, he racked up 548 receiving yards and five touchdowns as well as six more scores and 610 yards on the ground. Patterson averaged just under 3.0 yards after contact per rush, and passes thrown his way generated a passer rating of 122.8. He was an integral part of the Falcons offense and was doing it as a hybrid weapon out of the backfield, not the wide receiver he was drafted to be almost a decade ago.
---
Comeback Player of the Year
Cowboys quarterback Dak Prescott was the odds-on favorite to win Comeback Player of the Year before the season, but as gruesome as his injury was last season, it was always expected to be a relatively typical recovery process. We knew we would see him again at 100% in 2021.

Joe Burrow's knee injury was far more catastrophic and destructive, and there was real concern that he might not return the same player, let alone take significant strides in Year 2. Burrow didn't just get back to his previous play but took a huge leap forward. Being rested in Week 18 was the only thing that stopped him from finishing the season as the No. 1-ranked quarterback in PFF grade. Burrow's performance was incredible, but doing it after a knee injury that threatened to seriously change the path of his career makes him the Comeback Player of the Year.