The 2021 NFL season dragged its way into 2022, and 18 weeks of regular-season action are now in the books. The playoff slate is locked in, and now so is PFF's 2021 NFL All-Pro team. This is the only All-Pro team based on the foundation of watching and grading every single player in the NFL on every single play of action. It is the same data used by all 32 NFL teams in their preparation and roster-building processes each year.
This All-Pro team is not solely based on overall PFF grade. Playing time factored in, as did role and strength of competition. Certain players defy conventional position designations, but their impact was still profound enough to warrant a place on the All-Pro team in certain instances.
And for the first time, there is a player who breaks position designations entirely and has necessitated manipulating the team to ensure he gets a deserved spot on the team, even if he wouldn't have necessarily earned it at any one position.
Click here for more PFF tools:
Rankings & Projections | WR/CB Matchup Chart | NFL & NCAA Betting Dashboards | NFL Player Props Tool | NFL & NCAA Power Rankings
Best Bets Tool
---
Offense
Brady is 44 years old, so of course the Tampa Bay Buccaneers leaned on him more than ever before. He led the NFL in dropbacks with 751 passing plays, climbing to almost 800 if you add in nullified plays. He posted a top-10 big-time throw rate and the second-best turnover-worthy throw rate in the league over the course of the season despite passing the ball more than anybody and seeing all of his top receivers miss time. Brady is playing as well as he ever has, continuing to defy Father Time in his unicorn career. 
Burrow just needed a few more weeks of the season at his current level of play to pull away. Cincinnati sitting him down for Week 18 allowed Brady to jump back to the top of the PFF grades.
---
When Derrick Henry went down with a foot injury in Week 8, no one else was going to challenge Taylor for this spot. Taylor led the league in carries and rushing yards, and his 1,272 yards after contact would also have led the NFL in overall rushing yards this season. Taylor had some significant help once his offensive line got healthy, but he made the most of the blocking in front of him, breaking 65 tackles and gaining a first down or touchdown on 31.9% of his carries. Taylor gained 41 more rushing first downs than any other running back.
---
Adams is the best route-runner in football, and that makes him a danger to spring wide open on any given snap. Even when he doesn't, he has a quarterback with the confidence to give him a chance any time he faces one-on-one coverage. He averaged 2.8 yards per route run and dropped just four passes on 166 targets. Adams also causes problems for any defensive back tasked with covering him simply by his deployment, as he spends almost one-third of his snaps in the slot and moves all over the formation out wide.
Jefferson was the Vikings' best player this season, often serving as their sole significant threat on offense. He has enjoyed an incredible start to his NFL career, but he is already under pressure to prove he's the best LSU receiver right now, given Ja'Marr Chase's incredible rookie season.
Kupp threatened a handful of single-season receiving records this year, finishing with 145 catches, 1,947 yards and 16 touchdowns from 188 targets. Matthew Stafford's impact on the Rams' offense has had no greater effect than pouring gas on the kind of production Kupp was already capable of. He is the only receiver in the NFL to average over three yards per route run (3.12), a threshold typically reserved for Julio Jones in his prime. Kupp also produced one of the best catch rates in the league, bringing in 93.5% of catchable passes.
Chase at his best was unstoppable as a rookie. His high-end games were incredible, and the only thing keeping him from being a first-team All-Pro was a run of seven games where he had middling production outside of the Bengals contest against the 49ers.
---
Andrews just continued to produce big numbers at the tight end position, regardless of whether his quarterback was Lamar Jackson, Tyler Huntley or even journeyman Josh Johnson. He was targeted 10.8 yards downfield on average — an extremely high figure for a tight end that tied for second in the league.
Kittle is capable of the kind of monster games Andrews put up all season and actually earned a slightly higher PFF receiving grade, but he just wasn't leaned on as much, taking a back seat to Deebo Samuel within the 49ers' offense until injuries gave him a bigger opportunity. Kittle is outstanding in all areas, leading the tight end position with 2.5 yards per route run this season — a top-10 figure among all receivers.
---
The FLEX designation was built for Samuel, who is a unique playmaker and a force within the 49ers' offense that is unlike anyone else in the league. Samuel led all wide receivers in average yards after the catch (10.2) and ranked second in yards per route run (2.98). He also scored eight rushing touchdowns, the most from a wide receiver in a single season in NFL history. Samuel handled at least 10 backfield snaps in three games this season, with another two games of nine snaps. He presents a true matchup problem because of the number of ways the 49ers can make use of his skills.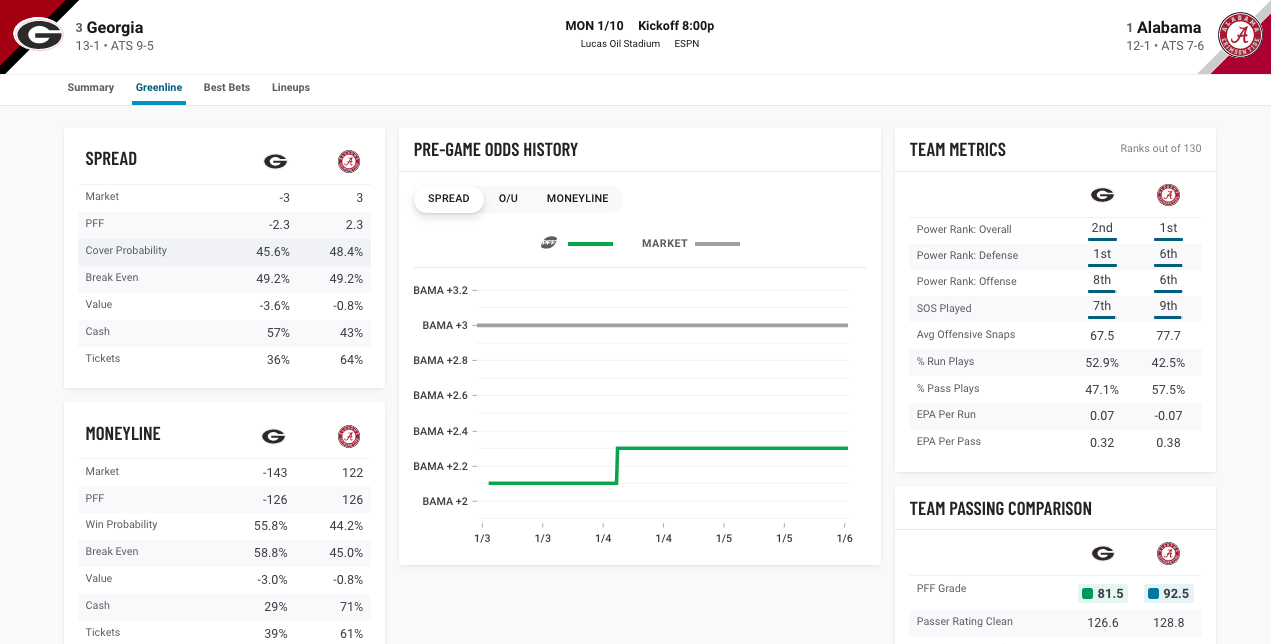 Williams was the best player in football this season, regardless of position, and should be in serious consideration for a whole host of awards if offensive linemen were recognized for such things. He allowed 16 total pressures across 14 games (12 at left tackle, two at right tackle), but his tape in the run game could be sent to the Louvre as an exhibition of true artwork.
Nobody made more plays where they simply destroyed a defender at the point of attack than Williams, and he can single-handedly break a defense's run fits with one block. Williams was the top-graded tackle for the second straight season, and his 98.3 overall grade was the best single-season mark PFF has ever given to an offensive lineman at any position.
Mailata got a big-money contract extension from Philadelphia and then had a career year. He allowed 20 total pressures across 14 games (12 at LT, 2 at RT) and put together some phenomenal tape in the run game for a player of his size.
---
Bitonio has been an excellent guard for years, but he had a career year this season and was one of the best offensive linemen at any position. Bitonio allowed 17 pressures across 631 pass-blocking snaps and enjoyed by far the best run-blocking performance of his career. 
The second-team spot was a close call between the Chiefs' Joe Thuney and Marpet. The Buccaneers guard just edged it by virtue of having a slightly higher floor across both run blocking and pass protection. Marpet has been a critical part of the Tampa Bay line protecting Tom Brady.
---
The Chiefs drafted Humphrey with the 63rd overall pick in 2021, and now he's in rare company as a rookie first-team All-Pro. He allowed just 12 pressures all season and earned by far the best PFF run-blocking grade (92.5) of any center, never mind rookies. Humphrey possesses excellent quickness in his footwork and movement and has a nasty streak as a run-blocker with a tendency to finish hard and mix it up with defenders. Kansas City's center spot has been solid the past few seasons, but the team got a huge upgrade in the middle of the draft this year.
Linsley provided a huge upgrade for the Chargers and was a major part of a near-complete overhaul of their offensive line. Linsley allowed 10 pressures all season.
Martin has dominated the right guard position for some time. And while the Dallas offensive line went from being the best in the NFL to a shell of its former self and then all the way back again, the one constant in elite play is Martin. This season, he allowed 19 pressures from almost 700 pass-blocking snaps and earned one of the best PFF run-blocking grades of any player at any position.
Mason just jumped Cleveland's Wyatt Teller for the second-team spot late in the year. Mason has been a run-blocking force for the Patriots and allowed 18 pressures on the season.
---
Wirfs is at the end of only his second NFL regular season but is already arguably the best right tackle in the game. His 1.6% pressure rate — aided by Tom Brady's quick release — is by far the lowest mark of any tackle on either side of the line. He allowed just 12 pressures all season despite pass blocking for almost 800 snaps in Tampa Bay's pass-happy attack.
There were several players in the running for second-team right tackle, with Johnson ultimately getting the spot. He allowed just 11 pressures en route to the third-best pressure rate of any tackle.

Defense
Heyward just keeps playing his best ball the deeper as he gets deeper into his NFL career, backing up his past two seasons with another year grading above 90.0 overall. This season's 91.4 mark falls just short of his 91.5 career-high grade in 2019, but his 85.2 pass-rushing grade was a career best. Heyward also racked up 61 total pressures, his third consecutive year of 60 or more, and notched 32 defensive stops in the run game alone. His average depth of tackle in the run game was just 2.22 yards downfield.
Jones made the second team and may well have been one spot better if the Chiefs played him inside all season long, instead of lining him up on the edge to start the season. Jones recorded 65 total pressures on the year, the third-most among interior players.
---
There was a period this season when Donald didn't have the best overall PFF grade among interior defenders and had a solid but unspectacular volume of pressure. Then he turned on the afterburners. In a four-game stretch, Donald racked up 34 total pressures, more than the entire Atlanta Falcons over that span, and was virtually unstoppable in some key games for the Rams. Donald leads all interior players in pressures by a distance and is the only non-quarterback in the league this season with a PFF WAR value above 1.0. Donald is the best defensive player in the league once again.
Wilkins has been an excellent player for Miami in all facets, playing over 700 snaps this season.
---
Related content for you:
Why Aaron Donald should be the unanimous Defensive Player of the Year
Via Anthony Treash
---
Garrett boasts the best PFF pass-rushing grade of any edge rusher in the league this year (92.7). He recorded 78 pressures, which isn't the most in the NFL, but he also twice faced Ben Roethlisberger's 2.15-second average time to throw. Garrett did lead the league in winning pass-rush reps that didn't result in pressure due to early throws. He had 56 such plays, and his 25.7% pass-rush win rate was tied for the second-best mark among edge rushers.
Watt tied Michael Strahan's single-season sack record in Week 18 and put together a remarkable statistical season. Twenty-two of his 63 pressures (eighth among edge rushers) were sacks, a rare conversion rate that is not solely attributed to the individual rusher.
---
Crosby feasted all year on a remarkable cupcake schedule of opposing right tackles, but there's no denying his overall impact. The fact that his performances remained high when he faced better opponents is notable too. Crosby led the league in pressures (95), one of only a few players in recent seasons to top Aaron Donald in that category. Only Myles Garrett and Donald ended the season with a higher pass-rushing grade among full-time pass-rushers. Crosby is one of the most improved players in the game at any position, and he has an excellent story on top of that.
---
Campbell posted overall PFF grades between 49.0 and 56.6 in four of his five previous NFL seasons with the Falcons and Cardinals. His best season earned him an above-average 69.1 grade in 2017. This year, he finished with an 84.3 mark and has been arguably the best off-ball linebacker all season, despite being often the only linebacker within a defense that plays a huge volume of personnel packages with six defensive backs. Campbell missed four tackles across 138 attempts and was the first player making contact on the ball carrier 97 times this season.
David put together another excellent season, and his impact might be best illustrated by the performance of the Bucs defense when he is not in the lineup.
---
Leonard was a turnover machine this season. He forced six fumbles — two more than any other linebacker — recovered three fumbles and snagged four interceptions. He also dropped two more interceptions where he broke up the pass on the play. Leonard was a big reason the Colts' defense thrived at forcing turnovers.
Davis just barely grabs the second-team spot from a group of linebackers that all had strong cases.
---
Parsons has a case for Defensive Player of the Year, but it's hard to argue he belongs as a first-team All-Pro at either edge rusher or off-ball linebacker over the players he is in competition with. His value is in his ability to do both jobs at the same time, moving between them whenever required and giving the Dallas defense incredible flexibility because of it. Parsons is the prototype for the new brand of positionless football and was built for a "Flex" designation.
Parsons earned the best PFF pass-rushing grade (93.1) of any rusher at any position and recorded the best pressure rate (22.4%) of any player with at least 200 rushing snaps. He is an elite pass-rusher, but unlike the rest of them, he has also dropped into coverage almost 300 times, often deep down the field on legitimate man-to-man assignments — not simply occupying a shallow zone.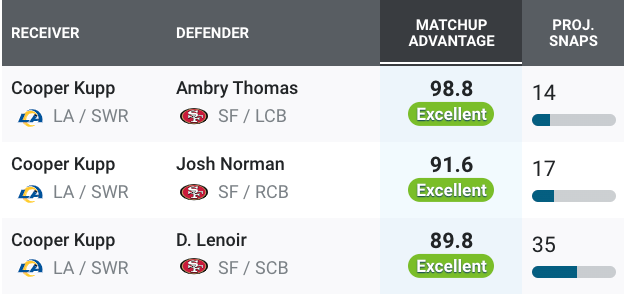 Terrell allowed just 200 receiving yards all season. There were single games in which a cornerback allowed more than 200 yards this year. And Terrell wasn't just avoided in coverage in his second season — he was thrown at 66 times, allowing just 29 receptions for a 43.9% catch rate, the lowest in the league. Passes thrown into Terrell's coverage generated a 47.5 passer rating, also the best mark at the position. He was, by any measure outside of interceptions, a superstar at cornerback this season.
---
Ramsey enjoyed his best season since his career year in Jacksonville back in 2017. He did so in a new role that saw him play in the slot far more than in the past in an attempt by the Rams to make it harder for opposing offenses to avoid one of their best defensive playmakers. Ramsey allowed 63.4% of passes thrown his way to be caught, but that figure is always higher for slot defenders, and he countered that with 16 forced incompletions and 17 defensive stops in coverage.
---
Byard is arguably the best safety in the game based on current form. He earned the highest PFF grade (90.5) of any player at the position and made six picks and seven pass breakups in coverage. He has also been a very mistake-free defender, missing just five of his 95 tackle attempts this season.
Williams is one of the game's most consistent players at any position for the New Orleans Saints. He has never had a season earn a PFF grade lower than 71.1, and his 85.9 coverage grade in 2021 is the mark of another excellent year.
Winfield is another player only in his second season but already looking like a seasoned veteran. He made 19 defensive stops this season and recorded above-average PFF grades in every facet of play from his safety position. The only negative in his tape was missed tackles, 16 in all, but he made so many plays to offset those negatives. Winfield picked off three passes and forced five incompletions, and he wasn't in primary coverage for any touchdown this season.
Hyde put together another excellent season for one of the league's best defenses. He reeled in five interceptions and was good in all areas for the Bills.
---
Special Teams
Tucker hit a game-winning 66-yard NFL record kick back in Week 3 against the Detroit Lions, and that will take a kicker a long way over a season. He was perfect on extra points, and his only missed field goals (two) came from over 40 yards out.
The gap between Cole and the next best punter is as wide as it is at any position. He hasn't always had the statistical reward his punts have deserved, but no punter has a better combination of distance, hang time and direction this season. His average hang time is an impressive 4.4 seconds.
---
The Colts have cornered the market on special teams stars, consistently placing at the top of PFF's special teams grades on an individual basis. Adams has played over 350 special teams snaps this season, recording 10 tackles and earning the best PFF grade in the league (91.1)
---
Nwangwu doesn't return punts, but he brought back two of his 18 kick returns for touchdowns. He is the only return man to score twice on kick returns and is a threat any time he has the ball in his hands.