The San Francisco 49ers were one of the surprises of the 2019 season, winning games in a variety of ways and nearly taking home another Lombardi Trophy. This year, the theme appears to be maintenance after losing a few solid players, but the team acted quickly to replace them with similar talents. The challenge is going to be duplicating their outstanding 2019 season, as the NFC has been a revolving door of elite teams for several years.
As is the case for most teams, it will come down to the passing game on both sides of the ball, meaning quarterback Jimmy Garoppolo must take another step and the back seven must be close to their league-leading 92.9 coverage grade if they're going to make another Super Bowl run.
Subscribe to PFF's EDGE or ELITE subscriptions to get access to the following tools, charts, etc. 
– All Premium Article Content
– Fantasy Football Rankings & Projections
– Fantasy Football Draft Guide, Cheat Sheets & Advanced Stats
– Fantasy Football Mock Draft Tool (DraftMaster)
– Fantasy Football Strength of Schedule Matrix
– NFL Player Grades
– NFL Premium Stats
ADDITIONS/SUBTRACTIONS
Additions/players brought back:
EDGE Arik Armstead (re-signed for five years, $85 million, $48.5 million guaranteed)
S Jimmie Ward (re-signed for three years, $28.5 million)
C Ben Garland (re-signed for one year, $2.25 million)
EDGE Ronald Blair III (re-signed for one year)
OT Trent Williams (via trade)
CB Jason Verrett (re-signed)
WR Travis Benjamin (*opted out)
OL Tom Compton
Losses:
DI DeForest Buckner (via trade)
WR Marquise Goodwin (via trade)
OT Joe Staley (retired)
RB Matt Breida
QUARTERBACK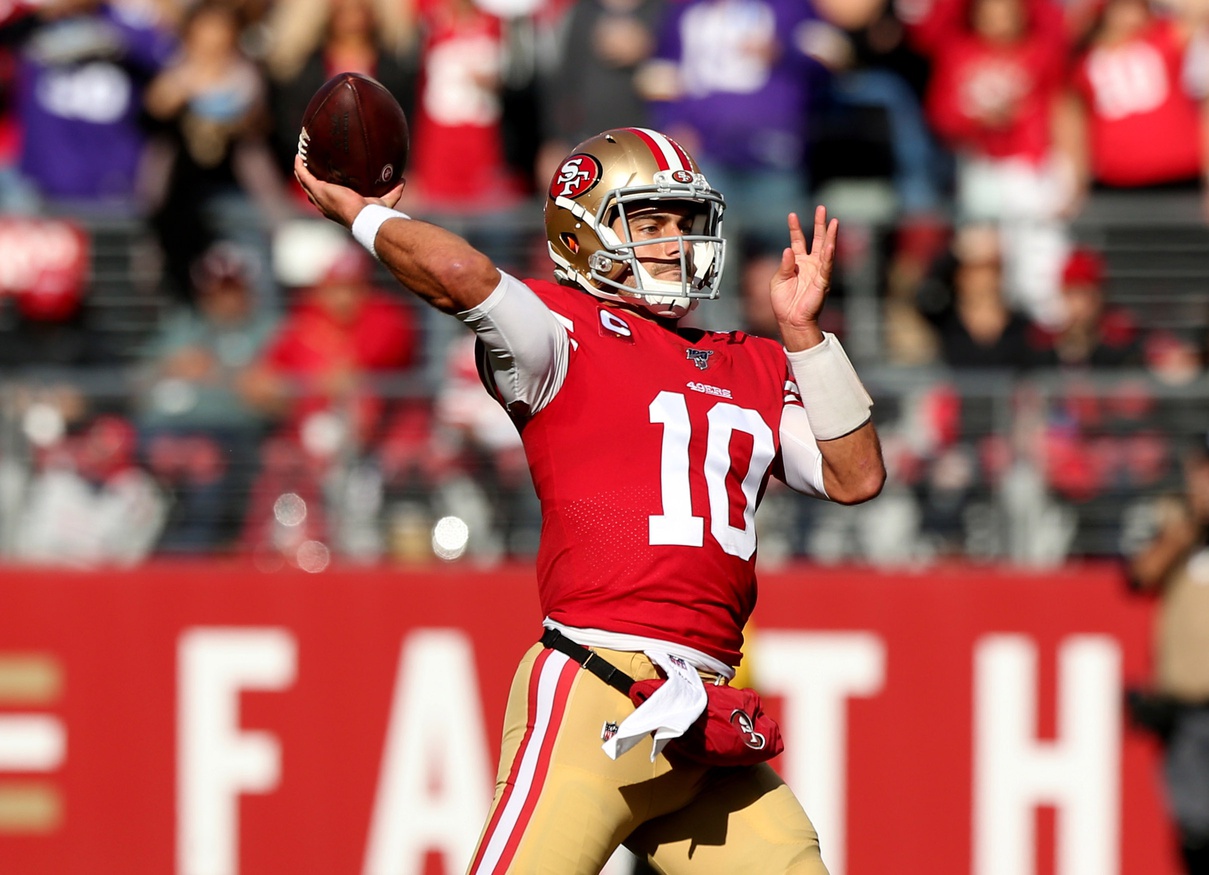 Here's what I said about Jimmy Garoppolo prior to the Super Bowl last season:
We finally got to see a full season of play from Garoppolo, who performed well in San Francisco's offensive system. Much like his run in 2017, he had a high percentage of positively graded throws and a low percentage of negatives, but he ranked near the bottom in big-time throws. Garoppolo also saw an uptick in turnover-worthy plays, as he made several poor decisions over the middle of the field to go with some ball security issues in the pocket. Overall, Garoppolo was one of the league's most accurate passers, and his quick release and decision-making have proven to be a good fit in the Shanahan system. He is yet another mid-tier quarterback who can produce at a top-10 level in any given season, especially if he can cut back on the random poor decisions that seem to pop up once or twice in every game.
Garoppolo finished with the 13th-best grade in the league during the regular season, and that's a fair proxy for what he is at this point in his career. The 49ers had one of the most efficient passing games in the league in 2019; the scheme was fantastic, and Garoppolo was aided by 55.1% of his yards coming after the catch, the second-highest rate in the league.
Garoppolo's accuracy does help make the system work, as he had the sixth-lowest percentage of uncatchable passes a year ago, though he must cut down on those poor decisions over the middle of the field that turned too many of his solid games into average performances. There was a point during Garoppolo's 2017 run (86.6 grade) where he looked like he could be ready to break into the top eight quarterbacks in the league, but last year's 77.5 overall grade is a more realistic expectation.
RUNNING BACK
No system highlights the importance of scheme and playcalling for rushing production like the Shanahan system. And Kyle continued its evolution last season, as a more versatile scheme led to three different running backs going over 500 yards during the regular season.
Raheem Mostert led the way. After making his name on special teams for four years, Mostert broke out to post the fourth-best rushing grade in the league last year (83.3) while averaging 5.8 yards per carry and forcing 46 missed tackles on 190 rushes. Mostert has angle-changing speed, and that's even more valuable when the system puts the running back into space as often as it does.
Tevin Coleman has impressive speed of his own, and while he wasn't as successful as Mostert, he posted the highest rushing grade of his career (71.3) in his first season in San Francisco last year. He and Mostert tied for the team lead with 180 receiving yards, and they will likely be the top pass-catching options once again unless Jerick McKinnon finally makes it back onto the field. McKinnon hasn't taken a snap in either of the past two years after signing a four-year, $30 million contract, but he earned the ninth-best receiving grade in the league among running backs (83.6) in 2017. Jeff Wilson Jr. also returns after producing a solid 70.4 overall grade on 64 snaps a year ago.
And of course, we can't forget about fullback Kyle Juszczyk, one of the last remaining hopes for the PFF fullback pages in Premium Stats 2.0. The highest-graded fullback in three of the past four years, Juszczyk has averaged over 10.0 yards per reception over the past two years, as the 49ers do a great job of getting him into space and reminding defenses that they must defend the entire field.
Expect another committee approach with the running backs in San Francisco this season.
WIDE RECEIVER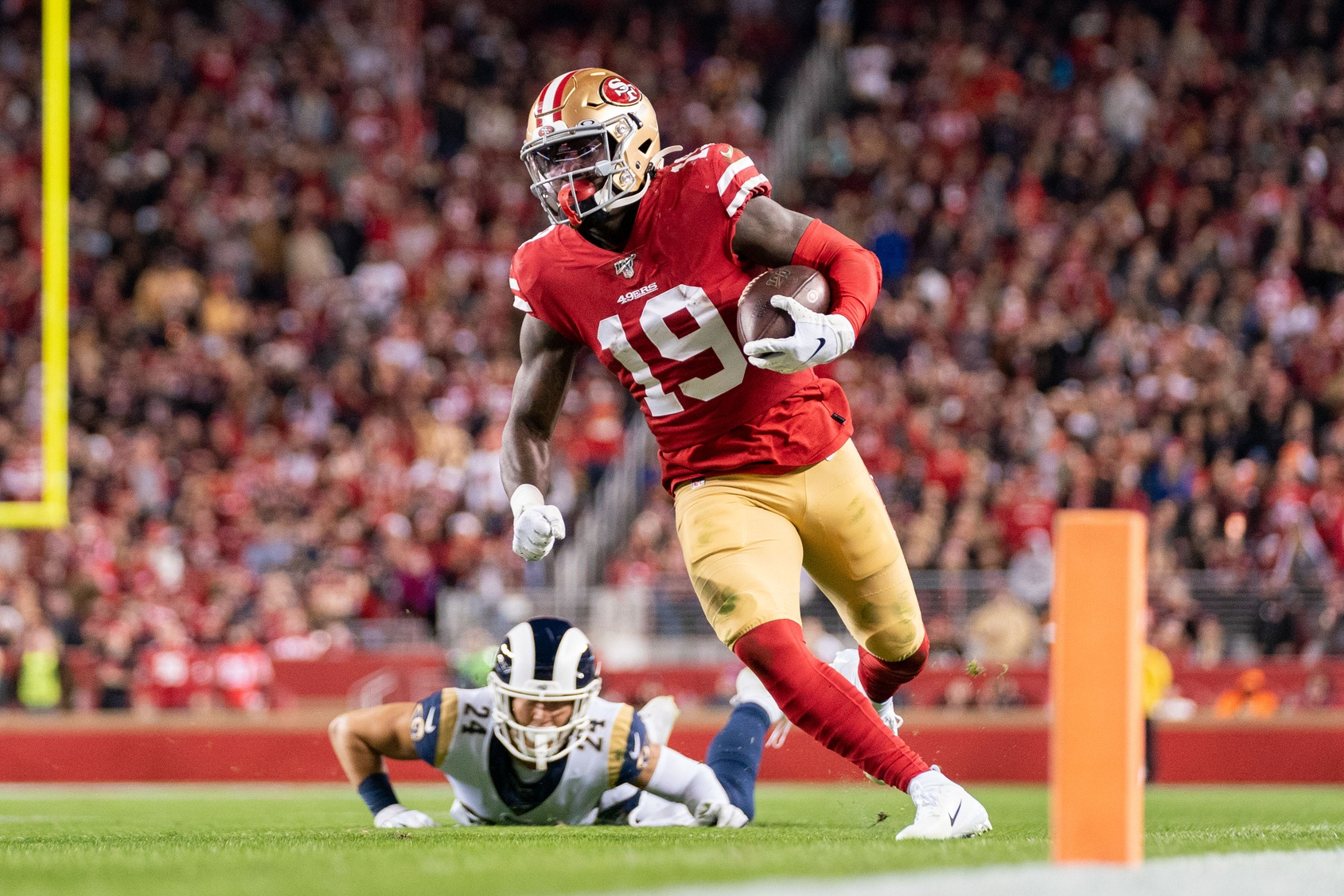 The passing offense got a boost with the addition of Emmanuel Sanders in Week 8 last season, and he added 573 yards down the stretch while dropping just one pass.
Sanders' route running will be difficult to replace, but San Francisco hit the jackpot with Deebo Samuel in the second round of the 2019 NFL Draft, and he has the skill set to be the true No. 1 this season. You could find Samuel all over the field last year, as he was used in the backfield and on jet sweeps while also threatening the middle of the field on conventional routes. This added up to him ranking fifth in the league with 484 yards after the catch during the regular season while ranking third with an average of 8.5 yards after the catch per reception.
Samuel is banged up and will likely miss some time, but when healthy, he's dynamic both before and after the catch. Some of the "space" plays could go to rookie first-rounder Brandon Aiyuk, who averaged 9.9 yards after the catch per reception on his 98 career college catches. Samuel and Aiyuk are perfect fits for Kyle Shanahan's offense, and his deployment of the dangerous receivers will keep defenses in a bind.
The No. 3 spot is wide open, with 2019 third-rounder Jalen Hurd the most intriguing option. He's a 6-foot-4 former running back who showed some promise last year during the preseason before getting injured. Hurd's size and running back skills add yet another weapon to the offensive arsenal.
Kendrick Bourne is also in the mix, though his last two seasons have been quite the roller-coaster ride — he's caught 10 touchdowns on 78 catches but also dropped nine catchable targets during the time. Former second-rounder Dante Pettis may be running out of time after a 56.4 overall grade last season, while 2018 seventh-rounder Richie James Jr. adds big-play potential and return ability.
The 49ers don't have the best group on paper, but they've fired draft capital at the position for four consecutive years and have a solid group that fits their offensive system.
TIGHT END
George Kittle has become the new standard for multi-faceted, all-around tight ends. He's finished with the top grade in the league in each of the past two seasons and last year posted a 94.4 mark, earning the coveted PFF Dwight Stephenson Award as the best player in the NFL regardless of position.
Kittle has burst, quickness and an after-the-catch mean streak as a receiver, and he has led tight ends in yards after the catch in each of the past two seasons. Far from just a weapon in the receiving game, Kittle also brings it as a run-blocker, where he recorded a top-six run-blocking grade in both 2018 and 2019.
Ross Dwelley is the backup behind Kittle, though he graded at only 57.0 overall last season. Keep an eye on rookie sixth-rounder Charlie Woerner, too,  because he could earn snaps in the run game. Woerner earned an impressive 82.9 grade in the run game last season at Georgia while showing off the ability to effectively block on the move, which is a must for tight ends in San Francisco's offense.
Kittle makes this unit the best in the league, though they could use more depth to take at least some pressure off.
OFFENSIVE LINE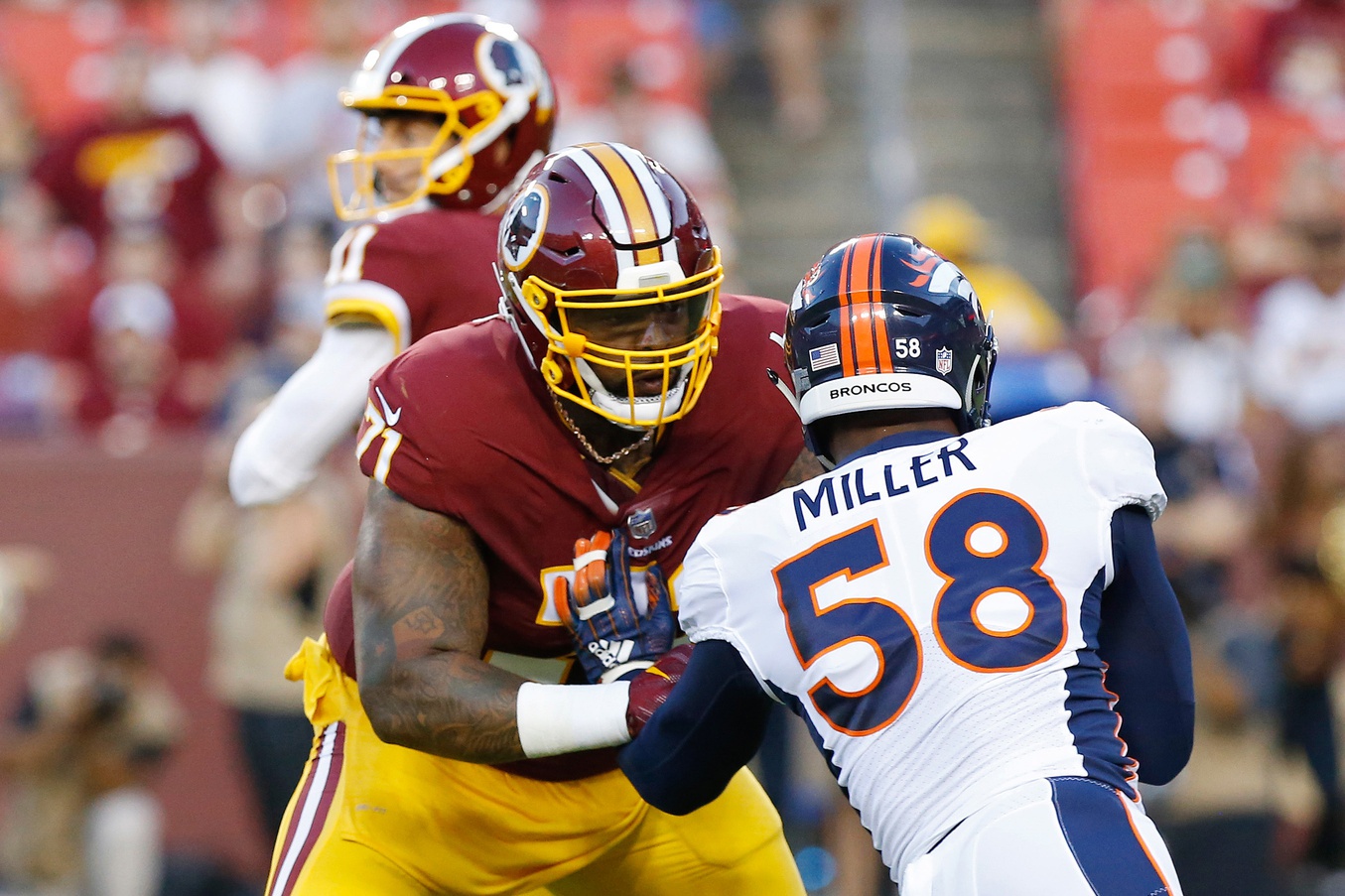 The 49ers ranked 14th in our 2019 regular-season rankings, but they should be even better in 2020 if the starting five remains healthy. Left tackle Joe Staley retired this offseason after an outstanding career, including a strong 2019 season where he earned an 81.3 overall grade that tied for seventh in the NFL.
The 49ers traded for Trent Williams during the 2020 NFL Draft, and he had the fifth-best overall grade (90.8) among tackles from 2015-18. Williams is an excellent combination of smooth pass protector and powerful run blocker. Plus, his career-high 88.9 run-blocking grade came in 2013 in Kyle Shanahan's offensive system.
Mike McGlinchey's first two NFL seasons at right tackle have looked much like his college career, as he's been a top-notch run blocker and a capable pass blocker. His 81.2 run-blocking grade ranks eighth among tackles, but his 66.0 pass-blocking grade ranks just 73rd. He must improve that mark to take the next step in Year 3.
On the interior, left guard Laken Tomlinson has developed into a solid starter — his 68.8 overall grade last season ranked 23rd among guards including the playoffs. San Francisco released right guard Mike Person, who allowed the seventh-most quarterback pressures (33) among guards during the regular season. For 2020, veteran Tom Compton is slated to start. Compton is about to see action for his sixth team, and he posted just a 61.8 overall grade in 2018 — his last season with extended playing time.
Ben Garland could also be in the mix, as he provided valuable depth last season with a 71.6 grade on 416 snaps at center and also graded at 71.6 in 2018 with the Falcons at right guard. Center Weston Richburg got hurt in Week 14 and will return to his starting post after a 62.5 overall grade in 2019 that ranked 23rd in the league. One other notable player is backup offensive tackle Daniel Brunskill, who filled in admirably down the stretch last season with a 73.0 overall grade and just nine pressures allowed on 475 attempts.
The 49ers have high-end potential, and they could rank among the top eight offensive lines if Williams is his usual self and Richburg gets back to his previous levels of strong play.
DEFENSIVE LINE
Nick Bosa enters Year 2 of his NFL career after setting the rookie record for most total pressures in a season (80). He broke a record that had stood since 2011 — by 16 pressures, no less — and that doesn't even count the fact that he still had his foot on the gas by the time the Super Bowl rolled around. The 49ers traded away DeForest Buckner, who had been the team's most consistent interior force over the past few seasons, but they used the pick they acquired on his direct replacement — South Carolina's Javon Kinlaw.
Kinlaw was the most effective pass-rushing interior lineman in this draft, slotting in as the No. 1 player at his position on PFF's Big Board because of it. Hitting the ground running as a rookie is tough, but Kinlaw has the talent to immediately contribute inside. Arik Armstead and Dee Ford give the 49ers depth and talent on the edge, and Armstead can kick inside and move around the line. Armstead posted an overall PFF grade just below 90.0 last season after a career year where he racked up 62 total pressures. Meanwhile, injuries limited Ford, but when he was on the field, he backed up his breakout 2018 season.
Buckner's departure potentially opens the opportunity of one last salvage mission for Solomon Thomas, who might finally get some playing time inside, while Ronald Blair III should still earn some rotational snaps after solid showings in past years.
LINEBACKER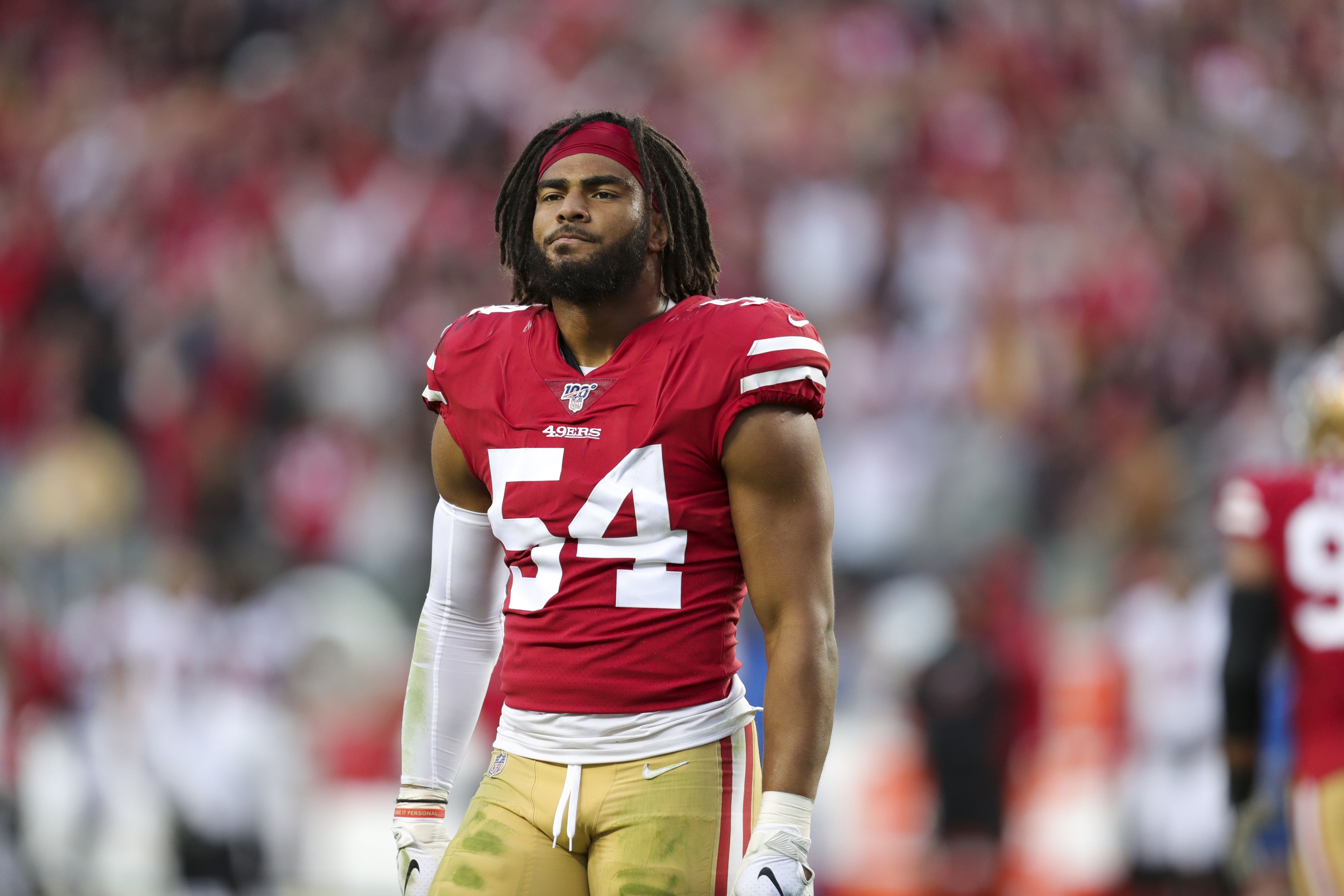 The 49ers have revamped their linebacking corps over the past three years and now boast a solid unit that fits their defensive scheme. Fred Warner has emerged as one of the better coverage linebackers in the league in his two seasons but needs to cut down on his 37 missed tackles, the sixth-highest total during that time. Warner's 74.5 coverage grade ranked 11th last year, and he has 14 pass breakups and two interceptions in his young career.
Kwon Alexander returns for his second season in San Francisco after being limited to just 423 snaps last year. Alexander is another rangy, middle-of-the-field defender who usually grades well in coverage. However, he has tackling issues of his own, missing 13 of his 46 attempts last year to form the worst rate in the league. One of the unsung heroes of the 49ers' Super Bowl run was 2019 fifth-rounder Dre Greenlaw, who stepped in with a 72.6 coverage grade that ranked 15th in the league while missing only four tackles including the playoffs.
Joe Walker joins the 49ers to add depth after grading out at 46.2 on 537 snaps for the Cardinals last season. San Francisco has one of the best groups of coverage linebackers in the league — it just needs to cut down on the missed tackles to live up to its potential.
SECONDARY
The turnaround in the San Francisco defense was impressive last year, but the secondary made huge strides, propelled largely by Richard Sherman returning to form as arguably the game's best corner.
Though he had a tough Super Bowl, Sherman allowed just 227 receiving yards in the regular season — and he allowed only 373 when you include the postseason — around 250 yards fewer than many of the game's other top corners. Sherman is now 32, so he will be battling Father Time to maintain that level of play in 2020.
The other starting spot was something of an Achilles' Heel for the team last year, with the play of Ahkello Witherspoon threatening to keep the Minnesota Vikings in touch for a while early in the playoffs and the lapse from Emmanuel Moseley costing them dearly in the Super Bowl. Again, the team eschewed the draft and will enter the 2020 season with the same group that needs to step up opposite Sherman.
Overall, Moseley was significantly more solid than Witherspoon, and he actually allowed a passer rating more than 20 points lower, but the 49ers have a third-round pick invested in Witherspoon and may elect to give him one more shot. Meanwhile, K'Waun Williams is one of the game's best slot corners and earned a 77.2 PFF grade last year after allowing only one touchdown when targeted.
At safety, Jimmie Ward is coming off a career year and Jaquiski Tartt also returns to try and run it back again. Overall, the 49ers have much the same group from a year ago that showed the ability to do what needs to be done, and they have taken one more swing at the lottery ticket that is cornerback Jason Verrett. Few players have the kind of talent that Verrett does, but his 2019 season lasted just four snaps, and he has played only 112 snaps in the past four seasons. The chances of him making an impact are minimal, but if he does, the upside is still massive.
Given the turnover and injuries at wide receiver, the 49ers need someone else to emerge as a threat this season. Hurd was making waves early last season before getting injured and missing the entire rest of the year, but if he's healthy, there are opportunities to be had within this offense. Hurd was a running back at Tennessee and a slot receiver at Baylor, and at 6-foot-4, 227 pounds, he has quite the unique skill set. Given Hurd's youth at wide receiver, he has work to do with the nuances of the position. However, he can line up all over the formation, and his running back skills could become an asset in an offense that finds ball carriers from all over.
DRAFT CLASS REVIEW
The first round was all about replacing departed stars in interior defender DeForest Buckner and wide receiver Emmanuel Sanders. At No. 14 overall, the 49ers selected interior defender Javon Kinlaw, a Buckner-sized player who posted a 90.7 pass-rush grade last season. Later in the first round, San Francisco took wideout Brandon Aiyuk, an after-the-catch threat who adds to the unpredictability of the offense. After trading for Trent Williams, the 49ers had only three more picks. Sixth-round tight end Charlie Woerner is the one to watch, as he's a good blocker on the move and may have a role in this offense. 
BEST BET
The 49ers have held constant throughout the 2020 offseason with no movement on their futures markets. Since our simulation sits slightly higher on the Seahawks, we are a little low on the 49ers compared to betting markets. The NFC West could be one of the toughest divisions, but each member is buoyed by their matchups with the AFC East in 2020. How well the 49ers perform in their division matchups will go a long way toward determining if they meet betting expectations. Right now, we see no value in betting on the 49ers at their current price, as our simulation is in line with betting markets on all categories.