We are just a few weeks away from free agency when we will find out the destinies of many big-name stars, such as Tom Brady, Amari Cooper and Chris Harris Jr. PFF recently debuted a brand new free agent rankings page containing position rankings, projected contracts, PFF grades, PFF wins above replacement (WAR) and much more. Using that, we give the ideal plans of all 32 teams for this free agency period and break down everything you need to know about your favorite team:
(Note: All cap/contract projections are provided by our friends at OverTheCap, and only notable unrestricted free agents were listed for each team.)
[Editor's Note: All EDGE and ELITE subscribers have full access to our free agency database, including rankings, grades, PFF WAR, contract projections and more! Subscribe today!] 
Projected cap space: $89.4 million
Potential cuts: WR Albert Wilson (saves $9.5 million in 2020)
The Dolphins went full tank mode this past offseason, shipping out tackle Laremy Tunsil, wide receiver Kenny Stills, running back Kenyan Drake and safety Minkah Fitzpatrick for a plethora of draft picks. Including a move made in the last draft, Miami owns six picks in the top 70. However, there's still a lot of work to be done in free agency with their league-high cap space. They're capable of making some splashes in free agency, and that's what they need to do to build up their offensive line and coverage unit that both ranked dead last in PFF team grade last season. Byron Jones has thrived since his move to outside corner in Dallas these past two years, producing the fourth highest two-year grade at that alignment. Both Jack Conklin and Brandon Scherff are among the 25 best free agents available in March regardless of position in PFF's eyes and finished 2019 ranked top 10 in PFF grade at their respective positions.
Projected cap space: $86.2 million
Potential cuts: DI Margus Hunt (saves $4 million in 2020)
Indianapolis can make some big moves this offseason, and one has to occur at the quarterback position. Jacoby Brissett was the fourth lowest graded quarterback of the 2019 and showed the same accuracy issues downfield that we saw when he took over for Andrew Luck in 2017. Tom Brady is dipping his toe in the free agency pool this March, and Indianapolis should absolutely reel him in. Brady was still the 12th highest-graded quarterback last year, despite it being the second worst season of his career in PFF passing grade. If you can't land him, Philip Rivers warrants a look, but regardless, either one will need another receiver alongside TY Hilton. If they don't think CeeDee Lamb or Jerry Jeudy will be available at pick No. 13 in the draft and Amari Cooper somehow hits the open market, they should be sending the house for him. Dallas' offense this past season netted 122.0 expected points added on Cooper's 907 plays on the field and just 2.95 on 425 plays when he was off. The Colts sure could use that. Of their pending free agents, Anthony Castonzo should be a high priority, as he has been among the 15 best offensive tackles in PFF grade in each of the past three seasons.
Projected cap space: $80.2 million
Potential cuts: G Jon Feliciano (saves $3.6 million in 2020)
Buffalo is sitting pretty entering into this free agency period by seeing just five notable players hit the market and owning the third most cap space. Shaq Lawson is going to cost very little this March, so they can either bring him back for roughly $5 million in 2020 or go all-in for $19.5 million with Yannick Ngakoue, who plays the same 6/7-tech role. Ngakoue has been a better pass-rusher over Lawson in the past three years by ranking among the 20 best at his position in pass-rush grade. It's widely known that Josh Allen is one of the more inaccurate passers in the league, but even when he was accurate downfield, the Buffalo receivers weren't the best. They were fourth to last in PFF receiving grade as a unit on 10-plus yard, tight-coverage targets. Adding A.J. Green, who produced elite receiving grades against those downfield tight-coverage targets in each of his past three seasons, should help matters some, but again, won't fix Allen's accuracy problems.
Projected cap space: $79.9 million
Potential cuts: DI William Gholston (saves $4.7 million in 2020)
Tampa Bay had one unlucky season. From top to bottom, the Buccaneers had the eighth most valuable roster, yet they finished on the outside looking in with a 7-9 record. As is widely known, Jameis Winston is one of the league's most volatile quarterbacks. In his final press conference of the year, Winston said when he's at his best he is "ballin" and just has to stop throwing the ball to the other team — he's not wrong. Since coming into the league in 2015, Winston has ranked among the five best in terms of generating positively grade throws while also ranking among the bottom 10 in generating negatively graded throws. One more year is the absolute max the Buccaneers would give Winston, and that might be their best bet. Their deep safety this past season, Andrew Adams, is set to enter free agency and they could use an upgrade at that position with Anthony Harris, who owns the highest two-year PFF grade for a safety. Shaquil Barrett has been a top 25 edge defender in grade in every season of his career, but the Tampa Bay must be careful to not overpay based on the sack numbers.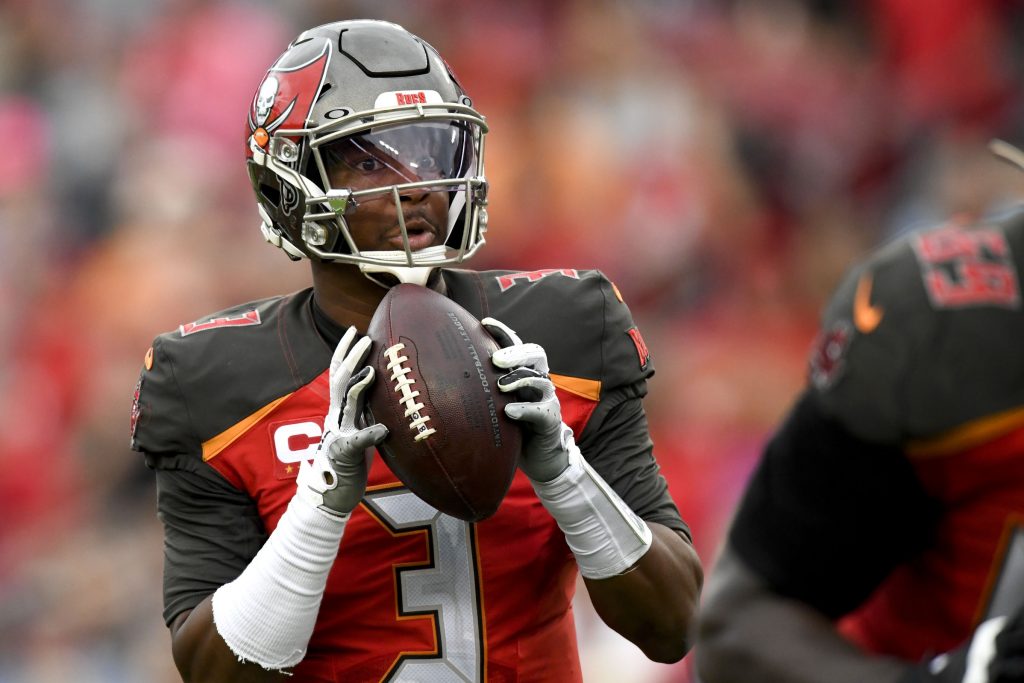 Projected cap space: $79.9 million
Potential cuts: DI Tyrone Crawford (saves $8 million in 2020), T Cameron Fleming (saves $4.5 million in 2020)
Dallas is in an incredibly difficult spot — they paid $90 million to Ezekiel Elliott over six years, $105 million to Demarcus Lawrence over five years and $64 million to Jaylon Smith over five years. Now, they have $79.9 million and have to pay a projected combined total of $69 million to Dak Prescott, Amari Cooper and Byron Jones, who were the Cowboys' three most valuable players in WAR last season. This isn't exactly a viable option, though, considering they have numerous other positions to fill with what would be just $10 million in the bank. Prescott was the second most valuable quarterback in the NFL this past year in WAR, so it'd be a shock to see him walk. He'll need a receiving weapon to throw to, and Cooper has been a top 15 receiver in PFF grade since coming to Dallas. This leaves Byron Jones as the odd man out, who is one of the NFL's best press-man corners. Hey, at least Zeke got paid — just 30 carries a game to him and you automatically win, right?
Projected cap space: $61.9 million
Potential cuts: QB Joe Flacco (saves $10.1 million in 2020), TE Jeff Heuerman (saves $4 million in 2020), LB Todd Davis (saves $5 million in 2020)
Denver has only five notable players hitting the market in March, but all five are vital pieces to their team. Chris Harris Jr. moved to outside corner from the slot in 2019 and had the worst season of his career from a grading standpoint. Still, we cannot forget that he was the third highest-graded slot corner in 2018. Justin Simmons had one of the biggest breakout seasons in the league on the defensive side of the ball. He went from a 51.2 coverage grade with four touchdowns allowed in 2018 to a 91.1 coverage grade, zero touchdowns allowed and 15 combined interceptions and pass breakups in 2019. The offense has some big question marks at quarterback and receiver, but bringing back these two is a step in the right direction. Center Connor McGovern was the 11th highest graded center last season, so it might be wise to bring him back, as well. Improving the offense should be the main goal for Denver in free agency, and pairing a No. 2 wideout with alongside Courtland Sutton should be a priority.
Projected cap space: $61.9 million
Potential cuts: LB Alec Ogletree (saves $8.2 million in 2020), TE Rhett Ellison (saves $5 million in 2020), EDGE Kareem Martin (saves $4.8 million in 2020), C Spencer Pulley (saves $2.7 million in 2020)
None of the Giants' impending free agents were key pieces to the team in 2019. They kind of put themselves in a bad spot with Leonard Williams, as they traded a third-round and fifth-round pick for him midseason and now have to pay a projected price of five years, $75 million with $43 million guaranteed. That's the ninth largest contract for a non-quarterback this free agency, and he's not even among the 20 best non-quarterback free agents, as he has failed to crack the top 25 in grade in each of his last three seasons. With a handful of cuts, New York can grow its cap situation and significantly improve its pass-rush and secondary, which ranked 26th and 30th in team grade, respectively. Shaq Barrett had the fourth most pressures last season, but again, they have to be careful not to overpay him.
Projected cap space: $55.2 million
Potential cuts: CB Vernon Hargreaves (saves $9.6 million in 2020), DI Angelo Blackson (saves $4 million in 2020)
Cutting Vernon Hargreaves has to be a lock considering his cost, his 52.1 coverage grade and his 112.1 passer rating allowed with the Texans. With that, they'll face an interesting situation with Bradley Roby, who manned the slot before Hargreaves came to town and was average at best by ranking 23rd of 39 slot corners in coverage grade. He's projected to get $11 million per year, and if that's the case, they might be better off pursuing an established shutdown slot corner in Chris Harris Jr. Interior defensive lineman D.J. Reader took a big step forward in 2019 and finished off the season seventh at his position in PFF grade. He still has something to prove with his pass-rushing, so they must be careful with his price tag. Linebacker Zach Cunningham has been great in defending the run, but his coverage ability is suspect — he had just a 52.5 coverage grade in 2019 and allowed a 120.0 passer rating. Adding Joe Schobert, who owns the ninth highest two-year coverage grade, might be worth considering.
Projected cap space: $54.9 million
Potential cuts: LB Tahir Whitehead (saves $6.2 million in 2020)
The Raiders flirted with the last playoff spot over the final stretch of regular-season play, but they didn't quite have enough to make the push and clinch the spot — largely because of their secondary. If the Cowboys let Byron Jones walk as expected, the Raiders have to bring him in considering they've given up the most EPA per play among all 32 defenses in each of the past two seasons. He allowed just 0.39 yards per coverage snap in press coverage this past season, the second lowest figure at the position and over eight-tenths of a yard lower than average. Daryl Worley was dead last in that stat, in case you were wondering. By adding the second most valuable safety in Anthony Harris, as well as Jones, the Raiders' secondary could be the most improved in football. Derek Carr had a great tight end/wide receiver in Darren Waller, who produced an 86.7 receiving grade, but the receiving unit was thin. Hunter Renfrow showed some hope as he finished as one of the 10 highest-graded rookies this past season, but Tyrell Williams didn't turn out as great as everyone hoped. Emmanuel Sanders is the perfect fit for Vegas, as he thrives in offenses like Gruden's West Coast scheme.
Projected cap space: $53.7 million
Potential cuts: G J.R. Sweezy (saves $4 million in 2020)
Arizona's offensive line might see a seismic shift this March, as two of their starters are free agents and they'll have to consider a few others on the line. Both Humphries and Shipley ranked among the lower quarter at their position in WAR this past season, and Humphries, in particular, is going to command $13.5 million per year in free agency. The draft might be calling the Cardinals' name to replace Humphries, but they still have a lot to improve on at every other position on the line this March. Bryan Bulaga was a top-20 tackle this past season and would be an upgrade over Murray at right tackle. If they were to cut J.R. Sweezy, who failed to crack the top 50 in WAR in 2019, going in on Brandon Scherff or Graham Glasgow would be a huge upgrade, as they ranked 10th and 12th among all guards in grade last year.
Projected cap space: $50.8 million
Potential cuts: LB K.J. Wright (saves $7.5 million in 2020), C Justin Britt (saves $8.7 million in 2020)
The Seahawks have their work cut out for them, as they have numerous starters hitting free agency. And with $50 million to work with, they likely won't be able to make any big signings outside of bringing back Jadeveon Clowney. That in itself is an interesting situation, as Clowney is projected to receive the largest contract for a non-quarterback but has been just good, not great, as a pass-rusher. His run-defense has been his Achilles heel, ranking in the top 15 in run-defense grade among all at his position in every season he's been in the NFL. As a pass-rusher in 2019, Clowney failed to crack the 50th percentile in pressure rate. He's a great player, but for the right price. The interior offensive line across the board needs some help, as neither Joey Hunt nor Justin Britt at center produced pass-blocking grades above 60.0, and Mike Iupati and D.J. Fluker were 51stand 53rd in pass-blocking grade, respectively, among 83 qualifying guards. Ted Karras will be a cheap upgrade at center — he wasn't great by any means, but he was still among the 20 best in PFF grade last season and would save Seattle $8.7 million if they move on from Britt.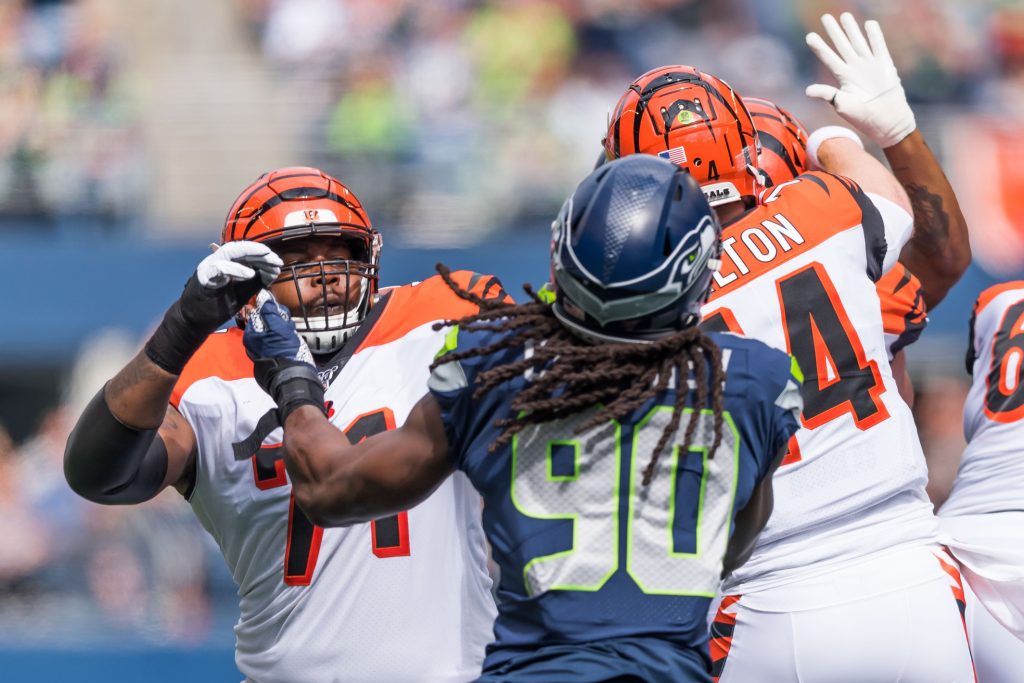 Projected cap space: $50.7 million
Potential cuts: EDGE Cameron Wake (saves $5.6 million in 2020), CB Malcolm Butler (saves $7.4 million in 2020)
Just a season ago, Ryan Tannehill recorded the third worst PFF passing grade that we have ever seen in a full season since 2006. He was traded to Tennessee for peanuts, named the starter over Marcus Mariota back in Week 7 and finished regular-season play as the NFL's highest-graded quarterback. In other words, it'd be a shock if Tannehill wasn't re-signed to a fat contract and brought back as Tennessee's starting signal-caller because of his elite 2019. The worrisome part of Tennessee's free-agent class is that running back Derrick Henry is set to hit the open market after winning the rushing title — and if you are wondering what they should do, think back to the situation the Dallas Cowboys are in. As broken down by Kevin Cole, Henry is teaching the wrong lessons about building an offense. If the Titans do what they should and don't pay Henry, their pass-rush could use some help, as that was the only facet they didn't crack the 50th percentile in team grade. They might have enough to make a move for Jadeveon Clowney, but again, only for the right price. Kevin Cole broke down his value through comparable players, and he found his ceiling is a smidge less than his projected contract amount.
Projected cap space: $49.7 million
Potential cuts: LB Avery Williamson (saves $6.5 million in 2020), G Brian Winters (saves $7.2 million in 2020), CB Darryl Roberts (saves $6 million in 2020), C Jonotthan Harrison (saves $2.2 million in 2020), WR Josh Bellamy (saves $2.2 million in 2020), CB Nate Hairston (saves $2.1 million in 2020)
There are a lot of cuts that can and probably should be made on the New York Jets' end. If they make all the cuts listed above, they can add $24 million to their salary cap and make moves to help improve their offensive line and secondary. Anthony Castonzo would be a huge upgrade over Kelvin Beachum since he was the third highest-graded left tackle in 2019 and Beachum was just 21st. The soon-to-be 35-year-old Ryan Kalil started seven games and had the worst season of his career in PFF grade. McGovern is the highest-ranked free-agent center on the market according to PFF, so you have to assume the Jets' brass will be all over him. Even if the Jets do decide to bring back slot corner Brian Poole, it wouldn't hurt to bring in another big name in the secondary such as Chris Harris Jr.
Projected cap space: $49.6 million
Potential cuts: LB Christian Kirksey (saves $7.5 million in 2020), CB T.J. Carrie (saves $6.3 million in 2020), DI Sheldon Richardson (saves $8.3 million in 2020), T Chris Hubbard (saves $4.9 million in 2020)
Cleveland had one of the most disappointing 2019 seasons, but things are looking bright for them with Kevin Stefanski leading the charge. The offensive weapons are there for quarterback Baker Mayfield, but the offensive line is not. In each of his first five seasons in the NFL from 2014-18, Greg Robinson never cracked the top 30 in PFF grade among left tackles. He ended that streak in 2019 but still ranked just 21st. Anthony Castonzo is the top left tackle who is set to be a free agent in PFF's rankings, and if Indianapolis lets him walk, the Browns should pursue him to replace Robinson. On the other side of the line, Chris Hubbard ended up 76th of 81 tackles in PFF grade in 2019, so a release could be in his future. If that's the case, Cleveland should look at Jack Conklin to replace him, as he was the fourth most valuable tackle in 2019. With Damarious Randall set to enter free agency, the Browns will have the option to re-sign him or bring in one from this loaded safety free-agent class featuring Justin Simmons, Anthony Harris and Ha Ha Clinton-Dix.
Projected cap space: $48.7 million
Potential cuts: LB Denzel Perryman (saves $6.5 million in 2020), LB Thomas Davis (saves $5.2 million in 2020), C Mike Pouncey (saves $6 million in 2020)
Out of all the Chargers' impending non-quarterback free agents, Hunter Henry would by far be the biggest loss. In his three healthy seasons, Henry has ranked fifth, second and 12th among those at his position in PFF grade. Whether he's inline, in the slot or out wide, Henry can win. In Mike Renner's most recent mock draft, he had Oregon quarterback Justin Herbert going sixth overall to the Chargers, and it might be in their best interest to not throw him into the trenches right away and use a veteran quarterback as a bridge. While Marcus Mariota is far from a polished passer (career-high passing grade is just 72.1 in five seasons played), Anthony Lynn could look to use his athleticism and rushing ability as he did with Tyrod Taylor in Buffalo.
Projected cap space: $46.3 million
Potential cuts: EDGE Devon Kennard (saves $5.6 million in 2020)
Cutting Devon Kennard and bringing in Kyle Van Noy makes too much sense for Detroit and would be a great move. They played nearly the same exact role for their respective teams in 2019, and Van Noy was far better in it. Van Noy was actually a Lion himself at one point before he was traded to New England midseason in 2016. After playing mostly off-ball linebacker for most of his career, Van Noy transitioned to the edge and recorded a career-high 84.2 PFF grade in 2019, ranking 16th in the NFL. In the pass-rush, Van Noy ranked 34th in grade — over 50 spots ahead of Kennard, who had just a 58.1 pass-rush grade in 2019 and has never eclipsed a 60.0 pass-rush grade in his four seasons with 100-plus pass-rush reps (has two with fewer than 100). Considering they are in prime position to take Jeff Okudah in the 2020 NFL Draft, outside corner Rashaan Melvin, who struggled mightily in Patricia's press-man heavy scheme with one of the 10 worst coverage grades at his position, shouldn't be considered for an extension.
Projected cap space: $45.6 million
Potential cuts: RB Rex Burkhead (saves $3 million in 2020), CB Justin Bethel (saves $2 million in 2020), EDGE John Simon (saves $2 million in 2020), WR Mohamed Sanu (saves $6.5 million in 2020)
Yes, Devin McCourty, Joe Thuney, Kyle Van Noy and Jamie Collins Sr. are all vital pieces to this Patriots team — but realistically, none of them matter if Tom Brady is not on the team, and he's not coming back if New England doesn't pony up for some receivers. If they cut the four listed above, they'd have $59 million to play with and sign multiple receivers for Brady. It's up in the air whether or not Amari Cooper or A.J. Green will be available for Bill Belichick to sign, but if either is, send the house to get them. Cooper was the fifth highest graded receiver on 20-plus yard targets in 2019, and Green was in the same boat when healthy. If they aren't available, the next best option — assuming all of the field stuff is done with — is Antonio Brown. Talking strictly on-the-field performance, Brown was obviously one of the best to play the game — he finished in the top five among wide receivers in PFF grade in every season from 2013-17. He played in one game for New England in 2019 and finished that with an elite 90.0 overall grade. Again, this is assuming all the off-the-field issues are no longer an issue.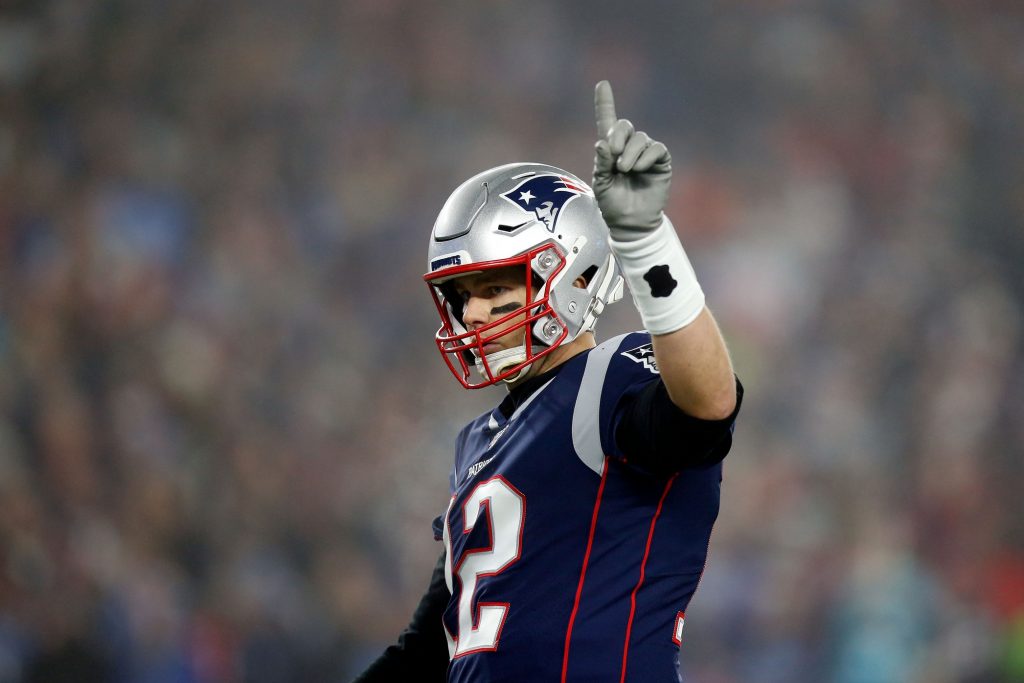 Projected cap space: $44.7 million
Potential cuts: T Cordy Glenn (saves $9.5 million in 2020), CB Dre Kirkpatrick (saves $8.4 million in 2020), QB Andy Dalton (saves $17.7 million in 2020)
Since Cincinnati didn't trade wide receiver A.J. Green at the in-season deadline, it'd be hard to imagine them letting him walk in free agency. A long-term deal or the franchise tag is destined to happen. He hasn't stepped on the field since Week 13 of 2018, but we have to recognize how great of a player Green is when healthy. Even with not playing the past year and a half, Green still ranks fourth in deep receiving yards (20-plus yard targets) and is tied for first in deep touchdowns since coming into the league in 2011. He's exactly who Joe Burrow needs, and he should be a priority for Cincinnati this offseason. Cordy Glenn and Dre Kirkpatrick both had limited time on the field in their 2019 seasons due to injury, and if Cincinnati is serious about winning immediately, they would cut both to bring in an extra $18 million to make some plays. In two of the past three seasons, Darqueze Dennard has been one of the top 10 slot corners in PFF coverage grade. Cincinnati can bring him back for a low cost and form a nice secondary with him, William Jackson III, Darius Phillips and, perhaps, Byron Jones to replace Kirkpatrick. Among all 32 NFL teams, the Bengals' offensive guards were 30th in overall grade and 31st in pass-protection, where they lost more than any team. Signing Joe Thuney, who owns the third best two-year pass-blocking grade at the position, would certainly help.
Projected cap space: $40.9 million
Potential cuts: None that stand out
Philadelphia's wide receivers produced the worst receiving grade in the NFL in 2019. With the $40 million at their disposal, they have to add a wide receiver. Robby Anderson is an intriguing option for the Eagles — he's racked up the 11th most receiving yards on 20-plus yard targets since 2016 and did so while seeing just a 41% catchable target rate on those deep passes (eighth lowest). He won't win in contested situations, but he can torch you with his speed and would be a nice compliment to Alshon Jeffery. Jason Peters highlights the Eagles' crop of soon-to-be free agents, and while he might be 38, he was still the sixth highest graded tackle of 2019. Peters has said he still has another year left in the tank, so the Eagles should act on that. Both Ronald Darby and Jalen Mills will enter free agency, and considering they were 110th an 99th in PFF grade among cornerbacks in 2019, respectively, it might be best to pursue other options. Neither Eli Apple nor Trae Waynes have quite proven themselves yet, but they were both average to above-average in PFF grade, ranking 61t and 44th, respectively. They'll both likely receive one-year, prove-it deals and who knows — they might finally break out with the Eagles. Either way, they would be an incredible upgrade from what we saw out of Philadelphia's corners in 2019.
Projected cap space: $38.9 million
Potential cuts: CB Josh Norman (saves $12.5 million in 2020), TE Jordan Reed (saves $8.5 million in 2020)
Outside of Quinton Dunbar, there wasn't a single Washington cornerback to produce a PFF grade above 60.0. That's a problem. The slot routinely got toasted in the nation's capital — Washington ranked 29th in slot coverage grade and passer rating allowed to the slot (117.9). Darqueze Dennard, who was the seventh highest-graded slot corner and allowed the fewest yards per cover snap in the slot at 0.57, would for sure help that cause. Brandon Scherff should be of utmost priority for Washington entering free agency. He's had some injuries the past few seasons, but his two-year PFF grade when on the field is the sixth best among right guards.
Projected cap space: $32.6 million
Potential cuts: QB Cam Newton (saves $19.1 million in 2020), DI Dontari Poe (saves $9.8 million in 2020), WR Jarius Wright (saves $3 million in 2020), RB Mike Davis (saves $3 million in 2020)
The Carolina Panthers have a lot to decide on this offseason, particularly with what they are going to do at quarterback. Cam Newton is listed in the potential cuts section, but he's more likely to be traded away. Regardless, moving him — as well as cutting ties with Dontari Poe, Jarius Wright and Mike Davis — could open the books significantly for the Panthers. Out of their impending free agents, James Bradberry is one who shouldn't be brought back. He was just 71st in PFF grade and is projected to get $13.5 million per year for five years. That's not good for a rebuilding team. Though Tre Boston is a player who should most definitely be brought back considering he combined for more interceptions and pass breakups (10) than catches allowed (eight) while playing deep safety. Whether or not Carolina should pursue Teddy Bridgewater really depends on what the team's strategy is. Their best option might be to hold off and perhaps tank 2020 for a shot at Trevor Lawrence or Justin Fields in 2021, but if they want to be somewhat competitive next year, they'll need a new quarterback in free agency — and Bridgewater might be the best option. When taking over for the injured Drew Brees in five starts earlier this past year, Bridgewater was the fifth highest graded quarterback and limited mistakes as well as anyone.
Projected cap space: $27.8 million
Potential cuts: CB Brandon Carr (saves $6 million in 2020)
The two primary areas the Ravens should focus on improving this offseason is their wide receiver unit and their pass-rush. Edge defender Matthew Judon is hitting the market after having the best season of his career as a pass-rusher (77.0 pass-rush grade), but he was still not nearly as productive on a play-for-play basis as what his projected contract might say. Most of Judon's pressures were unblocked or a cleanup, and he ended up winning at a rate that ranked just 51st. He's projected to get $13.5 million per year and comes in as the 78th best free agent in PFF's eyes — Judon is not worth that kind of cheddar. Using that on a guy such as Shaquil Barrett would be the better option. The Ravens' wide receivers combined to form the 28th best receiving grade in the NFL. Lamar Jackson utilized his tight ends heavily in the passing game, but he could sure use another weapon.
Projected cap space: $23.7 million
Potential cuts: TE Jimmy Graham (saves $8 million in 2020)
The talent on the defense is there, but the weapons Aaron Rodgers has at his disposal are not. Rodgers is 36 years old, and the Packers are going into their final stretch of contending mode — there is no time for caution. If Cincinnati lets A.J. Green walk, he should be the Packers' primary target. From 2012 to 2018, Green ranked among the NFL's 20 best wide receivers in PFF receiving grade — and five of those seven were among the top 10. Tight end Jimmy Graham never was the same player we saw with the Saints and Seahawks that he was with the Packers. In his two seasons in Green Bay, he posted sub-60.0 PFF grades, which were the two worst of his career. Cutting him saves $8 million next year, and that allows them to kick the tires on Greg Olsen. He hasn't been the same, either, these past few years, but he was still top 10 in WAR among tight ends this past season.
Projected cap space: $14.7 million
Potential cuts: EDGE Clay Matthews (saves $3.7 million in 2020)
Call Andrew Whitworth old all you want, but the man was still the seventh highest-graded tackle in pass-protection at 38 years old. Re-signing him to a one-year deal would be huge for this already-poor offensive line. The interior of their trenches was brutal in 2019 — Austin Blythe, Brian Allen and David Edwards all had pass-blocking grades below 55.0. A cost-effective signing to help this would be Ben Garland. He was by no means perfect for the 49ers in 2019, but he was better in pass-protection and a far better run-blocker, leading the way to a 71.6 overall grade. The one thing the Rams must not do this offseason is somehow find a way to re-sign edge defender Dante Fowler Jr. He had a career-high pass-rushing grade in 2019, but it still ranked just 30th at his position. His 15 sacks are going to make teams giddy and willing to give him $15 million per year. The Rams have to be in the minority and look past the sack numbers. Considering Cory Littleton's unique role within the Rams' defense, it'd be a surprise to see them let him go. They used a dime package the second most in the NFL and had the highest rate of dime with one off-ball linebacker on the field. Littleton thrived in this system, recording the seventh best coverage grade and slotting in as one of the 10 most valuable linebackers in the league.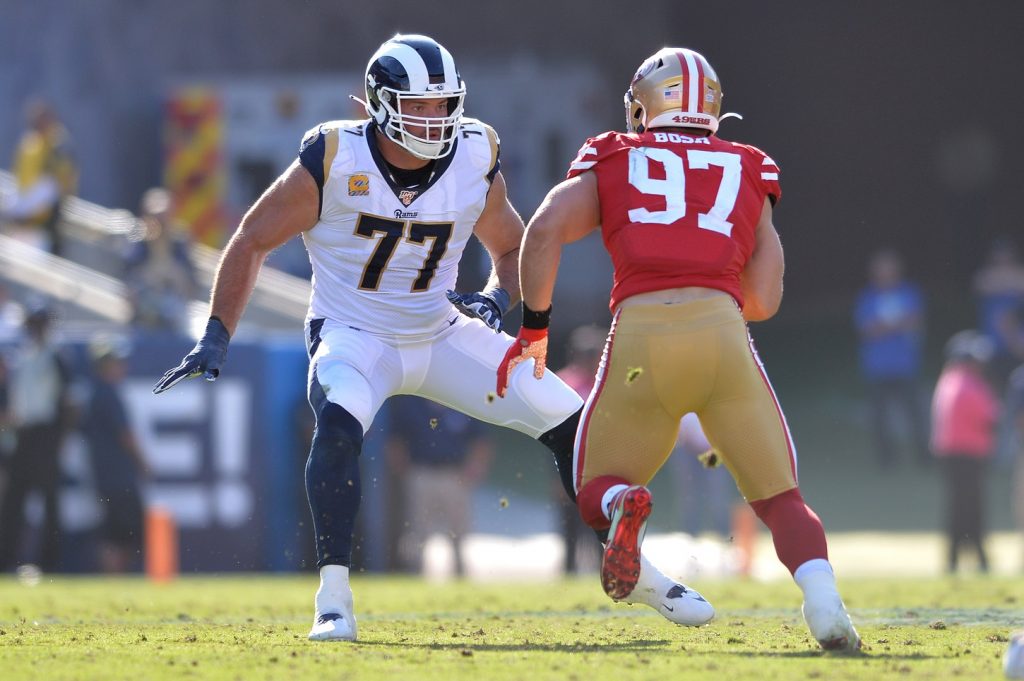 Projected cap space: $13.7 million
Potential cuts: WR Sammy Watkins (saves $14 million in 2020), LB Damien Wilson (saves $4.5 million in 2020)
Cutting "Reptilian solar being" Sammy Watkins would add $14 million to Kansas City's books and give them more than enough to either re-sign Chris Jones or make a splash signing with someone such as Chris Harris Jr. Jones has routinely been one of the best to play 3-technique throughout his NFL tenure. Over the past four seasons, he ranks behind only Aaron Donald at that alignment in PFF pass-rushing grade. Though if provided the opportunity, they should absolutely sign Harris over Jones, given coverage is far more valuable than pass-rushing. Harris moved to outside corner from the slot in 2019 and had the worst season of his career in PFF grade. Still, he managed to rank as the 26th most valuable in WAR. From the slot in 2018, Harris was among the three best in the NFL. With Harris, Kansas City's chances of repeating would only grow.
Projected cap space: $13.1 million
Potential cuts: WR Taylor Gabriel (saves $4.5 million in 2020)
Kyle Long's retirement helped the Bears' cap situation, but they're still not in a great spot. With both Danny Trevathan and Nick Kwiatkoski hitting free agency, they'll need to prioritize re-signing one. Kwiatkoski is projected to cost just over $3 million per year and has been a great fill-in at the position in the event of injuries over the past few seasons. In 2017 and 2019, Kwitkoski played 382 and 512 snaps, respectively, and finished among the 20 best linebackers in PFF grade both years, standing out in run-defense, in pass-rushing and in coverage. On the offensive side of the ball, the Bears clearly need to consider other options at quarterback, as Trubisky has yet to surpass the 25th percentile at his position in PFF grade in any of his three NFL seasons. Jameis Winston and Philip Rivers were both far from perfect in 2019, but each was a better signal-caller on a throw-for-throw basis. Winston had a higher rate of negatively graded throws than Trubisky but was lightyears ahead of him in positively graded throw rate. As for Rivers, he was well ahead of Trubisky in both categories. They'd have to get creative with the cap situation to make any quarterback signing work, but it's certainly something the Bears need to consider doing.
Projected cap space: $13.1 million
Potential cuts: RB Jerick McKinnon (saves $4.5 million in 2020)
There's really no position of need for San Francisco to pursue this offseason. Safety Jimmie Ward had a rough beginning in his six-year career, being used at every position in the secondary with no success and missing over half of the 49ers' games due to injury. He made his 2019 debut in Week 5 as their starting deep safety, and it was clear that's where he belonged after he finished as the sixth highest-graded safety in the NFL. He's projected to get $8 million per year and, assuming they move on from running back Jerick McKinnon, the remainder should go to Emmanuel Sanders. The addition of Sanders had an impact on San Francisco's receiving unit as a whole, especially with rookie wide receiver Deebo Samuel, who was the 17th highest-graded receiver when Sanders joined the team. Kyle Shanahan's passing attack is short and quick, so the duo of Samuel and Sanders were lethal, as they both ranked among the 30 best wide receivers in PFF grade when targeted in 2.5 seconds or less in the regular season. What the 49ers should not do is sign Arik Armstead to a fat contract, eating up most of their cap space. He's always been a solid run-defender and did take a big step forward with his pass-rushing, but he still managed to produce just a 75.1 pass-rushing grade that ranked 27th. In other words, don't get lost in the 13 sacks he had this past season and give him a projected fifth highest contract for non-quarterback free agents.
Projected cap space: $9.4 million
Potential cuts: CB Janoris Jenkins (saves $11.3 million in 2020)
In the 14 years of PFF grading every play of every NFL game, Drew Brees' lowest-graded season is just 81.9. For perspective, that was still the second-best in the NFL that year. With him under center and an already talented roster around him, the Saints are in contention mode and they'll be entering free agency with that mentality. Eli Apple never progressed into the player we all thought he'd be and has never ranked higher than 60th among cornerbacks in PFF grade in his four-year career. It might be best to let him walk and bring in an established veteran on his last leg who is also still playing at a high level, such as Tramon Williams. He's coming off one of his better seasons after ranking 18th at his position in WAR and will cost less than Apple this March. Michael Thomas is the engine to this Saints offense, but outside of him, the Saints' receiving unit is bland. Ever since Breshad Perriman left the Ravens prior to 2018, he's been an above-average receiver. Playing for the Browns in 2018 and Buccaneers in 2019, Perriman has recorded a two-year receiving grade that ranks 40th among 103 wide receivers. Impending free agent Ted Ginn Jr. was 90th of those 103. Perriman is projected to cost around $7 million in 2020 and can help elevate New Orleans' top-heavy receiving corp.
Projected cap space: $5.3 million
Potential cuts: S Keanu Neal (saves $6.5 million in 2020), DI Allen Bailey (saves $4.5 million in 2020), T Ty Sambrailo (saves $3.7 million in 2020), TE Luke Stocker (saves $2.6 million in 2020), QB Matt Schaub (saves $2 million in 2020)
Atlanta already said they aren't bringing back Vic Beasley, and that was step one to a good offseason considering Beasley hasn't topped an overall grade above 60.0 in any of his past three seasons. The Falcons' big problem in 2019 wasn't on the offensive side of the ball, but all over the defense. Their coverage unit needs a lot of work — they were just 24th in team coverage grade in 2019, and the only cornerback to rank among the 50 best in coverage grade was Desmond Trufant. Atlanta doesn't have a lot of money to spend, so they'll have to take a few small risks in players, such as Mackensie Alexander. In 2018, Alexander produced the 17th highest grade at his position after being 110th the year prior. He dipped to 48th in 2019, but for $4 million per year, that's worth pursuing. There hasn't been a more underrated player in the league the past few years than Tre Boston, and he would be a huge value add for Atlanta. With three different teams in each of the past three seasons, Boston has posted coverage grades that ranked ninth, 18th and fourth, respectively. While in coverage during that stretch, he's produced 27 combined pass breakups and interceptions while allowing only 20 first downs.
Projected cap space: $1.4 million
Potential cuts: LB Mark Barron (saves $5.2 million in 2020), EDGE Anthony Chickillo (saves $5 million in 2020)
The biggest thing Pittsburgh must not do this free agency is pay edge defender Bud Dupree. Don't get us wrong — he made several impact plays in 2019 with 13 sacks and four forced fumbles. But he also generated pressure at a very concerning rate. Sacks are instable year-to-year while pressure rate is the opposite. Among 102 edge defenders to rush the passer at least 200 times in 2019, Dupree was 65th in pressure rate. That's not someone you want to pay $14 million a year for when you are already in a bad spot with your cap space. If the Steelers can maneuver it, bringing in tight end Hunter Henry for a sub-$10 million contract is absolutely the best route to go. Henry has had some bad injuries the past couple of seasons, but when he was healthy in 2016-17, he was behind only Rob Gronkowski and Travis Kelce in two-year receiving grade. It's hard telling how good Big Ben's arm will be coming back from his elbow surgery, so he'll need all the weapons he can get.
Projected cap space: -$3.4 million
Potential cuts: DI Marcell Dareus (saves $20 million in 2020), LB Jake Ryan (saves $6 million in 2020), DI Abry Jones (saves $4 million in 2020), WR Marqise Lee (saves $5.2 million in 2020)
Interior defensive lineman Marcell Dareus has always been a strong run-defender but a rather poor pass-rusher. He was limited to only six games in 2019 due to injury and wasn't that great all-around with just a 68.7 run-defense grade and 53.0 pass-rushing grade. Since he's owed $20 million next year — and with the Jaguars being in the red in cap space — cutting Dareus seems likely. The Jaguars already have a fairly strong defensive line with Calais Campbell and Josh Allen, so paying Yannick Ngakoue basically all they'll have in the account for free agency isn't the best idea considering he was just the 46th most valuable edge defender last season. As mentioned previously, Ngakoue is a solid pass-rusher and impact player in that facet but for the right price and to the right cap situation. Improving their offensive line for a low cost should be one of the Jaguars' top strategies, and they can do that by bringing in Dennis Kelly. Kelly has been a fill-in lineman all throughout his career, playing all over the line. These past two years were the best yet of his eight-year career, as he recorded a 75.4 and 71.8 overall grade.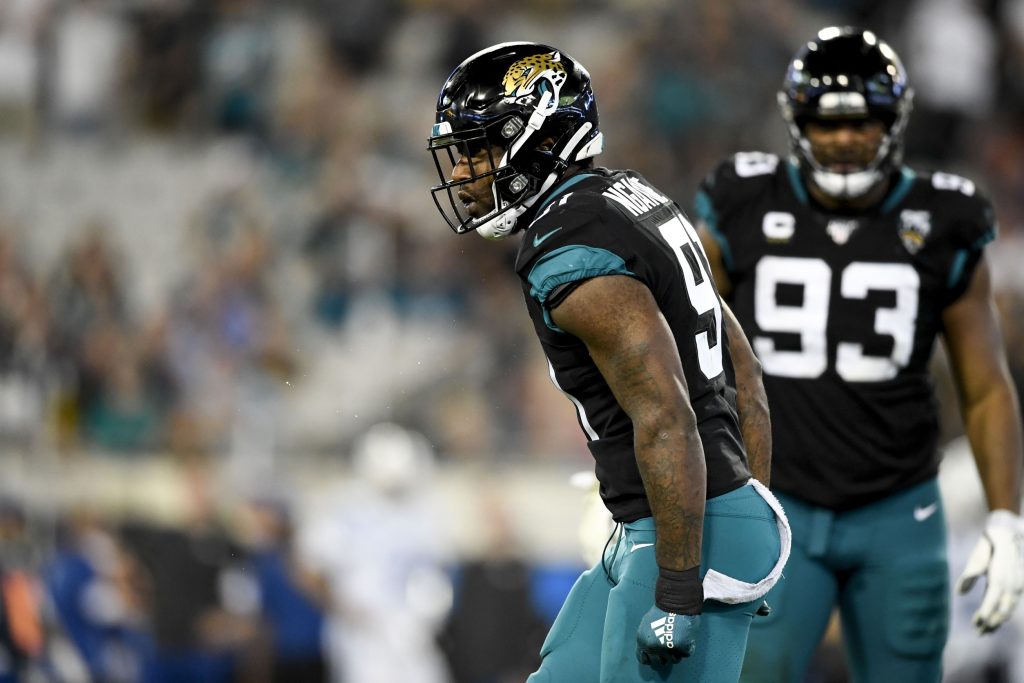 Projected cap space: -$11.4 million
Potential cuts: CB Xavier Rhodes (saves $8.1 million in 2020), DI Linval Joseph (saves $10.5 million in 2020)
The Minnesota Vikings are in an incredibly bad spot with their cap situation. They are $11.4 million under the current allotted cap and have very few cut options due to handing out an incredible amount of guaranteed money. Despite being named to the Pro Bowl, Xavier Rhodes should be a surefire cut, as he finished the season ranked 113th of 119 qualifying cornerbacks in PFF coverage grade. Even then, they'd have to cut Linval Joseph to even do something about losing almost all of their already-poor secondary. Minnesota's cornerbacks ranked just 27th in coverage grade this past season, and if Rhodes is cut for more space, their three most-played corners will no longer be on the team and they'll have just $7.2 million (assuming Joseph is cut) to do something about it. Tramaine Brock Sr., Kevin Johnson and Javien Elliott don't have great track records, but they had good 2019 seasons, as they finished in the top 50 in PFF grade, and will still come at a relatively low price, which is a best-case scenario.