While free agency and the 2020 NFL Draft are dominating headlines, there is a third avenue for teams to improve this offseason — the trade market. Whether it be disgruntled veterans or young players who never found a fit at their first NFL stop, there is talent to be had for the right compensation. These 10 players each have been linked to trade scenarios over the past several months, and these 10 destinations are spots where they could step in and positively impact their new team. Compensation isn't listed, but all these proposed trades were made with the understanding that the "receiving" team has enough trade ammo to complete the deal.
[Editor's Note: All EDGE and ELITE subscribers have full access to our free agency database, including rankings, grades, PFF WAR, contract projections and more! Subscribe today!] 
There are more teams that could use a high-level cornerback like Slay than there are teams that would close the door on him. As Deion Sanders mentioned during the defensive back drills at the Combine, there aren't a whole lot of teams that are saying, "Yeah, we're set on cornerbacks." Various members of the PFF staff have floated around teams such as the Cincinnati Bengals and Philadelphia Eagles, while PFF analyst Anthony Treash mentioned the Denver Broncos, Tampa Bay Buccaneers and New York Giants as potential destinations. My favorite of the bunch is another team on that list — the Dolphins.
Any Slay trade is going to involve a significant investment when it comes to both trade capital and cap resources given that Slay has an expiring deal and wants to be paid as one of the top cornerbacks in the NFL. For reference, the league's current highest-paid cornerback is the Dolphins' Xavien Howard at just over $15 million per year. Why then would the Dolphins be the team to invest heavily in another cornerback?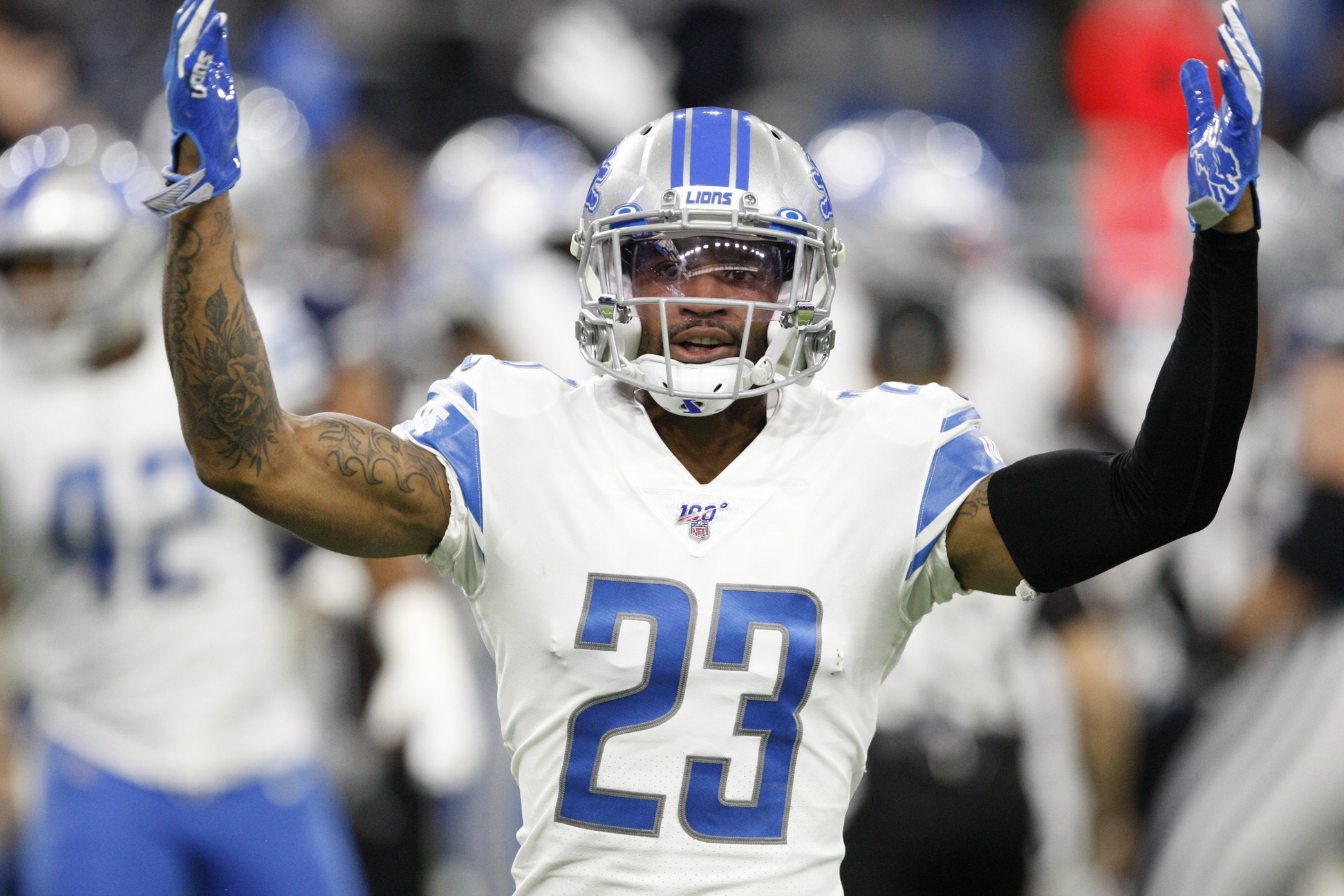 For starters, they need a player of Slay's caliber on the outside, even with Howard returning from a knee injury that sidelined him for most of the 2019 season. The Dolphins had four cornerbacks play 250 or more defensive snaps last season, and the only one to grade out higher than 60.0 for the year was Nik Needham (60.8). Slay had a down 2019 campaign, but over the past five years, he ranks out as a top-10 cornerback in both PFF grade and PFF WAR. He would project to step in and form a nice one-two punch with Howard on the outside.
Additionally, the Dolphins have more resources than any other team. They currently lead the NFL in available cap space per Over the Cap, and they have five picks in the first two rounds of this year's draft. If any team can hunt the high-priced players they want via trade, it's Miami. It doesn't hurt that the Lions have run a Cover-1, man-heavy scheme under Matt Patricia, as well — similar to what Brian Flores has instituted in South Beach.
Howard quickly went from young, rising superstar at the tight end position to an afterthought on one of the pass-happiest teams in the NFL last season. Howard may have had his season cut short in 2018, but he ranked third in yards per route run through 11 weeks, behind only George Kittle and Travis Kelce. His 90.0 receiving grade ranked even better, coming out on top at the position.
With production like that, a big role was in store for Howard in the Tampa Bay offense in 2019 alongside Mike Evans and the emerging Chris Godwin. That never materialized, though, as Howard took a backseat role. He ran a route on just over 50% of his offensive snaps, and his target rate when he did so was down over five percentage points to 12.9% in 2019. In all, he ended the season with a 58.7 receiving grade and just 1.21 yards per route run.
It seems like a change of scenery would do Howard well, and the Panthers happen to have an opening at tight end after parting with long-time starter Greg Olsen earlier this offseason. Their quarterback situation is still somewhat up in the air as they determine whether or not Cam Newton is their guy moving forward, but regardless of the quarterback, there's reason to believe that Matt Rhule and Joe Brady could figure out how to best utilize Howard's skill set.
At LSU this past season, Brady was a big proponent of five-man protections, meaning that Howard would theoretically be fully utilized as a receiver where he could get out into space and make plays downfield. During both the 2017 and 2018 seasons, Howard averaged over 16 yards per reception. Paired with D.J. Moore and Curtis Samuel, he'd be a bigger target to the unit and could help elevate the Panthers' passing attack. Trades within the division are always tricky, but it's a deal that makes sense for both him and the Panthers.
Last season was a disaster in Cleveland. When your star acquisition of the offseason is yelling 'come get me' to the opposing sidelines during a game, it's hard to call it anything other than a disaster. For as much as the Browns and Beckham say the right things now, the possibility of a trade still seems very real given how his first season went down in Cleveland. It was easily the worst campaign of his career, as Beckham earned just a 68.7 overall grade. He never seemed in sync with Baker Mayfield. The two connected for a passer rating of 70.5, highlighted by seven drops and seven interceptions on Beckham targets. There is reason to believe in the talents of both Mayfield and Beckham, but for some reason, the pairing just seemed off.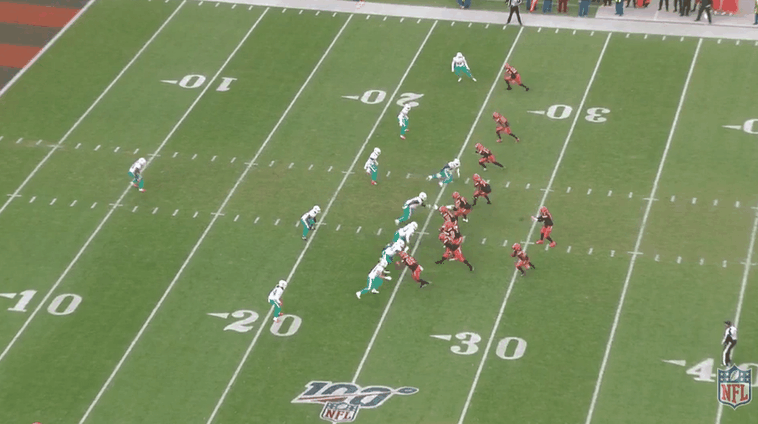 The Broncos aren't a team often discussed in potentially pursuing the talented wide receiver out of LSU, but they have a need at the position paired with the cap space to absorb Beckham's contract. Additionally, the Broncos were reportedly on Beckham's shortlist of teams he wanted to be traded to last season before the deal with the Browns got done, per Charles Robinson of Yahoo Sports. Robinson cited Beckham's good relationship with Broncos' standout pass-rusher Von Miller.
From the Broncos' perspective, they appear to be ready to roll with Drew Lock at quarterback after some flashes from him down the stretch in 2019. If they want to fully evaluate him as the starter, they need to give him the best chance to succeed by adding a few more weapons in the passing game. Courtland Sutton stepped into the No. 1 wide receiver role following the Emmanuel Sanders trade, and he flourished with the increased opportunity. Sutton's 83.1 overall grade on the season ranked 10th among all wide receivers. The depth behind him, though, was less than ideal. Assuming Beckham returned to the guy we saw with the New York Giants in the new scenery, Lock would have a scary one-two punch of Beckham and Sutton to work with in 2020.
The Chiefs plan to tag Jones, an expected move for a team that did something similar with Dee Ford last offseason, and now there is a strong chance that Jones gets traded on the tag, just as Ford did. With the Chiefs strapped for cap space and looking to extend Patrick Mahomes, the salary cap relief involved in a trade along with recouping early draft picks to help restock their Super Bowl-winning roster from this past year makes that move the most realistic option.
There are a number of teams that could use Jones' services. He is one of the game's truly elite interior defenders — not quite on the same level as Aaron Donald but certainly headlining that next tier of players at the position. He's the top "free agent" pass-rusher available this offseason based on PFF data scientist Eric Eager's recent work with true pass-rushing snaps. Since entering the league in 2016, he has the fourth-most pressures and wins above replacement of any player at the position. Quite simply, he can disrupt the line of scrimmage at one of the highest clips in the NFL, and at just 25 years old right now, he projects to continue doing so for some time.
The Seahawks have shown a willingness to make trades such as this (see: Jadeveon Clowney last year) and they could attack the market for Jones if they're not willing to meet Clowney's contract demands that are projected at five years, $105 million with $66 million guaranteed by our friends at Over the Cap. Jones will cost a hefty chunk of change in his own right, but there is more reason to believe in his ability to consistently produce as an elite pass-rusher after consecutive seasons with 90.0-plus pass-rushing grades. With Jarran Reed's potential departure, Jones would give the Seahawks one of the most disruptive 3-techs in the league. They just need to warm up that phone line that was used to get the Frank Clark deal done a season ago.
Two things were made clear earlier this week. Ngakoue does not wish to play for the Jaguars, and the Jaguars are not simply going to let the edge defender walk in free agency. Barring a Le'Veon Bell situation where the Jaguars tag Ngakoue and he just sits out the 2020 season, a tag-and-trade is the only realistic solution that will appease both sides. As for teams that are potential trade partners, no one has been mentioned more than the Bills.
It's a fit that makes sense. Buffalo had one of the better defenses in the NFL last season, ending the year ranked fourth in expected points allowed per play. But in many ways, it was a situation where the whole was greater than the sum of its parts. The Bills could stand to add a young, elite pass-rusher this offseason. Ngakoue certainly fits that bill (pun intended).
Highest pass-rushing grade over last three seasons by edge defenders with 500 or more pass-rushing snaps
| | |
| --- | --- |
| Player | Pass-rushing grade since 2017 |
| 9. Justin Houston | 90.0 |
| 10. Chandler Jones | 89.5 |
| 11. Yannick Ngakoue | 88.6 |
| 12. Dee Ford | 88.0 |
| 13. Cameron Wake | 87.2 |
Ngakoue has three straight seasons with pass-rushing grades of 75.0 or higher, and his three-year grade over that span of 88.6 ranks 11th at the position. There needs to be an understanding that he is not going to be a positive contributor in the run game, but at just 25 years old heading into next season, Ngakoue is one of the league's better pass-rushers off the edge.
Considering the Bills already lost Lorenzo Alexander to retirement and could be losing Shaq Lawson — a player who has shown signs of growth over the past several seasons — to free agency, there is ample opportunity for Ngakoue to step in alongside Jerry Hughes and Trent Murphy for the 2020 season. The Bills will likely have to overpay to secure him long term, but they're one of the few teams that can afford to do so with their current cap situation.
How do we feel about going from Tom Brady to Dalton, New Englanders? Not every team is going to get the Brett Favre-to-Aaron Rodgers or Peyton Manning-to-Andrew Luck transition. And if Brady does in fact part ways with the Patriots, they will be in need of a quarterback given the only two quarterbacks on the roster are Cody Kessler and Jarrett Stidham. Dalton is by no means the sexiest option out there this offseason, but he has shown that he can be a starting-caliber quarterback in the NFL with upside to perform like a borderline top-10 quarterback as he did in 2015 and 2018 before going down with injury.
Obviously, last season did not go his way without the services of A.J. Green and behind one of the league's worst offensive lines. He ended the season ranked 23rd out of 32 qualifying quarterbacks in PFF grade. As we saw this season with Ryan Tannehill, though, teams can catch lightning in a bottle with mid-tier starting quarterbacks who get into a system that favors their strengths.
It would be a low-risk acquisition for the Patriots, as Dalton has just one season left on his current deal at a $17.7 million cap hit and likely would come cheap via trade after getting benched last season in favor of Ryan Finley. The move would give New England a competent starter that they could compete with next season while still leaving their options open for 2021 and beyond.
Some of the bad blood between Williams and the Redskins appears to have been put to rest with the new staff, but recent reports suggest that Williams has made it clear that he wants either a new contract or to be traded to a team that will give him one. Given all the conflict between the two sides leading up to this point, a trade seems like the best situation for both sides, though no team has actively reached out to the Redskins on the trade front, according to Michael Silver.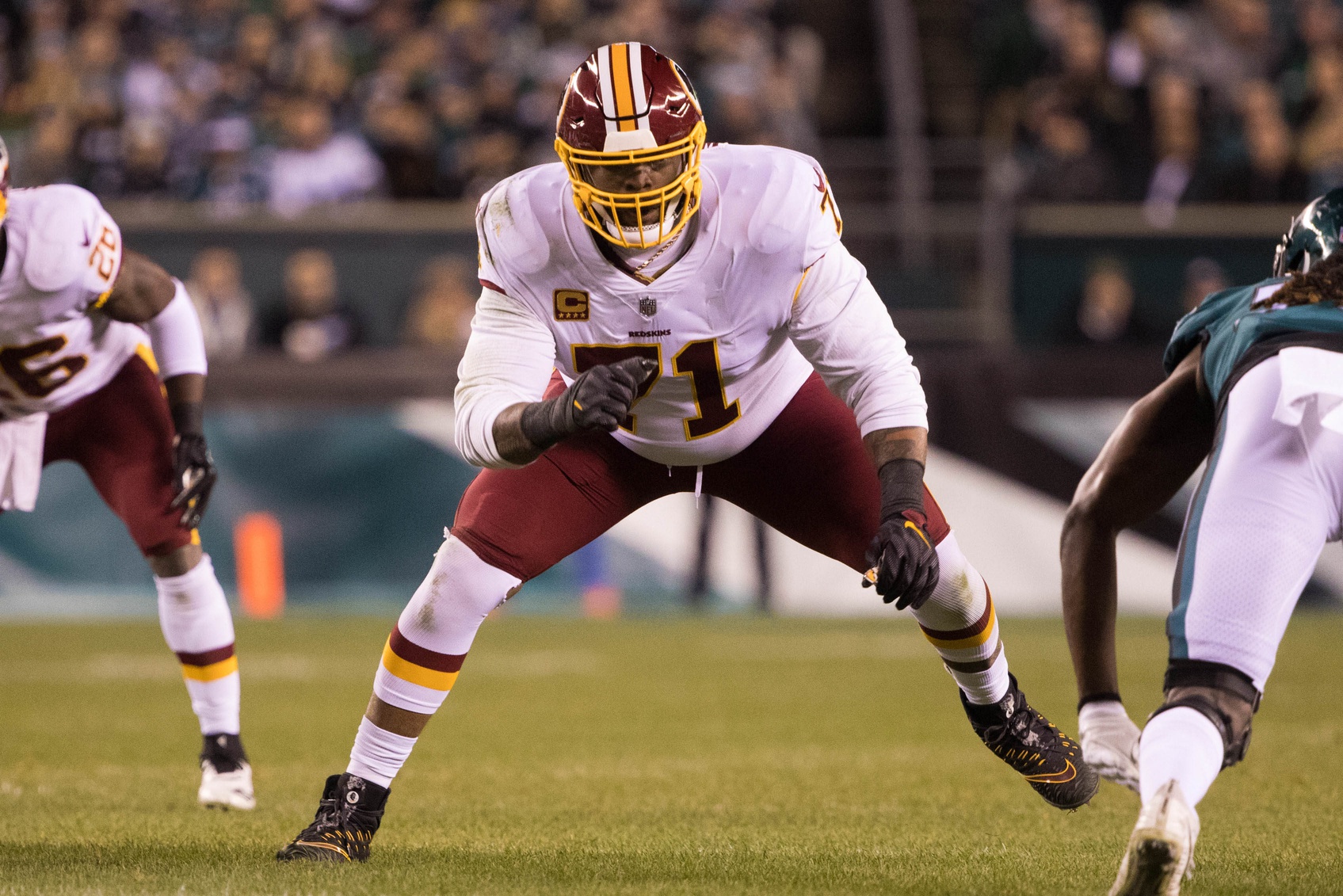 There was a good chance that Greg Robinson signed elsewhere in free agency anyways this offseason, but his recent arrest makes the chances of him landing back on the Browns' roster next season next-to-none. That leaves an opening at the team's left tackle position, and Williams was already considered a candidate to fill that spot leading up to the trade deadline. Per Charles Robinson of Yahoo Sports, the Browns were willing to part ways with a first-rounder for Williams before being rebuffed by the Redskins and later called to ask for the same first-rounder six weeks later. Outside of the prior interest, there is also the Bill Callahan connection after he was hired by the Browns in January following four seasons with the Redskins.
As for on-the-field performance, Williams has dealt with some injuries recently, but he is one of the league's better tackles, earning six consecutive pass-blocking grades of 80.0 or higher from 2013 to 2018 while also showing dominance in the run game. It's hard to replace the production from a guy like Joe Thomas who provided so much stability and high-level play along the line during his tenure in Cleveland, but Williams is about as close as the Browns are going to get in doing so.
I'm going to start this off by saying that giving up assets to trade for a running back who is scheduled to have a cap hit at over $14 million in 2020 is not a winning strategy. That is why teams such as the New York Jets (Le'Veon Bell), Los Angeles Rams (Todd Gurley) and Atlanta Falcons (Devonta Freeman) are going to have a tough time unloading their high-priced backs, no matter how much they would like to do so. From a pure football perspective, though, Johnson to the Buccaneers makes a lot of sense.
According to a recent report in The Athletic, Johnson's former coach, Bruce Arians, would have interest in a reunion if the Cardinals ate a portion of his salary next season ($6 million or more was the number given). The report also mentions that Arians would have interest in the three-down back — a "David Johnson type of guy." Last season, the Buccaneers used a three-man rotation of Ronald Jones, Dare Ogunbowale and Peyton Barber that left something to be desired. Even in a limited role and another "down" season with the Cardinals, Johnson earned a72.1 overall grade and a 74.5 receiving grade, both a good bit higher than any of the Tampa Bay backs.
It's been a while since Johnson showed it, but he was one of the more unique backs in the entire NFL as a wide receiver during the 2016 season. Not only did he win out of the backfield, but he won downfield, a rarity for running backs. This play below, with Johnson at the top of the screen, is in a tie game with under a minute remaining.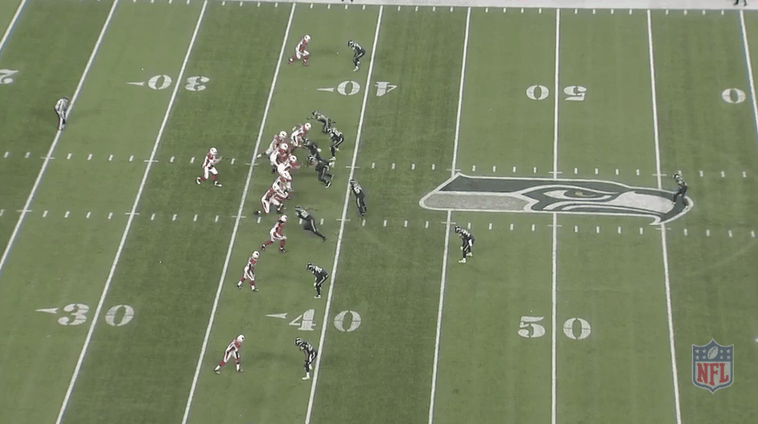 His 21 receptions five or more yards downfield were six more than any other back in the league. If Arians could use him similarly in the Buccaneers' offense, Johnson may be able to get back to adding similar value to what he did that season. It may not be ideal for the Buccaneers from a resource standpoint — and recreating 2016 David Johnson again might be just a pipedream at this point — but as a fan, it would be fun to see that version of Johnson in a three-down role.
Carr's Instagram over the last several weeks seems like a not-so-subtle hint that he wants out of Las Vegas before he gets there, or maybe he just happened to post five consecutive photos from games against teams that may be searching for a new quarterback (Los Angeles Chargers, Chicago Bears, Indianapolis Colts, New England Patriots and Detroit Lions). In any case, it seems like there is a reasonable chance that Carr is on the trading block, especially after Benjamin Allbright's report out of the Combine that he is being "heavily shopped."
PFF's own Eric Eager recently laid out why the Colts should pursue Teddy Bridgewater this offseason, noting that they are too good a team to "tank" but might not be in a position to push all their chips in as a "win now" team. Carr makes sense in Indianapolis as a middle-ground option in that scenario. He will have a cap hit around $20 million over the last three years of his deal, providing a path for the Colts to get out of the contract with little dead money in 2021. He comes in with relatively little risk.
Carr would still give the Colts an opportunity to compete next season in the AFC South, as well. He rebounded from a rough rookie campaign to post overall grades of 77.9 in 2015 and 85.3 in his third season, ranking fifth among all quarterbacks. After several down seasons, Carr found himself knocking on the door of the top-10 graded quarterbacks again this past season (79.9 PFF grade ranked 11th). He's not one to take chances downfield all that often, but Carr has shown that he can be accurate with the football. His 64.1% of passes that had accurate ball placement trailed only Drew Brees in 2019. Provided with some additional pass-catching options and behind one of the better offensive lines in the NFL, the Colts could get positive play out of Carr. If it doesn't pan out, they could still cut ties and look elsewhere next offseason, as well.
All the other players on this list, save Howard, are established starters who will eat u[ a sizable portion of a team's cap space once traded. That isn't the case with Jackson. He falls into the category of young players who didn't land on their feet coming into the NFL, and another team would be banking on him realizing his talent in a new situation.
Here at PFF, we were higher on Jackson than just about anyone coming out of Iowa. He came in at eighth overall on our final big board, edging out Denzel Ward as our top cornerback prospect. When he fell all the way to the second round, it was viewed as a steal. His ball skills were apparent after intercepting eight passes, breaking up another 17 and allowing just 43.8% of the passes into his coverage to be completed during that 2017 season with the Hawkeyes.
At the NFL level, his limitations were magnified, however, and he ended his rookie season with only a 64.0 coverage grade. He still got his hands on 11 passes for breakups, but he got beat a few too many times. That led to a second season in which Jackson played just over 100 defensive snaps as the Packers experimented with him at safety at times.
Jackson's lack of top-end speed and ball skills are best suited to a zone scheme, and the 49ers were one of the zone-heaviest teams in the NFL last season. Opposite Richard Sherman, they have Emmanuel Moseley and the inconsistent Ahkello Witherspoon, but adding someone like Jackson to compete would be a low-risk, high-reward chance given his disappointing start in the NFL and the kind of play he showed at Iowa. Learning from someone like Sherman would only help Jackson moving forward and increase the chance of him eventually living up to his pre-draft billing.