ESPN's Adam Schefter dropped the first big news bomb of the offseason on Monday, and it was regarding the Detroit Lions' reported search for a potential trade involving cornerback Darius Slay. Detroit is supposedly seeking a Day 2 draft pick for Slay, and any team involved would have to give him a new contract.
Lions have spoken with multiple teams about a potential trade for Pro Bowl CB Darius Slay, per sources. Any team that trades for Slay would have to compensate Detroit and Slay with a new deal. Other teams believe Slay will be traded this off-season, but Lions adamant on value.

— Adam Schefter (@AdamSchefter) February 17, 2020
Slay had an all-around bad year in 2019, one that was somewhat uncharacteristic for the eighth-year cornerback. In every season from 2014 to 2018, Slay produced a PFF coverage grade above 70.0, ranking among the 20 best corners in the NFL in four of those five seasons. In 2019, he managed a coverage grade of just 56.9, which ranked 92nd in the NFL and was barely better than his 2013 rookie season. It's understandable why Detroit might be hesitant to hand out a fat contract to Slay after that poor season, but we shouldn't let recency bias make us assume that Slay's 2019 is his new norm.
There's no denying that the price will be steep for the 29-year-old veteran. He's currently on the books for $13.3 million in 2020 and is reportedly going to demand an excess of $15 million per year in an extension. And though he lost a step when playing at the line of scrimmage last year by allowing 346 yards on 162 press coverage snaps, he did maintain pretty solid play in off-man coverage by allowing only 177 yards on 214 such coverage snaps.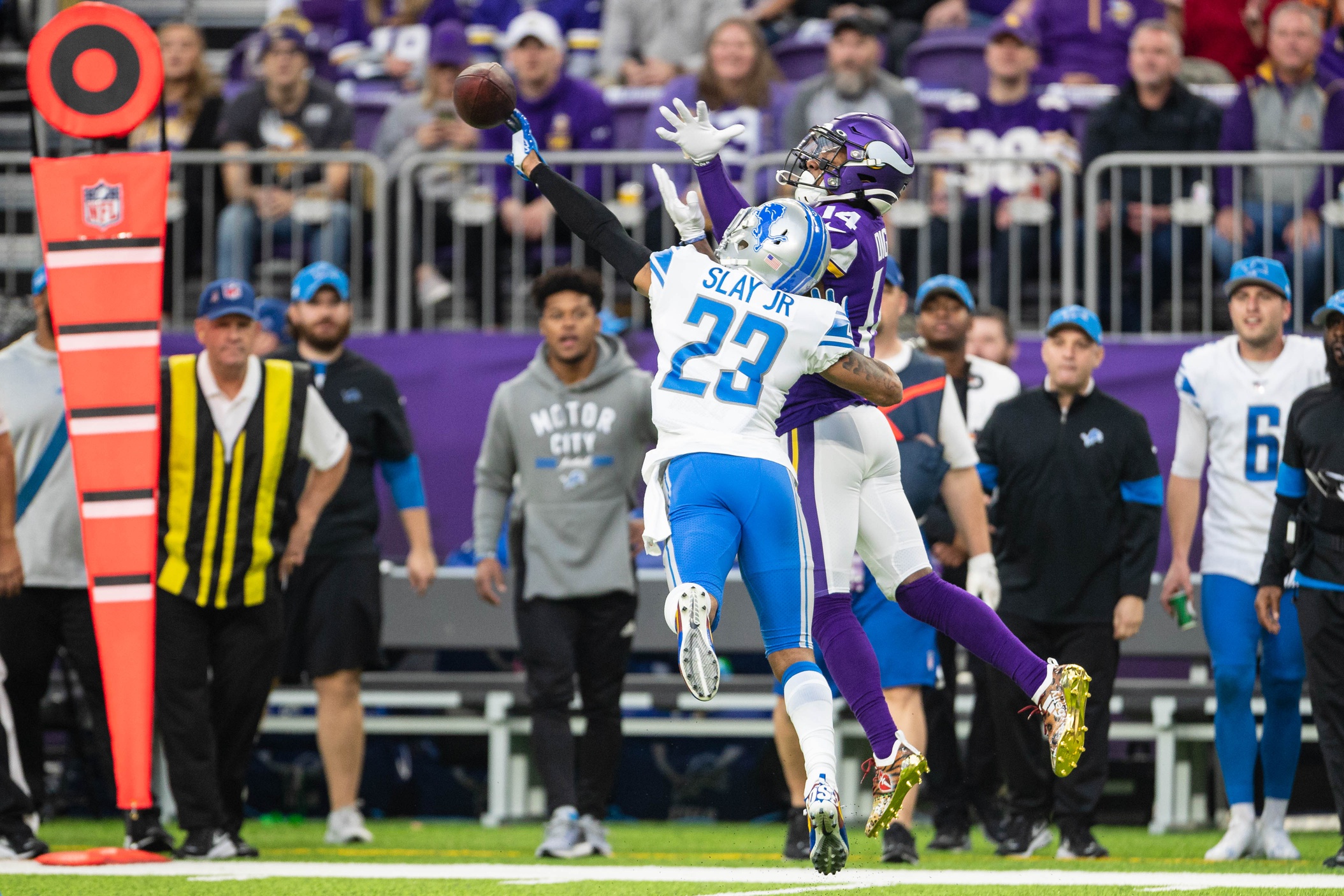 Pairing Slay with another lockdown corner or a young up-and-comer is likely the best route to go, and some teams have the cap space to make that trade.
Tampa's outside cornerbacks started to come around late in the 2019 season. After getting torched for nine catches, 155 yards and three touchdowns in his first game with real snaps against Seattle in Week 9, rookie Jamel Dean produced the second-highest coverage grade from Week 10 on, finishing behind only Stephon Gilmore. He ended the season with a 29.8% forced incompletion rate, which was eight percentage points higher than second place and over 18 percentage points higher than the league average. That's pretty good for a rookie.
Their other rookie corner, Sean Murphy-Bunting, split time between the slot and out wide in his first year and had a higher coverage grade when in the slot, where he recorded all three of his interceptions and allowed 13 first downs on 38 targets. He can still be a far better player, but his performance in the slot brings a lot of optimism for the future.
Second-year cornerback Carlton Davis improved drastically at the catch point and broke up 18 passes on the year but was still his same old self when it came to penalties (12, tied for most among corners) and impact plays allowed (seven touchdowns, tied for sixth-most).
While Davis took a step forward in 2019, adding Slay would take the Tampa cornerback unit to heights that it hasn't seen in a while. As of now, there is no depth for the Buccaneers at the position — it's practically a crapshoot with replacement-level talent filling in if an injury occurs. Having Dean and Slay start outside in Todd Bowles' scheme with Murphy-Bunting in the slot and Davis coming in as needed could be lethal. Add the possibility of a splash free-agency signing at safety, a player like Anthony Harris, for example, and now we are talking about one of the most improved secondaries in the NFL.
All signs are pointing to Chris Harris Jr. leaving the Denver Broncos in free agency, which leaves their cornerback situation in really bad shape. Getting back Bryce Callahan, who was signed last offseason but missed the year due to injury, should help, as he was one of the highest-graded slot corners with the Bears in 2017 and 2018. On the outside, though, there really is no one promising. After Chris Harris Jr., the Broncos' most experienced outside cornerbacks were Isaac Yiadom and Davontae Harris, who both recorded PFF coverage grades in the 50s. Yiadom, in particular, allowed over a yard and a half per coverage snap on the outside, and he gave up 11 explosive plays of 15 or more yards on those limited reps. After those two is De' Vante Bausby, who has played for a handful of teams in his short career and stepped on the field for just 247 coverage snaps in his career, allowing 34 catches, 438 yards and three touchdowns on 44 targets.
Denver has holes to fill at virtually every position on the field, excluding edge defender and safety. Regardless, the second-most valuable position on the field after quarterback is cornerback. They could use their 15th overall pick on securing a wide receiver or right tackle while trading for Darius Slay, or they could use that 15th overall pick on a cornerback and trade for Slay. Denver needs all the help they can get at corner and should really consider doing the latter.
The Giants' secondary was a genuine liability in 2019. Granted, the players within the secondary are all young and still developing, but the contingency plan should probably start getting ironed out. Overall, the Giants were 30th among the 32 teams in coverage grade, and they're set to return only two players who played at least 100 coverage snaps on the outside in 2019 in DeAndre Baker and Sam Beal. Baker was a rookie in 2019 and produced a 45.4 coverage grade on the outside, and over a quarter of his targets at the alignment resulted in an explosive play of 15 or more yards. It's way too early to call him a "bust," but the man clearly needs some help. The same should be said for Beal. While he earned a poor PFF coverage grade in the 50s at outside corner, he missed the entire 2018 season due to injury and had limited reps in 2019 overall.
New York is once again in position to land a promising first-round cornerback, with Jeff Okudah being the likely target come April. The Ohio State standout is one of the best press-man corners in this draft; he didn't allow a single explosive play in press coverage in 2019 and was the highest-graded draft-eligible cornerback on those reps. In an ideal world, the Giants would get Okudah at Pick 4 and make a deal for Slay at the same time, giving the Giants a potential lockdown man-coverage duo. 
The Philadelphia Eagles ranked 31st among teams in coverage grade in 2019, and they allowed 18 total touchdowns, three more than any other outside unit in the NFL. Simply put, it can't get much worse than it was last year for the team's cornerbacks. 
Eagles cornerbacks when lined up outside in 2019
| | | | | |
| --- | --- | --- | --- | --- |
| | PFF coverage grade | Coverage snaps | Yards allowed | Passer rating allowed |
| Rasul Douglas | 49.4 | 346 | 473 | 109.6 |
| Ronald Darby | 41.7 | 309 | 643 | 118.1 |
| Jalen Mills | 48.8 | 296 | 515 | 112.8 |
| Sidney Jones | 66.7 | 151 | 179 | 68.6 |
The interesting thing here is that Sidney Jones was tasked with playing in the slot in his first season of significant NFL action (2018), even though he played fewer than 10 snaps at that alignment over his last three years in college from 2014-16. He struggled with the transition for the most part, producing a 47.6 coverage grade before being moved to the outside in 2019 and playing relatively well. It might be in their best interest to roll with Jones as a starter on the outside in 2020. 
It seems highly likely that Philly will take a wide receiver with their first-round pick. My colleague, Mike Renner, had them taking Henry Ruggs III with that pick in his latest mock, and if that's the case, they should most certainly consider trading for Slay and rolling with him and Sidney Jones as the starters.
The Dolphins ranked near the bottom in a lot of facets of play, but one of the worst-performing parts of the roster was their secondary, particularly their outside corners. They ranked dead last in team PFF coverage grade at the alignment and allowed an explosive play of 15-plus yards once every four targets. 
They were without Xavien Howard for all but five games, but Howard wasn't particularly sharp even when he was on the field. On his 161 coverage snaps, Howard had a 57.0 coverage grade while allowing 219 yards and three touchdowns. In the season prior, Howard was actually one of the highest-graded cornerbacks in the game. He's shown to be a shutdown corner, but he can't do it on his own.
Undrafted free agent Nik Needham wasn't terrible given it was his first career season in the NFL and was an undrafted free agent. He recorded a 63.3 coverage grade there but surrendered six touchdowns and 405 yards on his 273 coverage snaps. Ryan Lewis, Eric Rowe and Ken Webster also got their chance to play on the outside; none of them succeeded, as they posted coverage grades of 32.0, 51.3 and 42.5, respectively.
The front office was actively tanking by shipping off their top players like Laremy Tunsil, Minkah Fitzpatrick and Kenny Stills for a bunch of draft picks, but the team still managed to squeeze out five wins. They currently sit with the fifth overall pick, and it's almost a given that it's going to be used on a quarterback.
They do own six picks within the top 70, though, and they are likely going to snag a corner like C.J. Henderson, who was great when going one-on-one in single coverage and allowed the sixth-lowest rate of catches per coverage snap over the last two years. Miami will need more help than that,  though. By shipping off all the players who were going to cost a good chunk of change, the Dolphins now have the most cap space available to play with and could well choose to spend it on a guy like Slay, who already played in a very similar defense in Detroit. Matt Patricia and Brian Flores are disciples of Bill Belichick and play a high rate of man coverage (the three teams have the highest man-coverage rates in the NFL). Trade for Slay, draft a corner, pair them with Xavien Howard, and Miami will take a step towards success.
The Raiders have routinely been torched on the outside for many years now, and changes simply have to be made ahead of the move to Vegas:
Raiders' rank among 32 teams in expected points added (EPA) allowed on targets to outside cornerback
| | |
| --- | --- |
| Season | EPA allowed rank among 32 defenses |
| 2015 | 16th |
| 2016 | 22nd |
| 2017 | 32nd |
| 2018 | 32nd |
| 2019 | 32nd |
Three straight seasons of ranking dead last — that just can't fly anymore. Their No. 1 outside corner, Daryl Worley, is set to be a free agent, and it might be best to let him walk. Worley was a poor performer in press-man coverage and allowed the most yards per coverage snap in the NFL on those reps in 2019.
Byron Jones has been floated as a potential option for Vegas. Jones has been among the five highest-graded outside corners over the last two seasons and would be a great addition to the Raiders. Pairing Slay and Jones together in Vegas would almost certainly see the end to the Raiders' streak of poor seasons at the position.