With the 2020 NFL Draft and free agency period now behind us, every team's roster has taken shape. Some teams saw key departures that made their team worse off than before, but others attacked free agency and the draft and greatly improved units that hindered their success last season. That said, let's dive into the most improved units after the NFL draft and free agency. 
[Editor's note: Click this link to see PFF's 2020 NFL Draft grades for all 32 teams. And if you haven't already, be sure to pick up a copy of PFF's 2020 NFL Draft Guide by subscribing to PFF EDGE or ELITE.]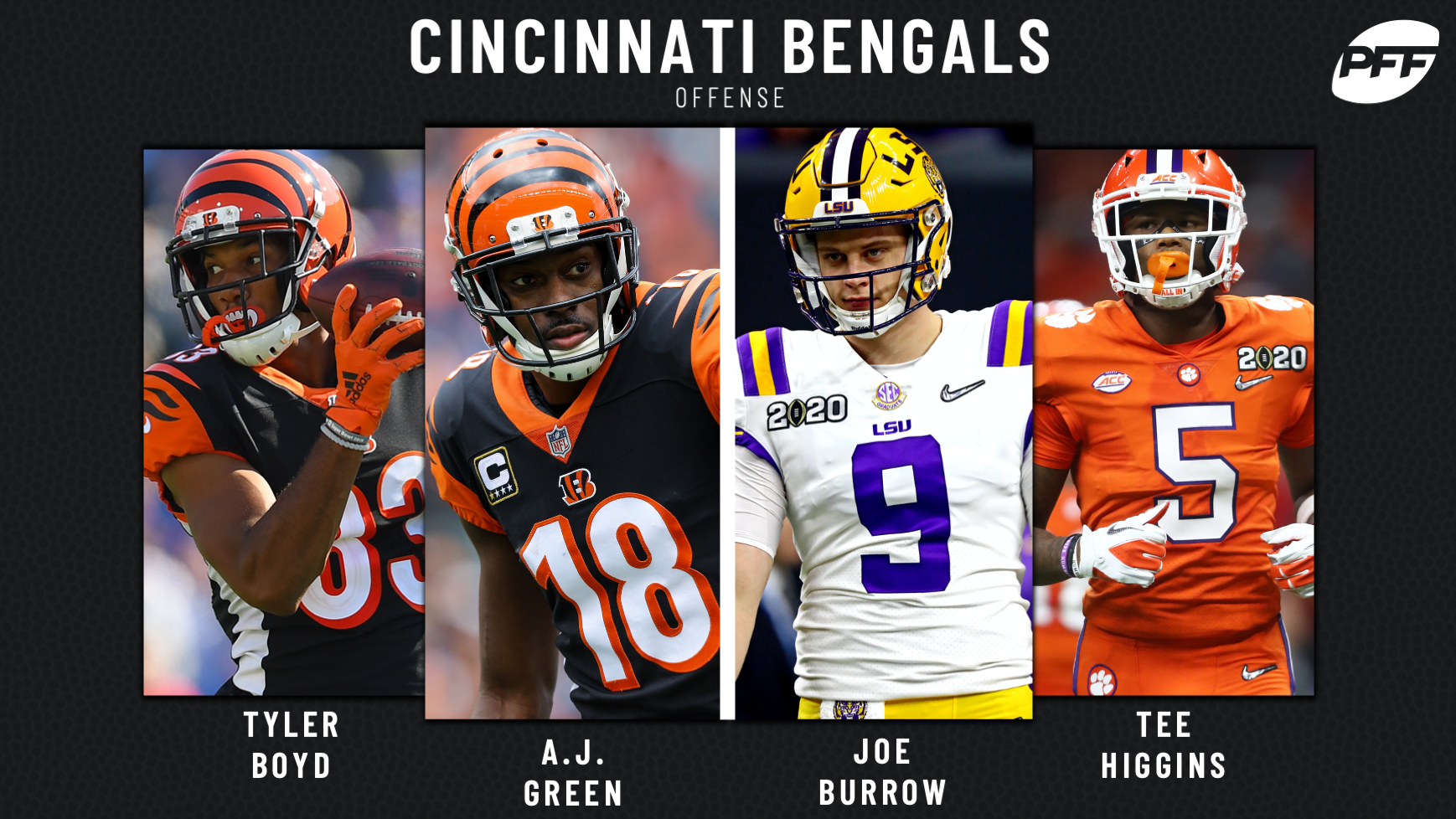 We have hammered this one home at this point, but if you hadn't heard, Joe Burrow is hands down the best player we have ever evaluated here at PFF. A season ago, he broke the record for the highest single-season grade we have seen at the quarterback position (95.0) and also shattered the record for the most valuable season we have ever seen in terms of PFF WAA.
Not only did Cincinnati get a generational talent at quarterback first overall, but they also used the 33rd overall pick to select former Clemson wide receiver Tee Higgins to pair with its new passer. If you don't have a copy of the 1,200-plus page PFF Draft Guide (you still should get one), here is what PFF lead draft analyst Mike Renner said of Higgins in his bottom line of the scouting report:
"Higgins' combination of size, speed and ball skills would put him at WR1 in a lot of previous draft classes. Pair him with a QB willing to give him chances to make plays even when covered and watch him rack up numbers."
The 6-foot-4 Higgins has an enormous catch radius. He's the only wide receiver in his class to produce an elite two-year receiving grade against tight coverage, and his 53.5% contested-catch rate in that span was among the 10 best in the FBS.
Joe Burrow and Tee Higgins playing football together is going to be magical pic.twitter.com/Aw3G6LaBgF

— Anthony Treash (@PFF_Anthony) April 27, 2020
And of course, we cannot forget what the Cincinnati Bengals already have on the roster with A.J. Green and Tyler Boyd. The injuries have and will be a concern with Green, but he's easily one of the best receivers in the game when he's at 100%. From 2012 to 2018, Green produced single-season PFF grades that ranked 11th or higher in all but one season. As for Boyd, he's coming off a bit of a down year —his receiving grade dropped from 85.7 in 2018 to 72.2 last year — but he has still been the ninth-highest-graded receiver in the slot over the past two years. If Green is healthy, that passing attack pack has the potential to be absolutely lethal.
Miami's cornerbacks were bad last year — there's no sugar-coating it. As a unit, they combined to produce a 35.8 coverage grade, dead last among the 32 NFL teams. To fix that, they made one of our favorite free agency signings of the offseason, bringing in former Dallas Cowboy Byron Jones.
Once a safety in Dallas' defense, Jones moved to outside cornerback prior to 2018 and has been the fourth-highest-graded player at the position ever since. The best part of this signing? Jones is going to fit like a glove in Brian Flores' defense, given his vast experience and great success playing press coverage. In 2019, Jones allowed just 0.39 yards per coverage snap in press-man coverage, the second-lowest figure at the position and over eight-tenths of a yard lower than the NFL average.
Then, in the 2020 NFL Draft, Miami used its third and final first-round pick on Auburn cornerback Noah Igbinoghene. We didn't necessarily like taking Igbinoghene — whom we gave a late second-round grade — with guys like Jaylon Johnson and Kristian Fulton still on the board, but he's still a considerable improvement, nonetheless. And he'll be going to the perfect scheme for his playing style, too.
Igbinoghene's instincts and ball skills were ugly at times in college, but considering he's only 20 years old and played wide receiver up until two years ago, that will only get better. He's a rare athlete and plays with great physicality. Throw in the fact that he played the seventh-most coverage snaps in press coverage and allowed the nation's 12th-lowest catch rate (40.3%) on those reps, and you have a prospect who could develop into a lockdown corner in Miami.
The Denver Broncos' 2020 NFL Draft is a model of how to build around a young quarterback and put him in a position to succeed. 
Somehow, the teams picking ahead of the Broncos at No. 15 managed to let Jerry Jeudy — the fifth-best prospect on our big board and second-best prospect we have ever seen at the position — fall right into Denver's lap. Jeudy's route running is special. When he gets a step on his defender, he's a threat to take it to the house every time — the Bama product has had 29 catches over the last two years on which he was charted as "open" and picked up a gain of at least 20 yards. That mark led all FBS receivers.
Do you know who was third in that same metric? That would be Denver's second-round pick, K.J. Hamler. He might be strictly a slot receiver and have a relatively concerning drop issue, but his ability to separate is exceptional. Hamler actually generated the fourth-highest rate of separation downfield in 2019. 
Denver also took a Round 4 swing on tight end Albert Okwuegbunam, who ran a blazing 4.49 40-yard dash at the combine. We thought this might have been a bit of a reach — he isn't a complete route-runner yet and was beaten far too often at the catch point despite his size — but he can be a legit vertical threat with that speed.
The Broncos will team Jeudy and Hamler up with a receiver in Courtland Sutton, who earned the NFL's 11th-best grade at the position a season ago. The ball is in Drew Lock's court now — he has the weapons needed to be a successful NFL quarterback.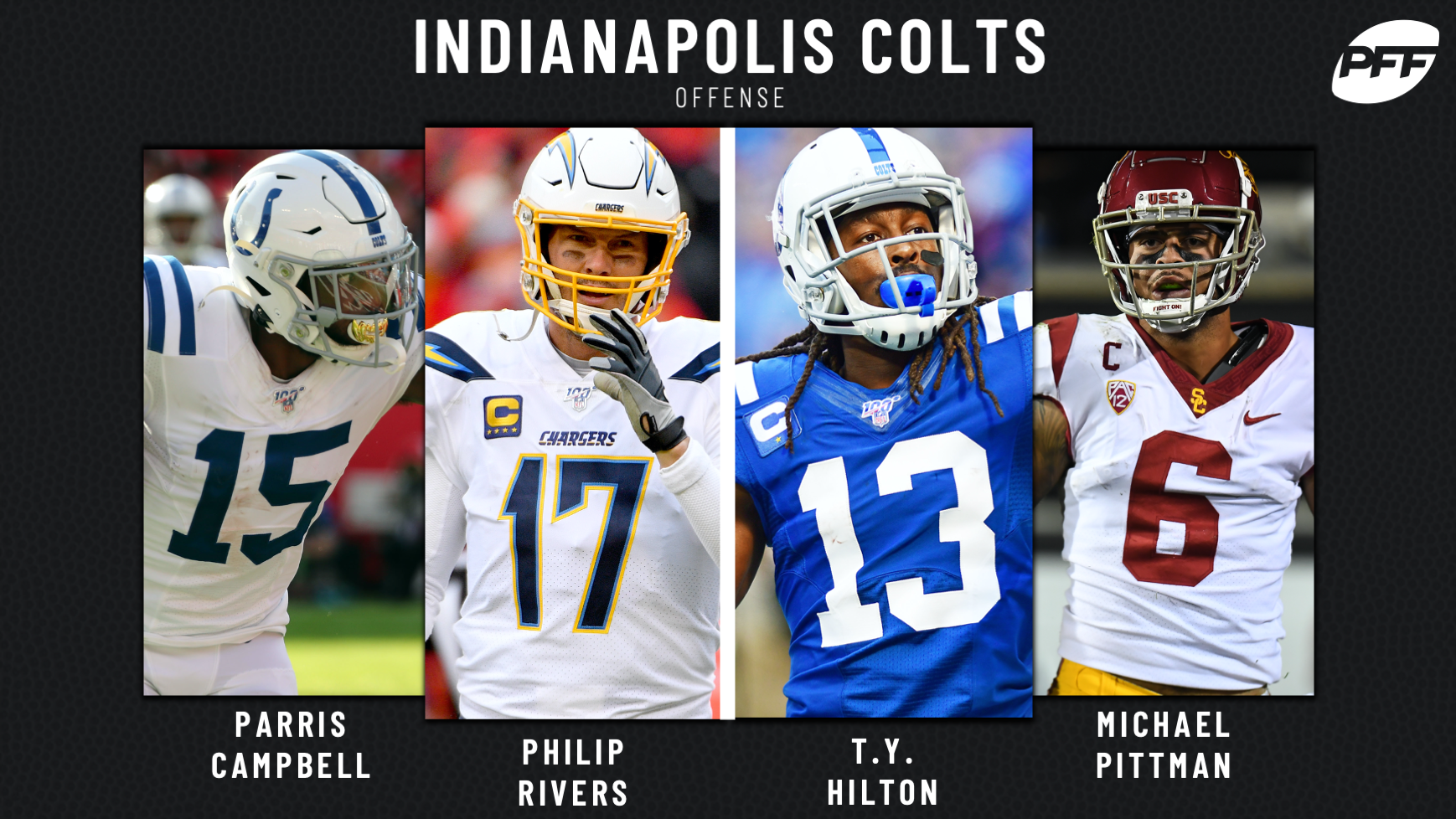 The Jacoby Brissett experiment didn't go nearly as well as the Indianapolis Colts had hoped. Brissett failed to take that next step forward and finished the year with just a 58.0 passing grade — the fourth-worst in the NFL — which was actually worse than his 2017 campaign (62.6 passing grade, sixth-worst).
The team brought in veteran Philip Rivers to take the reins this offseason. And while Rivers finished the 2019 season with the 17th-best passing grade among signal-callers last year, he still brings one thing to the table that Brissett never did: Downfield accuracy. In fact, Rivers produced the eighth-highest rate of accurate passes thrown 10-plus yards downfield a season ago, which is a statistical category Brissett finished second-to-last in.
To help with Rivers' acclimation, the Colts used the 34th overall pick of the 2020 NFL Draft to select USC wide receiver, Michael Pittman. Pittman has a large catch radius and excellent ball skills; he also has some of the best hands in his class, having dropped only five of his 176 catchable targets over his college career.
Indy's WR1, T.Y. Hilton, is coming off a bit of a down year, but his high-end — which was regularly on display when he had Andrew Luck throwing him the ball — is up there with the best of the best. From 2012-18, Hilton racked up over 250 more deep receiving yards than anyone else, and only Antonio Brown, Julio Jones, A.J. Green, DeAndre Hopkins and DeSean Jackson earned a higher grade on their deep targets over that timeframe. With Rivers throwing him the ball, Hilton can finally go back to what he does best. 
Then we have last year's second-round pick, Parris Campbell, who battled injuries and saw only 23 targets in his rookie campaign. Campbell's specialty at Ohio State was the screen pass and subsequent ability to create after the catch — he was college football's highest-graded receiver on throws behind the line of scrimmage, and he generated a whopping 13.7 yards after the catch per reception on such plays.
The wide receiver trio of T.Y. Hilton, Michael Pittman Jr. and Parris Campbell complement each other incredibly well. Assuming Hilton and Campbell are given a clean bill of health, this Indy passing attack is one to be reckoned with in 2020.
Baker Mayfield has to be ecstatic with the Browns adding to their offensive line by signing Jack Conklin and drafting Jedrick Wills Jr. 10th overall — it was really a best-case scenario outcome. 
Conklin is a solid pass-protector and fits perfectly in Kevin Stefanski's scheme. In fact, his zone-blocking grade in 2019 sat at the 94th percentile, which certainly helped him to produce a top-10 overall grade among all offensive tackles.
Like Conklin, Wills is a solid pass-protector but does his best work in the run game — he was actually one of college football's nastiest run-blockers. Wills has incredible explosiveness and change of direction and would move guys like a truck. His 90.5 run-blocking grade was the sixth-best in the FBS last season, and he had more big-time blocks (PFF's highest-graded blocks) than anyone in the class.
Philadelphia recently made three game-changing moves in order to improve their struggling secondary. First and foremost, they traded for Darius Slay, one of the league's best cornerbacks. He isn't coming off his best season, but he still managed to allow under 60 yards in 10 of his 14 games played. Slay has been the NFL's most valuable cornerback since 2014, per PFF WAR, and will be a huge upgrade over what the Eagles had in 2019, as four of their most-played corners logged coverage grades below 55.0 (three of the four were below 50.0).
They also managed to sign Nickell Robey-Coleman, who has produced top-25 coverage grades in each of the last four years. Having Robey-Coleman man the slot is a massive bonus to the Eagles' secondary.
But wait, there's more! Somehow defensive back K'Von Wallace managed to fall right in their laps at the 127th overall pick in the 2020 NFL Draft — 67 spots lower than we had him on our big board. With his physicality, instincts and quicks, Wallace is a versatile player and can be trusted in the box or in the slot. He was consistently reliable in coverage at Clemson, but he took a huge step forward in 2019, logging an 89.7 coverage grade and combining for 10 pass breakups and interceptions.
I think I speak for everyone when I say I can't wait to watch the new and improved Philly secondary go up against a remodeled Dallas Cowboys receiving corps that now contains Amari Cooper, CeeDee Lamb and Michael Gallup.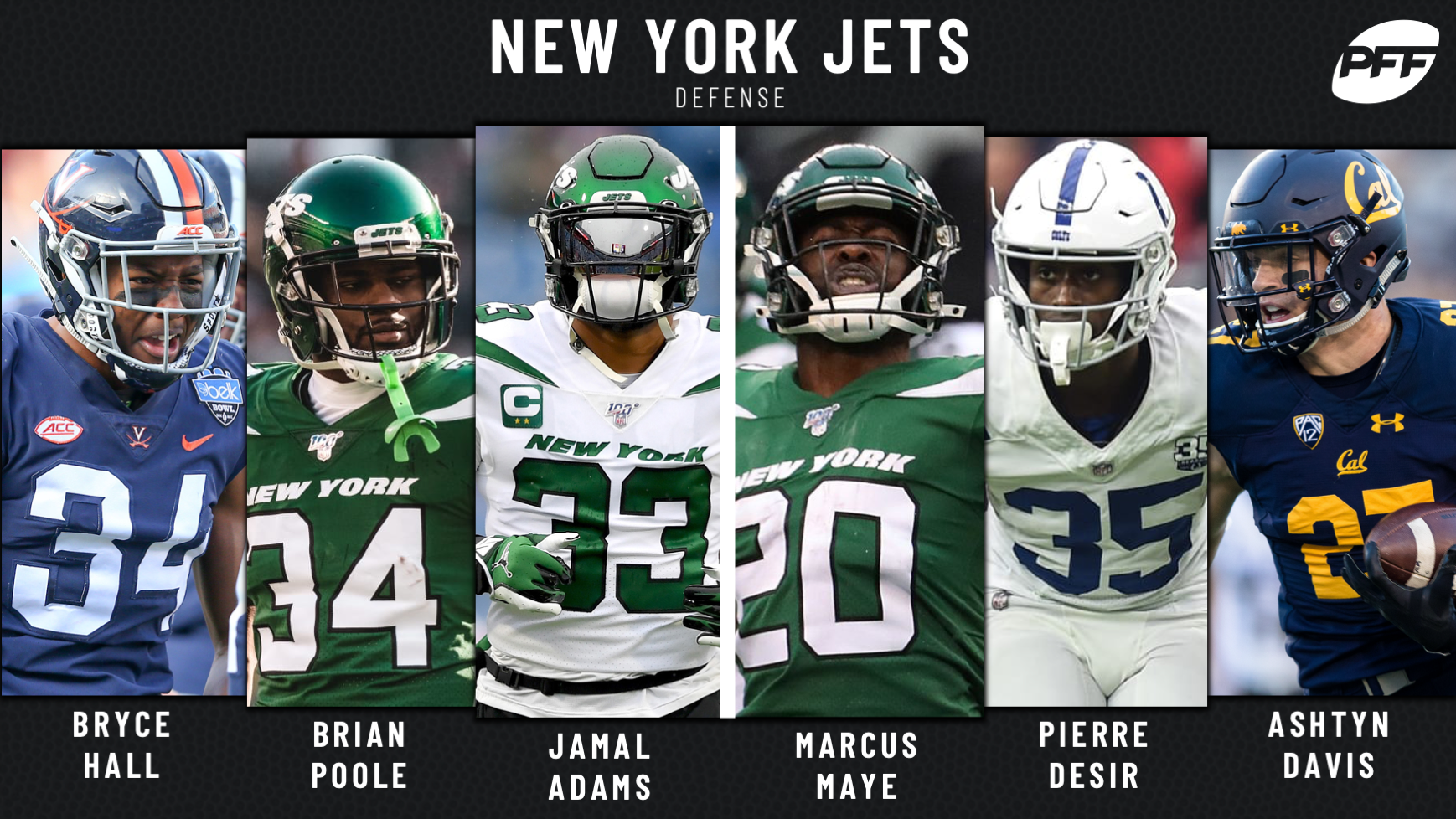 The Jets' secondary was by no means bad in 2019 … it was just a bit top-heavy. They had one of the best safety duos in the NFL in Jamal Adams and Marcus Maye — both of whom ranked among the top-20 highest-graded safeties in coverage last year — to go along with one of the league's most underrated slot cornerbacks in Brian Poole. But it was murky other than that, and their coverage as a whole suffered as a result.
Luckily for them, they got Bryce Hall 158th overall in the draft. A Week 7 injury destroyed Hall's stock somewhat, but he has the makings of a potential steal if his health is in order — he has some of the best ball skills we have ever seen and actually produced the highest forced incompletion percentage in the two seasons before he got hurt.
They also picked up Pierre Desir after the Colts released him. Desir has had an up-and-down career and is coming off a rough season that was hindered by injury, but he produced the 18th-highest grade at his position in 2018. This was a great low-risk, high-reward signing by the Jets.
And while safety wasn't a huge need for the team, when a guy like Ashtyn Davis is available at pick No. 68, you take him. Davis was considered the best single-high safety in the class in our eyes — he is a rare athlete and former track star at Cal. If I were Gregg Williams, I'm tweaking the defense to ensure Adams, Maye and Davis are all on the field at the same time for the Jets, because that would be an absolute headache for opposing quarterbacks.
Baltimore's offense was obviously one of the best in the NFL in 2019, and while their defense was good, it was not entirely on that same elite tier. However, they might have just changed that this offseason.
They kicked off free agency by trading a fifth-round pick in exchange for veteran interior defensive lineman Calais Campbell. Since 2016, Campbell has been the second-most valuable interior defender behind only Aaron Donald, and he's earned a 90.0-plus overall grade in every season over that period.
Then they went ahead and made four excellent moves in the 2020 NFL Draft. Firstly, they managed to pick up Patrick Queen — our LB1 — in Round 1 after two other off-ball linebackers were already selected. Queen is an athlete by nature with unteachable tools for the position. And even though he's far from a polished product as a coverage defender, Queen was still one of the best in the country in this facet by allowing half a yard per coverage snap and posting the 12th-best coverage grade at his position last year.
Baltimore then got great value in Justin Madubuike — who was 47th on our big board — at pick No. 71. Madubuike is a great athlete with an exceptional get-off and was a threat to push the pocket on every rep with his bull-rush. His production at Texas A&M stagnated from 2018 to 2019, but he was effective both against the run and in the pass-rush, generating PFF grades of 84.2 and 85.7, respectively, in those facets.
They also picked up linebacker Malik Harrison at the tail end of Round 3. Harrison isn't nearly as explosive as Queen and likely won't be as good in coverage, but he will be a tremendous blitzing weapon for Baltimore.
Easily the most underrated move they made, though, came in the seventh round when they picked up safety Geno Stone, who was 53rd on our big board. Stone was one of the most instinctive defensive backs available in the NFL Draft and was quick to make big plays in college — he actually made more plays on the ball (11) than the number of first downs he allowed (9).
The Eagles simply had to address the wide receiver position this offseason, and they did just that by adding four wide receivers this last week — three in the NFL Draft and one via trade. There was one common theme in the four they brought in, and that theme was speed.
Eagles WRs: 40-yard dash times at the NFL scouting combine
Philly acquired Marquise Goodwin from the San Francisco 49ers via trade during the NFL Draft, and he'll be a reclamation project at this stage. Injuries have hindered his career, and he's posted a receiving grade above 70.0 in just one season. 
Philadelphia did make a great selection in Jalen Reagor, who came from an incredibly unfortunate situation at TCU. When the ball was in his hands, though, his speed and explosiveness were apparent. Over the past two years, Reagor generated an explosive play of 15-plus yards on 51.6% of his catches — the second-highest rate in college football and nearly 20 percentage points above the FBS average. 
Hightower was a fifth-round selection and was a certified deep threat in college. Altogether, 37% of his targets came from passes that were thrown 20 or more yards downfield, which was the 12th-highest rate in all of college football. And while only 12 of his deep targets were deemed to be catchable, he did turn those passes into an impressive 468 yards and five scores.
Watkins, a sixth-round pick, was a deep threat just like Hightower but did some of his best work in an open field after the catch. Watkins averaged nine yards after the catch per reception this past season.
Philadelphia made the moves needed to improve the wide receiver unit; now we just have to see if any of the rookies can seize the opportunity and develop into a long-term weapon for Carson Wentz.
All of New York's improvements made to its offensive line came in the NFL Draft when they took three offensive linemen within the first five rounds.
Firstly, they picked up Andrew Thomas with the fourth overall pick. Thomas is going to provide an immediate upgrade at tackle; he has all the physical tools you want at the position, and his production against the toughest conference in college football was near-perfect. He produced a 92.5 overall grade at Georgia in 2019 — third in the FBS — and he was a top-10 pass-protector and run-blocker.
After Thomas, New York grabbed tackle Matt Peart in Round 3, and if he can add some strength to his 6-foot-7 frame, he can become a quality starter in the NFL. He's produced pass-blocking grades above 75.0 in all four seasons as a starter for UConn, with 2019 (86.0 pass-blocking grade and 90.3 run-blocking grade) being his best year to date.
Then in Round 5, the Giants picked up interior offensive lineman Shane Lemieux out of Oregon. Lemieux has a lot to work on in pass protection, but he is feisty in the running game. His 84.3 PFF run-blocking grade over the last two years ranks fourth among the 486 offensive guards who played at least 500 run-blocking snaps over that span.
Thomas might be the only one who will make an impact from Day 1, but Peart and Lemieux are great pickups and could become valuable additions down the road.