(All offseason long, PFF Fantasy editor Daniel Kelley will attempt to figure out the solution to some of the biggest fantasy football draft conundrums for the 2019 season. This is The Decider.)
My personal draft strategy for 2019 is almost certainly to take a running back in Round 1. It's not locked in or anything — if I have the 10th pick (or so) and DeAndre Hopkins lasts that long, I'm probably grabbing him — but I'd say 90% or more of my drafts will start out with a ball-carrier.
That said, I'm a bit of an outlier this draft season; per Fantasy Football Calculator ADP, Hopkins is going fifth off the board and there are five receivers inside the top 11 picks. So while I might be willing to take the No. 10 or 11 running back in the first round, odds are good that you'll have a shot at one of them as late as the middle of the second round.
Two of the names going in that range went seven picks apart in the second round of the 2017 draft — the Bengals' Joe Mixon and the Vikings' Dalvin Cook. Which should you go for in 2019 fantasy drafts?
The contenders
There was an argument that both backs were first-round talents in 2017, with extenuating circumstances contributing to their respective drops. Cook landed with the Vikings, where he immediately became the team's No. 1 back ahead of Jerick McKinnon and Latavius Murray. Mixon instead went to Cincinnati, but he started the 2017 season behind Jeremy Hill and Giovani Bernard. Regardless, both had disappointing rookie campaigns, albeit in very different ways.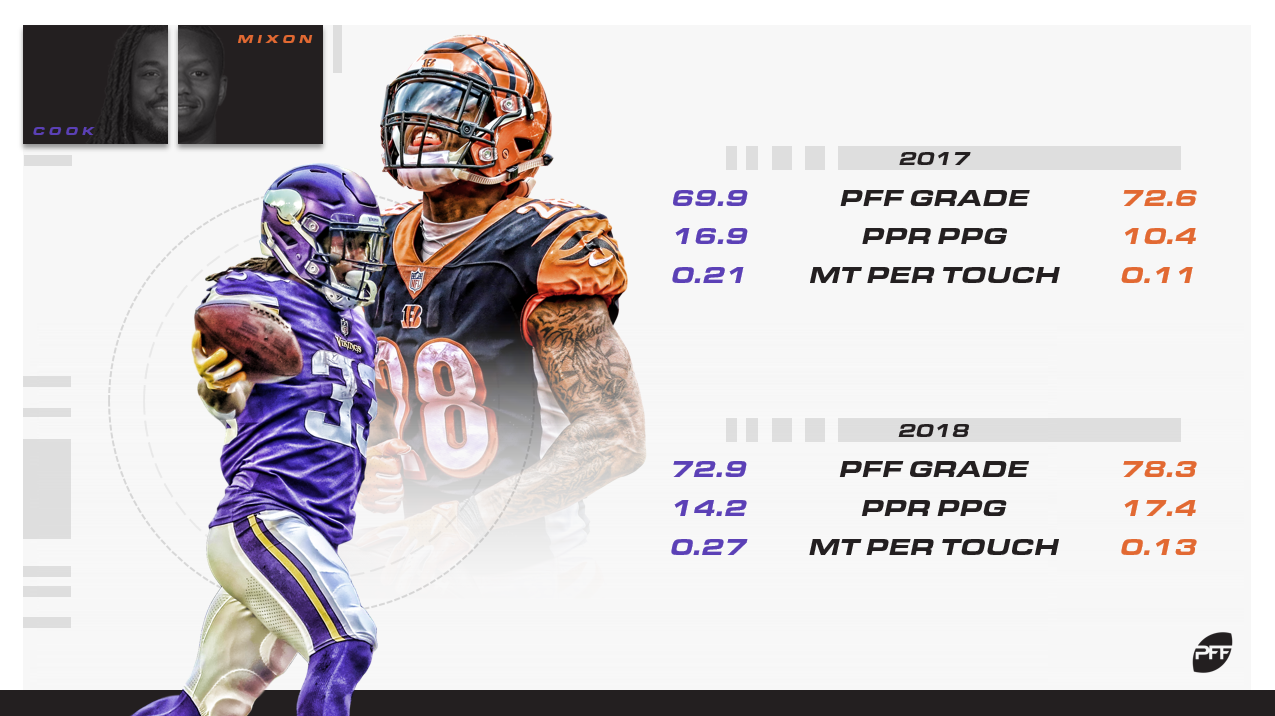 Cook started out hot in 2017, with 444 scrimmage yards and two touchdowns through Week 4, at which point he was the No. 9 PPR back. And then it was over, as Cook suffered a torn ACL and hit injury reserve. Meanwhile, Mixon, played 14 games as a rookie, eventually replacing Hill as the team's No. 1, but didn't do much with the time. He totaled 913 scrimmage yards and 4 touchdowns with only 3.5 yards per carry and finished the year as only the No. 30 running back.
Subscribe to PFF Edge to continue reading

Already have a subscription? Sign In