In recent articles, I've been looking at trends in my new Yards Added metric to try to identify receivers who have shown increases or decreases in their efficiency. Those true talent changes can sometimes foreshadow changes in fantasy production because coaches and quarterbacks naturally want to throw their passes to the receivers who can do the most damage with them. I'm confident that Yards Added trends for defensive players can provide important clues for fantasy players, too. But, at least so far, those have been more difficult for me to pin down.
I decided to start my research there with the best cover corners, and Yards Added provides a mathematical means to identify the best cornerbacks at any given time. I used the same rolling 16-game totals approach I used to find receiver sleepers and busts and found three corners whose peaks over the last five seasons made them my best guesses for the best cover corners at various times. Note that I've inverted the Y axis so that better cornerback performances would appear higher on the chart.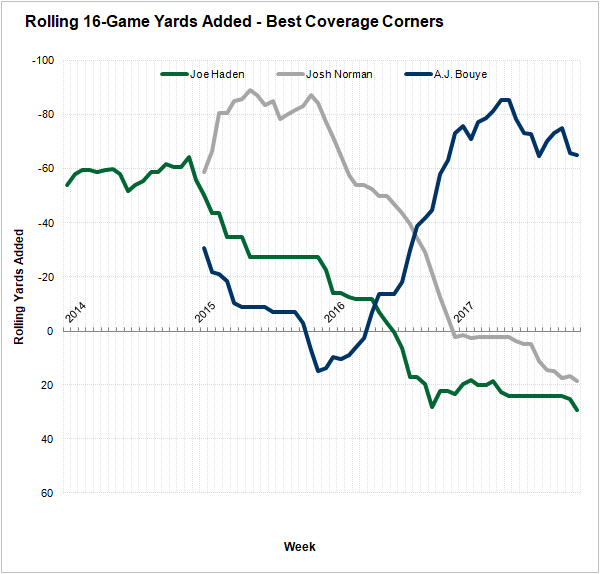 From the start of 2014 until Josh Norman's meteoric rise in early 2015, Joe Haden held the belt. Then, Norman was at his best for most of 2015, and after 13 or so weeks of a slow decline in early 2016, A.J. Bouye passed him by. Bouye has held the title in the year-plus since — with an honorable mention of Darius Slay, who inched past Bouye in the final weeks of 2017.