Finding potential breakout receivers with Yards Added is a bit more art and a bit less science than using it to find skill decline in players with heavy target volumes. The latter have established qualities of play one can compare their current productivity to. The former are inexperienced players who are more susceptible to noisy efficiency numbers over the small samples of their short careers. But I've come to trust that my Yards Added metric successfully credits and penalizes receivers for their contributions independent of their quarterbacks and the defenders in coverage against them. That makes it a perfect tool to separate the small sample beneficiaries from the players who can really bring something to their teams' passing attacks and can therefore expect to see their target shares increase in future seasons.
There are 10 receivers who stand out to me as having particularly strong chances for a 2018 breakout.
Their hype has come and gone
Shepard couldn't escape the bad luck that fell on the Giants' passing offense in 2017. In the same game that Odell Beckham Jr. fractured his ankle, Brandon Marshall sprained his ankle, and Dwayne Harris broke his foot, Shepard suffered his own ankle injury. Since his injury was the least serious of the four, Shepard had a chance to thrive upon his return as the last receiver standing in New York. Instead, he missed several more games with migraines and a neck injury.
I expect those myriad injuries will become the lasting memory of Shepard's season and serve as a disincentive for fantasy players to draft him with Beckham returning. But in between all of those injuries, Shepard made a rapid climb to become one of the most effective receivers in football.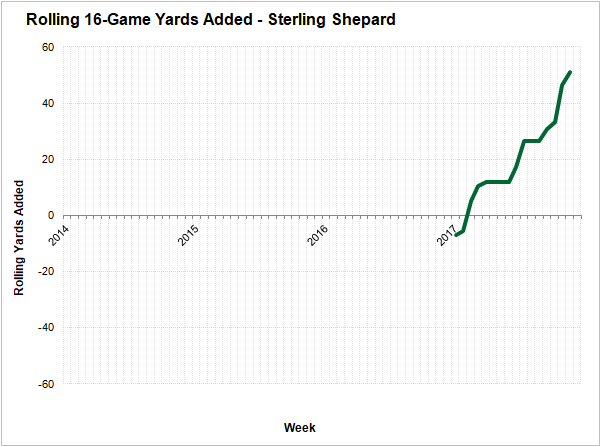 By the end of the season, Shepard's 16-game rolling Yards Added total was north of 50 yards, which was top-10 among all receivers and comparable almost exclusively to established players with reputations as some of the best in the game, such as Tyreek Hill (63), Adam Thielen (49), Keenan Allen (47), and Antonio Brown (39). Beckham has spent the bulk of his career adding more than 50 yards per year, too, so I don't think Shepard's performance is going to threaten the Giants' pecking order. But I could see Shepard thriving as the team's other starting receiver.