The research from my last three articles suggests that the Yards Added metric I created captures receiver skill independent of his quarterback and the defender in coverage against him and that its trends can help better predict future changes to his target volume. In particular, I found that receivers who cost their teams 25 or more yards relative to expectations on their catchable targets over consecutive seasons lose about 1 more target per game than the receivers with similarly heavy target volumes who perform better in Yards Added. In recent seasons, that perspective foreshadowed fantasy busts like Roddy White in 2015 and Mike Evans last season.
Over 2016-17, there were a number of receivers who fell short of that -25 Yards Added threshold, and 12 of them show a trajectory that has me preparing to avoid them in my 2018 drafts.
Tight ends ready to pass their torches
Antonio Gates, Los Angeles Chargers (-43 Yards Added in 2016-17)
Gates saw enough of a decline in his workload in 2017 that he lost his fantasy relevance, but that was not enough to make tight end teammate Hunter Henry a TE1. Henry failed to hit any of 50 catches, 600 yards, or 5 touchdowns and didn't even show target increases over the second half of the season. It may not have happened as quickly as fantasy owners would have hoped, but don't give up on Henry because his ascension has happened more slowly than expected. Over the last 2 seasons, Gates has fallen to around -20 Yards Added per year while Henry has established himself as Gates' mirror, helping the Chargers with about 20 Yards Added per year.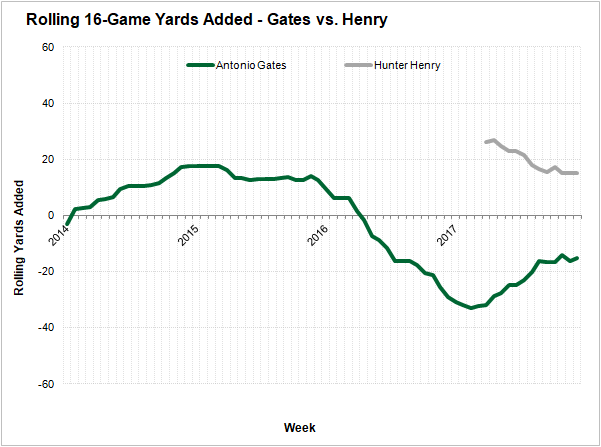 Gates may retire, but even if he doesn't, Henry should finally assert himself as the team's primary tight end target next season.