(As we head into the 2019 fantasy football season, we're taking a trip around the league to identify the offseason moves we'd most like to see each team make for fantasy purposes. Today: the Pittsburgh Steelers)
The Steelers' 2019 offseason is going to be defined by the Antonio Brown situation. Maybe he's back with the team next season and he and JuJu Smith-Schuster combine to run the league as they have the last two years. Maybe he's elsewhere, anywhere elsewhere, and he's still a superstar receiver.
The thing is, though, that either way, we aren't likely to see the Steelers go nuts at the receiver position this offseason. A receiver tandem of Brown and Smith-Schuster is the league's best (or at worst second). But a receiver corps of Smith-Schuster, second-year James Washington, and third-year Ryan Switzer still has enormous potential. Not Brown/Smith-Schuster potential, but not we-really-have-to-do-something-about-this potential.
So yes, the Steelers' offseason is doing to be defined by the Brown situation. But for our purposes, it's fairly irrelevant (or as irrelevant as "we might end up trading one of the best receivers of all time" can be). They'll do what they do, and as we analyze fantasy, we aren't privy to the ins and outs of locker-room drama that will help determine that. So for our purposes, we'll look at what else Pittsburgh might want to do for fantasy owners.
(Keep up with the whole offseason wish list series here.)
Three offseason moves we want to see for Pittsburgh
You could have a long conversation about the biggest factor in the Steelers' recent run of success, but at a minimum, "steadiness along the offensive line" is a big part of that conversation, if not the end of it. The Steelers' line has had a top-11 pass-blocking efficiency rating the last five years in a row, including a first-place finish in 2018 (perhaps not so coincidentally, Ben Roethlisberger just had his best season).
David DeCastro is under contract for three more seasons. Alejandro Villanueva two. Maurkice Pouncey and Marcus Gilbert one each. Foster, though, is entering free agency now, and for the sake of consistency, the Steelers should do what they can with their 10th-lowest available cap space to keep him around.
Draft a tight end
With Jesse James hitting free agency and Xavier Grimble a restricted free agent, the Steelers will have Vance McDonald as their no-question No. 1 to start the year. There's nothing wrong with that — McDonald just finished as the No. 10 fantasy tight end in PPR leagues — but he's not exactly been the healthiest tight end, missing 23 games in a six-year career. The Steelers can roll with McDonald in 2019, but they'd do well to invest in a second-in-command from this year's draft class, which is heavy in pass-catching tight ends.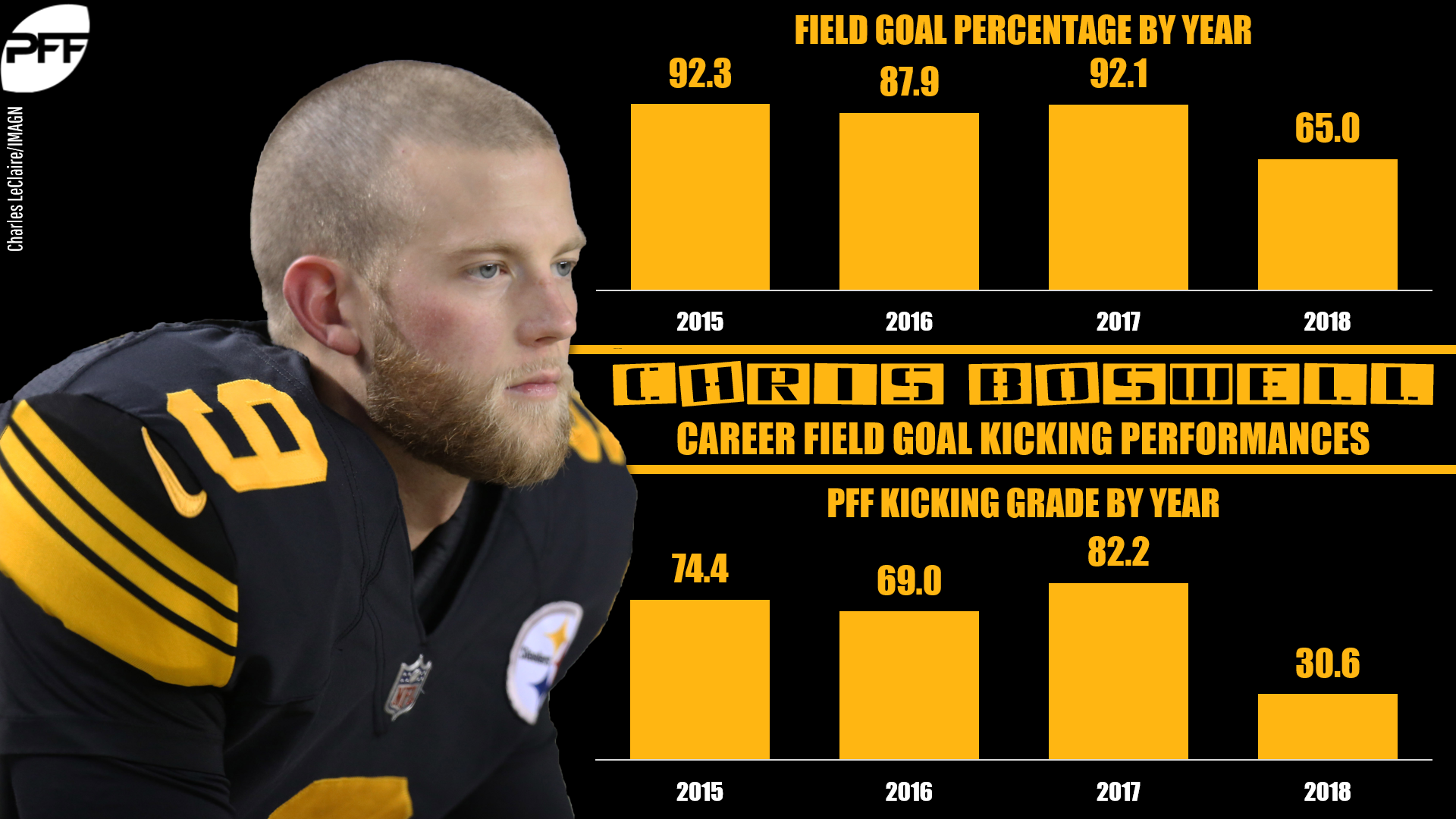 The Steelers extended Chris Boswell on a four-year deal in August, then were fielding questions about whether they should release him by November. A year after finishing with the No. 8 grade among kickers (81.3), Boswell fell off a cliff, notching a 30.6 grade that was 35th out of 36 qualifying kickers, better only than couldn't-even-keep-his-job-with-the-Chargers Caleb Sturgis. Boswell missed a league-leading 12 kicks (seven field goals, five extra points) and was shut down late in the year. The Steelers could look into the veteran Gould, who was just the No. 8 graded kicker (75.1) and missed a total of three kicks last season, to help repair a kicking game that was the team's biggest weak spot in 2018.